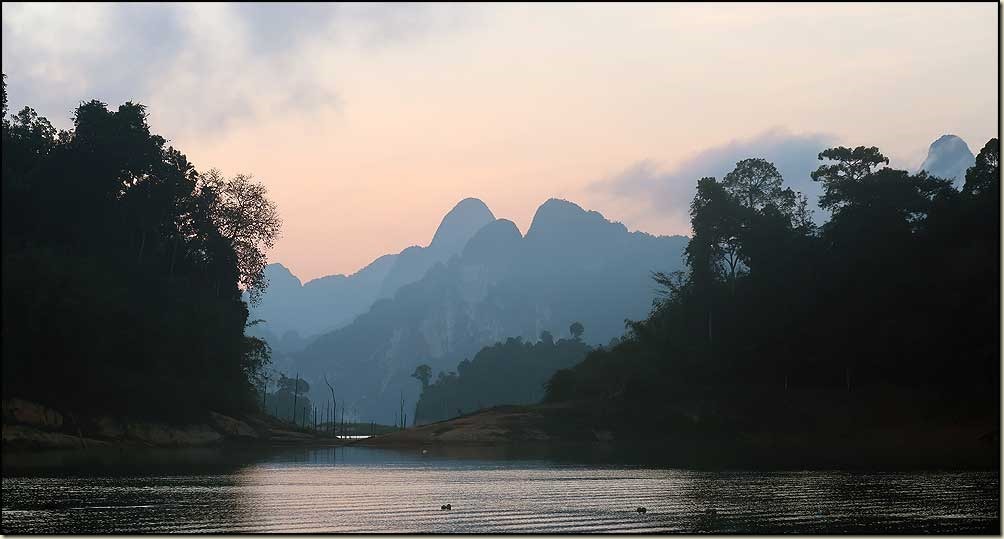 We awoke from our little houseboat to this beautiful sight.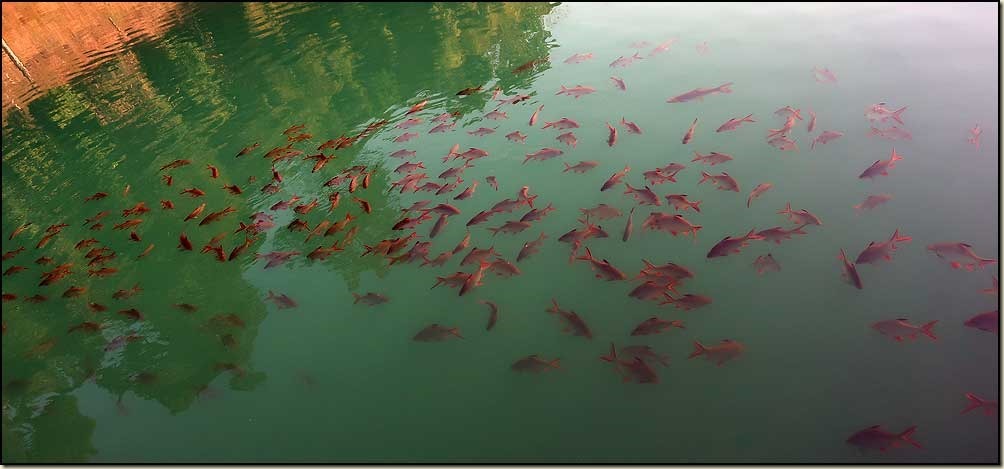 All these fish were just off the dock. You can buy snacks for them and feed them. Dinner tonight?!
It was a big time for all of us out at the floating hotel. The stars in the sky during the night were VERY, VERY bright!! You can see our little hacienda, above, complete with kayak tethered out the front door!!!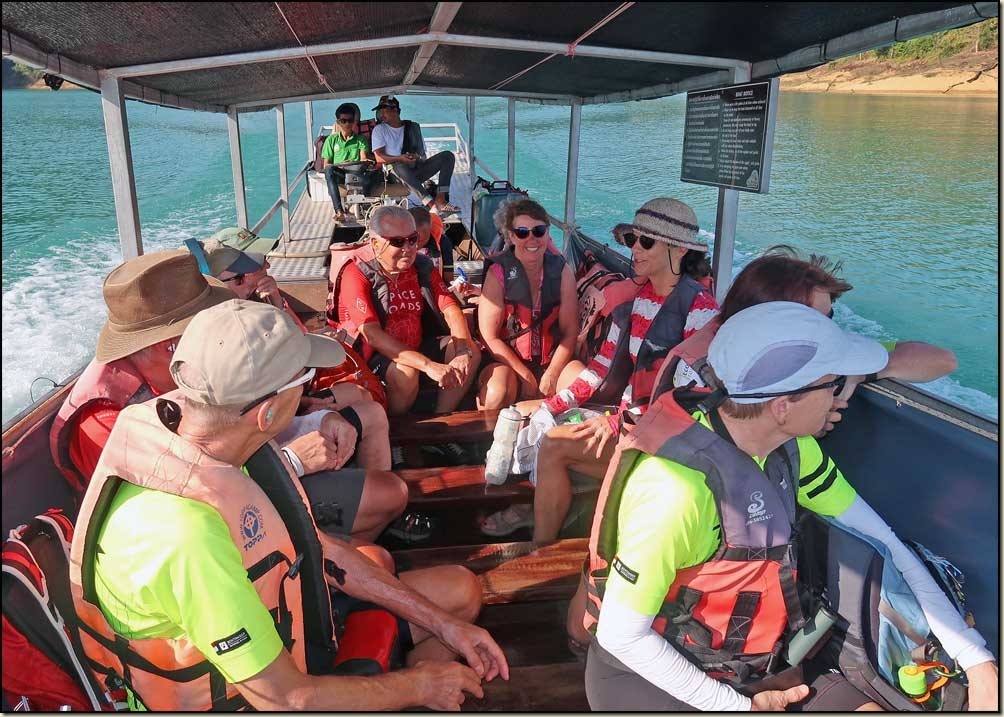 By 9:00 we were leaving our little hideaway on the lake and headed back to the other side. It is a 15 mile ride across the lake. Still noisy!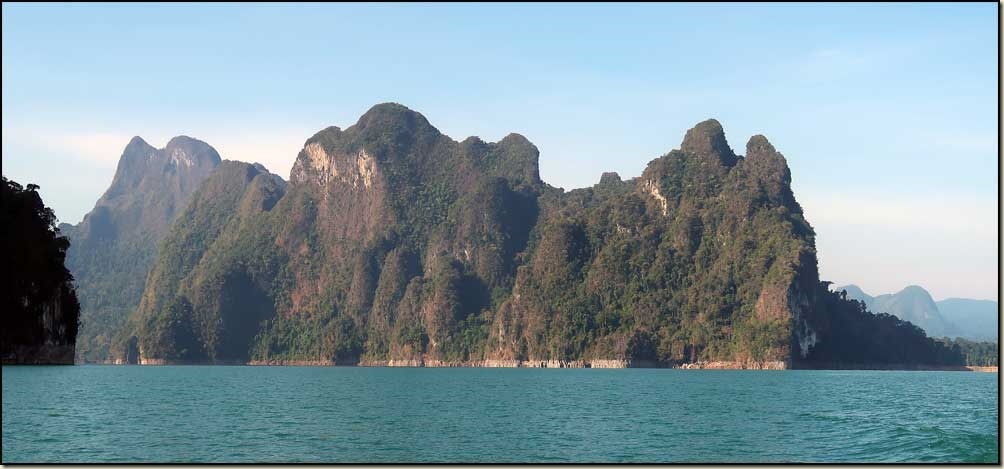 We learned a bit more about the project to dam this river and natural area 30-some years ago. The federal agencies worked to both identify species that would be affected by the dam, and worked to move some of them. Still, many animals perished as formerly connected landscapes became islands in a big lake. One leading wildlife biologist and forest manager working on the project actually took his own life when he saw the impact of the dam on the native wildlife. Today, one could argue that even more species are lost due to illegal hunting and habitat loss than were lost by the reservoir project. Tough balances between man and nature.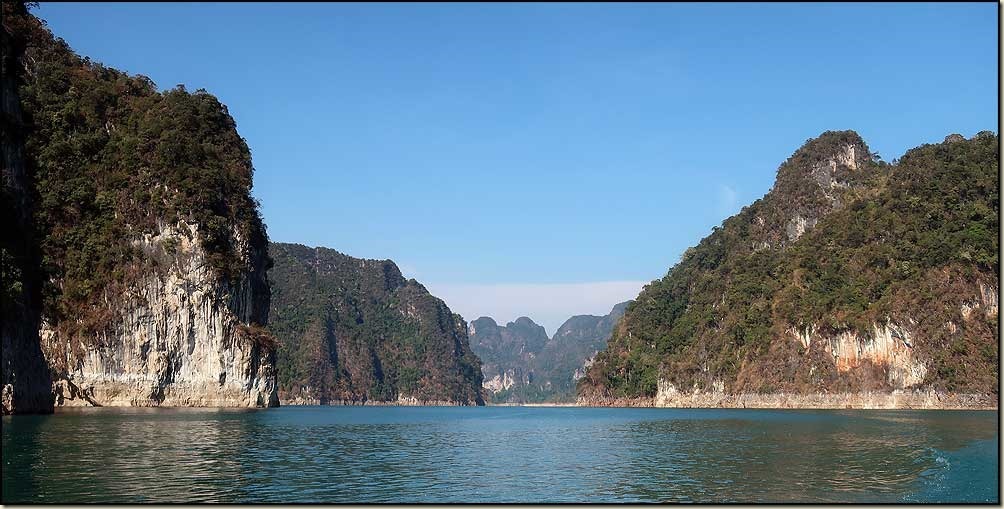 The karst topography is breathtaking.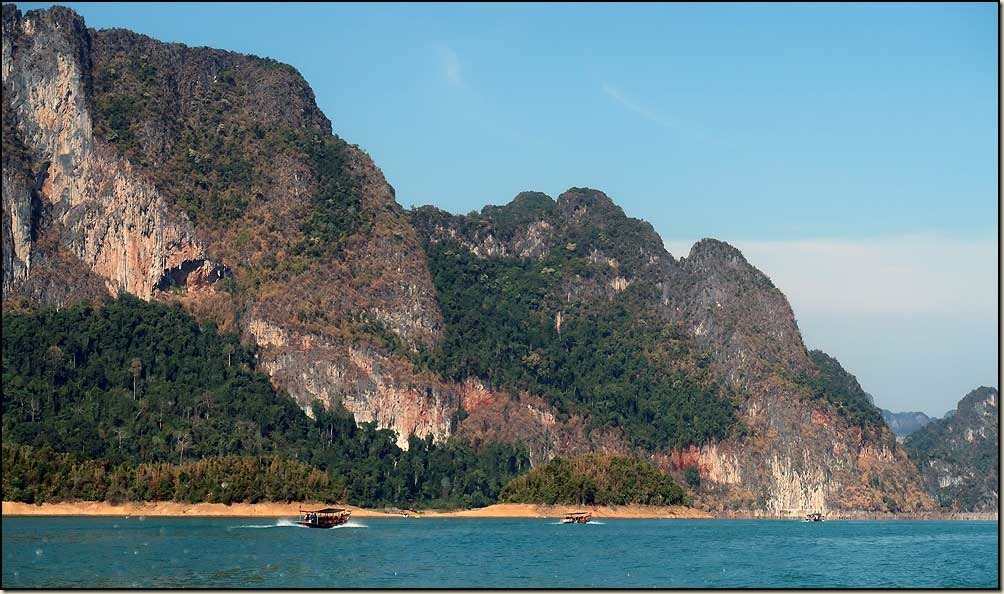 Today's flocks of tourists were on the way out in longboats as we were headed back to reality!
Happily, we were vanned out of some steep and busy areas to our starting point. Here is the mighty dam that created the lake.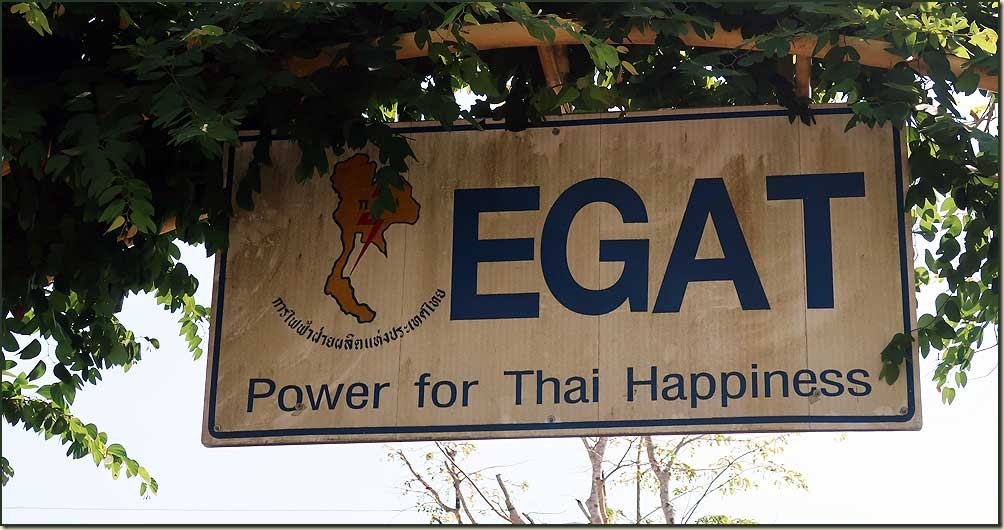 …brought to you by a major Thai power company. Bringing you happiness!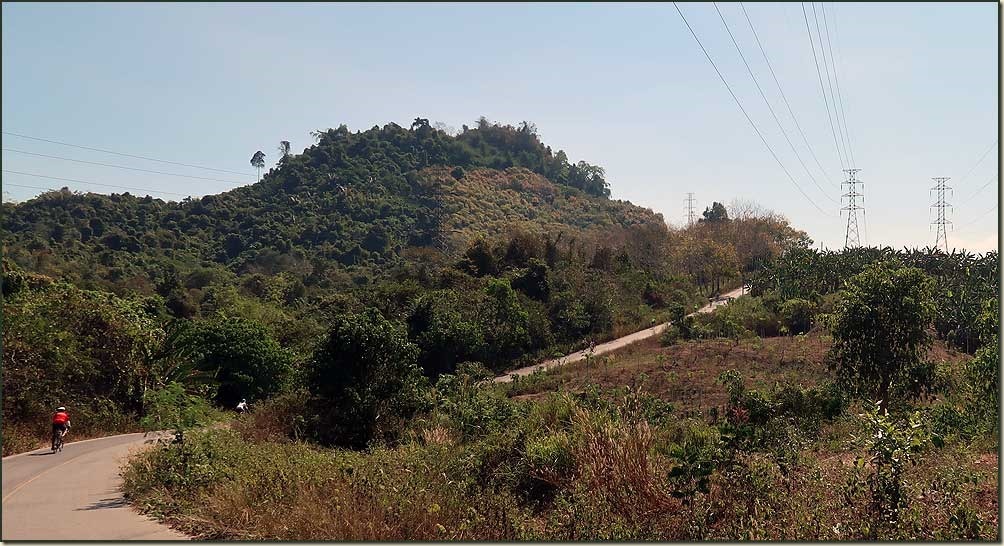 We had a beautiful, winding route through the karst topography.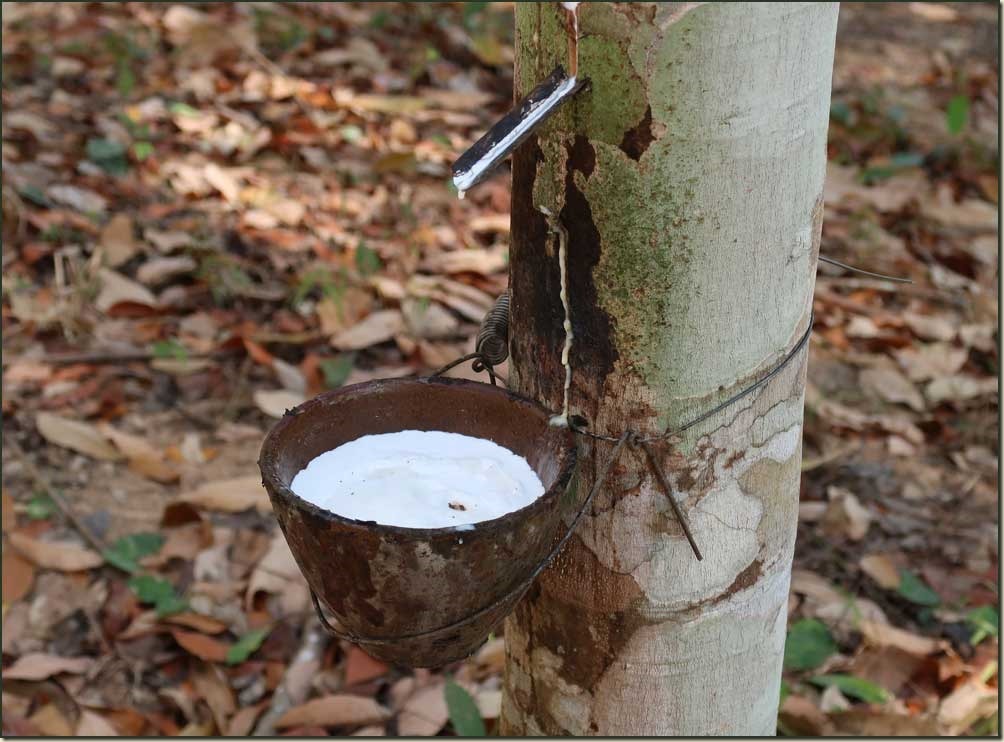 …including a stop at a rubber plantation being tapped. Looks like Elmer's Glue!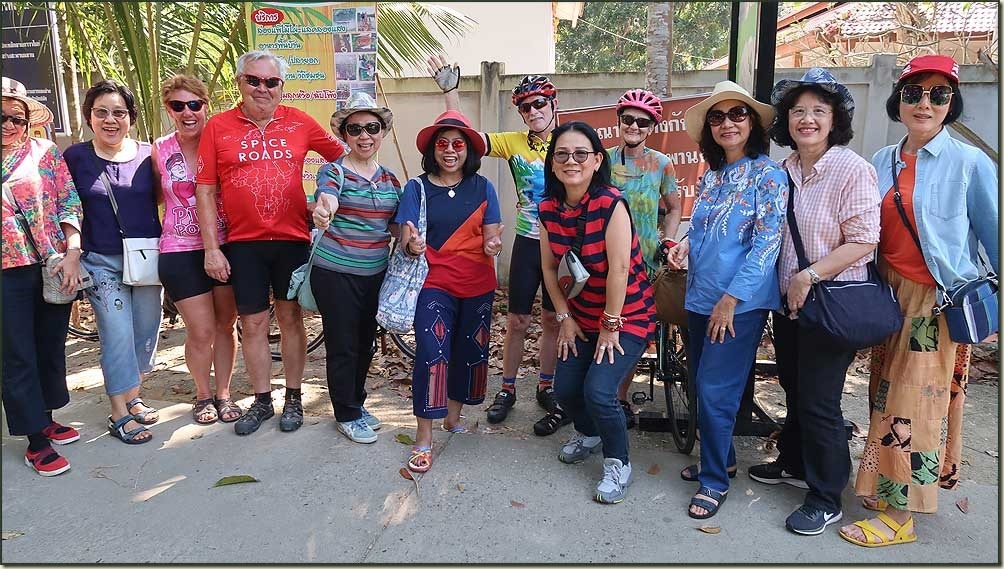 Rick and Tom made friends with a group of women on holiday from Bangkok! This was at our coffee stop next to a suspension bridge over the river that flowed out from the reservoir.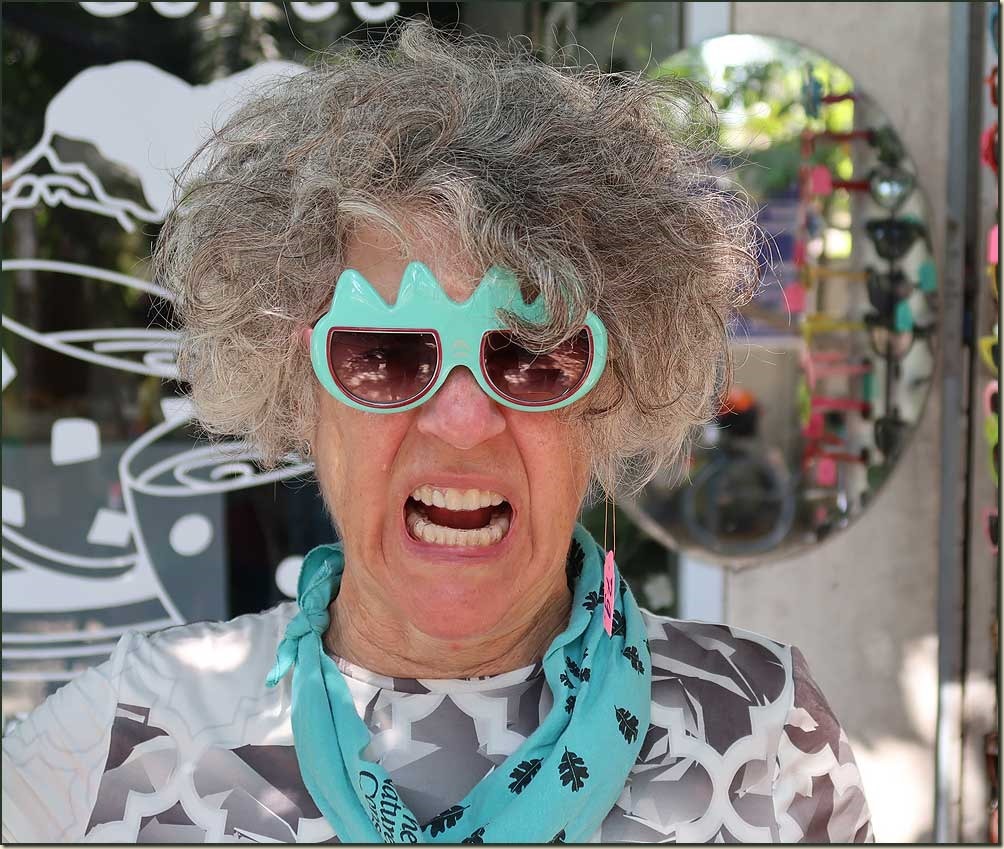 MJ gets scary in cat glasses. Stay away!!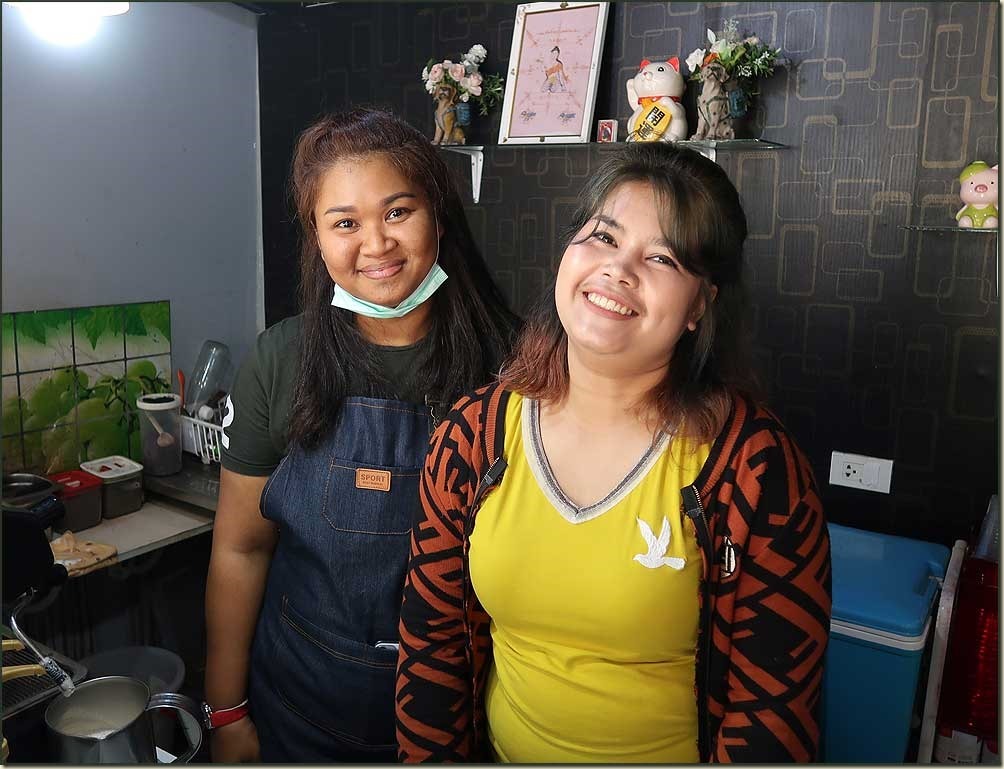 These sweet ladies made us delicious Thai iced tea and mochas.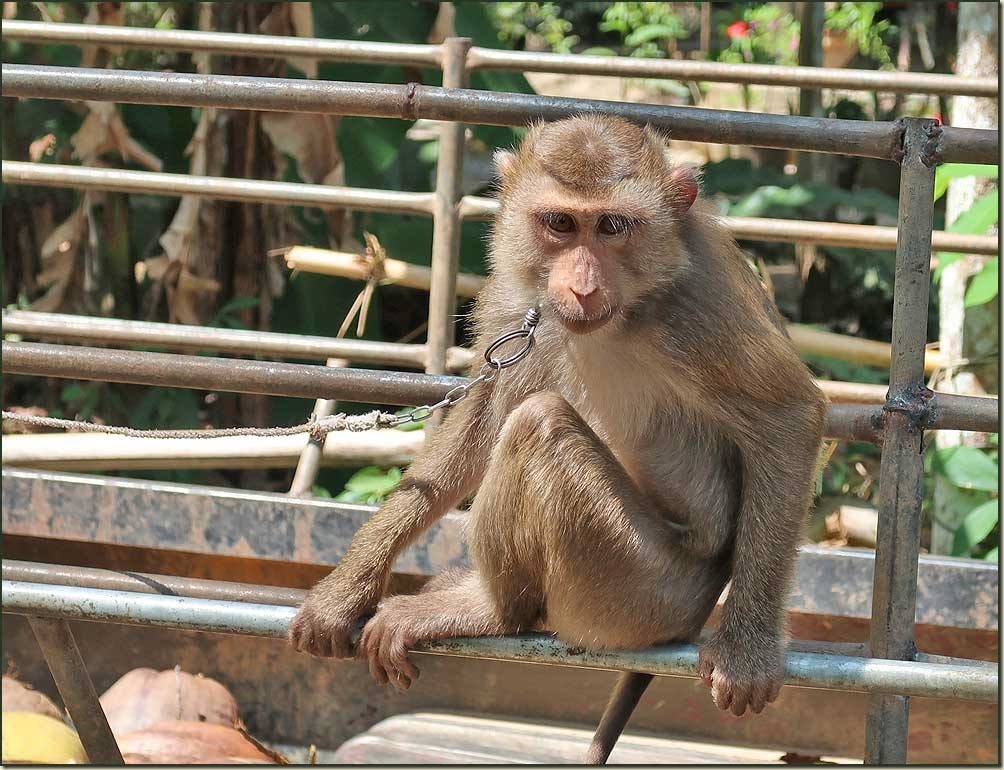 Some of the riders met this monkey and his handler today.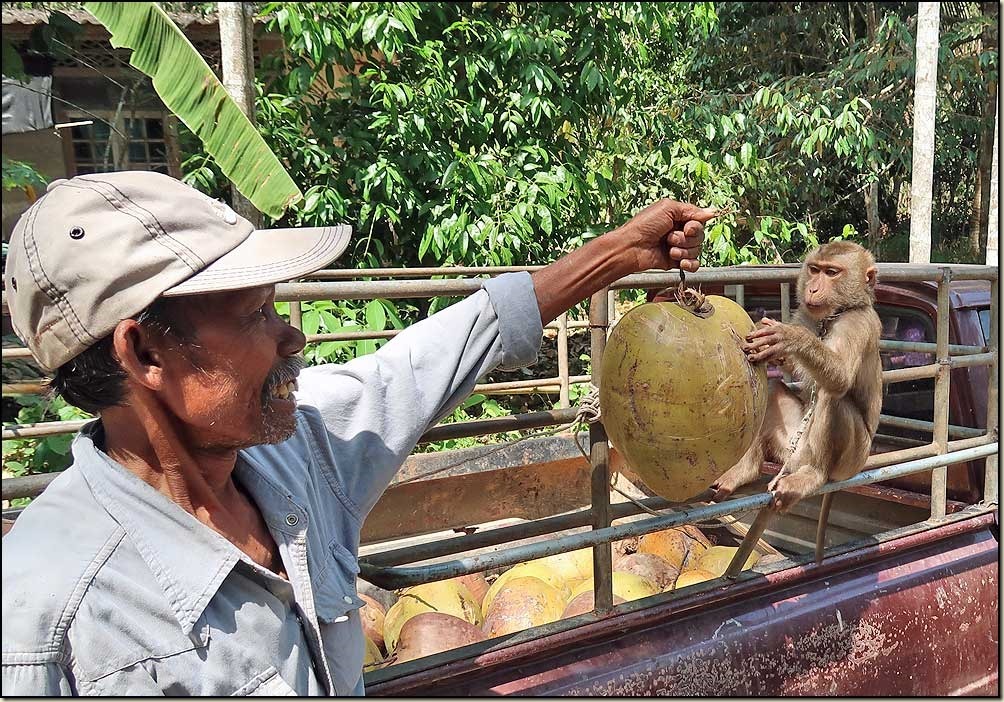 The monkey twists the coconut just so to get it down.  See monkey business  movie here!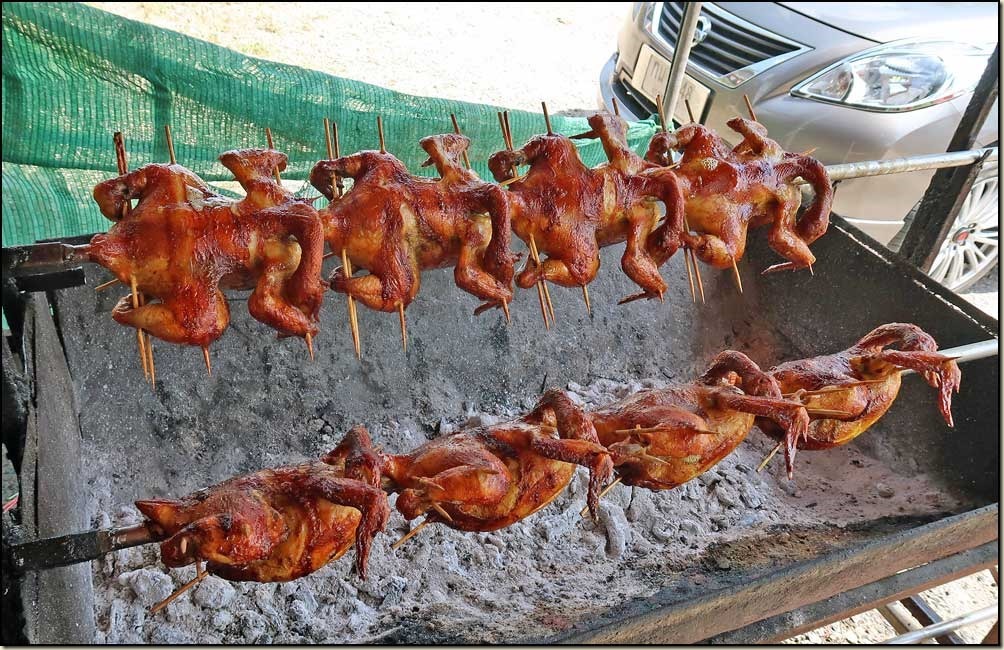 Before we knew it we were stopping for lunch at the best barbecue place around!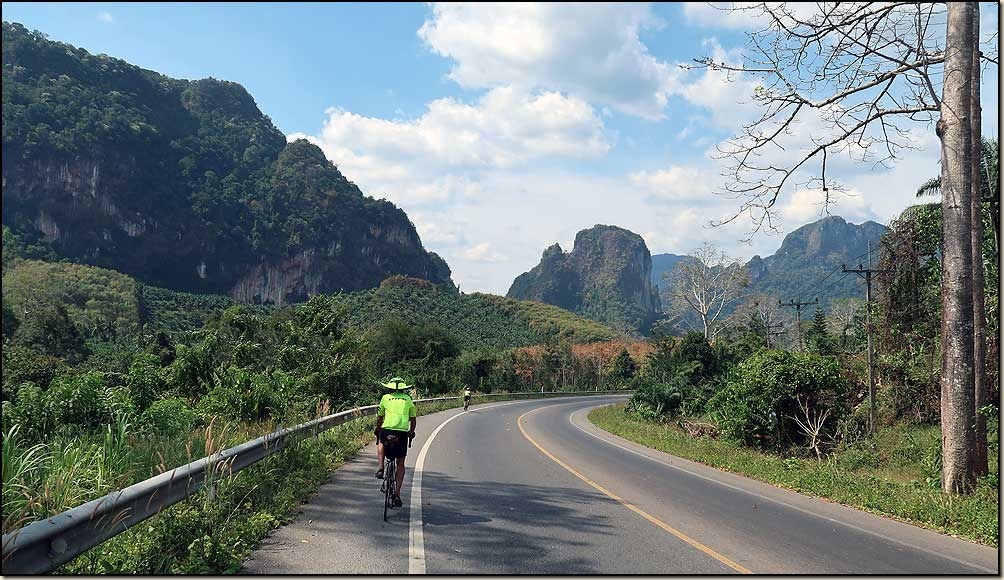 Then we proceeded for 20 miles through the spectacular landscape of Khao Sok National Park. Breathtaking! 300 million years ago, Khao Sok was part of a colossal coral reef that stretched from China to Borneo. Geological activity pushed the area upward, creating the towering limestone karst peaks the park is famous for.
Our hotel for the night sits on a river. We have been warned not to feed the monkeys, and not to put anything on the porch! No windows open. Monkeys, stay out!!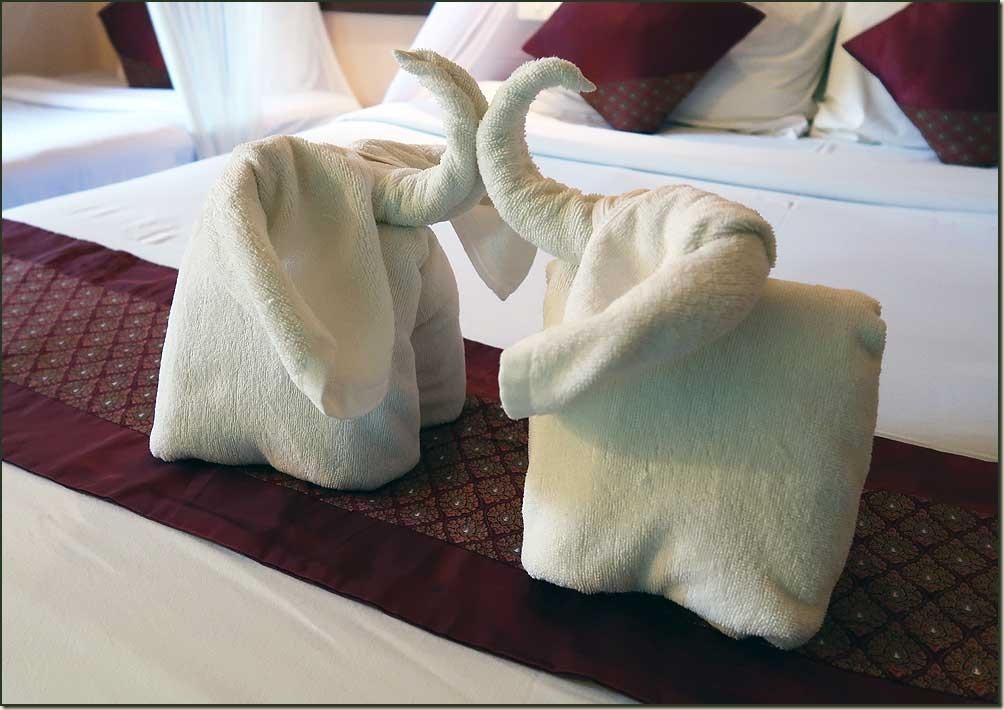 Fun towels folded like elephants greeted us.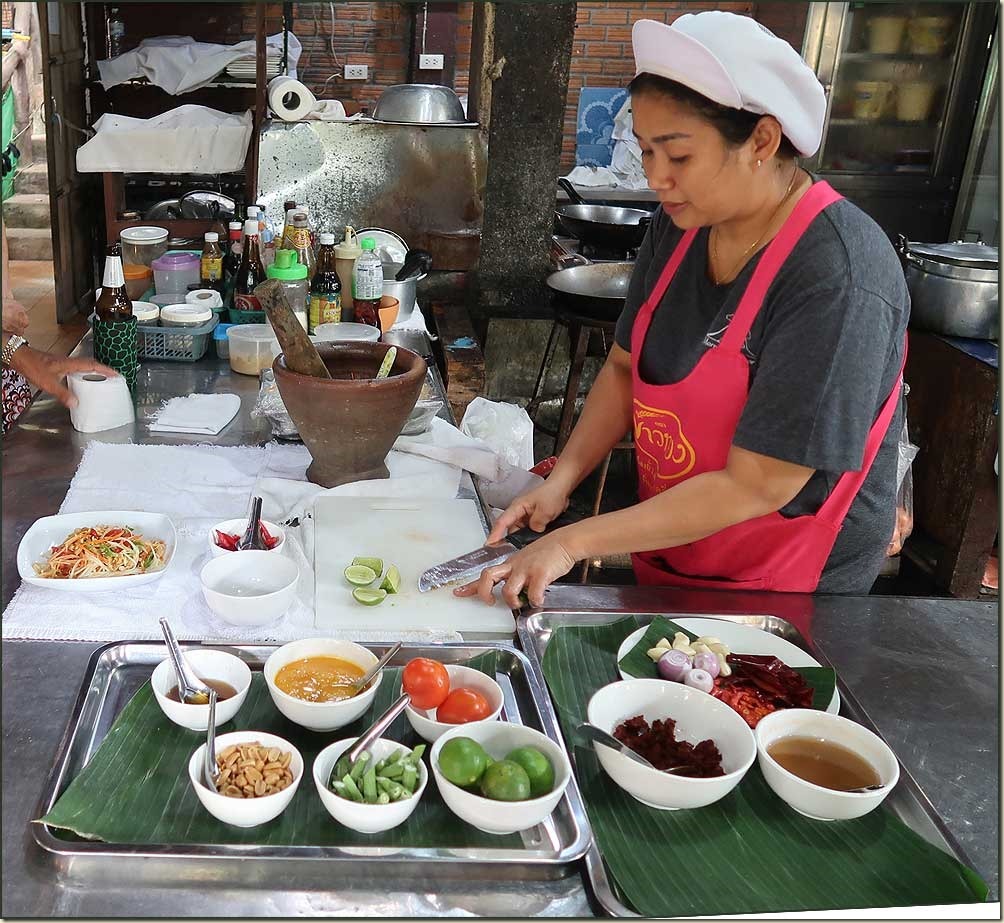 During happy hour, half of the group squeezed into the small kitchen of a local restaurant to learn the wisdom of Chef Pin. Here she is preparing ingredients for a papaya salad.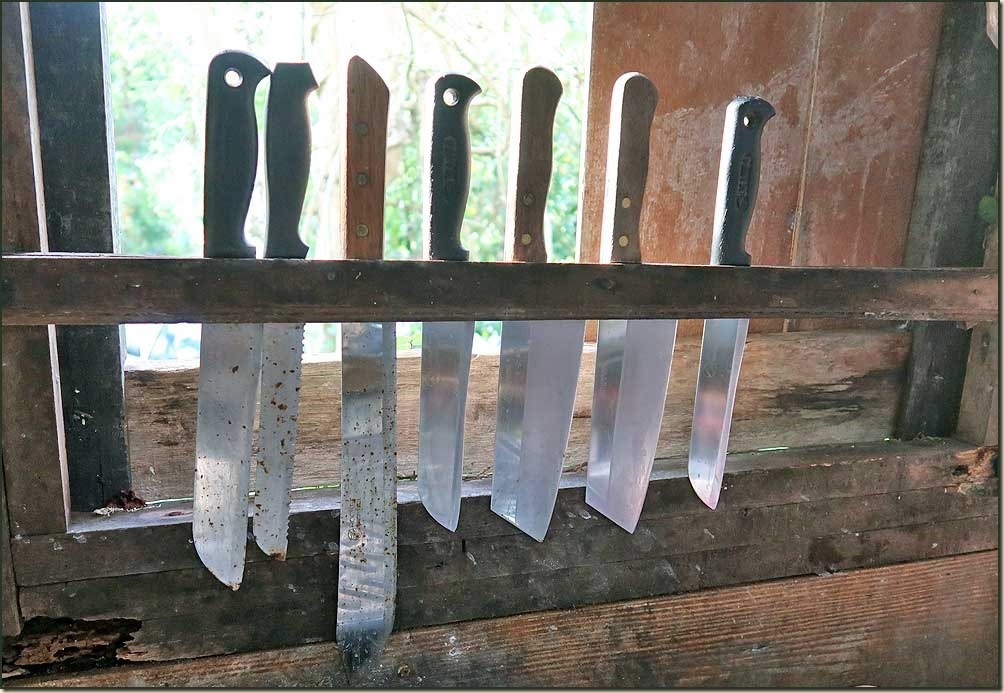 She used a knife from her nice selection of knives!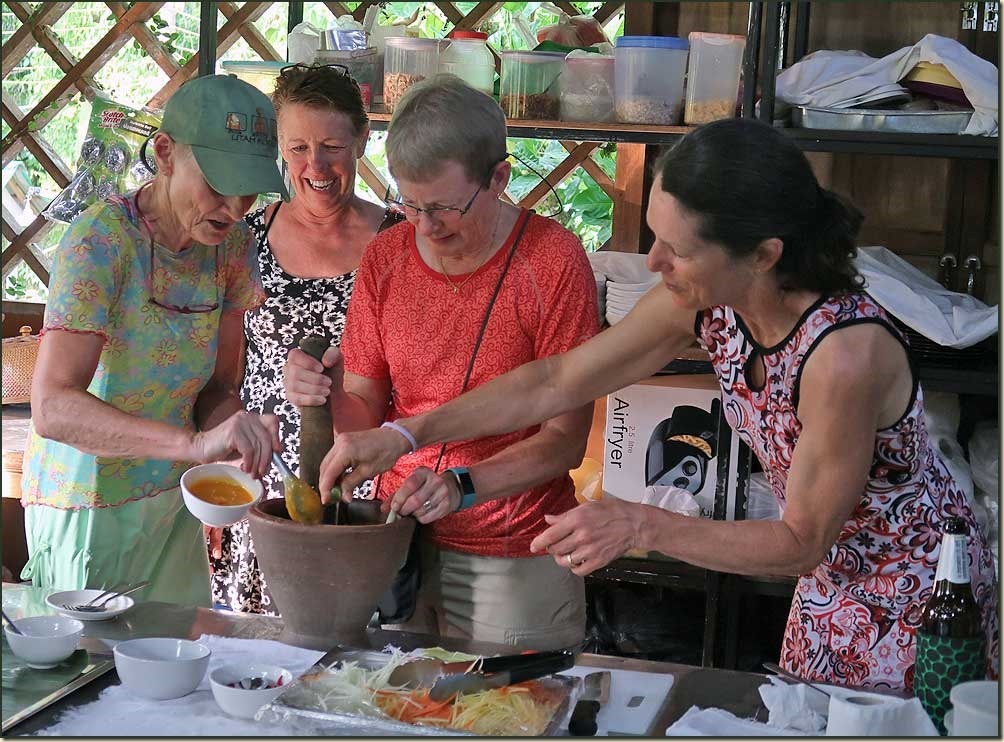 The girls of our group followed Chef Pin's actions to create the recipe.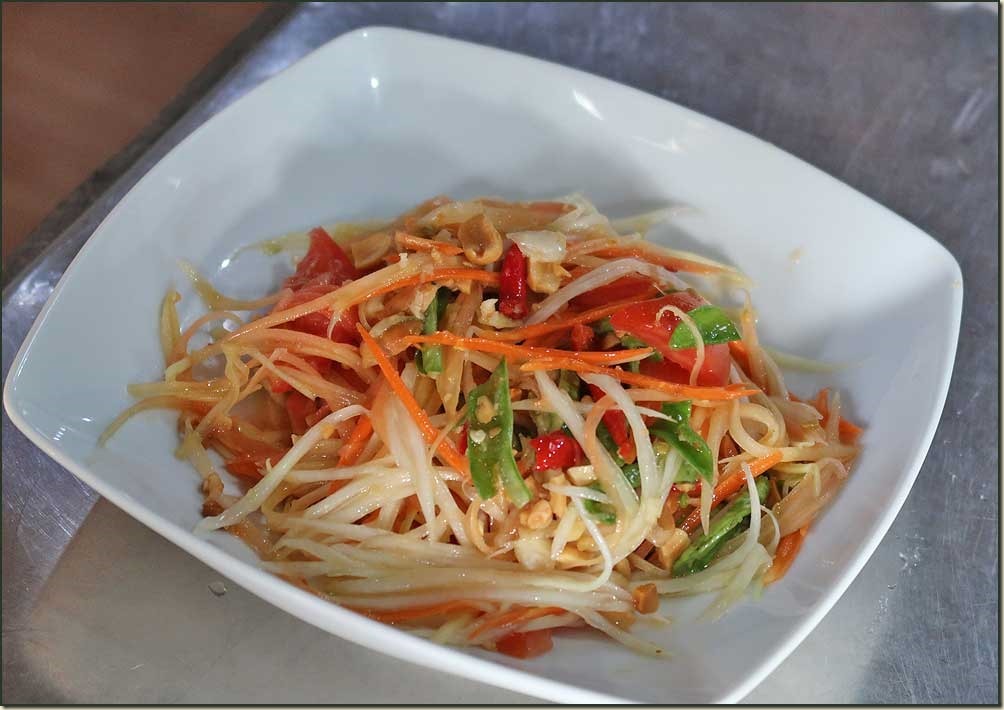 The final product looks good, ladies!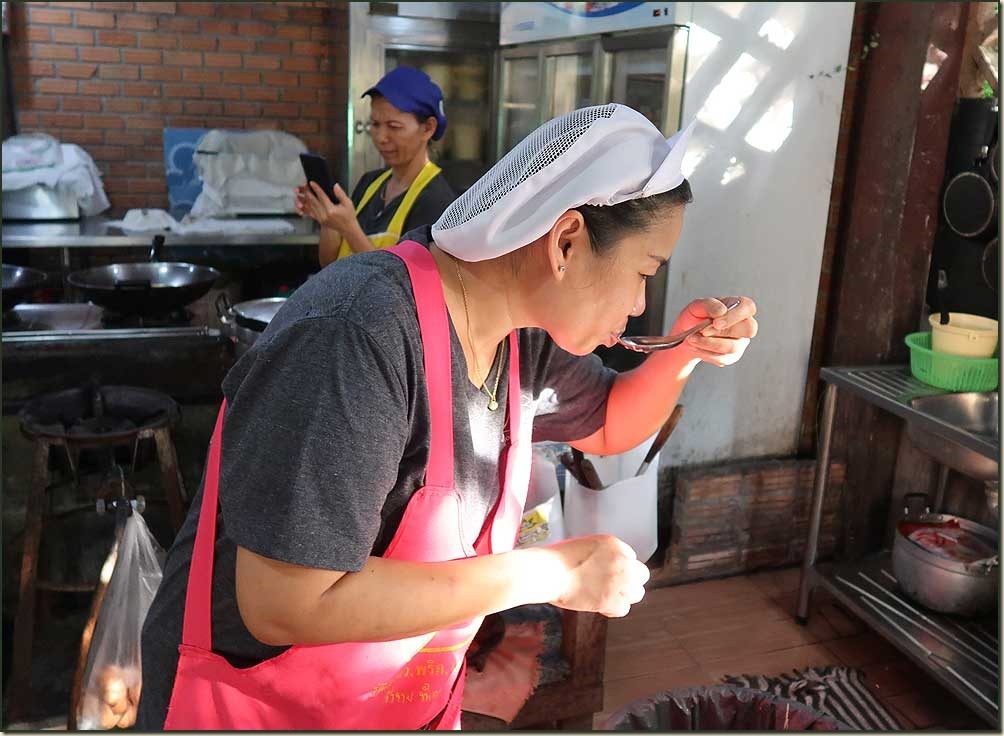 Chef Pin tastes the sauce, made of fish sauce, palm sugar, and lime juice.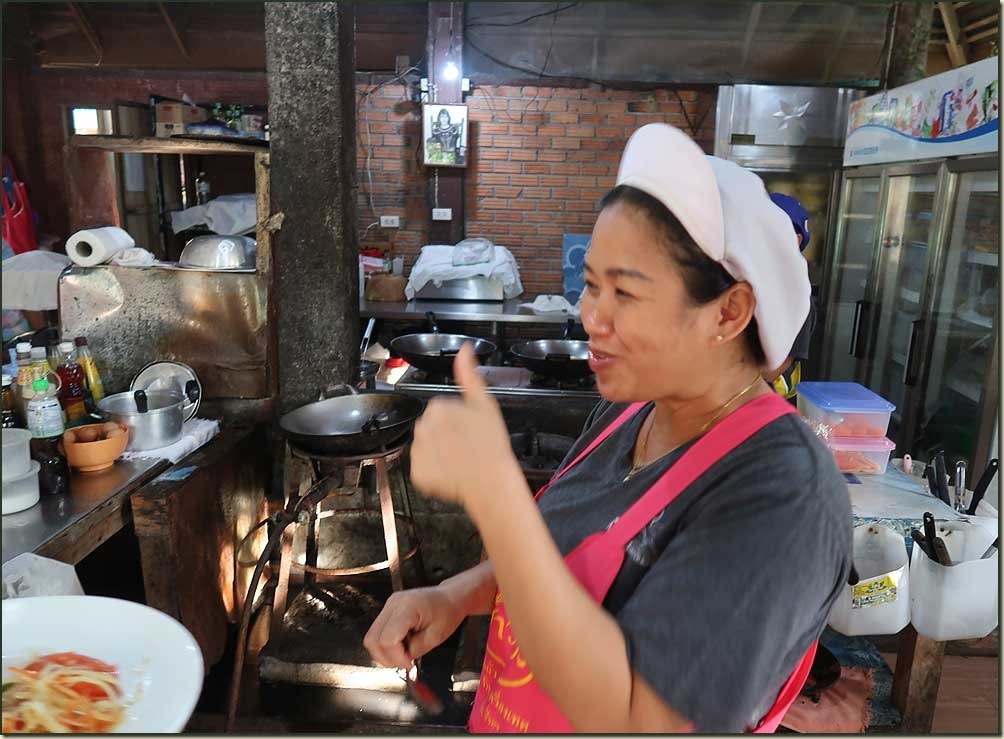 And she gave it a thumbs up! (Even though she thought it should be a bit sweeter.)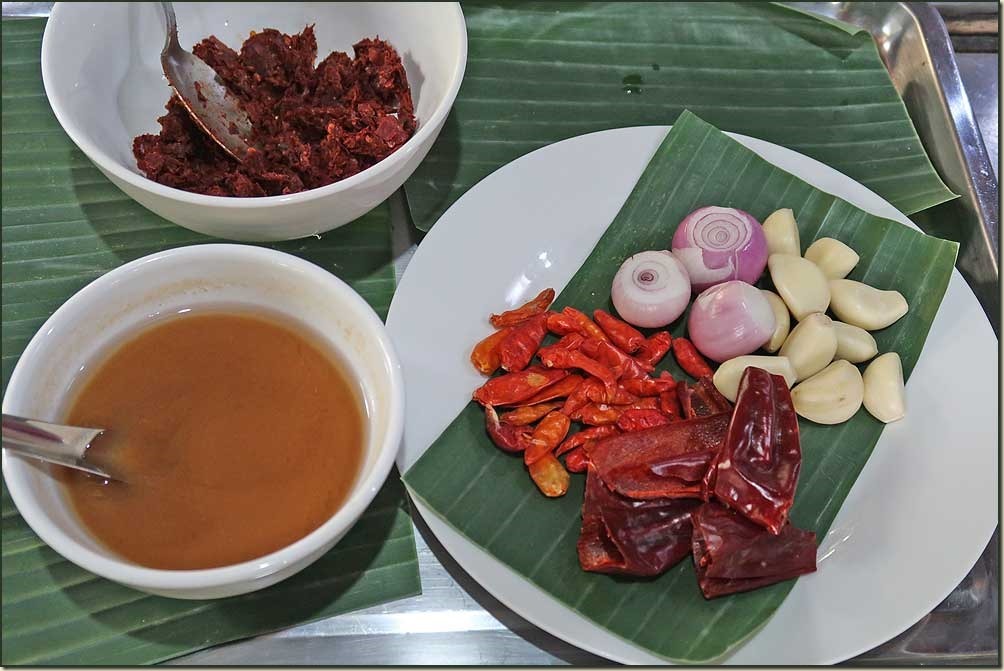 Next Chef Pin demo'ed making the sweet chili paste that we have been enjoying all along on this trip. She only put one Thai chili pepper in the demo, noting that if she was making it for Thai customers, she would use 7 chilis!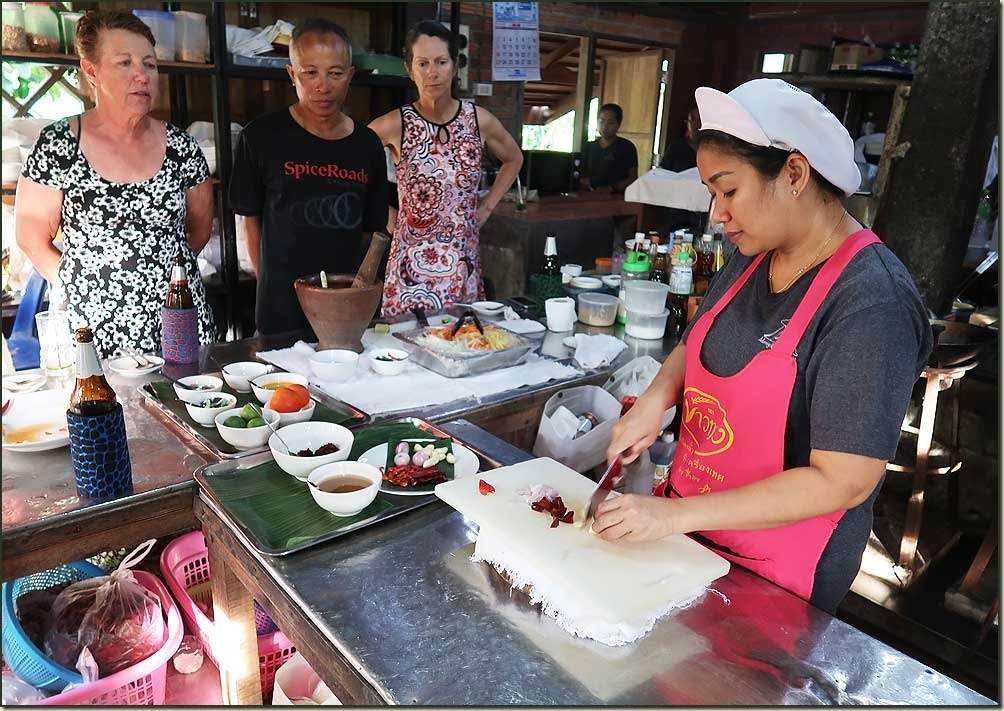 She chopped the ingredients and put them in a hot wok, cooking until it had thickened nicely.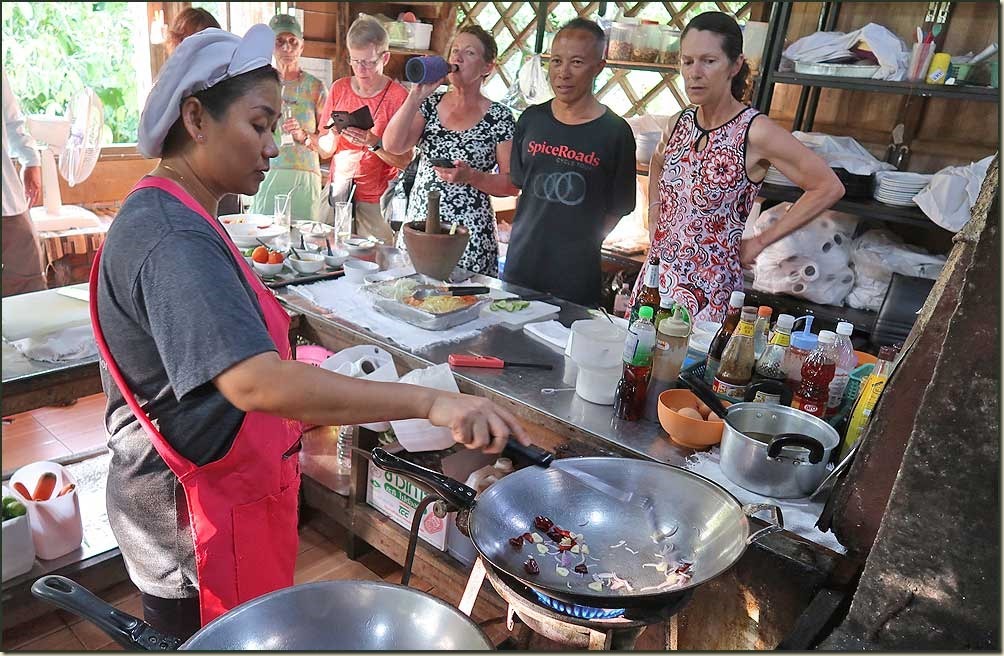 She used a dry wok with no oil, to help caramelize the ingredients and bring out the aromatics.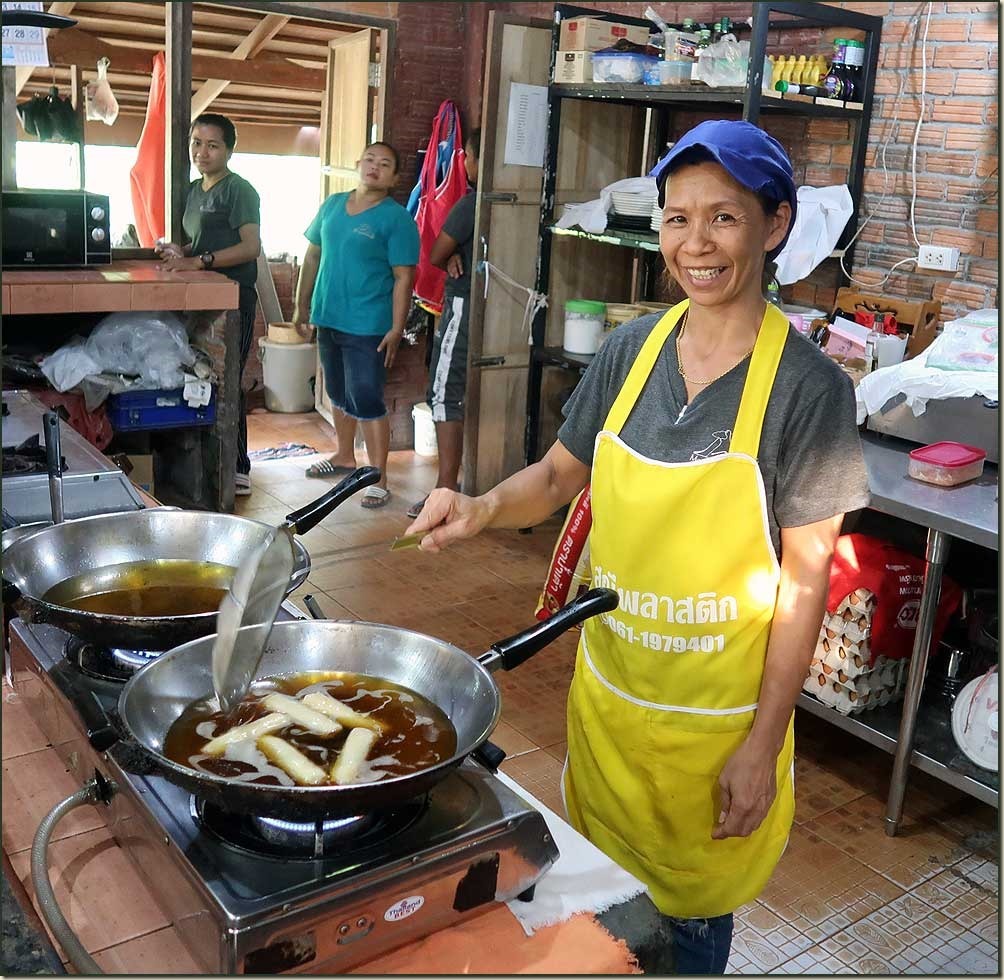 All this demonstration by Chef Pin was underway while her staff were nearby, creating dinner for us and the other customers! These fried bananas went into our dessert of fried bananas in coconut milk. The Spice Roads team enjoyed a double happy hour and delicious dinner at the Misty River Resort Restaurant. Thank you, Chef Pin!!The owner of the resort is a former competitive bike racer in Thailand. So we fit right in.