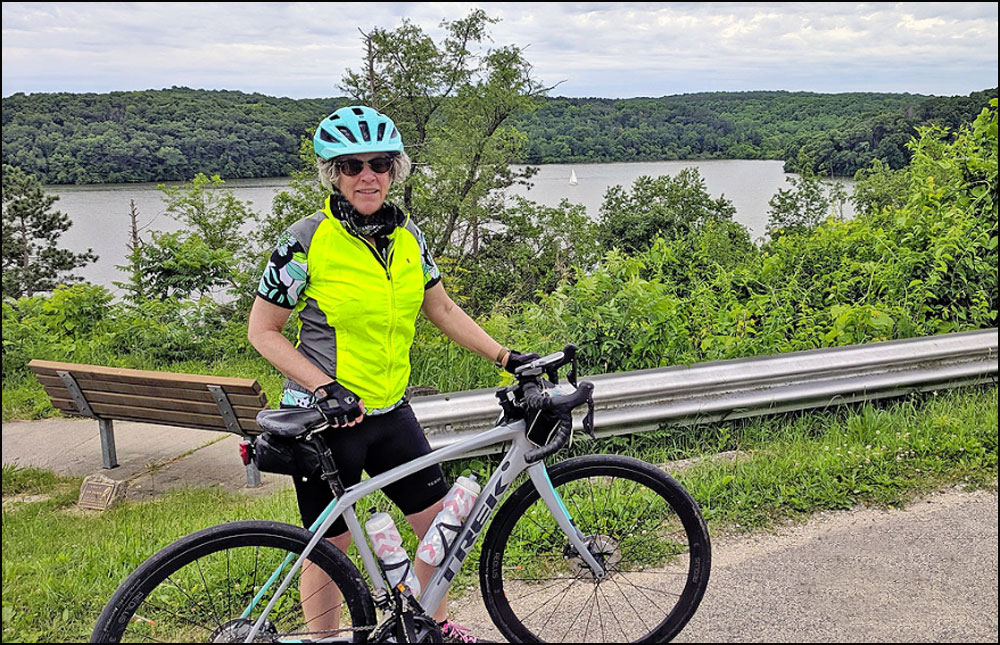 Here we go again! Last year's ride from Madison to Minneapolis to celebrate my big birthday was such a success that we decided to do it again. I call it the "trick my husband into riding with me so we can celebrate my birthday together" ride. Whatever works!! This year's focus is the Driftless Region of southwest Wisconsin.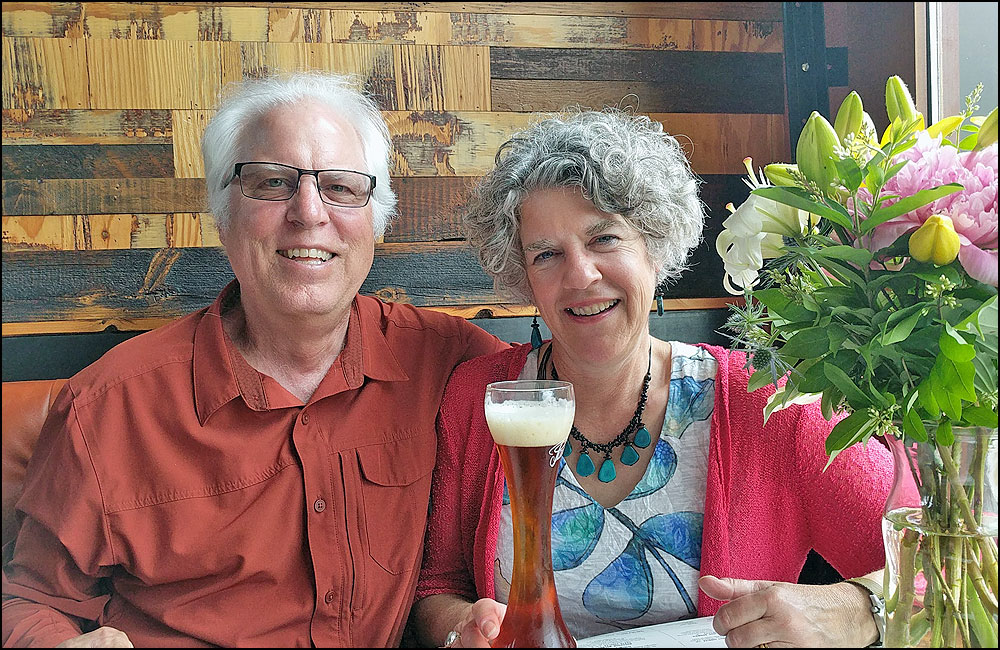 We celebrated my birthday starting with lunch and flowers from dear friends, along with a hearty Belgian ale! All at a great bike-themed restaurant in Madison.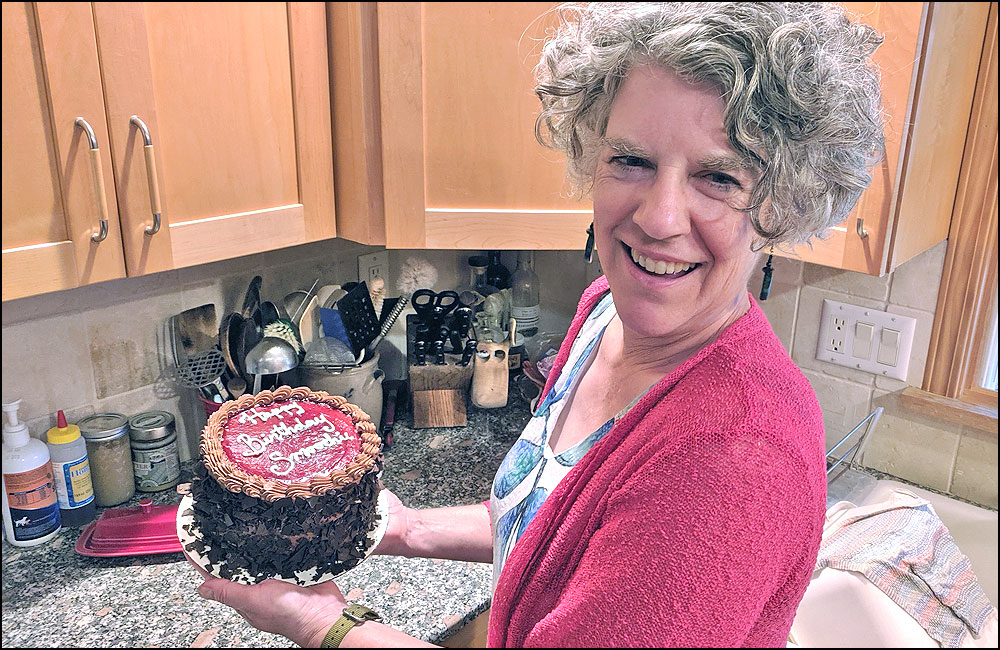 Smoochie surprised me with a lovely cake from the excellent Rolling Pin Bakery of FItchburg, WI.  We enjoyed it with ice cream at Siggi and Ron's house.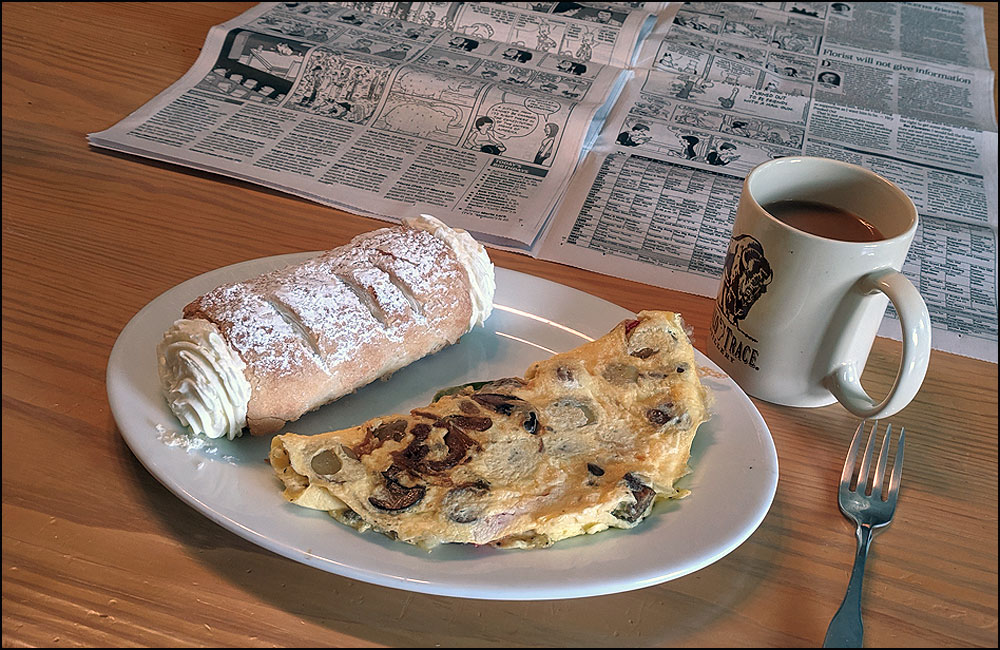 Oh, this ride has a heavy food theme. Smoochie surprised me the next day with a hearty cream puff and an omelette! He bought one for himself too, of course!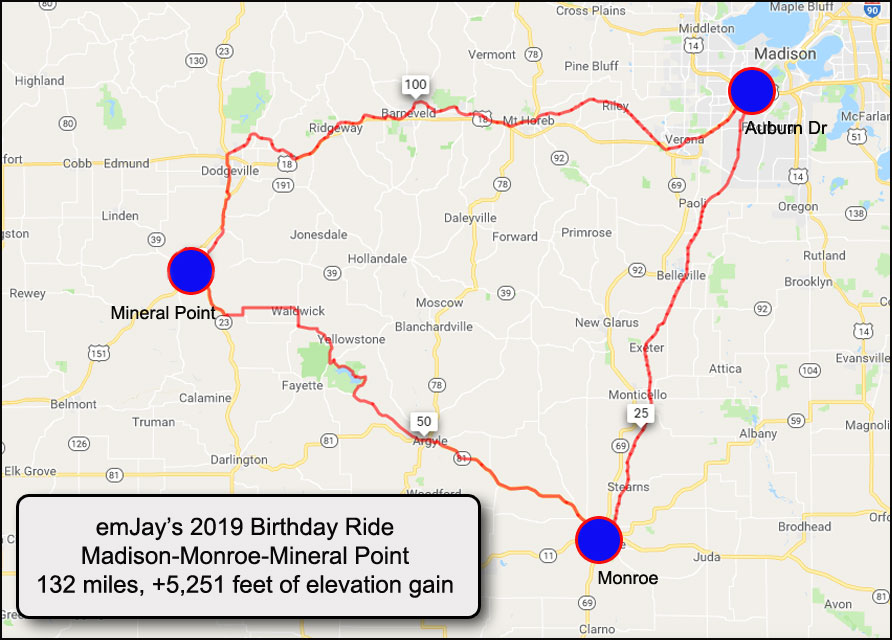 Our ride this year takes us on state bike trails to Monroe, WI, then across the countryside to Mineral Point, then back to Madison mostly by state trails again. Fun!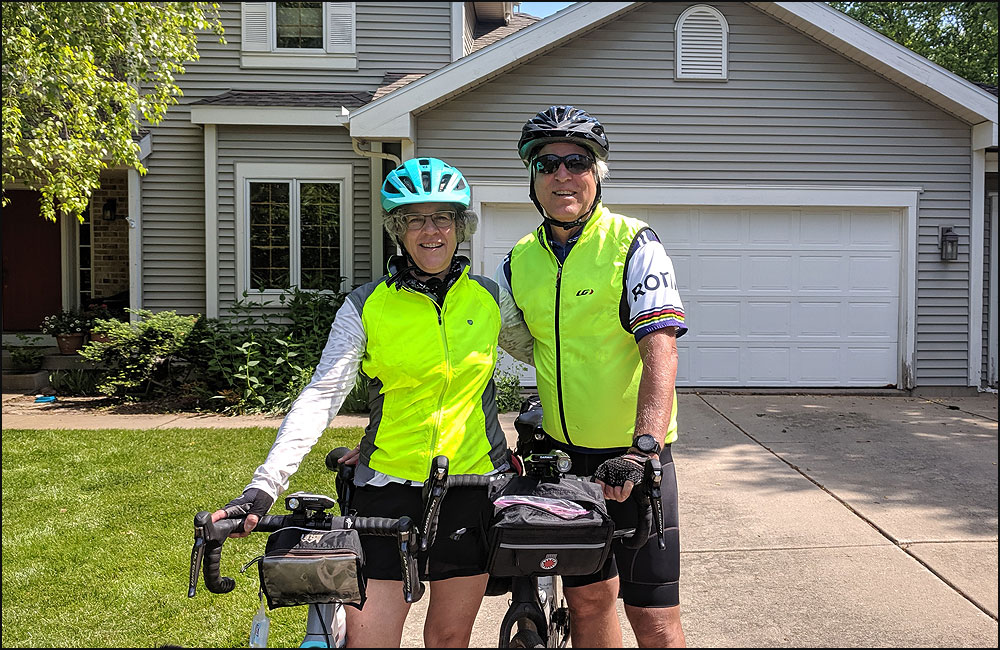 The traditional departure photo, this time with both of us riding new bikes…"steeds" as I like to call them, hearkening back to my horsey days as a teenager.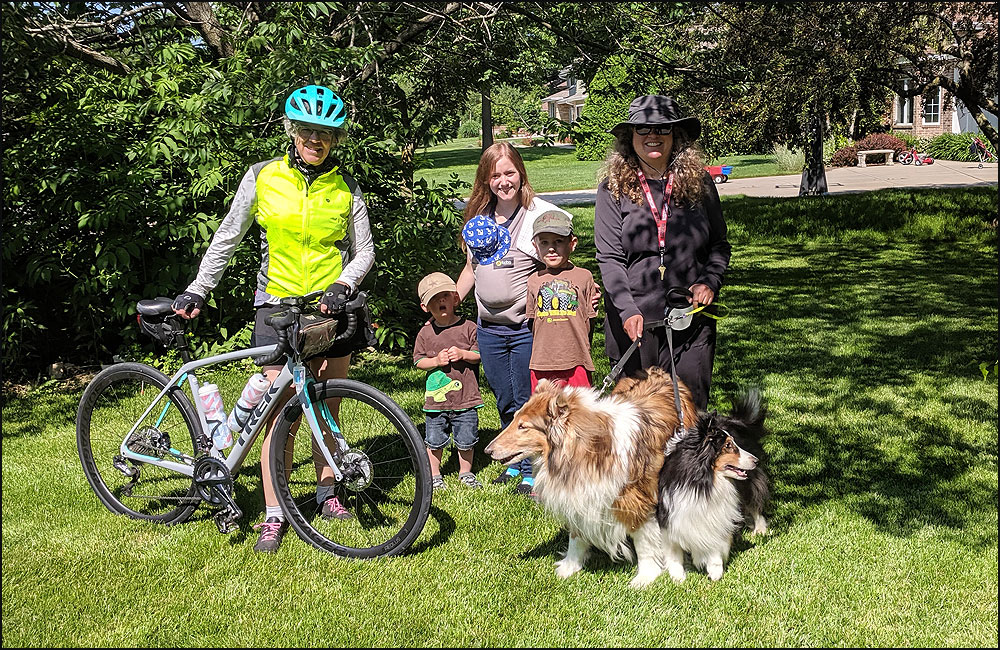 We had a marvelous send-off by a group of neighborhood friends including Teddy, Michele, Arthur, Sammy, Walter, Edmund, and Lynne!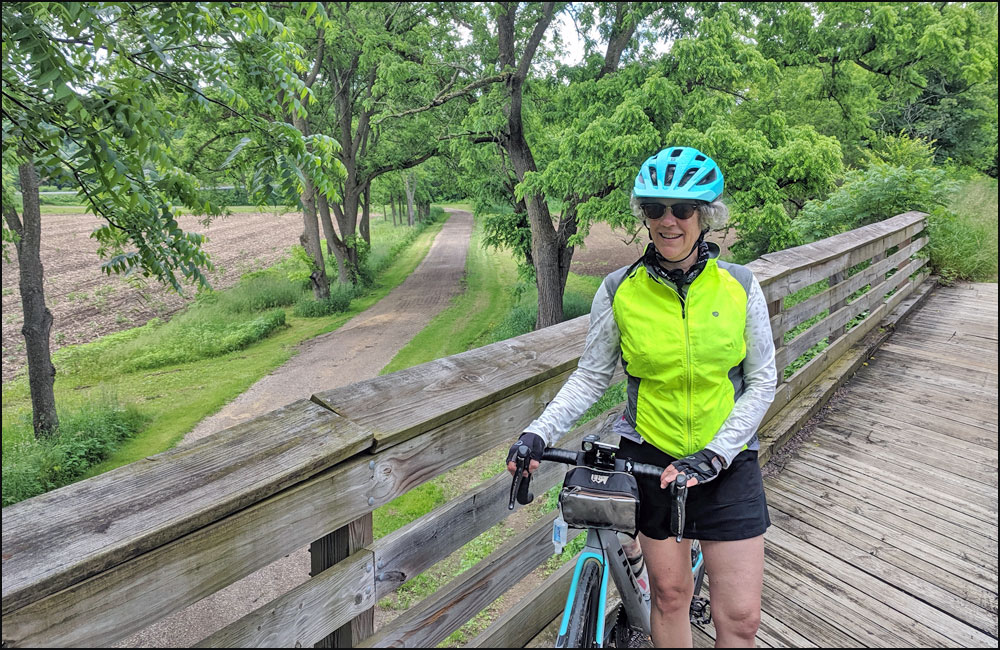 We headed south on the Badger Trail. This is a particularly scenic spot overlooking a farm lane.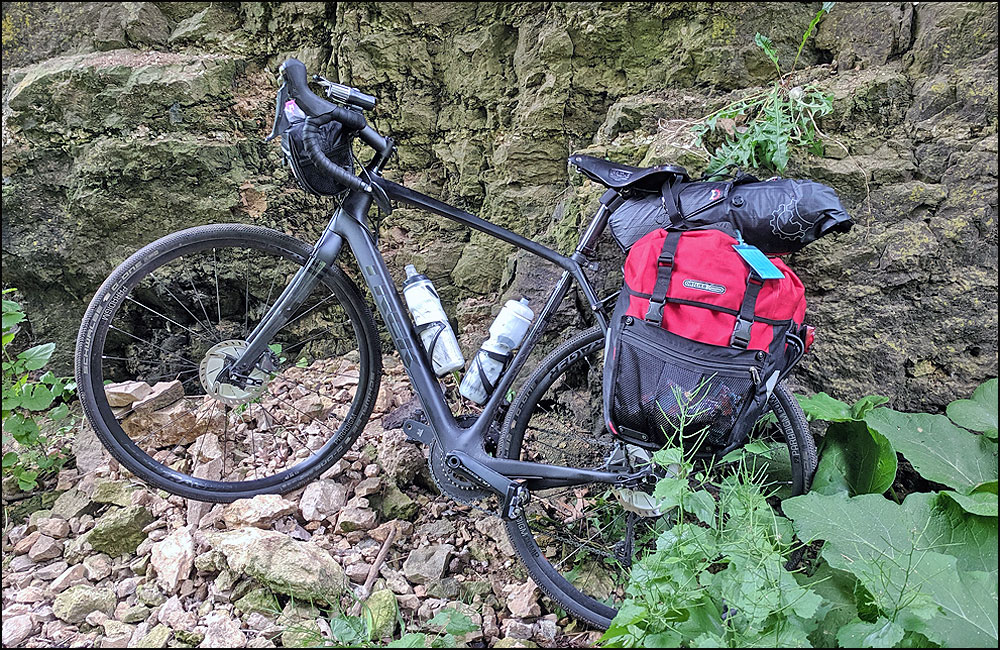 Rick found a site perfect for a rugged personality shot of his new Trek Gravel bike.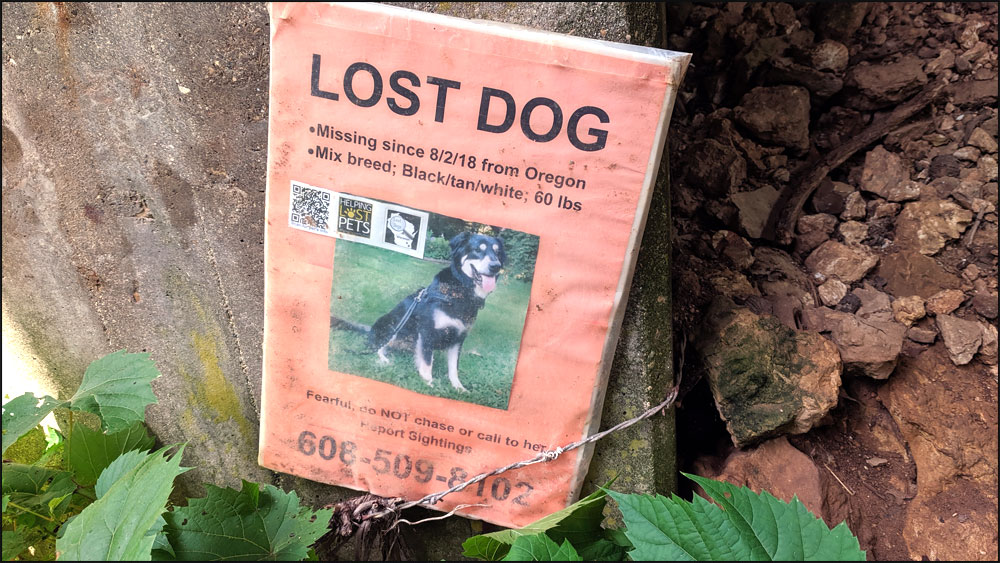 This pup was lost last summer! Hope they found her. The instructions say "do not call or approach her as she will run away!"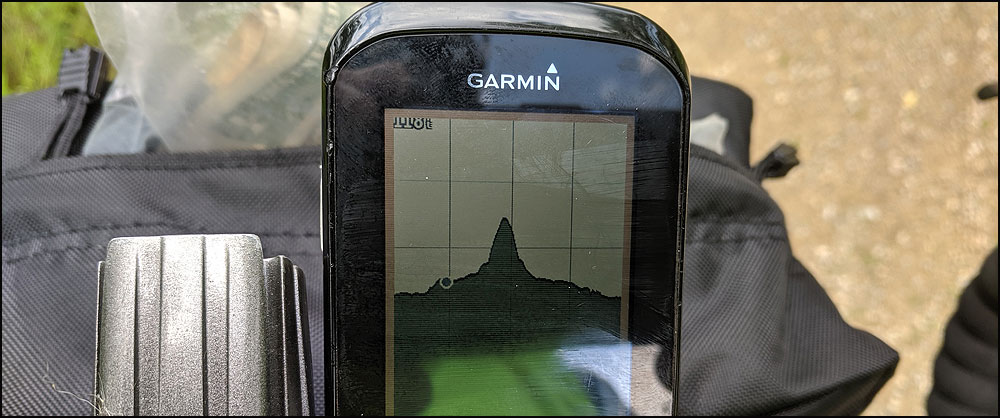 The Garmin overly dramatizes the terrain, depending on how you have it set! This was a gradual 3% grade up to the top of a ridge…
…where you cruise through a fairly long, dark, damp, spooky tunnel through the ridge. You must have a light to get through! Woo hoo, then it is 3% grade down the hill into New Glarus where a yummy lunch awaited us.

Little did we know that the Annual North America Vespa Convention is being held this year in Lake Geneva WI. It is in a different locale each year. New Glarus was lousy with Vespas, which are cute little Italian scooters developed after WW II. Packs of riders were on excursions in southern Wisconsin. Nice people!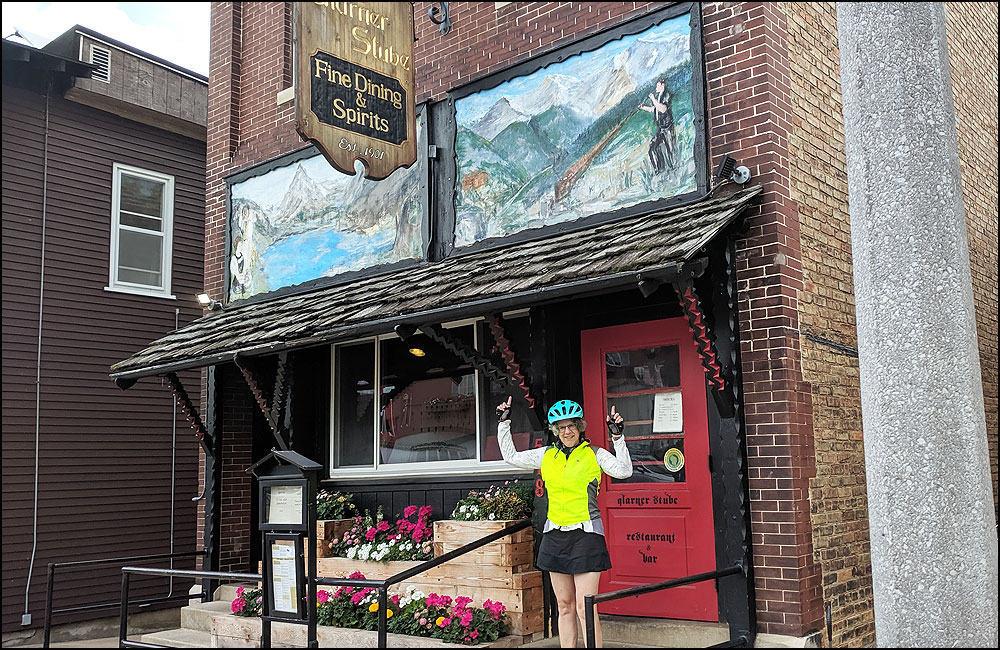 Aaah…our lunch time destination, the Glarner Stube!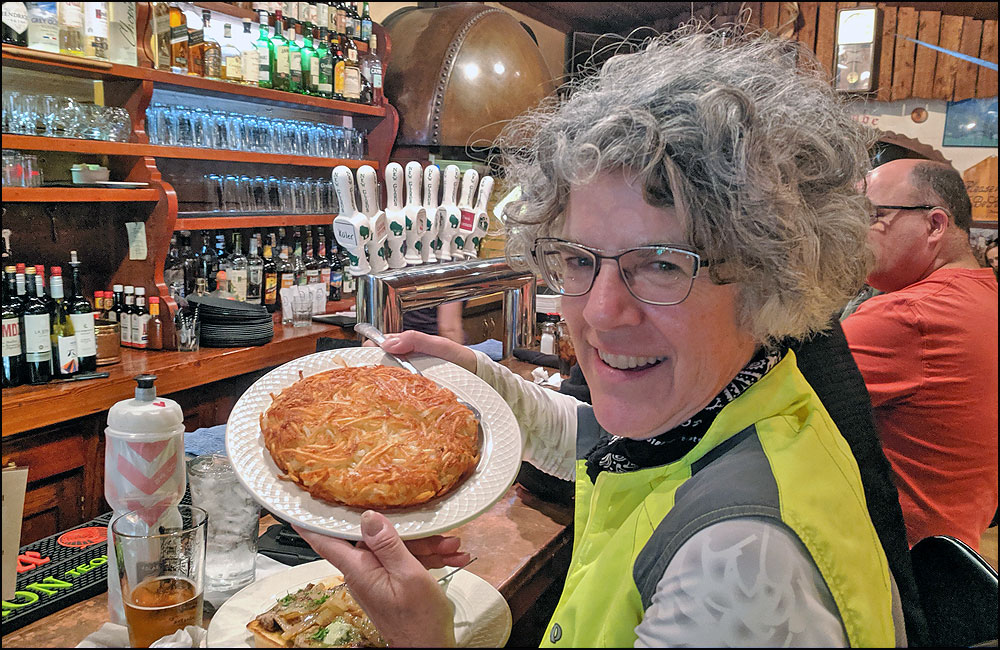 All morning long I had been fantasizing about my lunch of roesti, a yummy cheesy fried hash brown potato dish. To die for! It is a big  plate so Rick and I agreed to share.  At the Glarner Stube, there is another "can't miss" opportunity to see the largest of its kind in the whole world, as legend has it….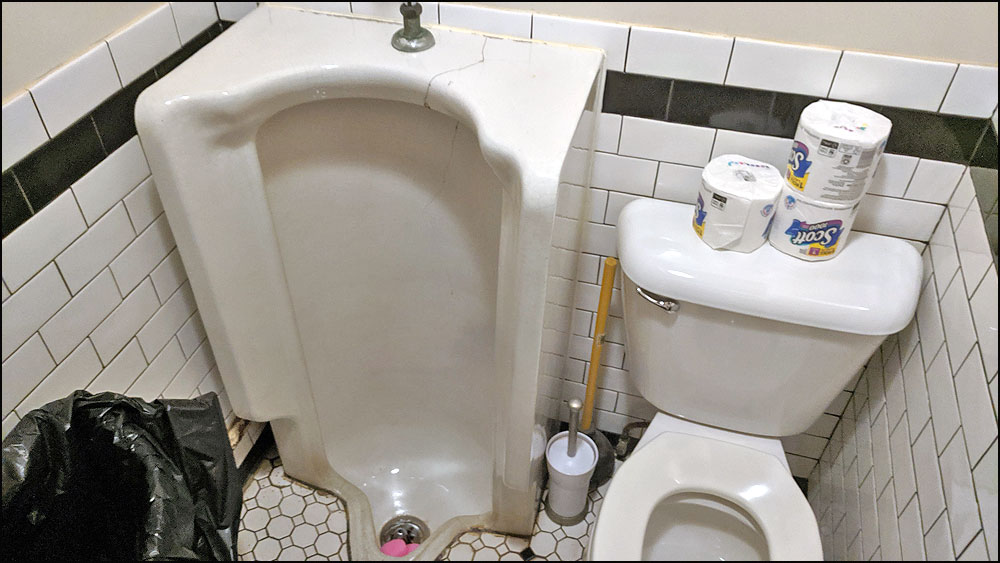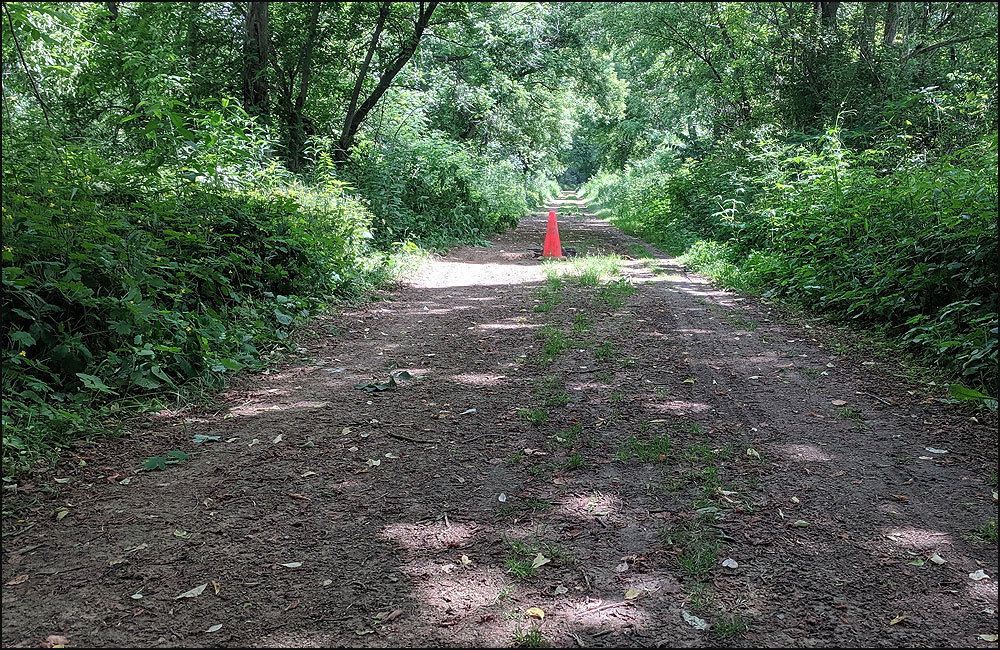 We continued south along the Badger State Trail. You see first-hand evidence of the funding cuts that have been made to Wisconsin's state parks and trails programs over the past years. The trail was not at all as I remembered. Overgrown with vegetation in many places.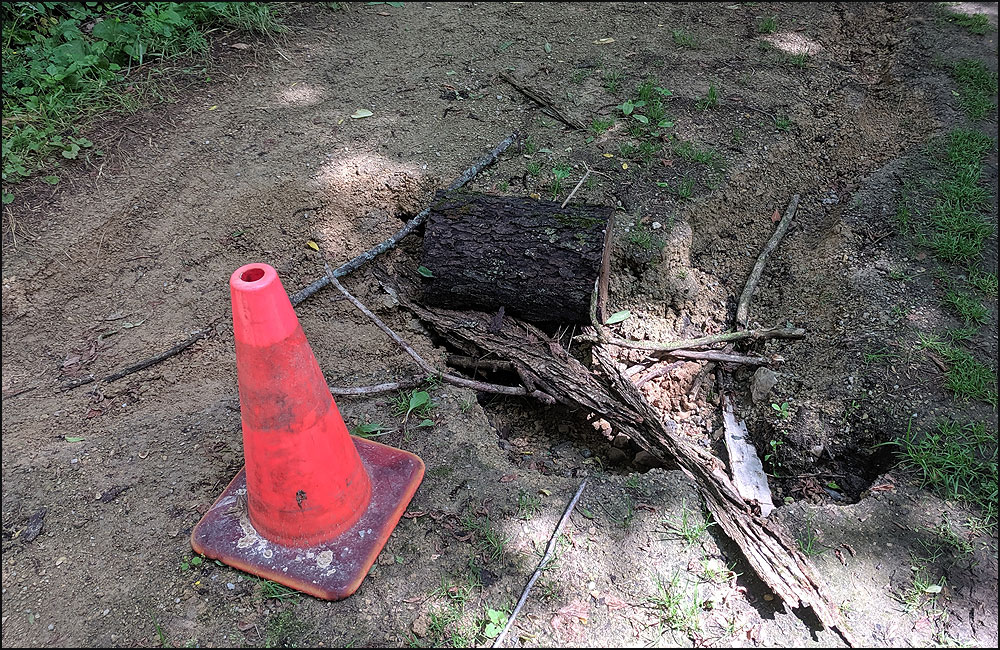 And the holes! Someone developed the moniker "Scottholes" for the thousands of potholes that have developed on Wisconsin highways  during the past 8 years. Seems like a good fit for bike trail maintenance problems as well! You had to be careful, because there were smaller holes that were unmarked. Only the huge ones got a traffic cone!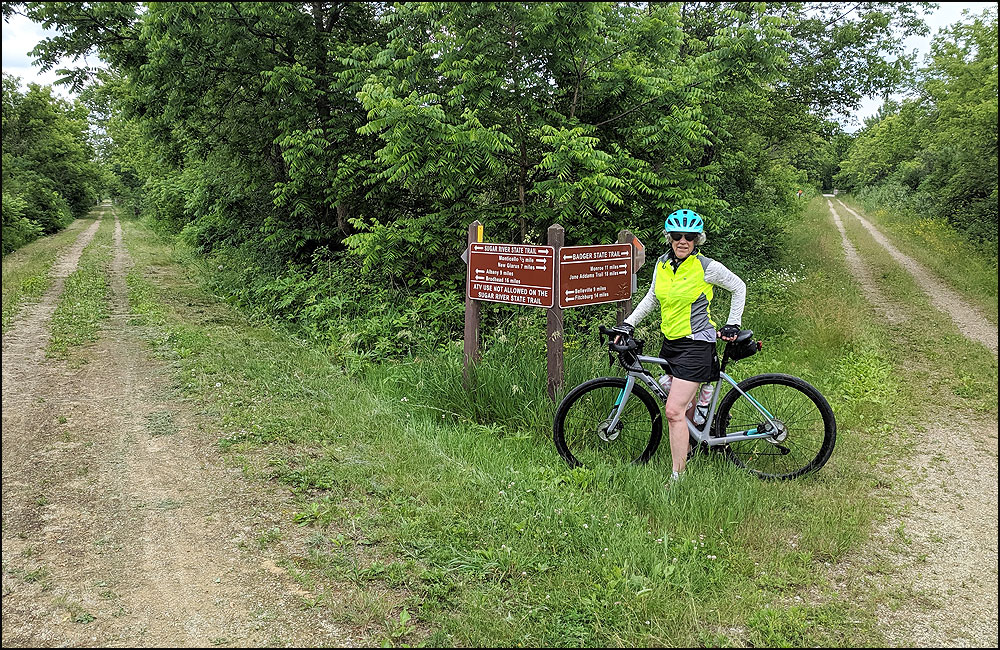 Here we are at the intersection of the Sugar River Trail and the Badger State Trail.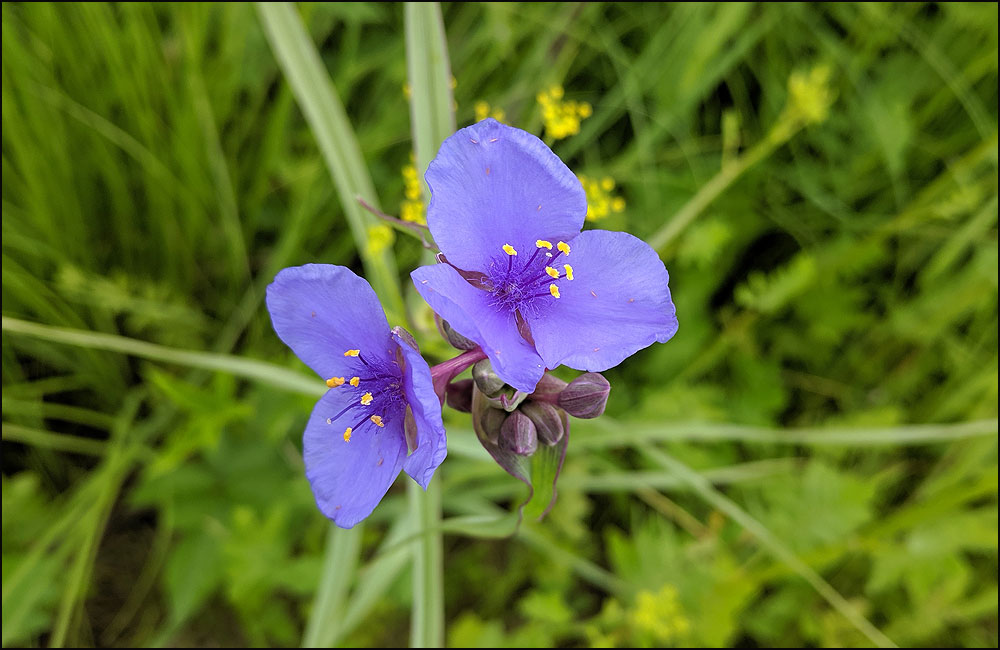 Prairie plants like this spiderwort were in bloom.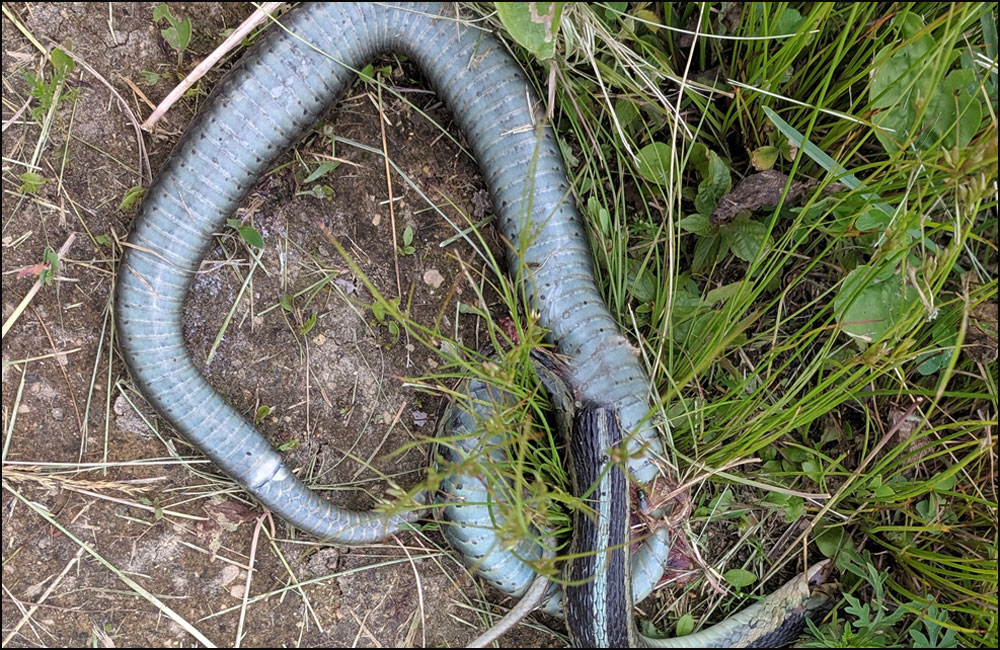 A garter snake was no match for the mower that had recently been in one area.  (This was the only mowed area we saw all day, so I guess the lack of mowing is good for the reptile population!)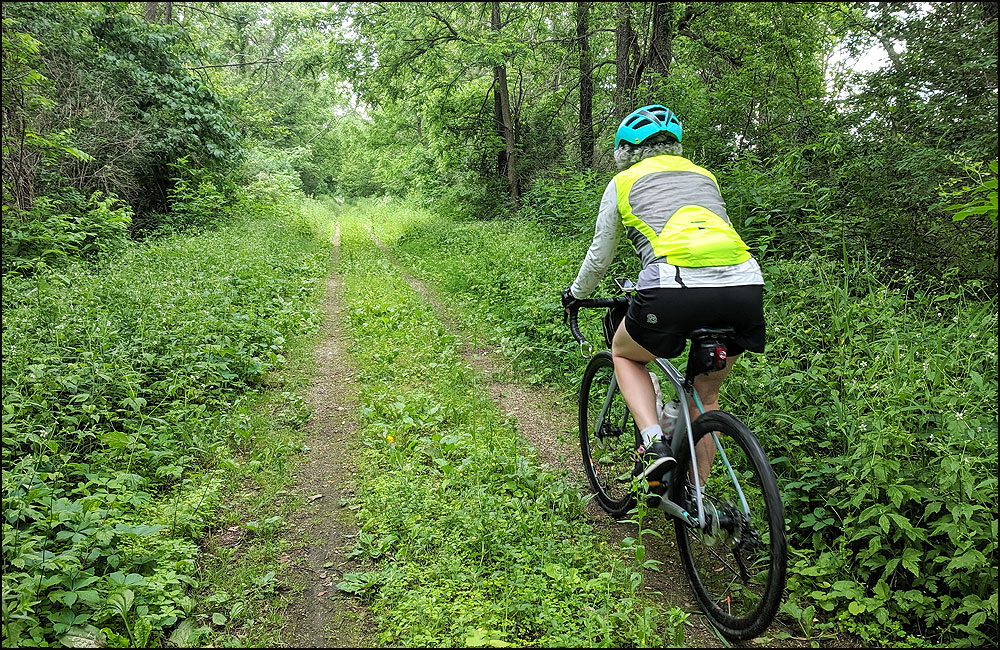 Typical overgrown bike path! Shocking, just shocking.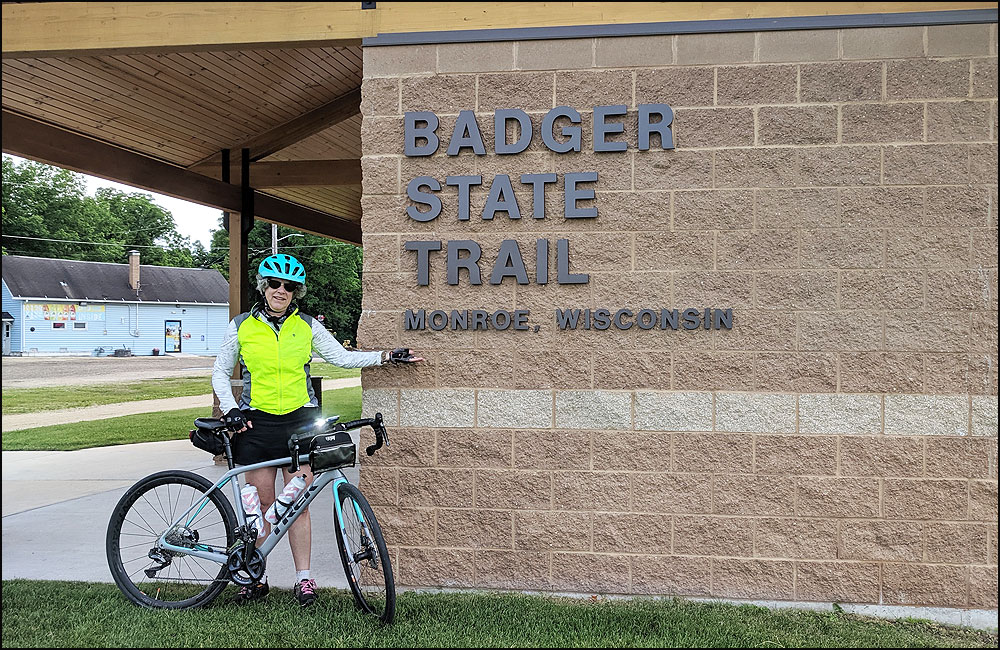 But we do have a spiffy new trail rest area in Monroe.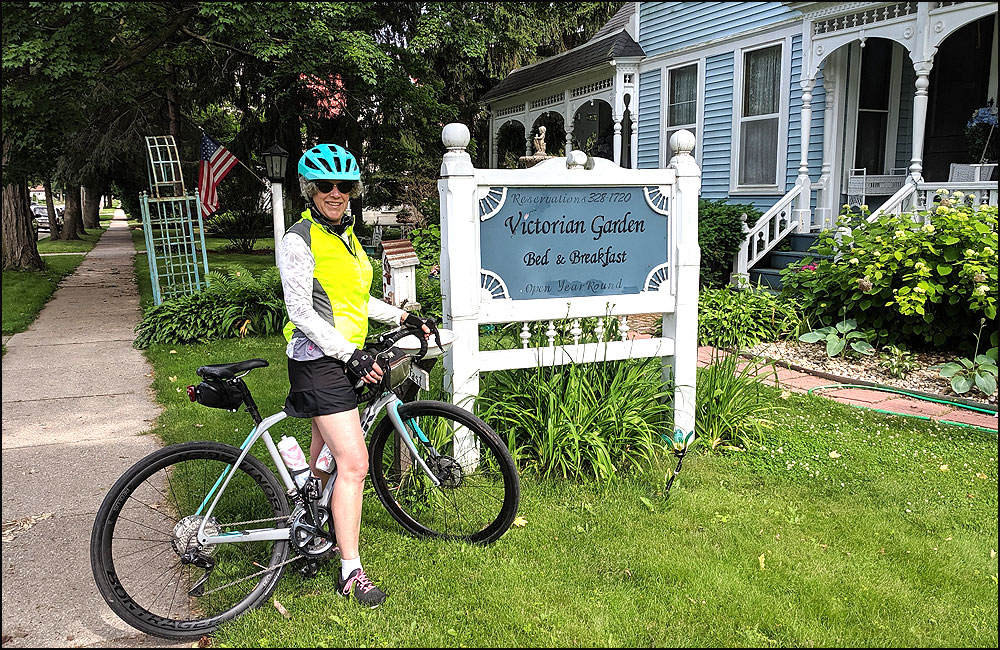 We arrived at our Monroe B and B, the Victorian Garden, around 3:30.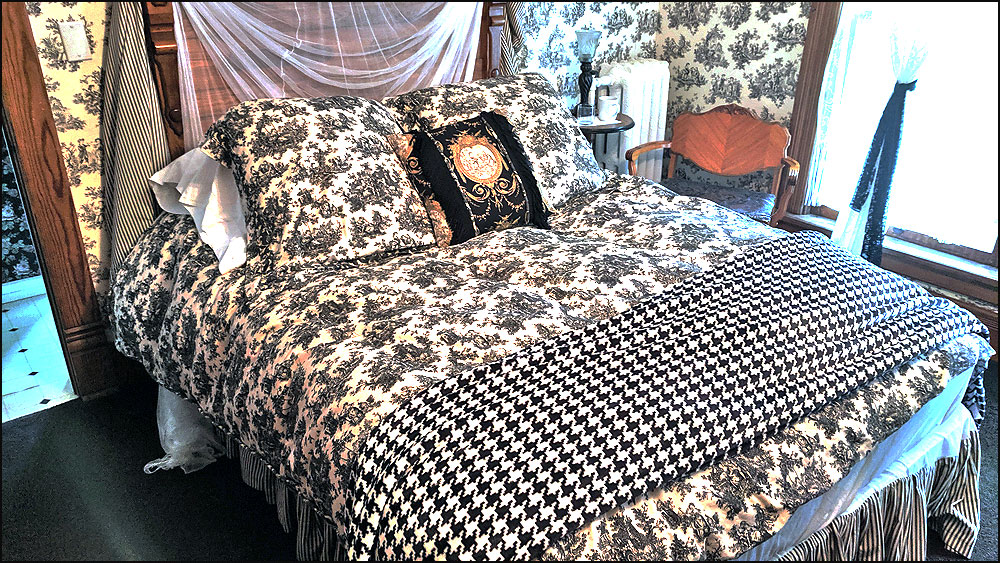 We were checked into the White Lace Room…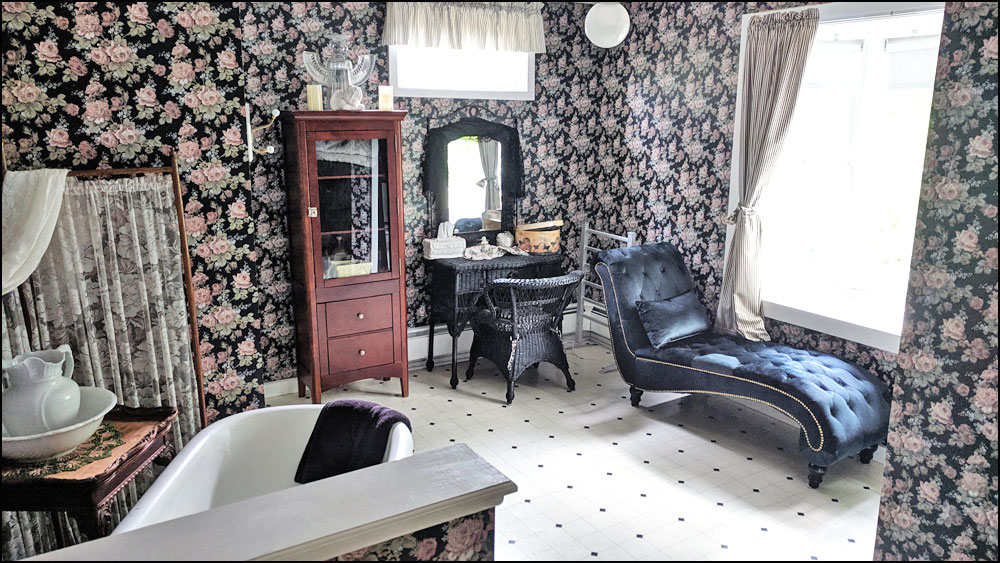 …which boasts a  HUGE bathroom and even a chaise lounge!!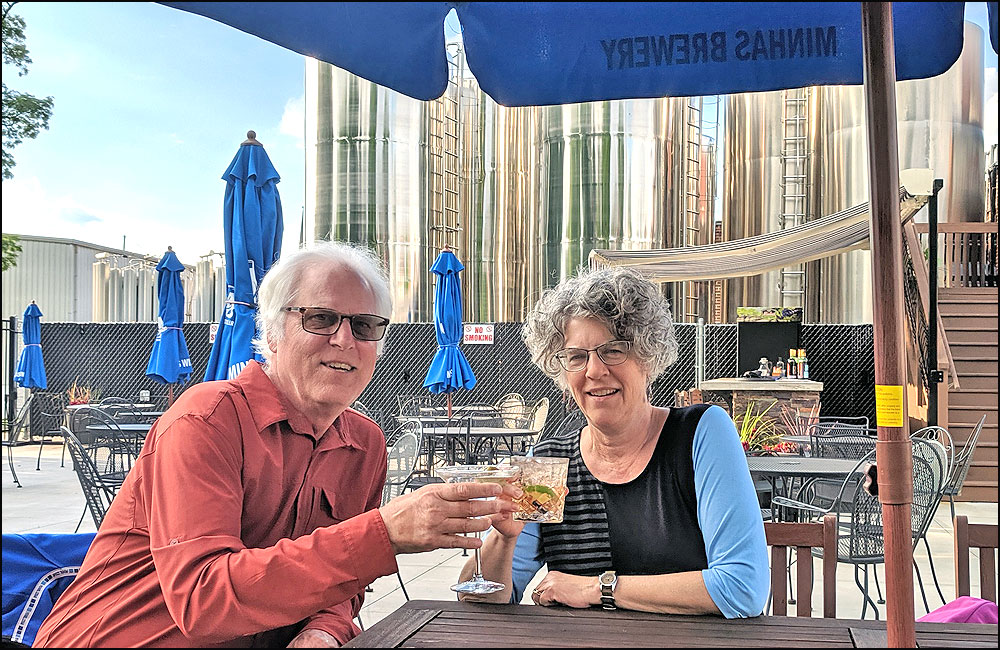 We enjoyed drinks at the Minhas Kitchen, associated with Minhas Brewery based in Monroe. Here they make beer, spirits and vino. The things that look like spaceships behind us are beer tanks. There was no one else at the restaurant! Guess I didn't need to make reservations after all….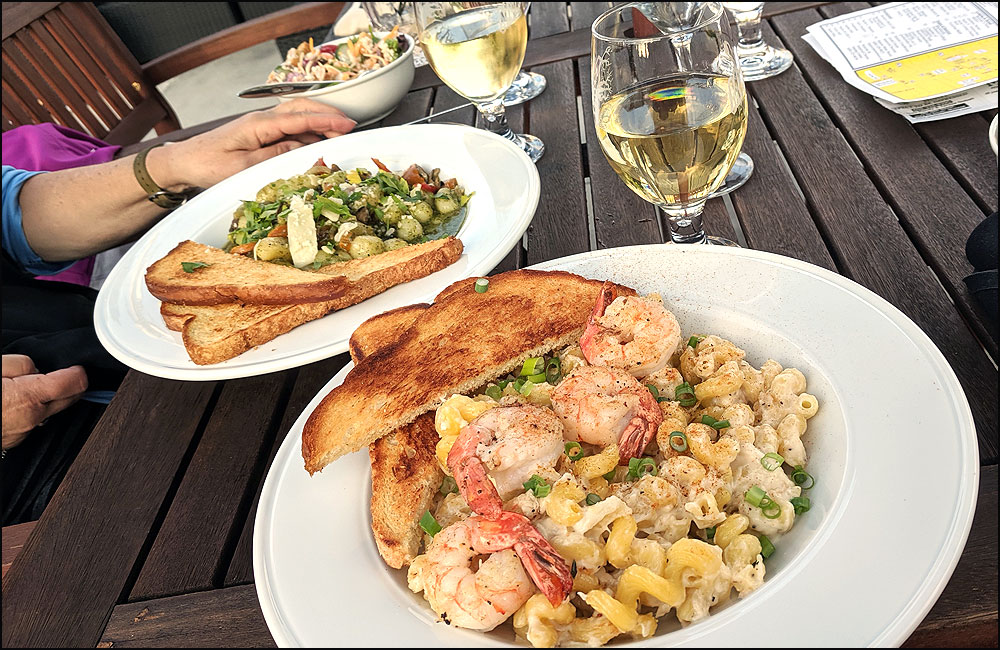 We had hearty, cheesy, pasta dinners.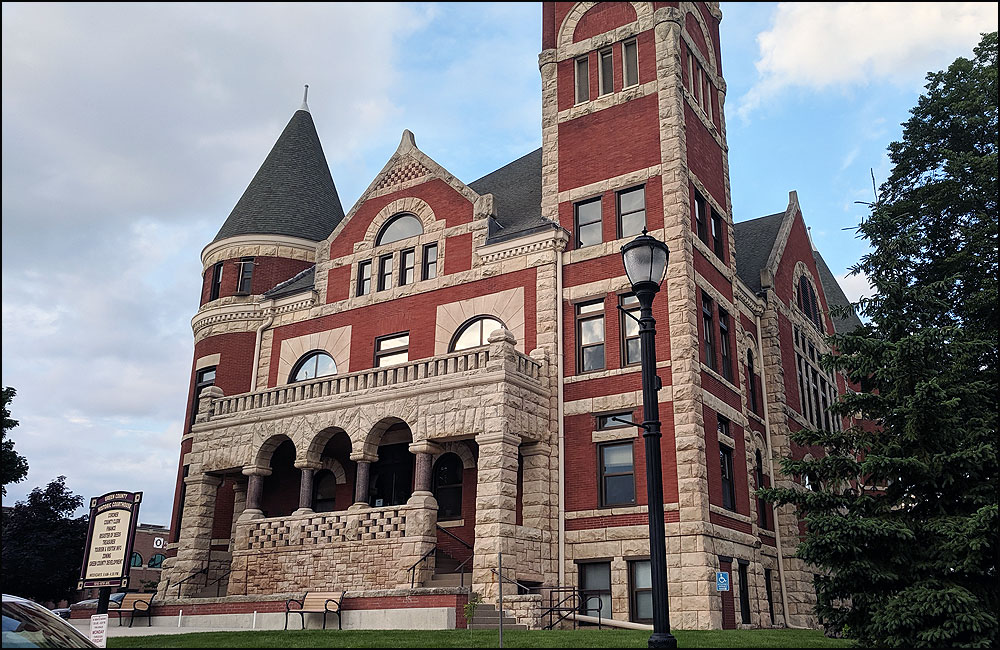 After dinner we strolled around the town square, enjoying the stately Romanesque Green County Court House.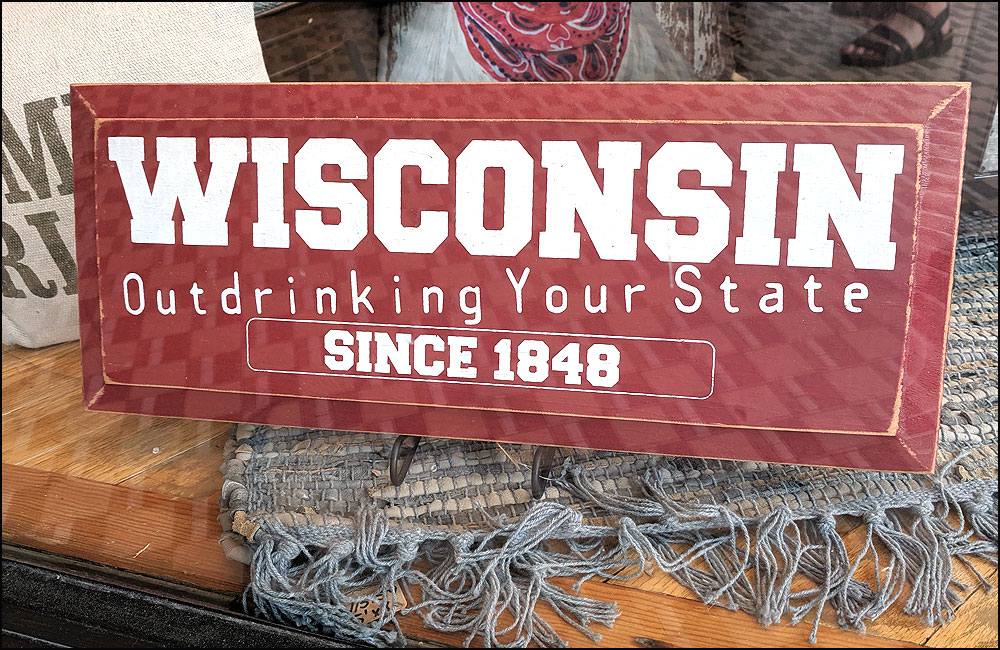 Ha HA! Wisconsin pride…?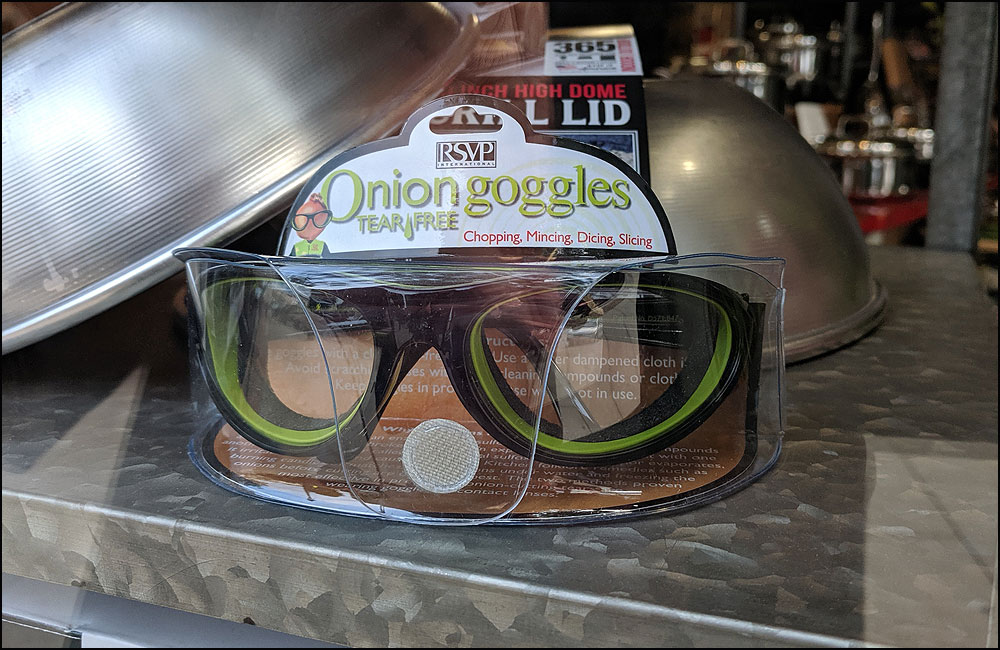 A fancy kitchen store offered yet another item you don't really need, soon to be in the bottom of your kitchen junk drawer…. or for use when biking on gnat filled bike trails!!!
Our room had a faux fireplace which reminded us of our friend Charlie!
The B and B came with a friendly cat named Alania who likes to visit each guest room.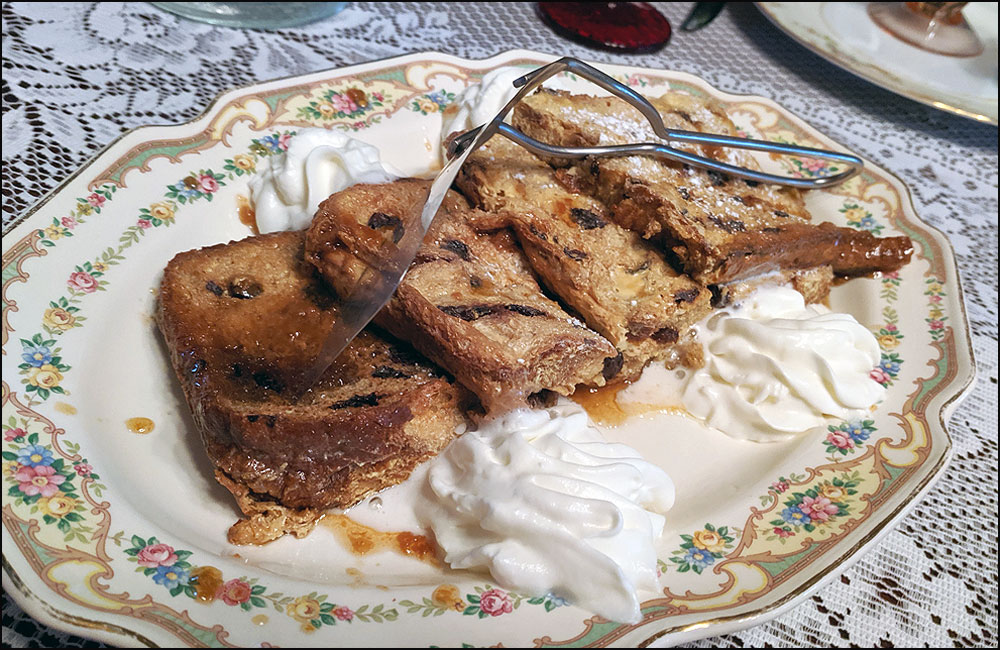 Creme Brulee Frendh Toast for our morning carbo-load!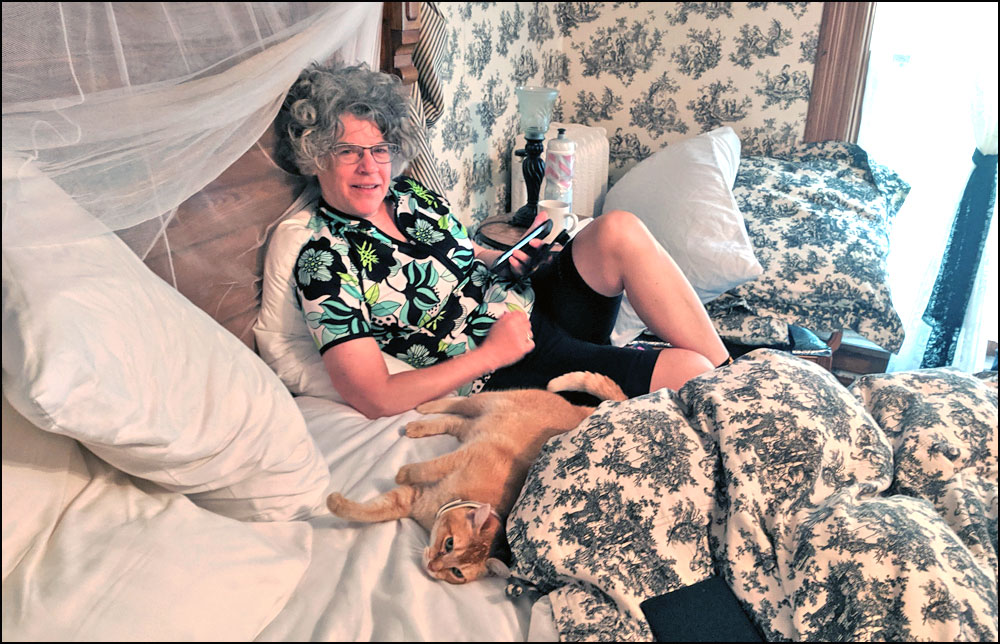 Alania helps me check my emails after breakfast.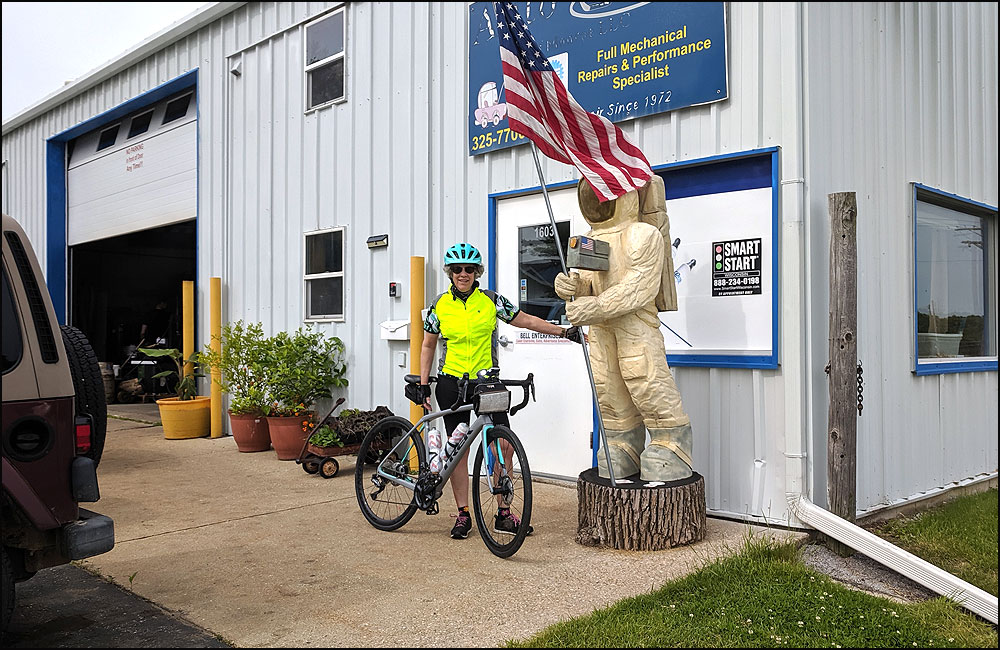 First stop on Day 2 is at the chain-saw-art Apollo astronaut!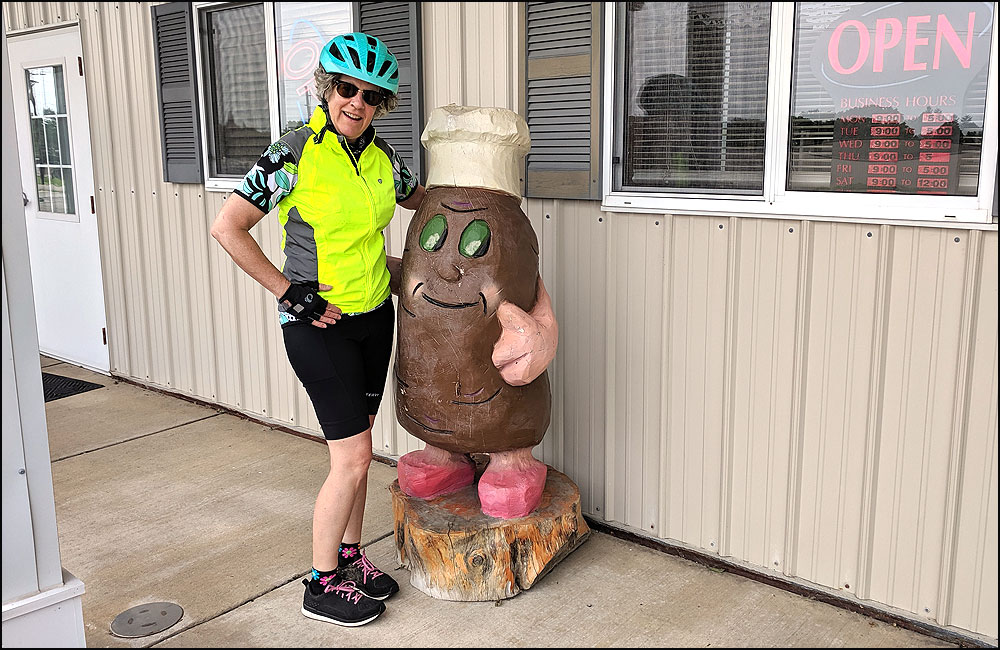 And on to the chain-saw-art Potato Chef!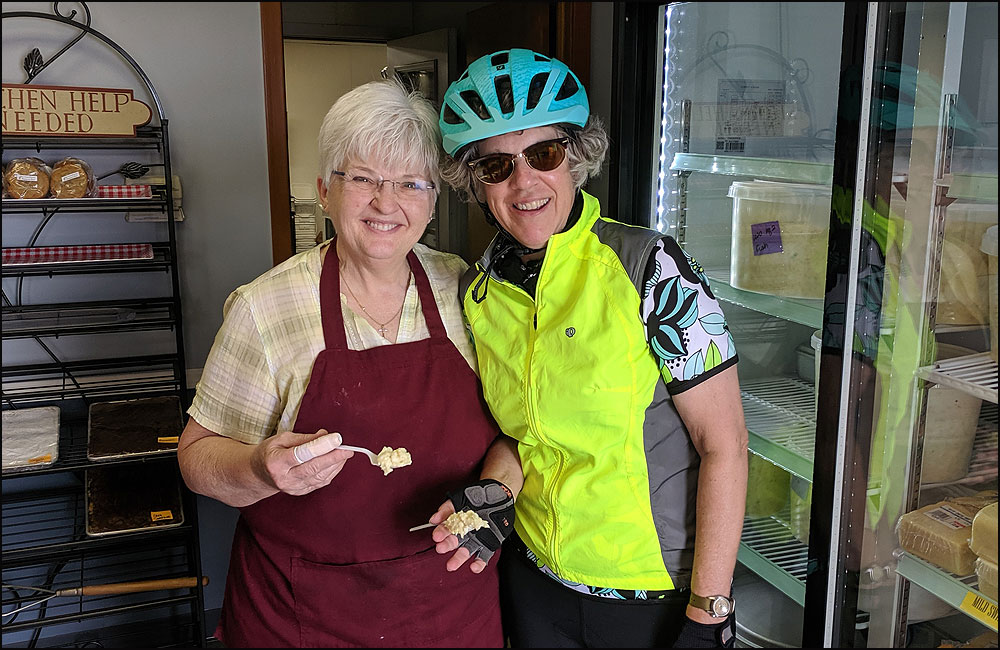 Then out popped the savvy marketer Barb, who offered us a sample of Barb's Best Potato Salad. It IS the best! You can find it in Monroe, Argyle, Verona, and other hot spots of culinary opportunity.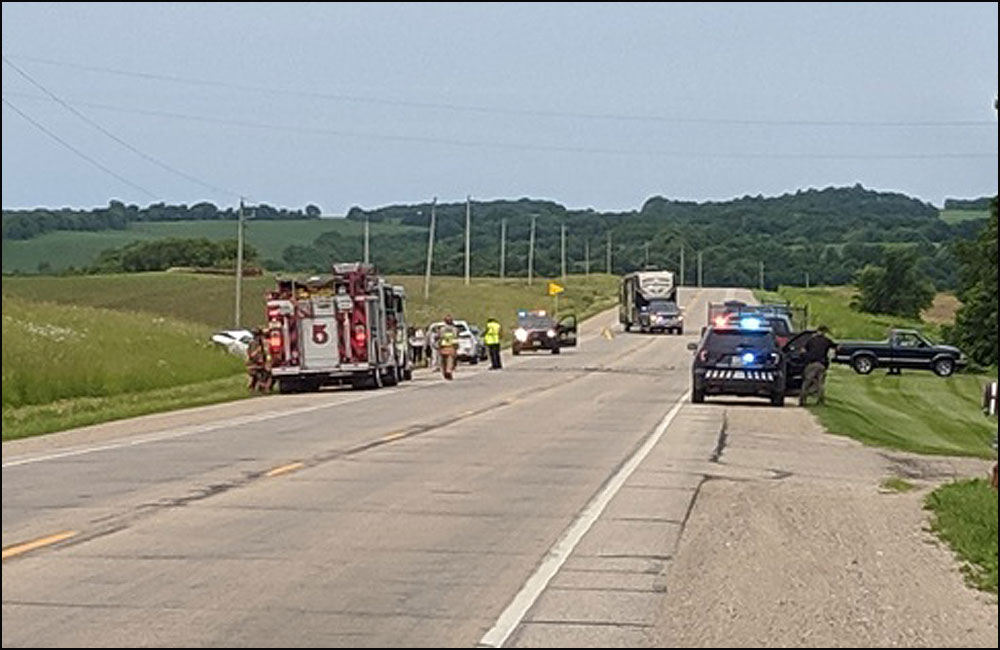 As we left Barb's Best Potato Salad World Headquarters and headed west, a police car zoomed by, then an ambulance, then a fire truck. In a few miles we came upon the accident. The white car to the left of the fire truck apparently hit another car that was turning. Police report noted "under the influence of controlled substances". Doesn't mix with driving even if it is 9:00 in the morning!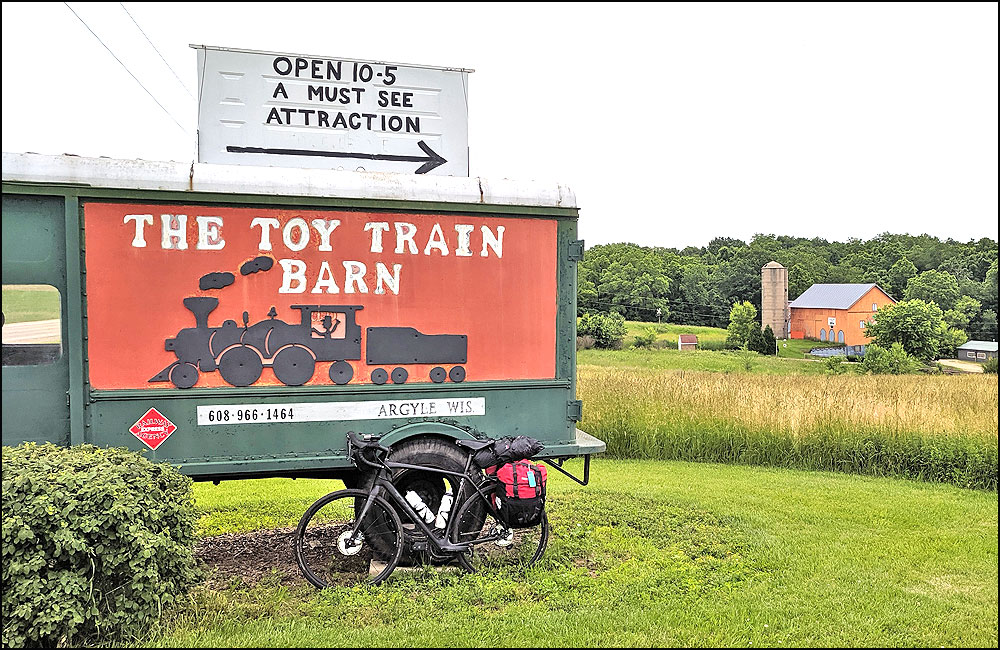 We didn't stop. Later we got a report from train-aficionado-friend Ron that the barn is enjoyable for kids, but not so much for serious train collectors!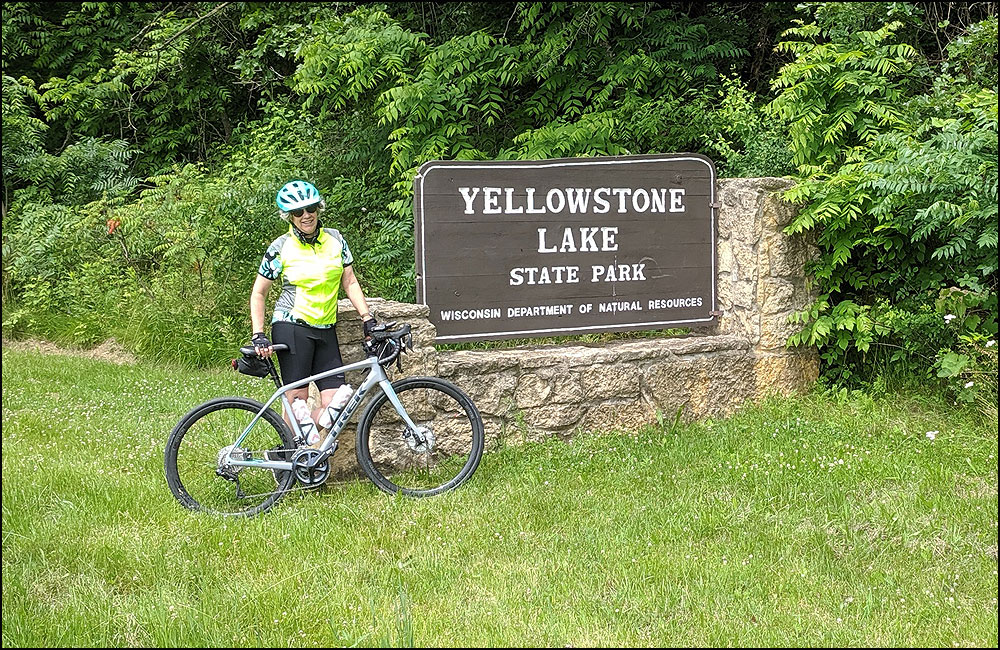 We took a pretty detour into Yellowstone Lake State Park, which I had never visited. It is an impoundment, which I always look down on in the great state of Wisconsin. We have so many amazing natural lakes, but not in the Driftless Area. So impoundments we get.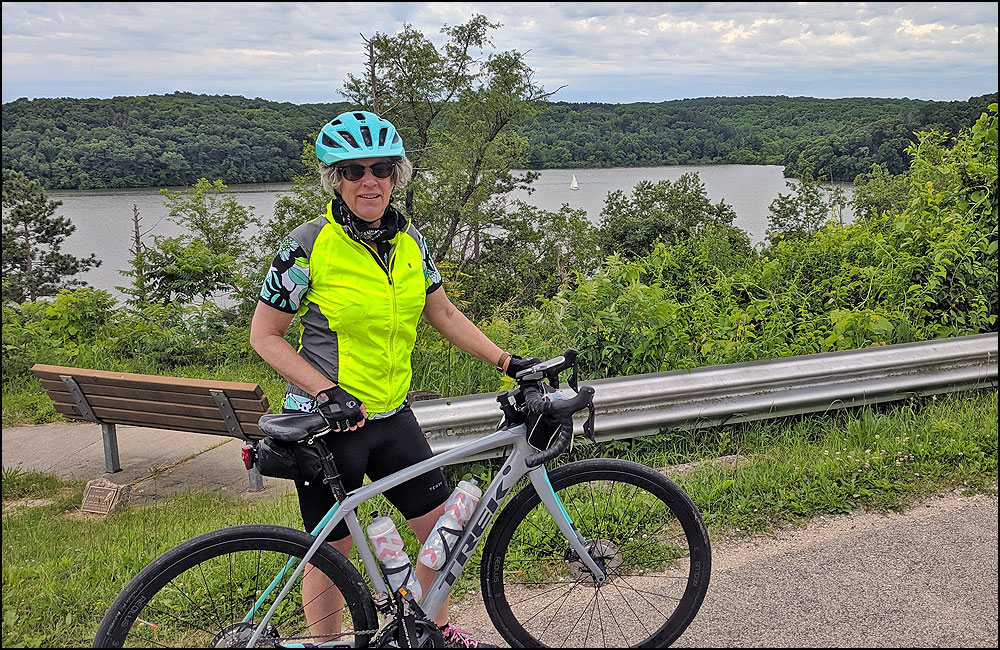 Pretty view of lake. Cloudy day. Rick made friends with everyone, from the guy at the lunch counter to the ranger on duty. He knows no strangers!!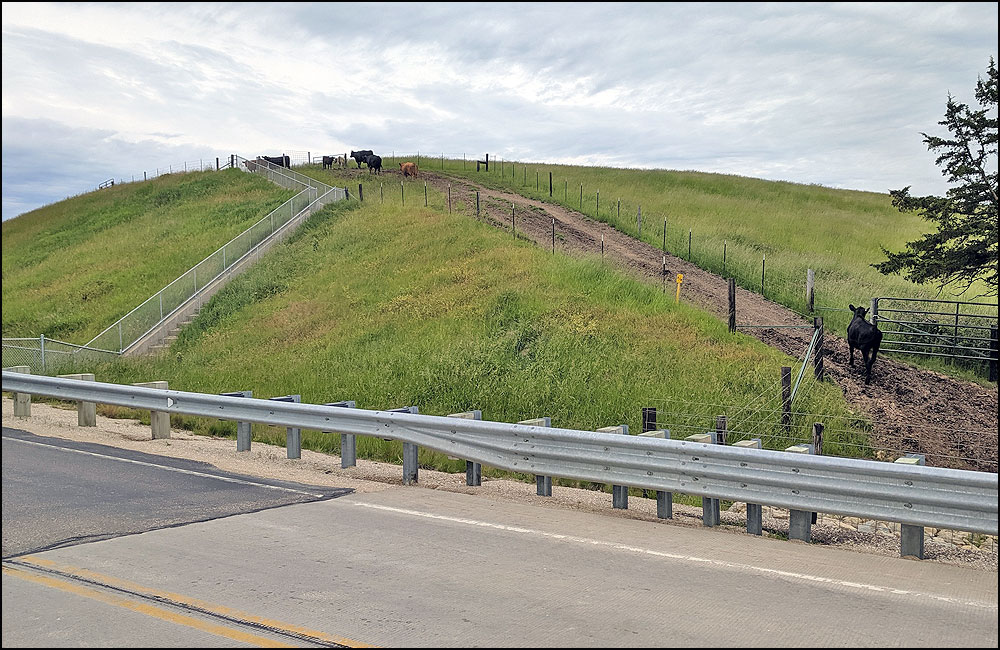 Traveling along a rural road we came across this "cattle stairway". We felt like city slickers being mystified by this engineering feat. There was a gradual route, on the right in the photo above….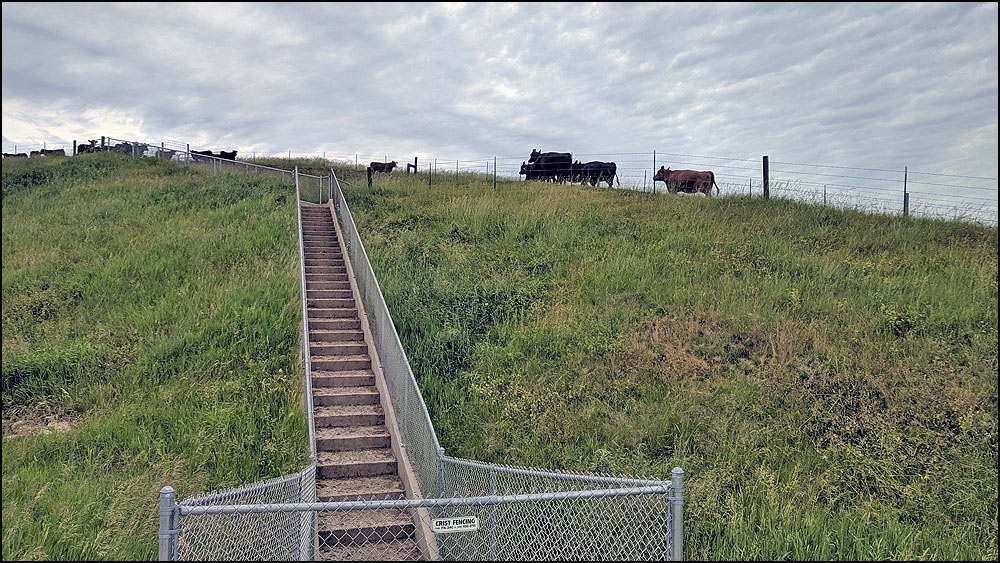 …and a steeper stairway nearby. For emergencies? The cows definitely use it because there was evidence of their….presence on the steps.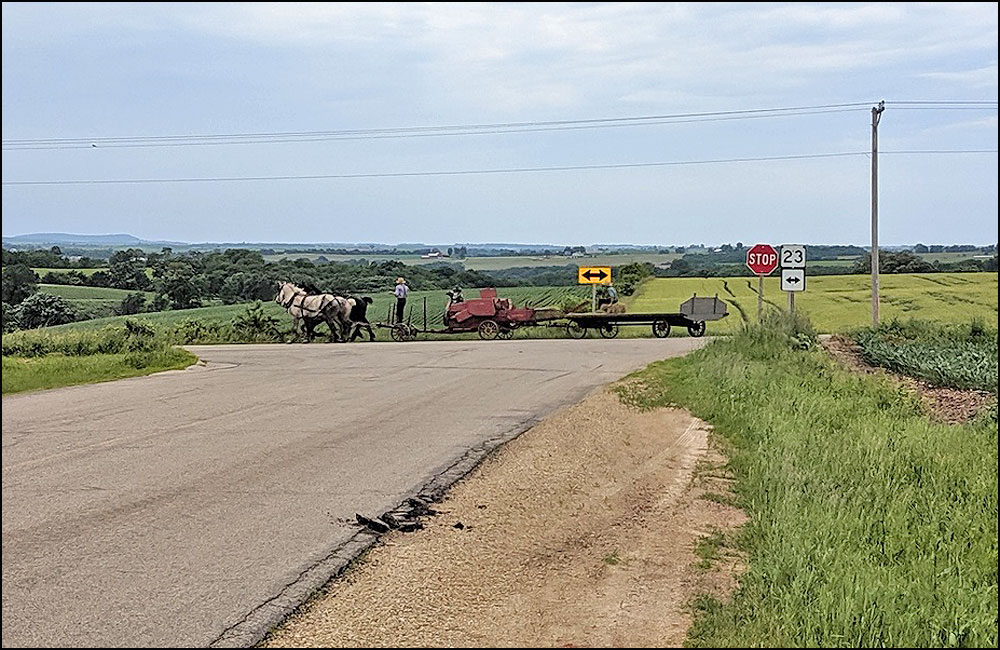 When we were about to turn onto the highway into Mineral Point, this team of three beautiful draft horses appeared, along with three young Amish men, making hay bales alongside the road.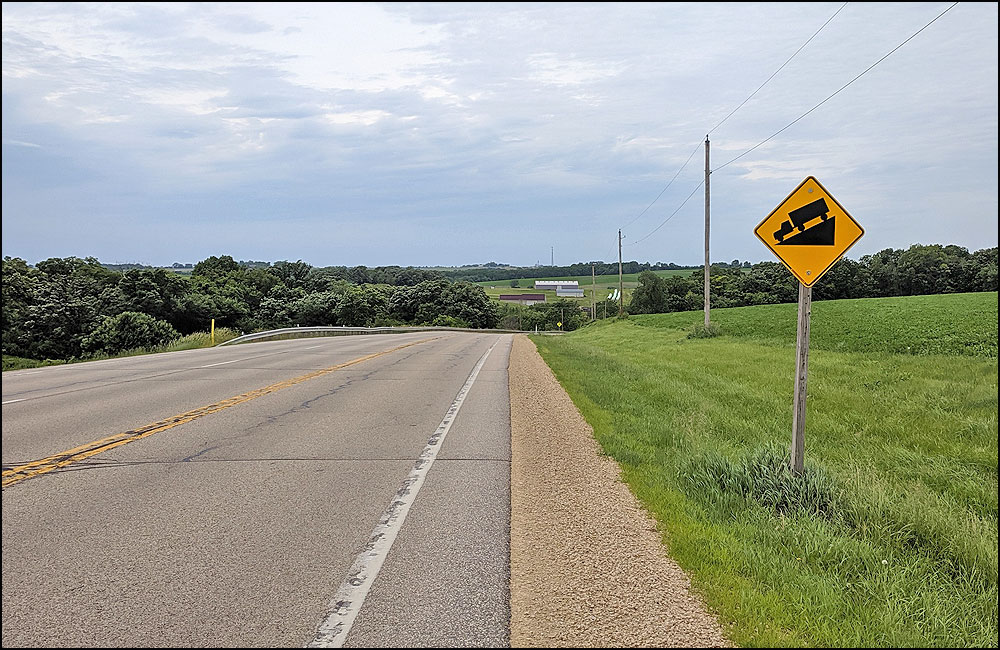 Yeehaw downhill into Mineral Point!! It was a hilly fun day all day today.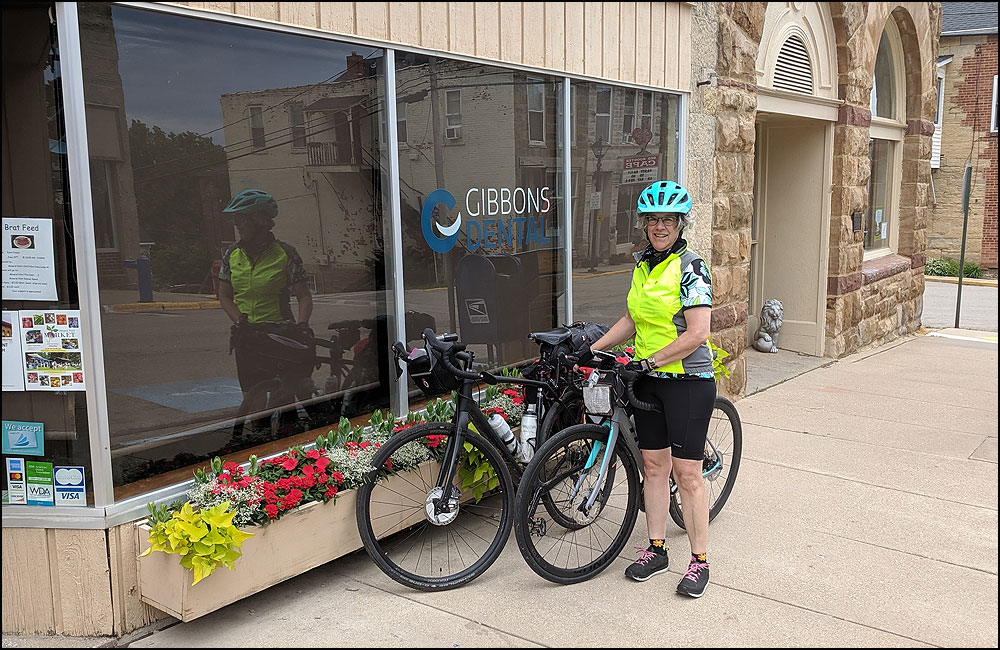 We stopped to see Dr. Gibbons, the Friendly Dentist, but they have summer hours and are closed on Friday afternoons! This is where Rick has gone for dental care since his Dodgeville days.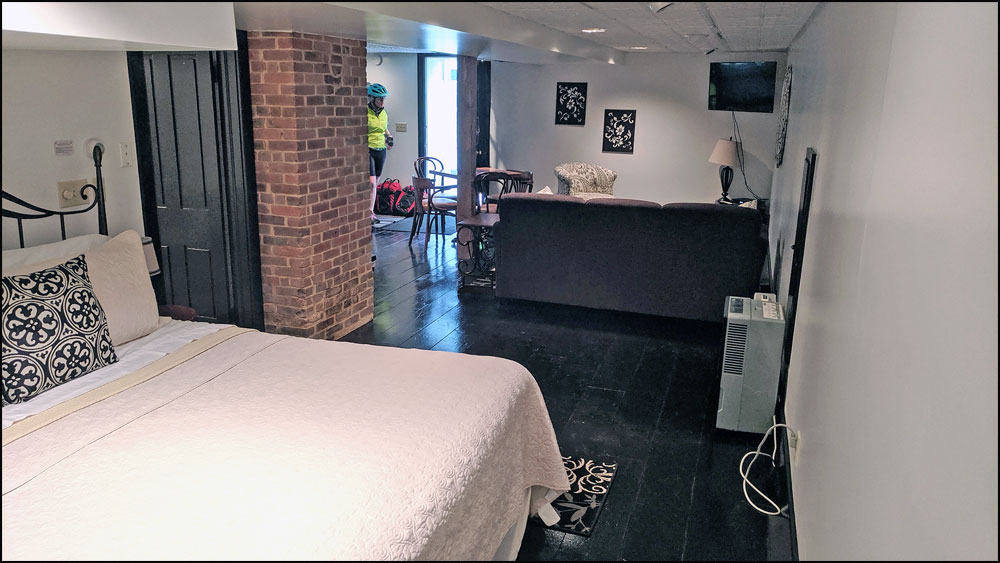 In Mineral Point our digs are this groovy recently remodeled apartment, owned by the Mineral Point Hotel proprietors.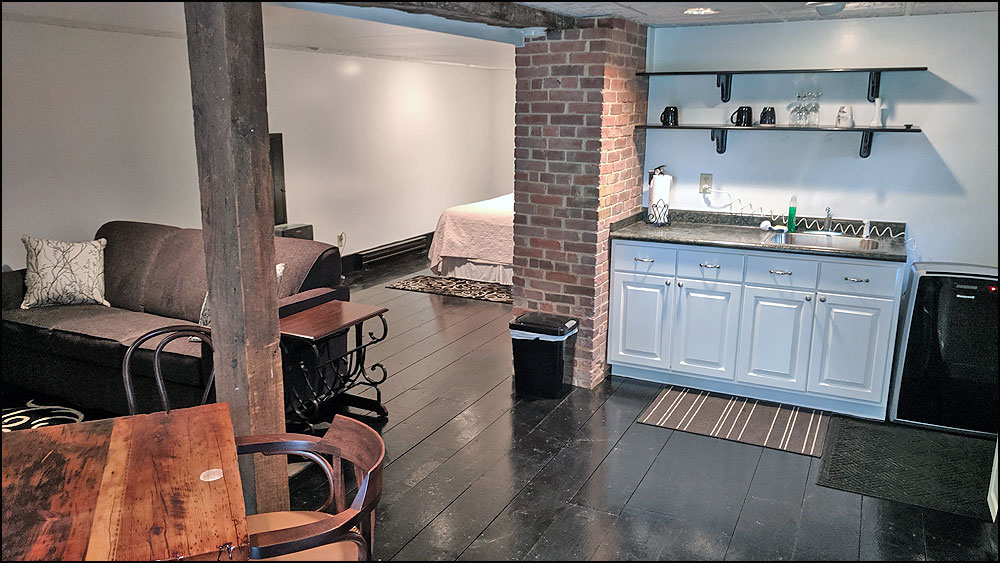 It has everything we need and is fresh!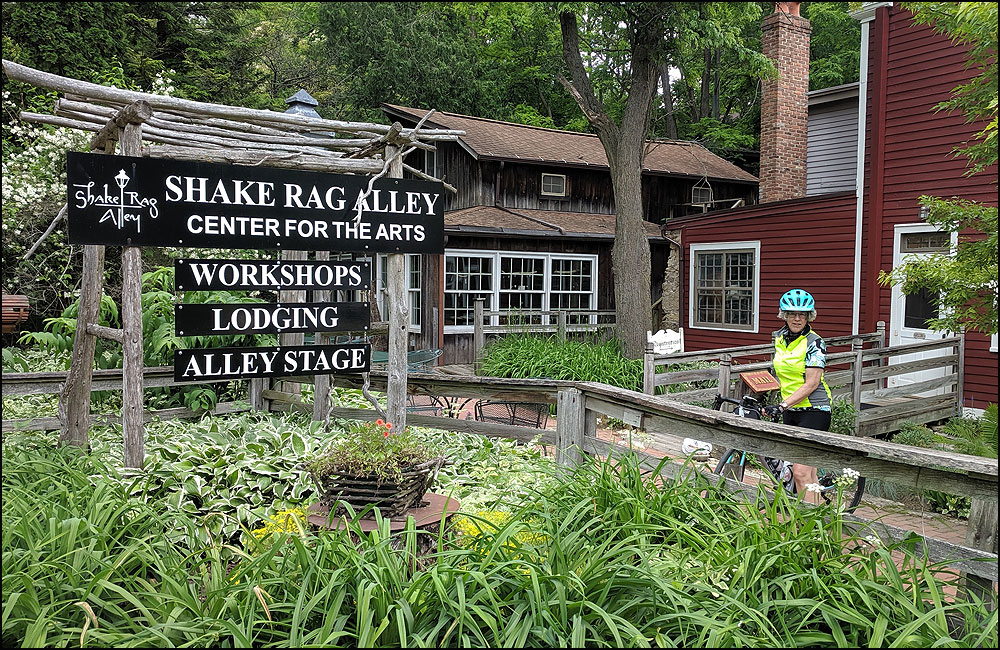 We biked over to a local arts venue, Shake Rag Alley. This was the home of Cornish miners. Wives would shake a rag to show their husbands, who were off digging lead in the hillsides, that lunch was ready. Today it is a center for art and craft workshops.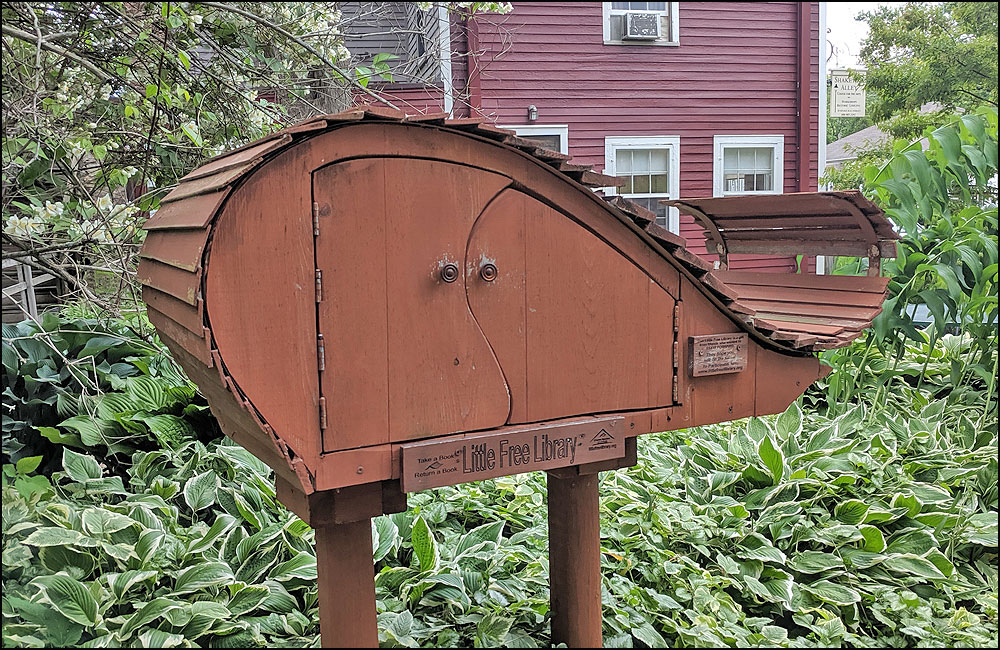 Rick says this is the most interesting "little library" he has ever seen!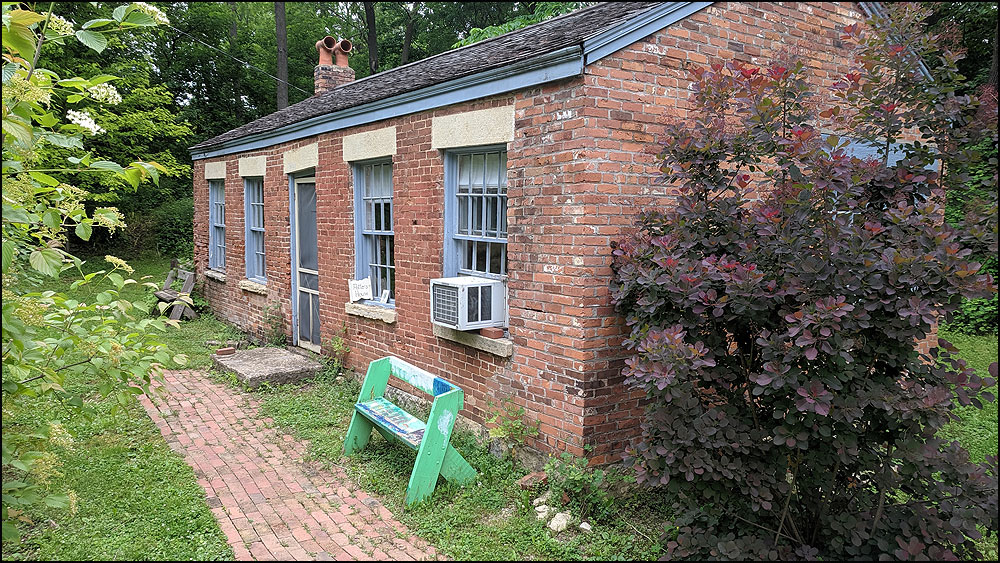 Historic  building at Shake Rag Alley.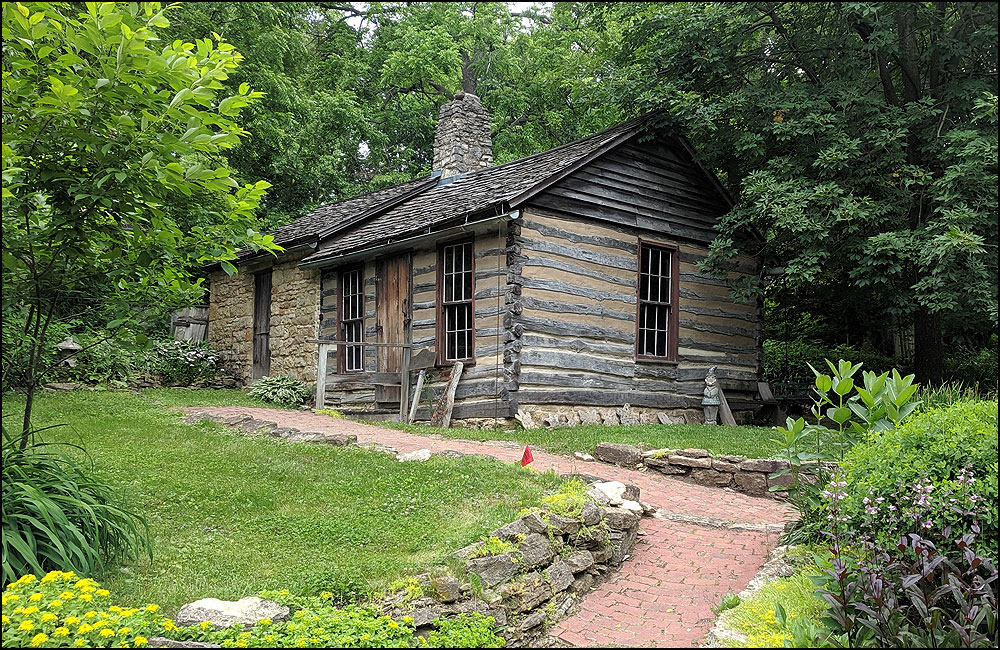 Today the buildings are used for workshops, and some for lodging.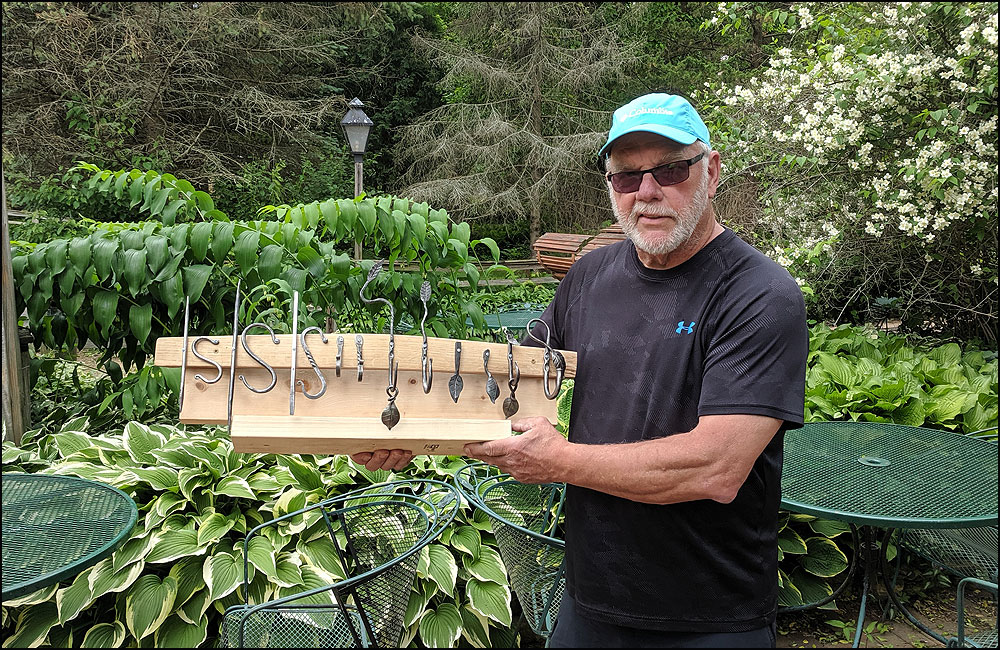 This is Buddy who really wanted Rick to join the upcoming blacksmith metal forging workshop. Here he shows off some of the finished products from the last class!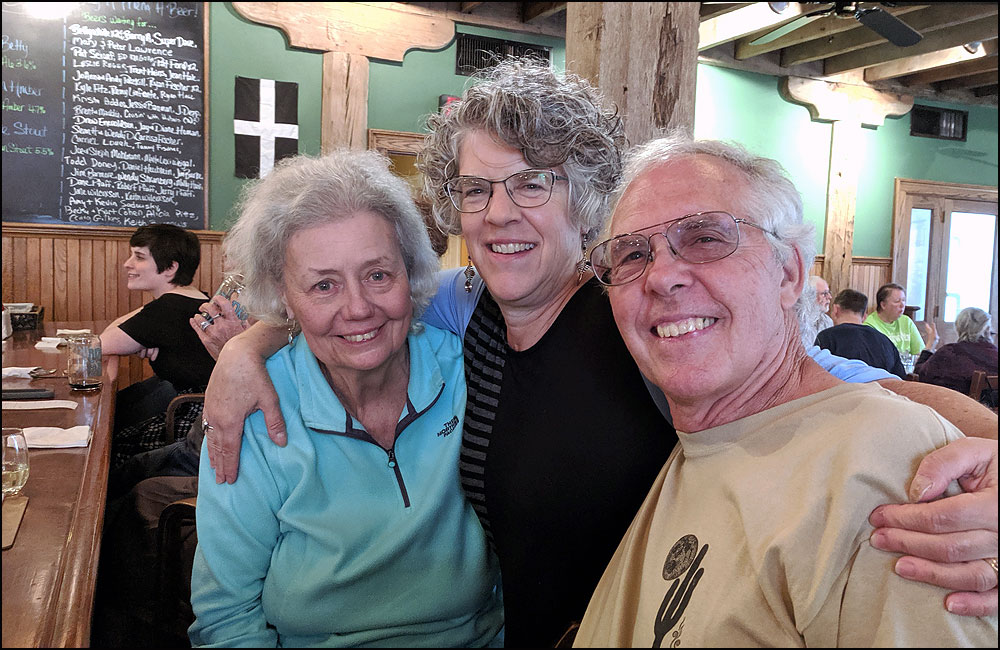 Based on our innkeeper's advice, we decided to enjoy a drink in the brewpub prior to crossing the street to enjoy the Italian restaurant in Mineral Point. This nice couple scooched over so we would fit at the bar. then we got into a big discussion! They are recently retired raptor rehabilitators from southwest Wisconsin. She is a nurse and he is a falconer, and together, for over 30 years,  helped many hawks, falcons and eagles regain their health after accidents. Great folks!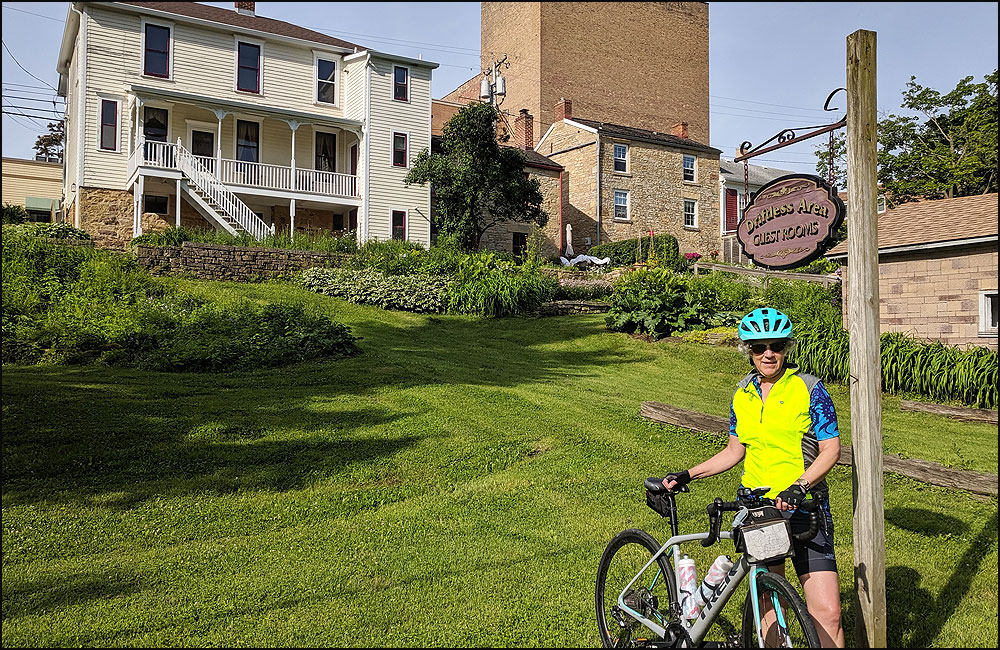 Here is the back view of our home for the night. We were on the lowest level, the stone basement that looked out over the back patio and yard. Nice!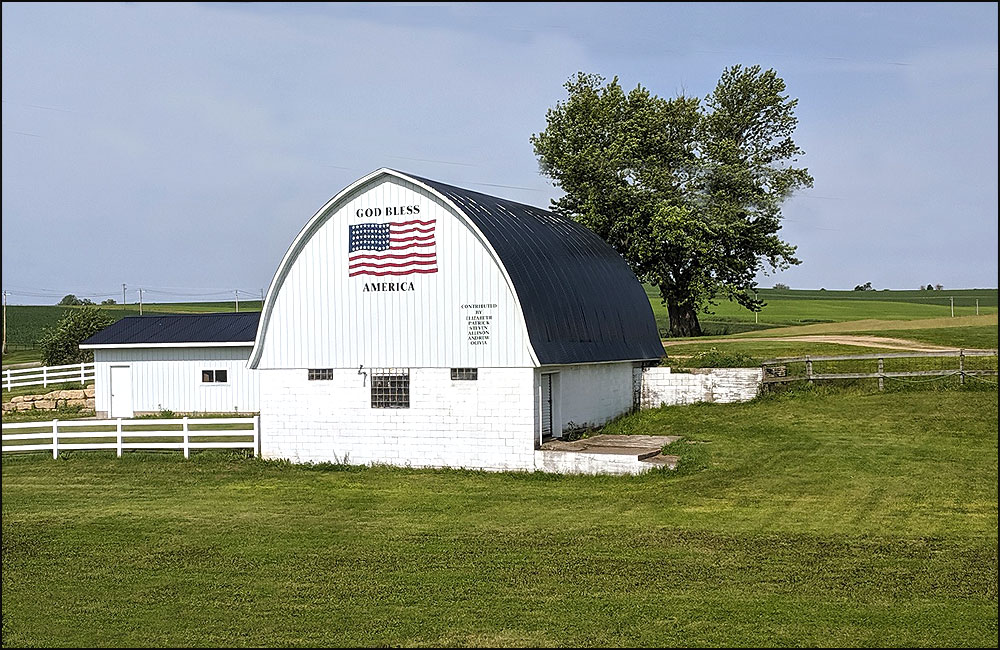 Patriotic expressions from the Heartland.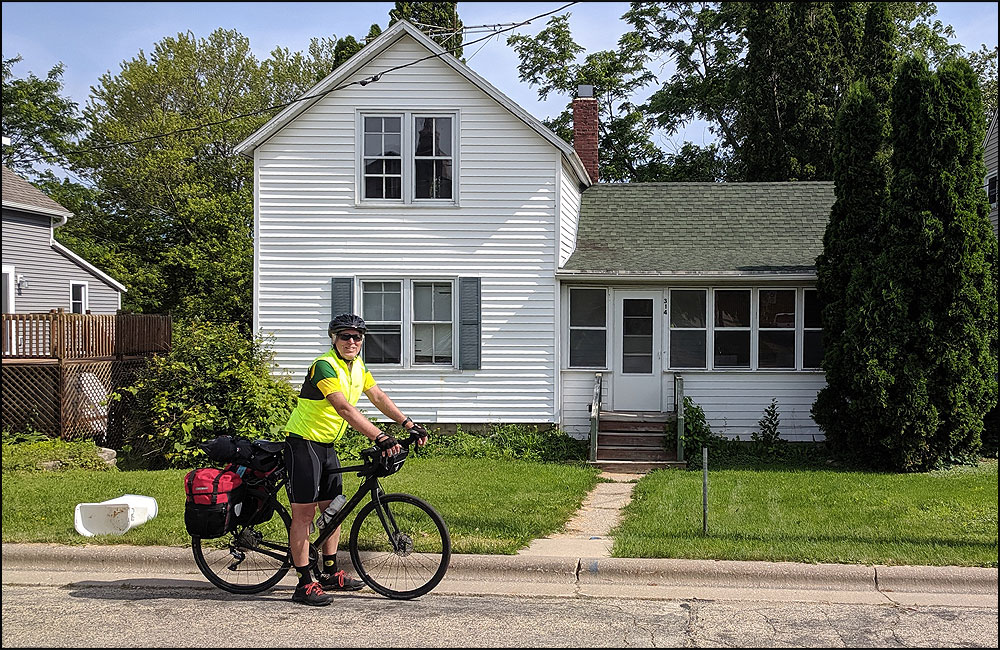 Rick relives the early 1990's with a visit to the house he rented in Dodgeville.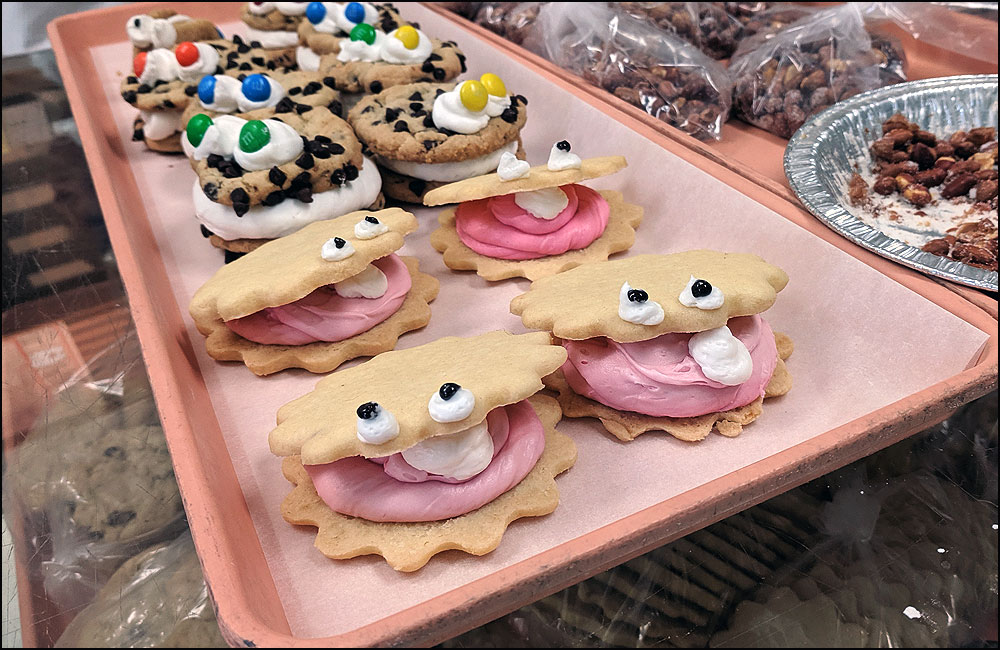 No visit to Dodgeville is complete without a stop at the old-fashioned bakery. Looks like Cookie Monsters!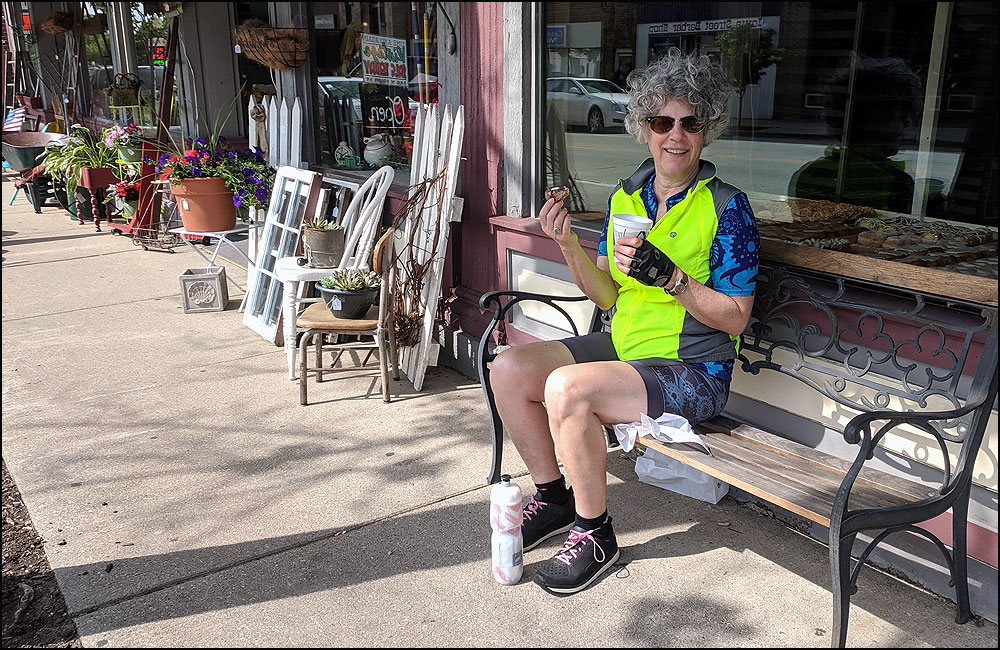 I enjoyed one of Rick's favorites from his time here, the chocolate eclair!  Hope we burn lots of calories today.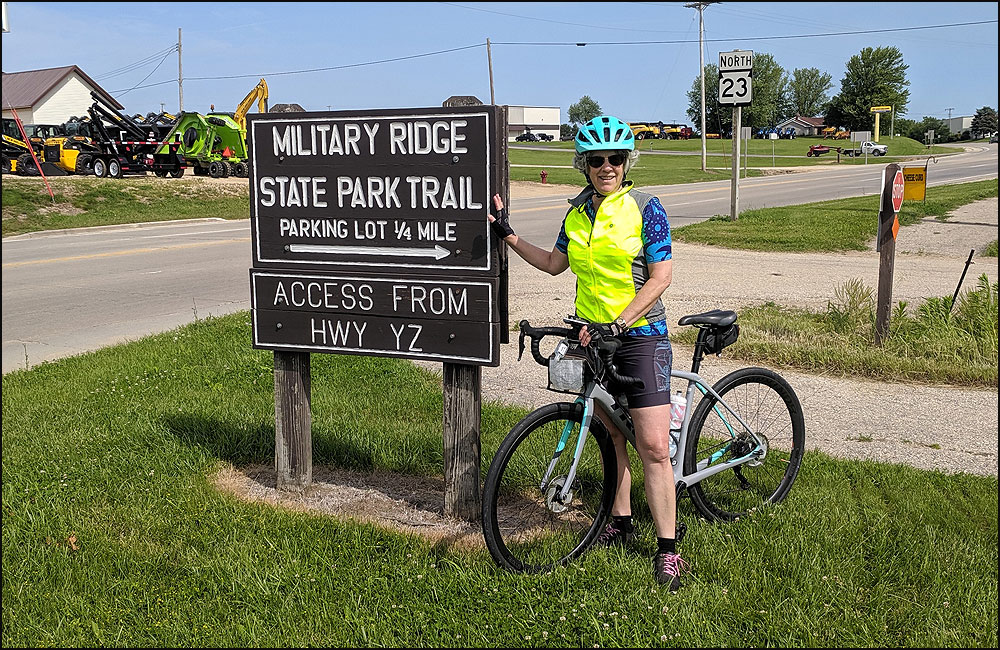 Soon we accessd our route for the day, the Military Ridge State Trail.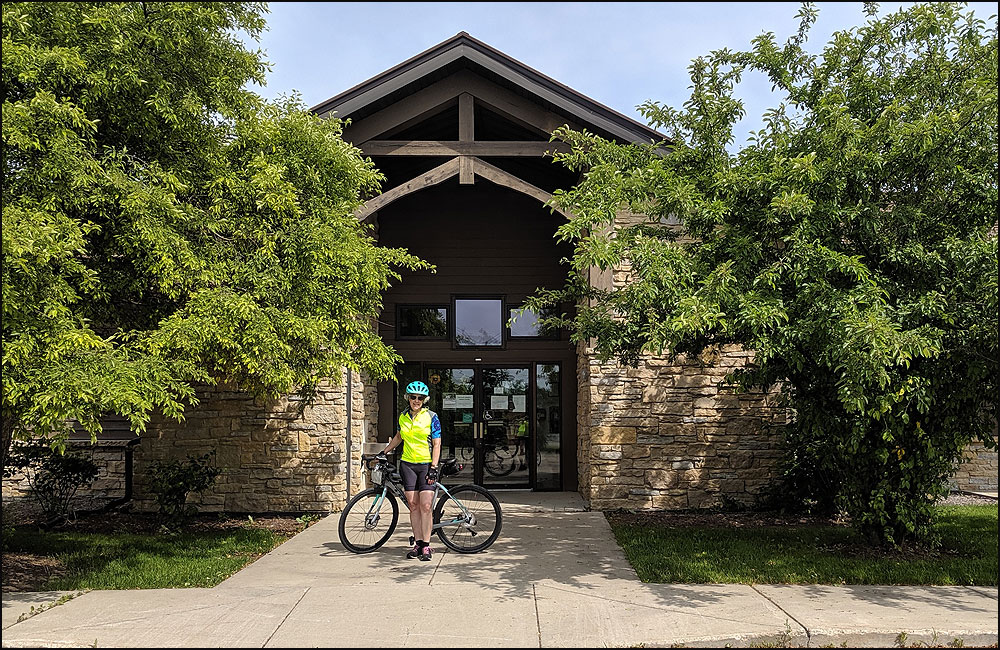 We paused at the DNR headquarters and reminisced about how things have changed. Used to be open and service-oriented. Now it doesn't have front-desk staff and you must make appointments in advance to meet with conservation experts.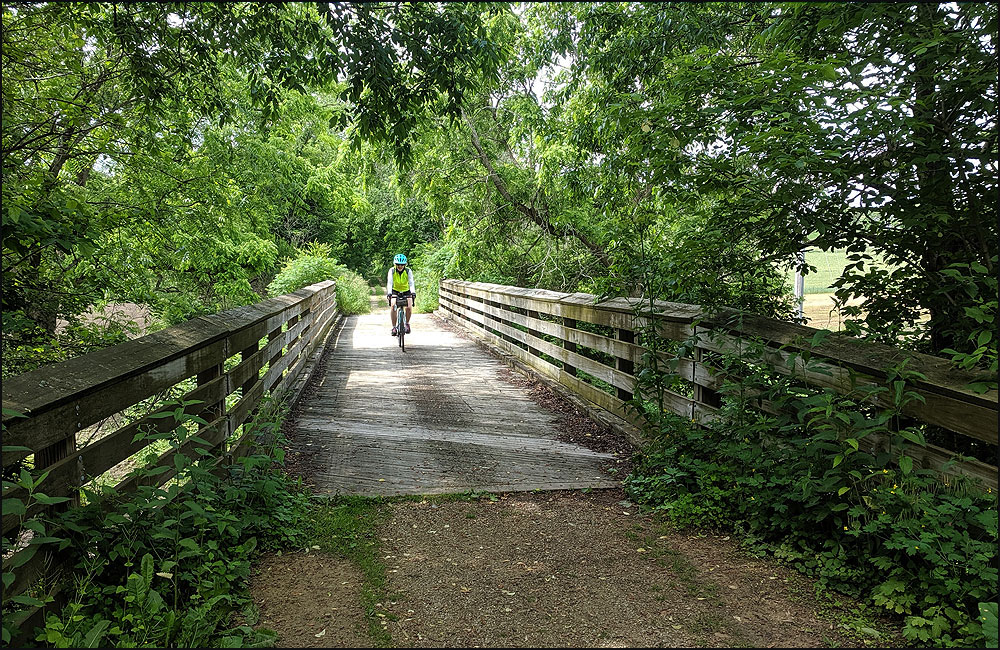 This trail is known for its bridges over streams, and its leafy environs!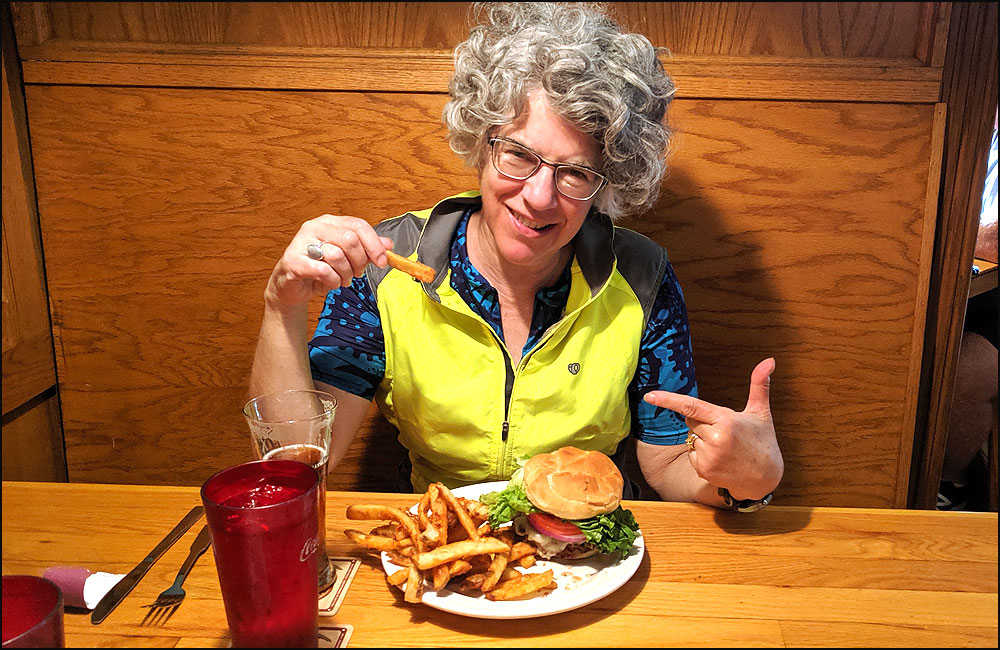 At the Grumpy Troll in Mount Horeb, I just had to have a Swiss-mushroom burger. No vegetarian lifestyle for me today!!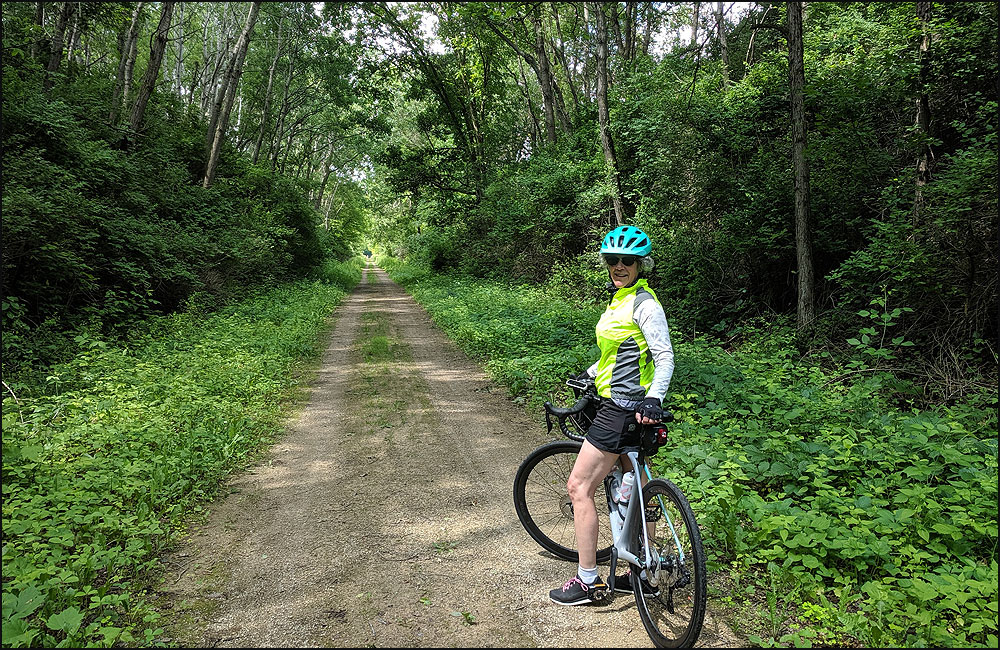 This trail is in much better shape than the Badger Trail. Perhaps it gets more traffic.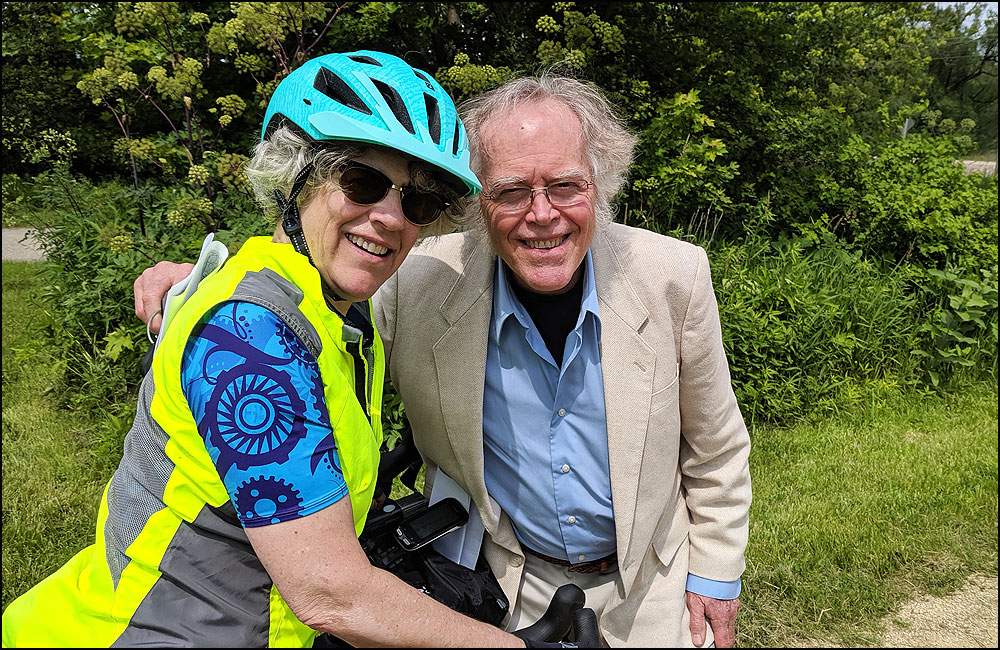 We stopped in Riley for a water break. As we prepared to leave, this nice man named David appeared on the trail. He was from California and was headed to a wedding nearby, and while driving his rental car, got lost. We got him back on track, and learned that he was headed to the wedding of our neighbor's daughter! Small world.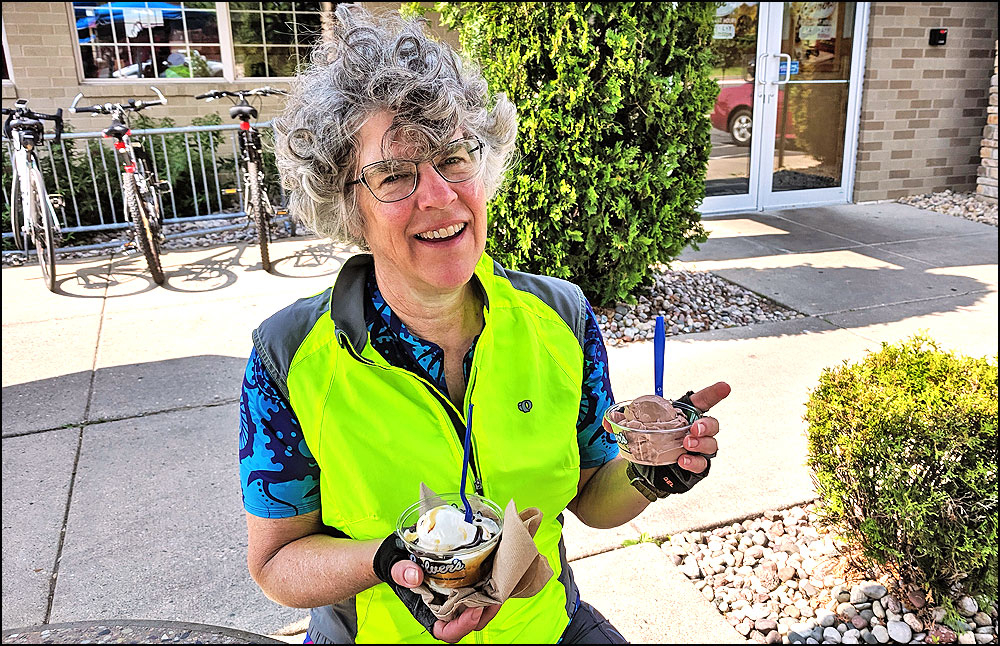 The calorie count keeps piling up! We HAD to stop at Culver's in Verona for custard.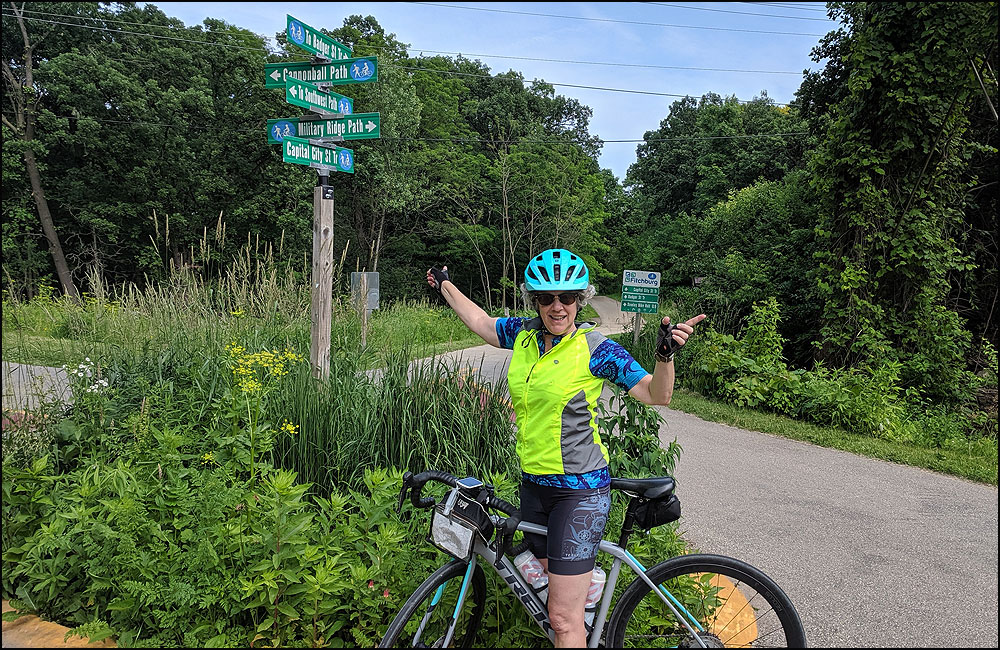 Almost home! We came from the south today, and we are headed just a wee bit to the east to our house along the Capital City Trail.
Deep Thoughts:
It is brilliant to go on a June bike ride with my hubby so we will keep up this tradition!
It is lovely to live the vagabond trail life. Especially with Rick!
Now that I have made plans to retire, I can see more of this in our future!
Wisconsin tourism benefits from taxpayer investments. Right now I cannot recommend our bike trails to my out-of-state friends unequivocally like I used to.  Very bad! Public investments in conservation, very good!
People are essentially good-natured and helpful. We had nary a bad experience with any one on this trip. Midwestern nice!