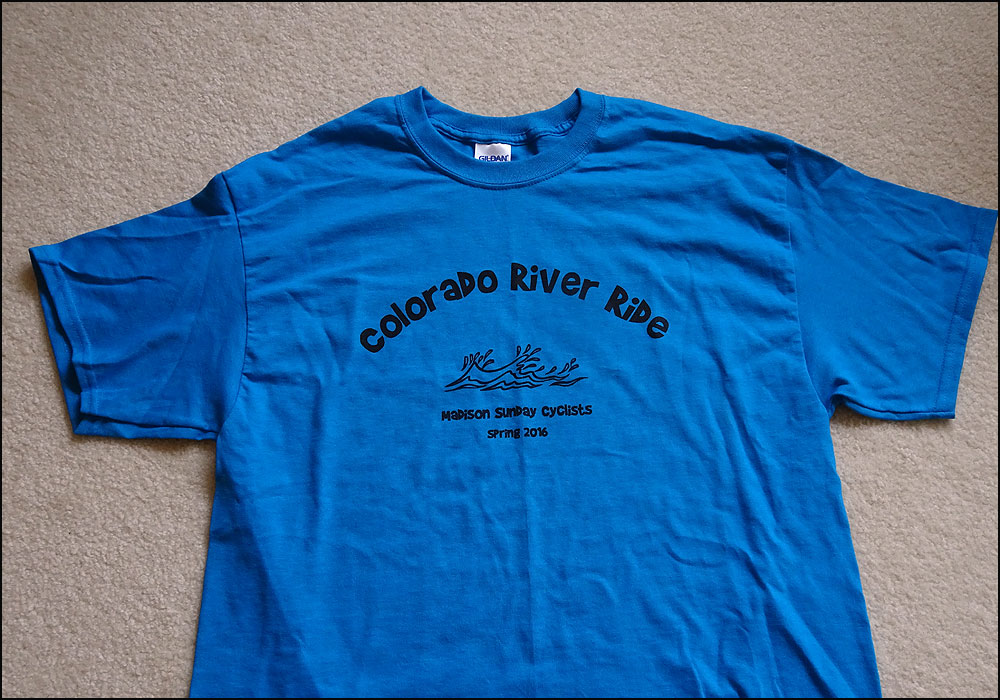 Three months after our river trip I still have not completed the story.
Well this is the weekend. It's 94 degrees in MSN today with 94% humidity. Too hot and too sticky to even breathe outside.
This is a LONGGGGGGGGG story and may only be of interest to those who were on the trip, but it was an EPIC adventure and in my mind anything less would not do the trip justice. Plus . . . as we get older and memories fade, I want to remember every moment!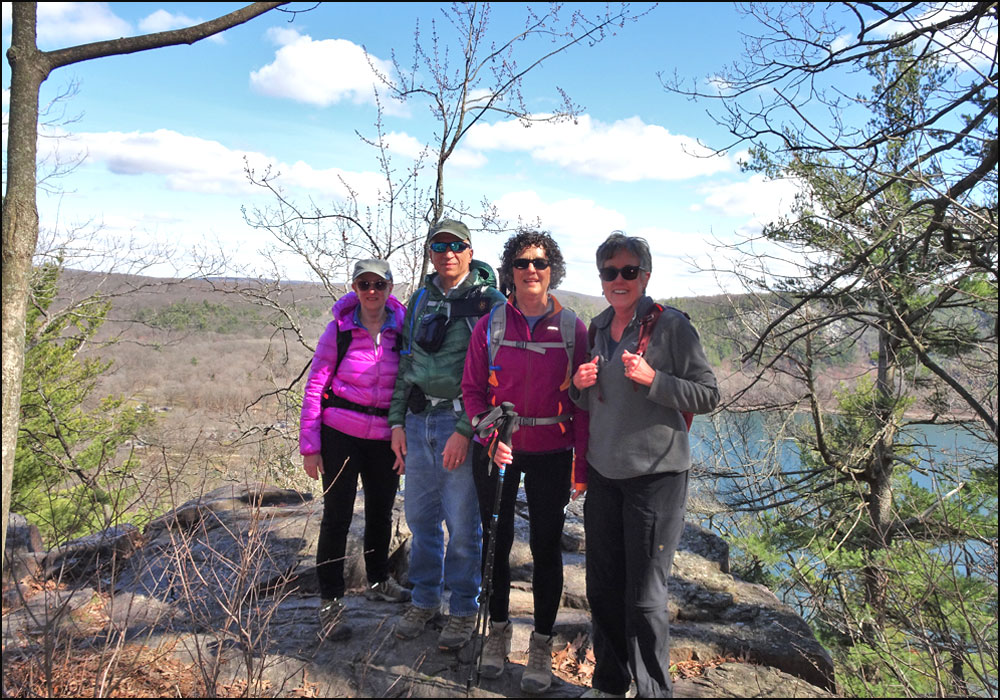 A bunch of us from the Madison area have biked together for years, have traveled all over the world on adventures and had always talked about rafting the Grand Canyon. Unfortunately, there are  a limited number of trips offered each year and by the time we got serious about it each year the trips were full. Becky, third from the left, took the bull by the horns and in late October started the planning process for a trip the following spring. It would be an eleven day Hiking & Rafting adventure on the Colorado River, taking in the entire 250 miles of the Grand Canyon National Park. Here the gang tests out some new gear at Devils Lake.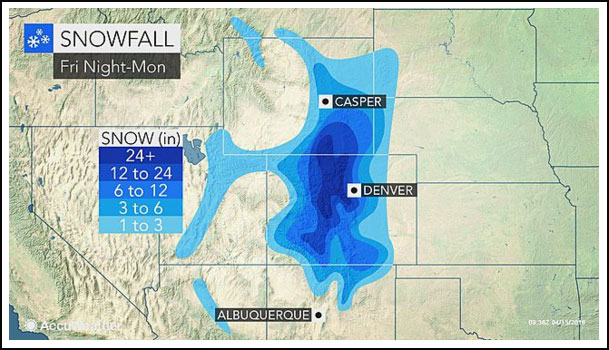 It was quite a start to the trip when our flights from MSN to Las Vegas were cancelled the day before we were to leave because of a 24+ inch snowfall that was predicted to close the Denver Airport, our transfer point. A mad scramble, along with thousands of other stranded travelers, resulted in our rescheduling and making it to Las Vegas in time.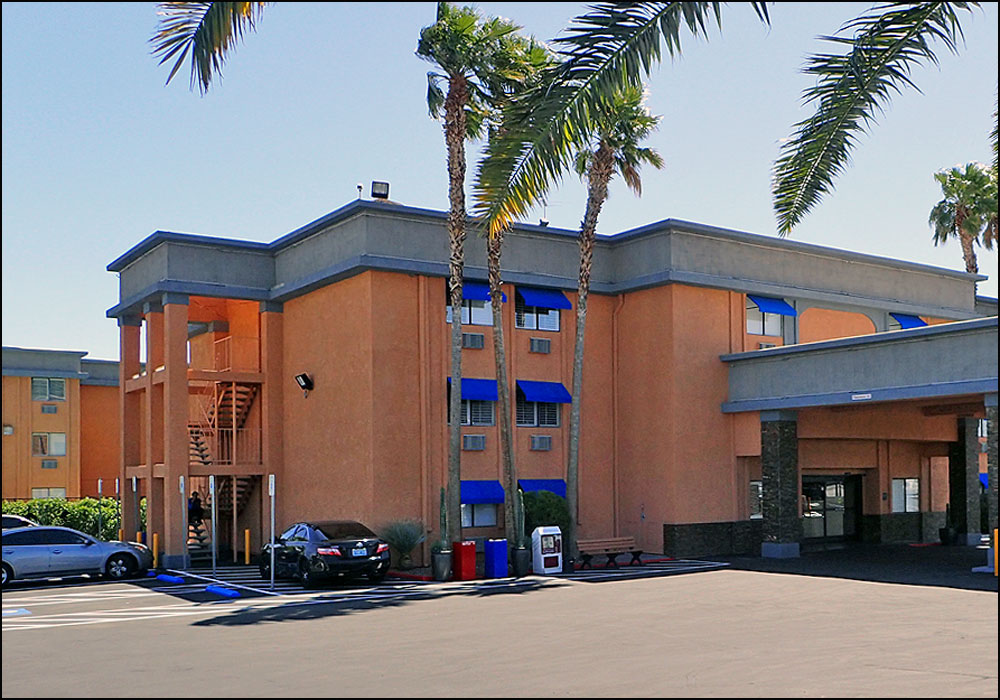 CRATE, the company we rafted with, works with a hotel 'off the strip', to serve as our jumping off point. We flew in, received our dry bags, transferred our gear, saw some of Las Vegas and would head to the river by motor coach.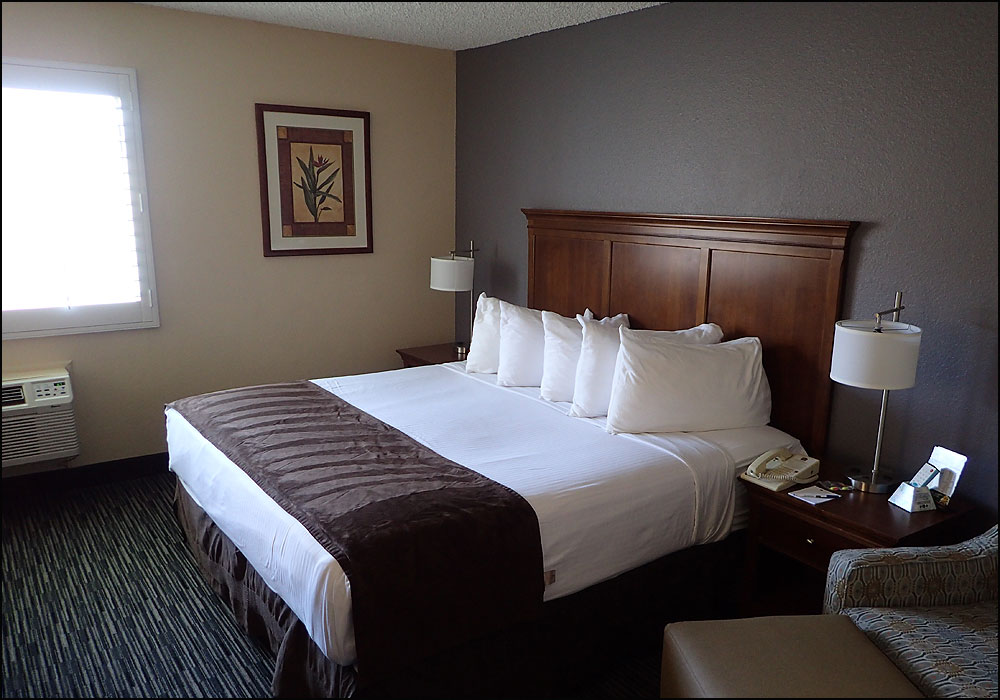 The last time we will sleep in a bed like this for several weeks, or use a shower or a flush toilet, or a sink with running water, etc, etc.
I wondered why the hotel had supplied ear plugs. An 'off the strip location' = cheaper hotel rooms but in our case at the end of the McCarren Airport. Luckily air traffic eventually slows during the late evening hours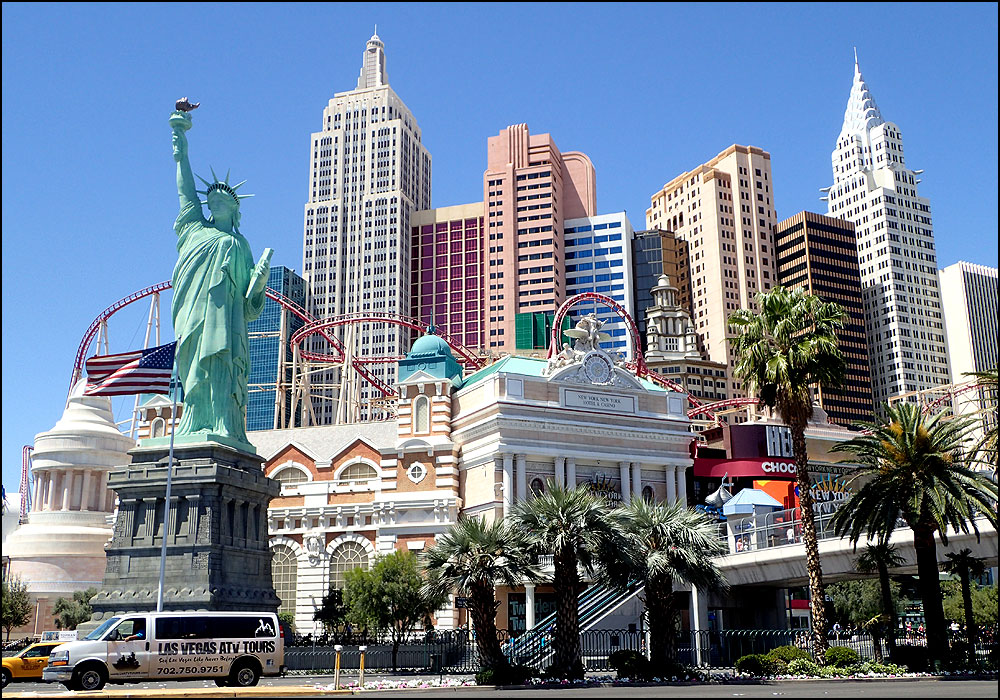 We had an afternoon to walk around a bit . . .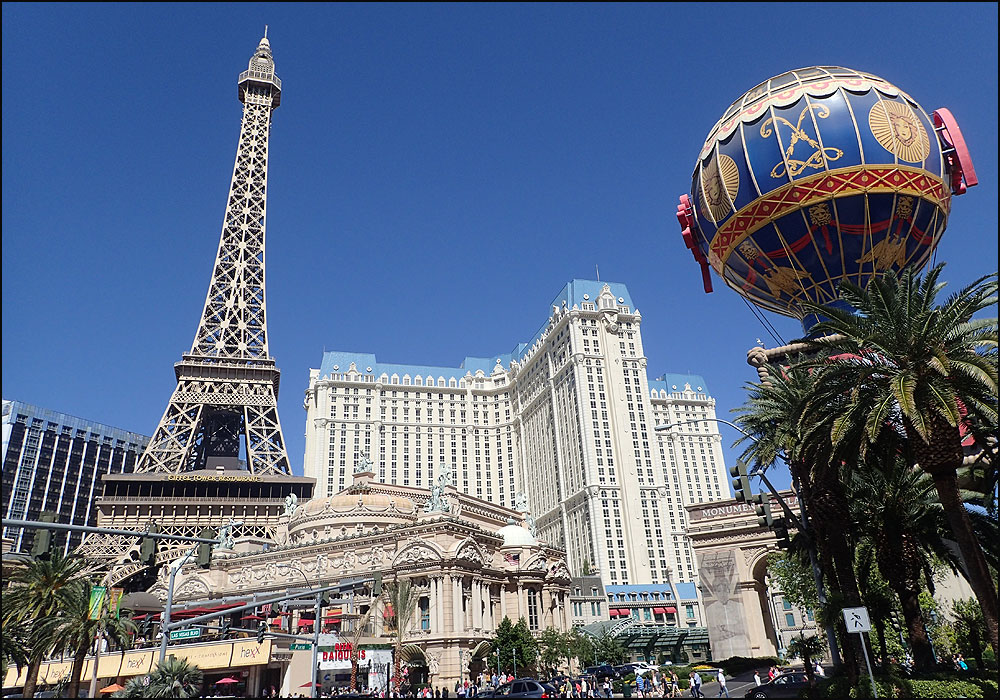 . . . and saw all that Las Vegas has to offer.

You don't need to get far off the strip though before the quality of accommodations drops drastically and eventually ends all together . . .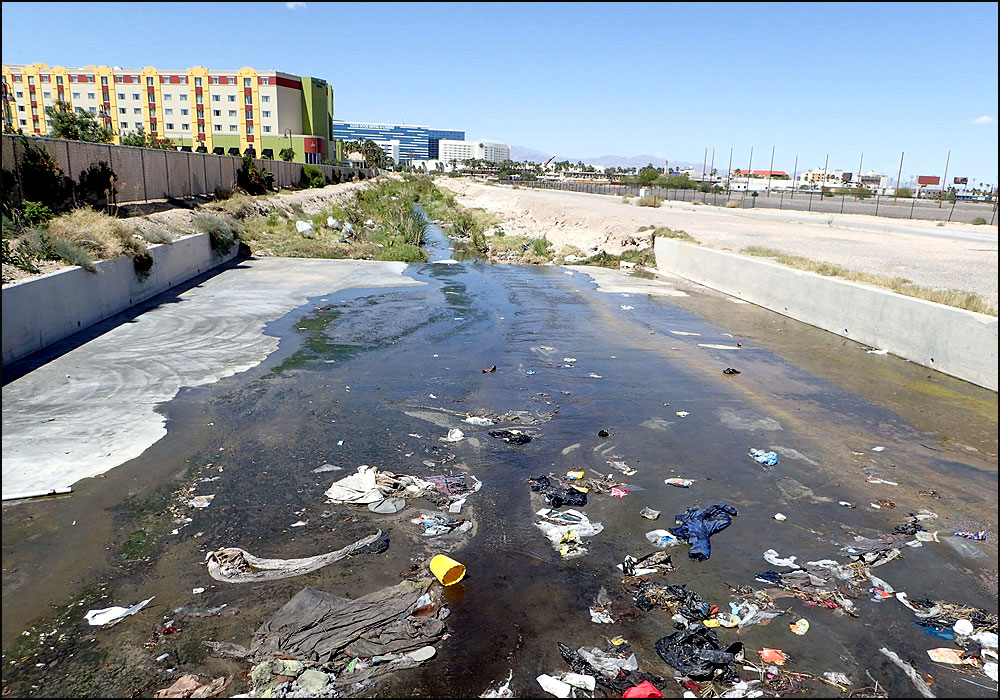 . . . not what you see in the travel brochures.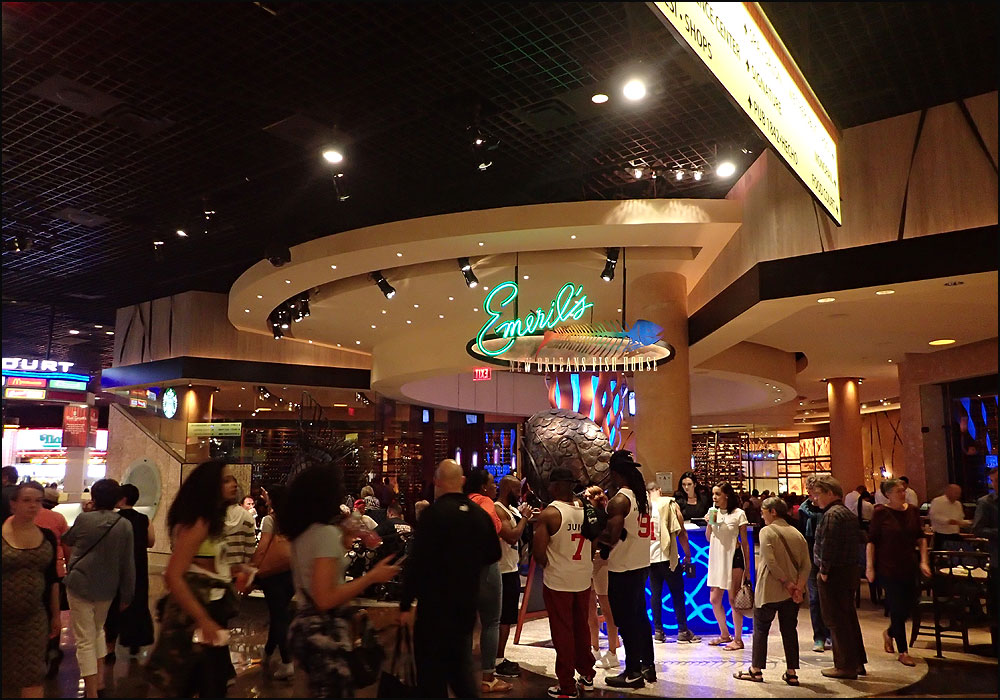 We all arrived in LV at different times. emJay, Diana and I ventured out to the strip again this time for dinner. We enjoyed  . . .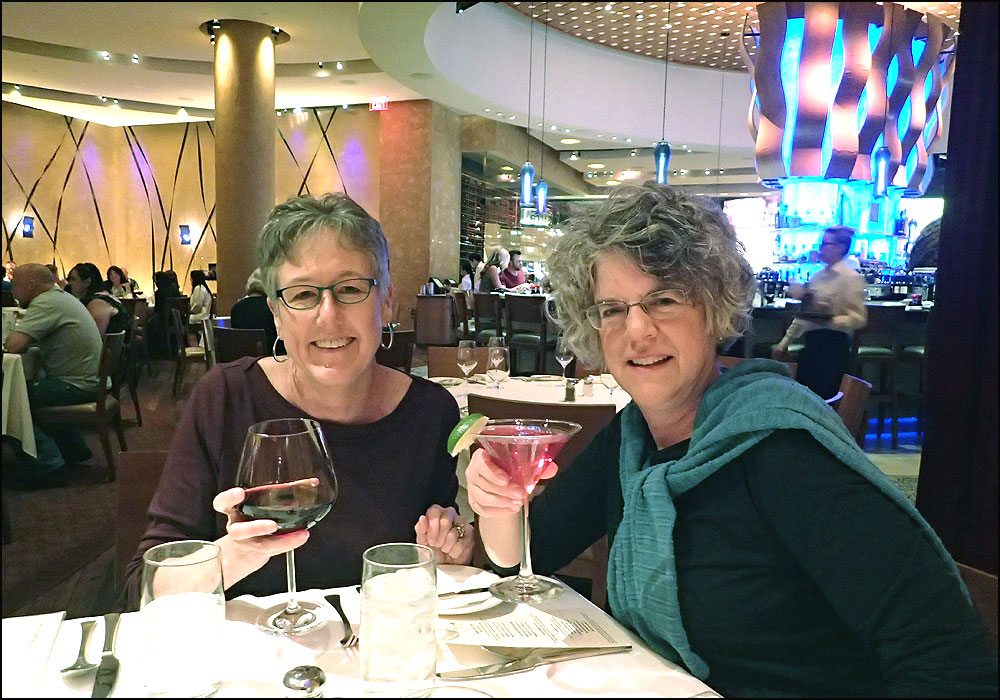 several nice cocktails at Emeril's Seafood Restaurant, a fantastic fish dinner . . .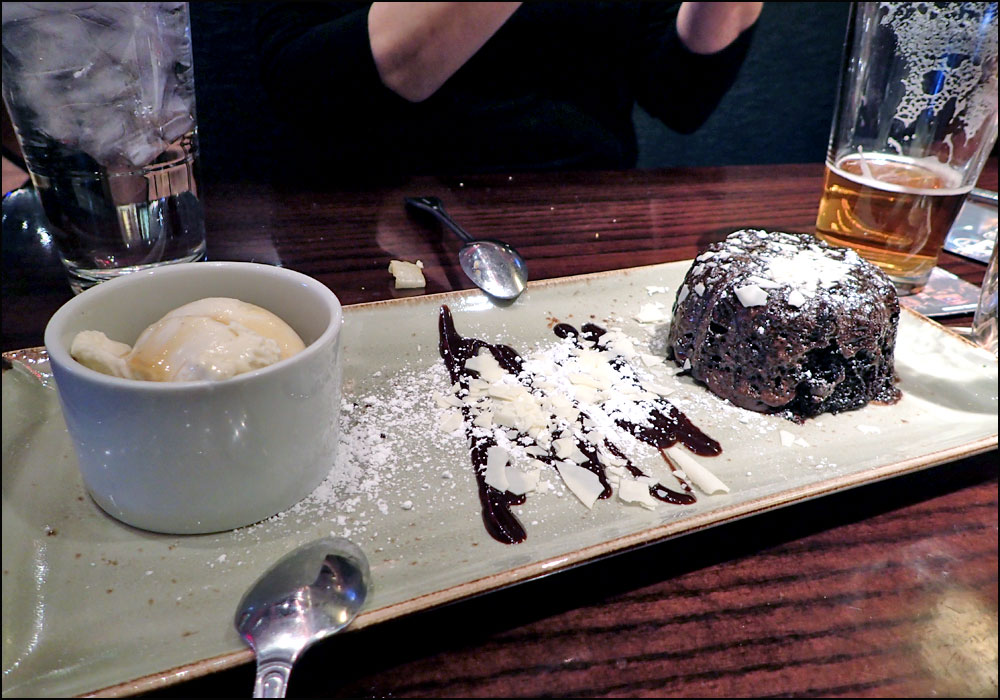 and what could have been our last dessert for two weeks!!!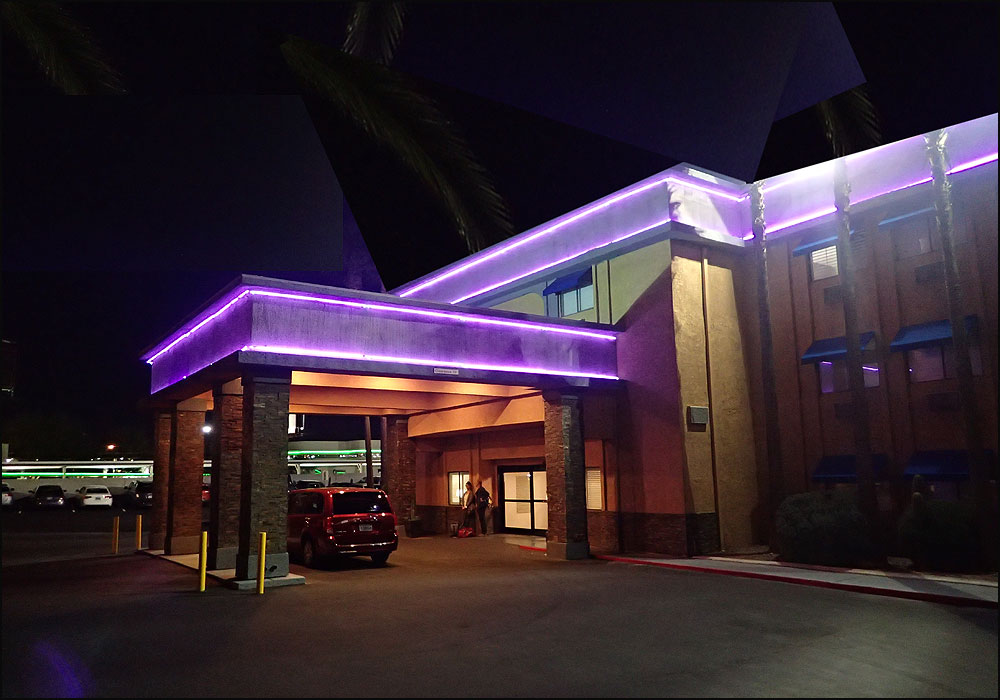 Back at hotel things were quiet, including the air traffic!!!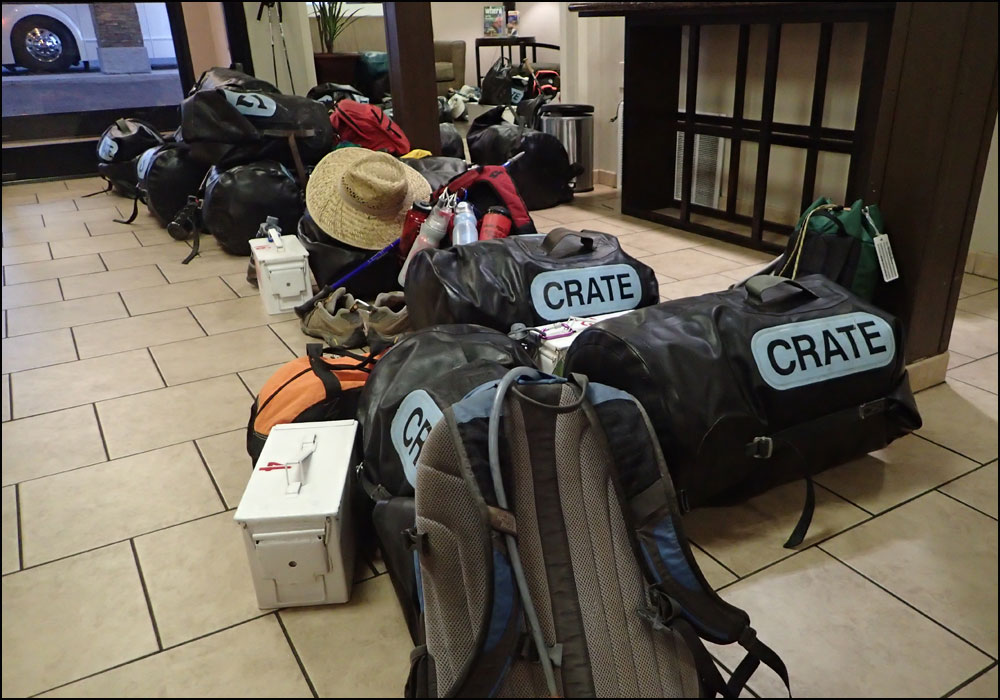 At 5;30am we all had our gear in the lobby . . .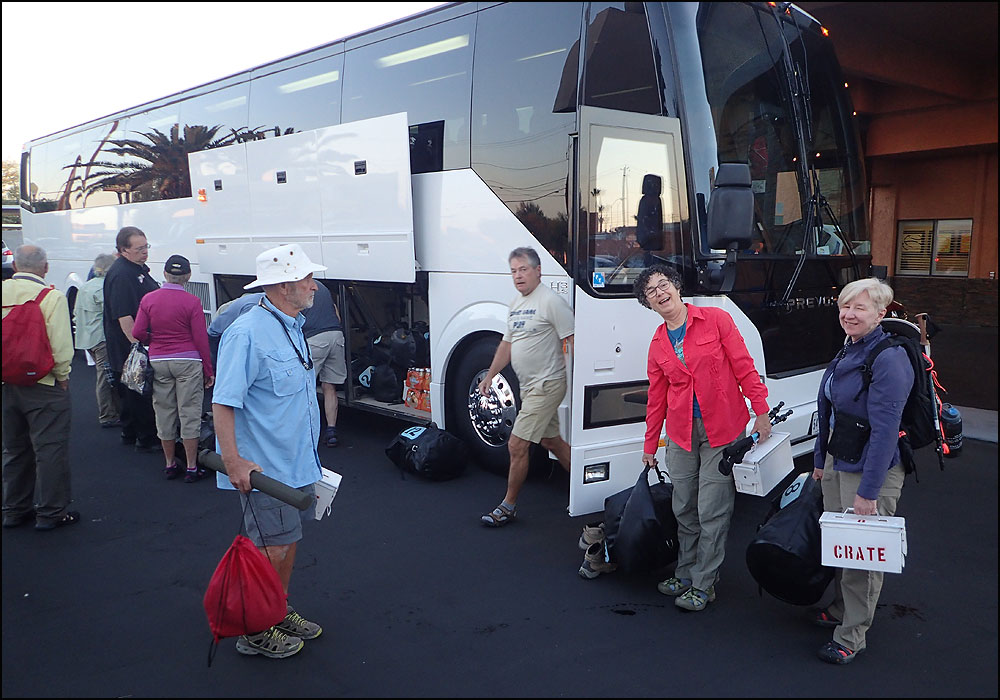 . . . and boarded our motor coach.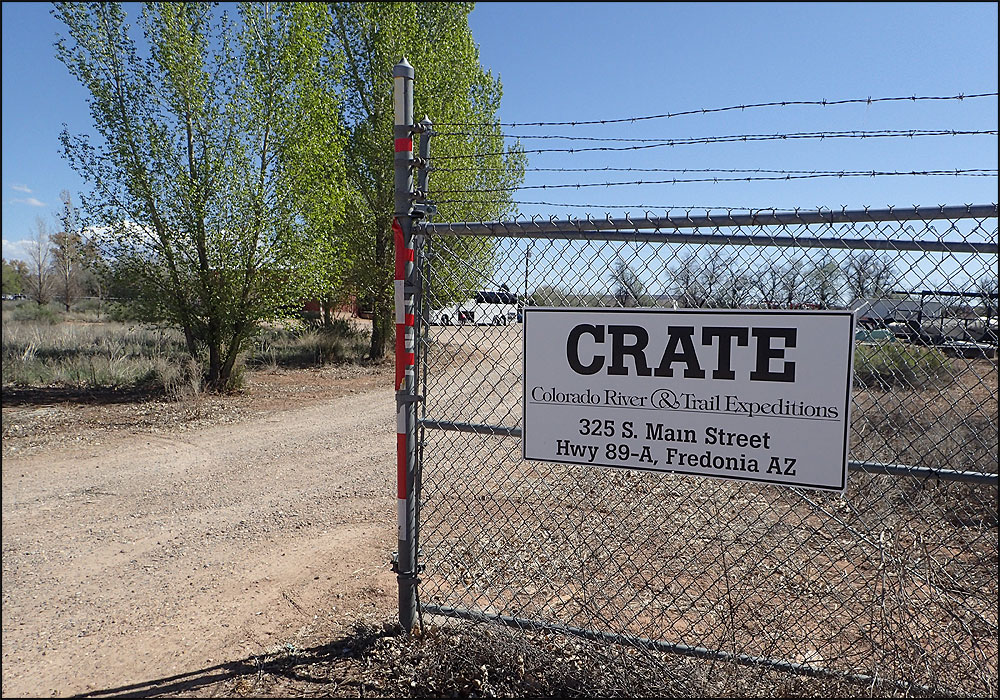 Three hours later we arrived at the CRATE Colorado River HQ in Fredonia, AZ.
Not much to look at . . .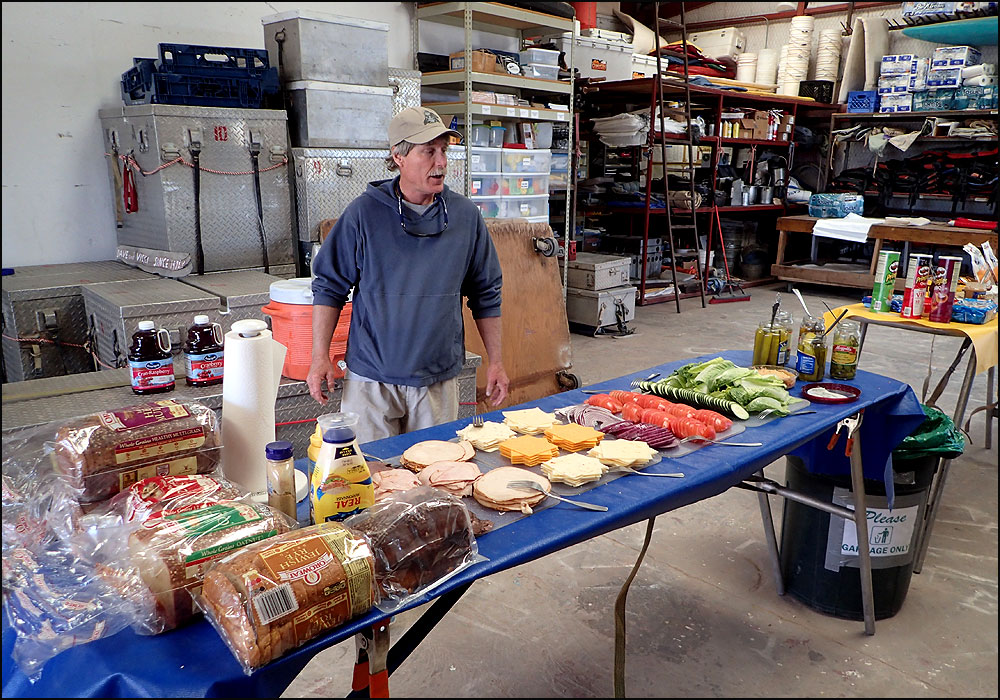 . . . but the lunch waiting for us was a  good representation of the quantity  to come during the week!!!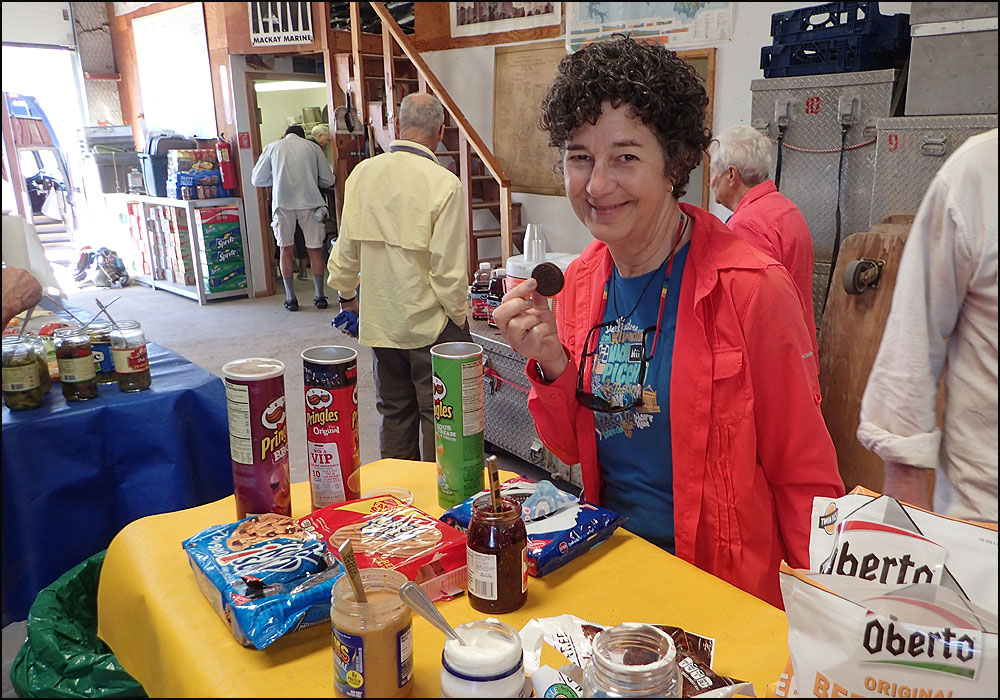 Becky samples the first of many cookies and snacks that would provided during the 11 day trip.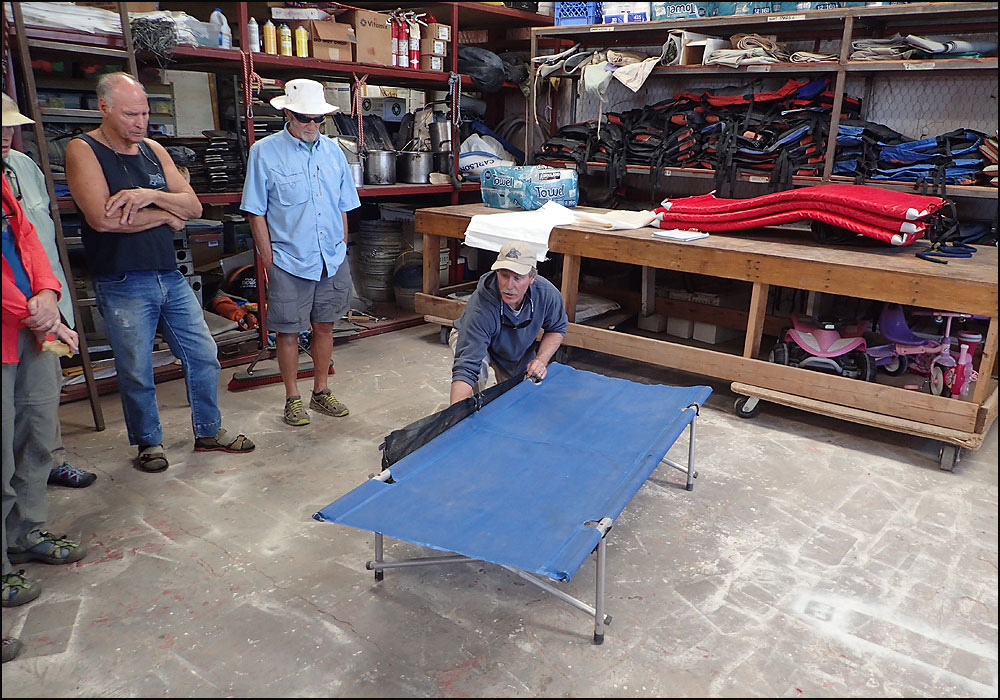 Head guide John, demos setting up a cot, what would become our third best friend, during the week (first being our wonderful spouses of course) . . .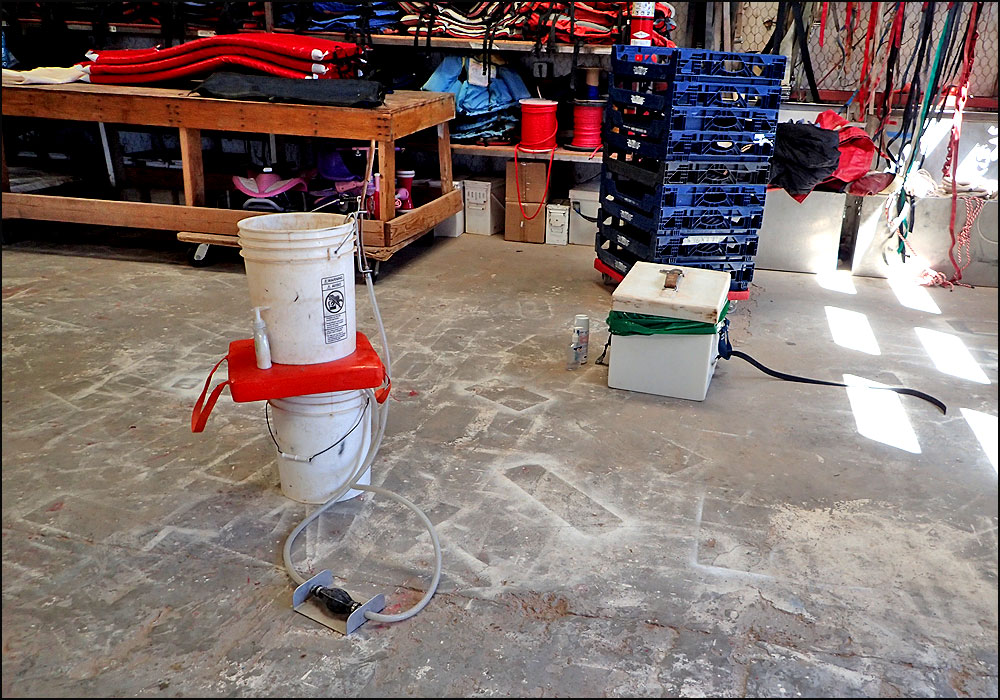 . . . and here was our second best friend, the 'toilet' and hand washing station.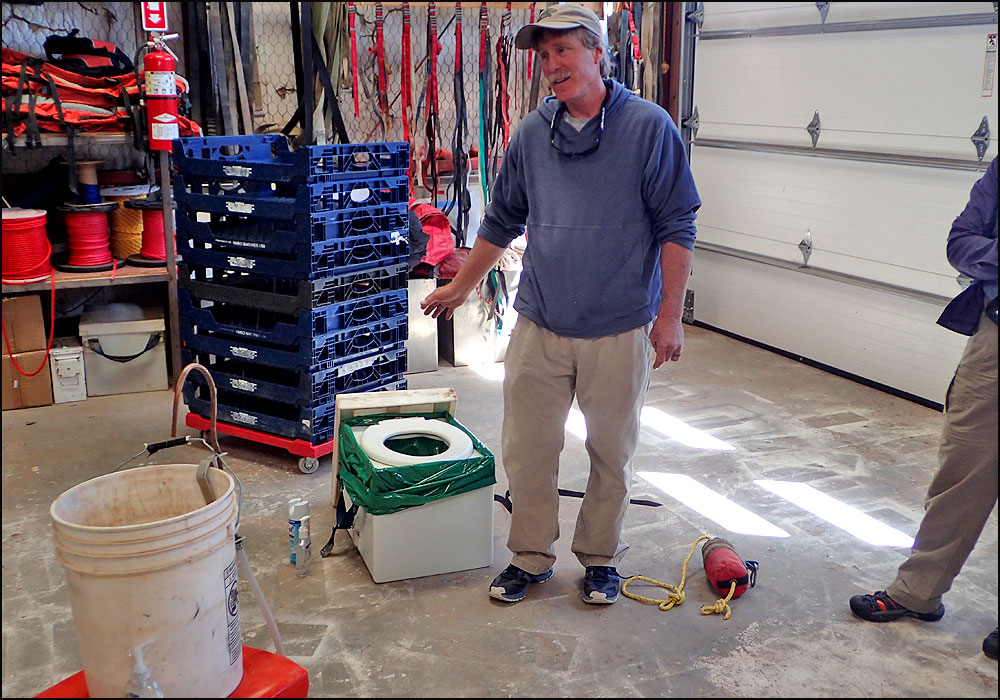 There would be two toilets set up at every camp consisting of a box like this one, set up a distance from camp. One of the 'boxes' would be placed in a tent about the size of a phone booth to afford the user some privacy. The other, known as the 'adventure toilet' would be set up in rock, tree or brush screened area, providing a $1,000,000 view every time one sat down!!!
The common reaction was  . . . Really???!!!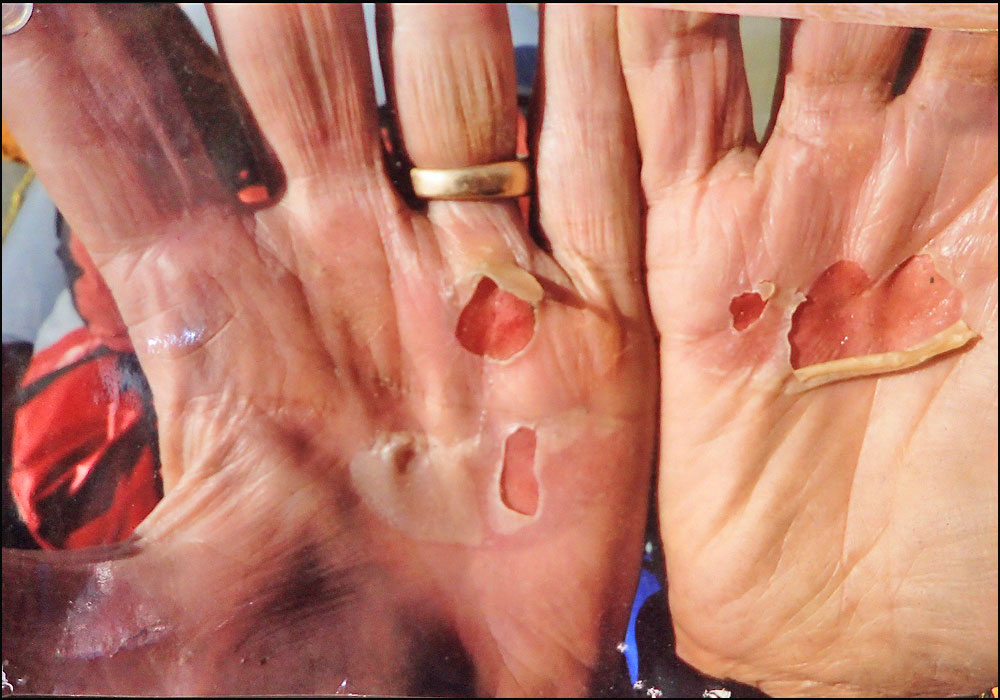 In order to move us along the river at a pace to allow time for hiking we would motor down the river. CRATE also offers rowing trips. From photos of past trips they had on the wall, one can see some rafter's hands didn't fair so good!!!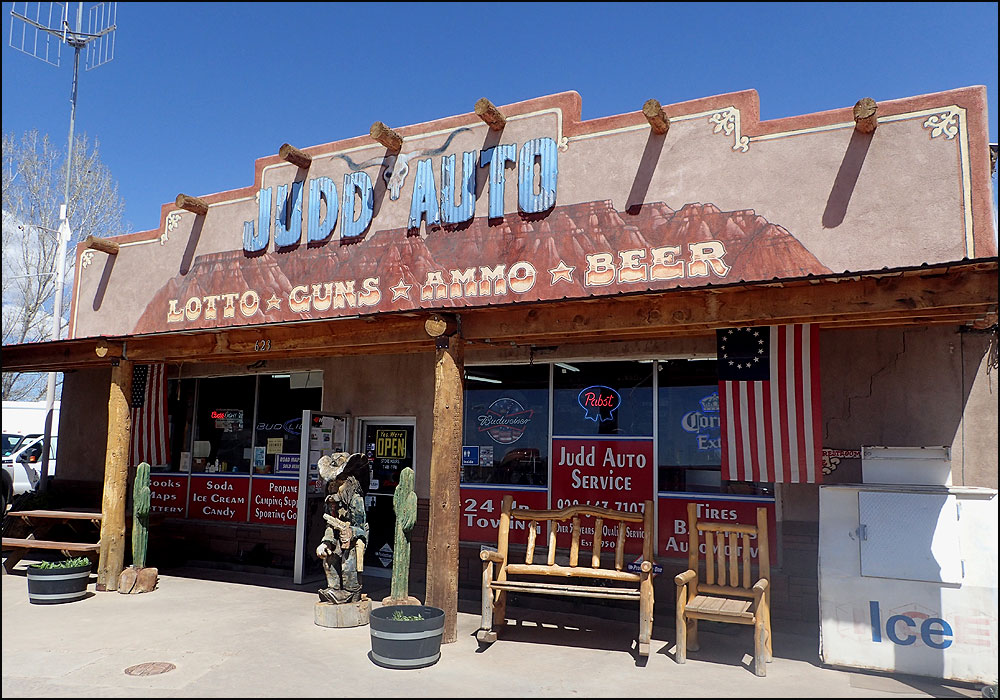 A last stop on the way our of town was for guns . . . ammo . . . and BEER!!!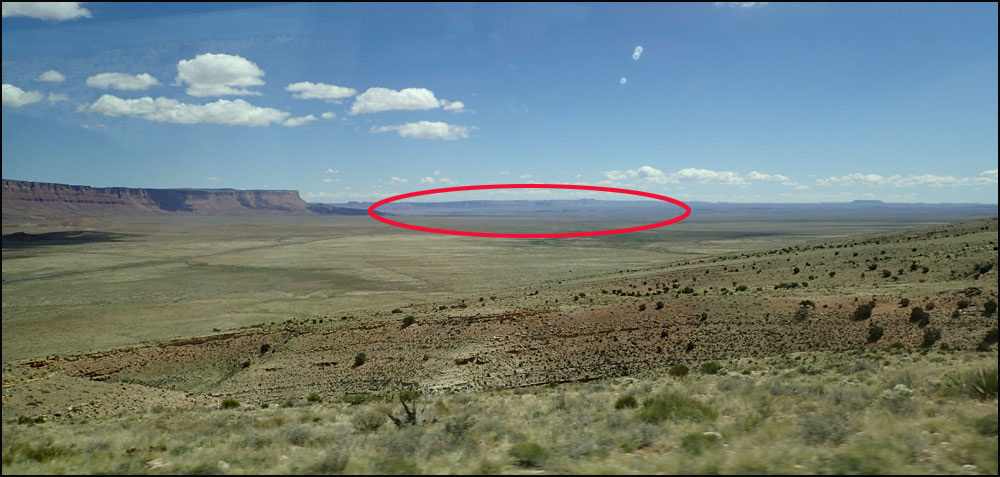 Our first view of the Grand Canyon's features across the Kaibab Plateau. We would eventually be in river cuts over 4,500 feet in depth!!!!

As we rode along in the bus, I noticed this piece of advice for not gaining weight on a trip. Well . . . two out of three ain't too bad!!!
The first of the cuts appear . . .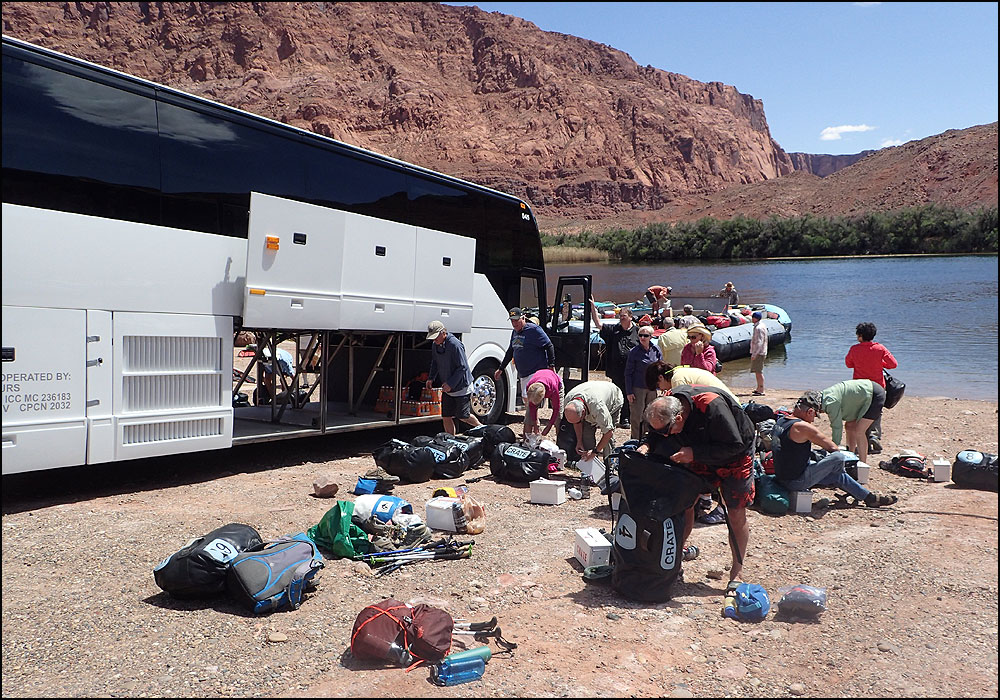 . . . as we unloaded at Lee's Ferry.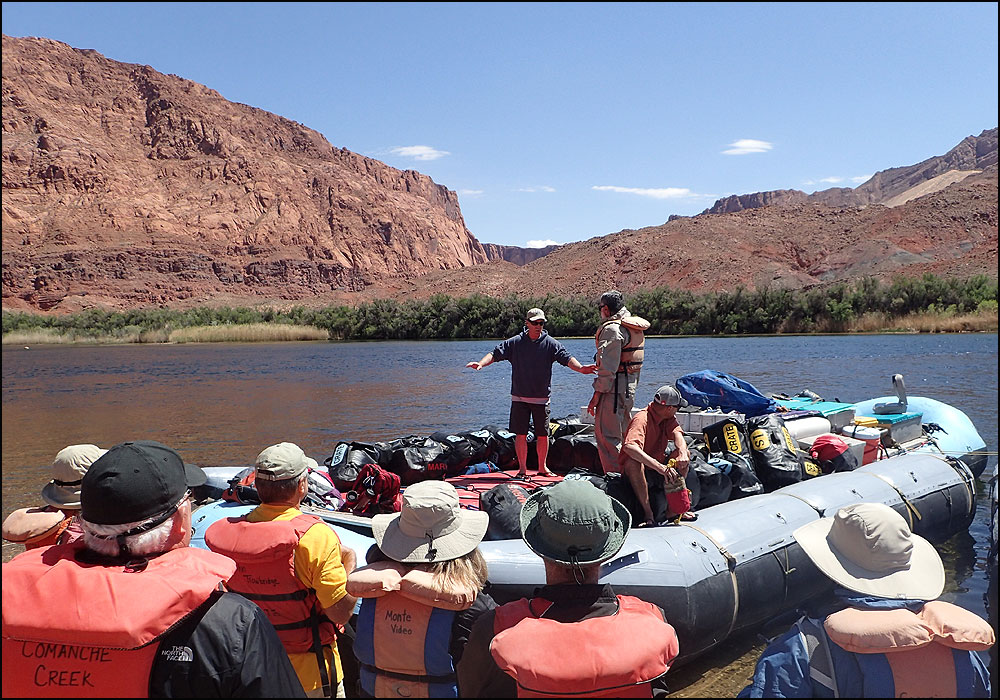 We are instructed on the safety measures concerning the raft, including having your life jacket on, and buckled, ANYTIME you are on the craft.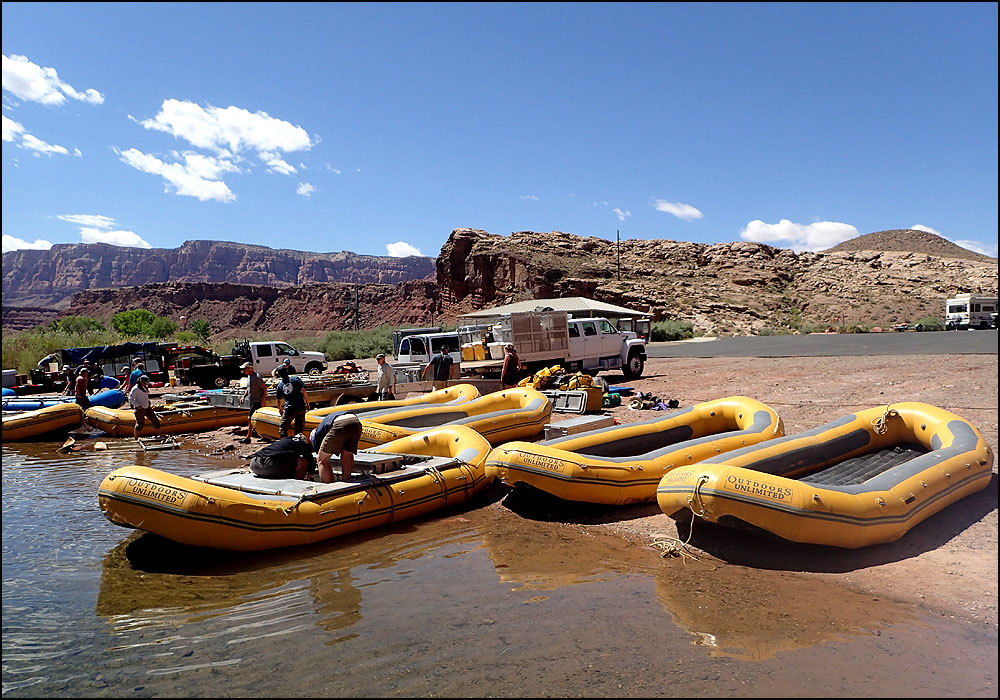 Several other companies were also assembling their rafts at Lee's Ferry. Each raft would accommodate two adventurers with a guide sitting, elevated, in the middle of the raft and rowing.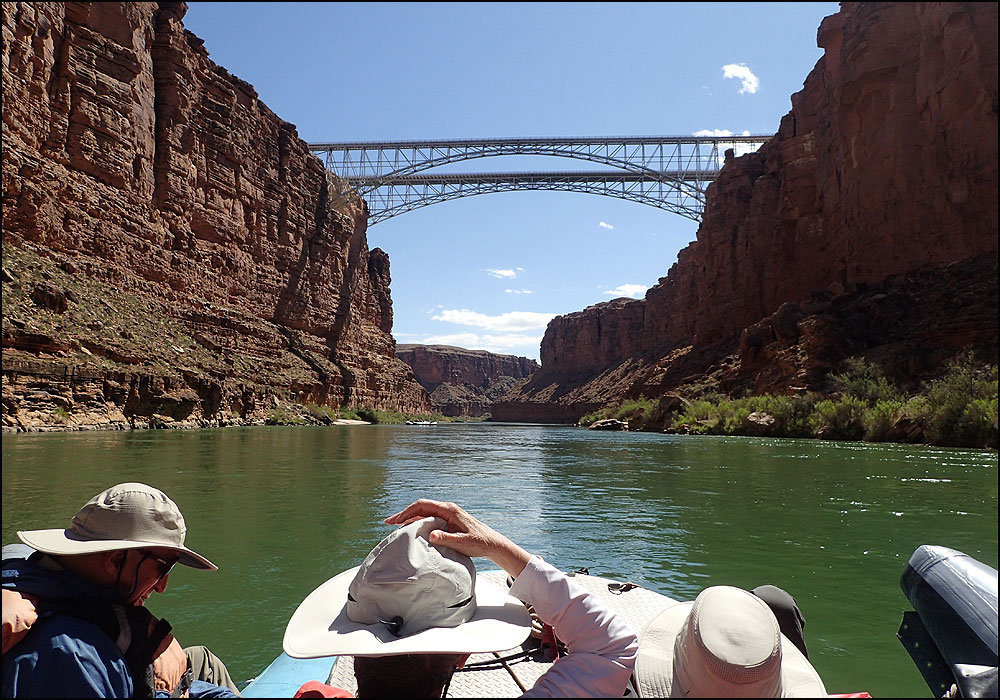 Off we go, leaving civilization behind . . .