Oh how time flies . . .  from  shopping mall beauty pageant winner, to bathing beauty, to horse wrangler to a beautiful senior in high school with all of life's  big adventures in front of her.
. . . and before you know it, emJay turns 60 years old!!!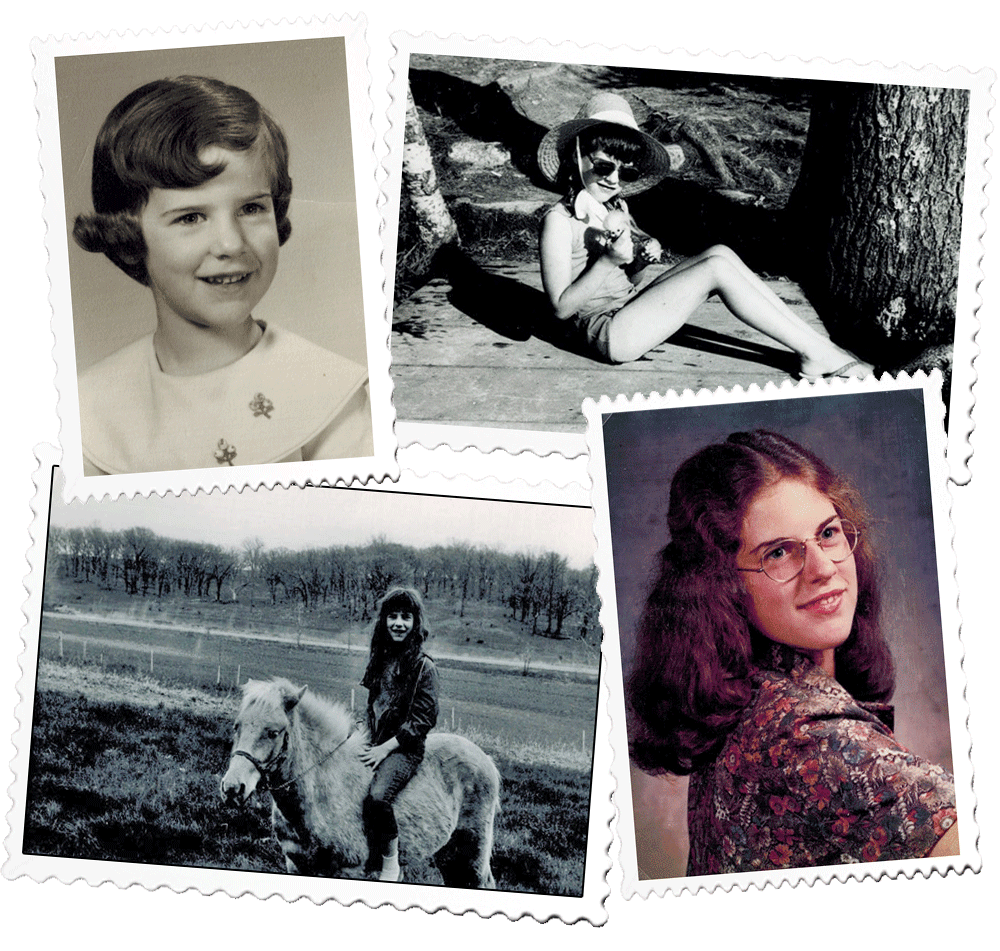 I have missed so many of her birthdays because of bike trips, the only way she could guarantee I would be around for her 60th was for her to schedule a bike ride together. So it will be!!!
I've ridden home to Minneapolis from Madison, for Mother's Day, several times and always thought it was a great ride along the Mississippi. especially along the Wisconsin side. With her limited remaining 2018 vacation time (oh yeah, she is still working)  it seemed like the perfect, end to end trip!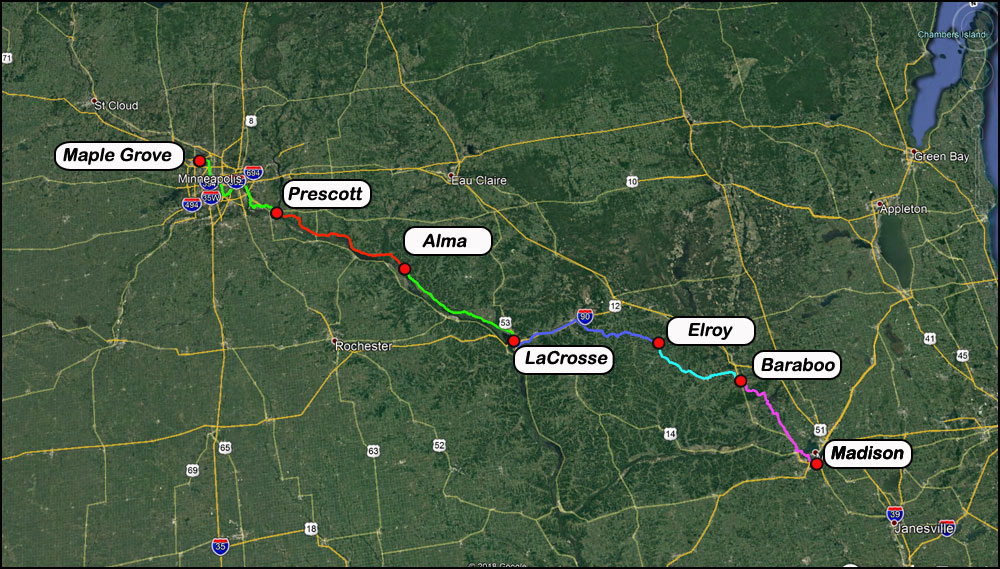 We will leave Madison and arrive in Minneapolis six days later. Much of the riding will be on state trails, from Reedsburg to north of LaCrosse.
But first there are the logistics. This will be credit card camping with overnights in Baraboo, Elroy, LaCrosse, Alma and Hastings.  All the hotel reservations have been made . . . but since it is one way riding how do we get back?
Easy . . .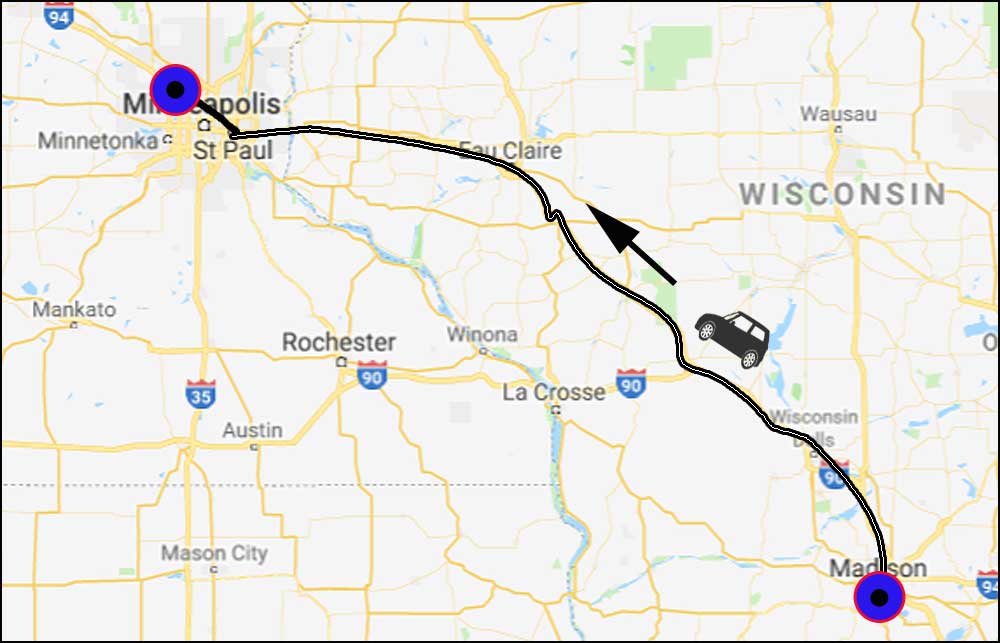 First, I will drive her Honda CRV, along with Connie Cannondale,  to my sister Roxanne's home in Maple Grove. (can't take the Chevy Volt because, well  . . .  go here for the sad story)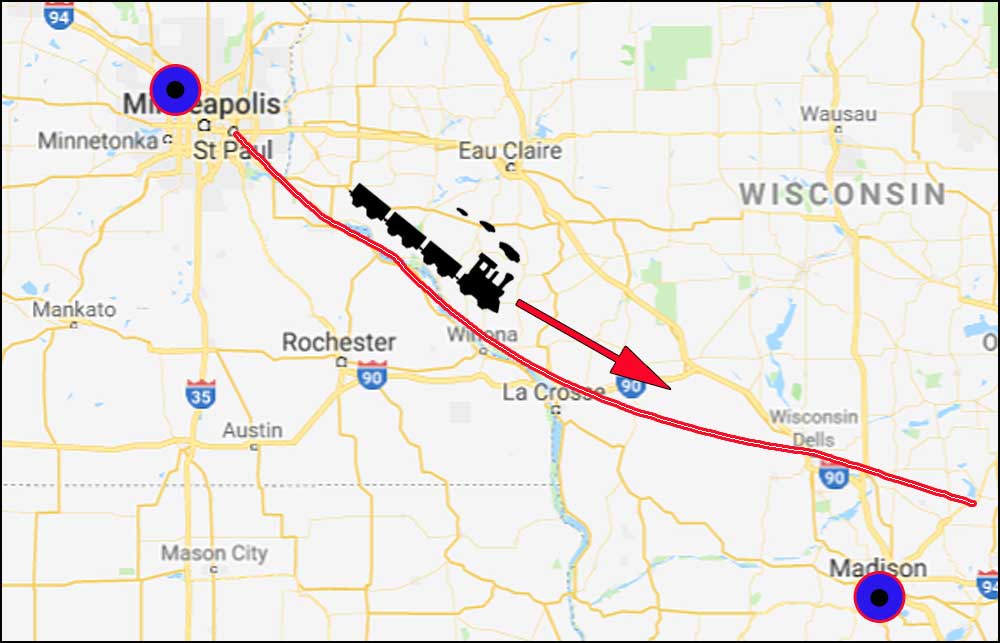 Then, Roxanne will give me a ride to the AMTRAK station in St. Paul, drop Connie and me off on the platform and return to her home with the CRV where it will rest for a week. I will train to Columbus . . .
. . . where I will 'detrain' and ride Connie home to Madison.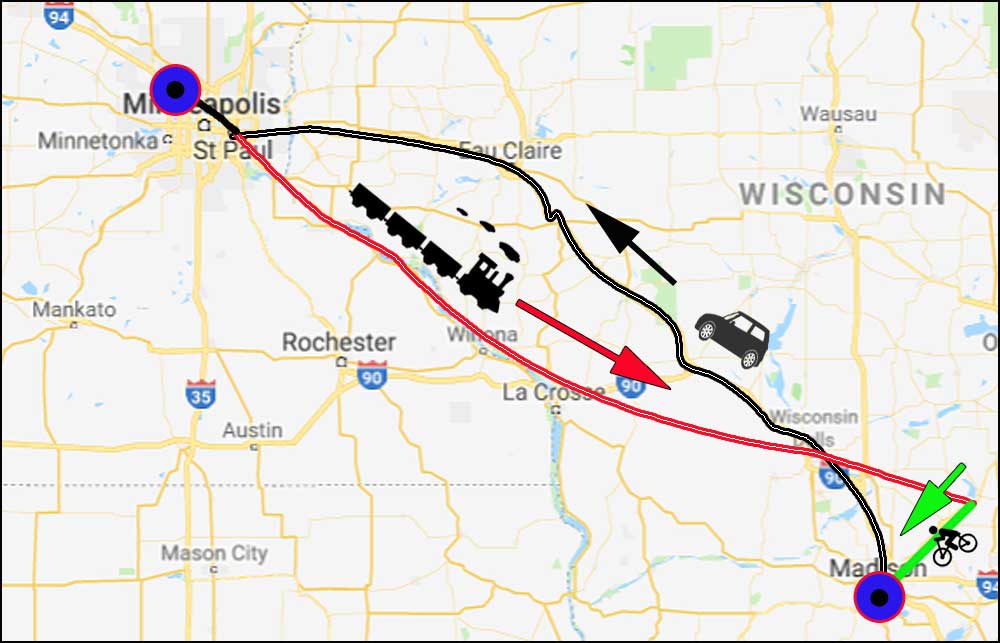 Good thing I am retired!!!!
UPDATE:
Part A and C of the pre-trip logistics went smooth, Part B, not so much.
I had a smooth ride to MPLS and although the city is experiencing MAJOR traffic issues due to summertime road construction, by leaving MSN at 4:00pm I sailed into Mpls around 8:30pm with NO traffic issues!!!
A sound sleep at Roxanne's was interrupted at 4:57 AM. I then remember one of the problems with train travel, when I received the first of many texts that would come in during the day from AMTRAK, stating the Empire builder was delayed. It's regular time to leave St. Paul, 8:00am,  was continually pushed back during the day until 1:33pm, which I presume is when it finally arrived.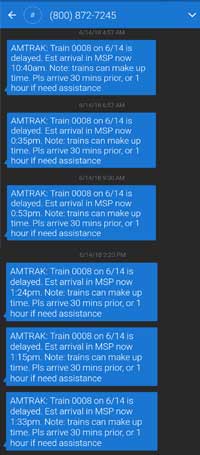 Roxanne was all set to take me to the depot at 6:15am (lots of construction going on in the metro area and we had NO WAY of knowing how long it would take to get there)  So we left at 6:15am and I would just hang out at the depot until the train arrive, at that time supposedly 10:40am AND she would get to work on time. Good thing I went down there early, because although it was not mentioned in their text's, AMTRAK had buses line up to drive us rail riders to our destinations.
One left at 8:00am with all those going to Chicago, the end of the line. The bus I was on only had 7 people that were going to various stations between St Paul and Milwaukee, including Columbus my stop.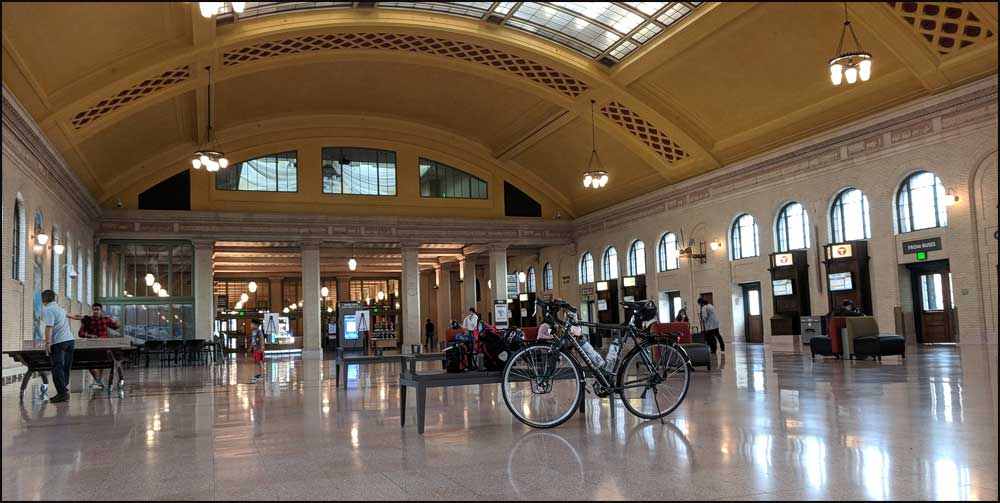 The new depot is a thing of beauty and Connie 'The Clydesdale' Cannondale, my trusty steed, had a hard time finding anything to nibble . . .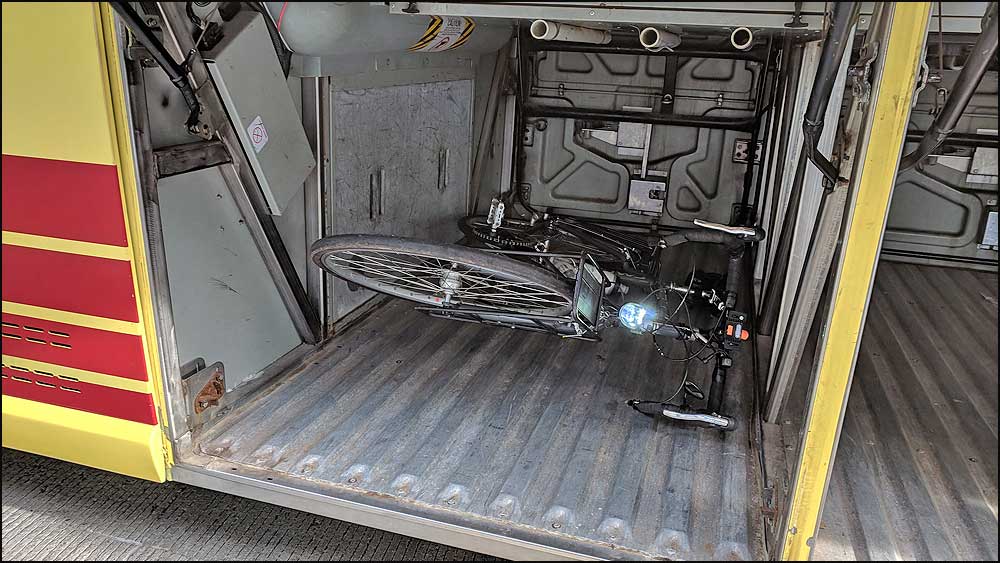 . . . soon she was tucked into her own stall . . .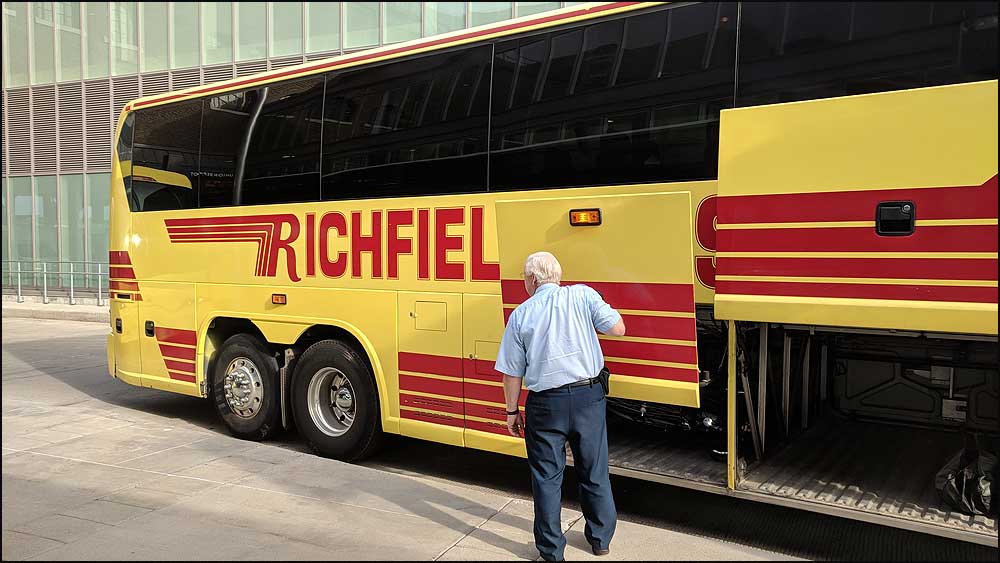 . . . and had a nice six hour nap before we galloped from Columbus to MSN.
The bus stopped at all the regular Empire Builder train stops along the way picking up or letting off folks.
We drove though Hastings, LaCrosse, Tomah, and the Dells passing by one of the hotels we will stay at on the ride (NO camping on this trip!)
We eventually arrive in Columbus at 2:33pm, only 30 minutes later that the train would have arrived. And, in fact we would have beat the  'train time' but when we got to Tomah, 37 minutes earlier than expected, we had to wait until 'train time' (the time the AMTRAK would have left Tomah) before we could leave!!!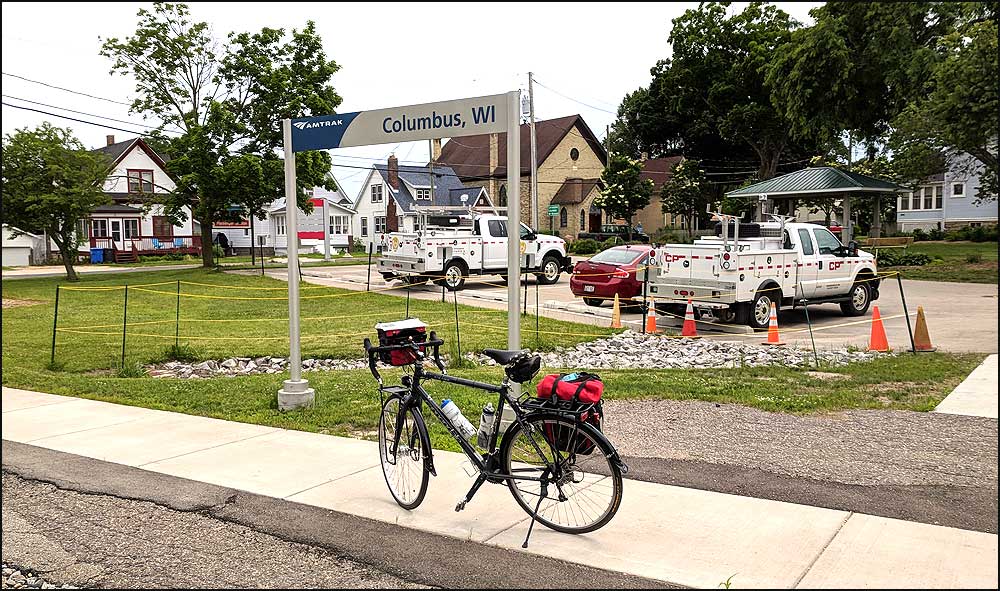 It was a BEAUTIFUL day for riding and I was soon the the road riding Connie Cannondale down the highway. Forty-four miles later I rolled up to our front door. A half hour later emJay arrived back from her conference in Iowa.
Life is good . . . and it is time to pack!!!