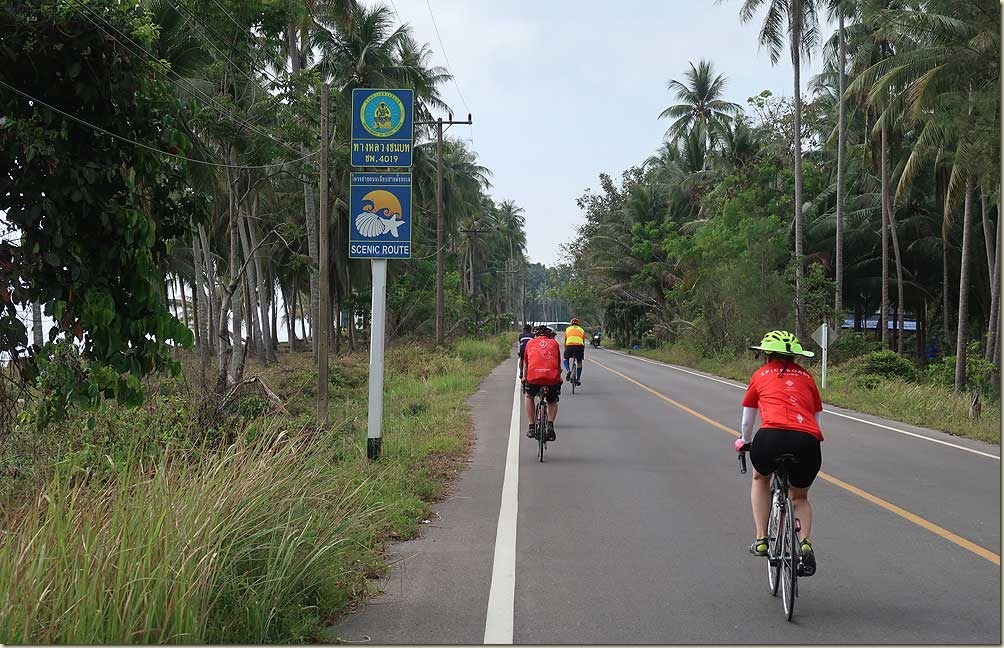 On the road again! We are back on coastal roads through coconut groves, and it is very scenic. Today is our last day of cycling along the Gulf of Thailand. Tomorrow we head inland toward the Andaman Sea.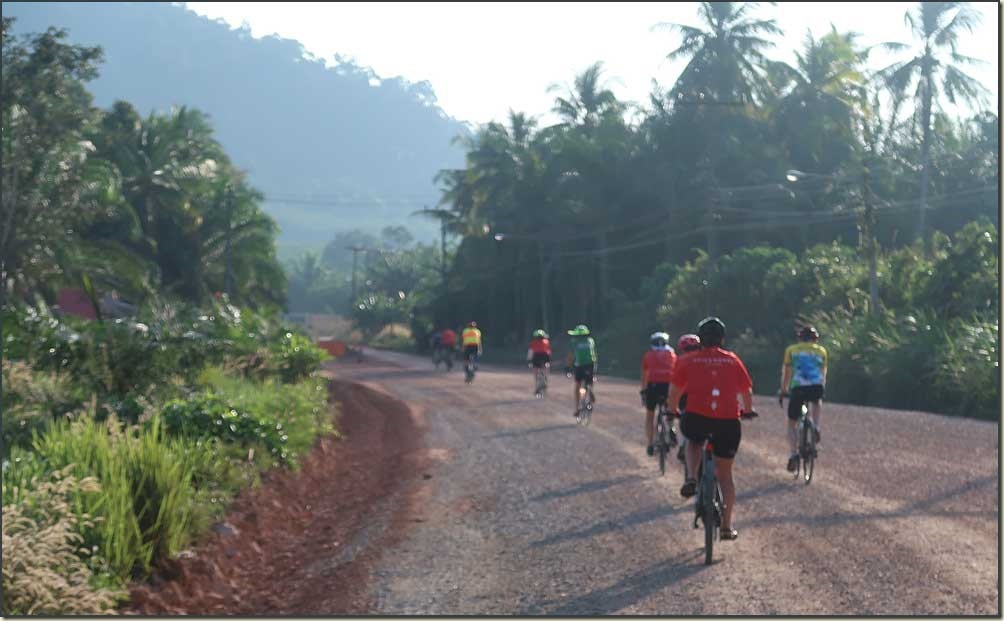 We hit a bit of road improvement work again today. Thailand is taking good care of its roads. Most were smooth today. And they are working on getting other parts like this improved!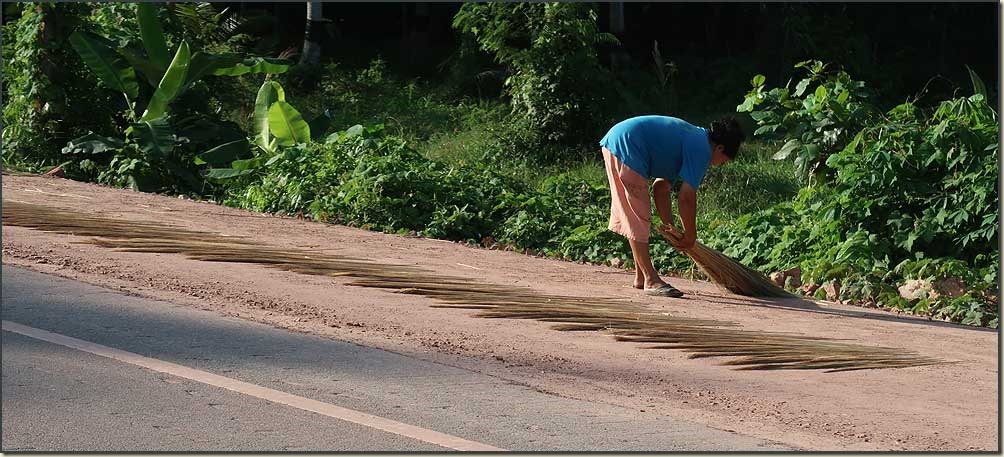 We believe this woman is gathering fronds and leaves, and drying them on the shoulder, to make brooms. The Thai people are very tidy, always sweeping!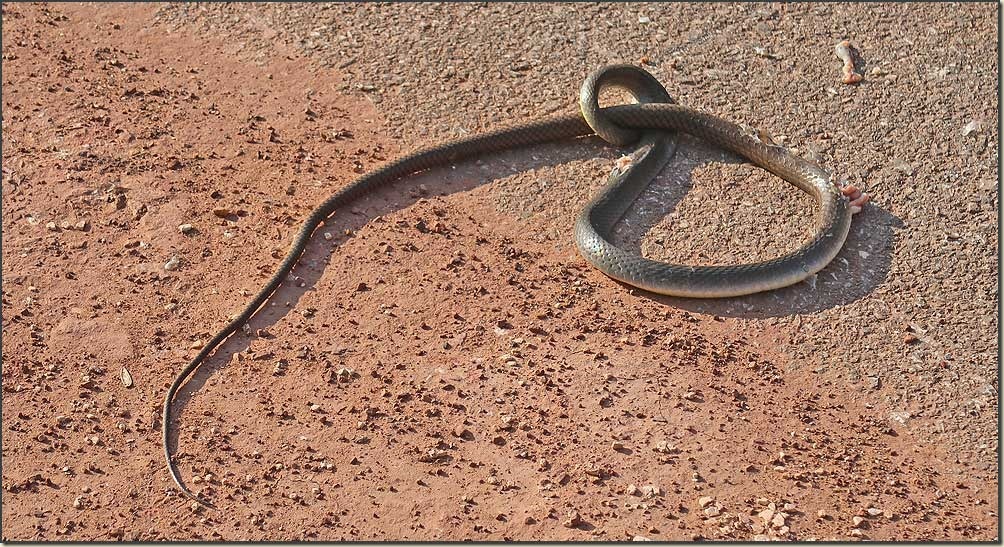 The Road Kill Club examined this snake today. Woody says this species is not poisonous to man as the cobra. The crows were snacking on it.
Fish drying in someone's side yard.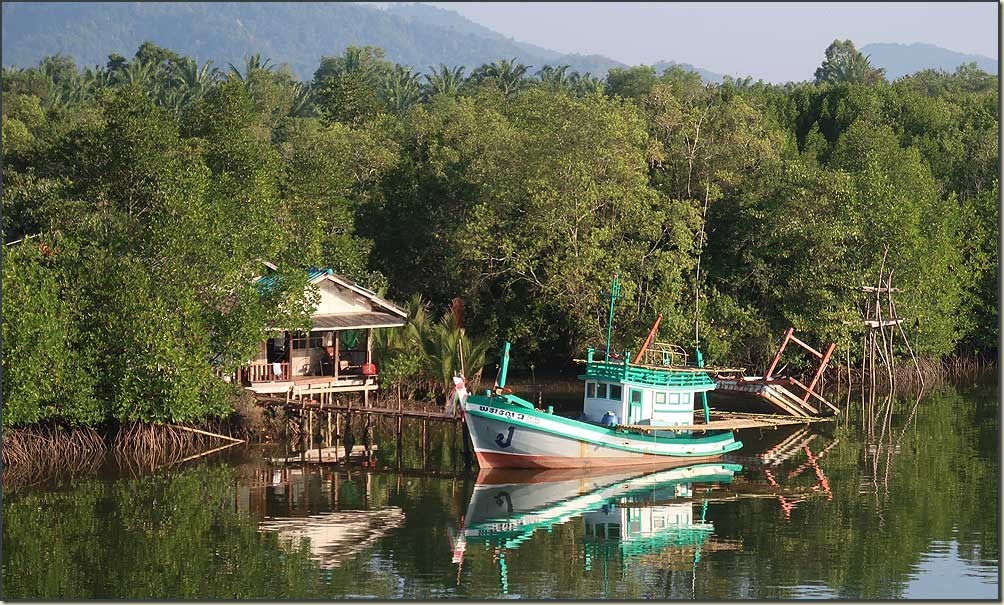 Over a bridge we came to this quaint fishing area. This man pulled his boat right up to his house!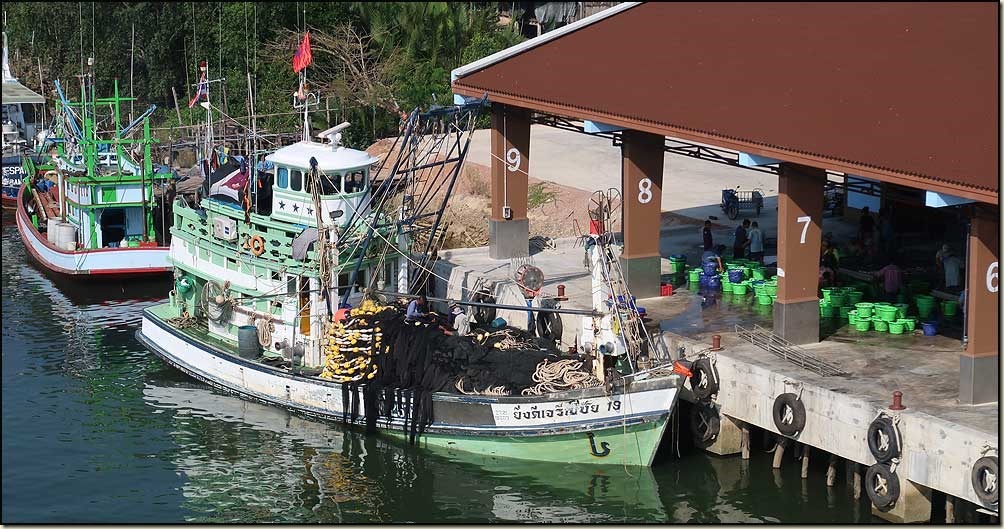 The fishing fleet had returned!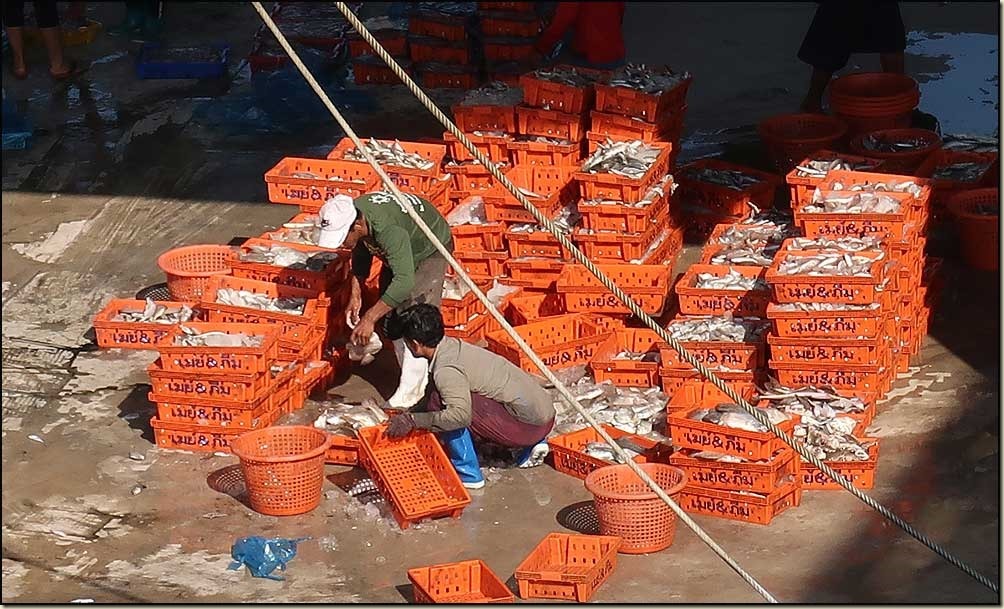 Here the fish are being sorted by size and species, for sale nearby on the dock.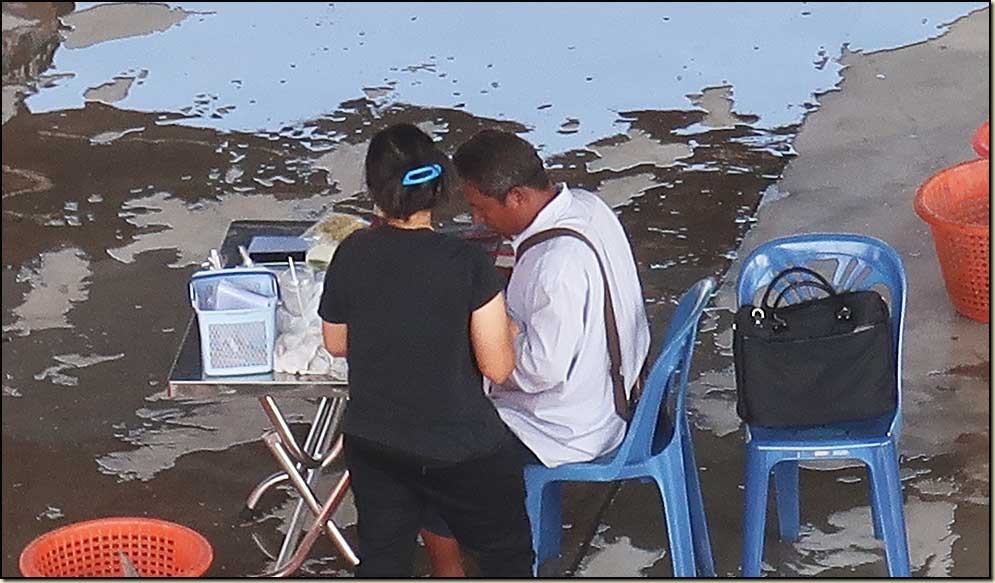 Of course there is always the book keeper! You got to pay the man.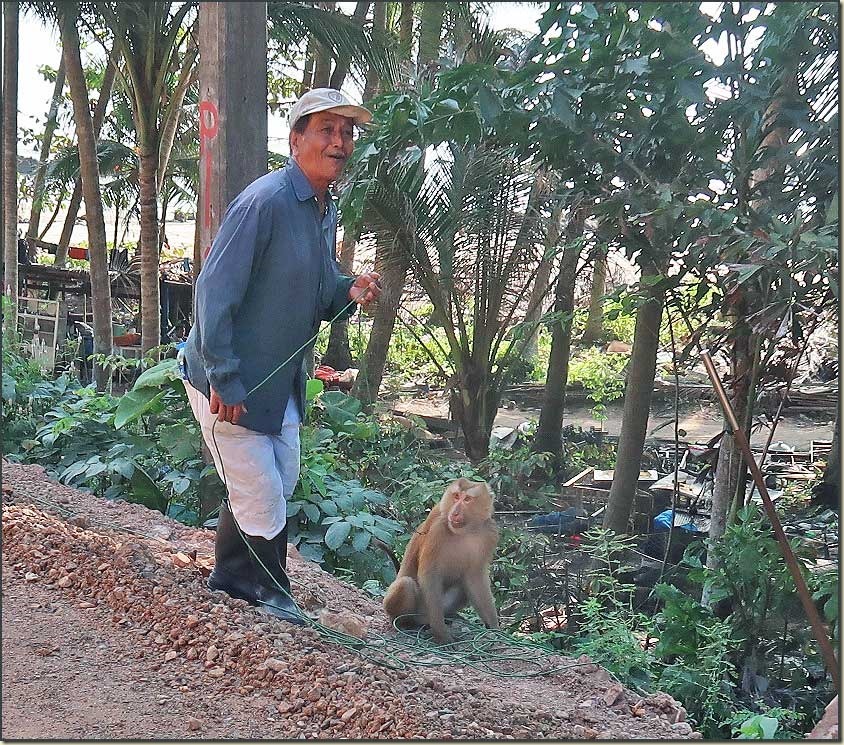 We came across another macaque and his handler, working on retrieving coconuts from the crown of the trees, located by the side of the road.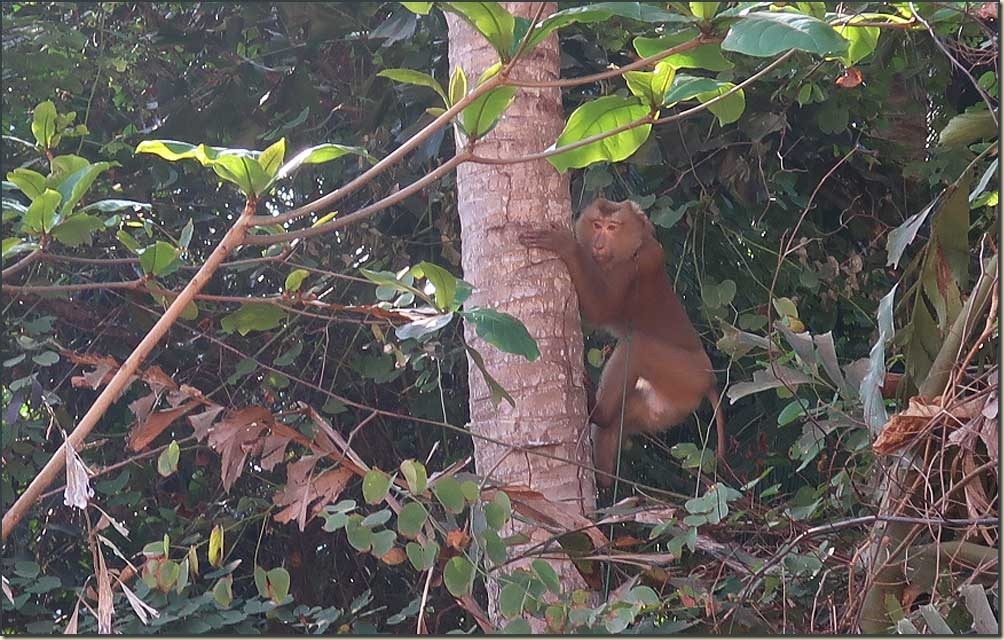 This monkey is nearly seven years old and nearing retirement. Up the tree he went!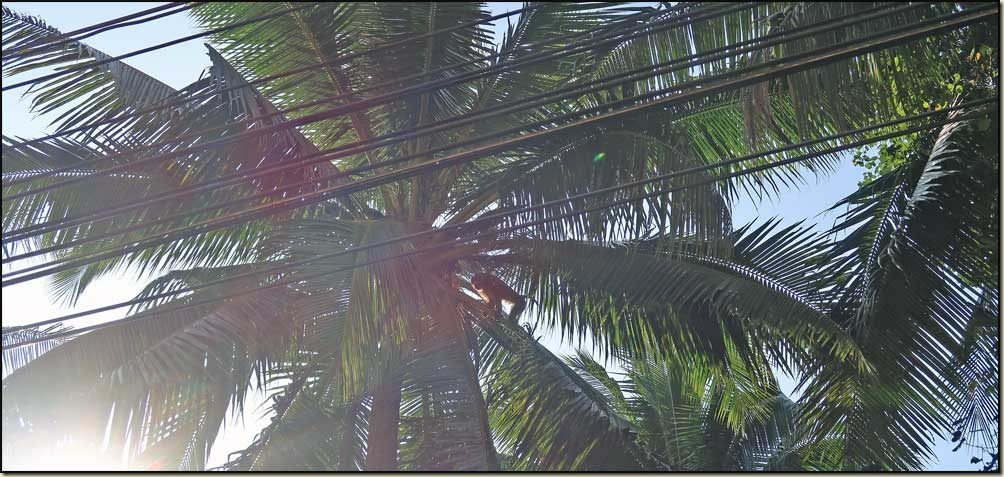 You can see him up in the tree. He knocked 6 coconuts off the tree with his feet, and the coconuts crashed to the ground below. Woody told us these macaques are bred and raised in captivity for this work. Not all of the young monkeys are appropriate for this work—not unlike dogs being chosen  and trained to work as aides to people! These coconuts are used for their milk and meat.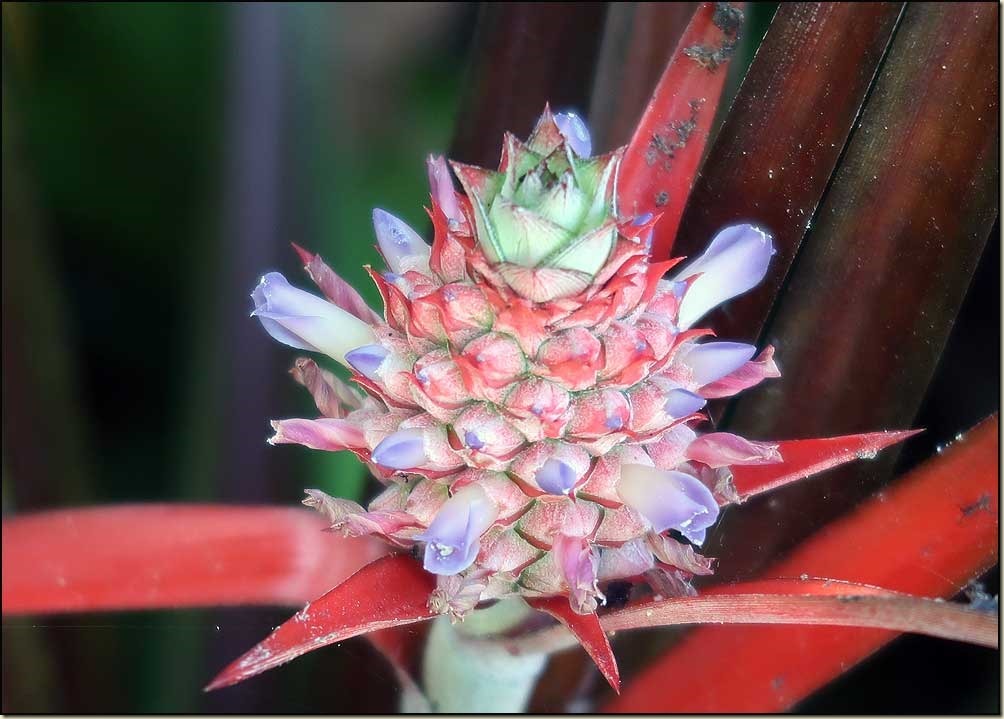 Interesting flower at our morning coffee stop.
Classic: classic coke, classic sign, classic bike!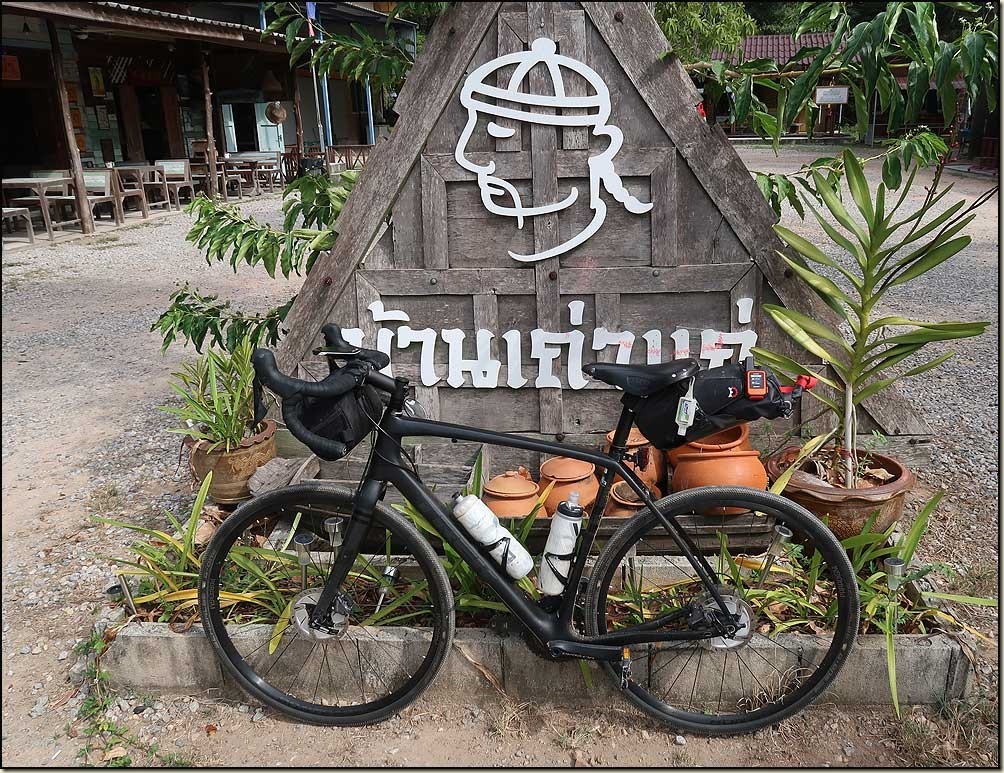 And here is the new classic: the TREK CheckPoint! But Rick needs to get new tires, as he has had five flats on this trip! He wins the prize for the most flats to date. And the roadsides and shoulders seem to be very clean, free of problems that could cause flats. So new tires it will be.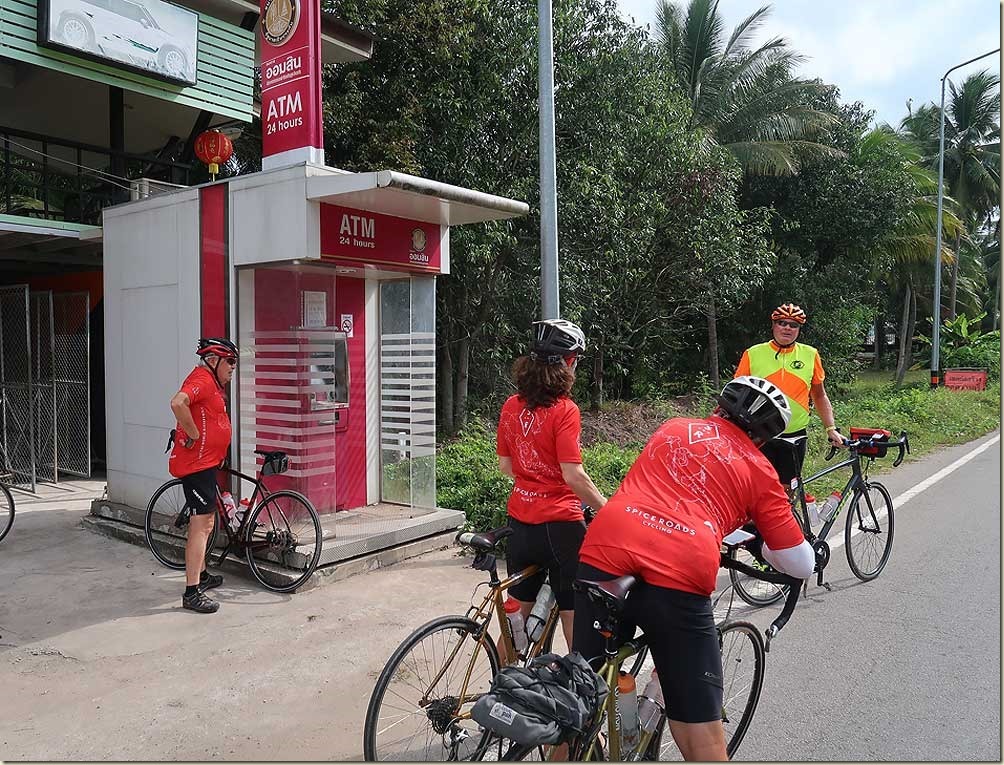 A government bank ATM that did not work for two of  the couples! How can we spend money in Thailand if we can't get more Baht?!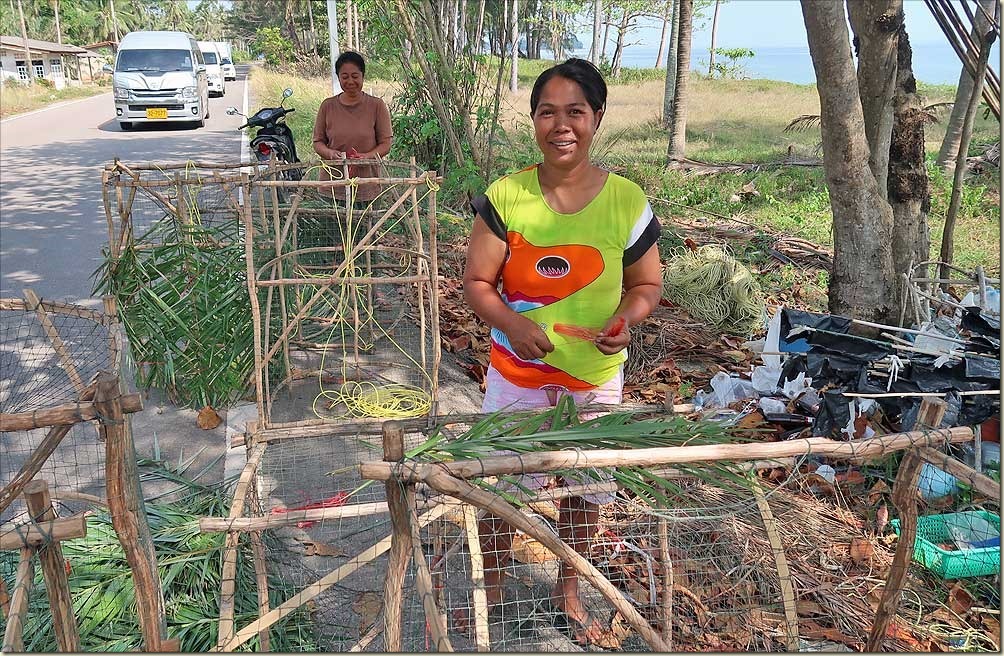 These gals are weaving palm fronds into fishing traps to camouflage the traps to unsuspecting fish.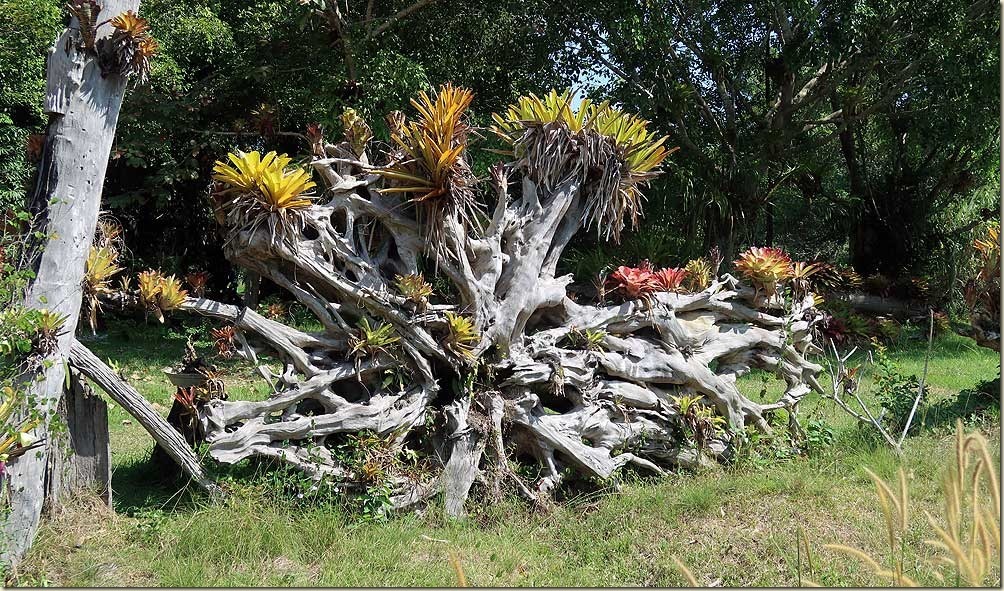 Crazy driftwood/deadwood with bromeliads growing on it! Beautiful yet odd.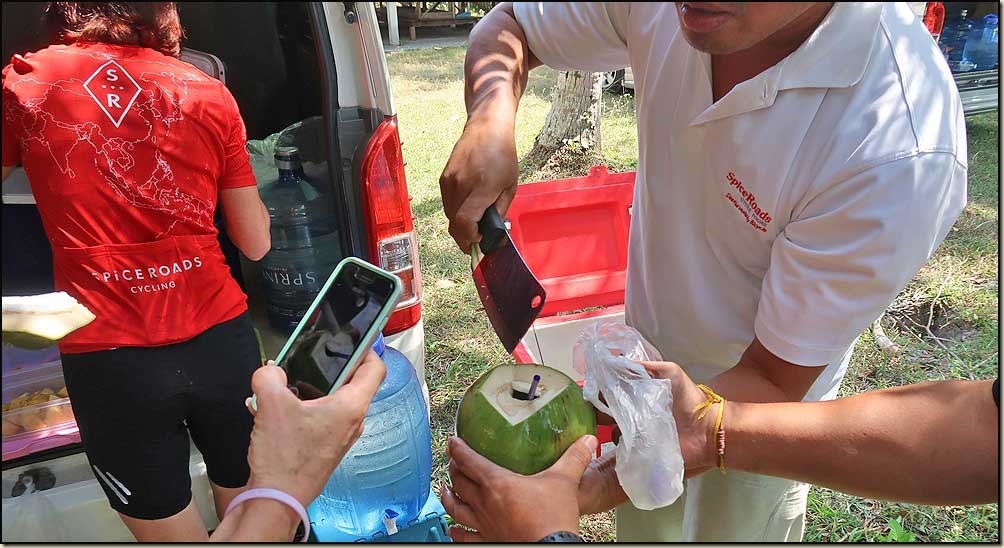 Mr Rin prepares chilled coconut milk treats with just five cleaver moves!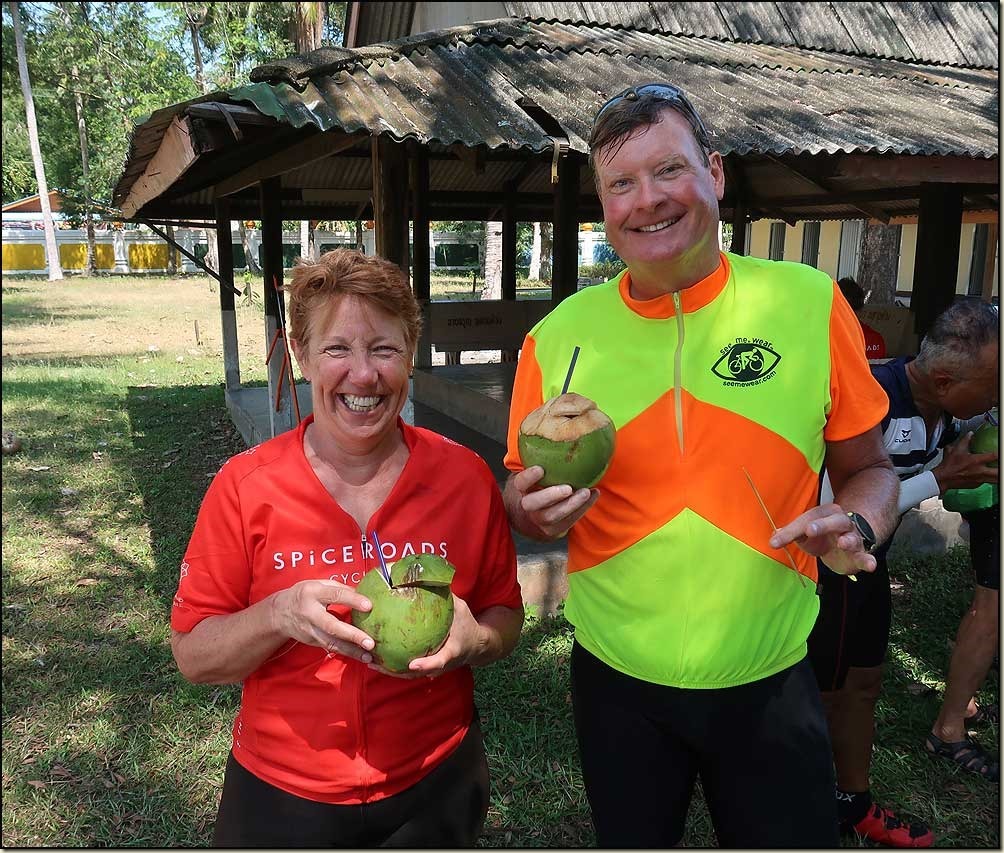 Barb and Tom are happy campers with their refreshing coconut water and meat!
We did not see many temples today, but passed by this one being constructed.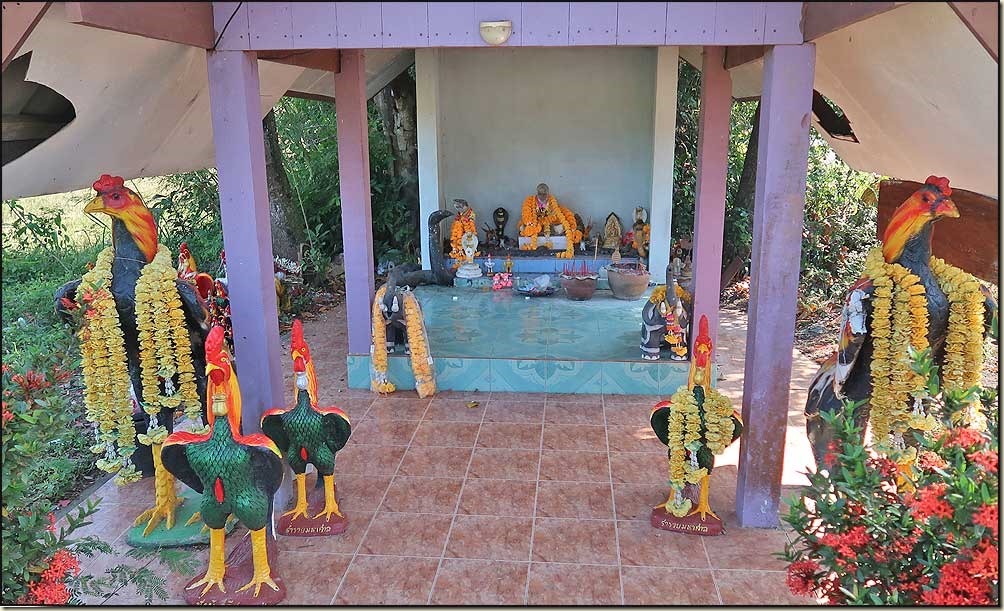 Here is a little roadside shrine for a monk who must have  really liked chickens!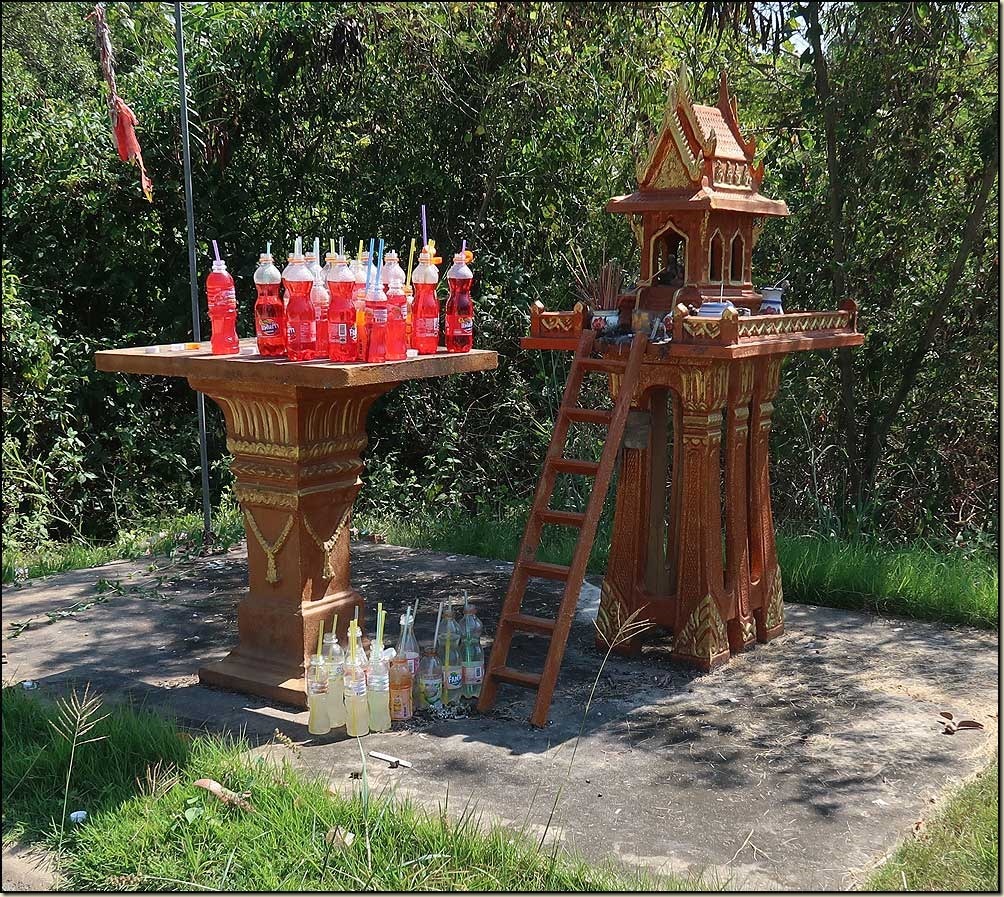 These spirits must really enjoy cherry pop! Every day treats are left at the family's spirit house. There must be a bigger story here!

We noticed several bigger houses that would fit right into the suburbs of Madison!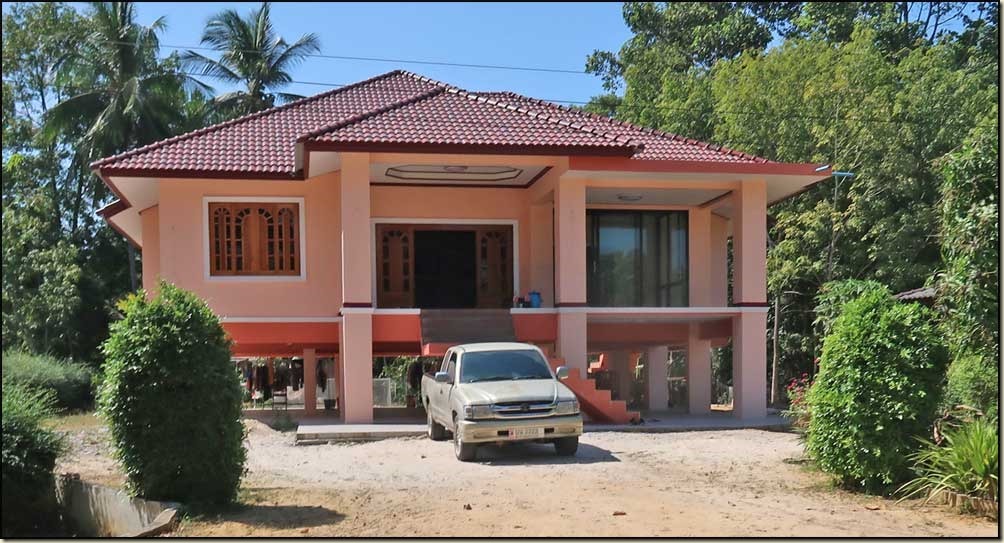 Smaller but very nice.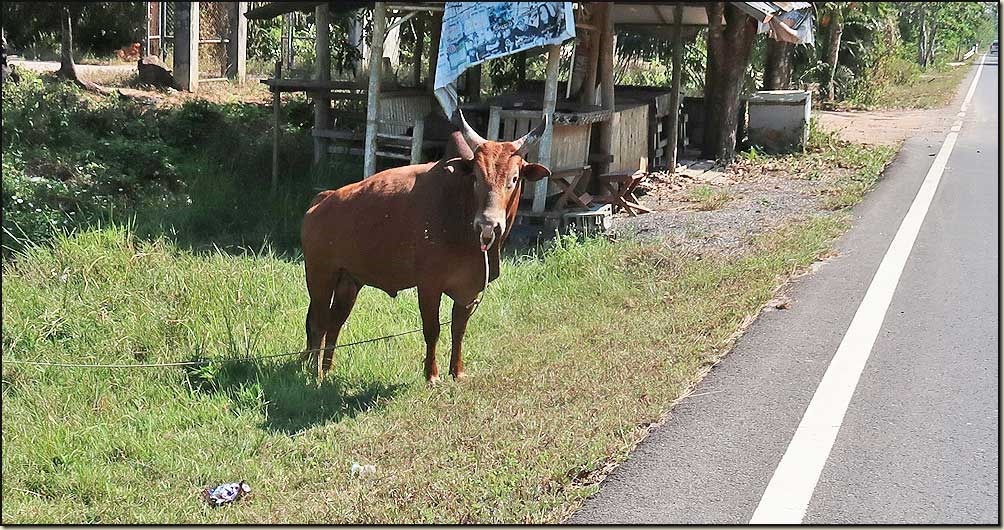 It is always fun when you ride through a village and the locals come out to meet you! The cattle are close to the road like this big boy, but are always tethered.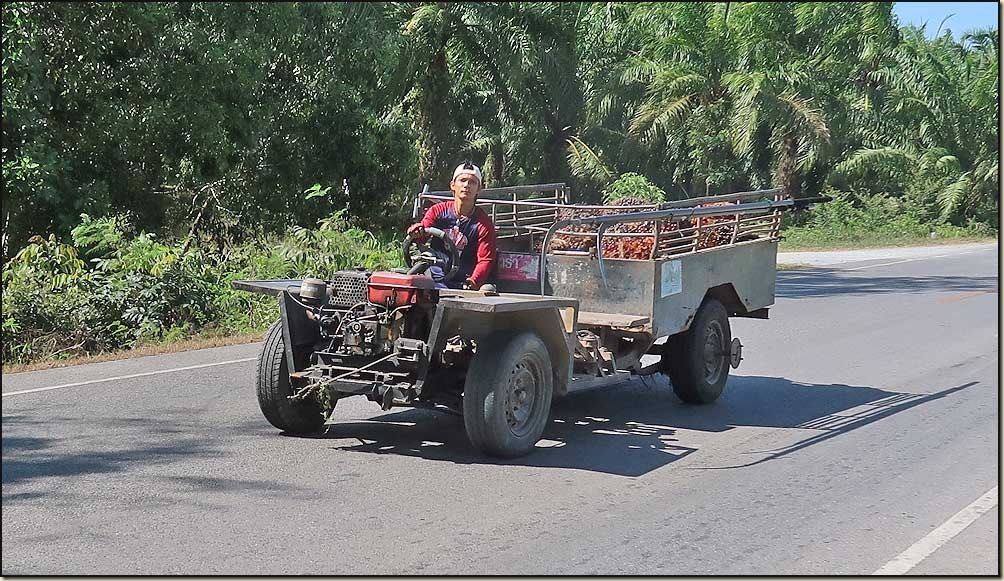 This guy was using an interesting driving contraption to take coffee beans to the local buying station. Two miles down the road Rick saw him pull onto a scale at a co-op to weigh his load. Maybe if he sells enough beans he can buy a new vehicle!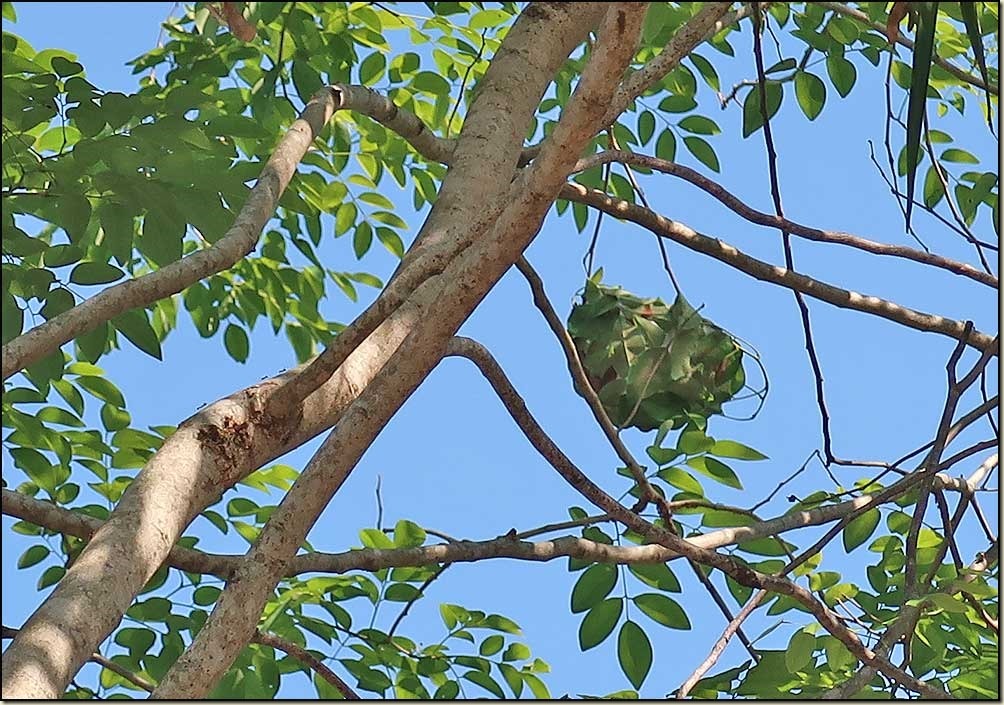 As we pulled into the hotel parking lot, Woody was there pointing out an ant nest up in the tree. This is the kind of nest we saw the woman working on yesterday. She pulls the nests down with long bamboo poles. The ant eggs go into soup with lots of herbs and interesting ingredients . . . perhaps to hide that you are eating ant eggs?!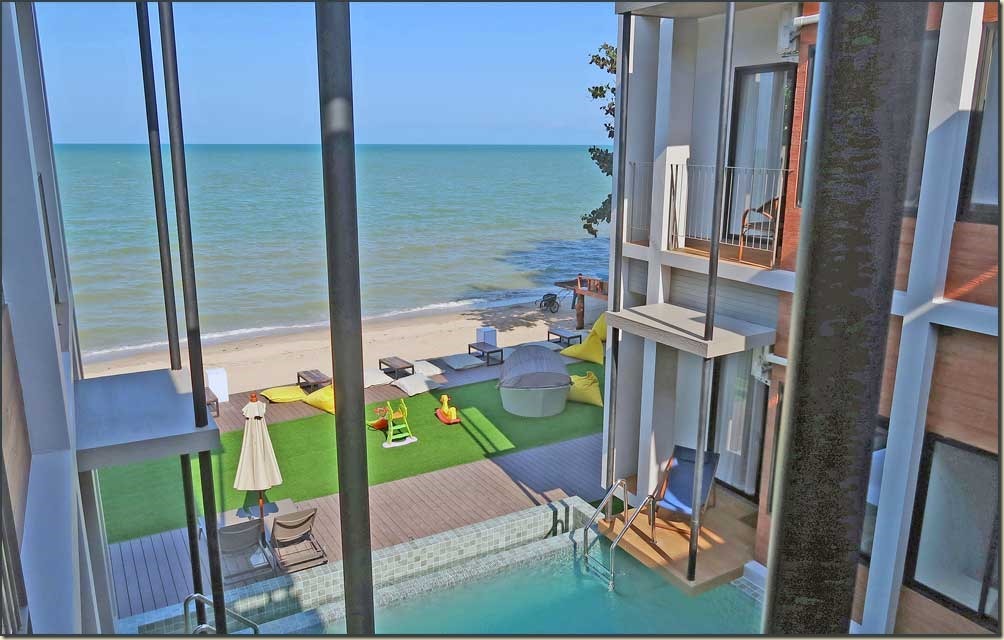 After 69 miles, it felt great to settle into our hotel. We are on the second floor, no elevators. The brand new hotel is U shaped, wrapped around a pool, with the ocean shore just 50 feet away!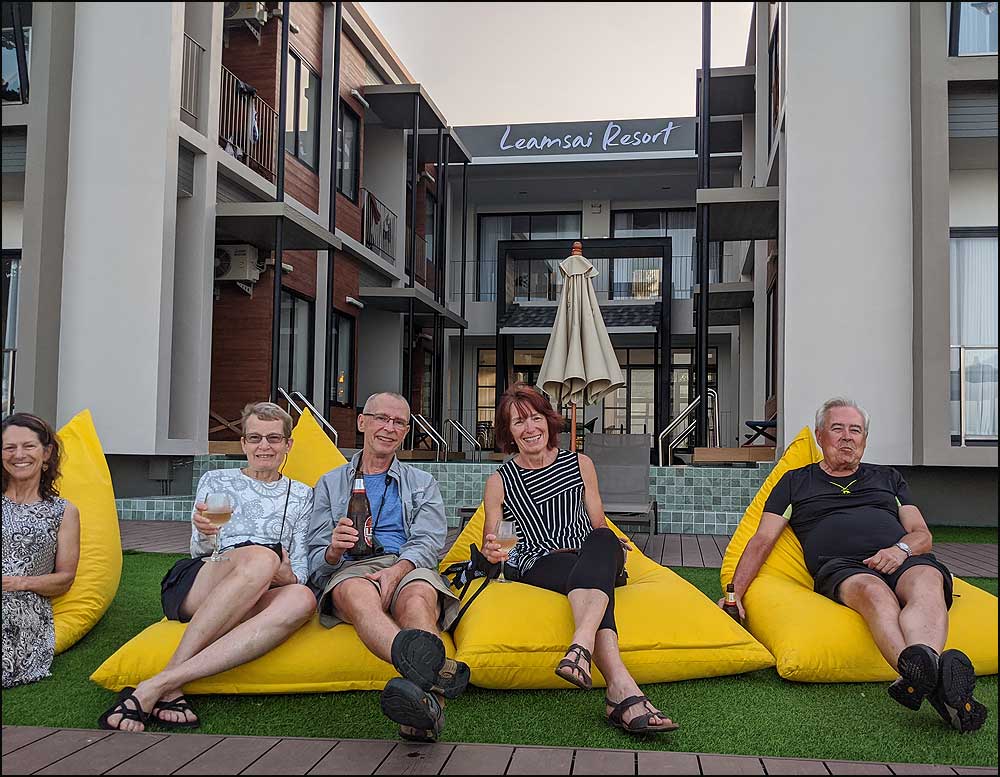 . . .  and we had a GREAT happy hour, held right on the beach in front of our hotel.  80 degrees and a soft, onshore breeze . . . lovely!!!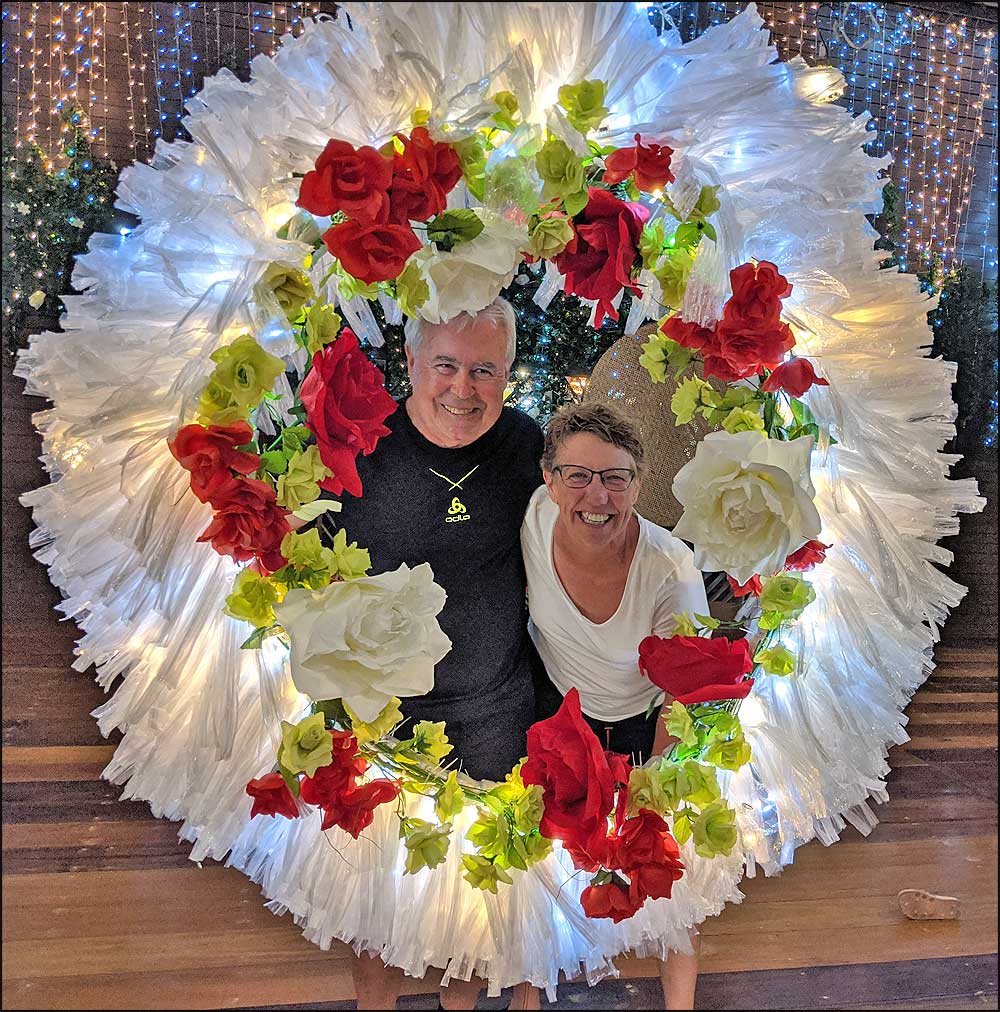 . . . 'love is in the air, I can feel it everywhere' . . . did that sift seabreeze, a few  Leo beers and the warm temps lead to a wedding at the restaurant's Honey Moon party for the RobHel's . . . you will have to wait to find out!!!!