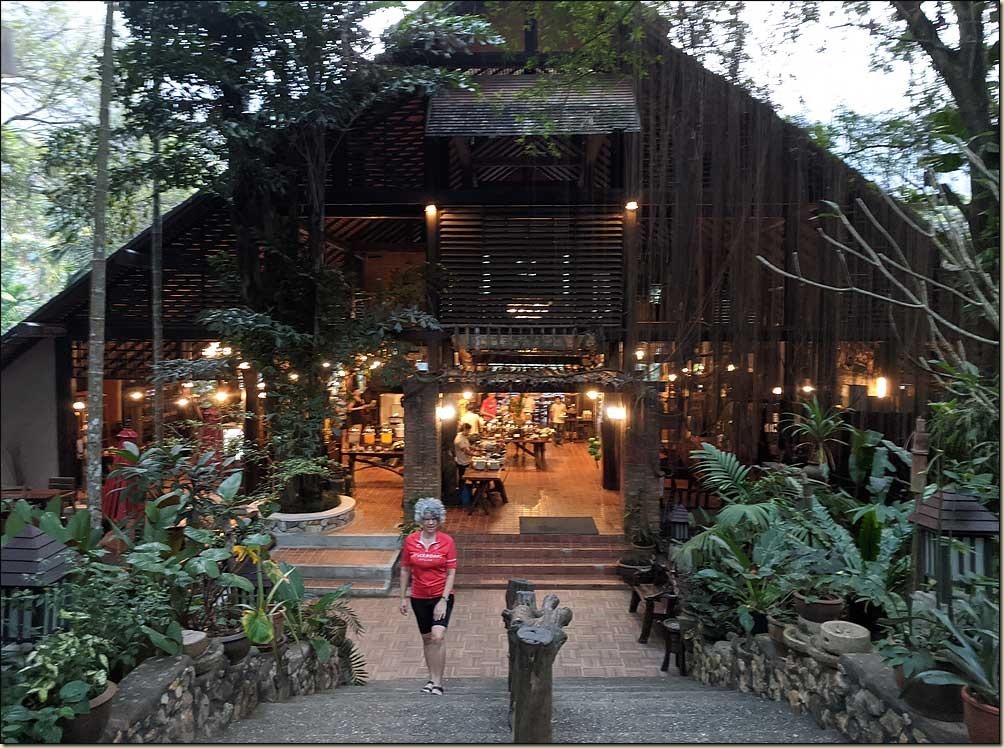 Our digs at the River Kwai Resort were nice. Here MJ leaves the open air restaurant where we enjoyed dinner last night and breakfast this morning.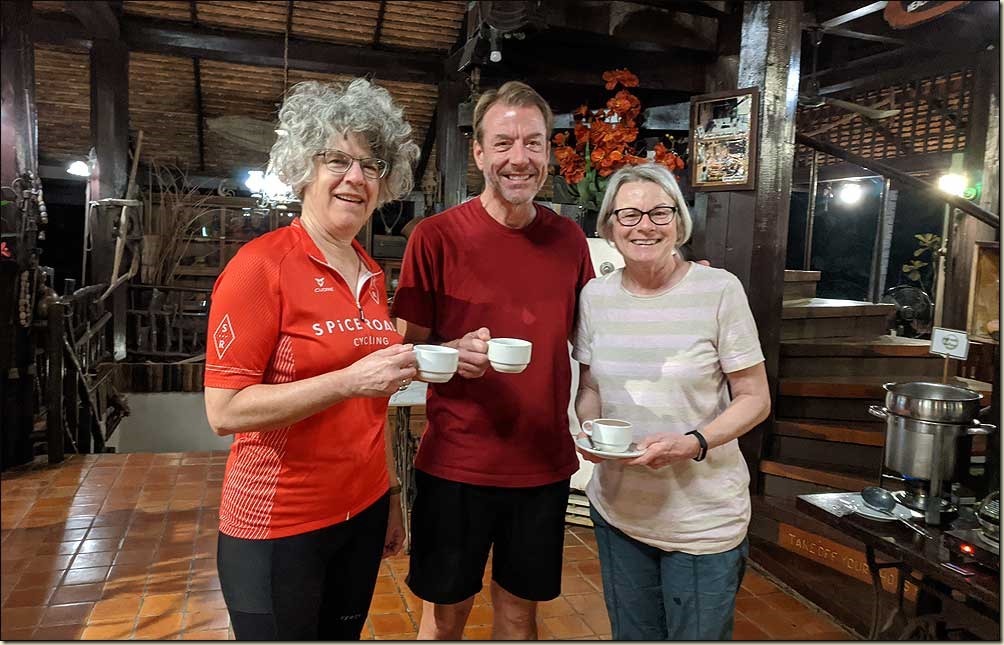 This couple overheard some of our cyclists talking at breakfast, and started the conversation of "Where are you from? Where in Wisconsin? Where near Madison? Where in Verona?!"  It turns  out they live several blocks from our former house in Verona. They were touring Thailand and were visiting many of the places we had just biked through. Fun to meet you, Greg and Michelle!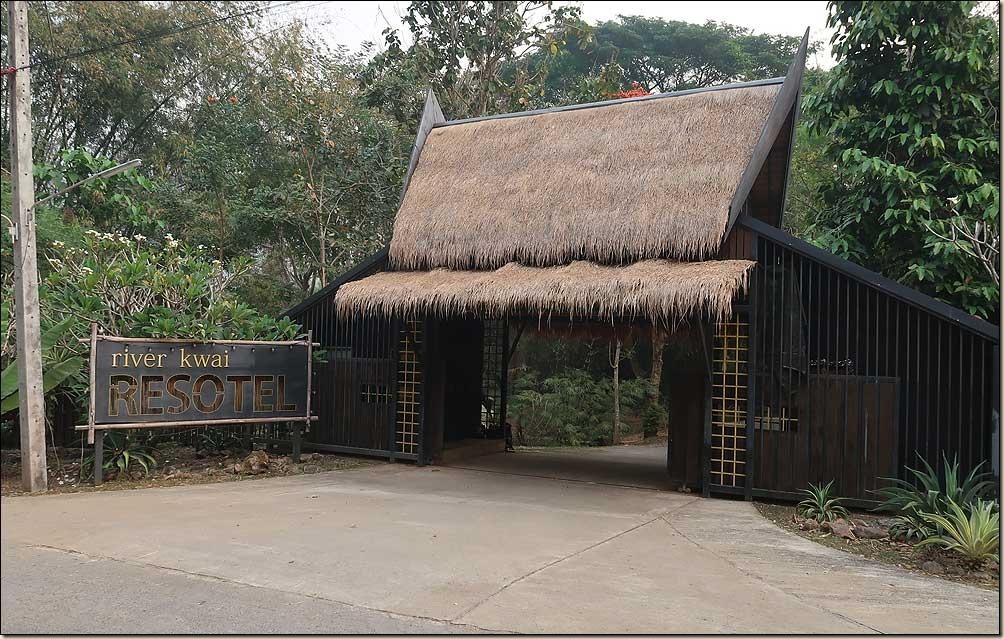 The grand entrance to our nice hotel; bye-bye! We are off again!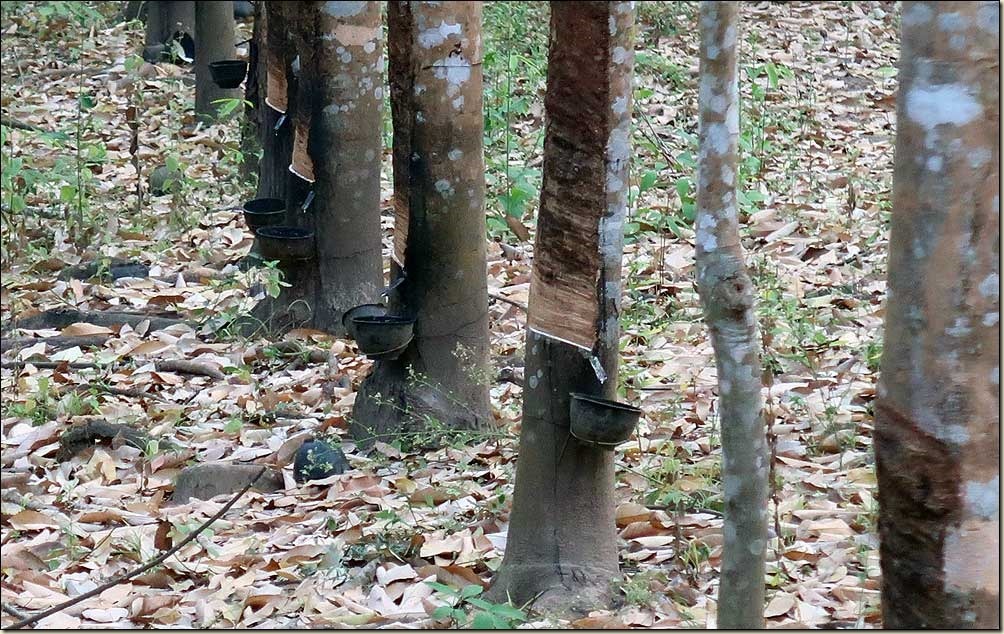 Today's ride went through many rubber plantations.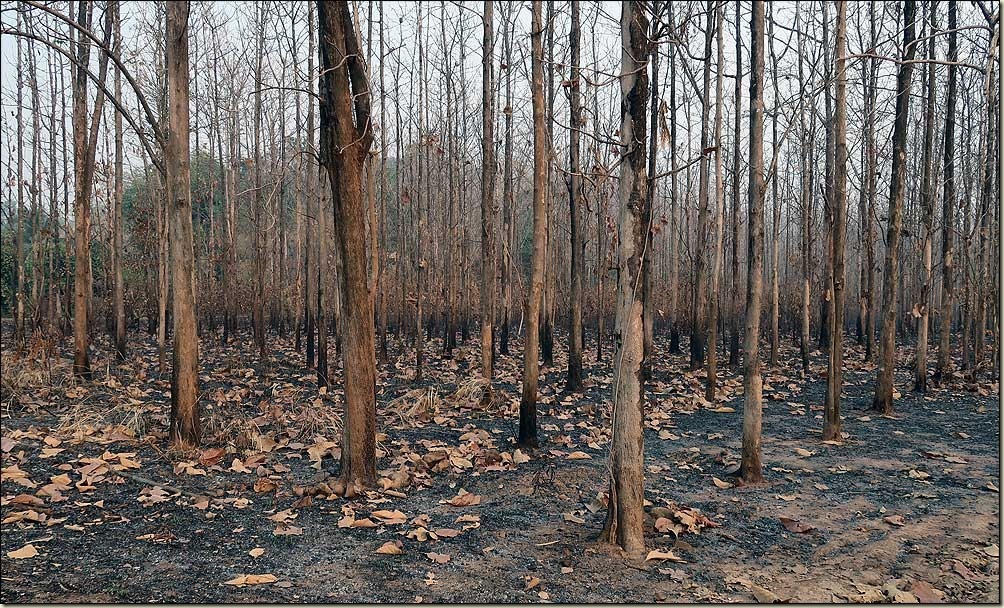 Fire continues to be a theme. Not sure that fire will help this plantation.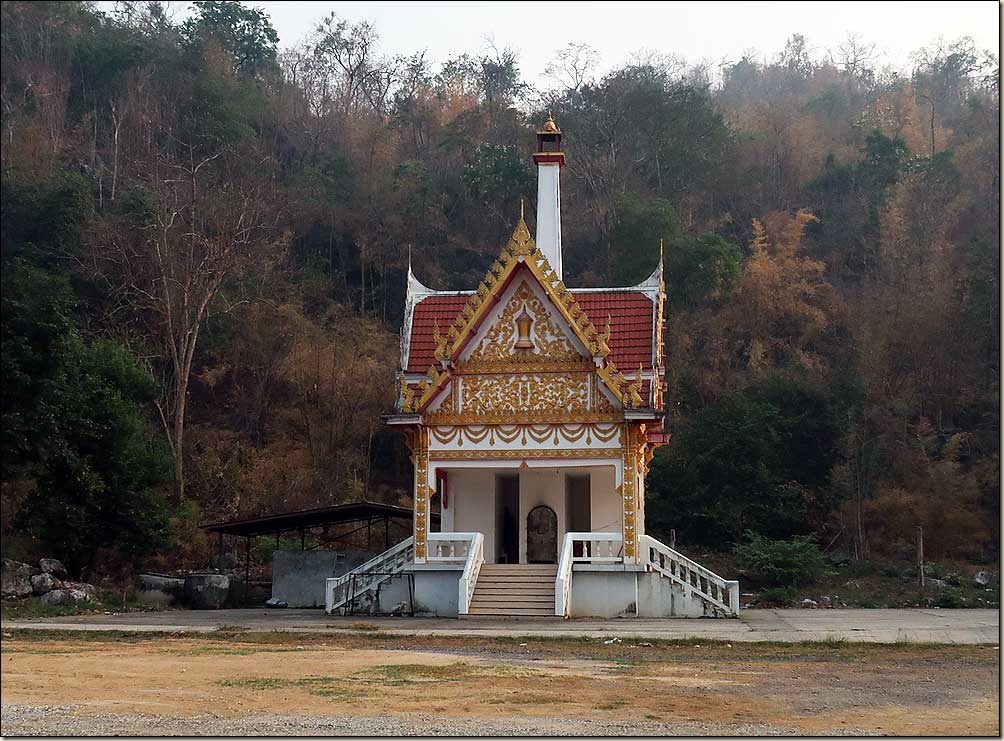 One of many small roadside temples.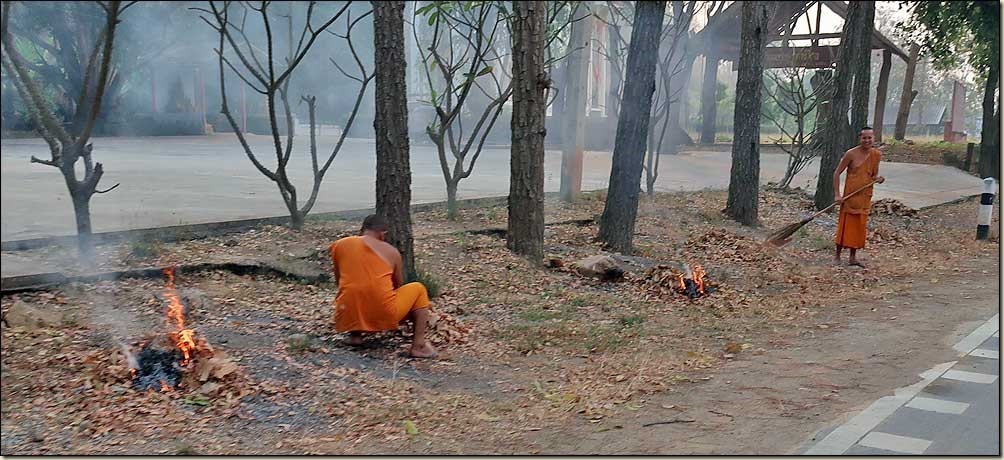 The monks were busy sweeping and, what else, burning leaves! MJ said hello to one monk, which is against the rules. He just looked embarrassed.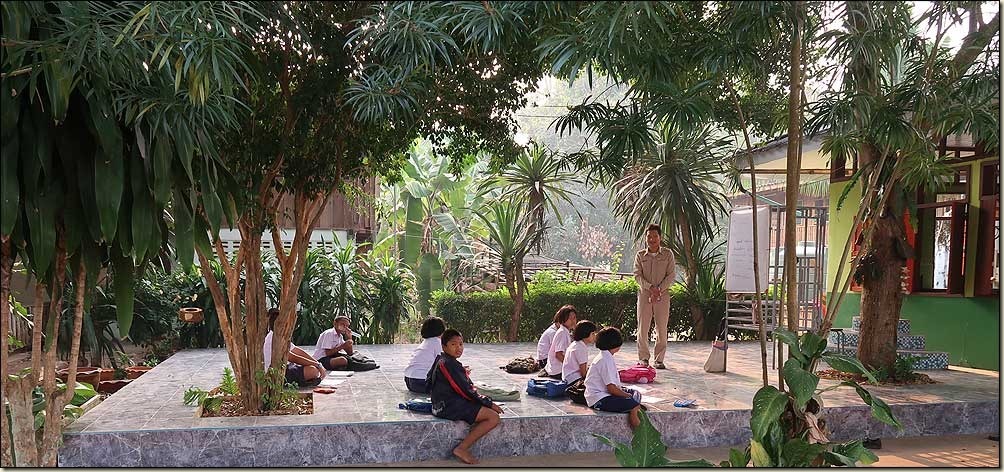 Just a bit down the way, we came across this open air class of Grade 4 students. We asked if we could say hello, and their engaging teacher Mr. Thiwa agreed.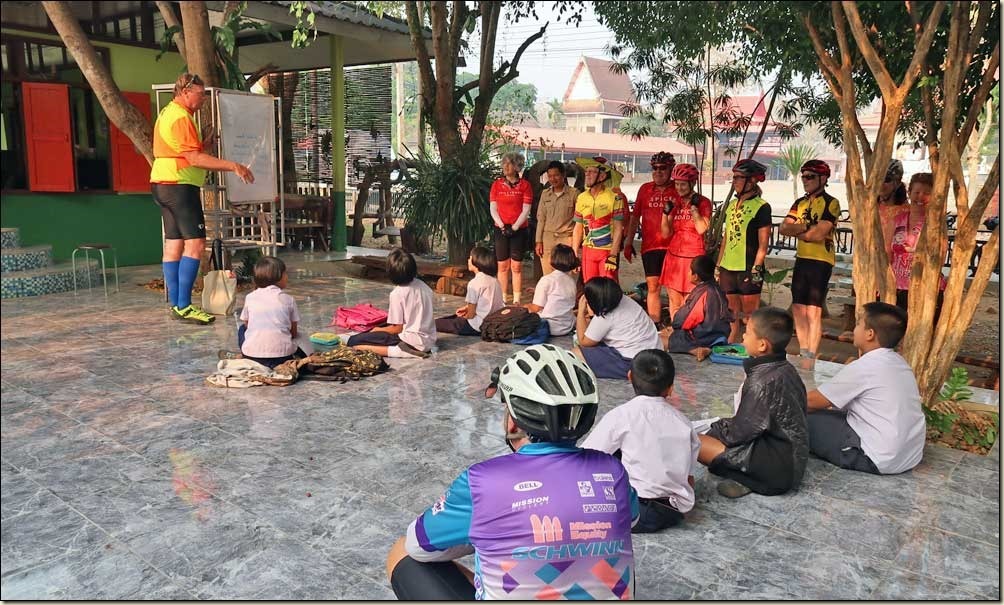 After a few "Hellos" back and forth in unison between the cyclists and the students, tour organizer Tom goes to the whiteboard and  briefly instructs the students on bike tours. The students were curious, very polite and well behaved. Kudos to Mr. Thiwa who must be a good teacher!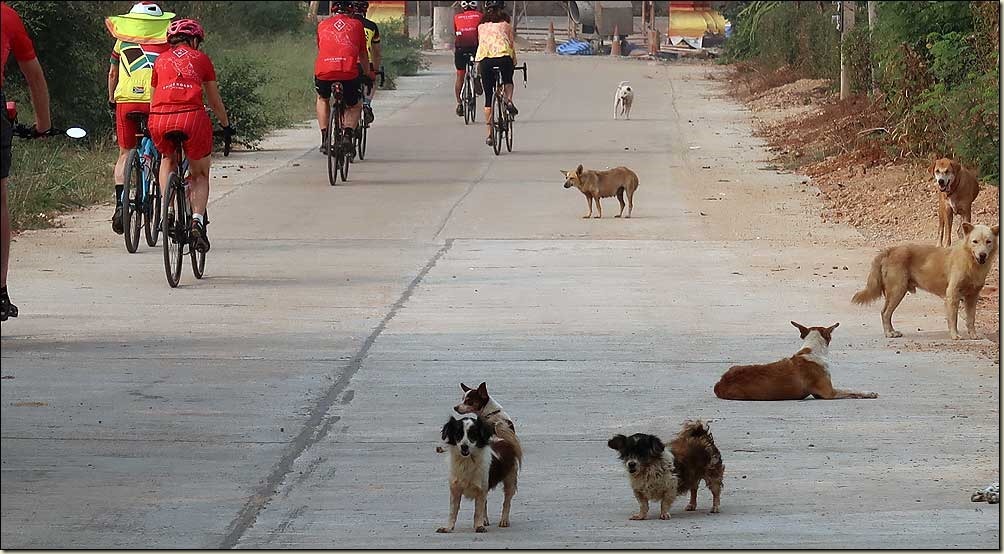 Another day of road dogs! We were chased by only a few in the entire trip. But it seems like Thailand might have a dog population problem.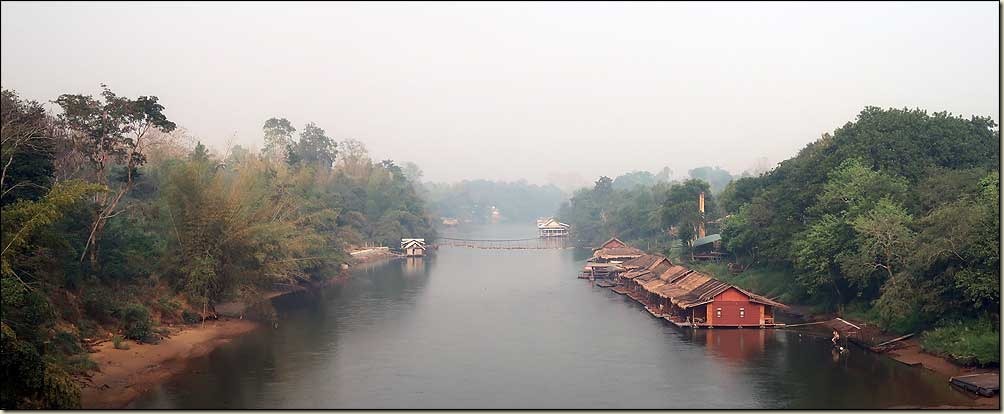 On a bridge we were greeted by this bucolic scene.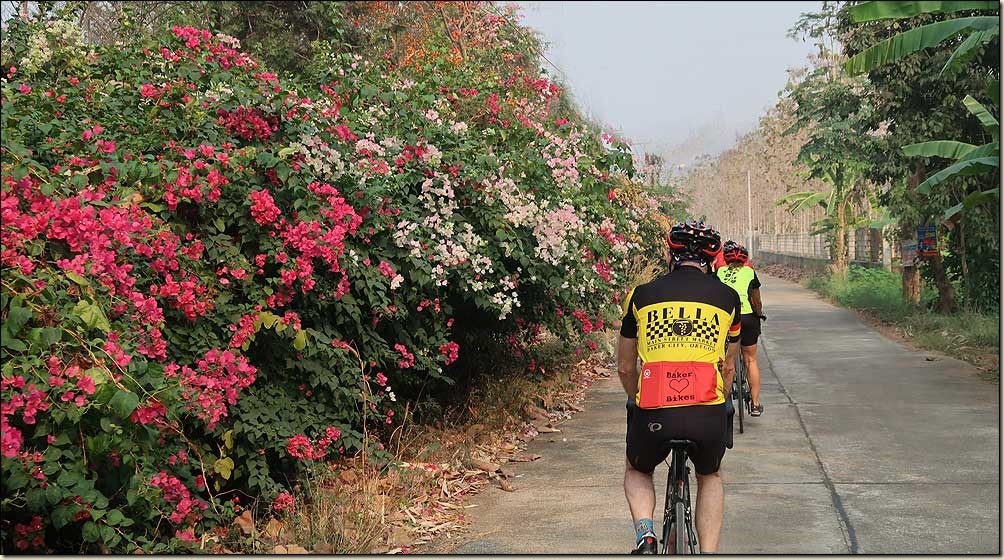 Narrow, traffic-free roads lined with Bougainvillea.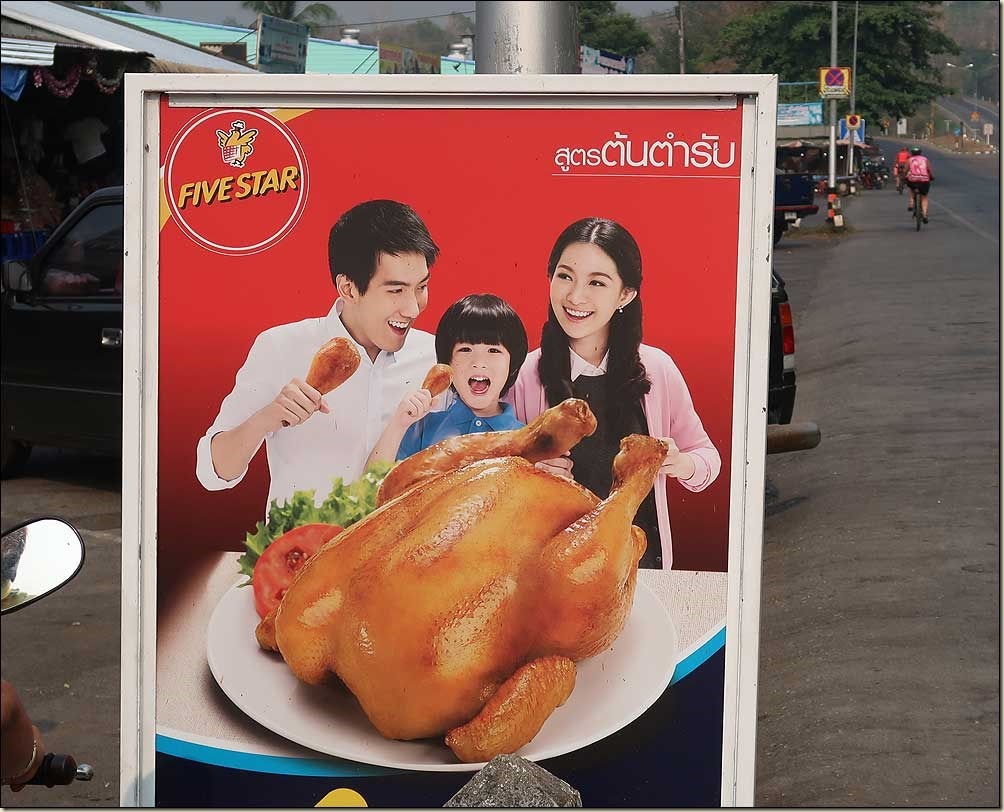 Looks like Rick the photographer was getting hungry!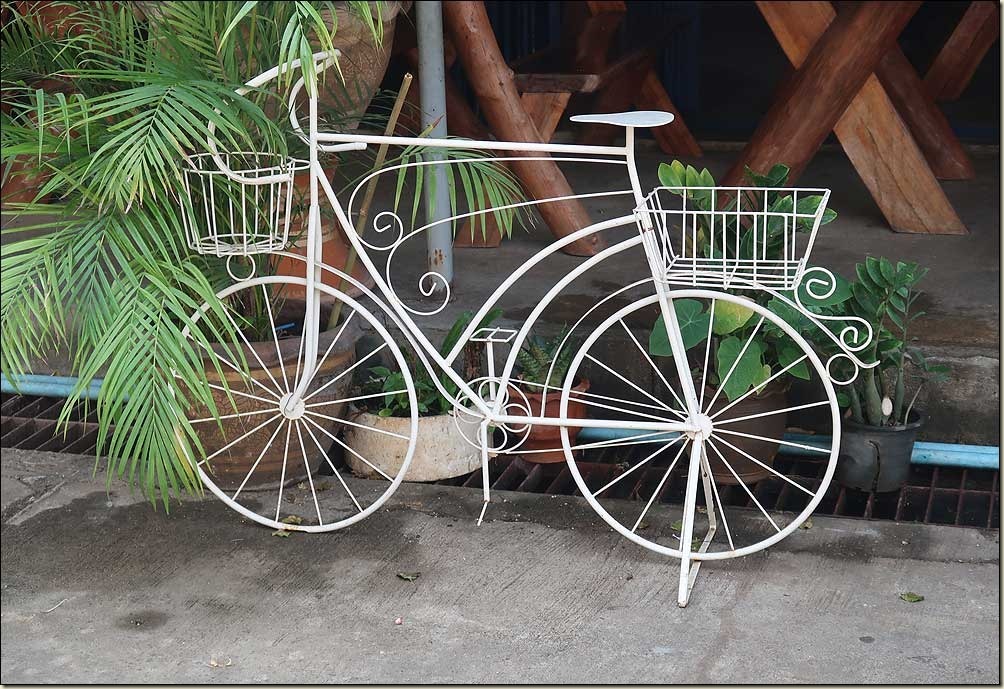 We stopped for a snack break at a business that welcomes cyclists.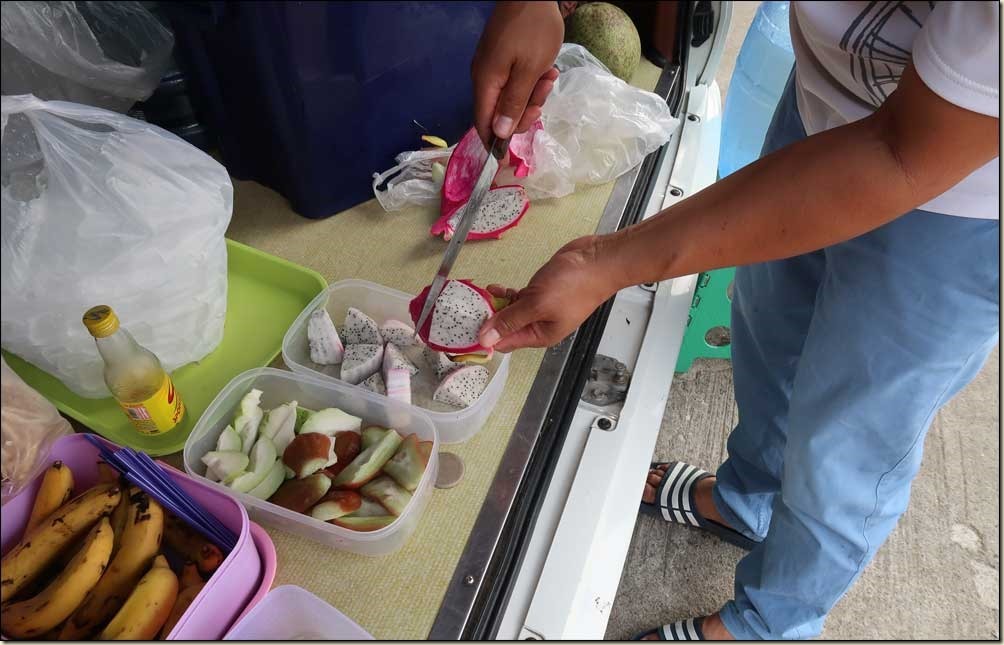 Mr. Rin dishes up his delightful assemblage of energy drinks and fresh fruits.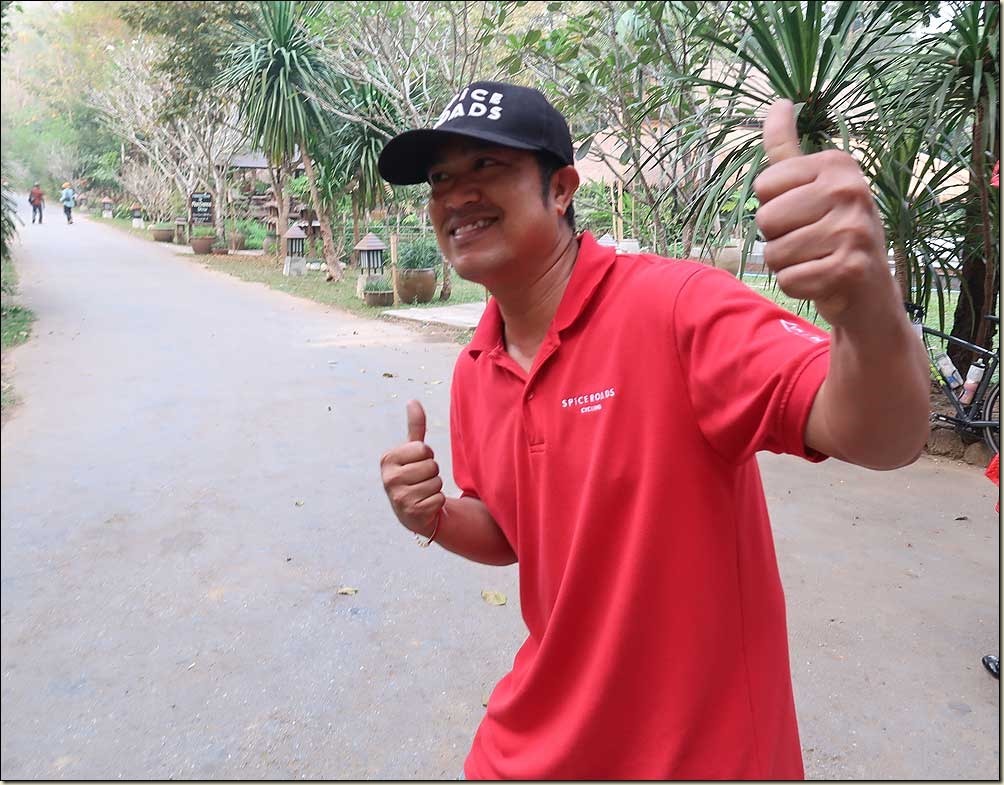 A newer member of our staff support team is Mr. Chin, who drives the bike truck among other things!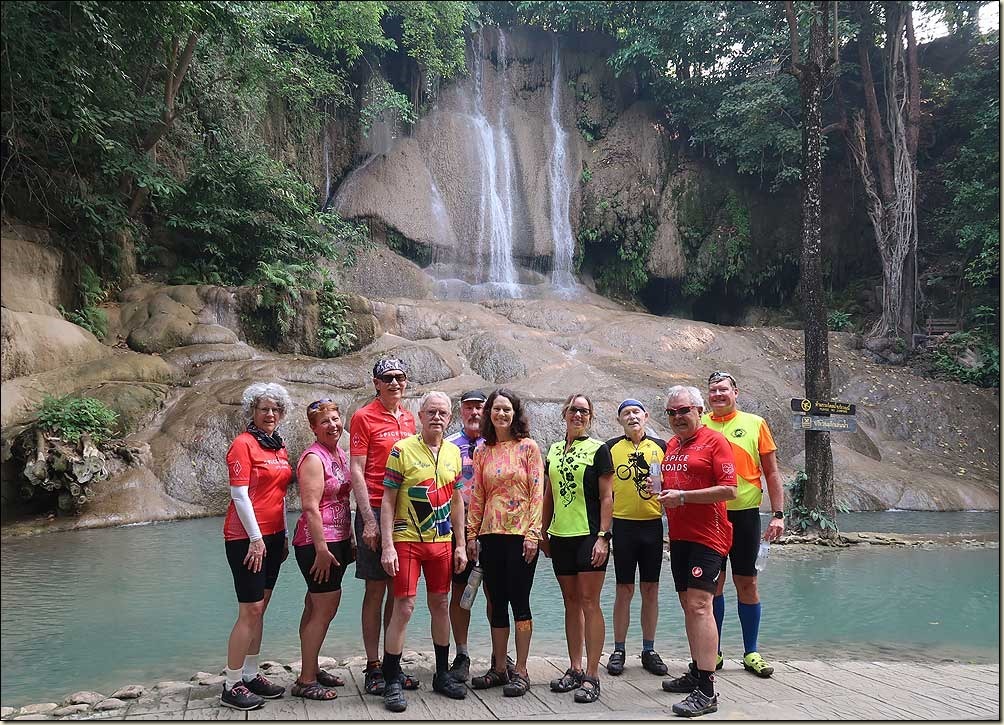 Our snack stop featured a short hike to a natural waterfall over limestone. Photo op for most of the group!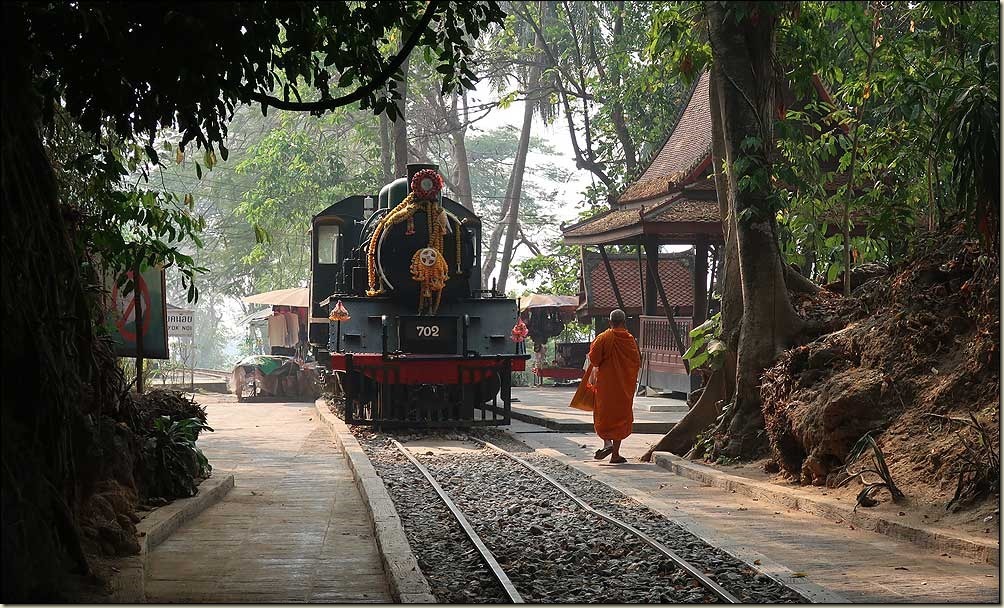 Beyond the waterfall was an old train engine. Several monks from outside the area were playing tourist for the day.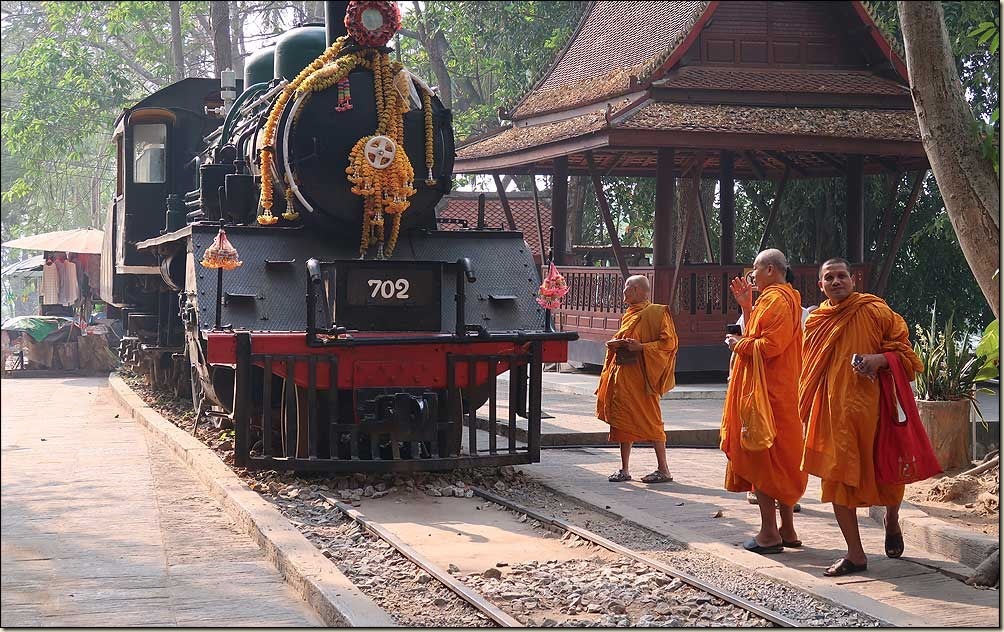 We admired the engine together and snapped a few shots of each other. We are all curious!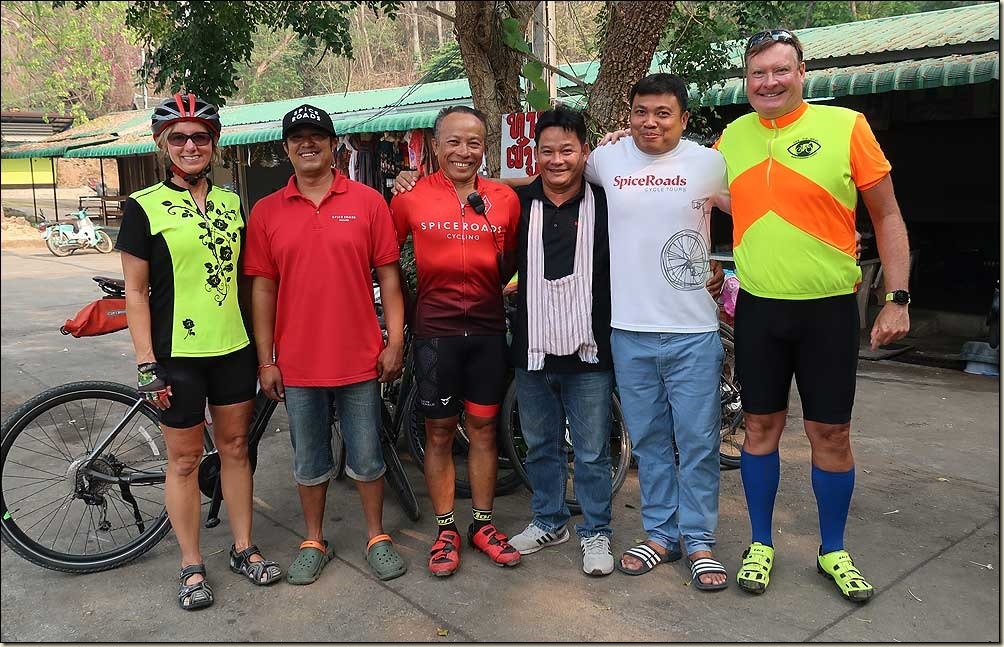 Here is our amazing team: Cynthia and Tom, the tour organizers flank our staff team of Mr. Chin, Mr. Woody, Mr. Pree, and Mr. Rin. Hardworking and good-looking too!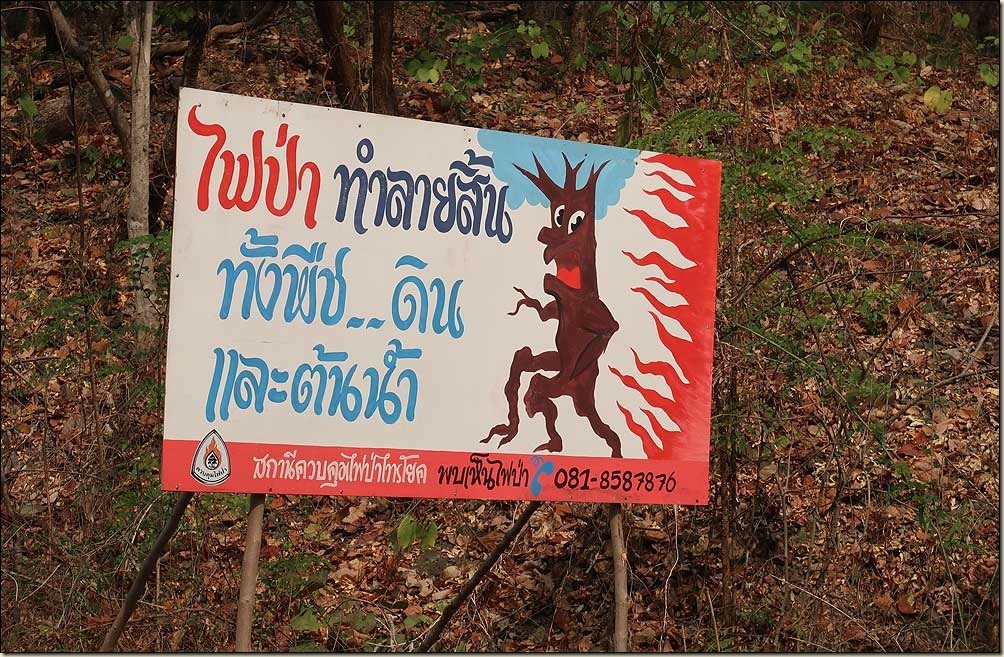 Not sure that the fire marketing program is having much impact.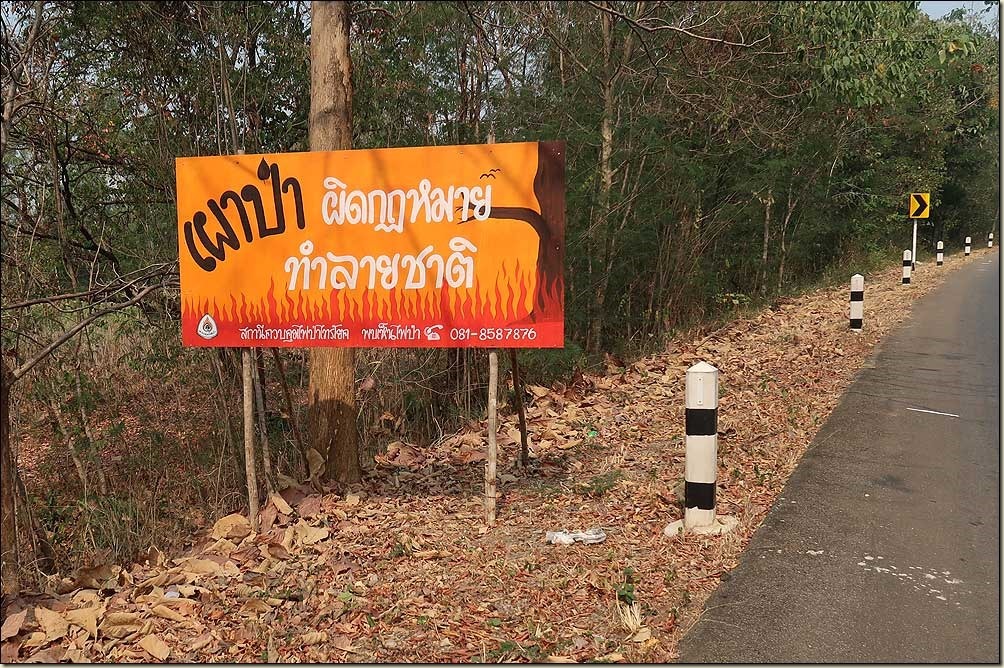 From what we have read, while some fires help prepare fields for cultivation, burned over land is more prone to erosion, prevents forest regeneration, and causes health problems with poor air quality.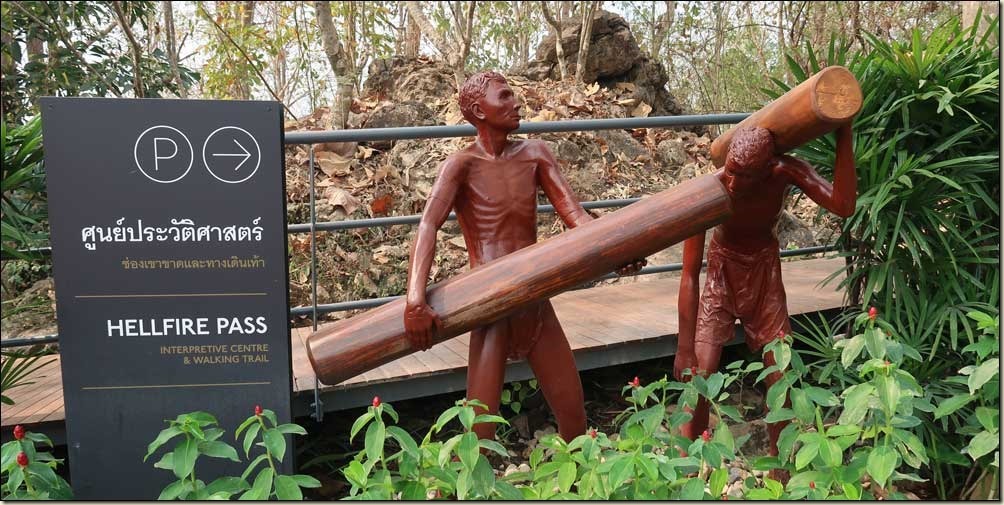 We touched WW II again today, touring an outdoor museum along a stretch of the Thailand-Burma Railroad called Hellfire Pass.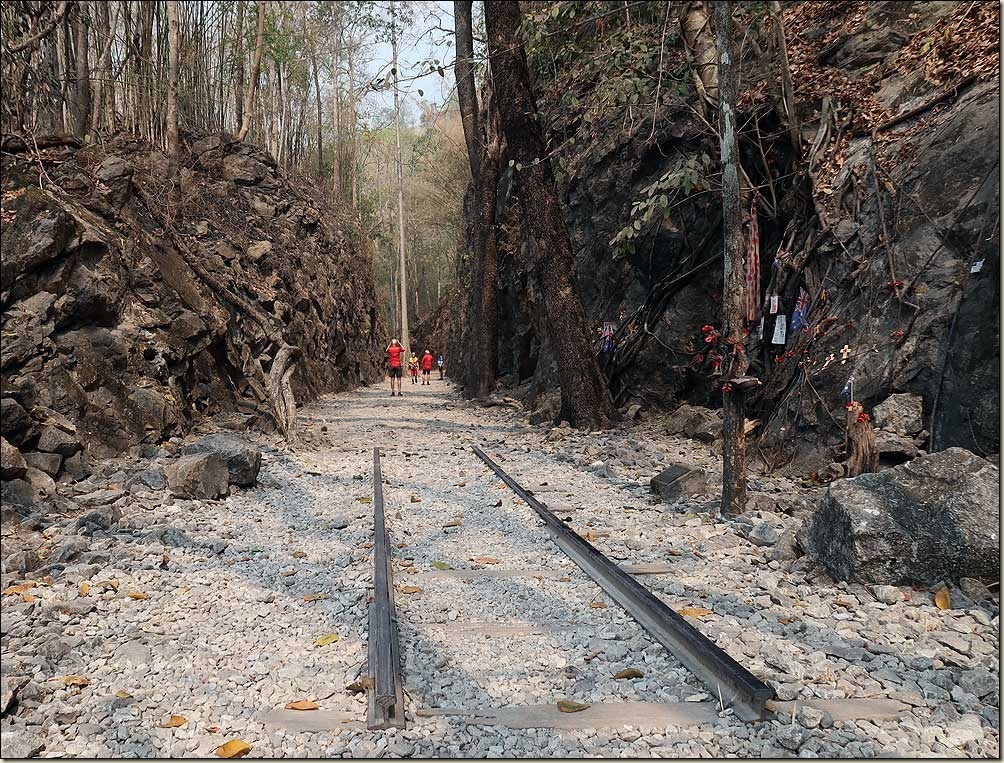 This was a problematic granite mountainside that the train track needed to go through.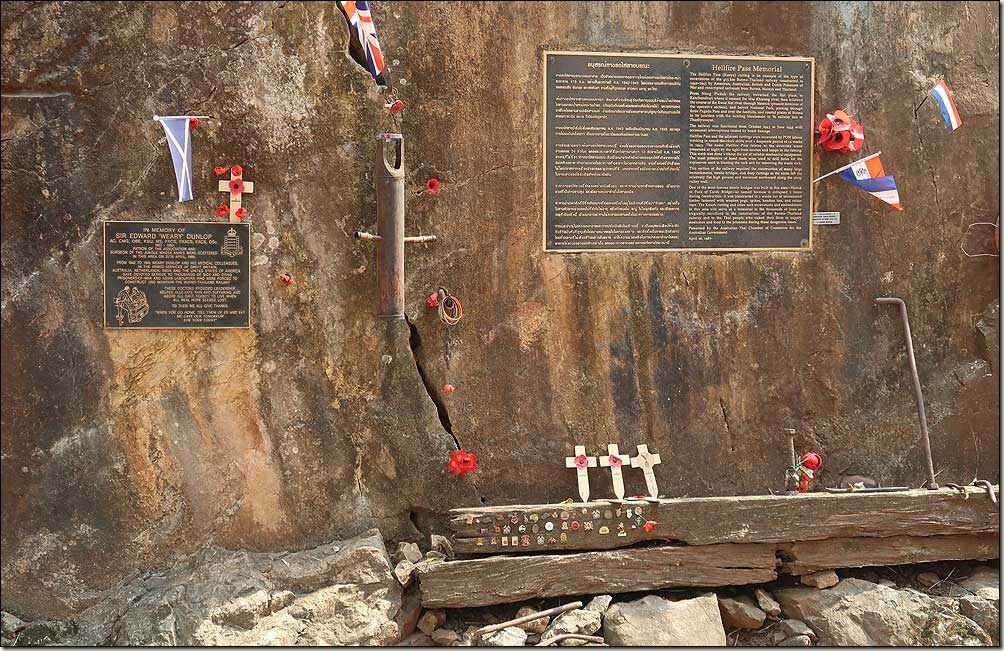 The POWs who were forced to work here were primarily Australian and British. They were joined by Asians who were forced to labor here, and were typically treated even worse than the Allied men.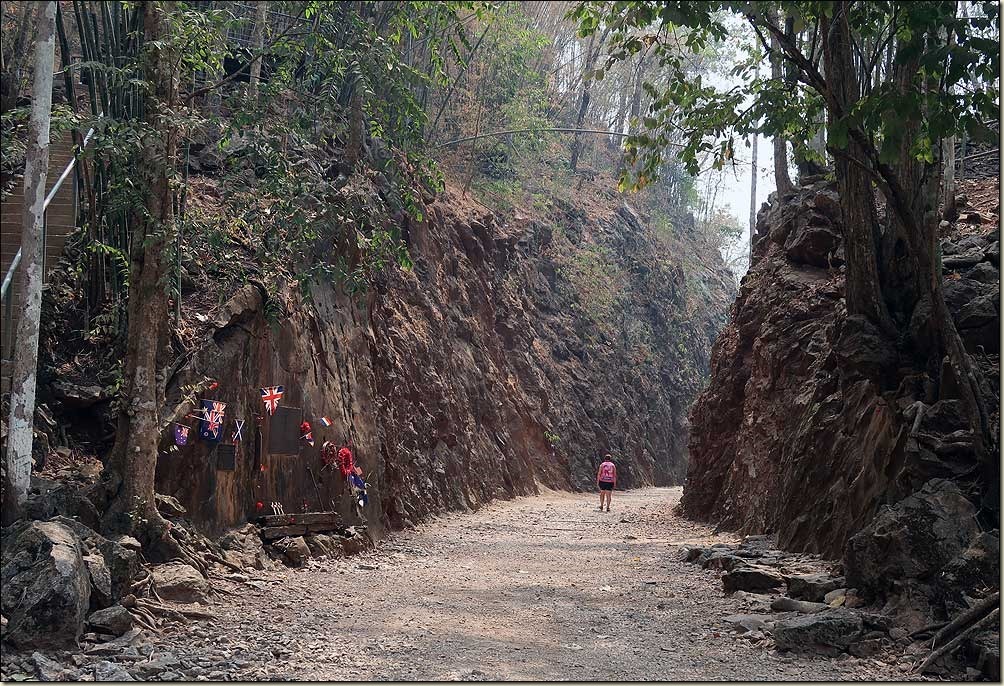 This cut through the rock was done entirely by hand: clearing vegetation and loose rock; chiseling holes into the rock and cleaning out the rubble from the hole; dynamite goes into the hole; clear rock rubble after blast. Repeat. Major heroes of the project were the Allied physicians who did what they could to help the workers, with essentially no medical supplies.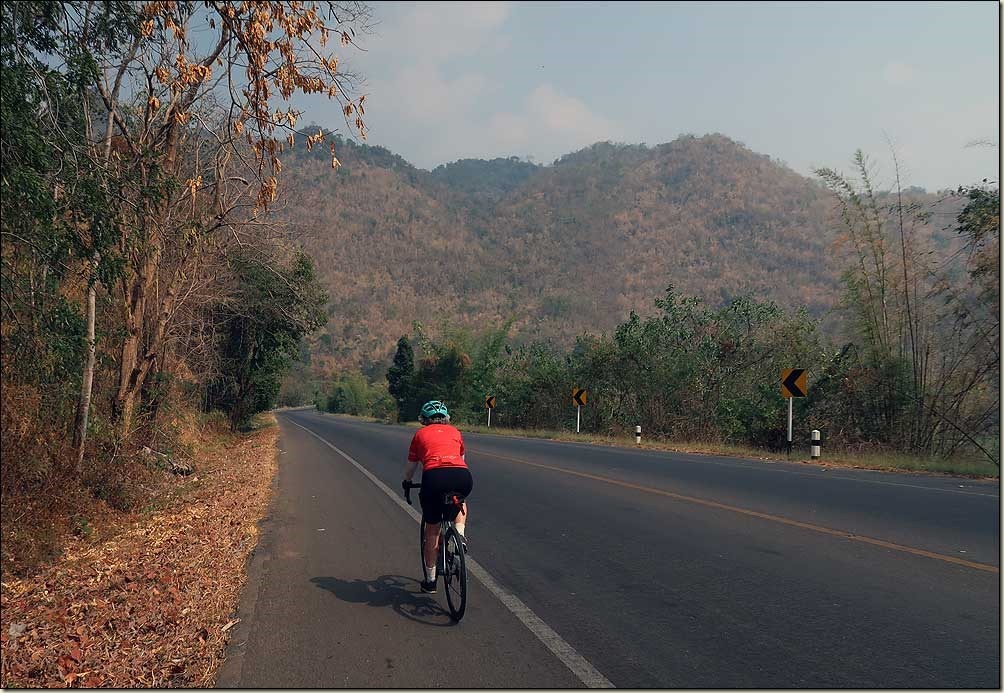 We left Hellfire Pass, which was named this by the Allies, who worked round the clock. With fires burning, exhausted and sick workers toiling, and Japanese guards punishing the workers, it was like hell. We headed back out on a good shoulder on a highway along the mountains.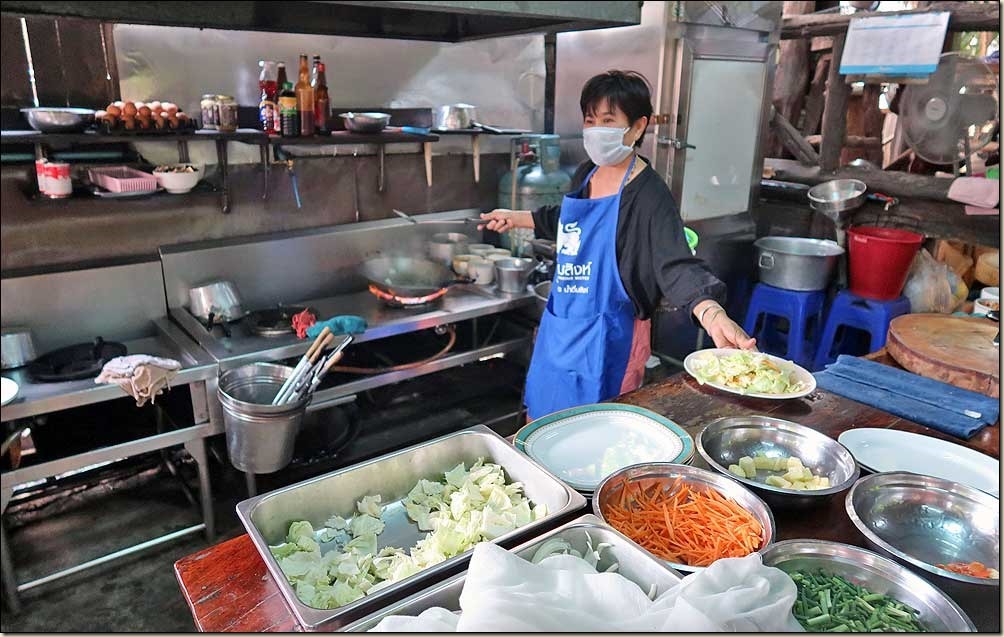 Lunch! We had seven different courses, plus fried banana and ice cream for dessert.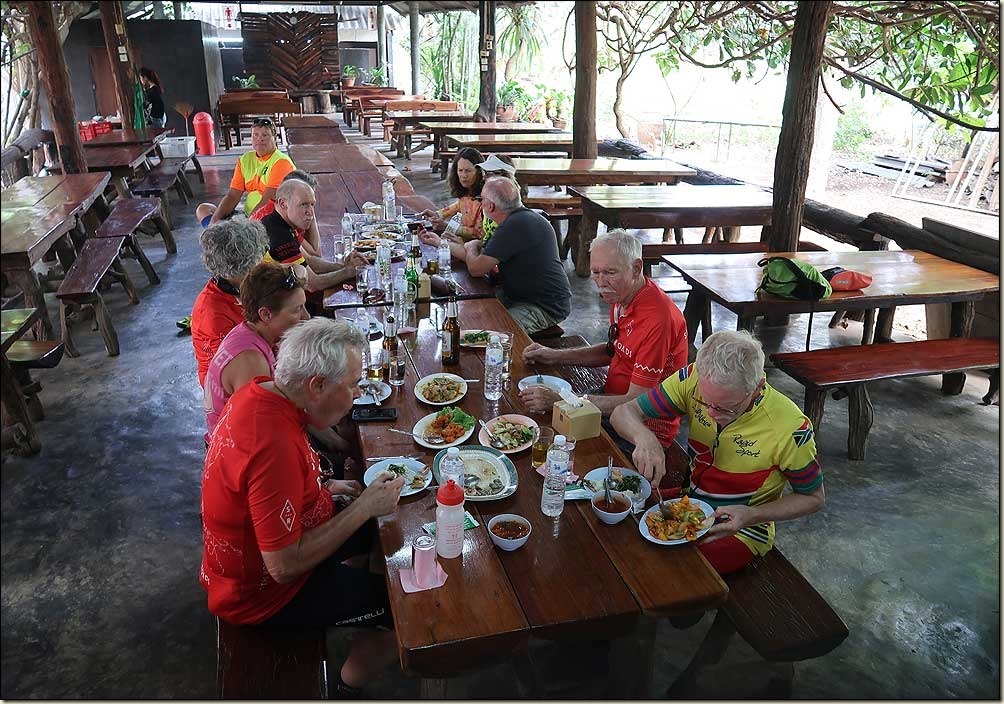 Tom and Bruce sit at the end of the table, catching up with the others on lunch. They missed a turn very close to where the group had stopped for lunch. They rode an extra six miles before we figured out they were not with us, as some of us tend to trickle in at slower speeds. Mr. Rin came to the rescue, and found Bruce and Tom in no time.
Mr. Pree uses his own vehicle and can be hired as a driver by others. Thailand has strict rules for professional drivers. You can see his card in a swiper, which helps monitor whether he is taking sufficient rest breaks.
After a long van ride, leaving the countryside and driving into the busy Bangkok traffic, we find our home for two nights at the Grand Sukhumvit Hotel. We are in a hopping neighborhood with many tourists and business people.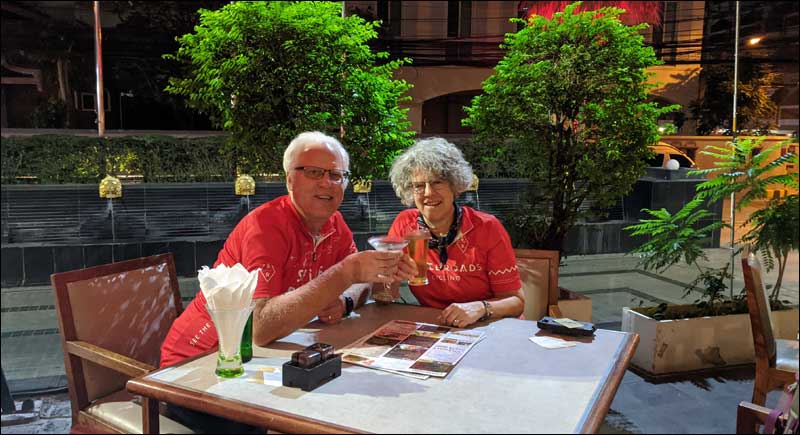 After a nice martini, Greek salad and pizza . . .  it was time for bed!!!