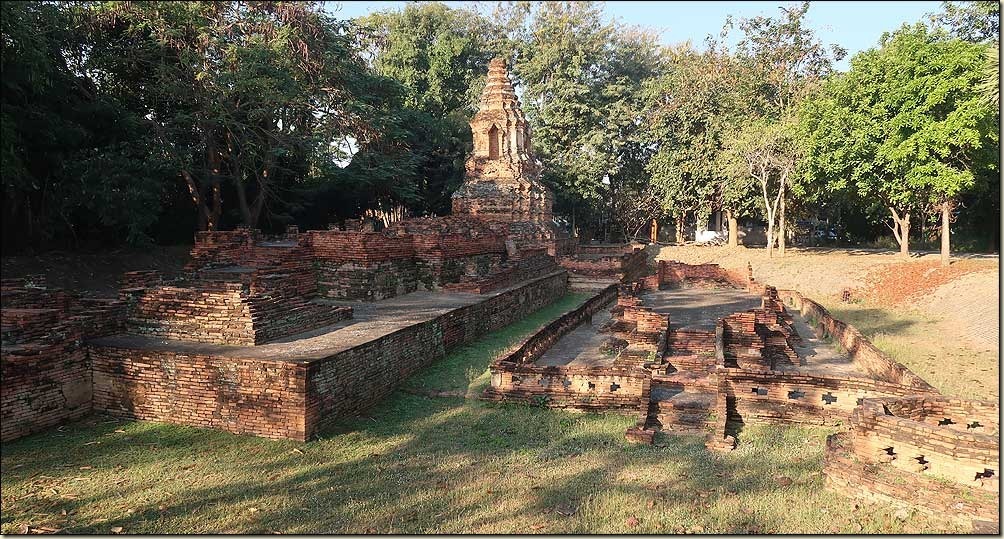 Our first stop today was at the ruins of original Chiang Mai community. The original city was here around 1280 AD but had to be moved due to floods. These are the temple ruins. Chiang Mai's location became the new city, which is the meaning of its name.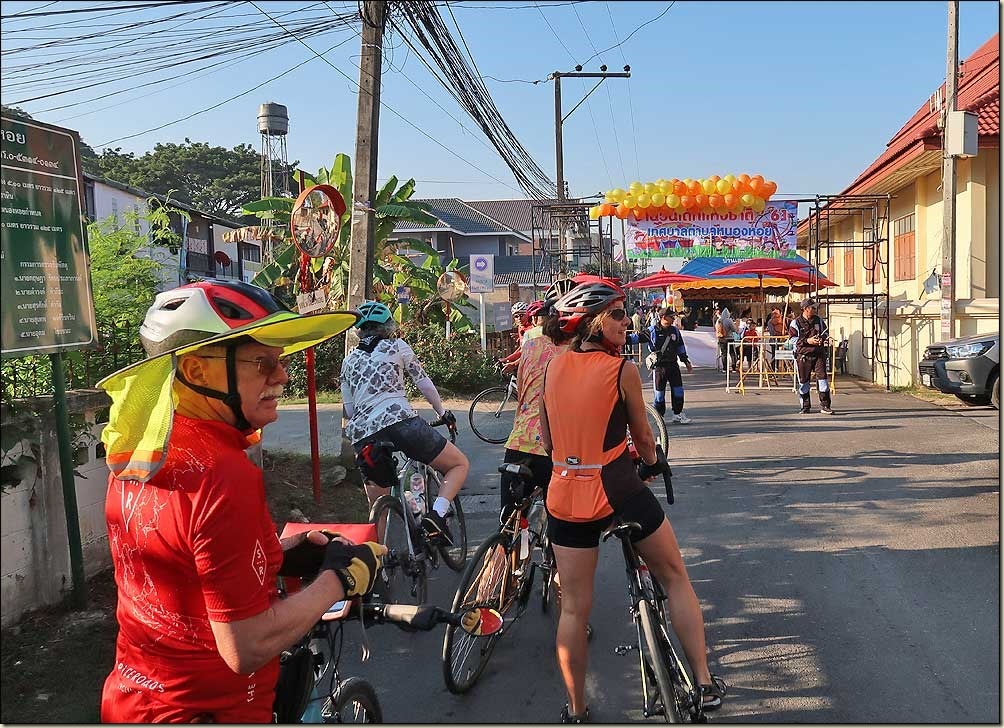 Today is "Children's Day" across Thailand. There are many celebrations taking place, including this parade which made us alter our route! It would not be the only event today that changed our route.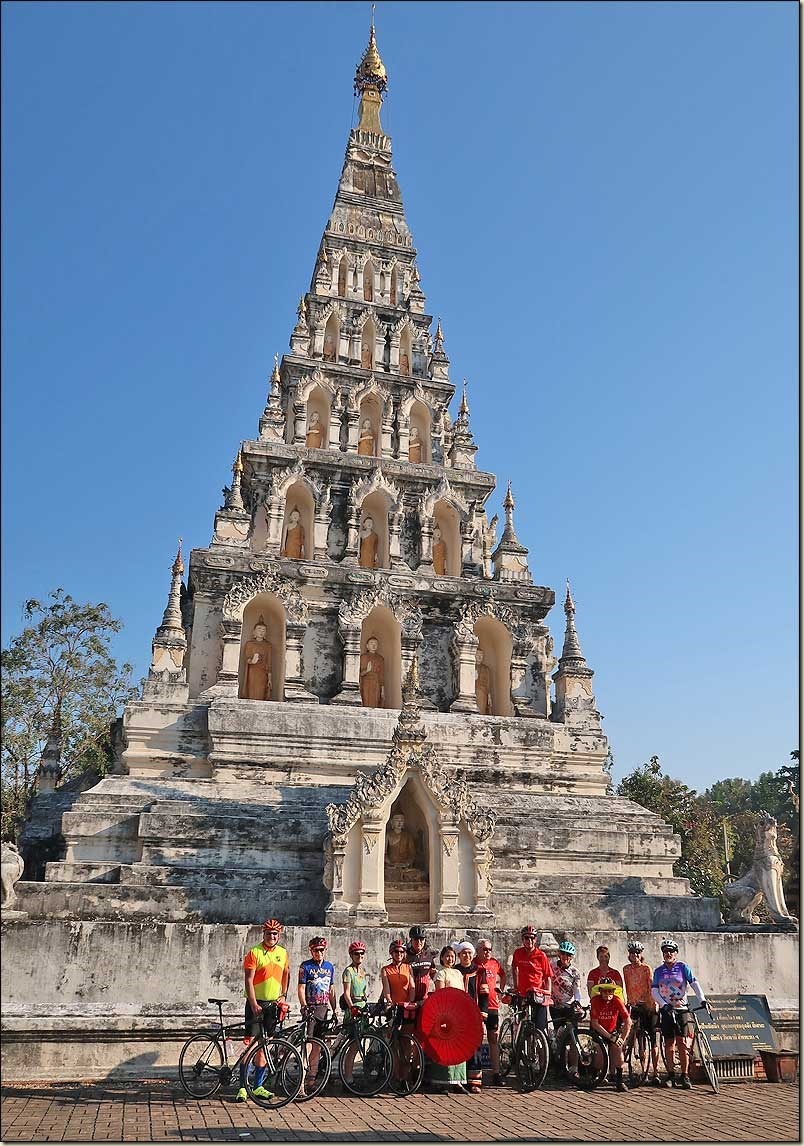 We stopped at this important structure which combined influences from both Burmese and the Lanna people's architecture.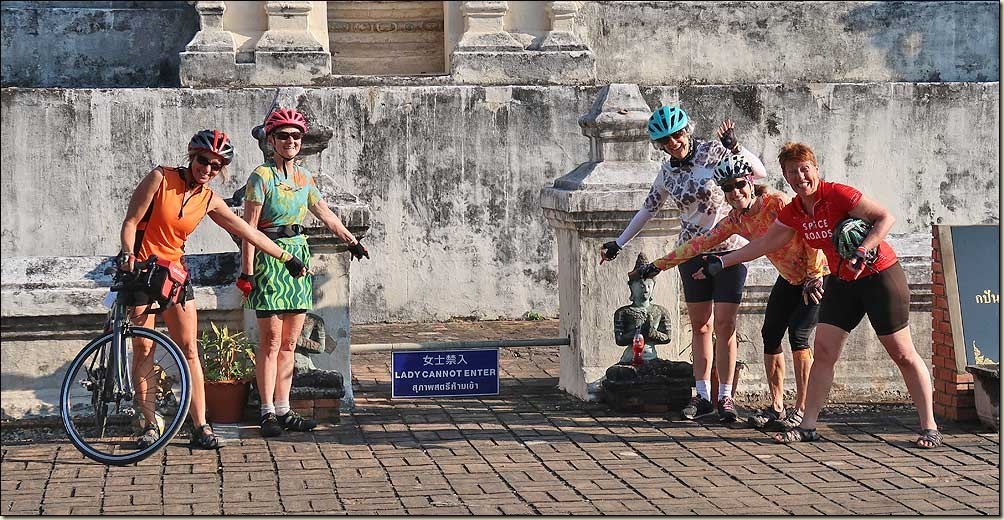 The reason behind the Lady Cannot Enter rule at some temples: Woody explained that this is not based on hierarchy or status, but based on past days when feminine hygiene products did not exist. Women were banned from temples. It is of course not truly necessary in modern times, but some more traditional sites still follow those old rules. Our ladies were aghast until they understood the story!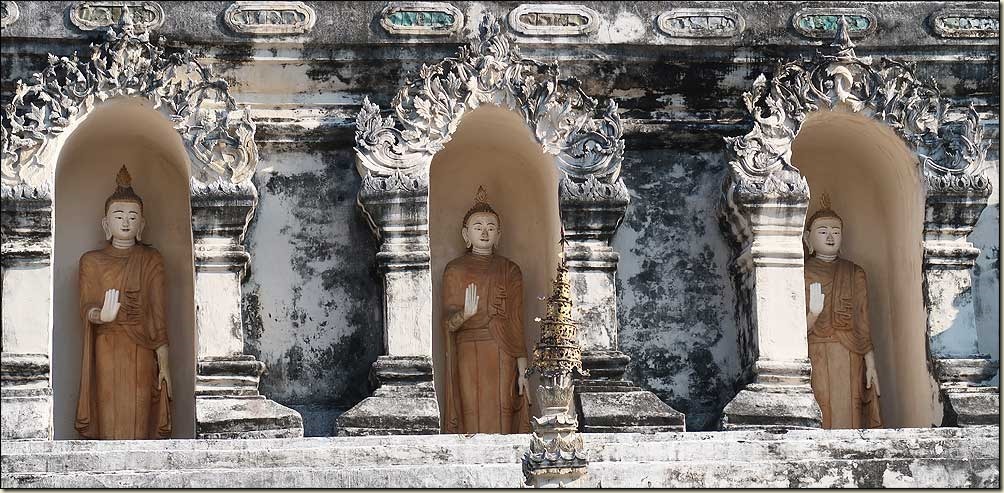 Important monks at this site.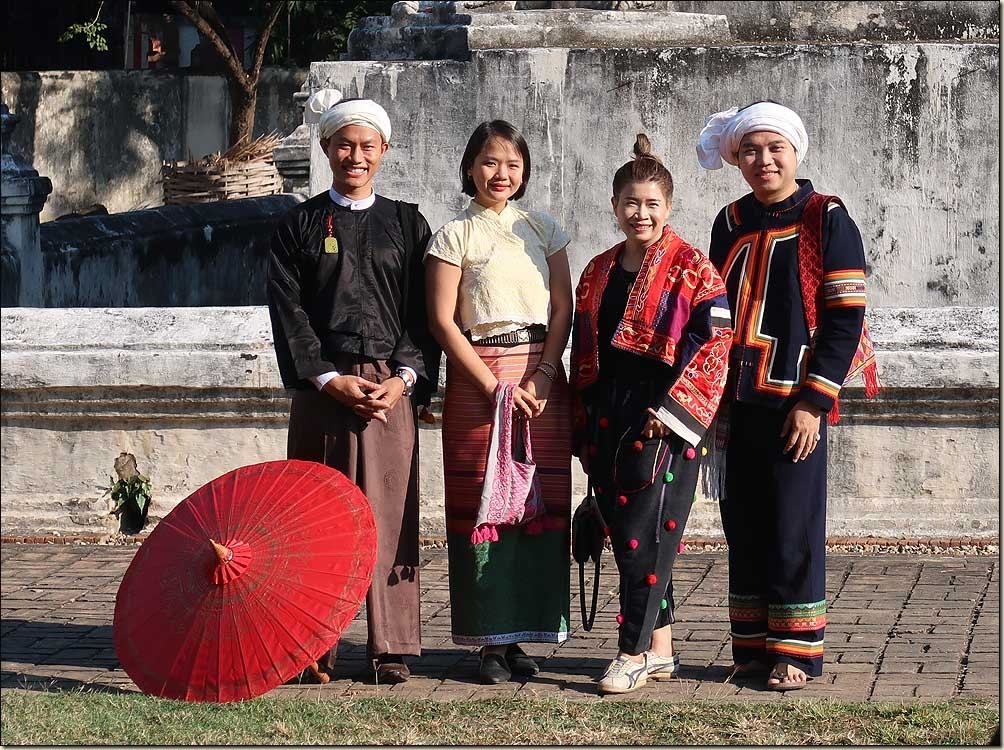 While we were there, this lovely group joined us. They were getting ready for a ceremony in their finery. From the Lanna tribe.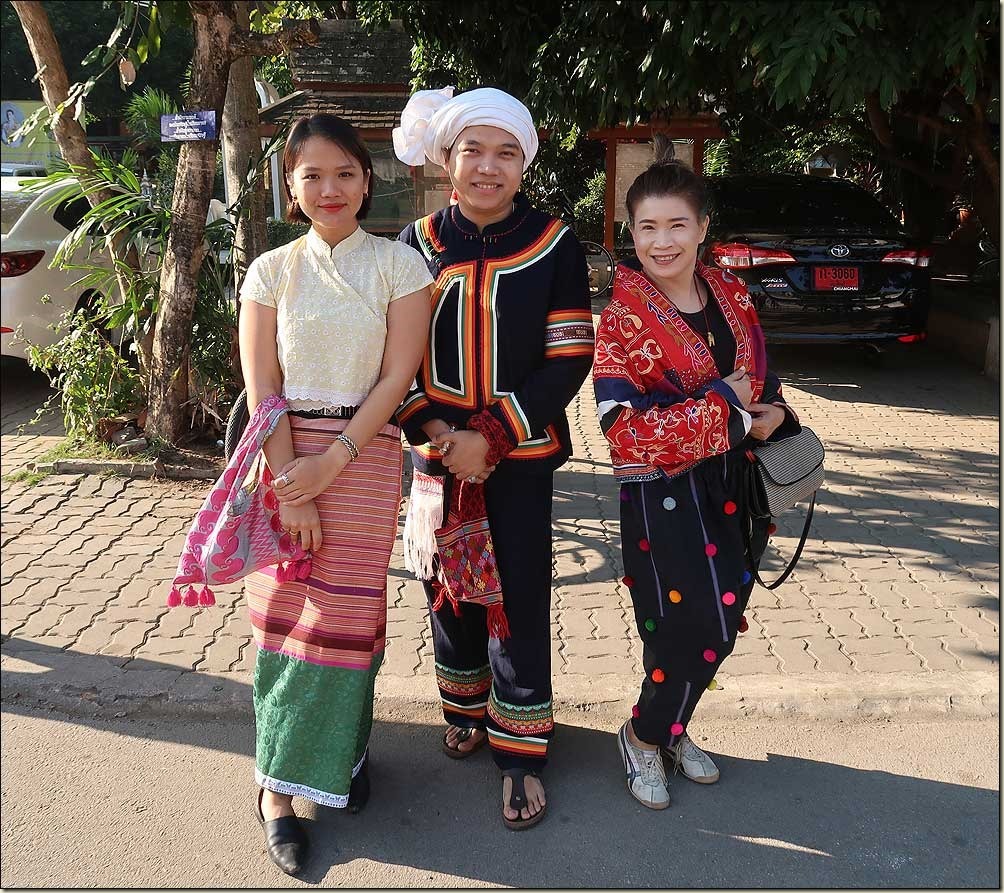 Stylin'!!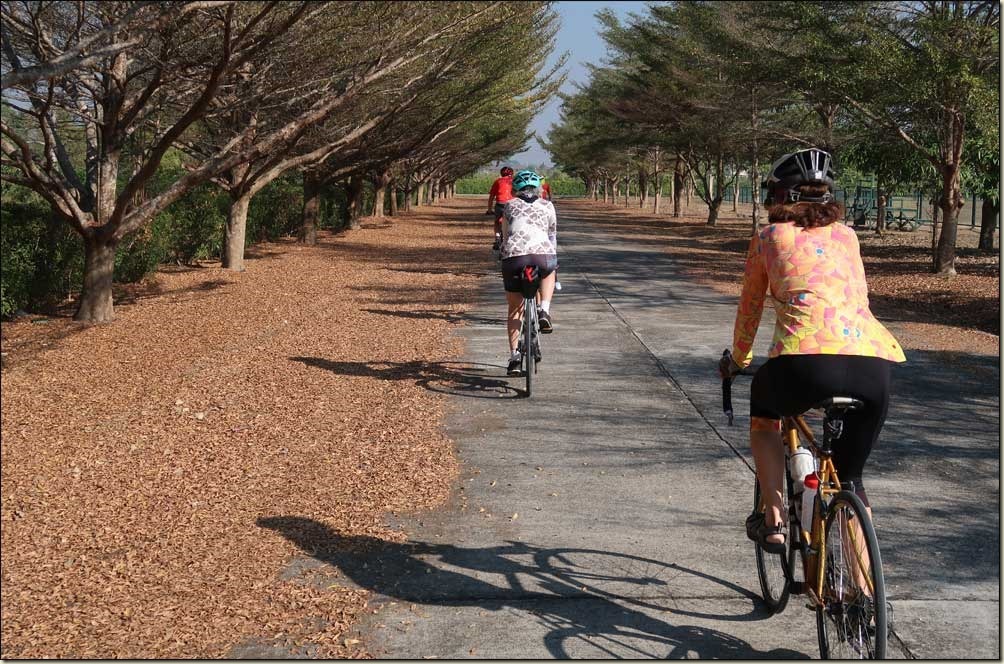 We rode through beautiful groves of trees and on many quiet roads past private homes.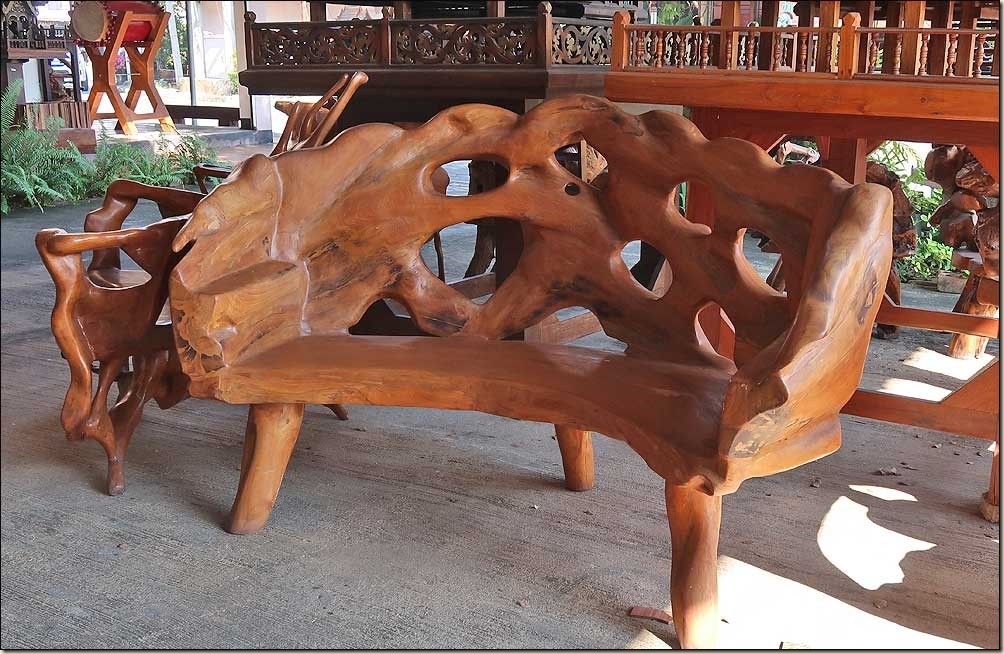 Our cultural stop today was at a woodworking shop, where they made all kinds of large and creative furniture and sculptures.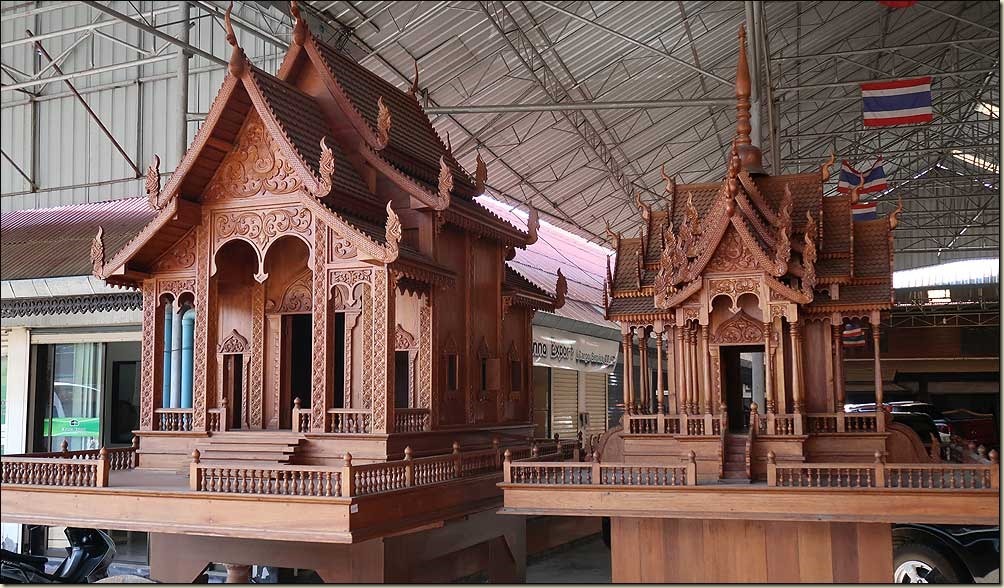 These are "spirit houses" to keep bad spirits at bay. Families hope to keep the spirits outside of their house and instead in these lovely spirit houses.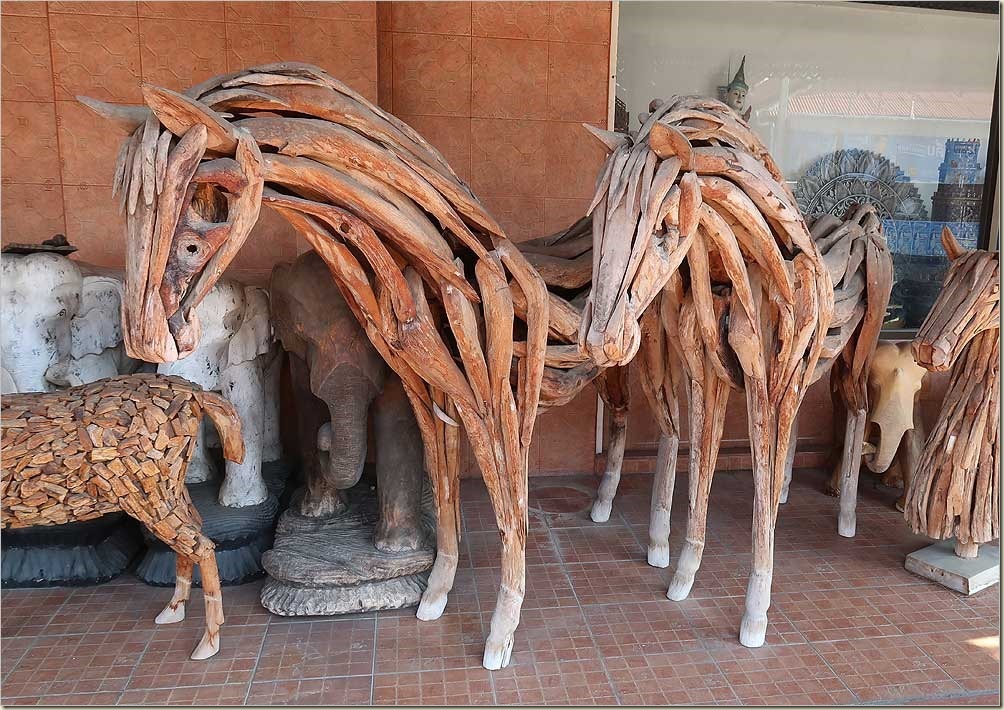 Wooden horse sculptures. In the past teak was used by this shop, but due to its scarcity they now use other woods.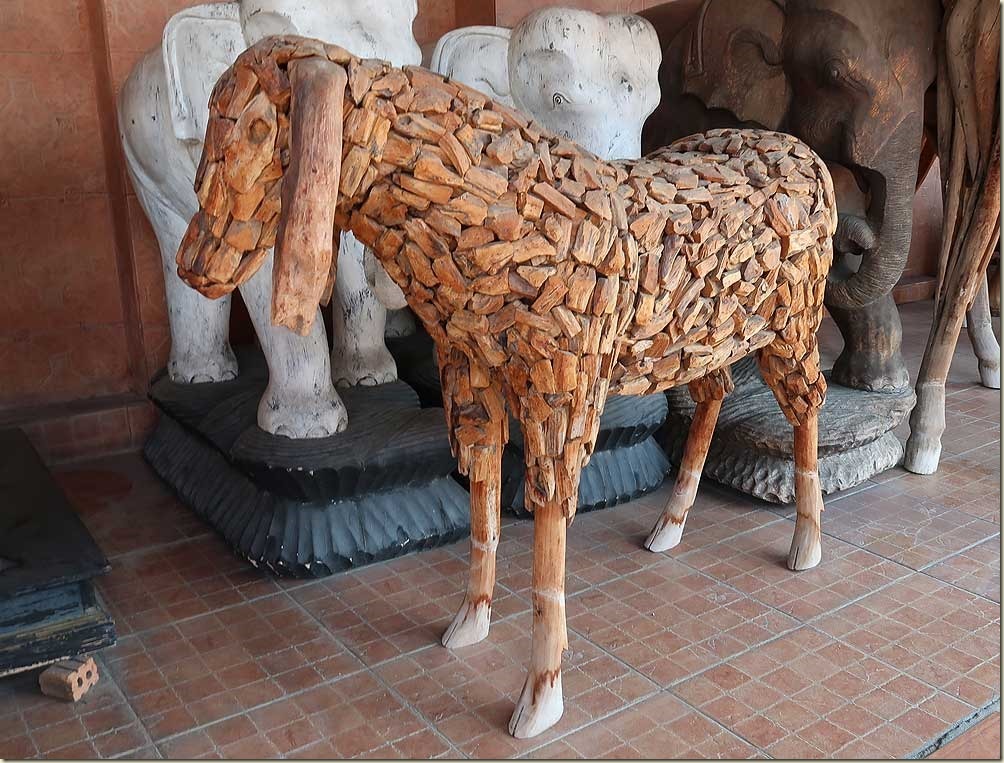 Baaa, baaa.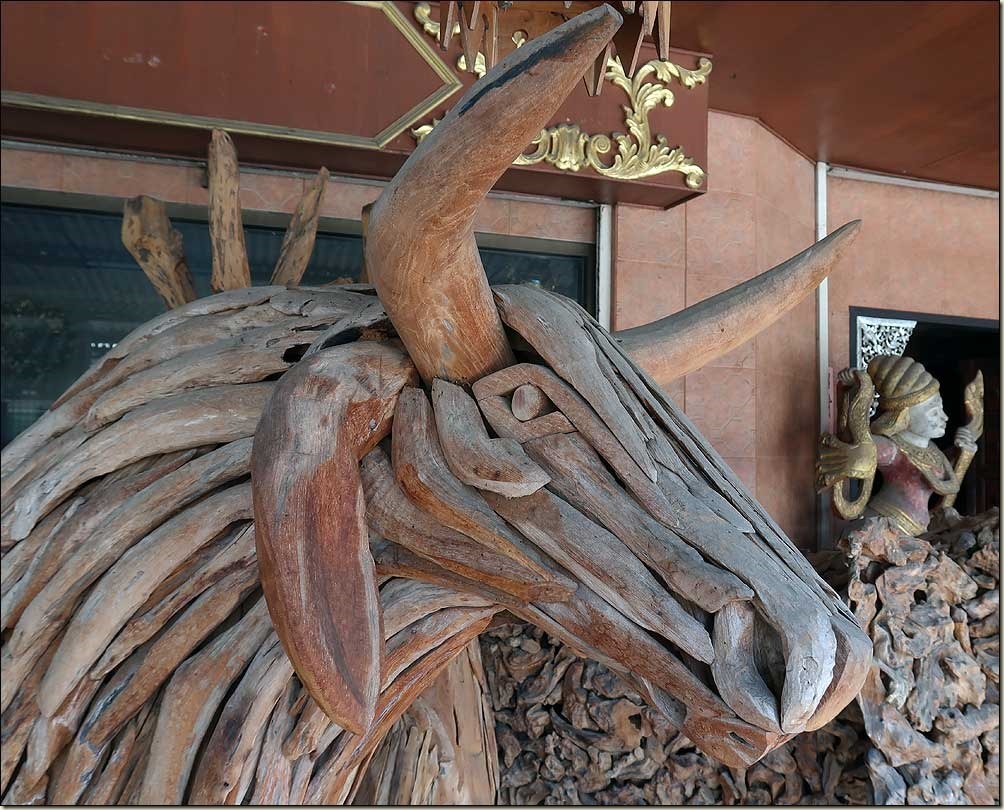 Sheep/goat with attitude!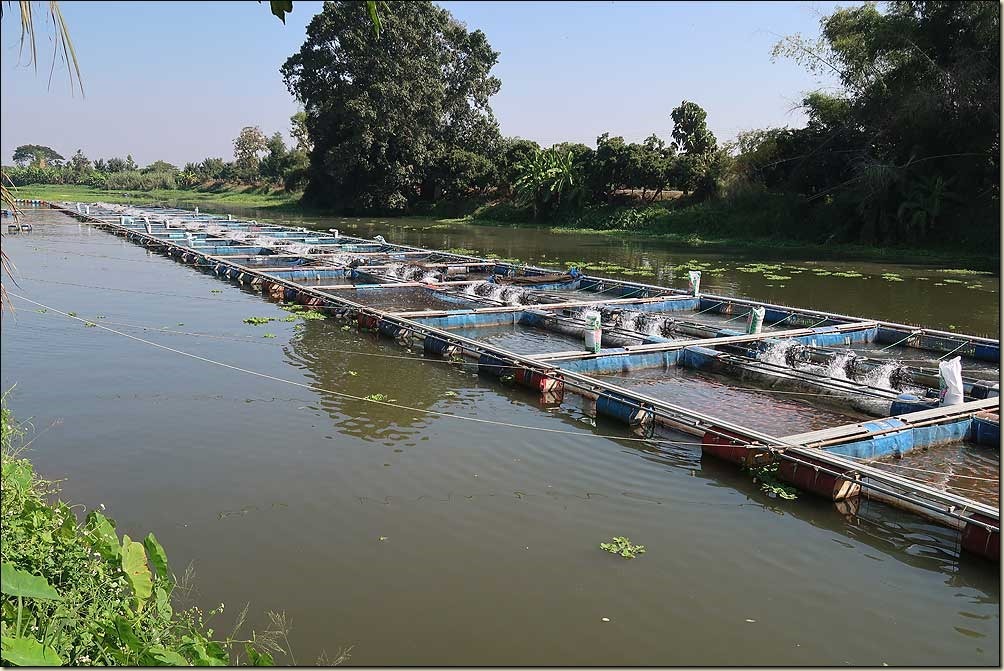 Soon we were pedaling along the Ping River, and we could see down the banks to where a lot of freshwater fish rearing ponds were located.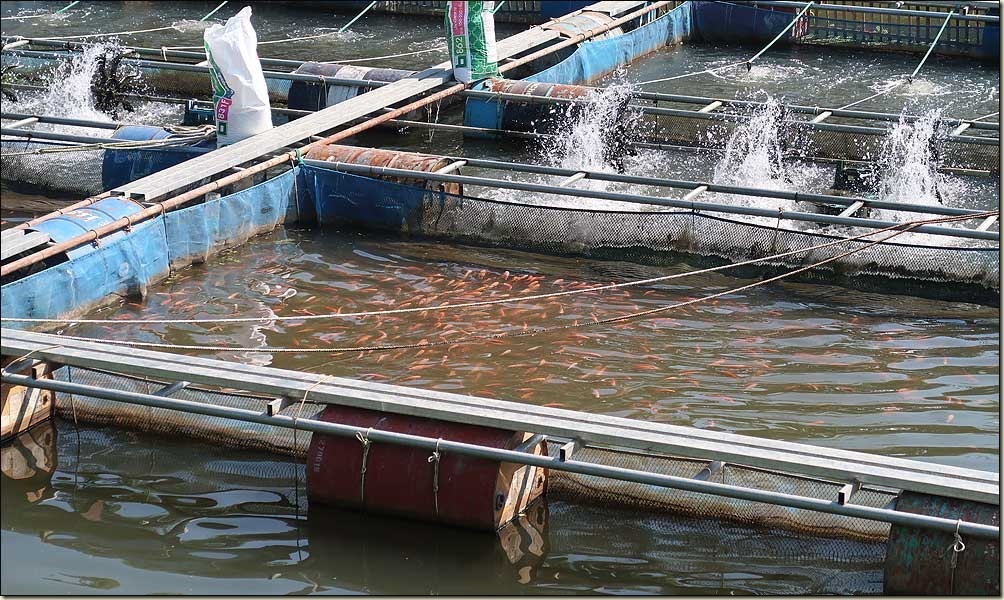 We stopped at a hatchery production business, and learned that they are raising Tilapia here.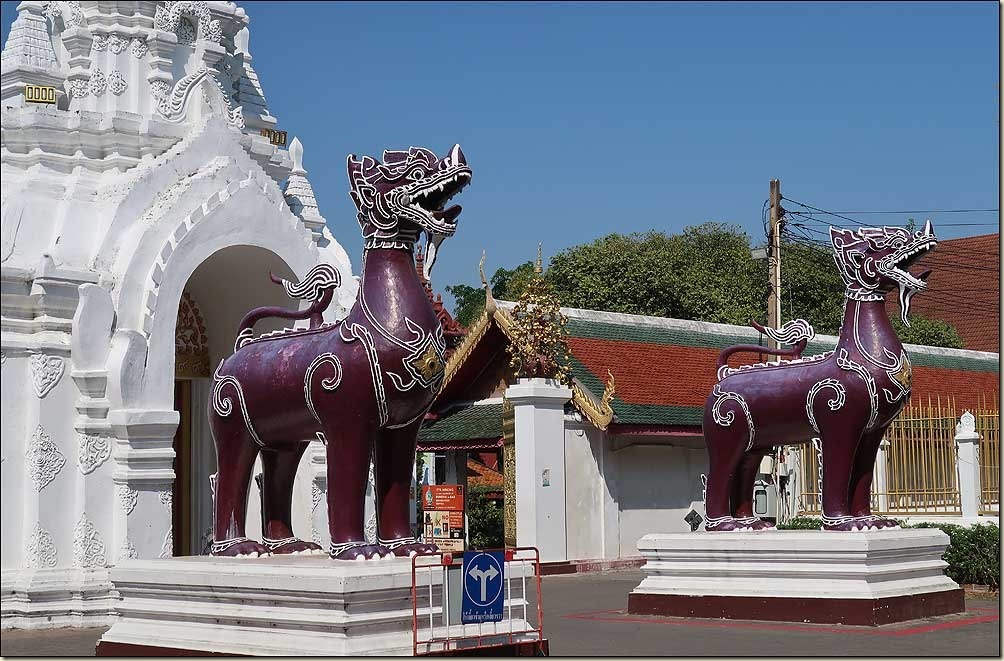 Our important temple of the day was in the town of Lamphun, Wat Prathart Hari Phun Chai, dating from 1300 AD.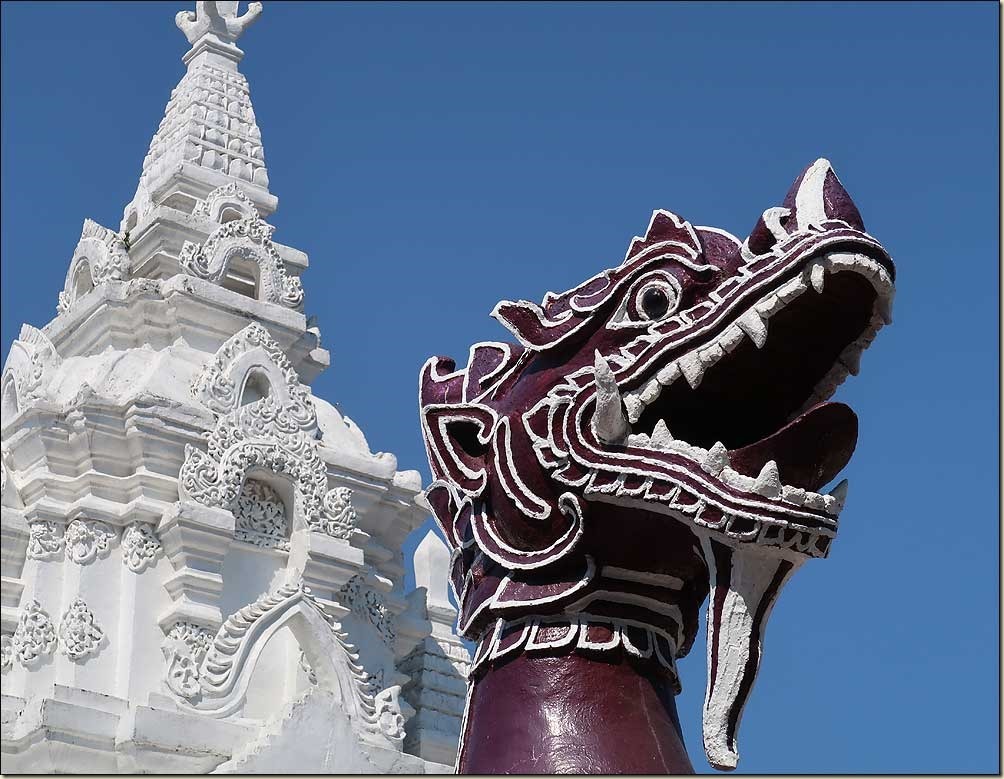 Impressive structures and sculptures.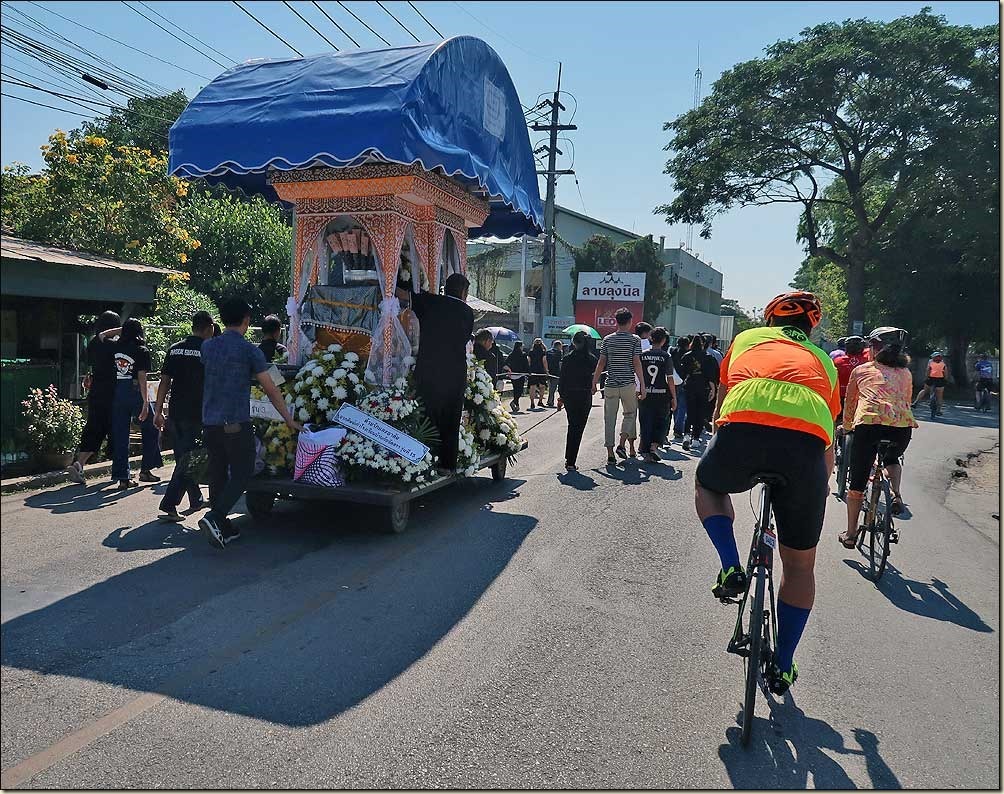 Leaving Lamphun, we passed a funeral procession headed to the cemetery to cremate the body.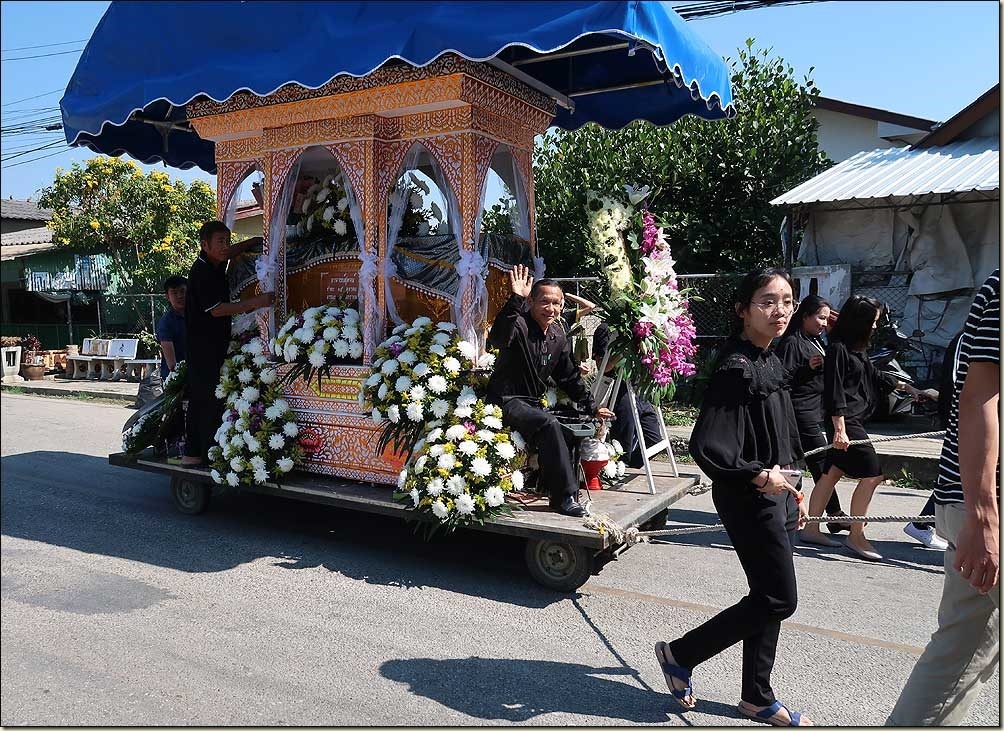 The entire structure will be burned. The family and friends were sad, but friendly to us. We had to wait for them to pass before continuing our cycling.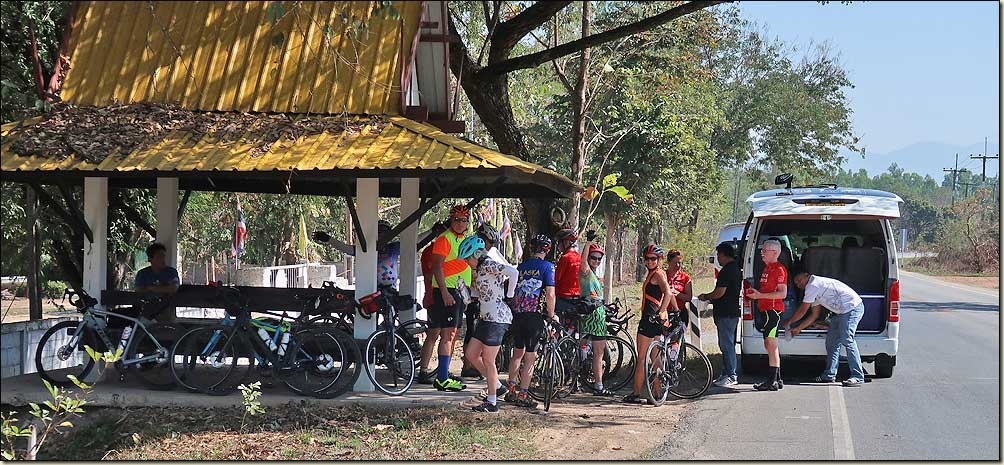 The group rode briskly for nearly an hour. Averaging 15 or 16 MPH. Whew! Had to stop for water and sustenance. Our drivers are always right there for us!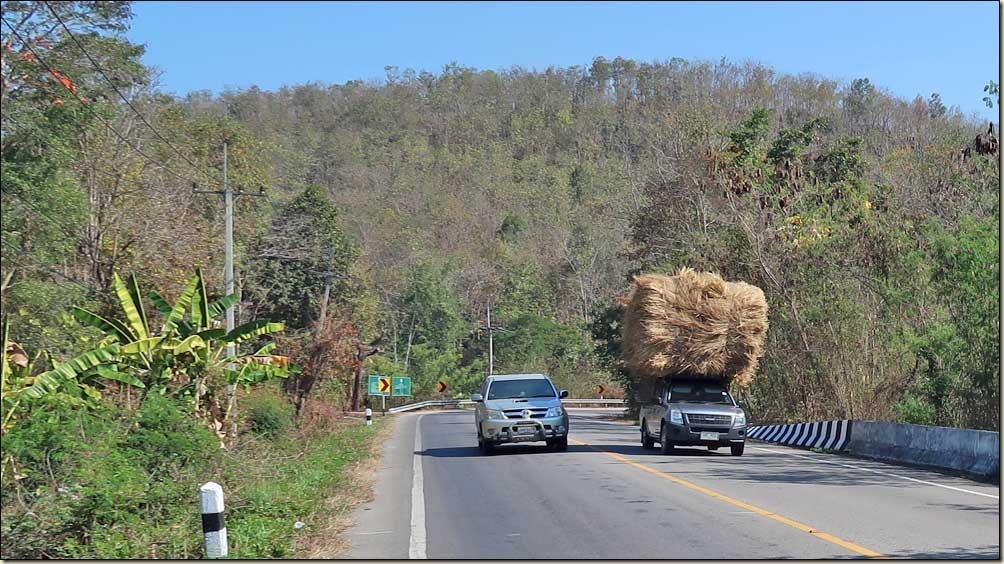 There was a check point on the road today; not sure why. Perhaps to prevent overloading like this?!
We rode through an area where there had been lots of fires, and we could see some open burns taking place as well. Here is the "Smokey Bear" fire campaign of Thailand.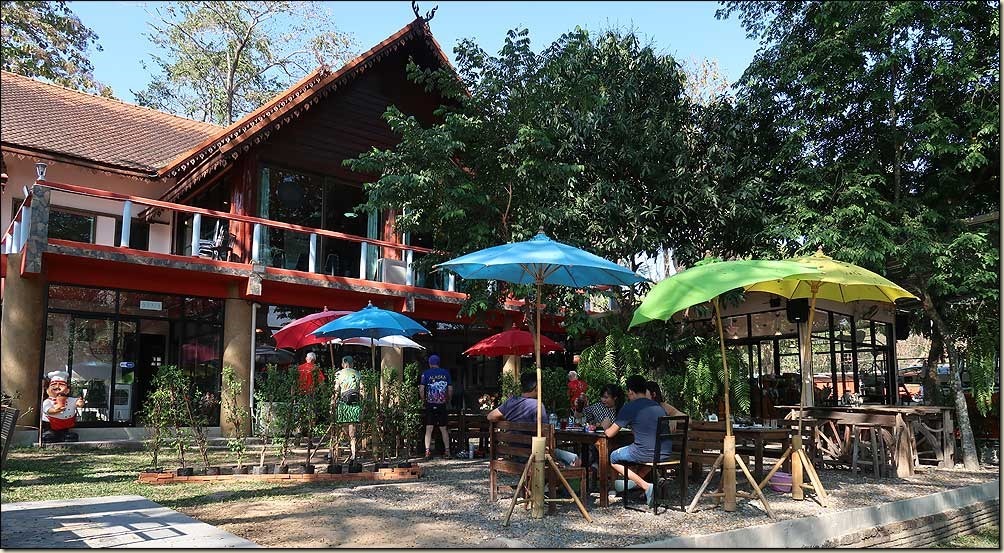 After 48 miles, we were done with our riding for the day. We stopped for lunch at the delightful Feel Good Restaurant along the highway.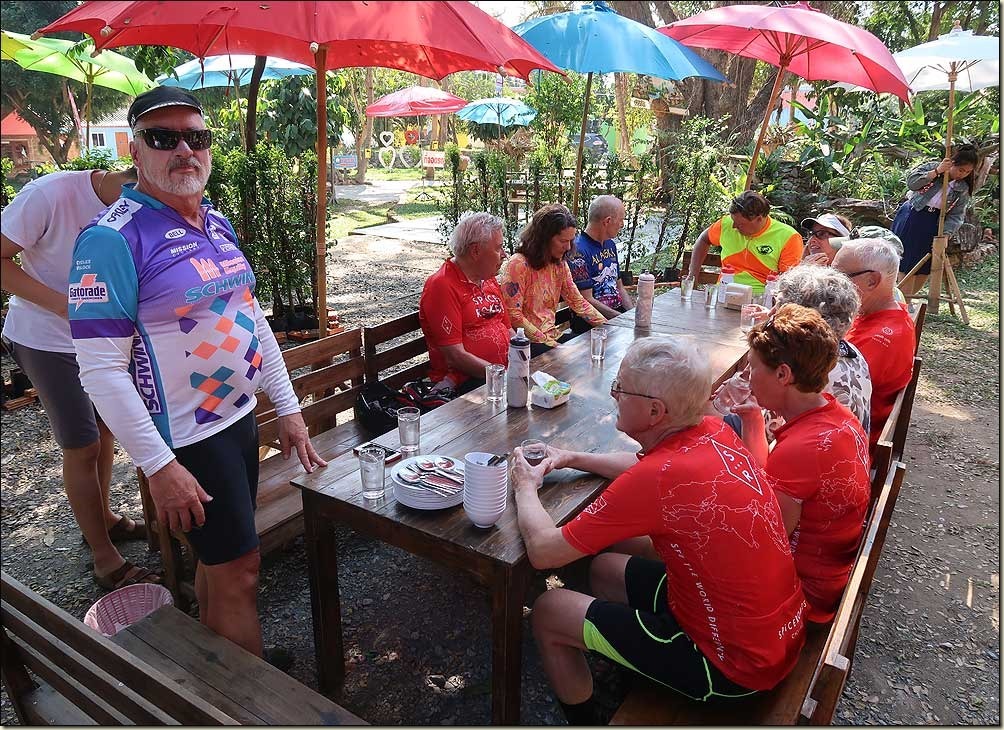 We had an excellent lunch of sausage, tilapia, rice and vegetables.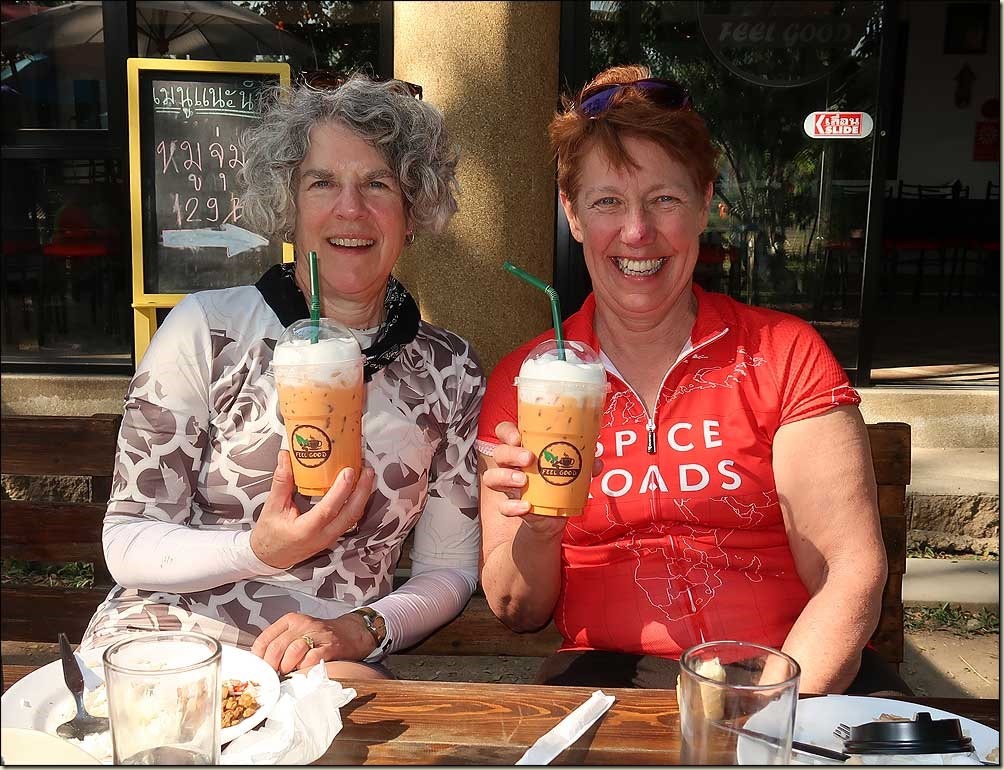 Barb and MJ finished up with some yummy iced Thai tea latte. It was great!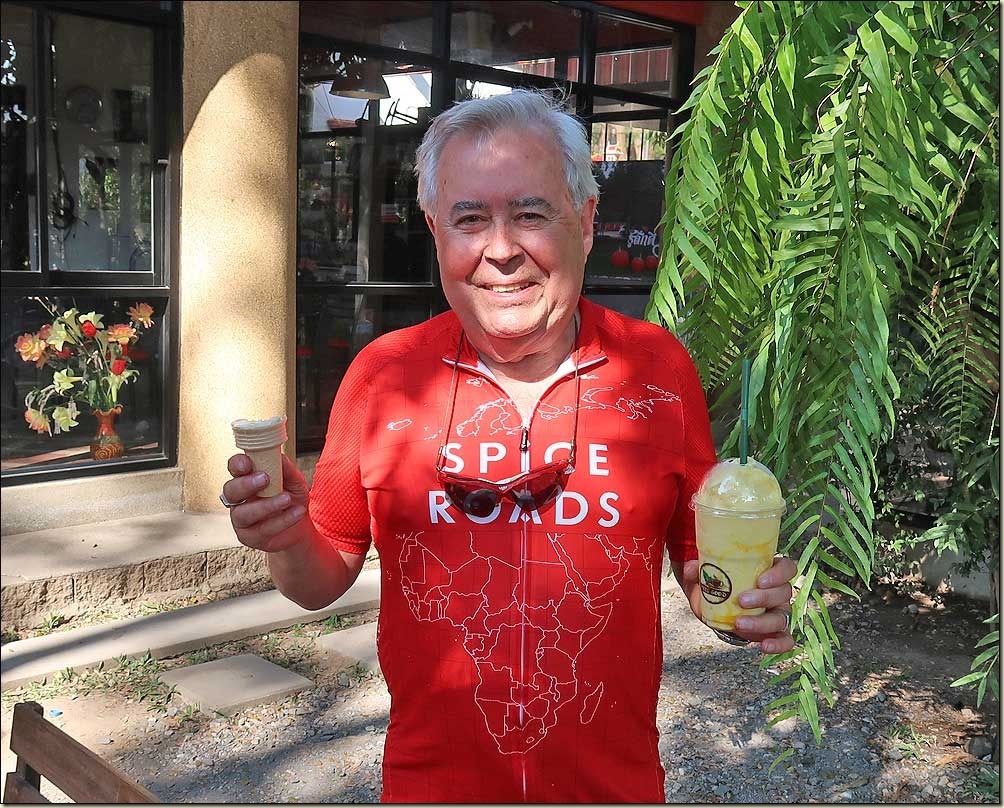 Tom enjoyed coconut ice cream and a mango smoothie.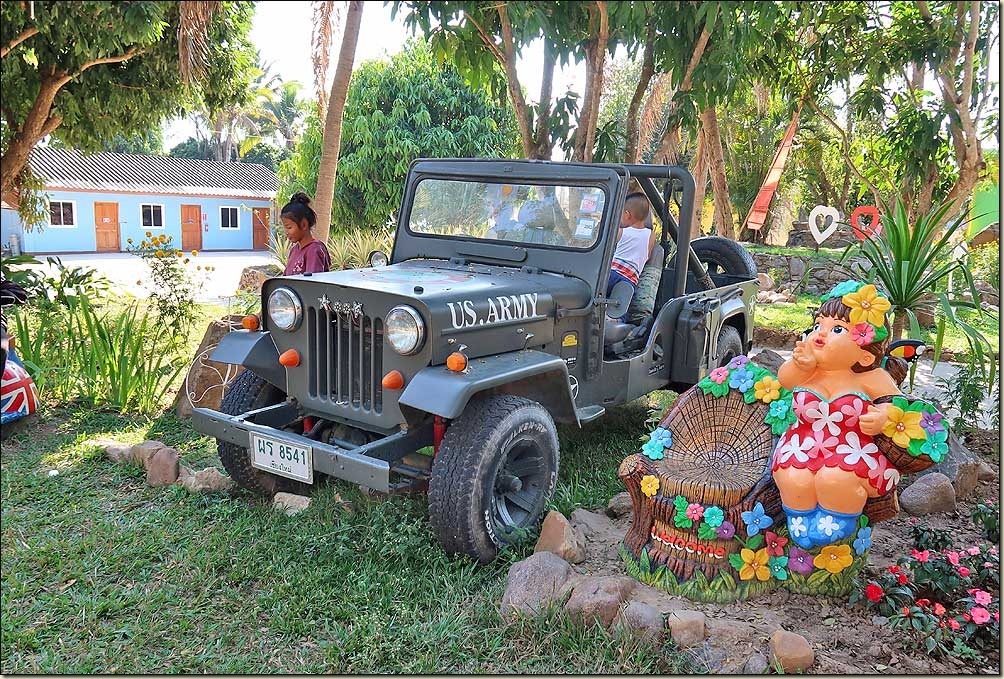 There were all kinds of fun things at Good Times, including a US Army Jeep!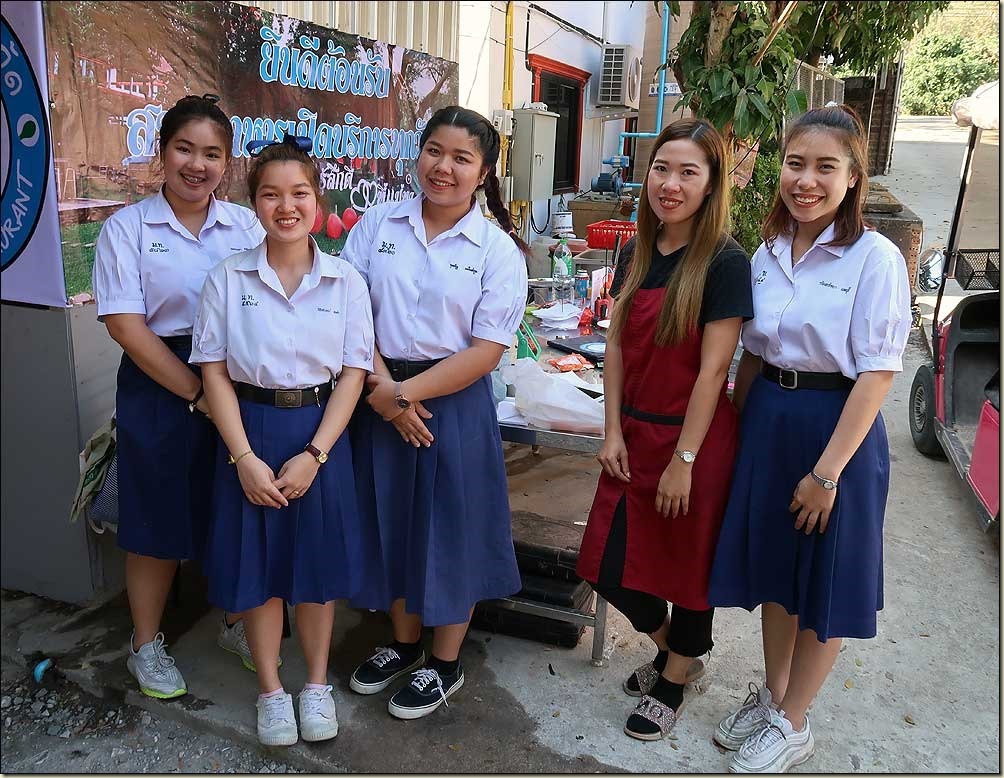 In recognition of today as Children's Day, these staffpersons were dressed up as schoolgirls!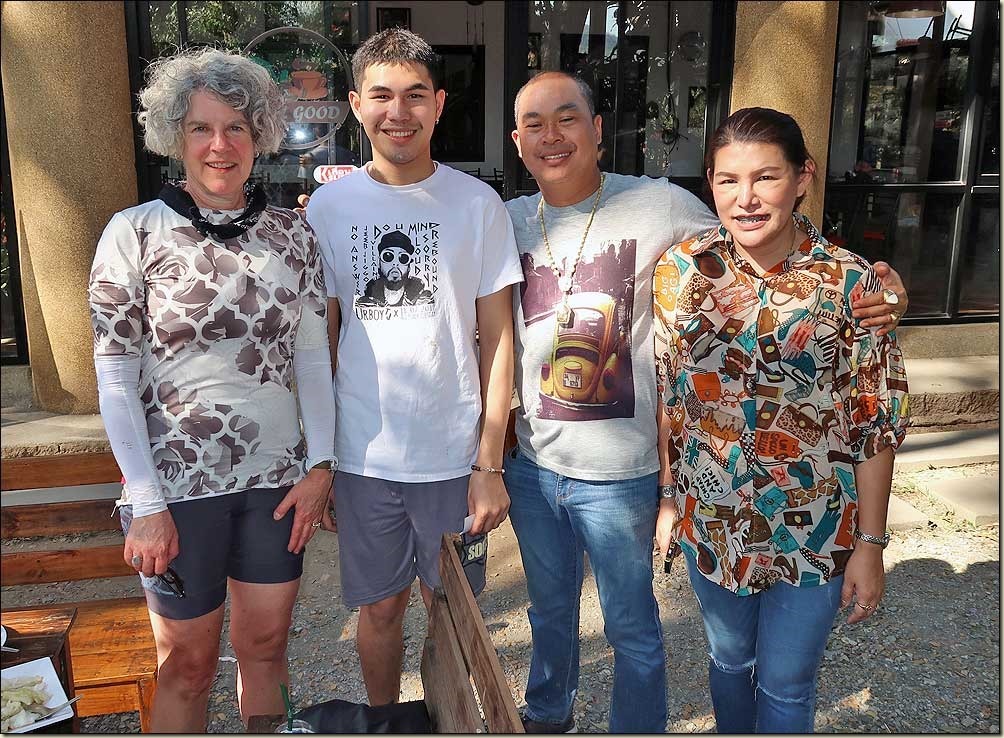 MJ is joined by the family that owns and runs the Feel Good Restaurant and Resort, Mr. Chalong and his wife Pi Pat Parn. Their son, also in the photo, spent a year as a foreign exchange student in Washington state last year. They were wonderful hosts! They made our group feel like rock stars.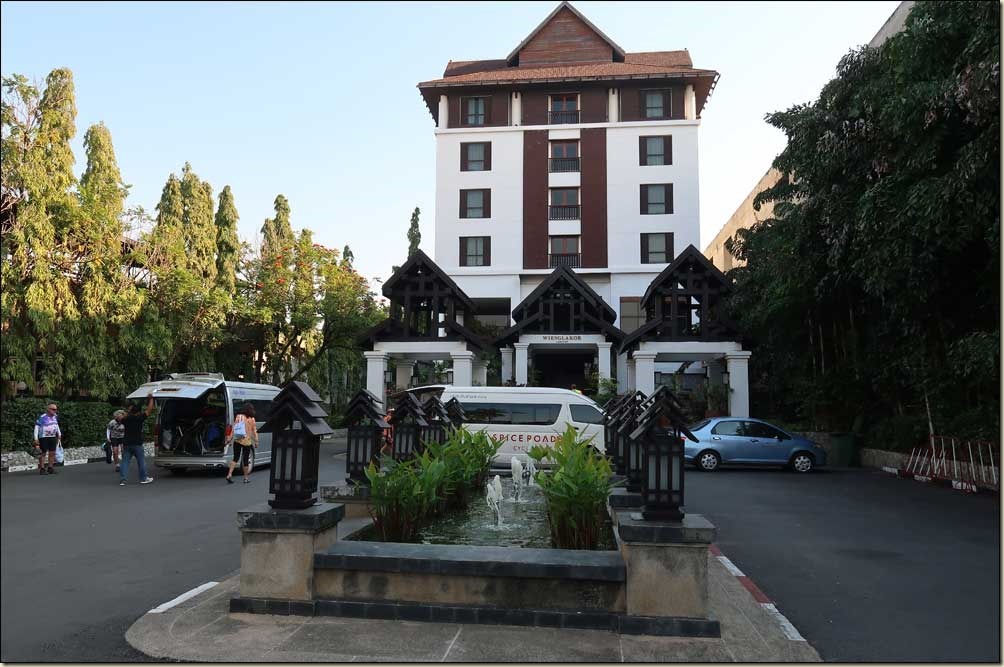 We jumped into the Spice Road vans, and rode about 45 minutes over a small mountain range (3000 feet) to our home for the night in Lamphang.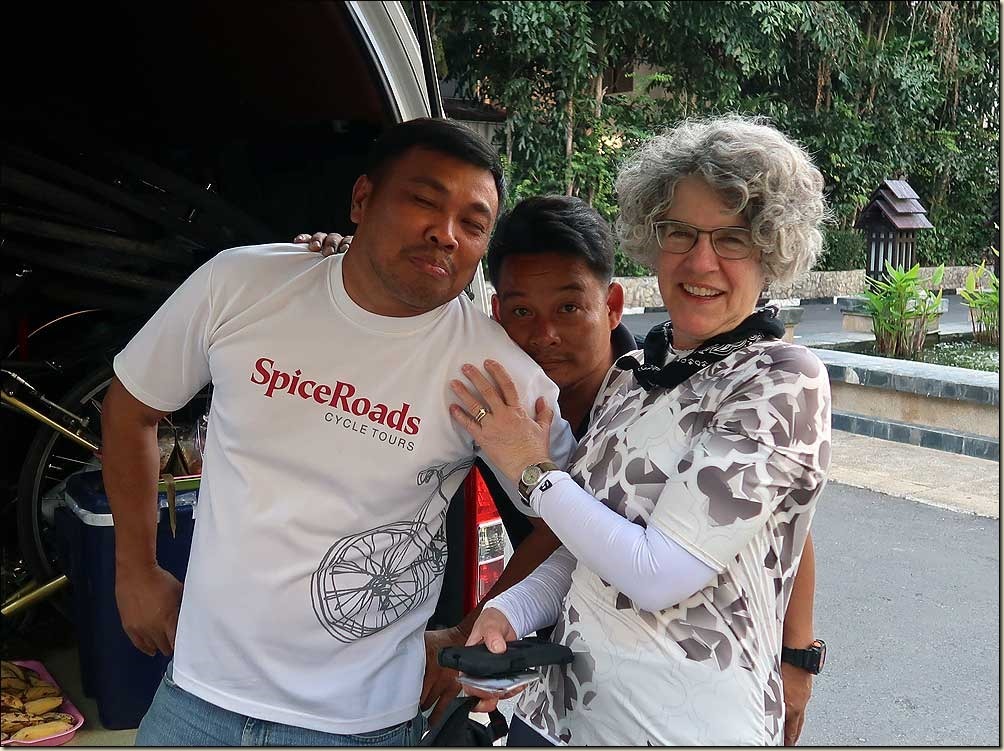 MJ had misplaced her phone, leaving it in her bike bag, and the bikes were all packed in the vans! Mr. Rin and Mr. Pree helped her find it, no problem! Very happy!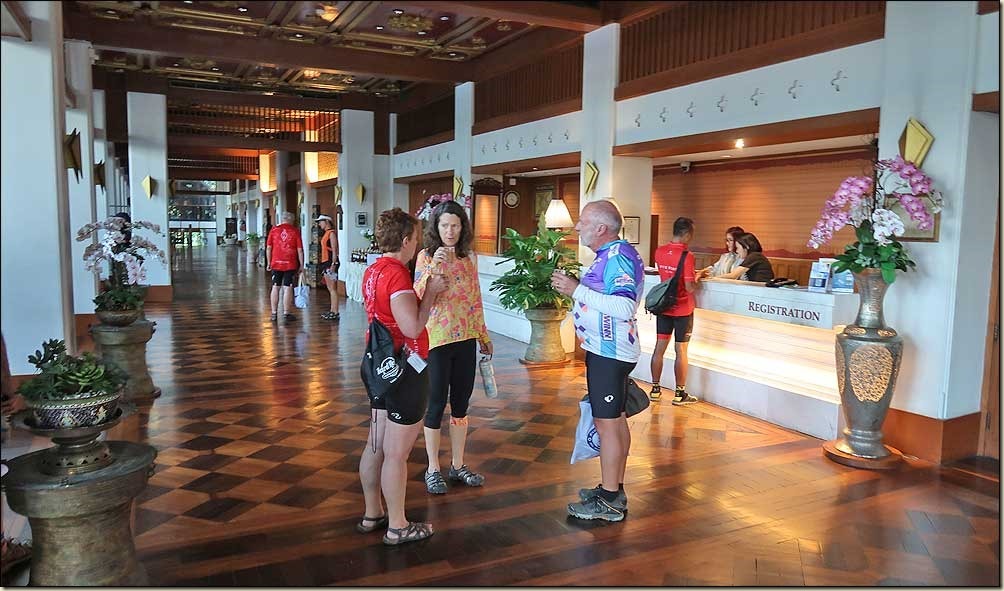 The foyer of the Wienglakor Lampang Hotel.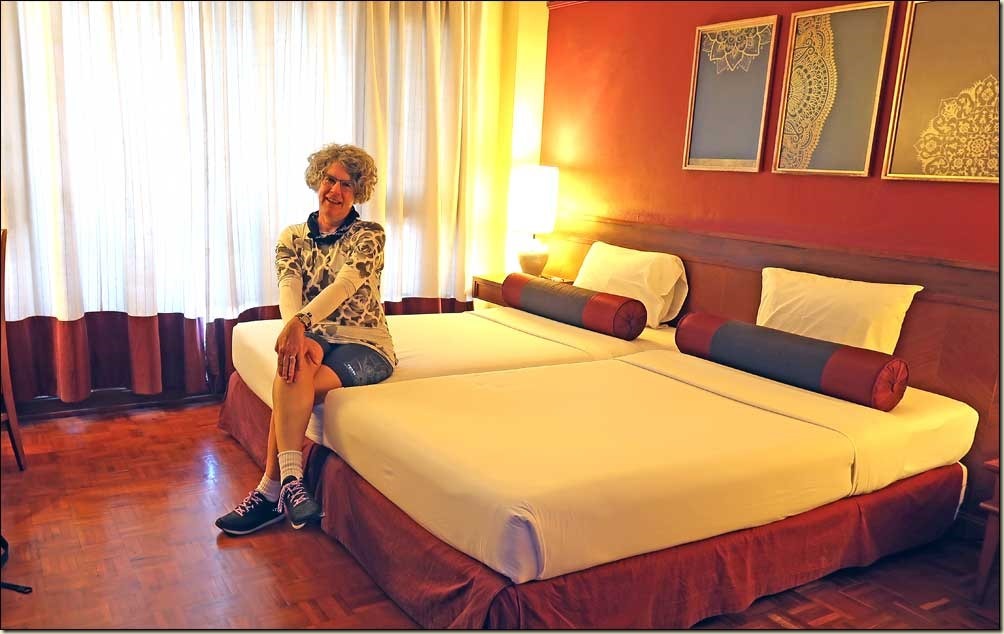 Our nice room glowing in the afternoon sun.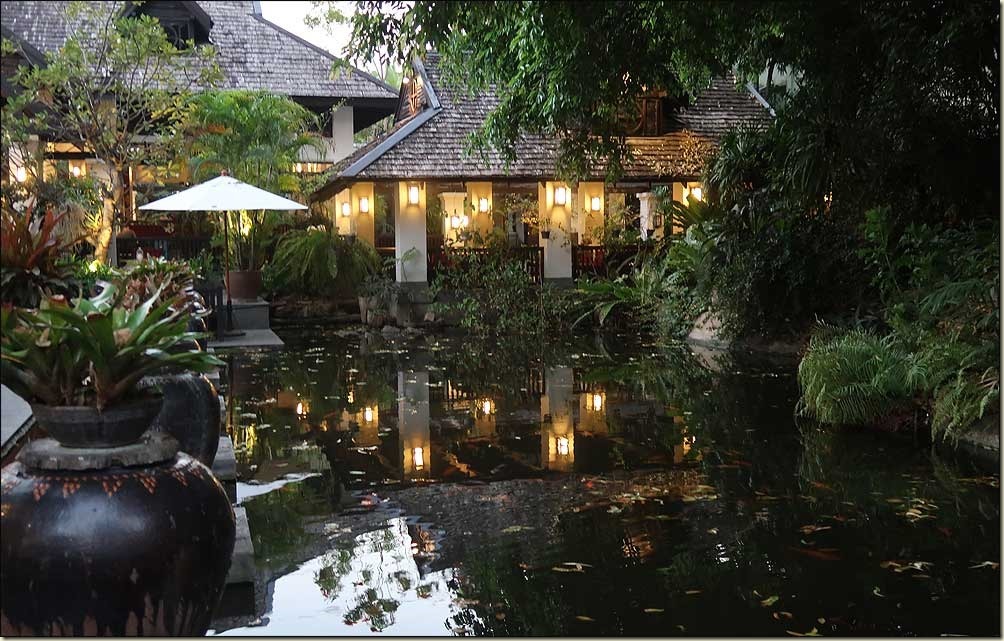 A GREAT happy hour ensued out in the outdoor garden . . .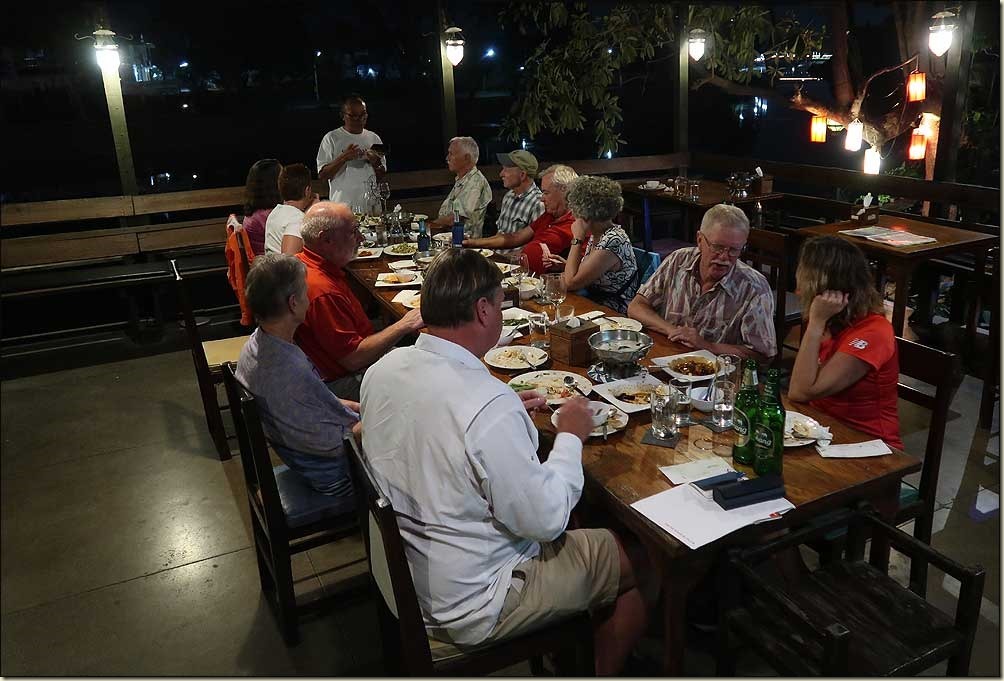 . . . before we were whisked away from the hotel by our drivers to a restaurant located on the water front. No glass in the windows and NO bugs!!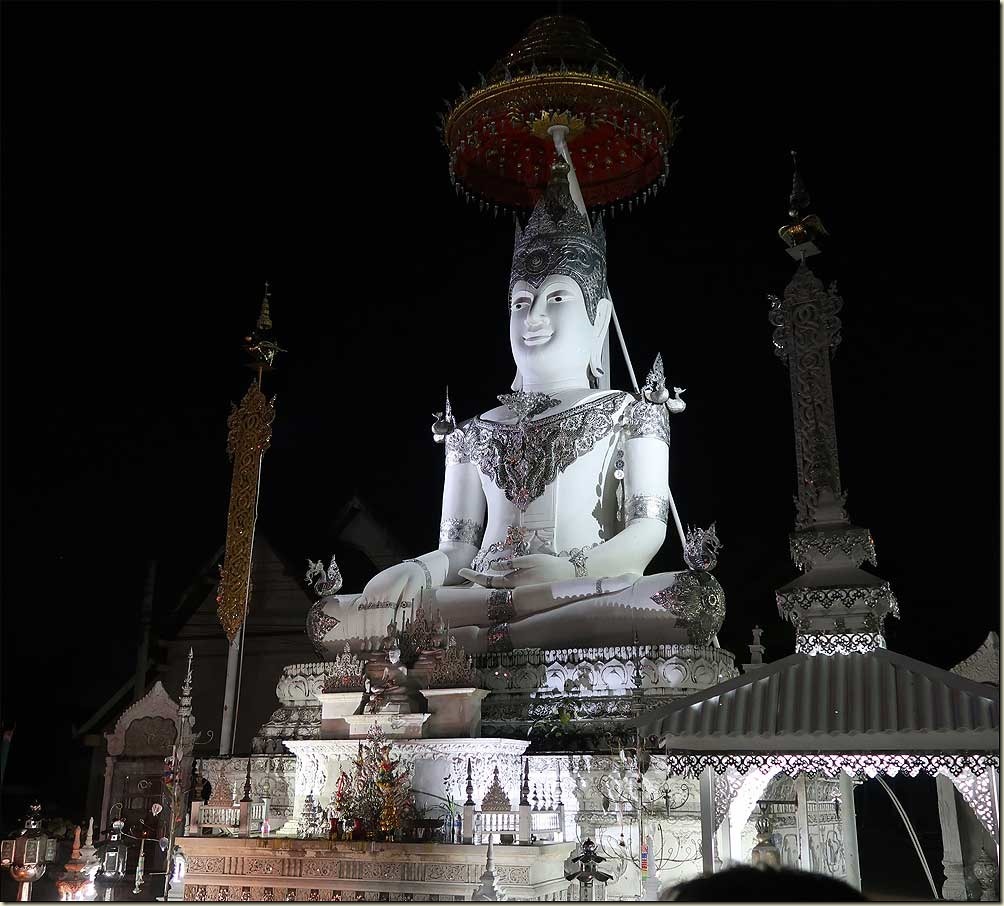 On the way back to the vans we walked by several temples and buddhas . . .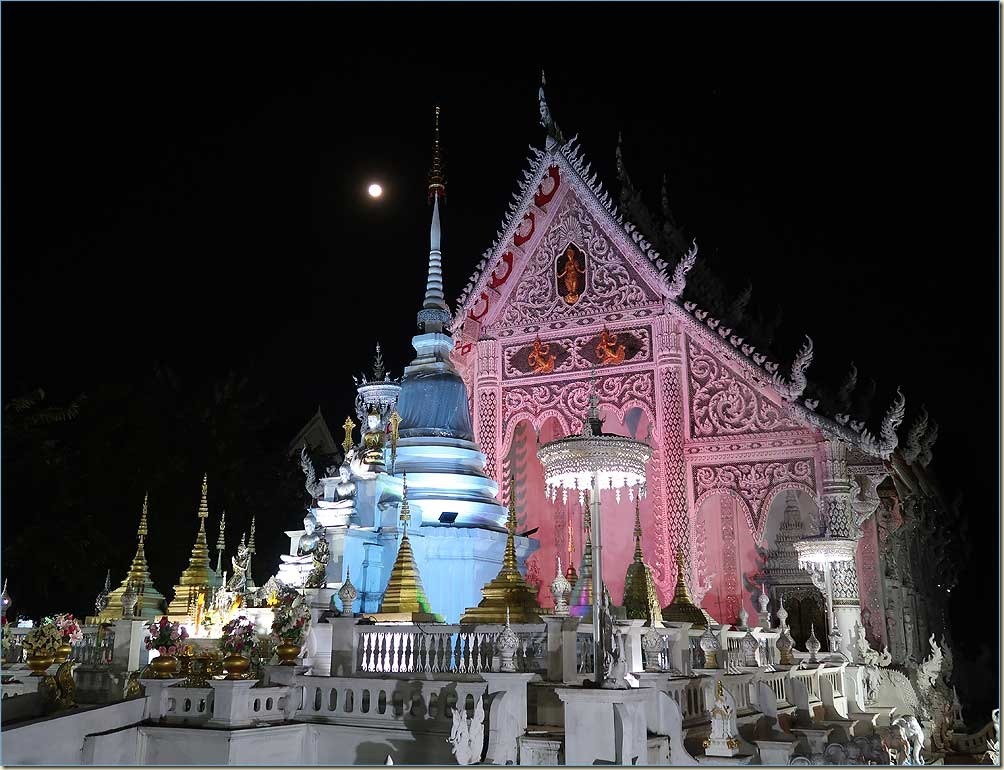 . . . the waning moon can be seen right above the temple. Sweet dreams!!