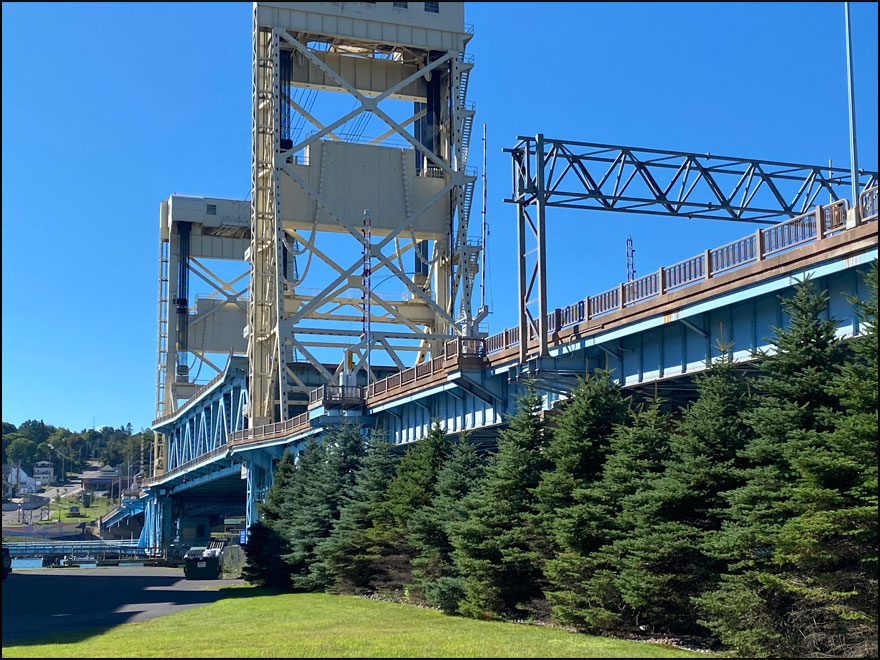 After a 'hearty' complimentary breakfast at the motel (which I think made me ill later in the day) Greg and I headed out at 8:00am just as Dave and Glenn were going down to breakfast. It would be another 60 mile day today with maybe a headwind. 

We got an early start which included riding across the draw bridge!!
Greg rode to Calumet with me and then turned back to Houghton to pick up his car. 

Within five miles I was on the lakeshore and would follow it all the way to Copper Harbor.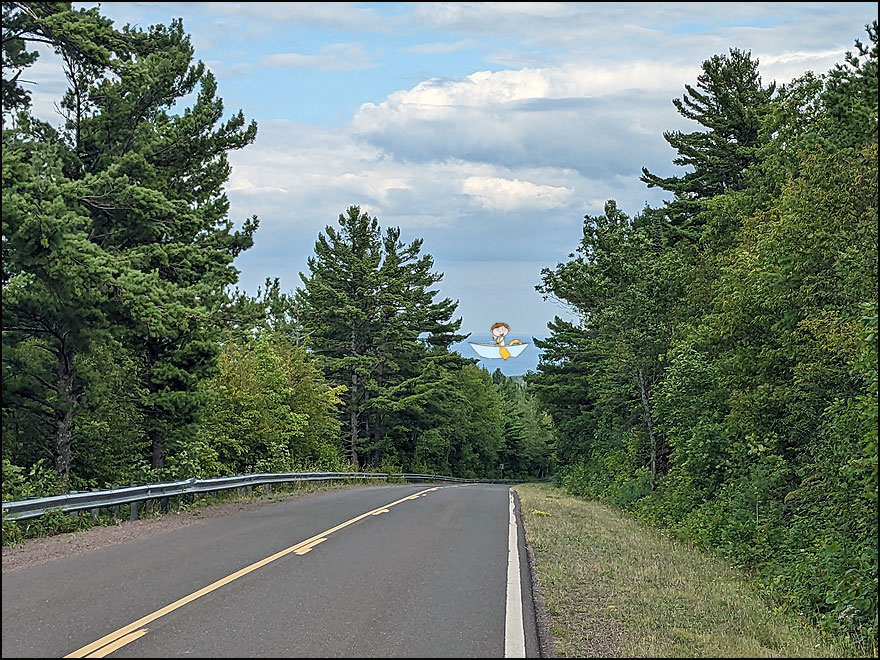 Always fun when you see the lake for the first time in the morning!!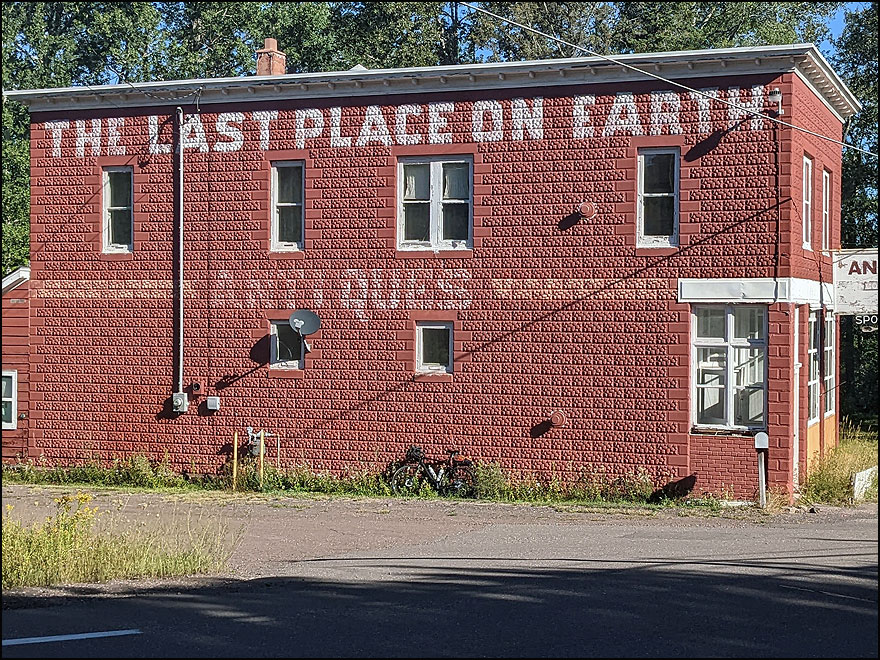 Oh yeah, sometimes that's how it feels in the UP . . . especially in Ahmeek.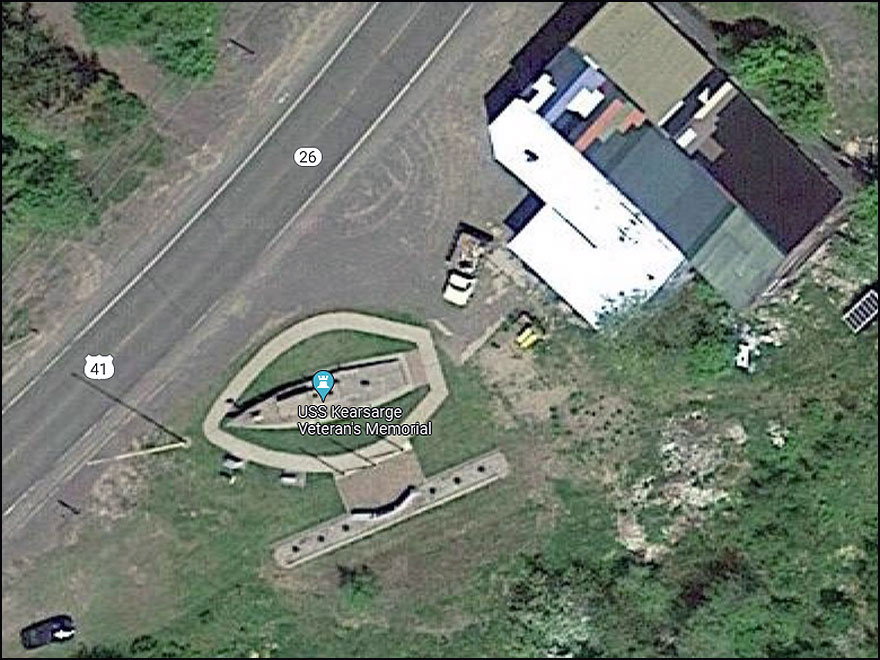 It wasn't long before I passed the USS Kearsarge Monument

The Civil War ship, the USS Kearsarge plays a key role in the rich history of the Copper Country.  Kearsarge, Michigan located in the northernmost part of Michigan is home to a giant brick replica of a Civil War ship, the USS Kearsarge.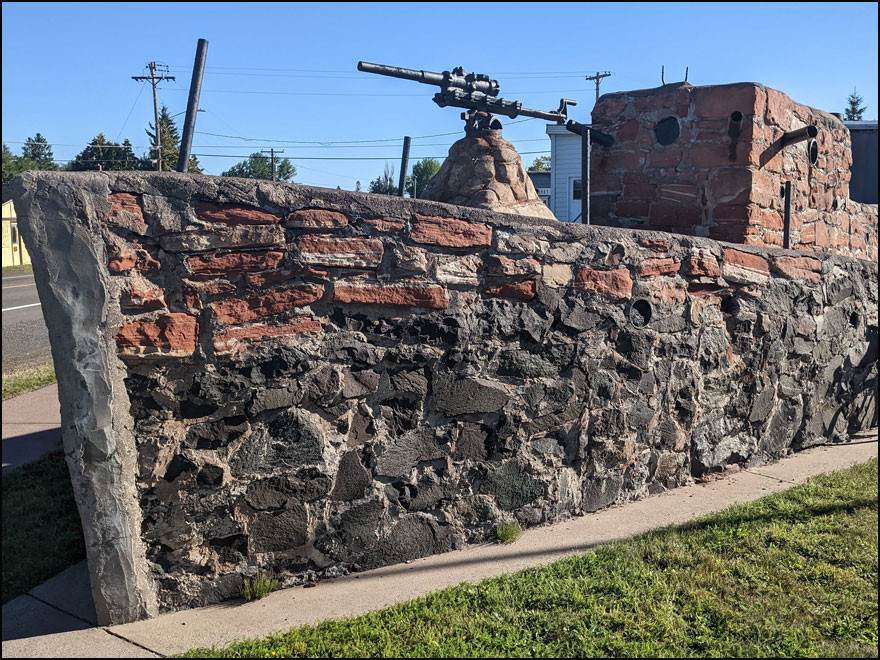 Who knew!!!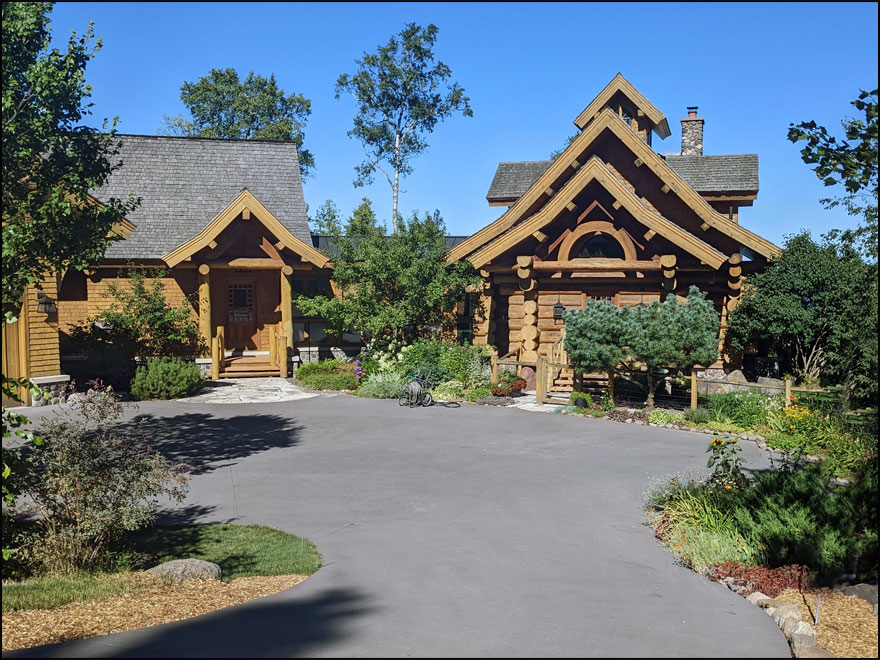 The closer I got to Copper Harbor the more cabins there were along the side of the road. Here was a nice little set up less than 100 feet from the lake!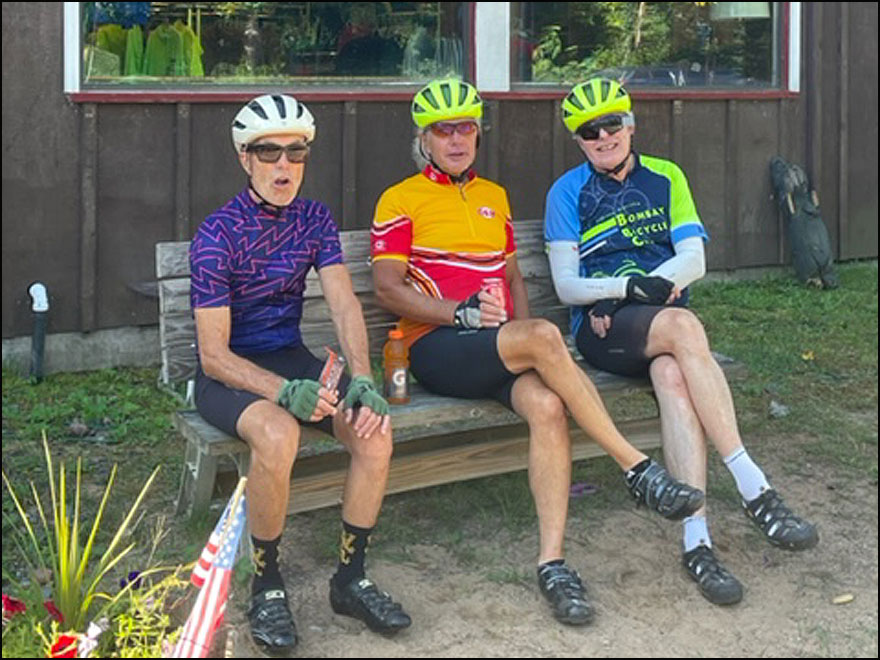 Speaking of 'cutesy', where did these three musketeers come from???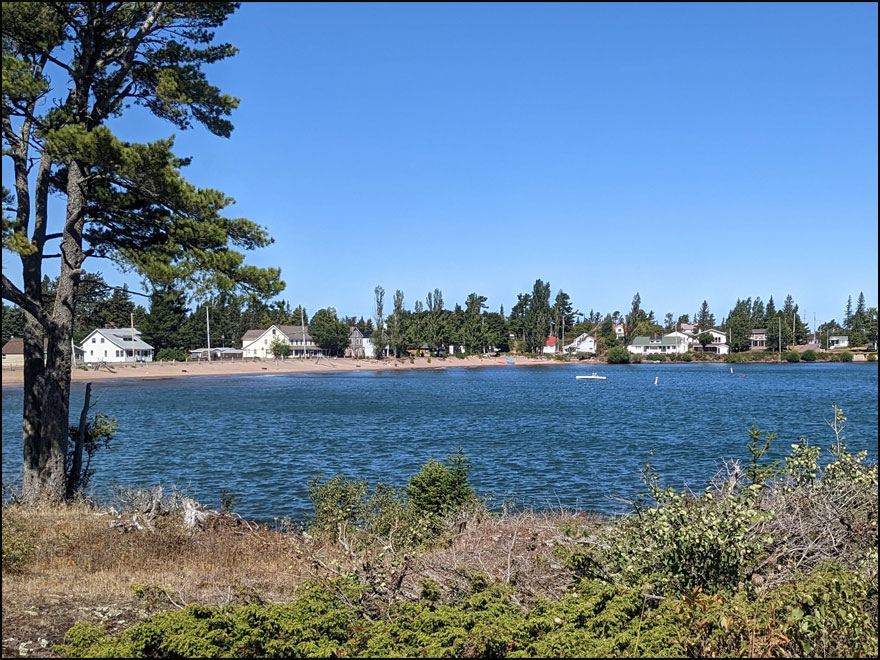 I passed through Eagle River and then rode through the picturesque little village of Eagle Harbor . . . I was getting hungry!!!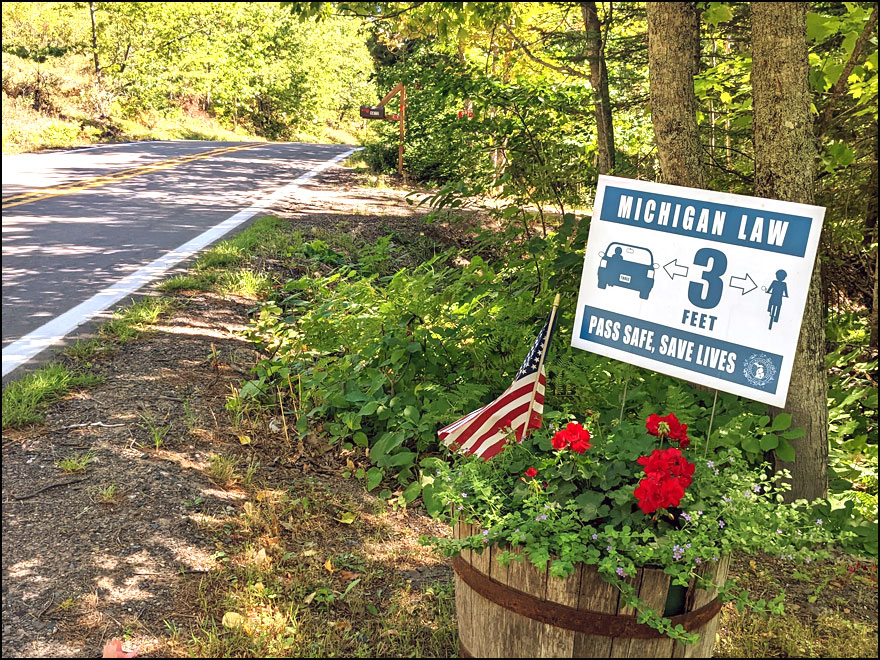 The road became very narrow with no shoulder, but the drivers, mostly tourists, were in no hurry and gave a bike rider a wide berth.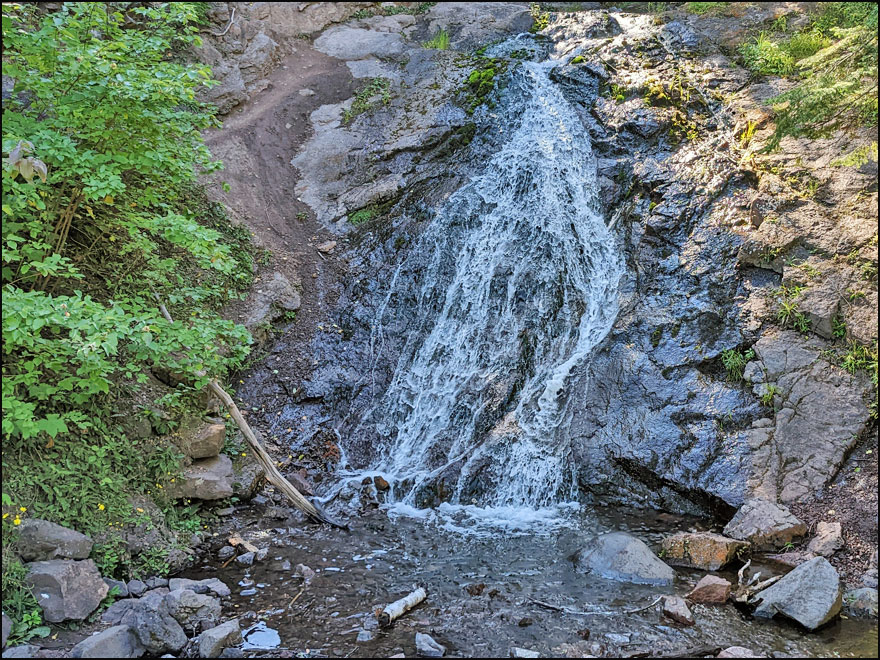 Soon I came upon Jacob's Falls, a pretty little waterfall, and only a couple of hundred feet down the road was the . . .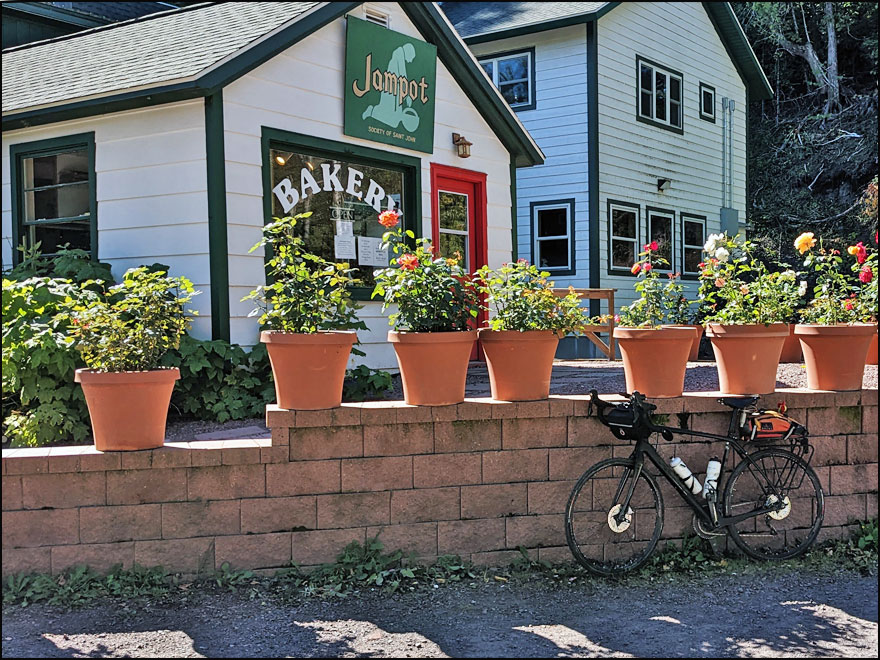 . . . Jampot Bakery. Time to stop. Soon Glenn, Dave and TommyG showed up too!!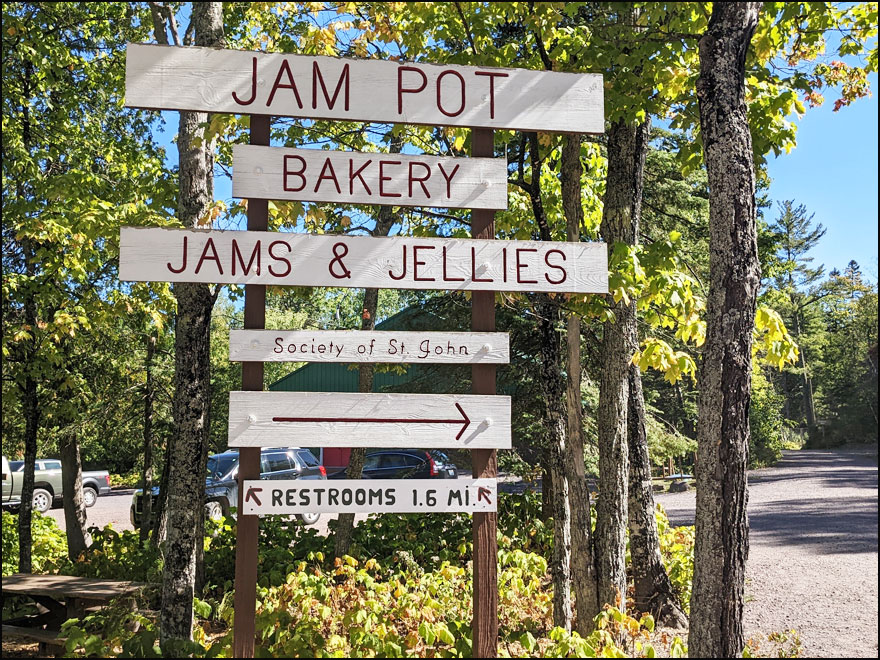 The Jampot sold its first jar of Poorrock Abbey preserves, made from wild berries picked near the shop, in 1986. Since that time, they have been selling the wild berry preserves and other gourmet jams and jellies to customers from around the world. As the years progressed, the brothers added fruitcakes, muffins and cookies, hand made chocolates and of course specialty grade coffees. 

Oh yea, the bathroom is 1.6 miles down the road!!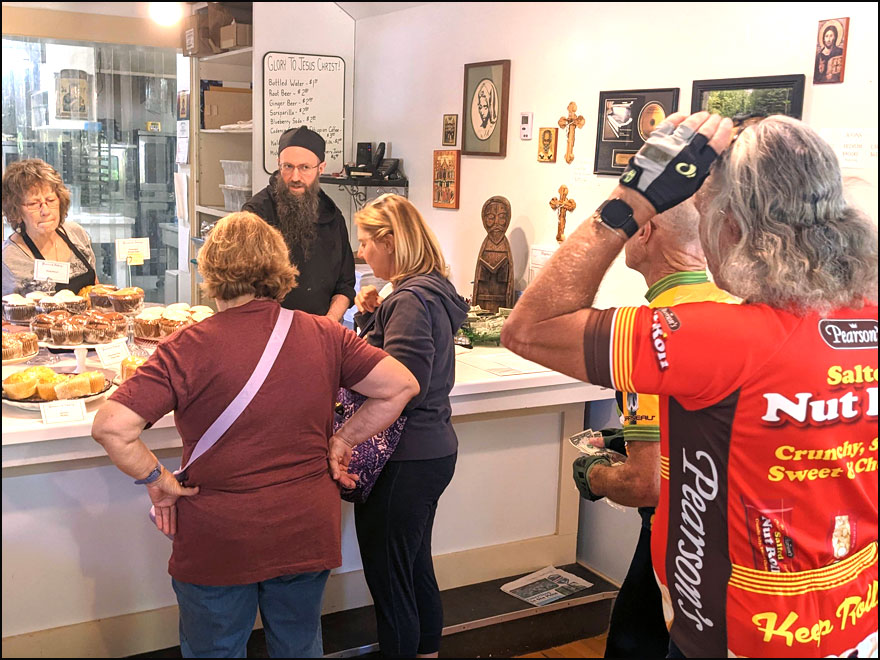 Here the boys have their money out and are ready to get some of the yummy bakery goodies.
Proceeds from the Jampot support the vision and works of Holy Protection Monastery, a Byzantine Catholic Monastery, located right down the road. Learn more by visiting their website: societystjohn.com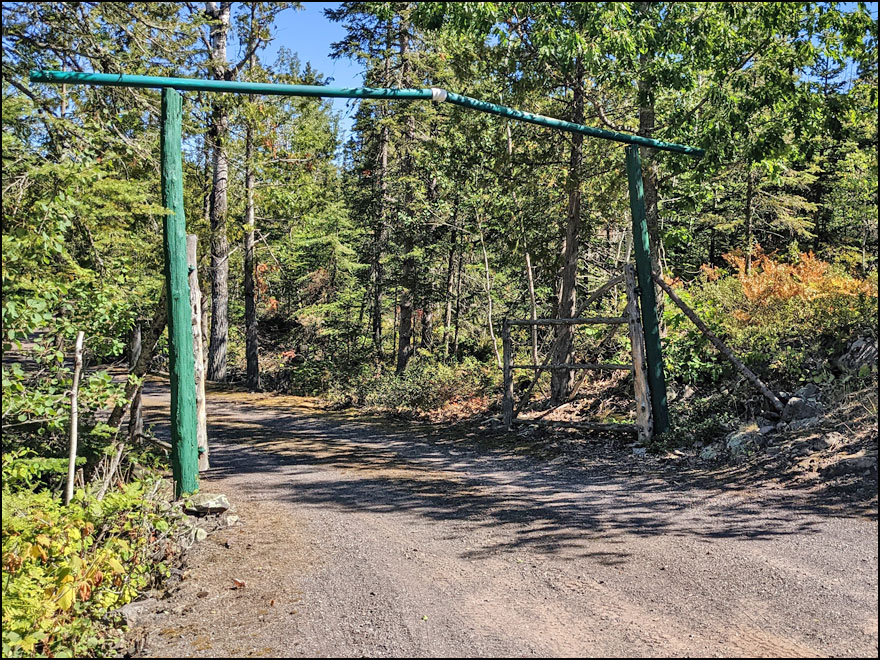 Wonder what's down this road . . .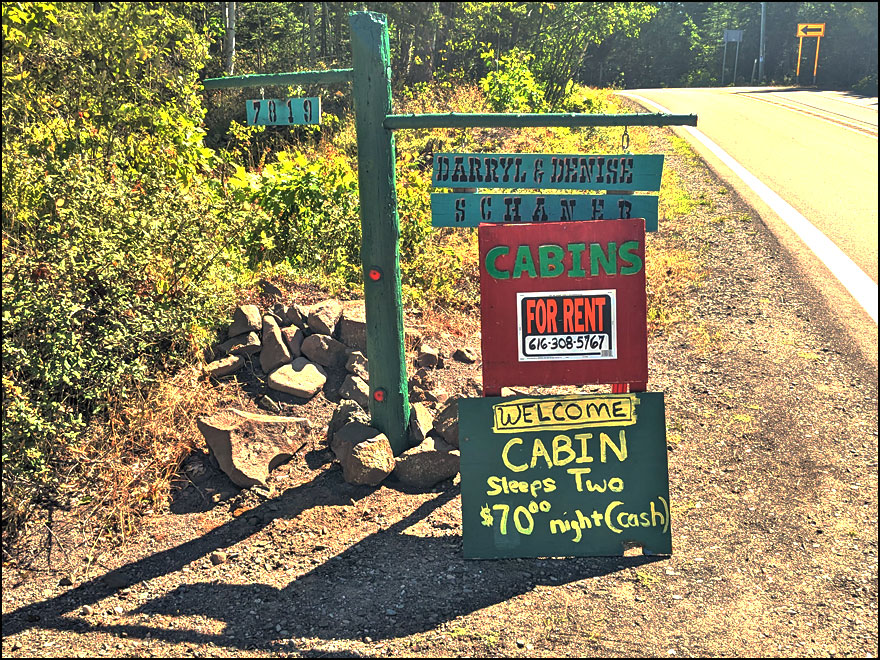 . . . maybe the best lodging deal in the UP. Our stays ranged from $100 to $210 per night!!!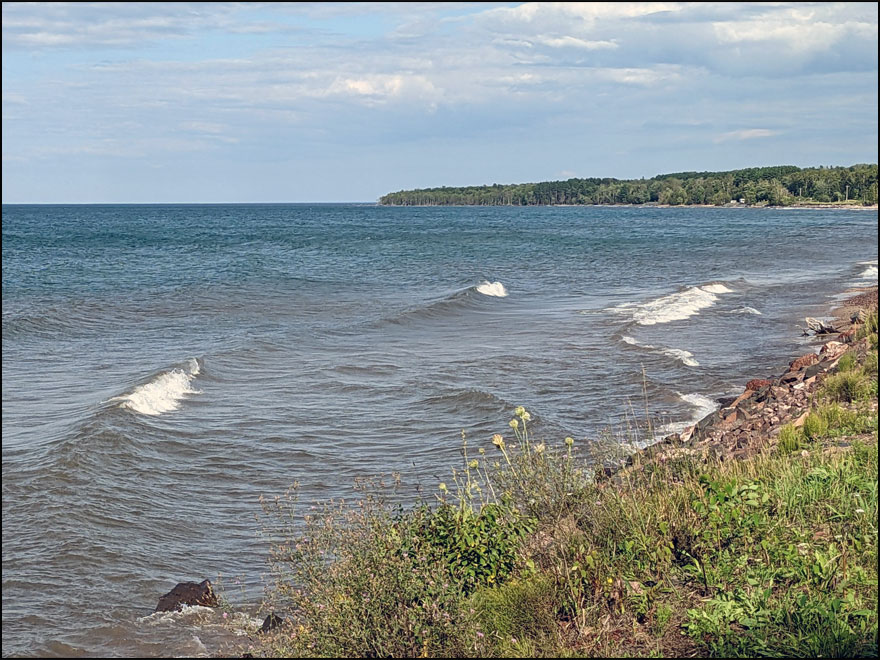 We were along the waters edge, like this photo, for most of the day. A bluebird sky and what may have been a headwind ended up being a side wind . . . not an issue!!!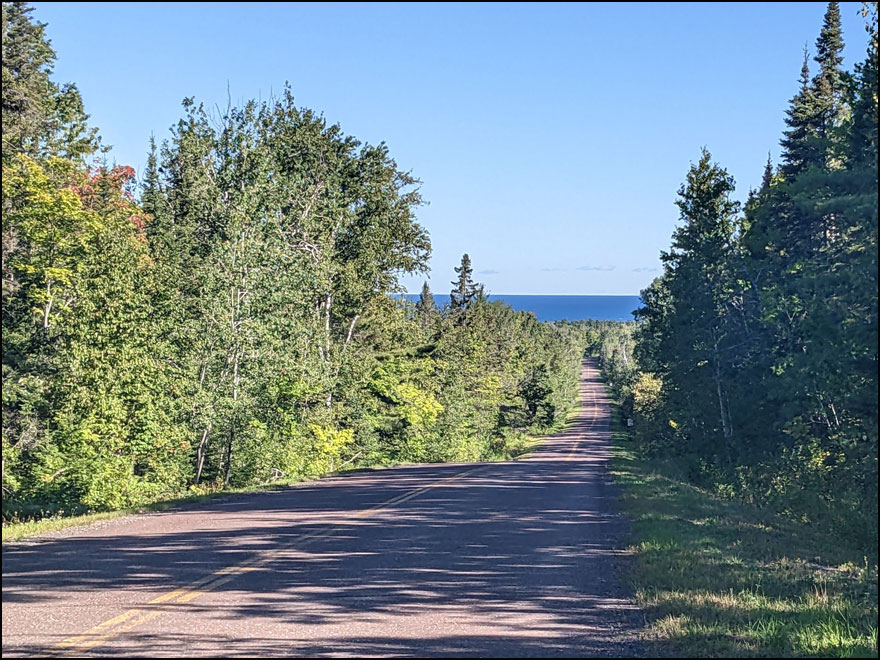 No traffic!!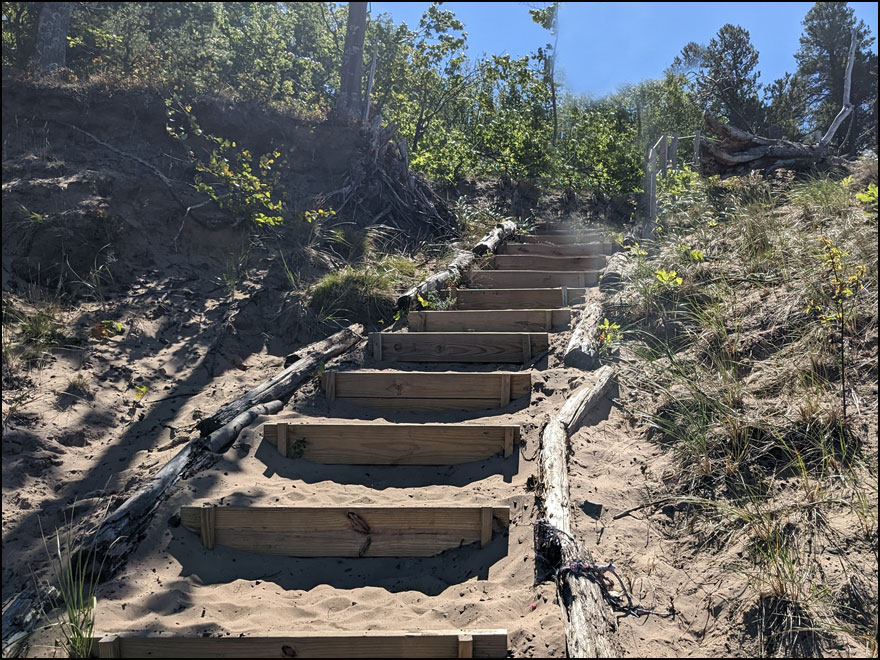 Soon we passed through the Redwyn Dunes Nature Sanctuary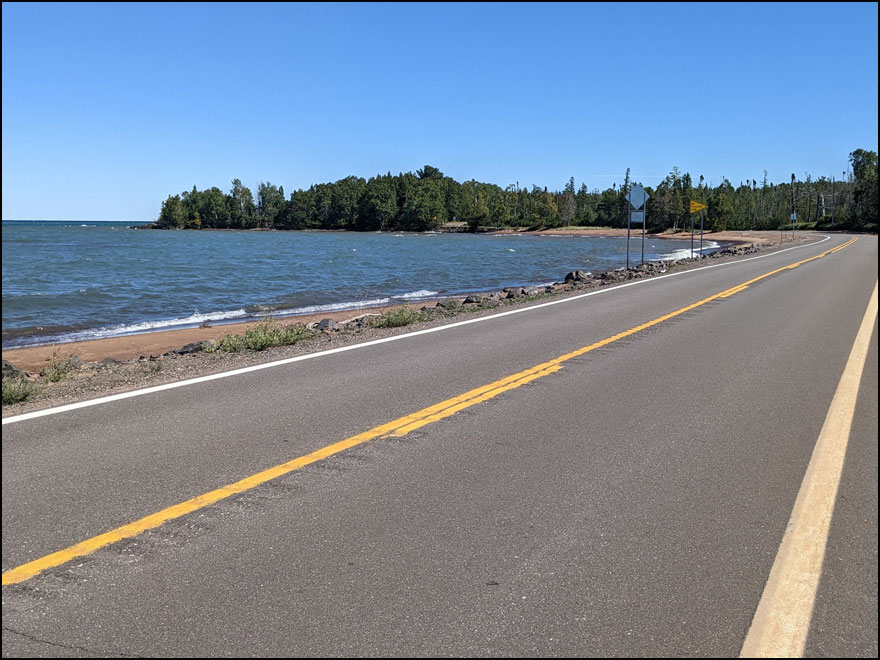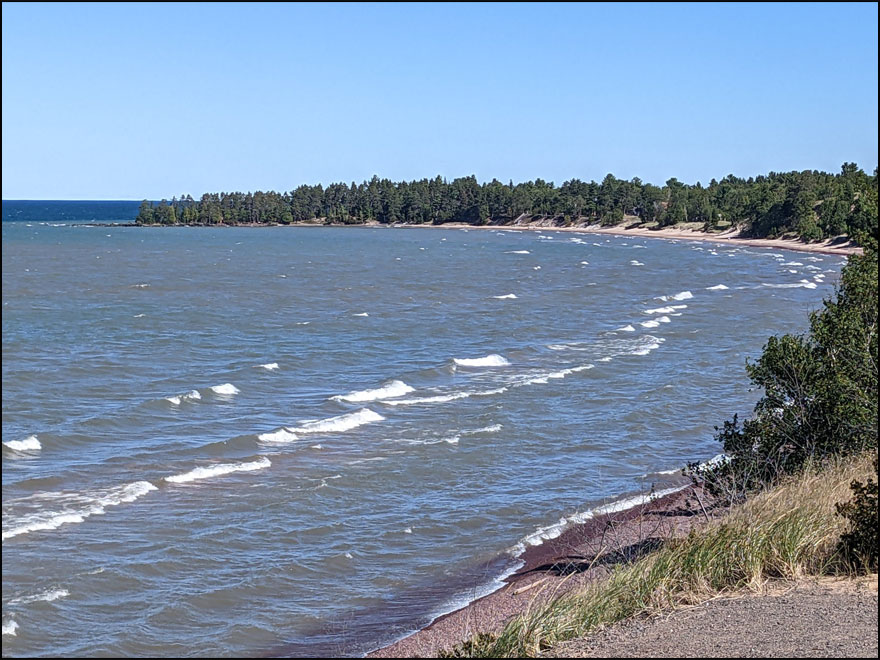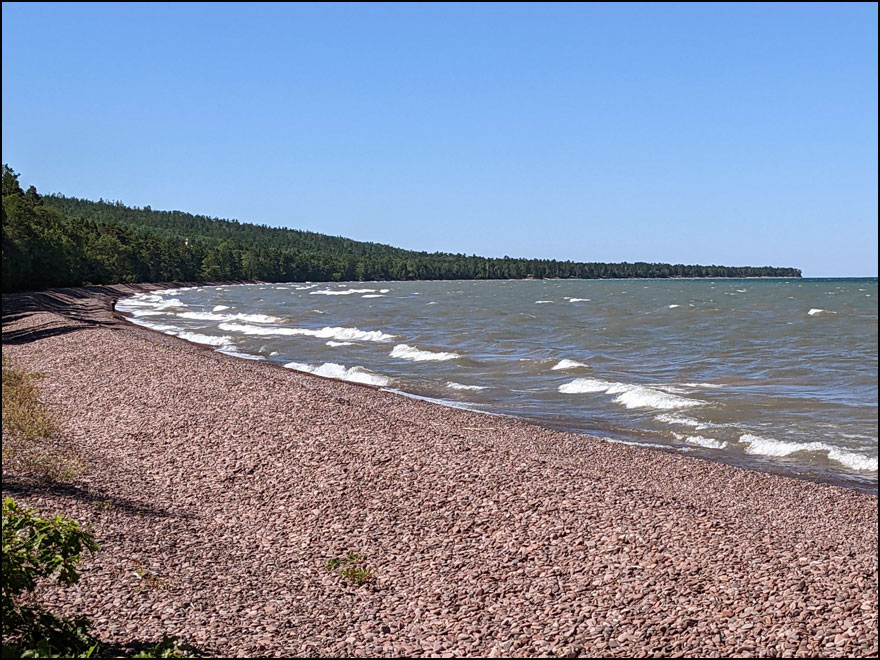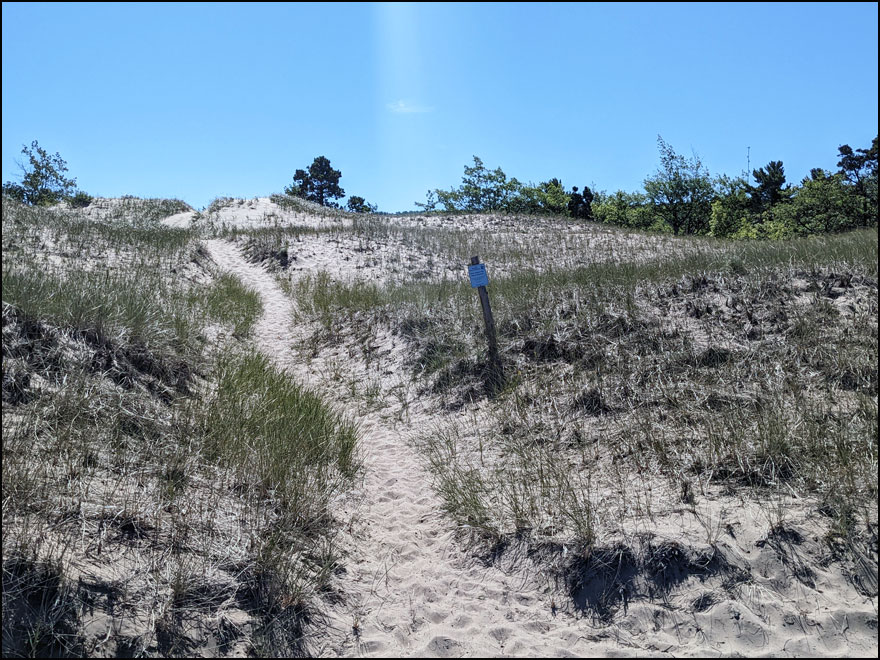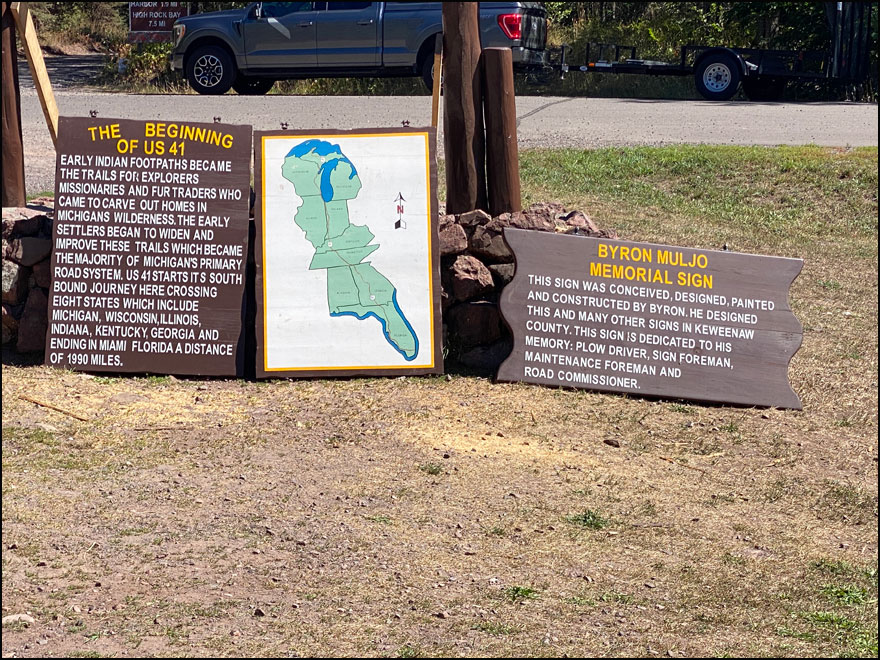 Greg drove up from Houghton and just south of Copper Harbor drove up onto BrockWay Mountain. 

At breakfast a guy sitting near us was eavesdropping about us heading to Copper Harbor and was going on and on about how we could not go to Copper Harbor without seeing Mt Brockway. Said it was like " . . . going to Yellowstone without seeing Old Faithful!". I finally told him we were traveling on bicycles and he let out a long, "Ohhhhhhh . . .".

Greg said the eight mile road was VERY rough and probably took 15,000 miles off the life of his SUV's suspension!!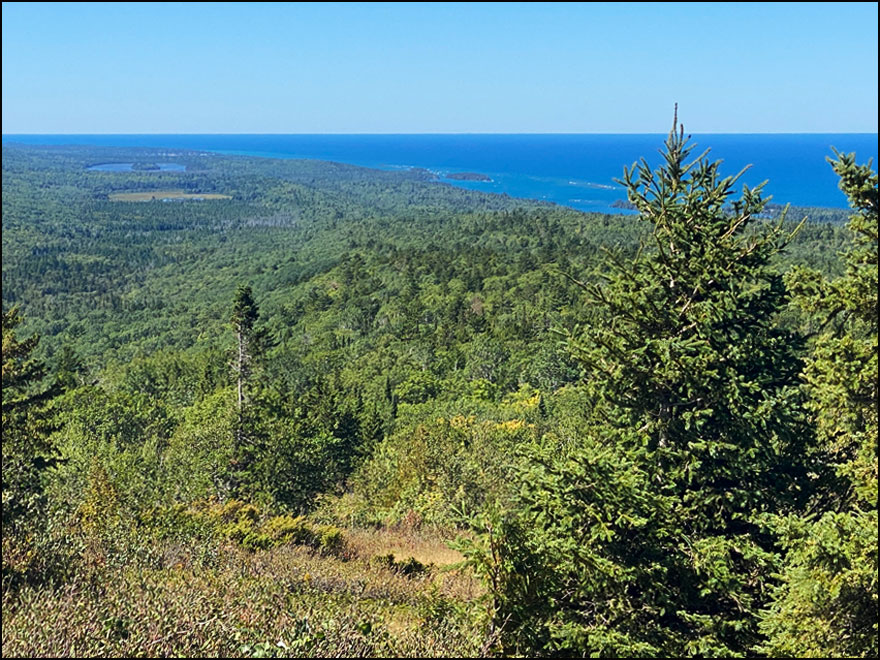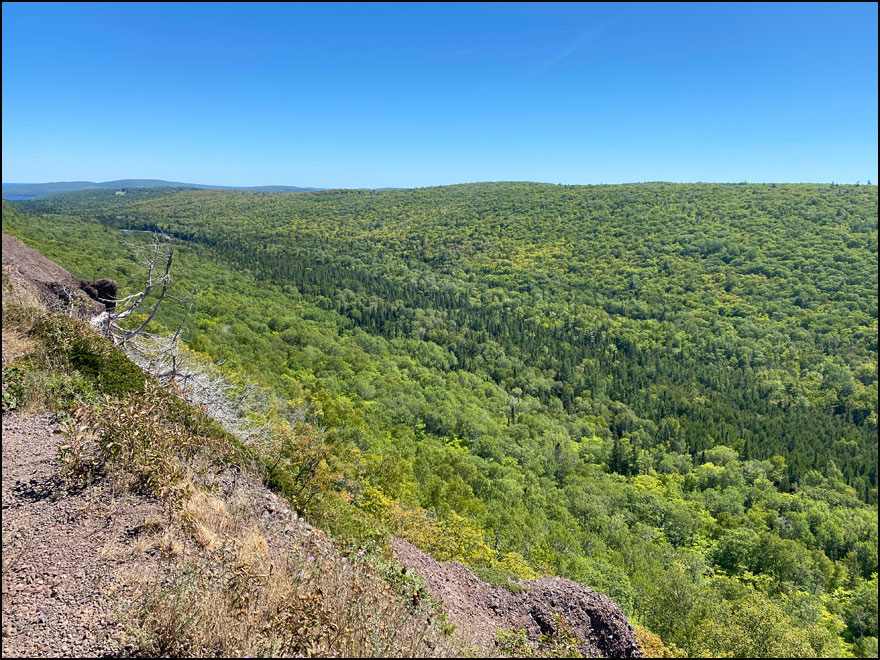 Mt Brockway stands at 720 at its highest point.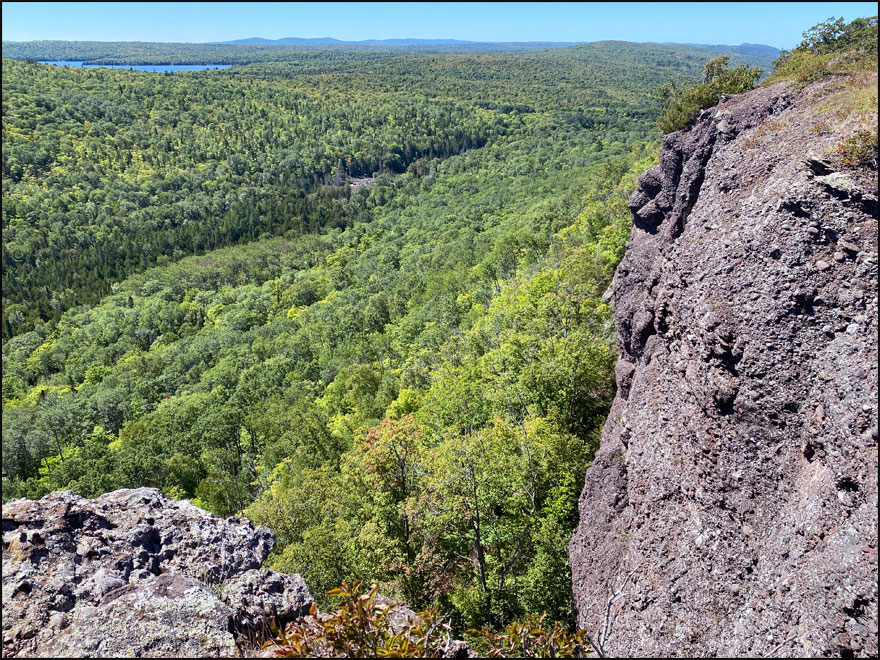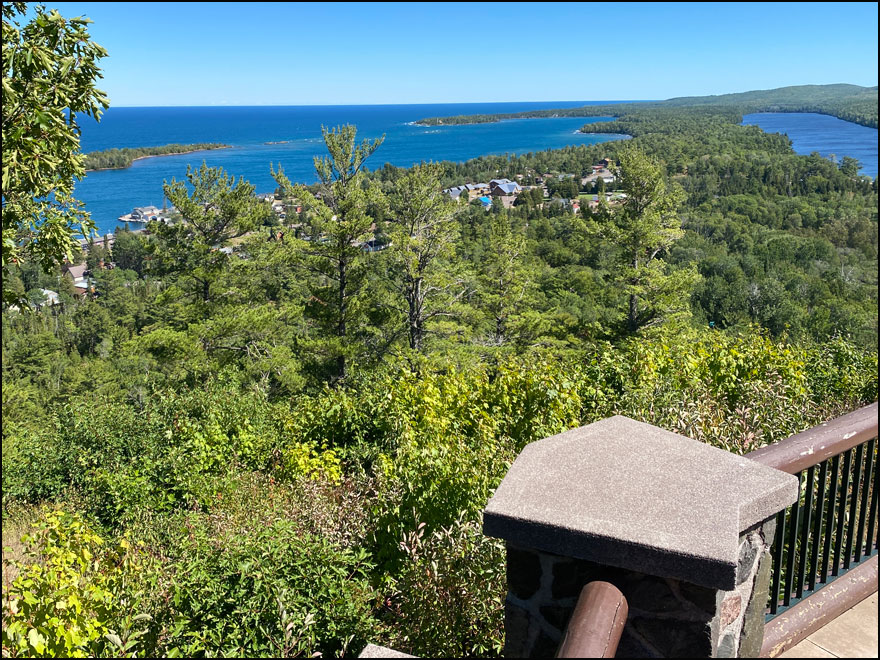 Beautiful vistas from the lookout . . .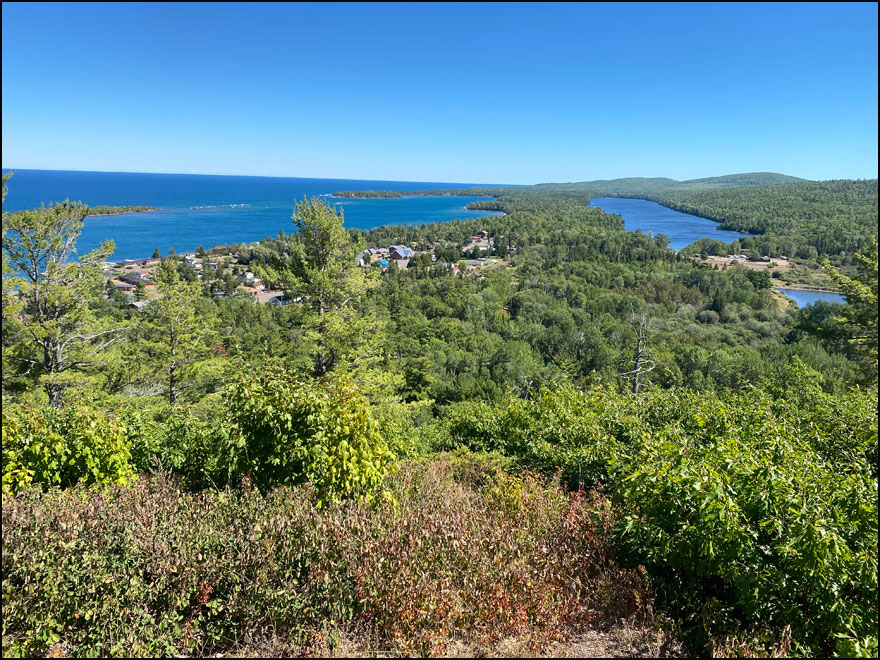 . . . and in the upper right quadrant you can see Lake Fanny Hooe, a 227 acre lake that is located just 800 feet inland from Lake Michigan, where the resort is located that we will be staying at tonight.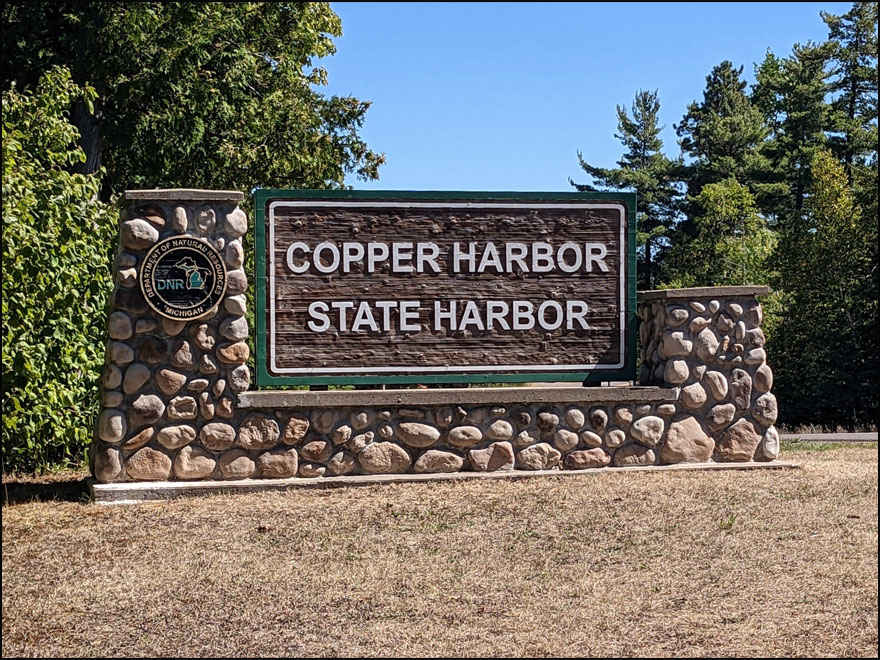 We rolled into Copper Harbor, population 125, the northern most point of our trip.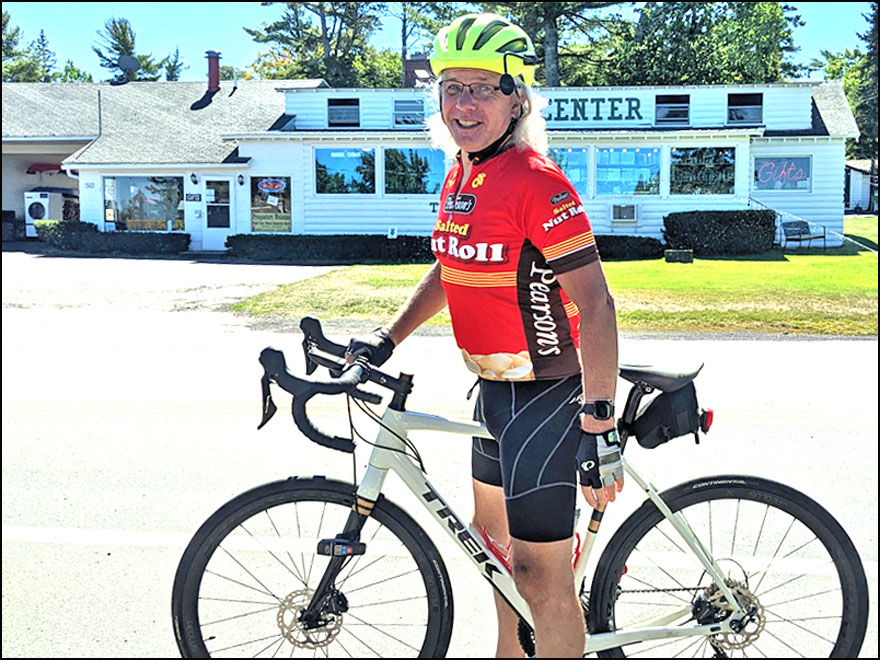 After 60 miles, Glenn had not had enough biking and rode another 12 miles around the area!!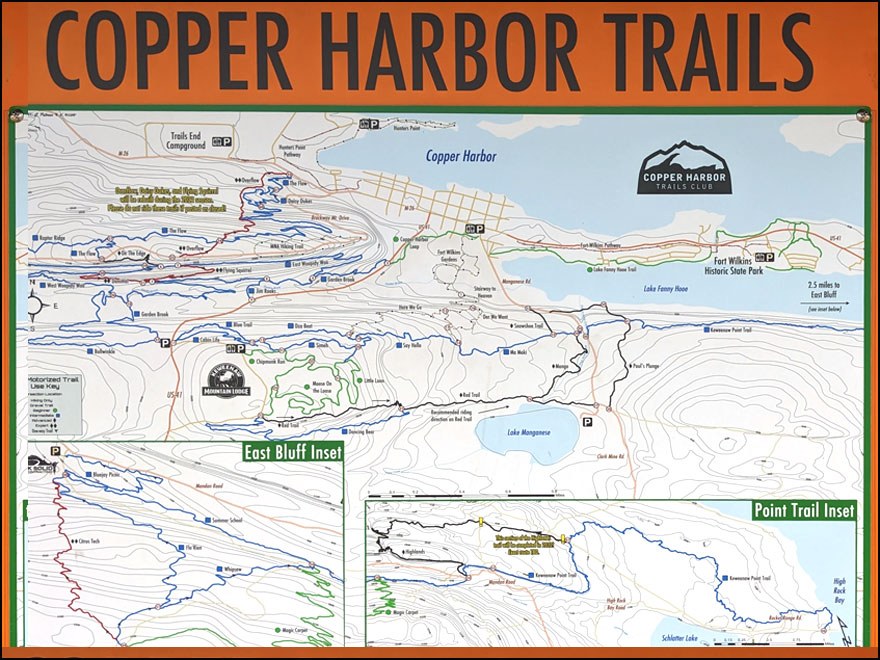 Copper Harbor has developed into quite the mountain biking mecca with lots of trails offering a wide variety of riding options . . .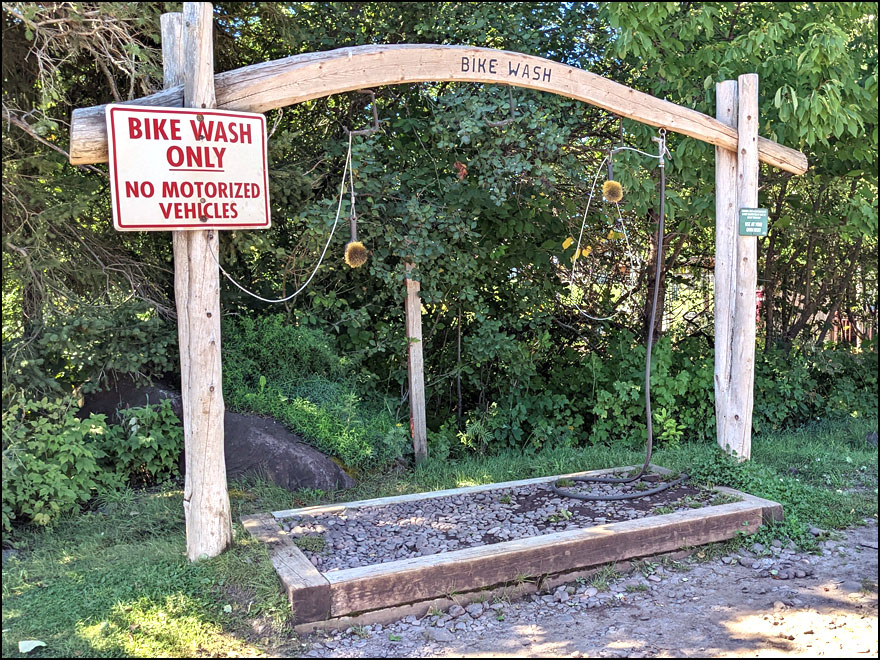 . . . and they take the environment seriously offering a bike wash to wash weed seeds off bikes, eliminating the transfer of exotic plant materials.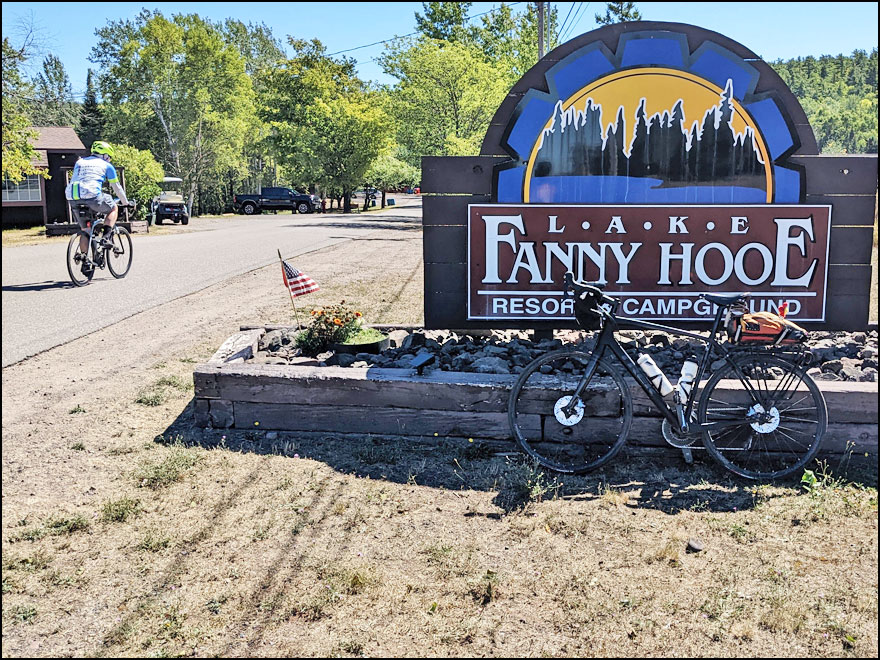 We are all staying at the Fanny Hooe resort tonight. Wonder where the name comes from . . . 

Local tales related that the beautiful young woman had drowned in the lake, or got lost in the woods while picking blueberries and was never seen again. In truth, Lucy Frances Fitzhigh Hooe, Fannie, spent the summer of 1844 visiting her brother Thornton, who was stationed at Fort Wilkins. 

She returned to the family home in Virginia. While she led an interesting life, her visit to Fort Wilkins was not a major part of it. She died in 1882, probably in Fredericksburg, (Virginia).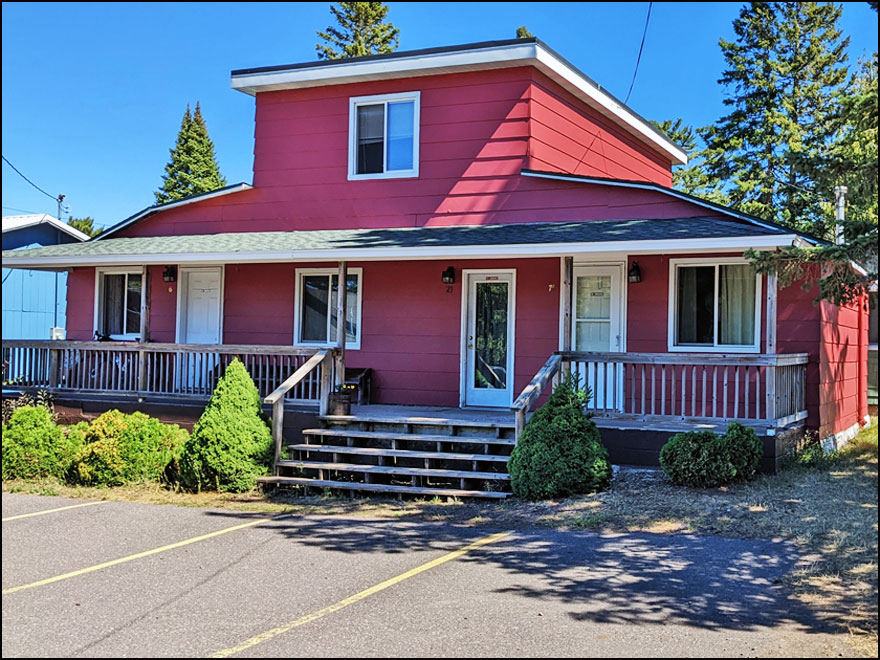 Everybody but me stayed in the double bed condo units on the lake. Having a single room I stayed in the building with single rooms . . .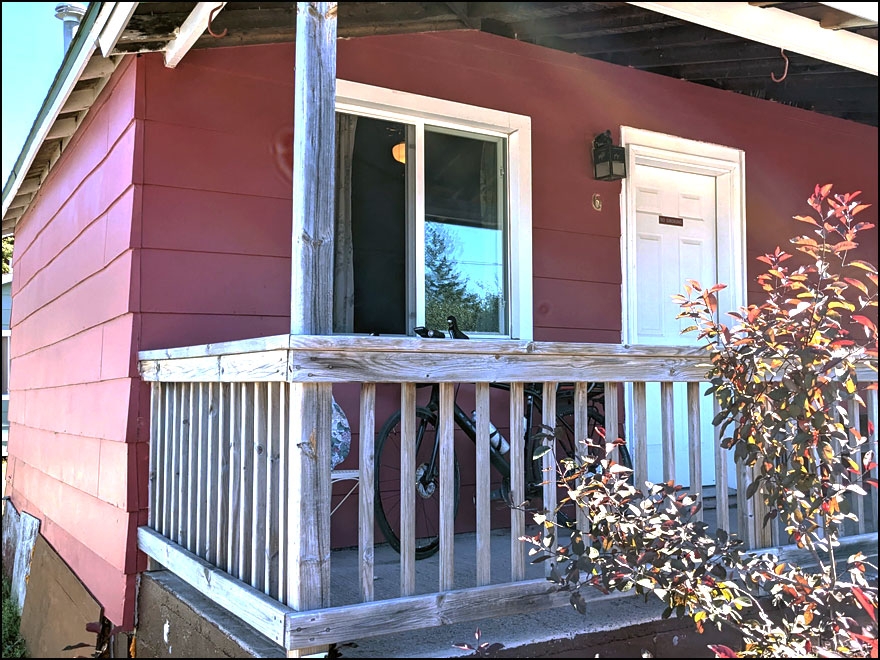 . . . room number 6, actually!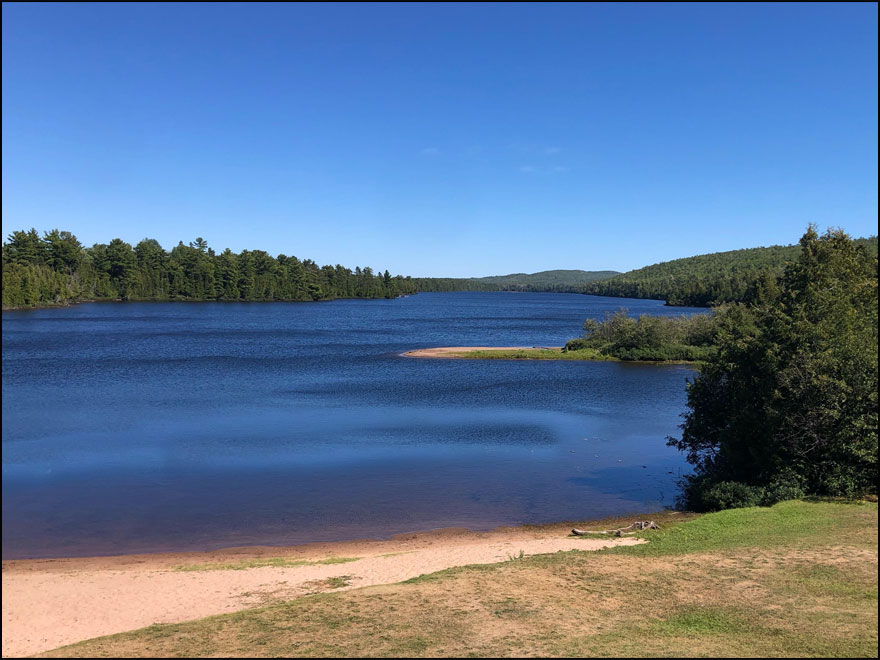 A view of the lake from TommyG and Sue's room.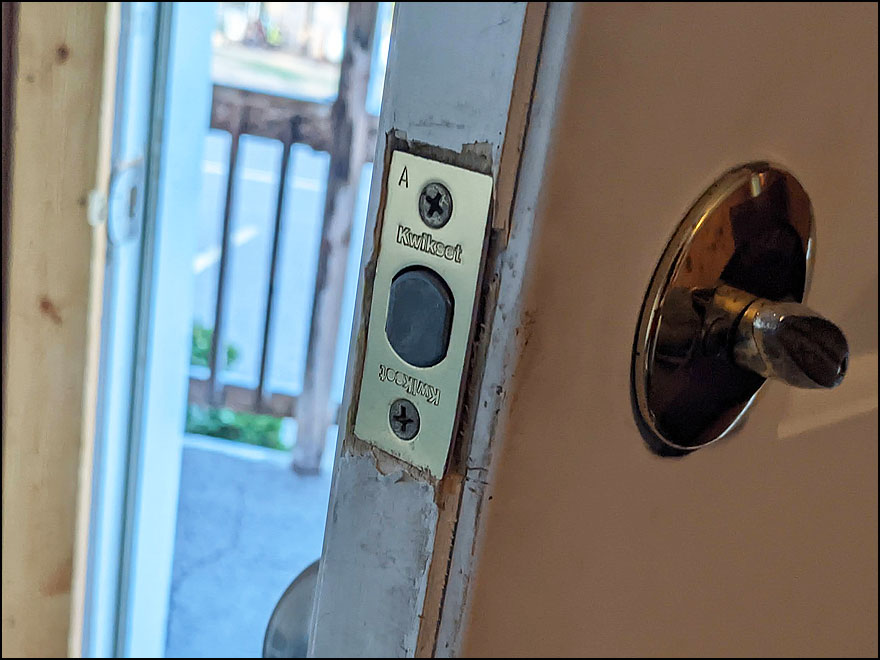 My room had some lock issues with the main latch not catching . . . so thought I would just use the deadbolt.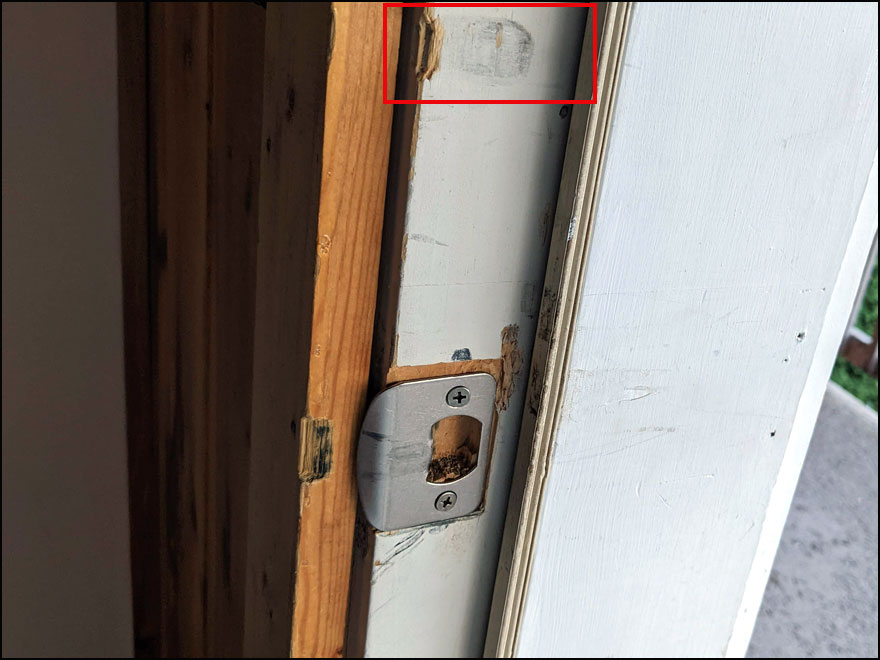 . . .  funny  though there was no hole in the jamb for the deadbolt. As seen above in the red square many people had tried to use it. In time, those actions may wear an appropriate sized hole in the jamb and it will work!!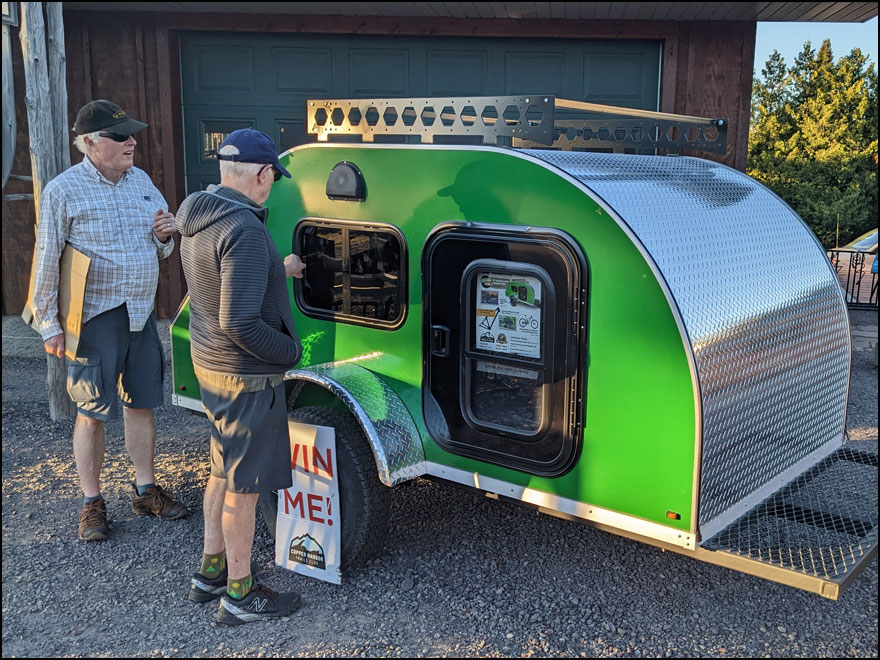 After a great dinner at the 'Lake Effect' Restaurant we walked farther downtown in search of ice cream and saw this teardrop trailer being raffled off . . .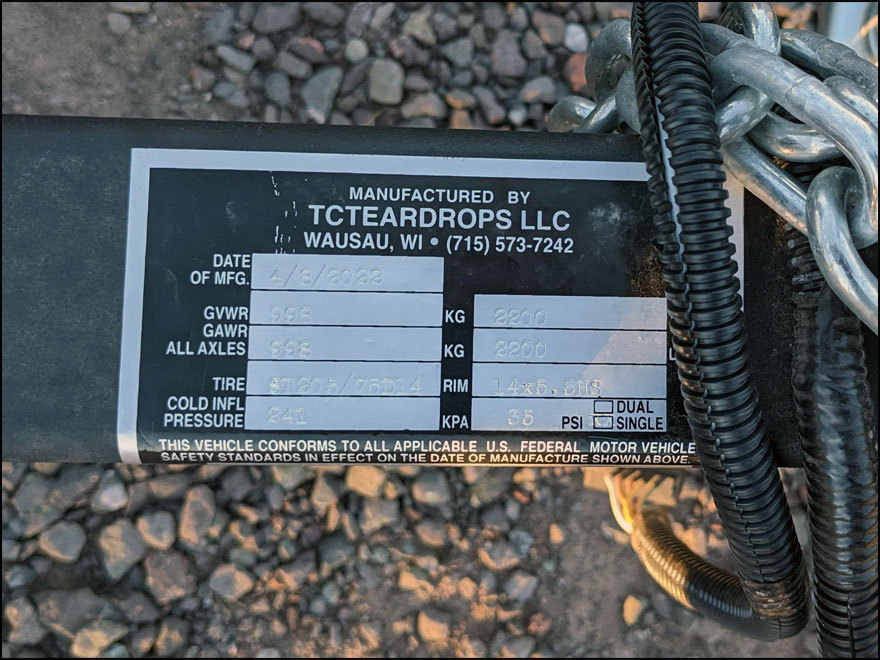 . . . it looked a lot like the one my neighbor John owns and sure enough it was made by the same company in Wausau!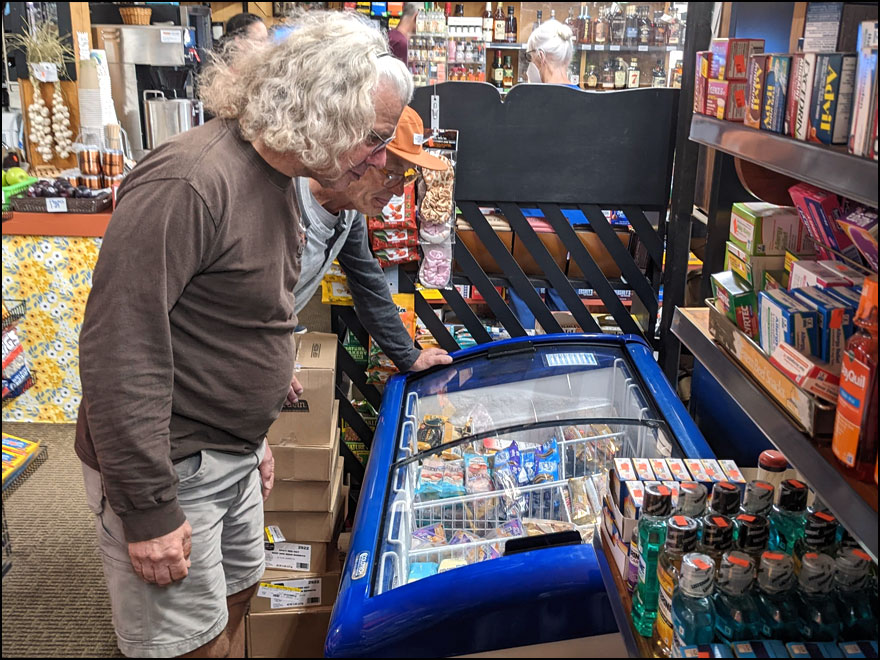 The classic general store knew its customers and had everything they may need . . .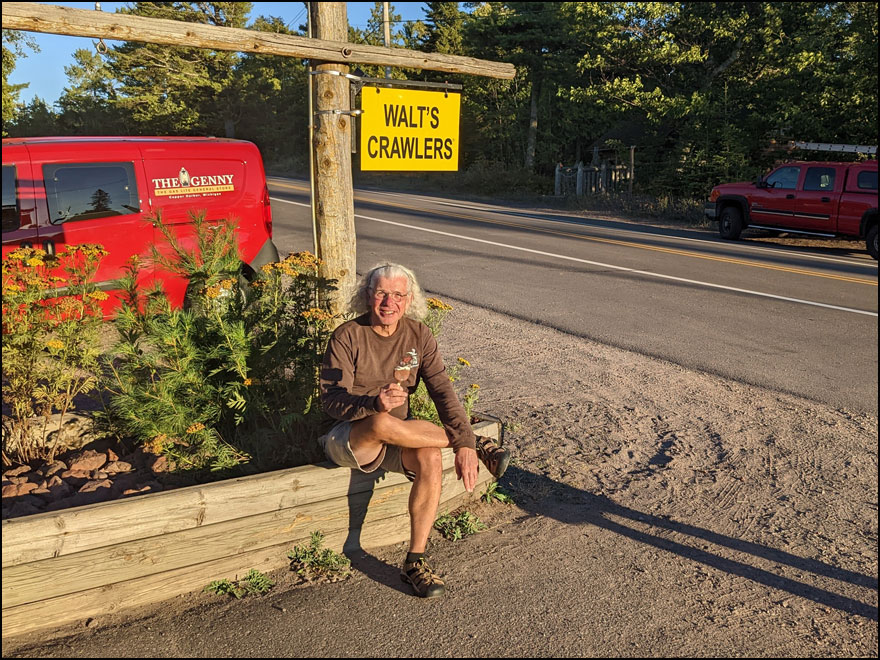 . . . Glenn was one happy biker!!!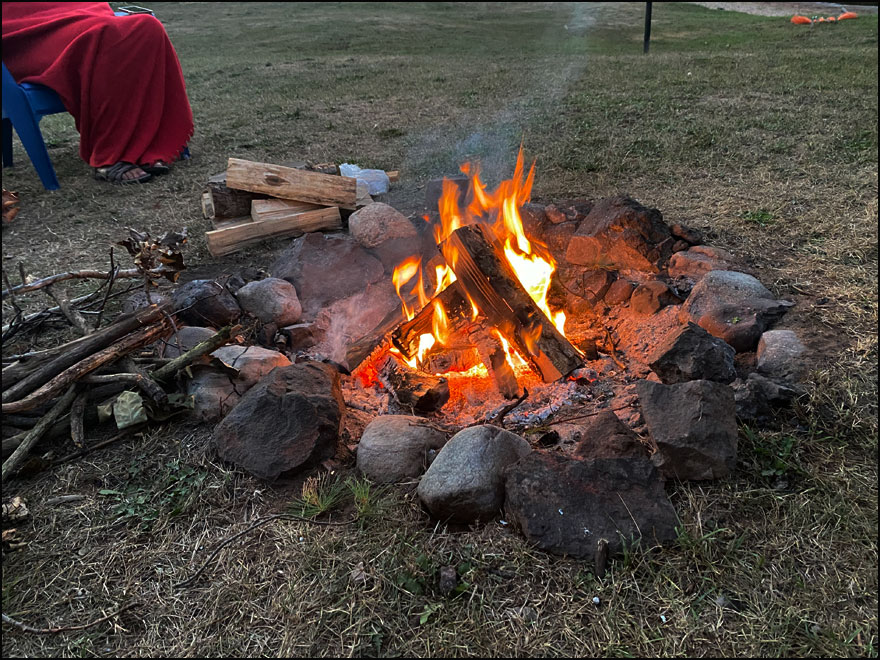 . . . what a way to close out a great day of biking by having a nice campfire and a few beverages!