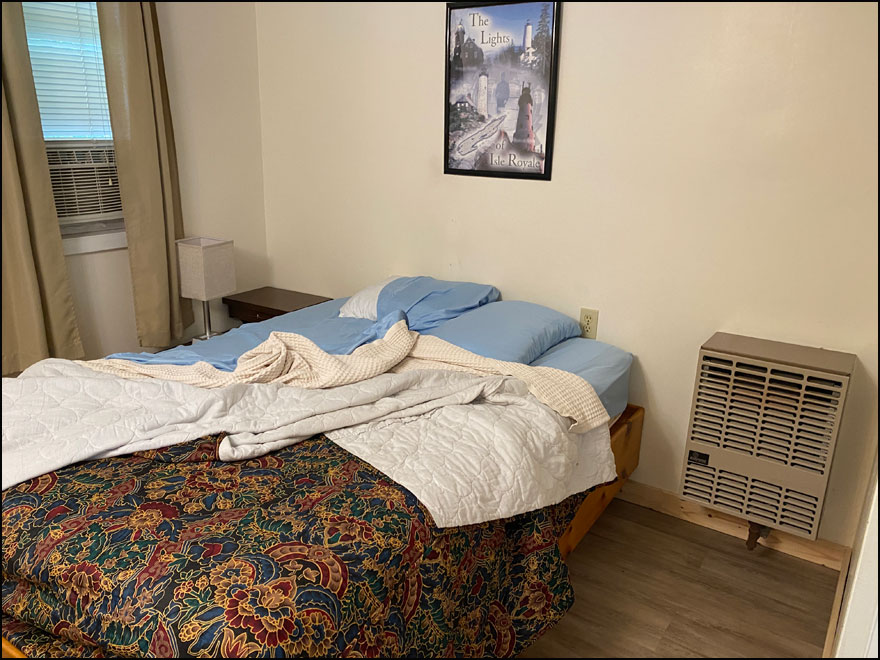 Greg ended up staying at a different motel because the Sunshine Motel was full. The rooms were basic but as you can see the wall art was stunning. . . .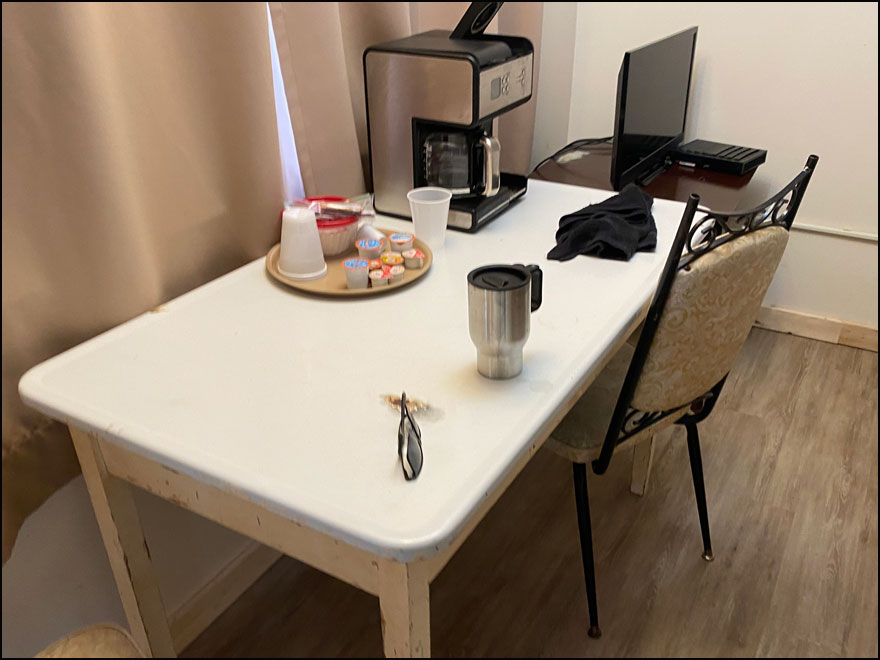 . . . which he was able to admire from his 'breakfast bar'!!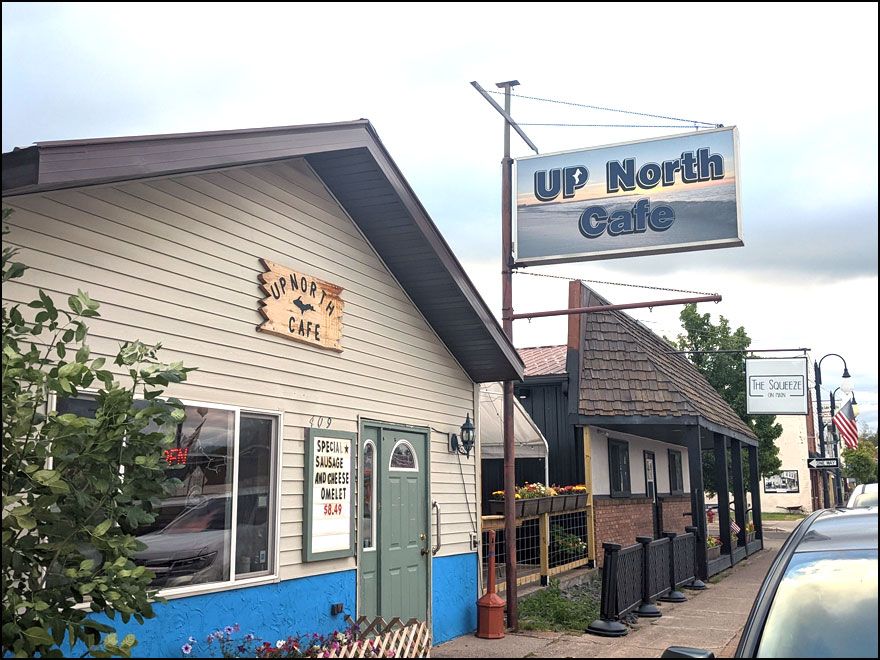 The main show in town for breakfast was the 'Up North Café' which was a real treasure. I was there at 7:00 when they opened. 

Ontonagon doesn't have a lot going on and as the waitress told us, "It's an hour drive to get to the Walmart in Houghton!"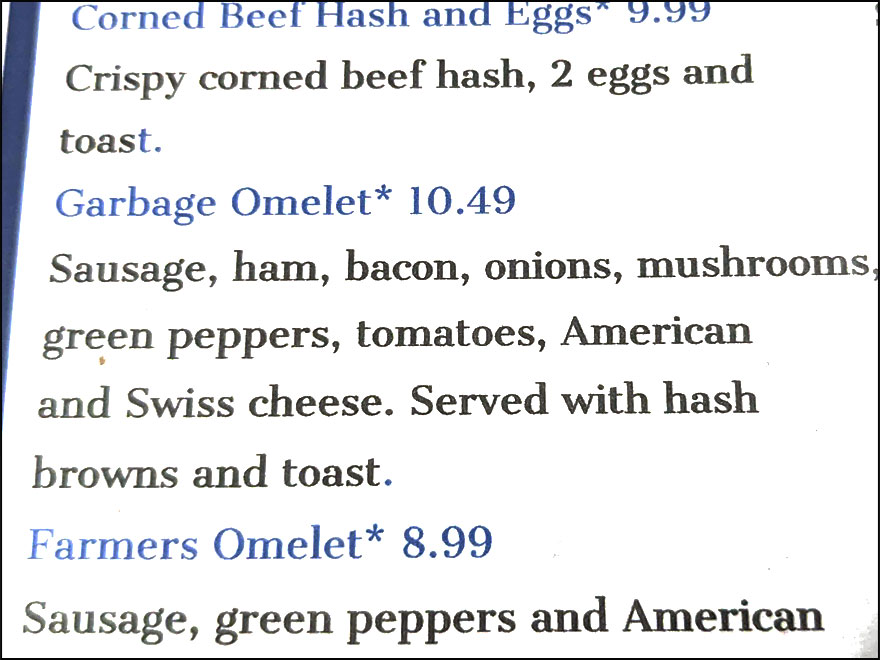 They had a little of everything and although the 'Garbage Omelet' was hard to pass up, I settled for the Veggie Omelet, with hash browns and toast . . . and lots of coffee. 

Soon TommyG appeared and ate heartily, followed by Greg who was also hungry!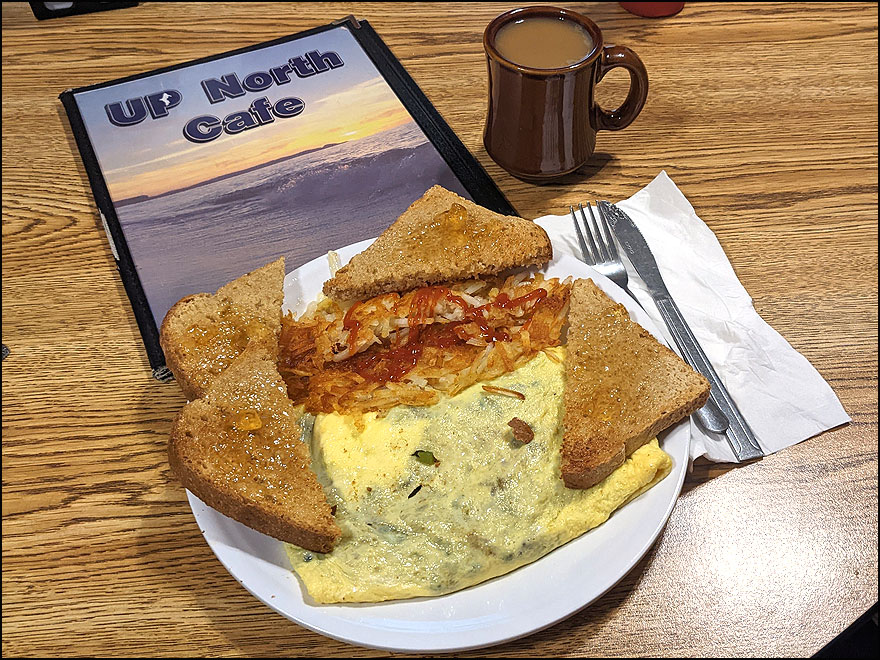 Plenty to eat!!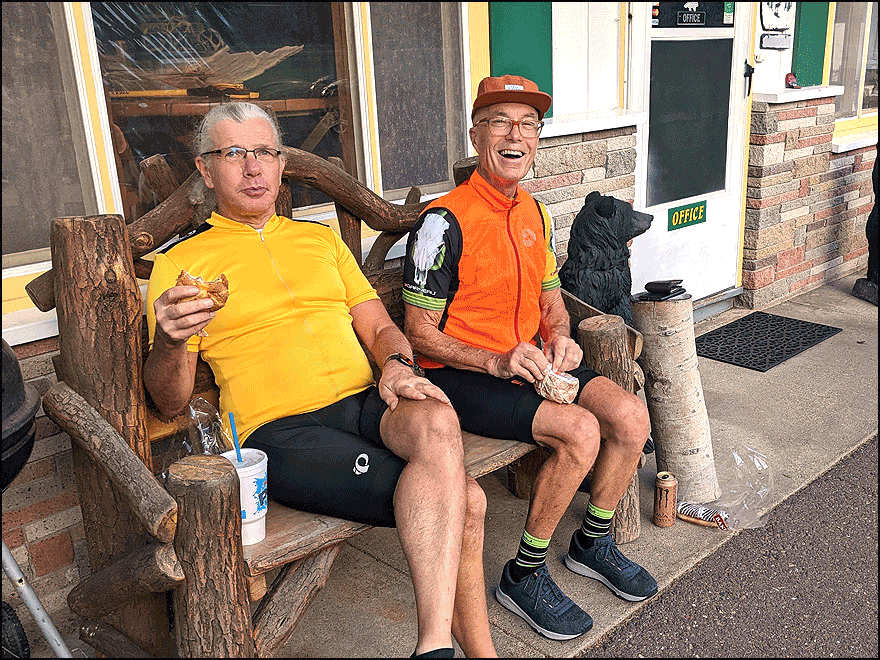 Sue had oatmeal in their room and Glenn and Dave settled for breakfast from the local Holiday station.

I must say the crème filled long john Dave had reminded me of my favorites from Kwik Trip!!!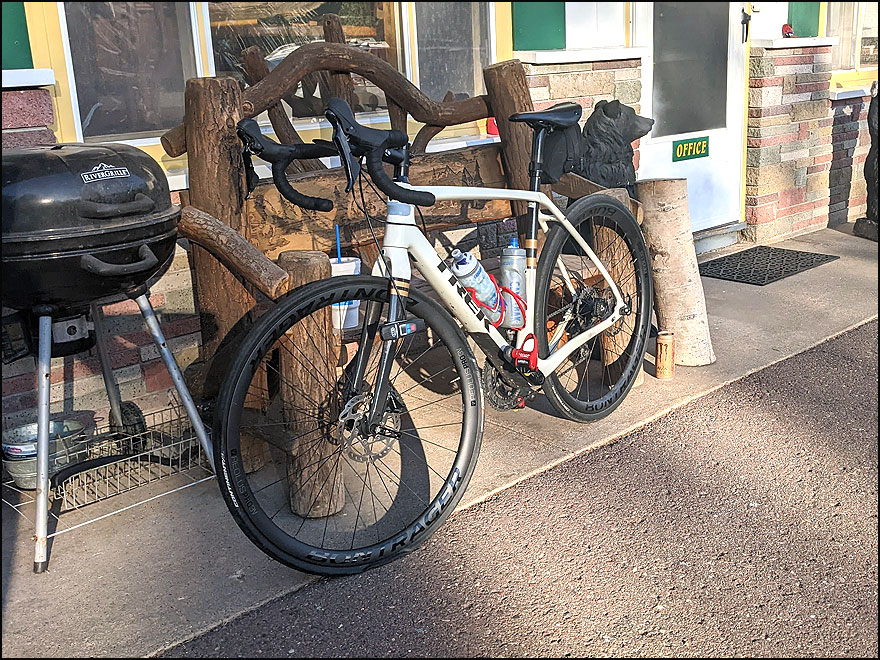 As we were loading up the bikes to shove off, something didn't look right about Glenn's TREK Checkpoint bike . . .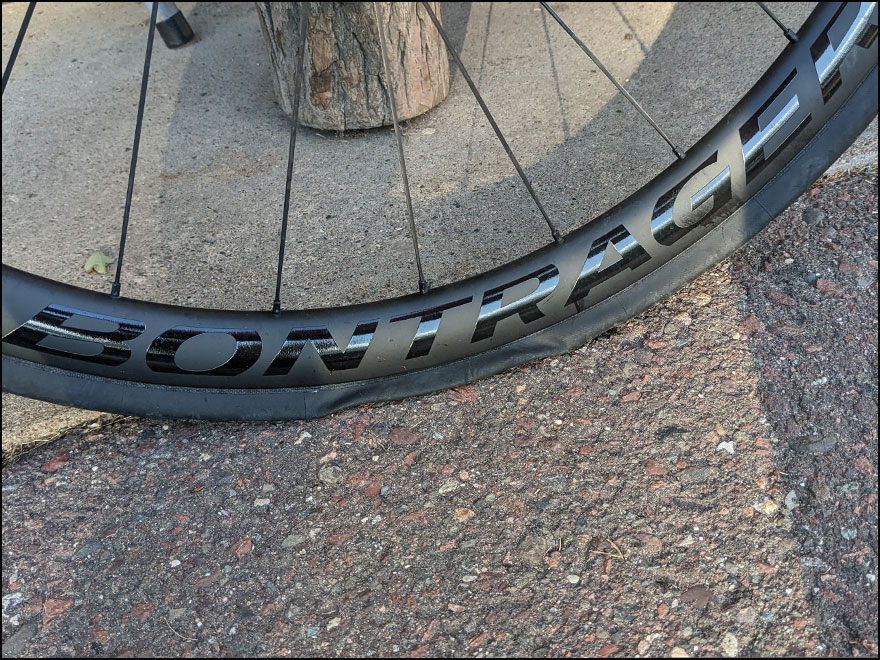 . . . sure enough a flat. The bike sat in his vehicle all night and went flat while resting. 
The rest of us headed down the road. He couldn't find anything in the tire or the tube so he put in a new tube and soon Dave and he were on their way. Dave and Glenn are our fastest riders and it wasn't long before they caught all of us!!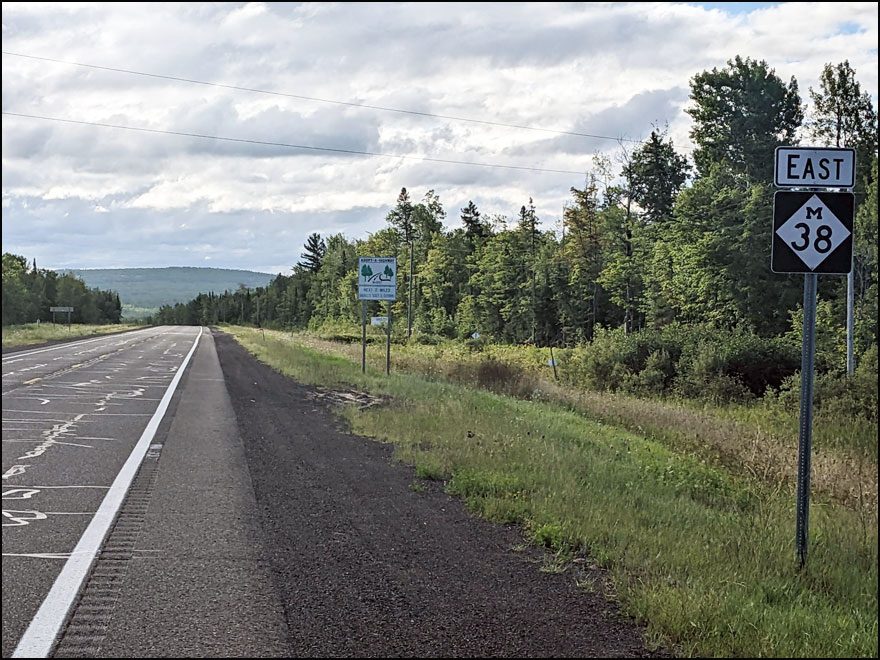 We would be on M38 for most of the day and the traffic alternated between non existent and mildly busy. Most of the trucks gave us a wide berth, but just like everywhere else there are some truck drivers who just don't like bikes on the road and will not give you an inch, even when there is no traffic coming the other way.


Most Michigan highways have a rumble strip on the shoulder and one down the center line. As Glenn noted, you can hear vehicles crossing the center line and it is always nice to hear it almost immediately repeated as they move their whole rig to the other lane.

It's the times when you only hear one pattern and hope they haven't crossed over the shoulder set. If that was the case, you'd never know what hit you!!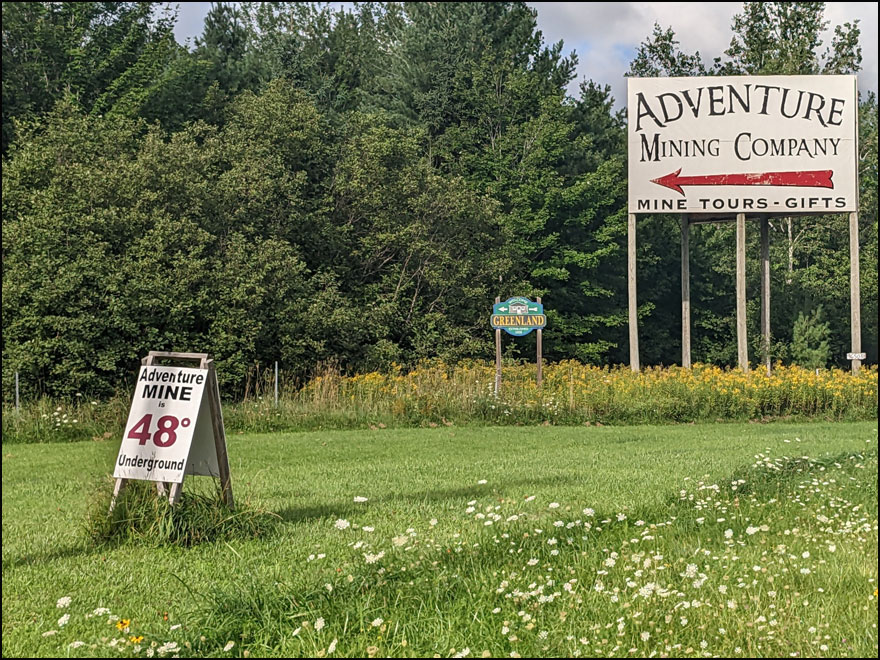 The Keweenaw peninsula has a rich mining history which continues even today. Lots of copper was mined in the past. 

Some of the mines are open for tours and as you can see at this one, the cool underground temp of 48 degrees is probably a real tourist draw during the middle of summer!!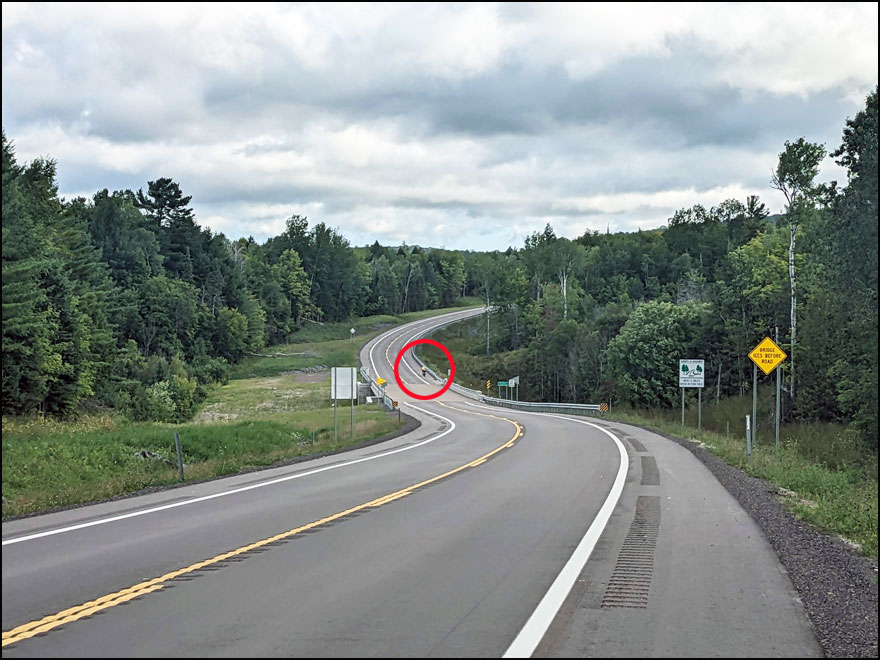 TommyG ahead as we navigate the ups and downs of the 2,350 feet of climbing we will have today.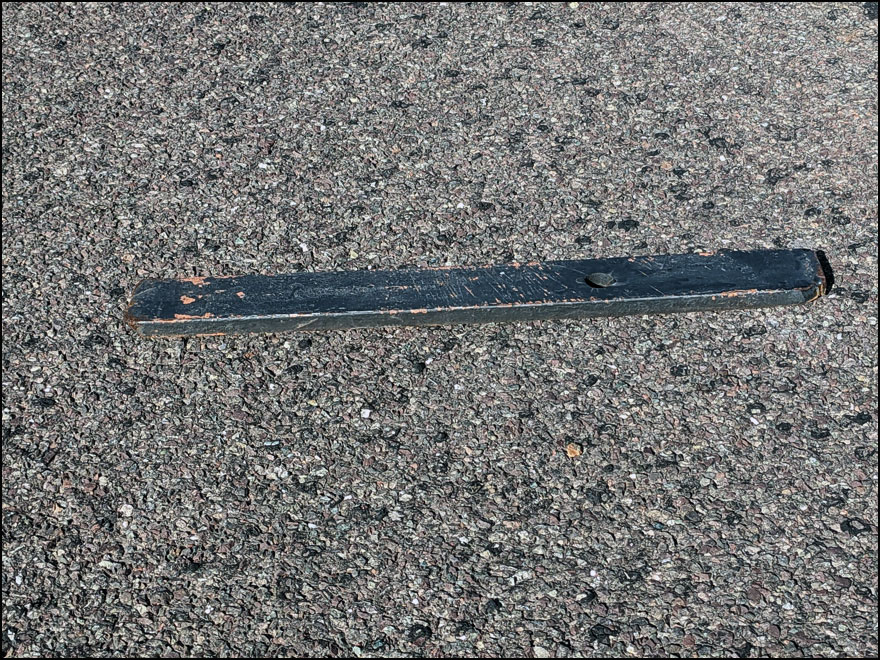 It's always amazing the things you see on the road shoulder. Here is one that will send a shiver up the back of any rider. 

You don't want to be in the wrong place, at the wrong time, when something like this comes flying off a truck at 65 miles an hour. Would probably go right through you!!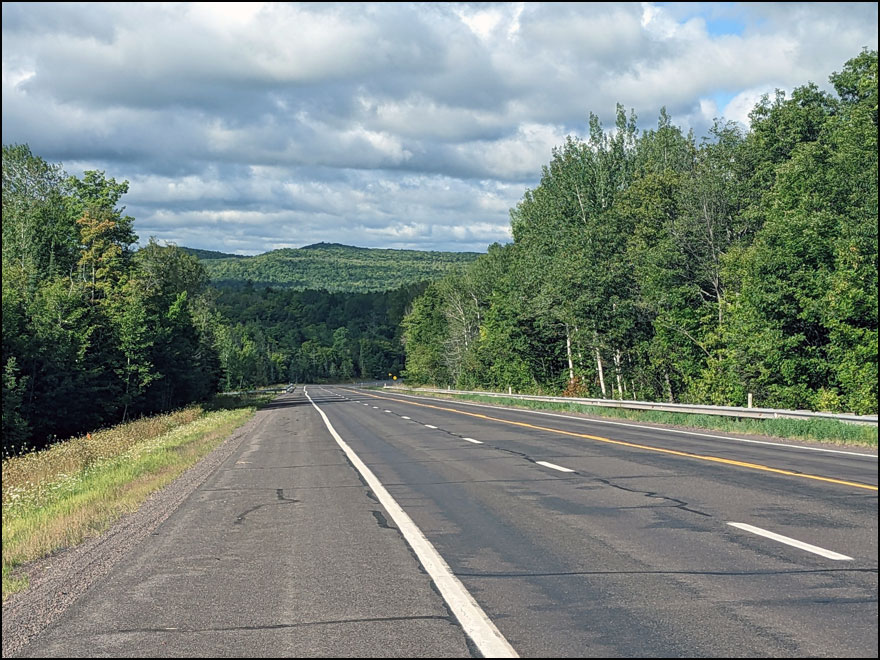 A nice downhill about 30 miles into the ride . . .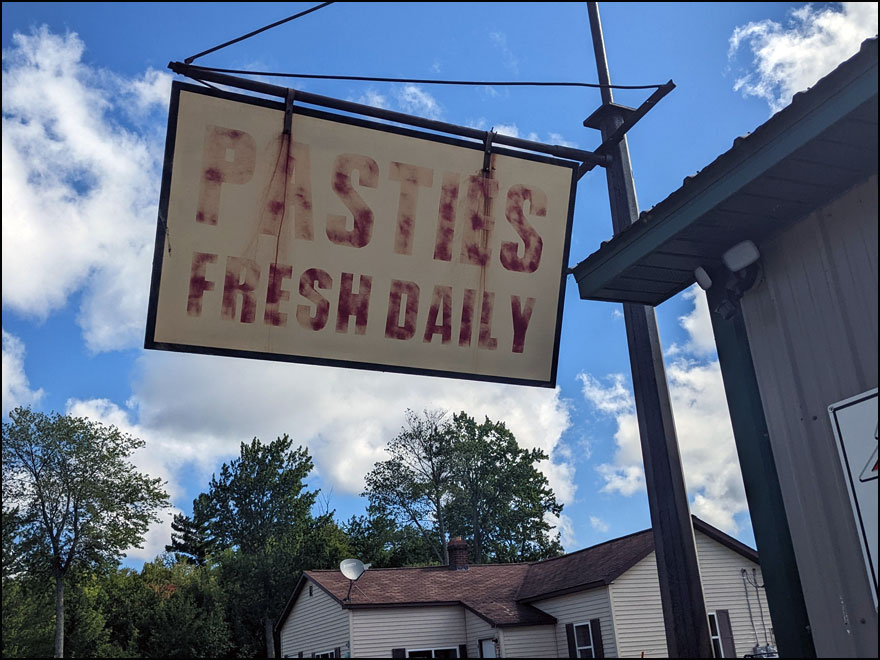 . . . brought us to the lunch place our waitress had told us about this morning at breakfast. The 'best pasties' in the UP!!! We eventually all arrived and everyone enjoyed a pastie but me. No veggie pasties!!!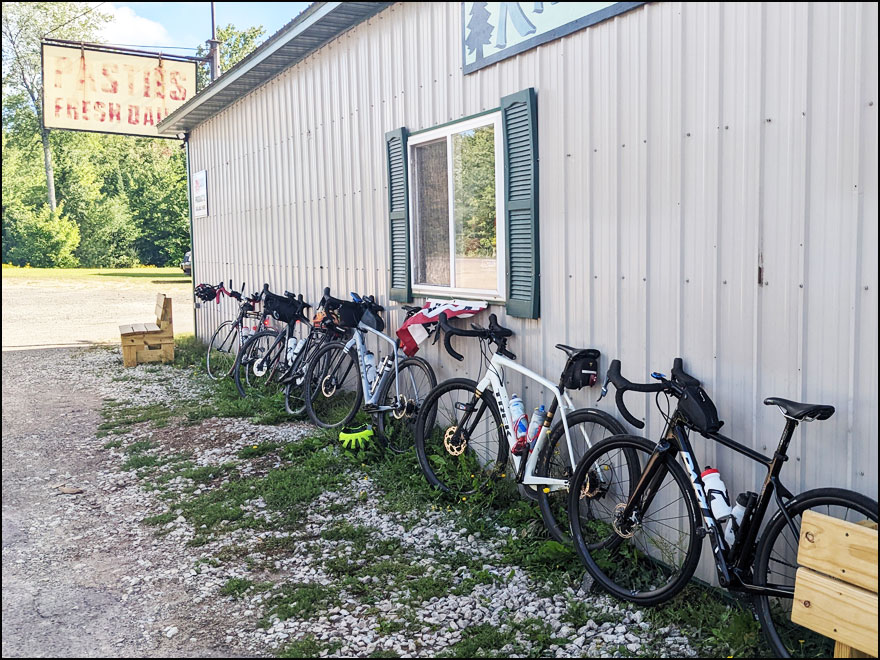 A pasty is a British baked pastry, a traditional variety of which is particularly associated with Cornwall, South West England but has spread all over the British Isles. 
The main ingredients are a pastry case traditionally filled with beef skirt, potato, swede (rutabaga} and onions. Dave gave his a thumbs up!!
Greg decided to take a route closer to the lake today that ended up having a pea gravel or larger stone surface. He rode about 20 miles out until he realized he had forgotten his pump which he would need if he had a flat . . .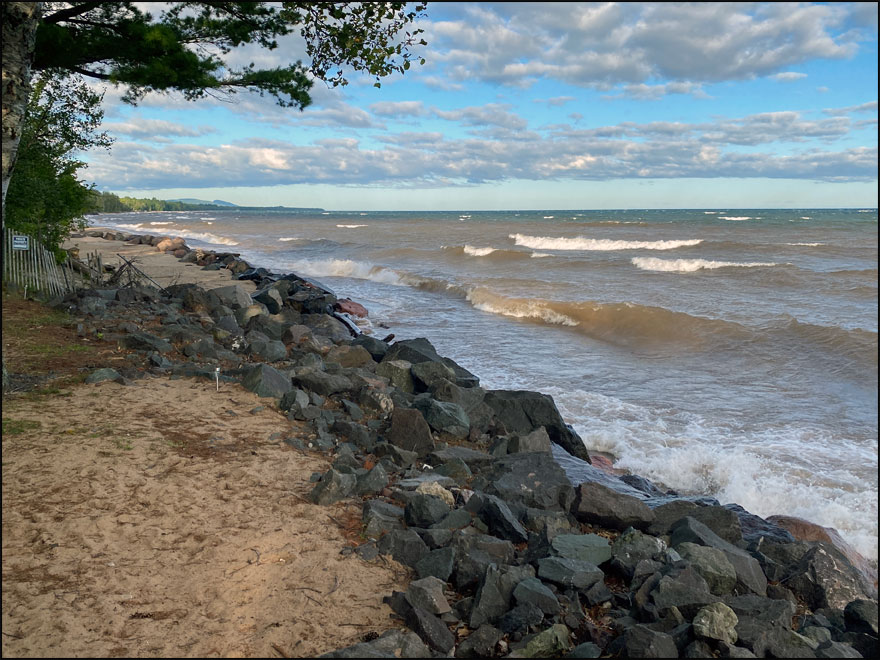 So, he decided to turn around and ride back to Ontonagon. And . . . he had no cell service which was to be the case for all of us during the days to come. 

No cell towers in the UP!!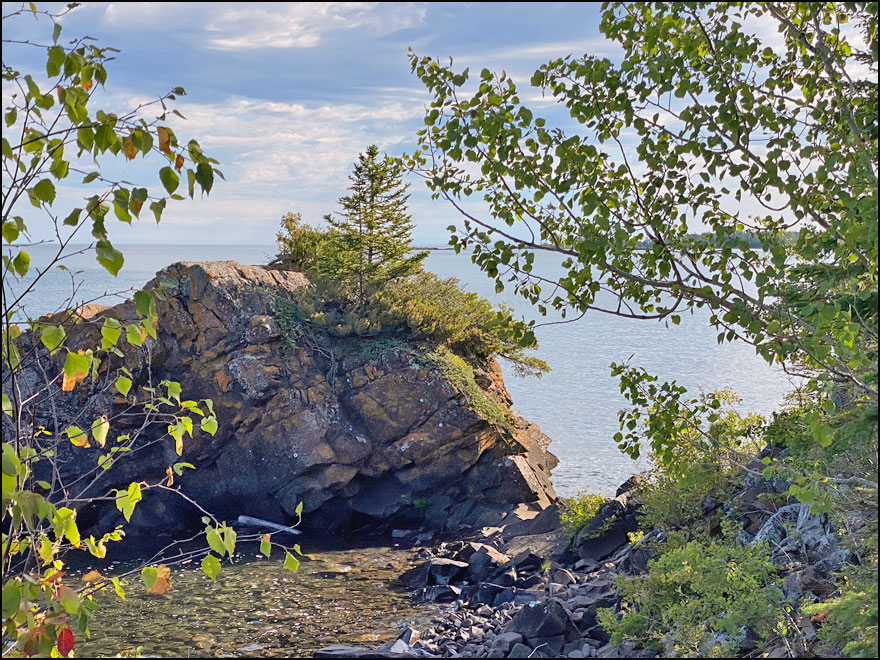 One thing he noted on his ride was the fortitude conifers have up here in not only surviving the vicious winter weather but also the lack of soil. 

Some grow right out of the rocks!!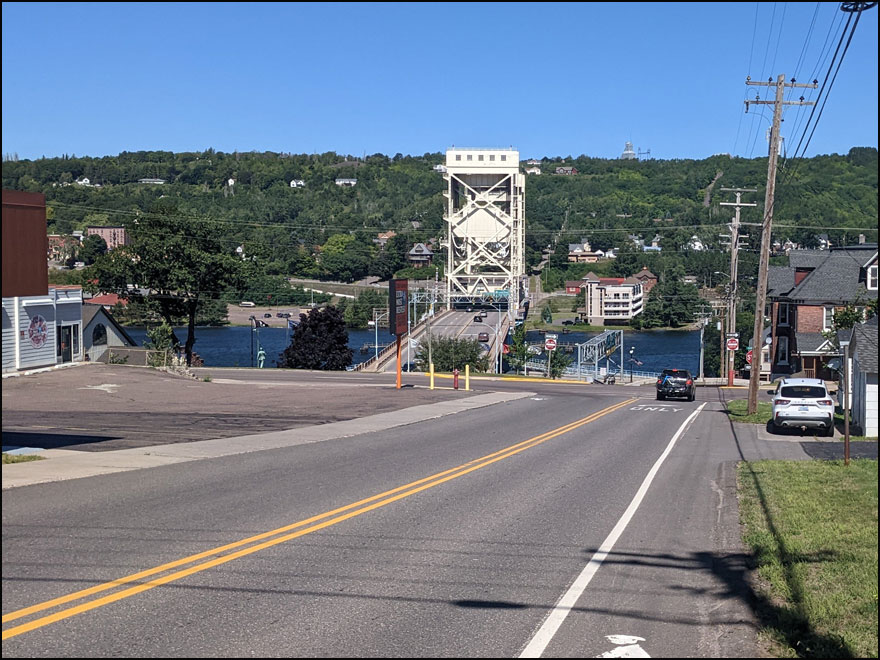 At Painesdale we turned off Hwy M38 and rode the final hour to Houghton on beautiful low traffic roads with rolling hills. 

It was very quiet, after being on the highway all day, and the afternoon sun felt great on our backs!!

We descended a very steep series of hills and soon saw the lift bridge Houghton is so famous for.

Unfortunately for Glenn, at five blocks from the motel, had another flat. But fortunately he was so close to the motel that Sue drove out with the van to pick up him and the bike. 

In the comfort of his room (rather than sitting on the side of the road somewhere) he spent about a half an hour inspecting the tire and finally found a pieced of wire embedded in the tire. Problem solved!!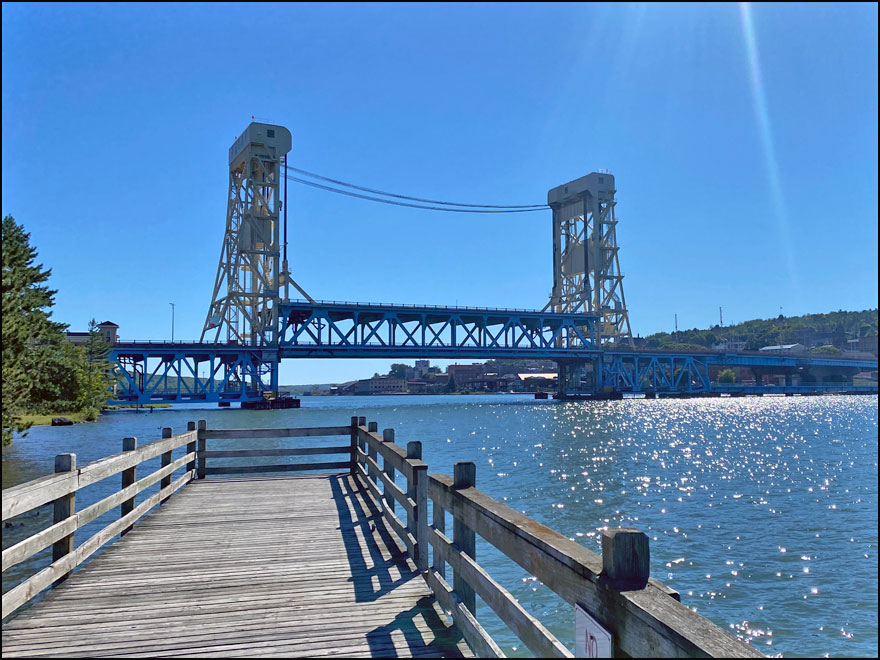 You can see it from almost anywhere in town . . .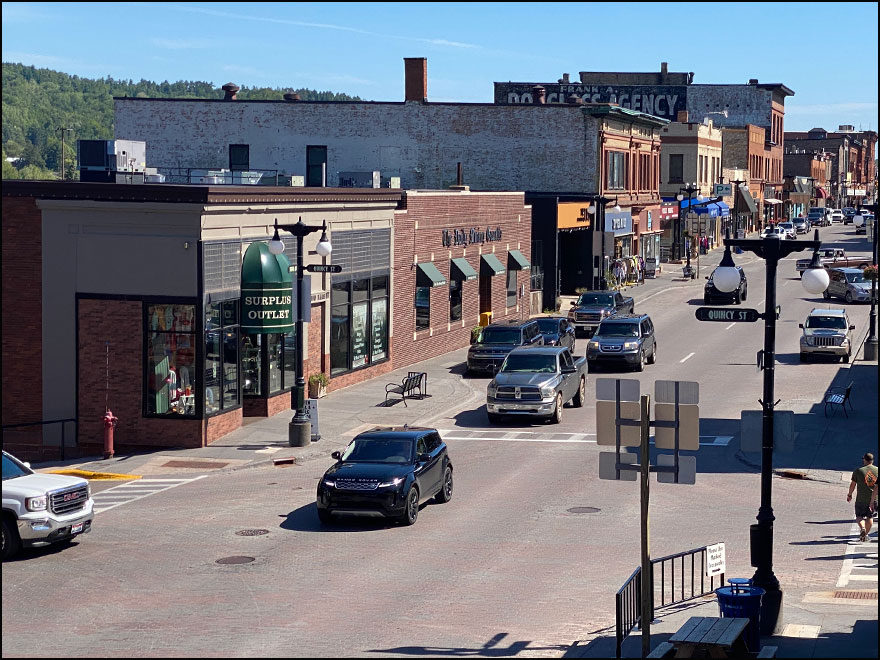 . . . which has a busy main drag with lots of restaurants, shops and breweries!!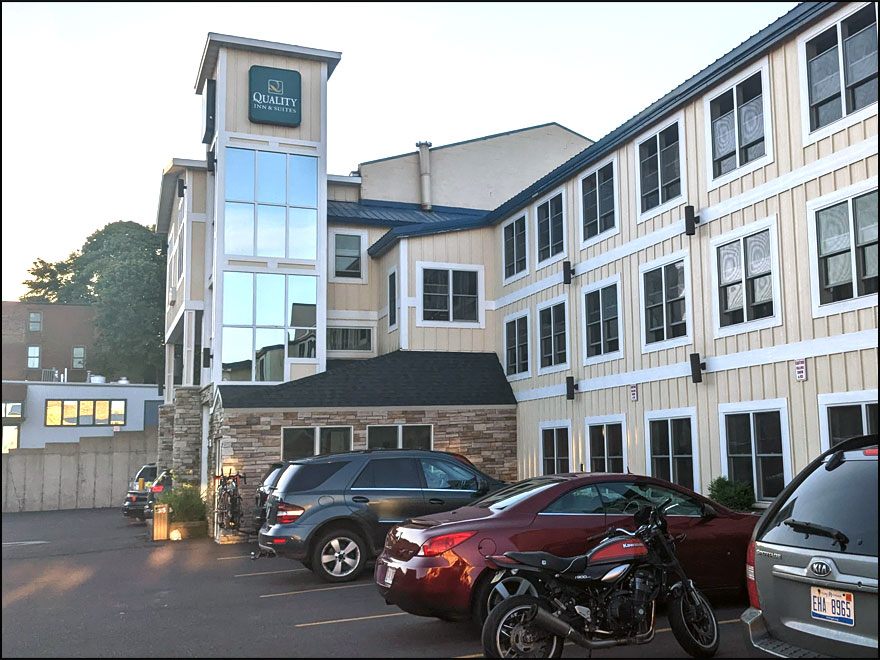 Tonight we would all be staying at the Quality Inn, definitely a step up from our accommodations last night. 

It is four stories tall and built into the side of a VERY steep hill.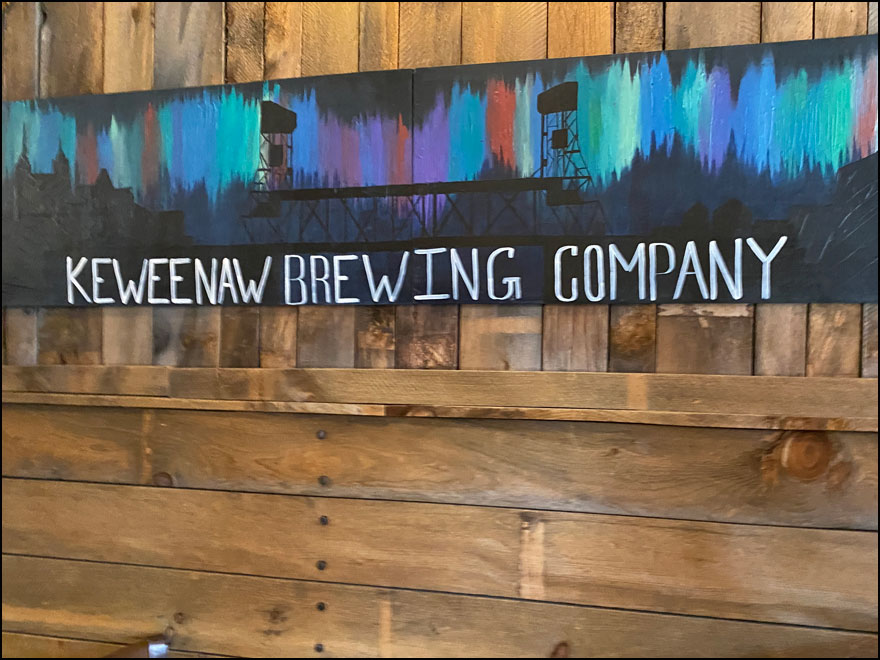 It was a short walk to the Keweenaw Brewing Company . . . our fist stop after moving into the Quality Inn and getting cleaned up.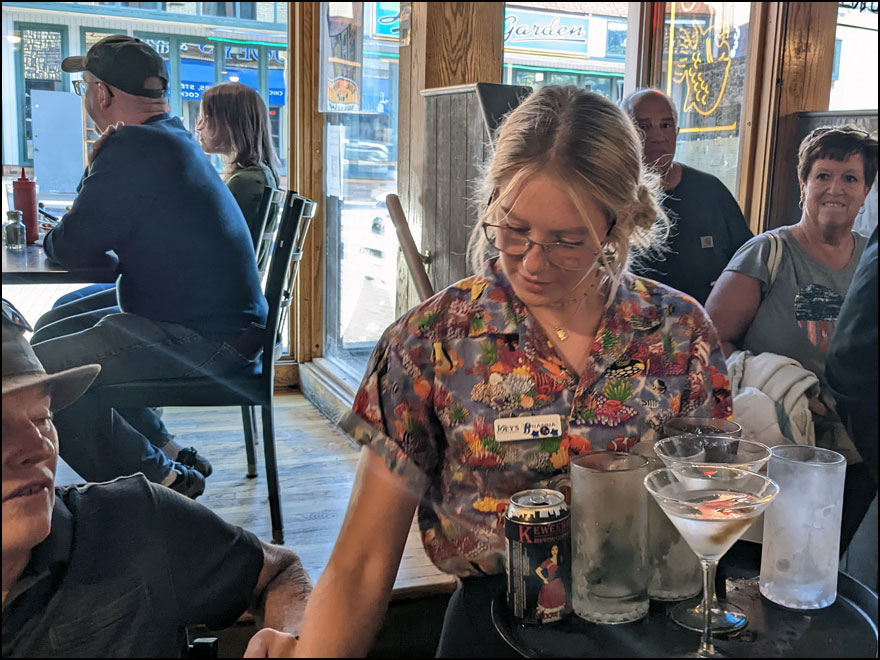 Soon we all headed over to Joey's Seafood and Grill where we all had drinks . . . Sue, TommyH and I imbibed with a Joey's special 'Serious Martini' including your choice of Bombay Sapphire gin or Grey Goose vodka . . .
 . . . followed by seafood all round. Some of us had dessert too!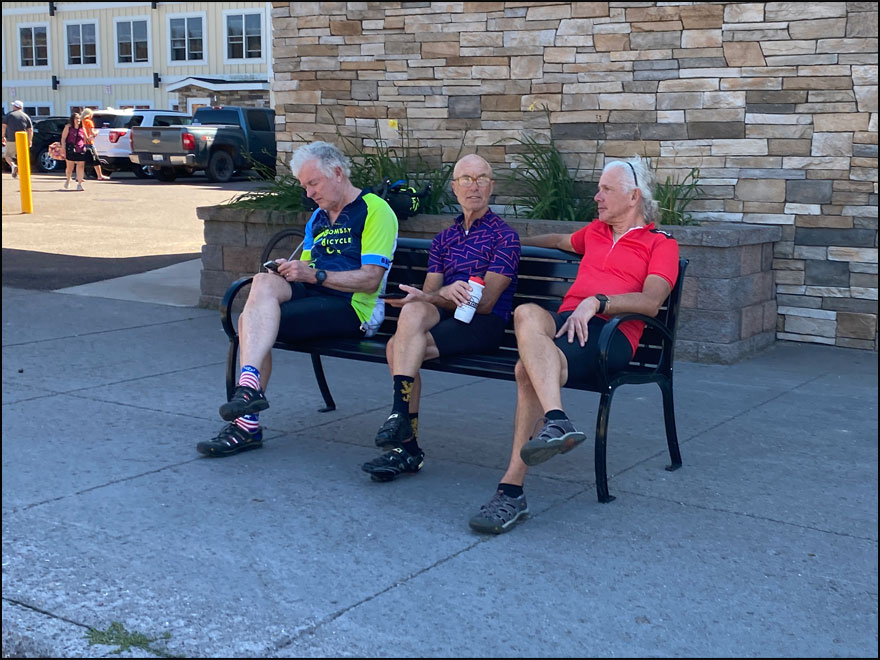 After such a big eatfest it was time for a walk, but some of us decided to take a seat and watch the world go by!!