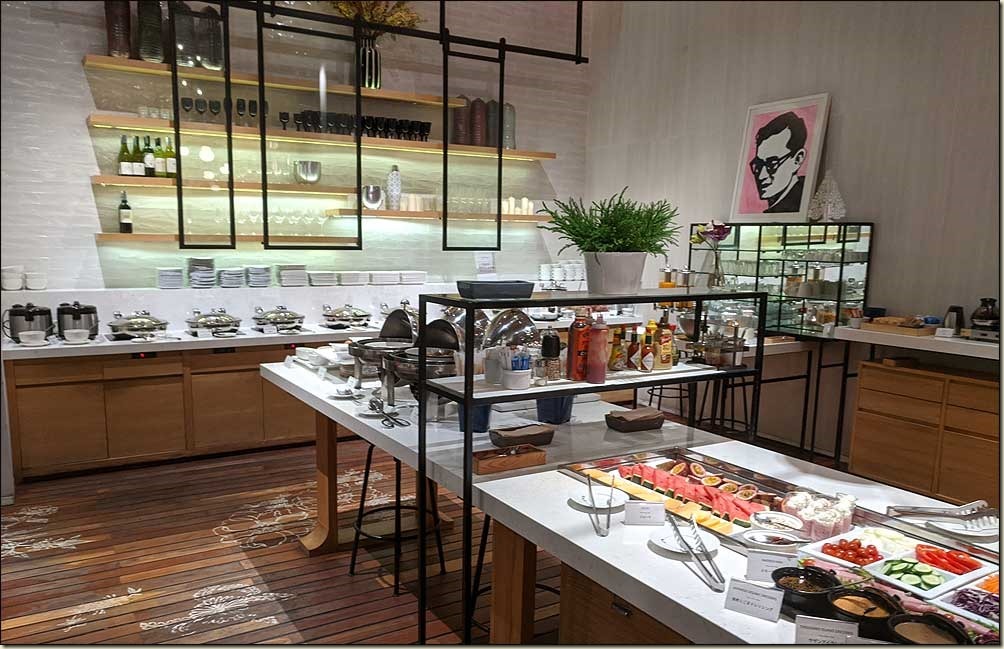 This is the breakfast layout at the Somerset Hotel. Rick continues his early rising by 6:00, and heads to the breakfast room.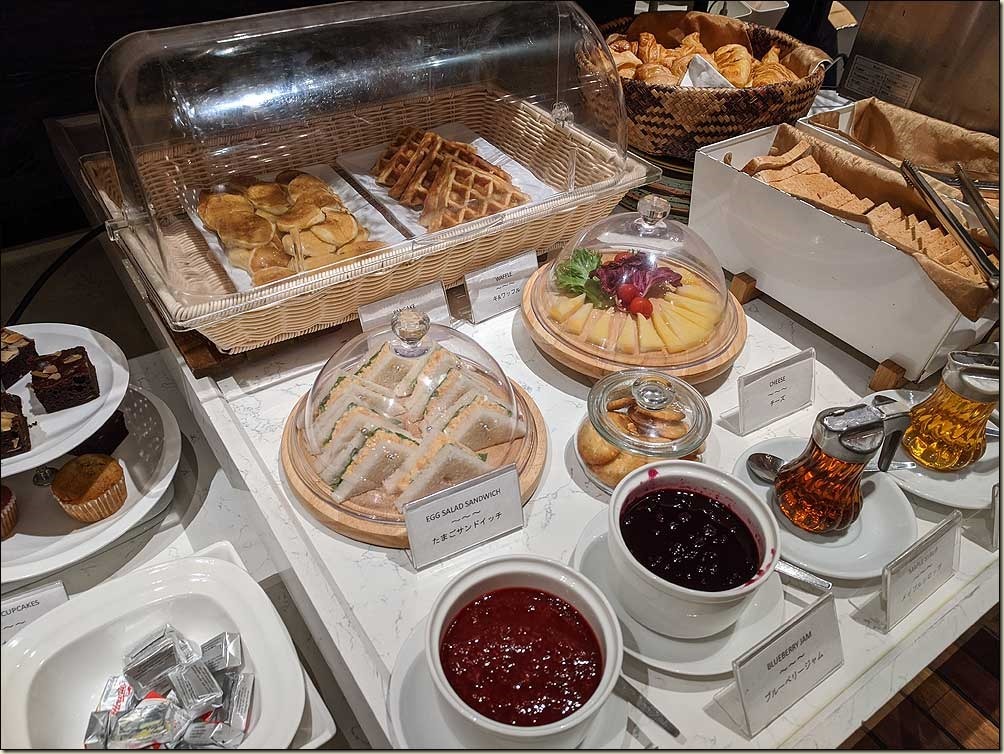 Nice assortment of breads, pancakes, and even crustless egg salad sandwiches!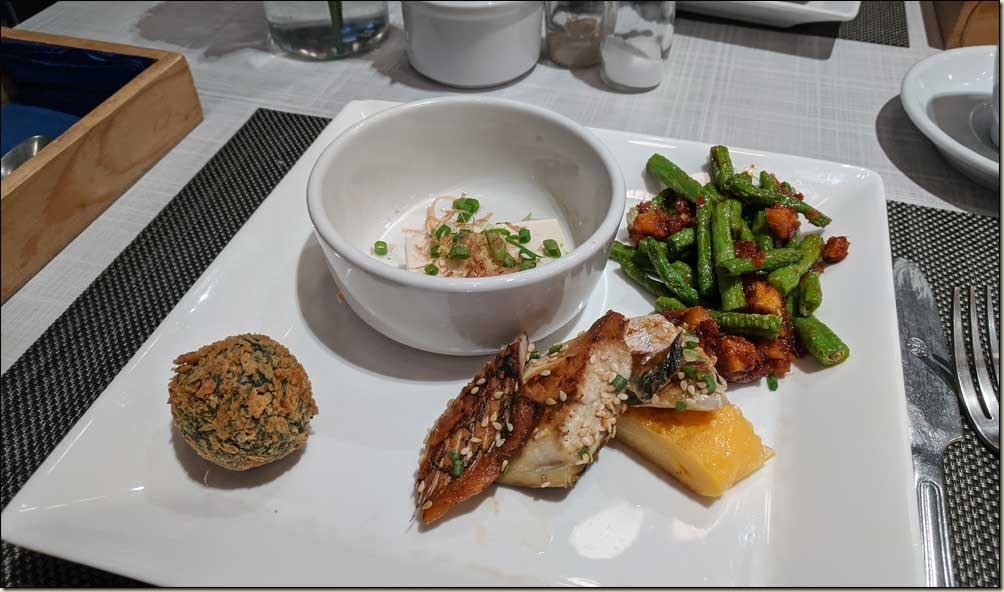 Today Rick enjoyed an omelet, potatoes and toast chased by a yummy Japanese breakfast of spinach ball, tofu, spiced green beans, squash, and grilled mackerel! Rick texts MJ photos of his food to help get her out of bed and down to breakfast!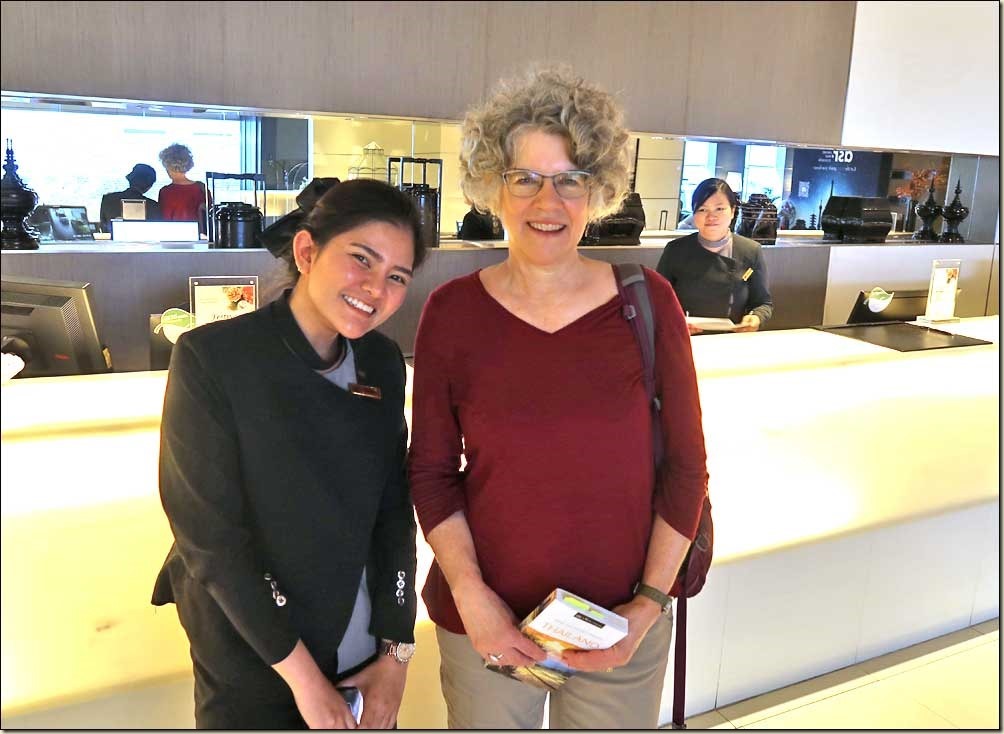 While we were in the lobby preparing for our day's outing, a family also staying at the hotel said to us: Where in the US are you from? Turns out they were from Minnesota! Then Minnie at the front desk shared that she spent last summer at the Wisconsin Dells! She was a lifeguard at the Wilderness Water Park there. Small world!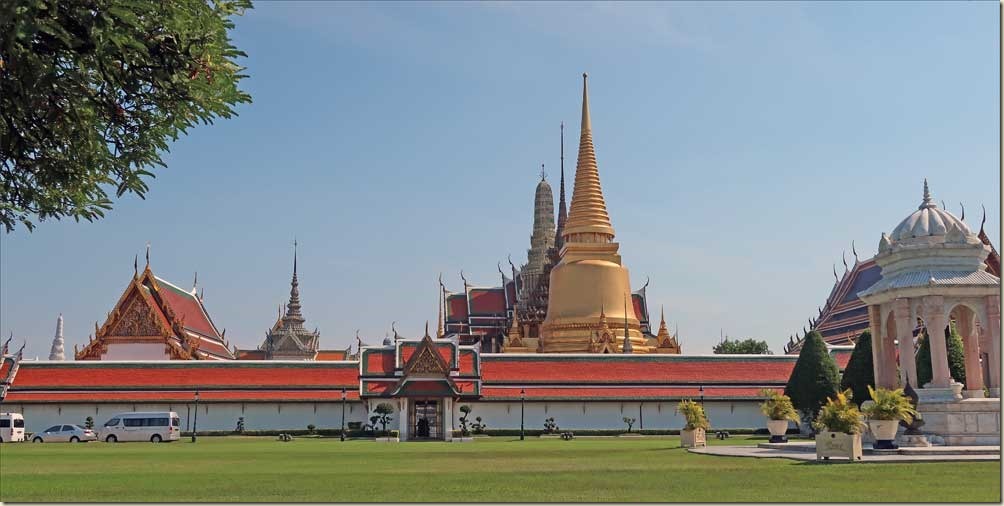 We took a cab for a 30 minute ride to the old part of Bangkok to tour the Grand Palace. Covering about 60 acres, the site includes Thailand's most holy temple and a lavish palace that was once home for the  king. In the past it was like the White House, with many government buildings. Today its use is mostly ceremonial.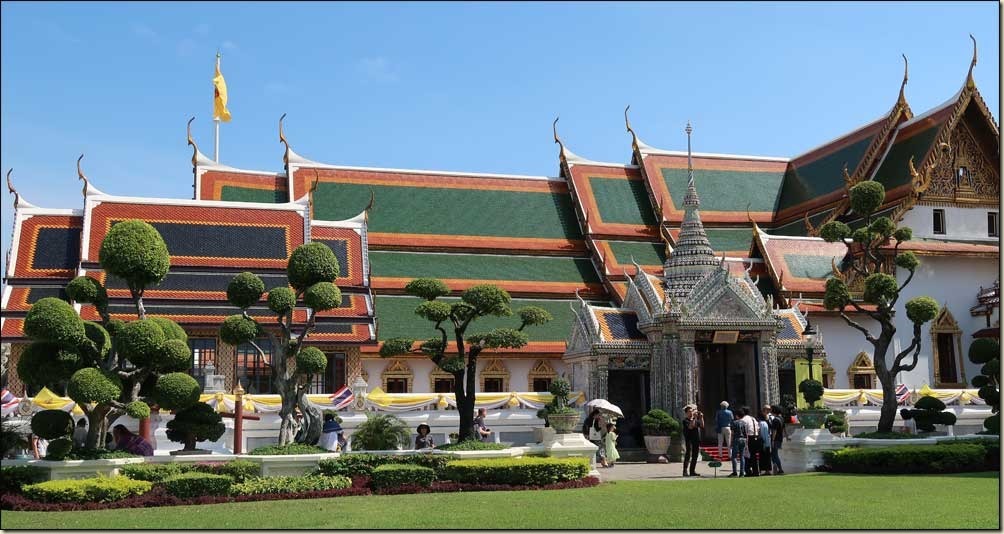 This is Dusit Throne Hall with very lush grounds and fun topiary trees!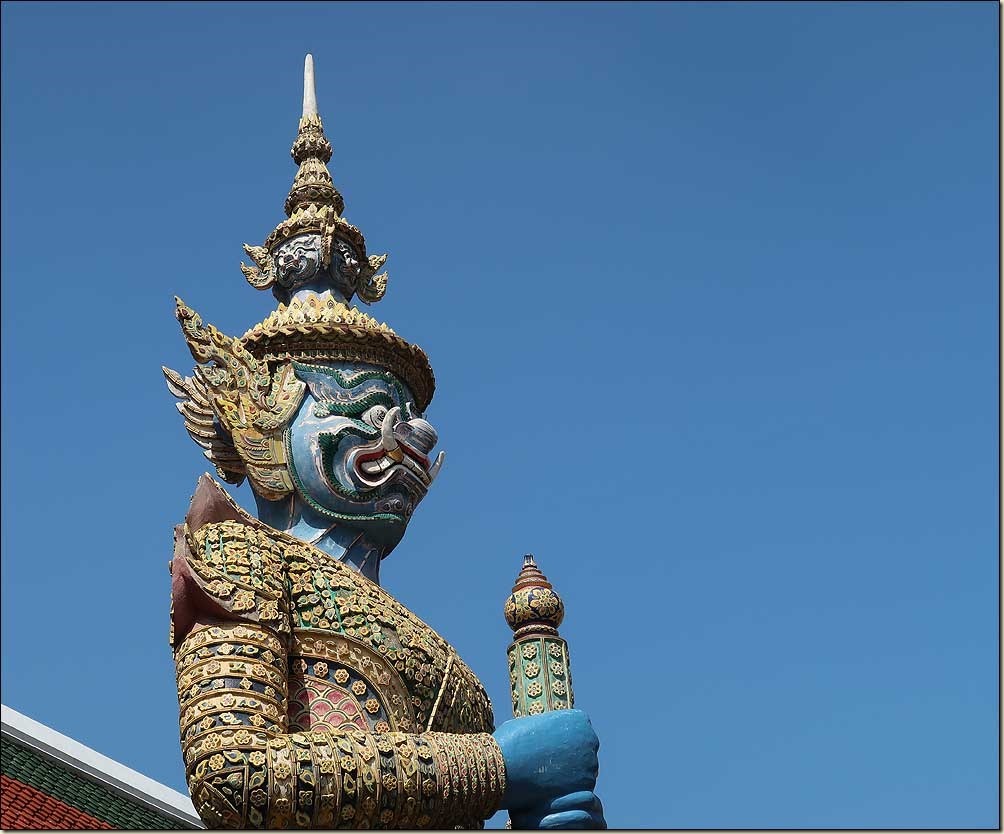 Six pairs of demon giants like this one guard the entrance gates to the temple. Wouldn't want to meet him in the alley!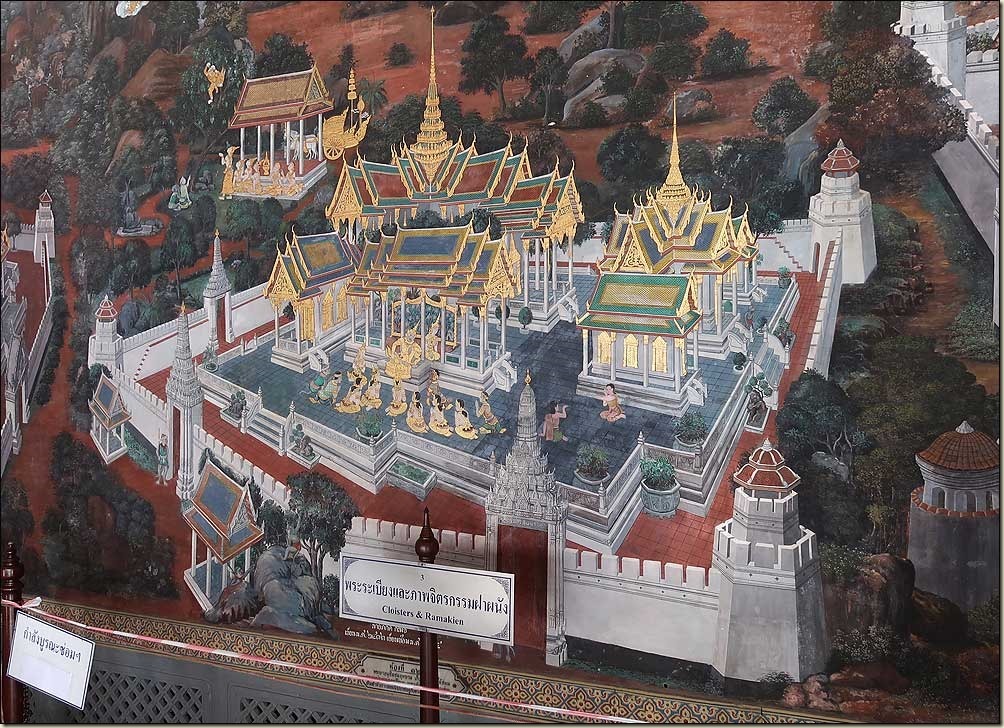 In the galleries (or loggia) around the temple are 178 mural panels depicting scenes from the Ramakien epic. This is the Thai version of a story from India about the triumph of good over evil.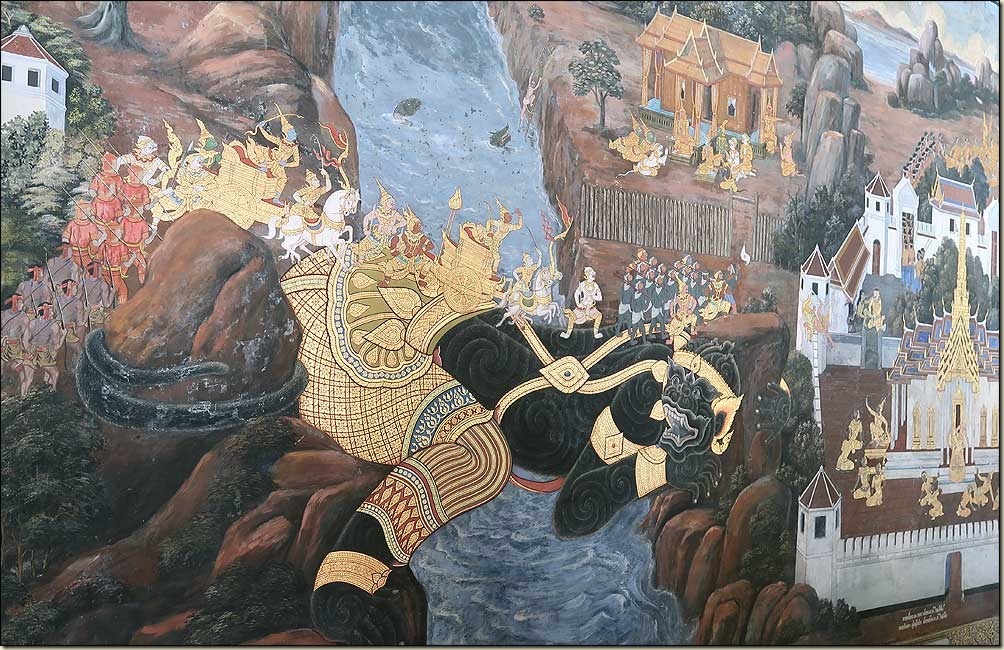 Warrior monkeys were part of the story, including this giant one that served as a living bridge for the troops to cross!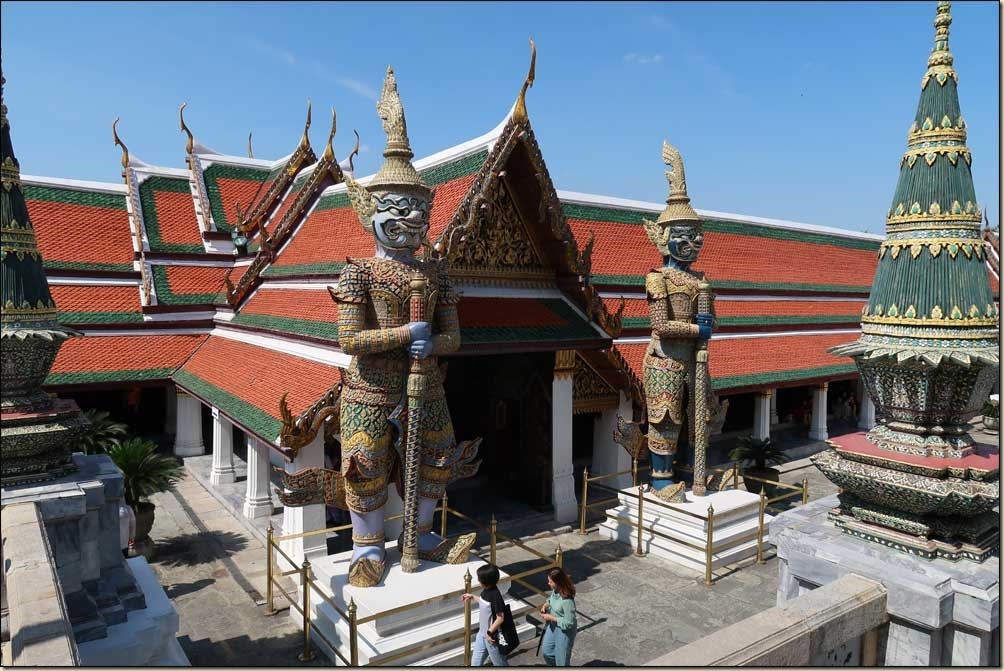 Guardian giants—they are BIG!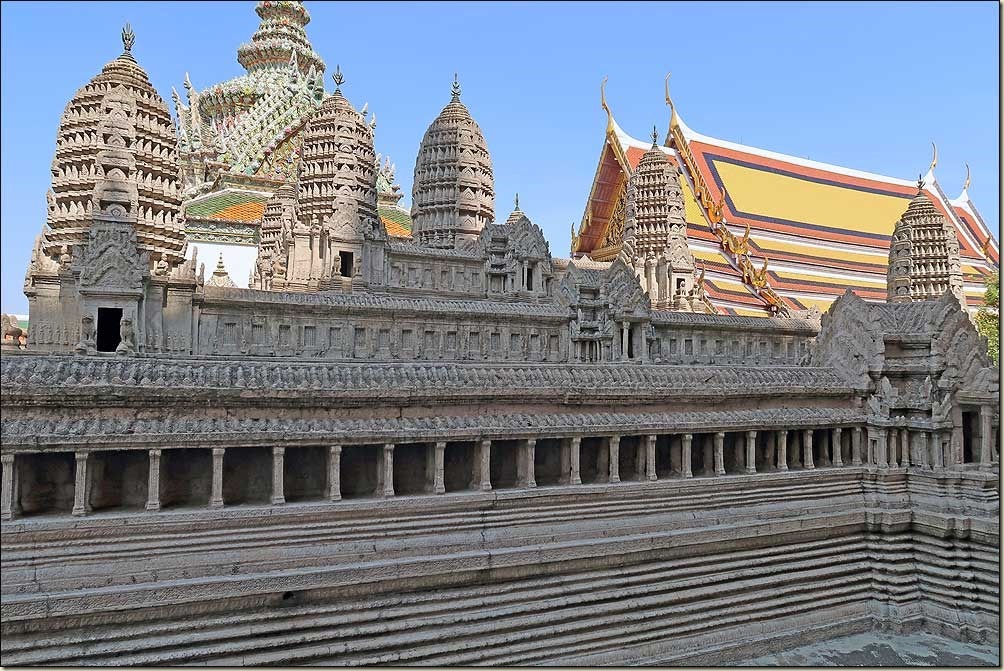 This is a scale model of the famous Angkor Wat temple in Cambodia. Rick toured it while there last year. The King of Cambodia gave the sandstone carving as a gift to the King of Thailand.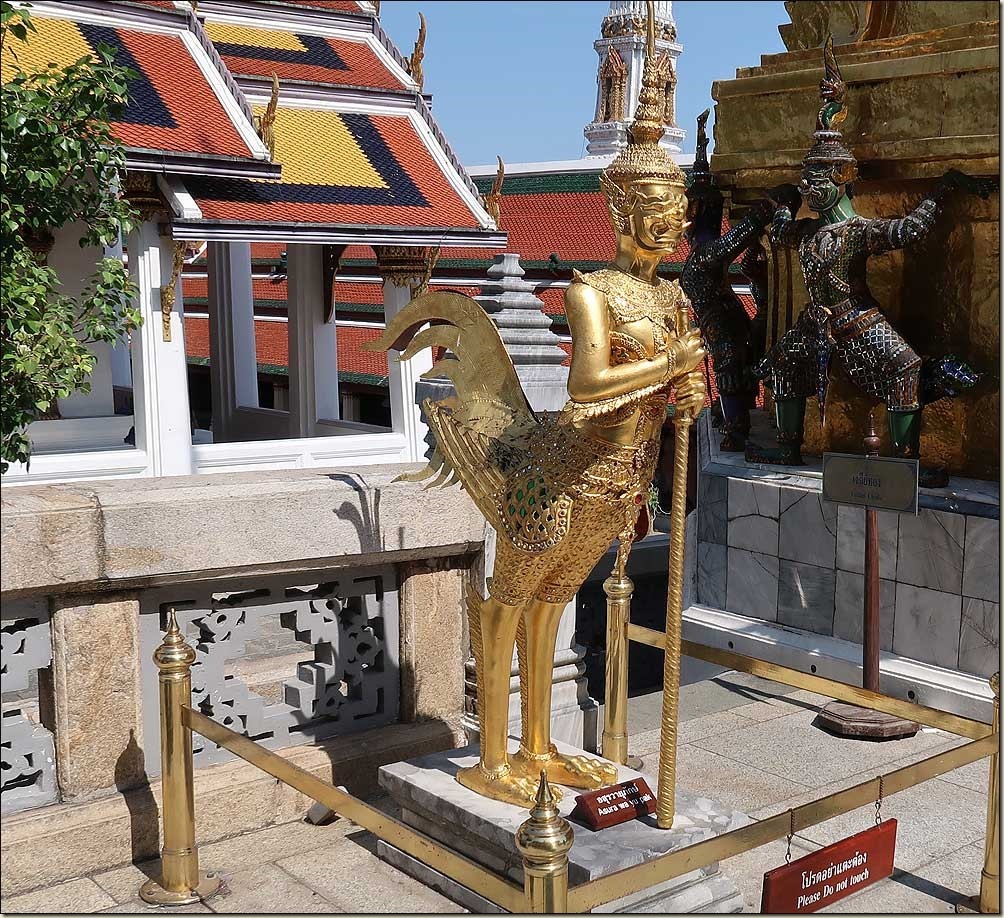 A guilded figure – but don't touch! Is it a bird? Is it a man?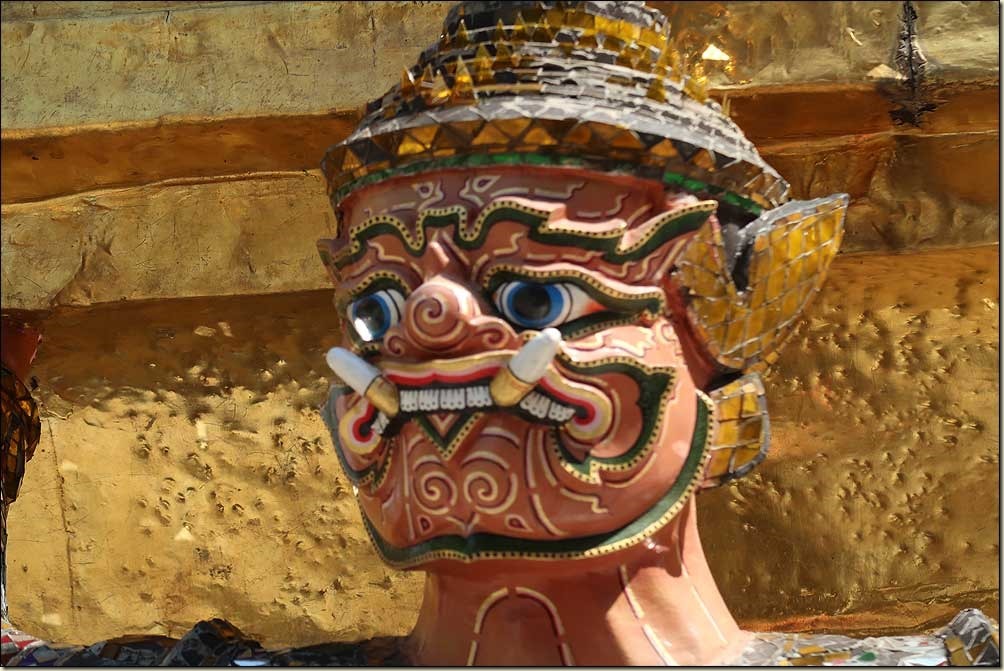 Scary figures hold up the tower.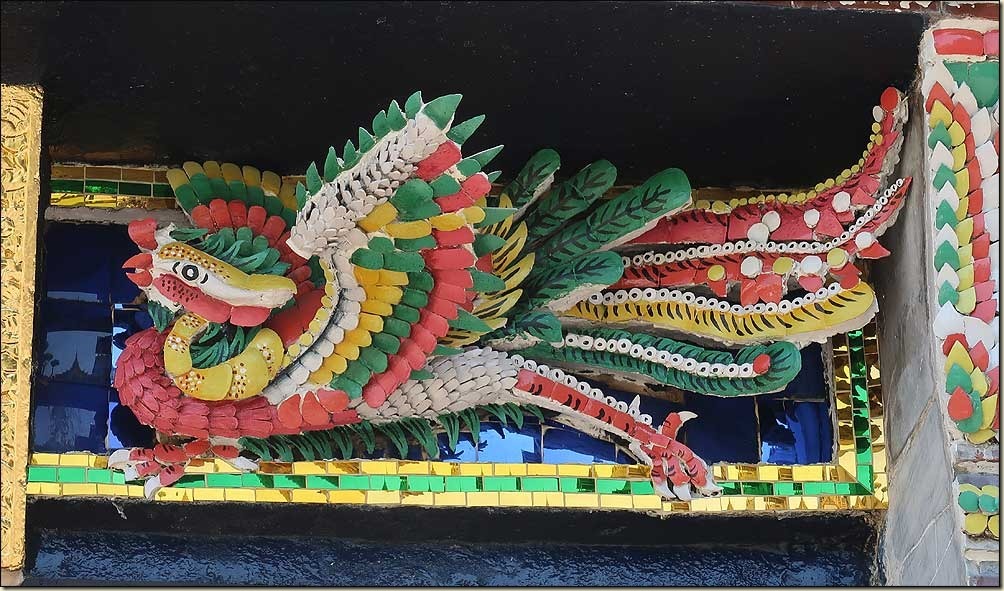 Example of intricate tile work. Can you tell that this place was kind of overwhelming?!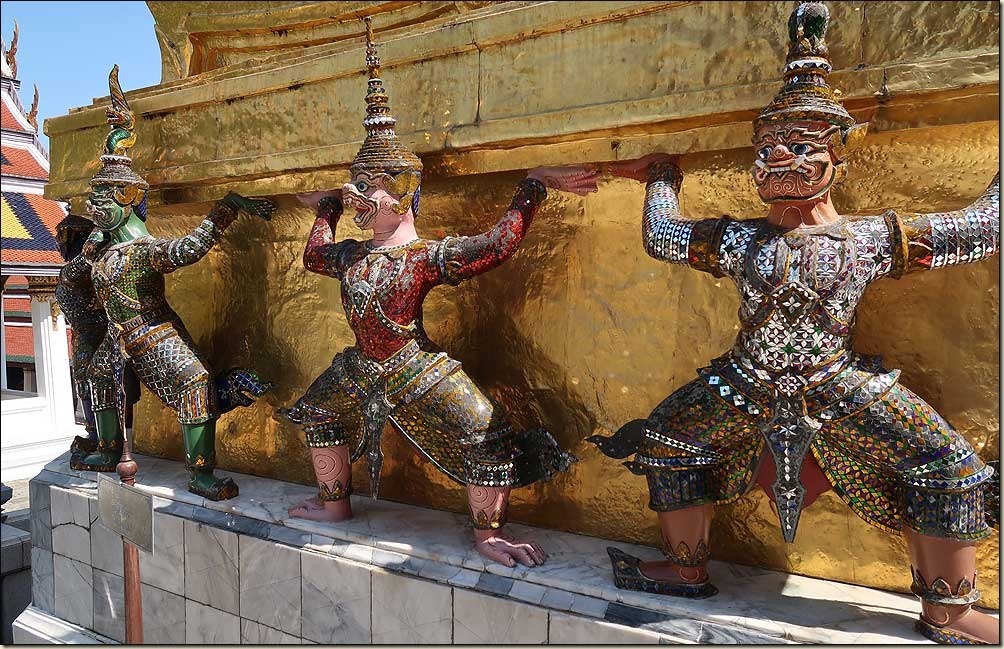 More scary figures holding up an important tower!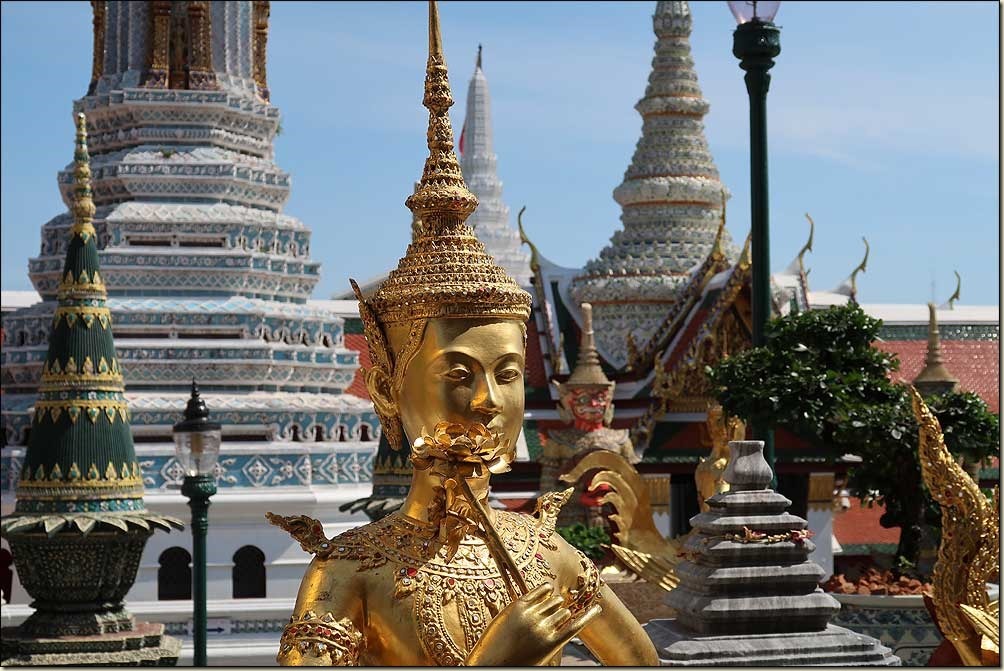 Serenity now! Behind this gilded figure you see some of the eight prangs that tower above the Royal Chapel of the Emerald Buddha grounds. Each prang represents a tenet of Buddhism.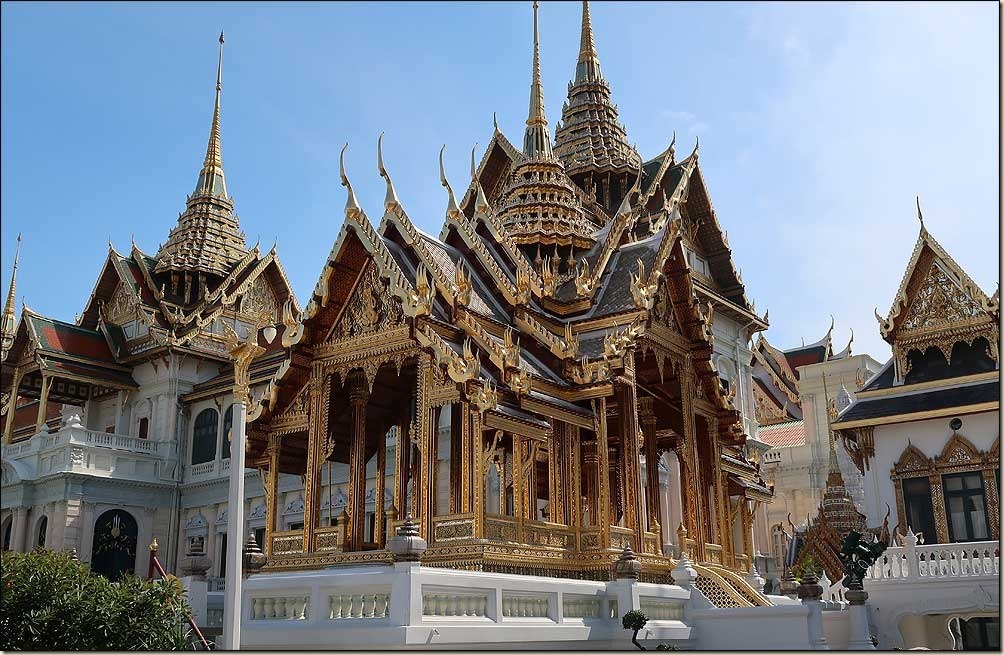 In the foreground is a small wooden pavilion, so exquisite that a replica was exhibited at the 1958 World's Fair! In the background is the Grand Palace and former king's residence.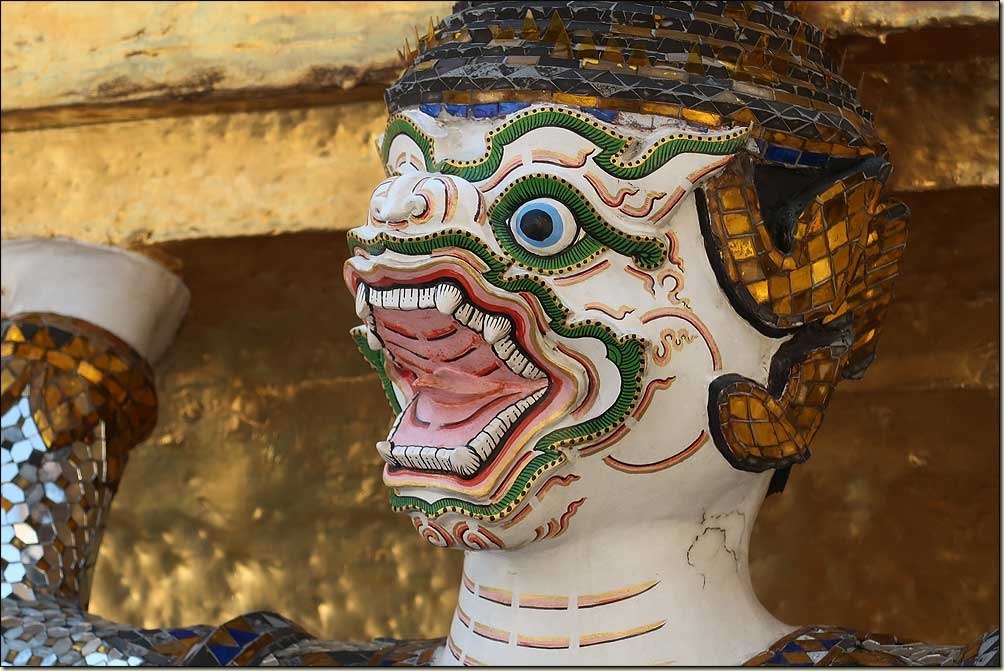 MORE scary characters holding up golden towers!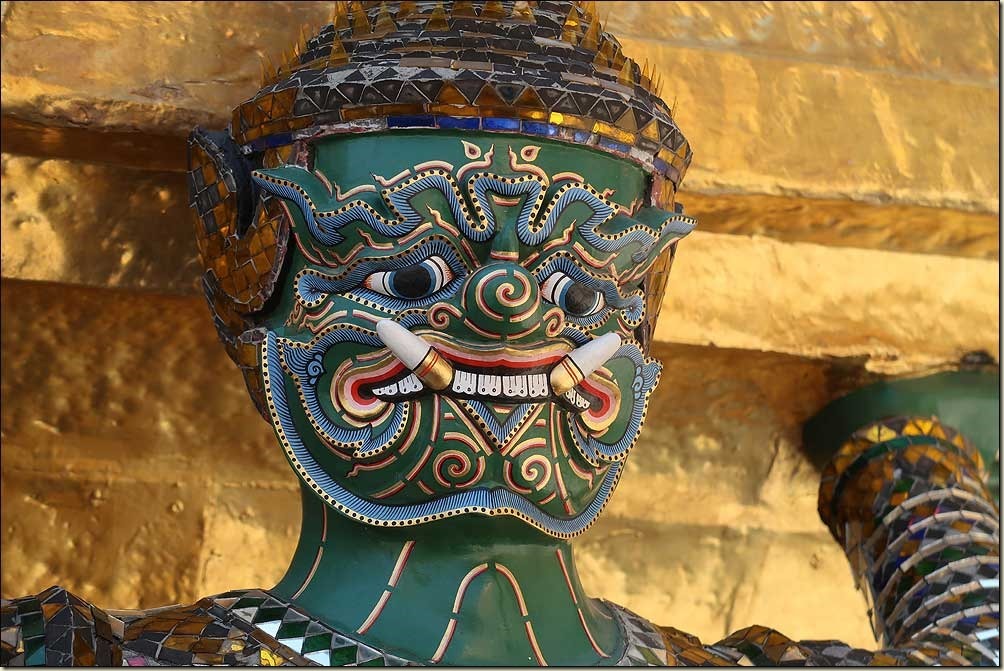 Aaaah! Now we are really going to have bad dreams.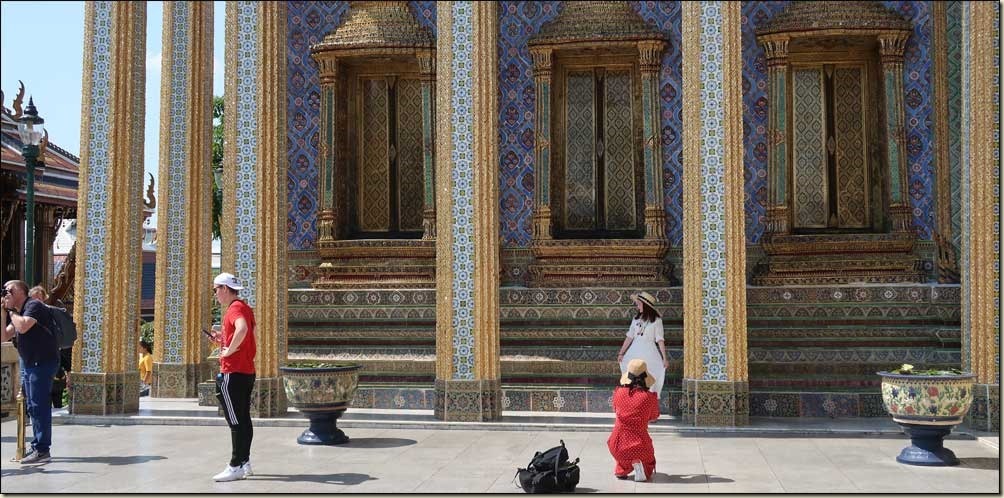 It's funny, when we saw this last year over here  in Thailand and the trend continues . . . women getting all 'dolled up' like for a photo shoot and then taking photos of each other posing at temples and other historic sites.  Seems almost sacrilegious!!! ( I don't think the guy to the left with his jogging suit on was involved in such an event.)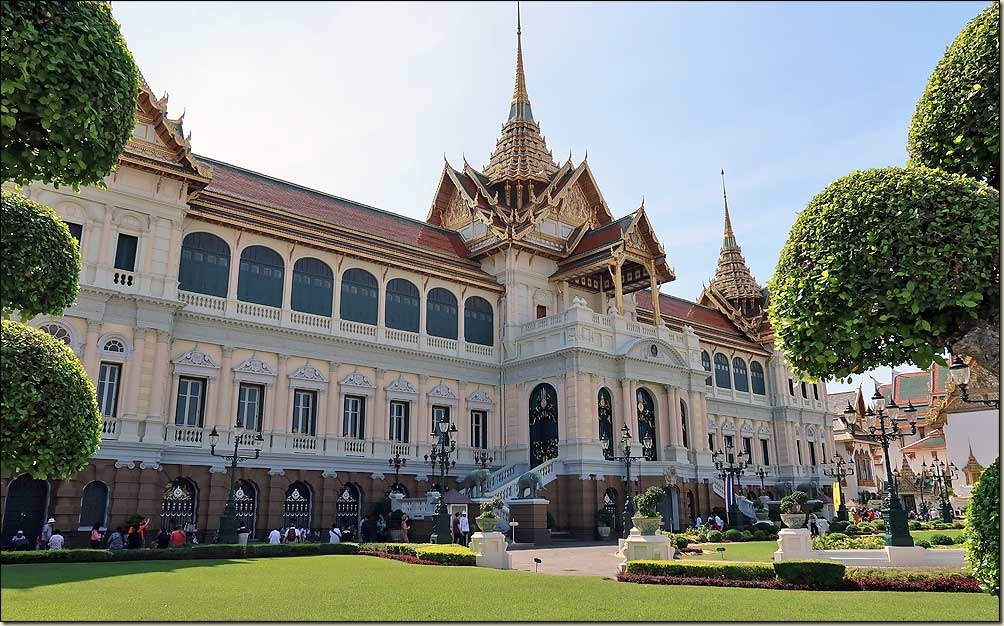 The Grand Palace was originally built in the 1850s using European-style architecture. But that was not deemed appropriate, so Thai details were added.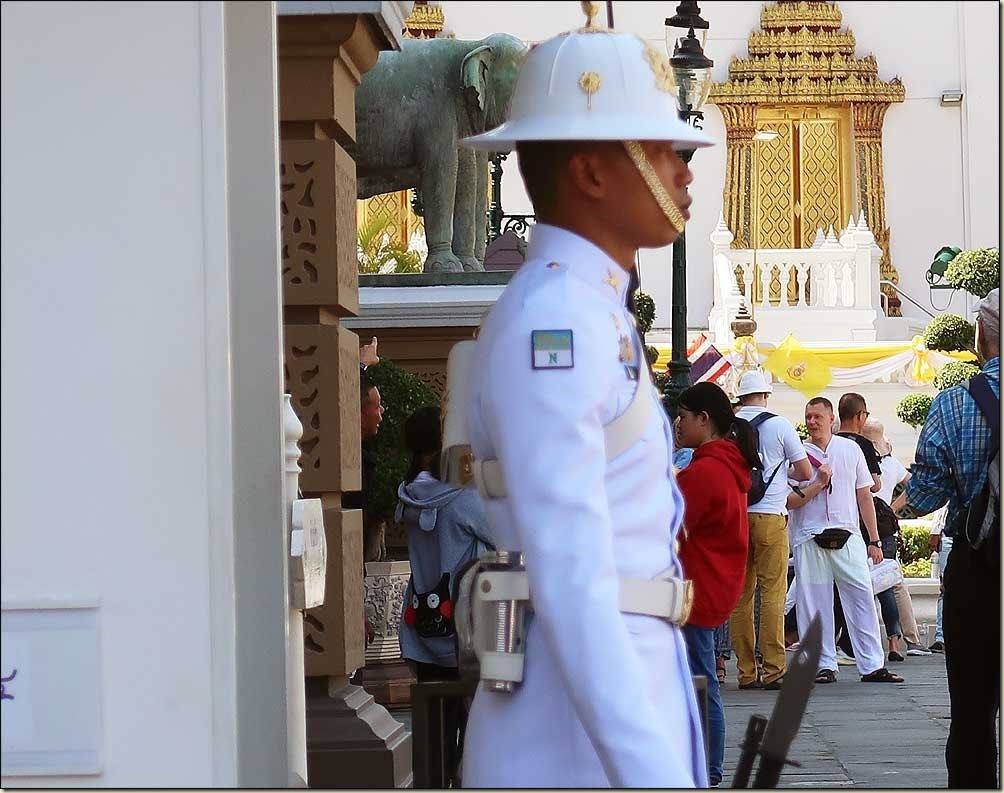 The Guard at the Grand Palace. Lots of the grounds were closed, and carefully guarded by these fellows. All armed with bayonets!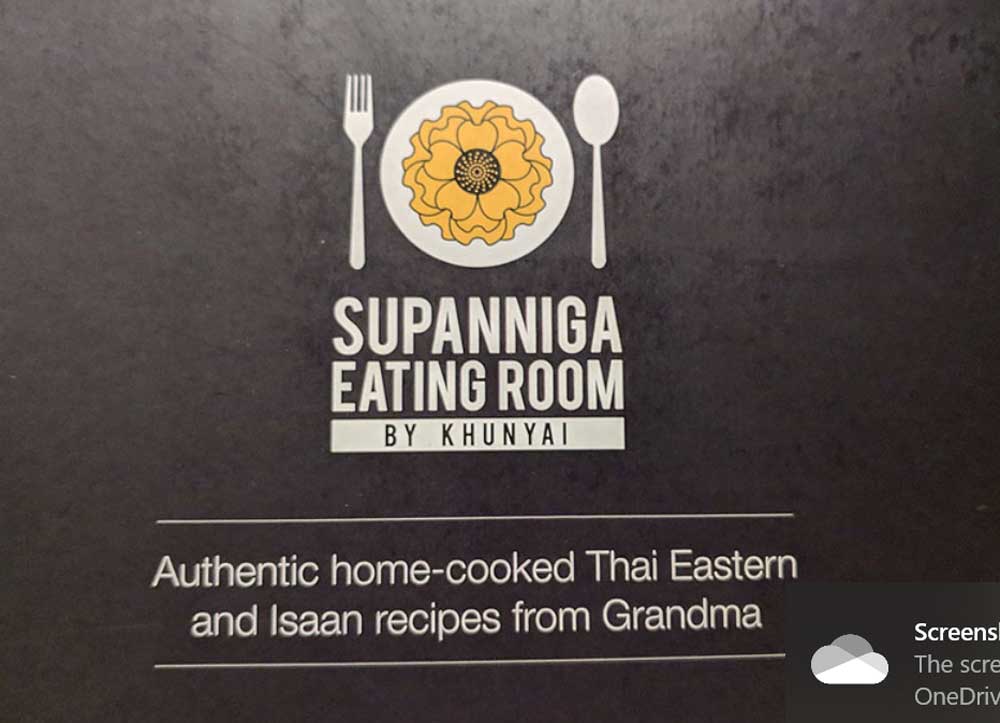 For a dinner treat, we returned to a restaurant that Rick and Tommy H enjoyed last year. We had appetizer, vino, entrees and dessert for a very reasonable price.  All delicious.  Need reservations!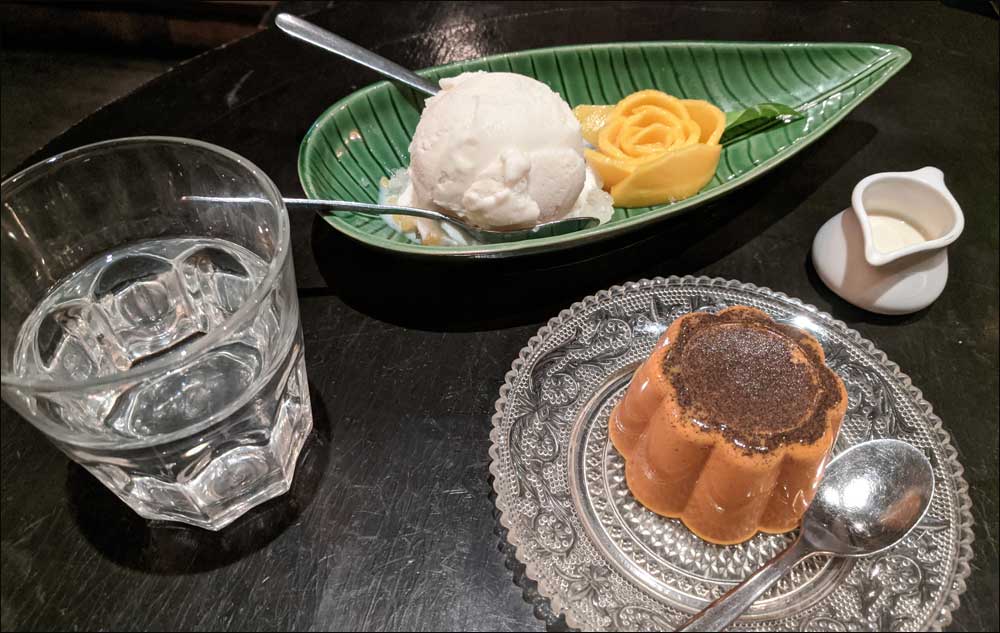 Dessert was coconut ice cream on sticky rice with fresh mango, and Thai tea panna cotta with sweet cream…for sweet dreams!