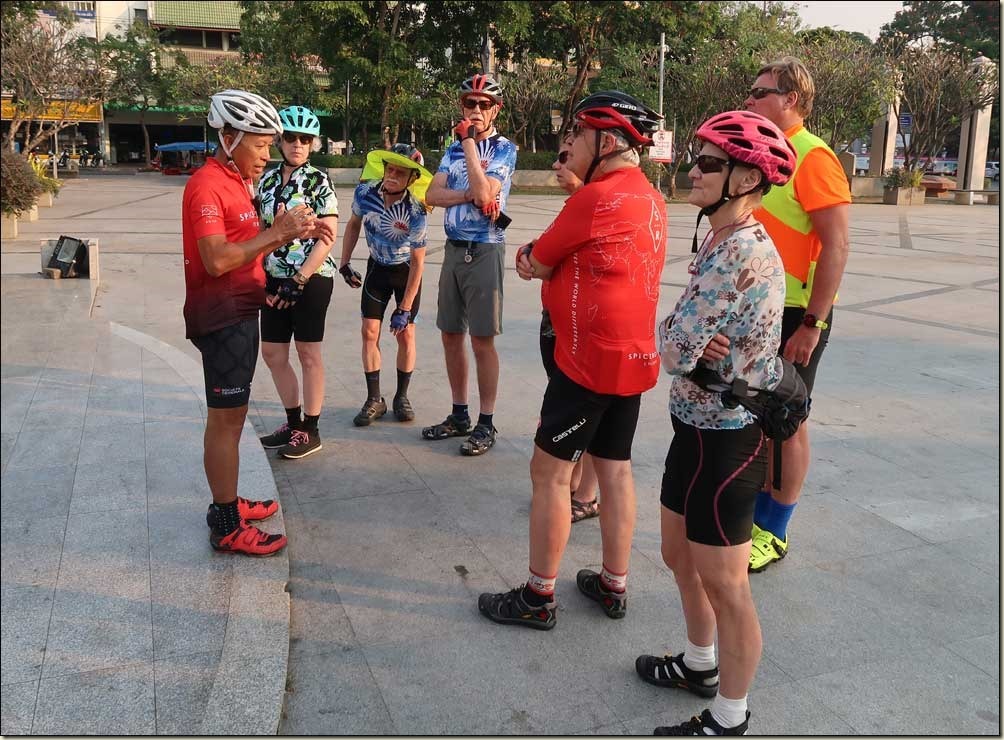 Today our ride took us 23 miles around Chiang Mai. Here Woodie tells us about our first stop, the monument to three kings.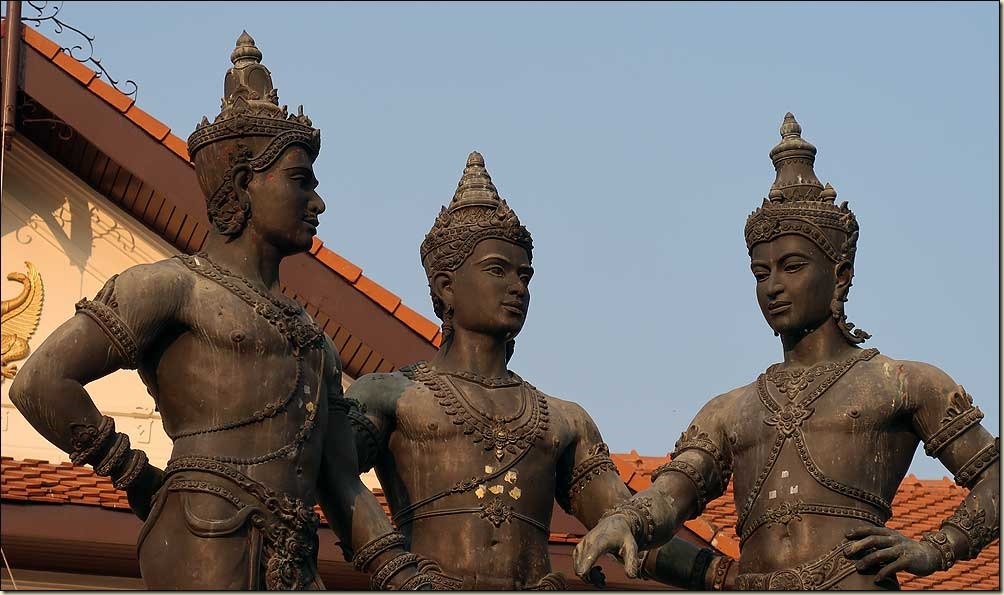 These three kings were northern leaders in the 13th Century AD. They worked together and selected Chiang Mai as the location of the northern capital.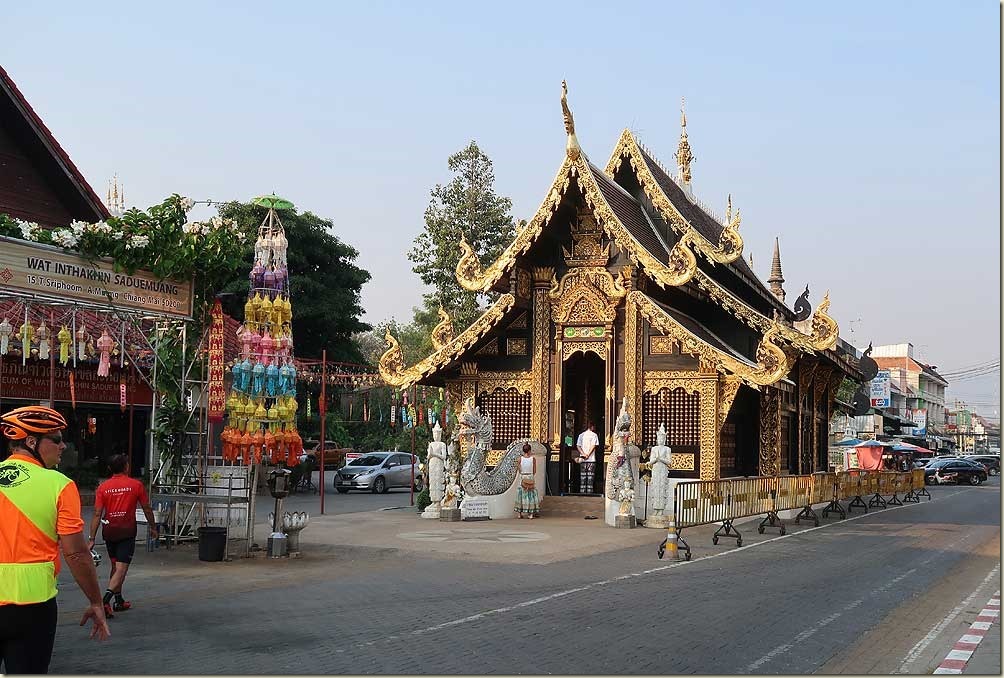 We visited nearby temple grounds.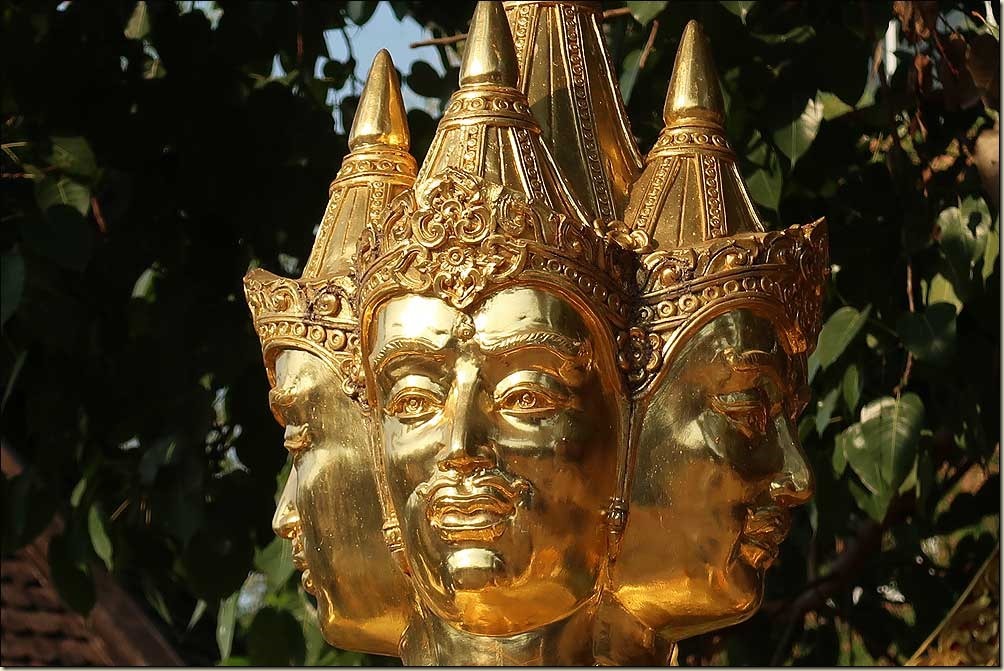 Another rendering of the three kings.
Happy baby Buddhas!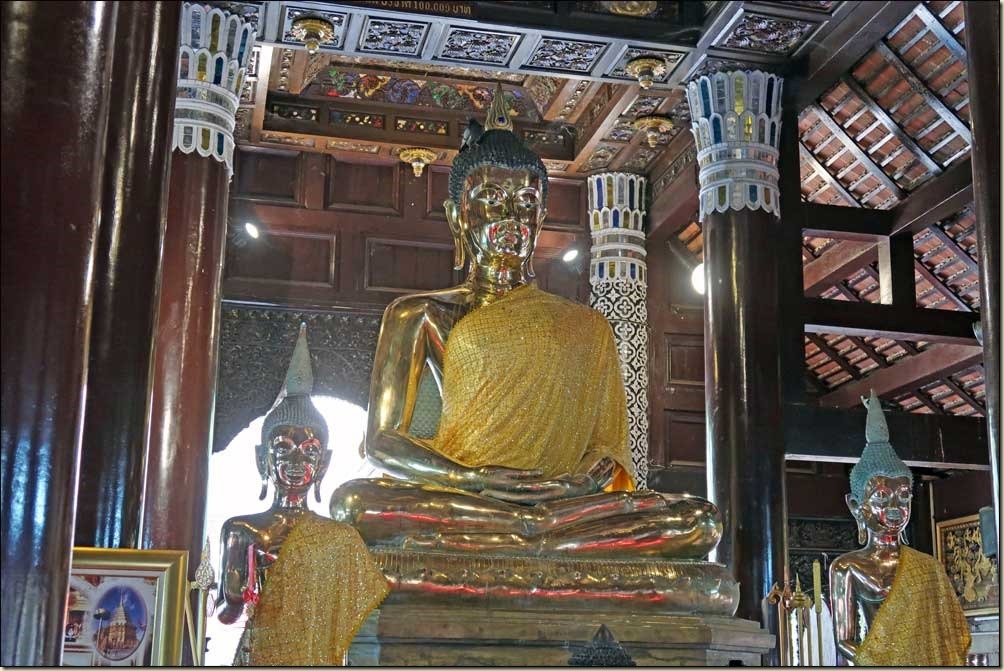 Large Buddha in temple with pigeon on head!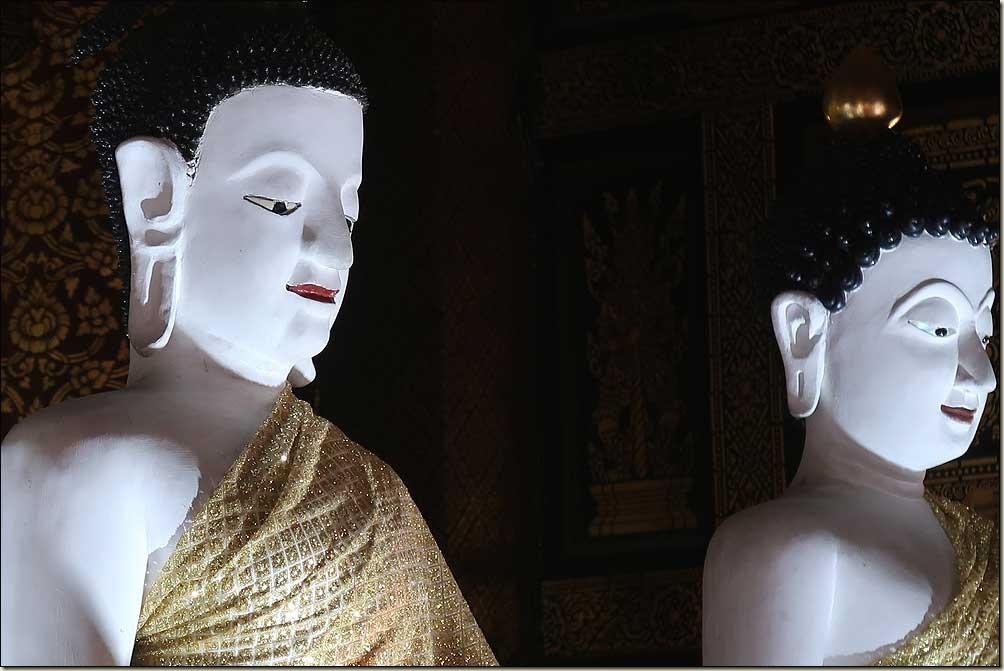 Red lipped Buddhas are typical of the north of Thailand, and indicate good health!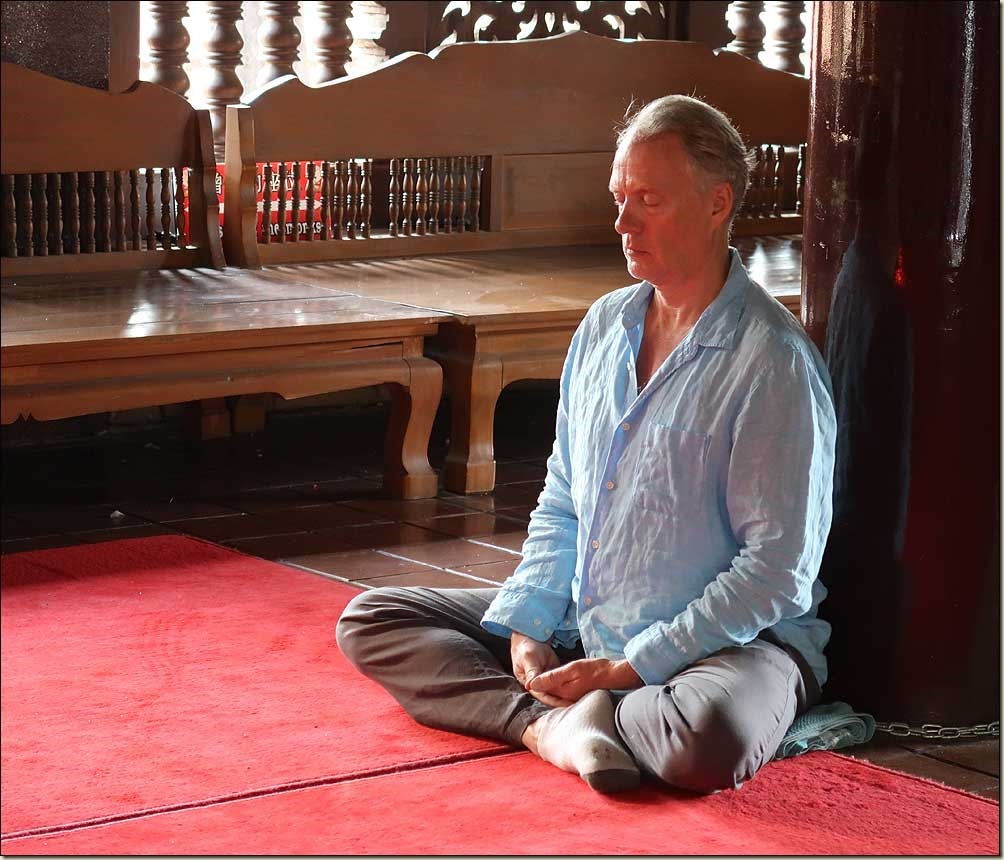 Worshipper meditating. He wasn't on our ride but I think he was in our age group!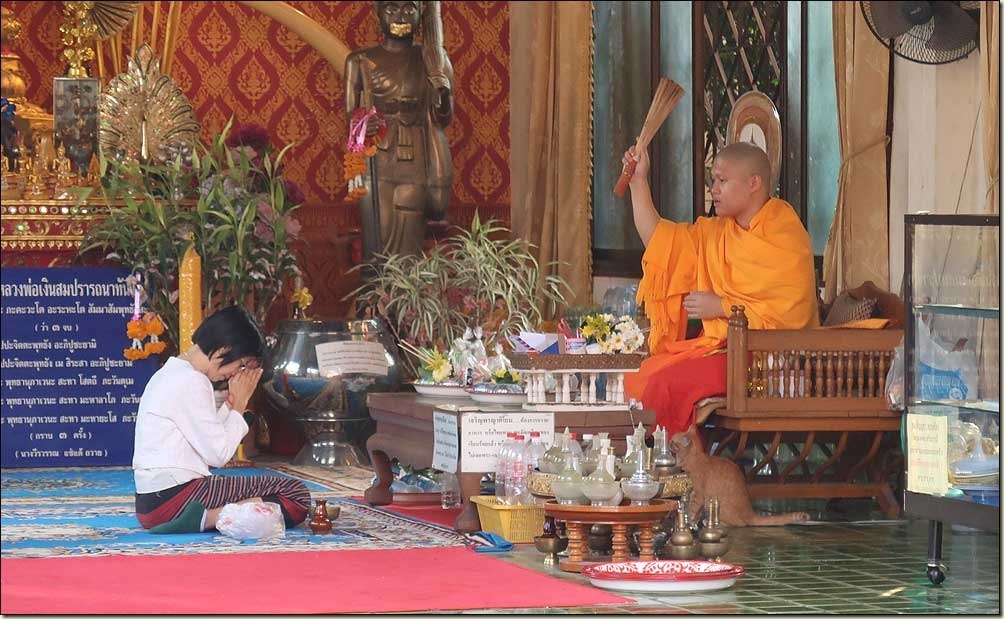 You could meet 1:1 with a monk; signs said "take a seat!" This monk had a matching yellow kitty at his side.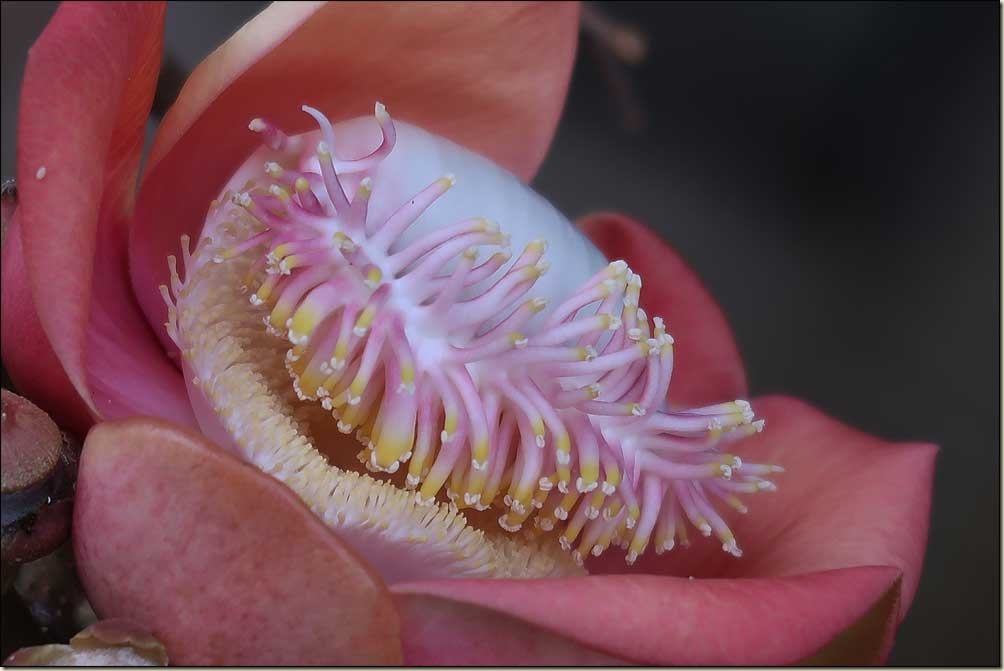 Flower of the sala tree which was the species of tree Buddha was born under.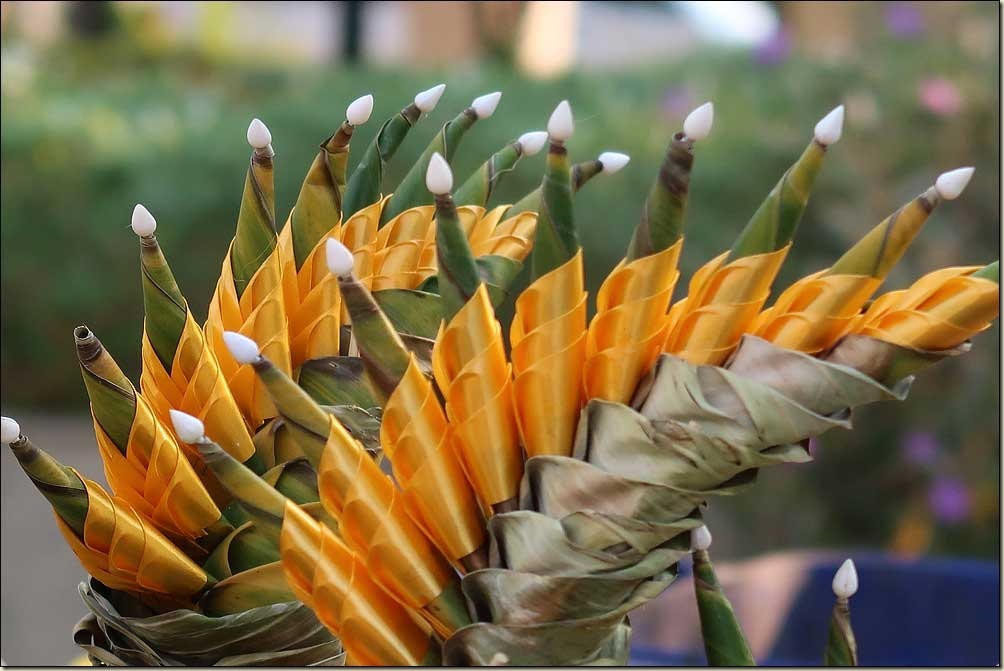 Beautiful decorations typical to honor the Buddha.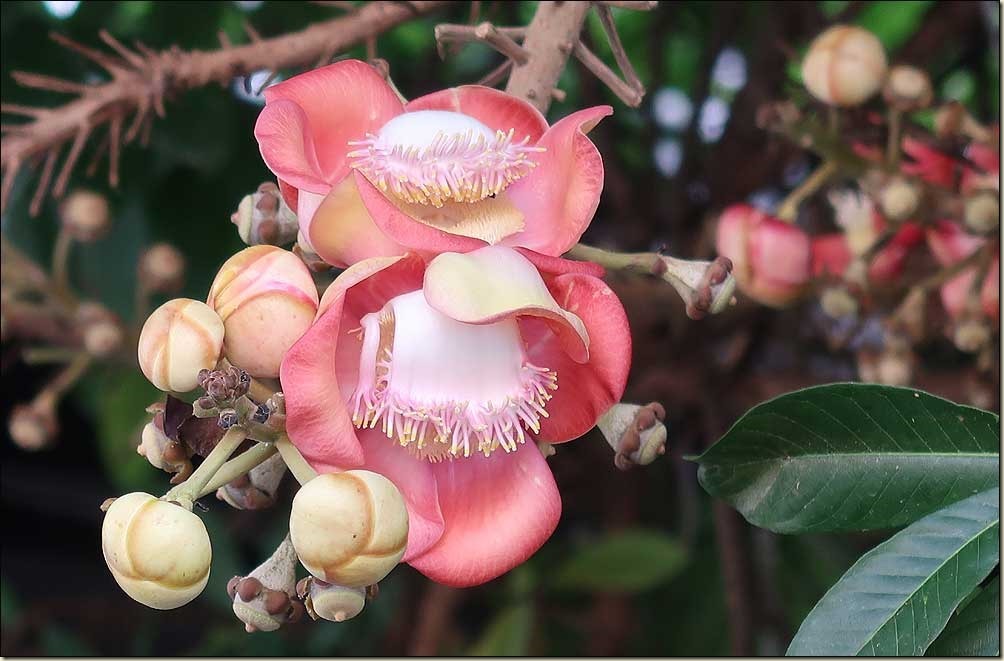 More lovely tree flowers on the temple grounds.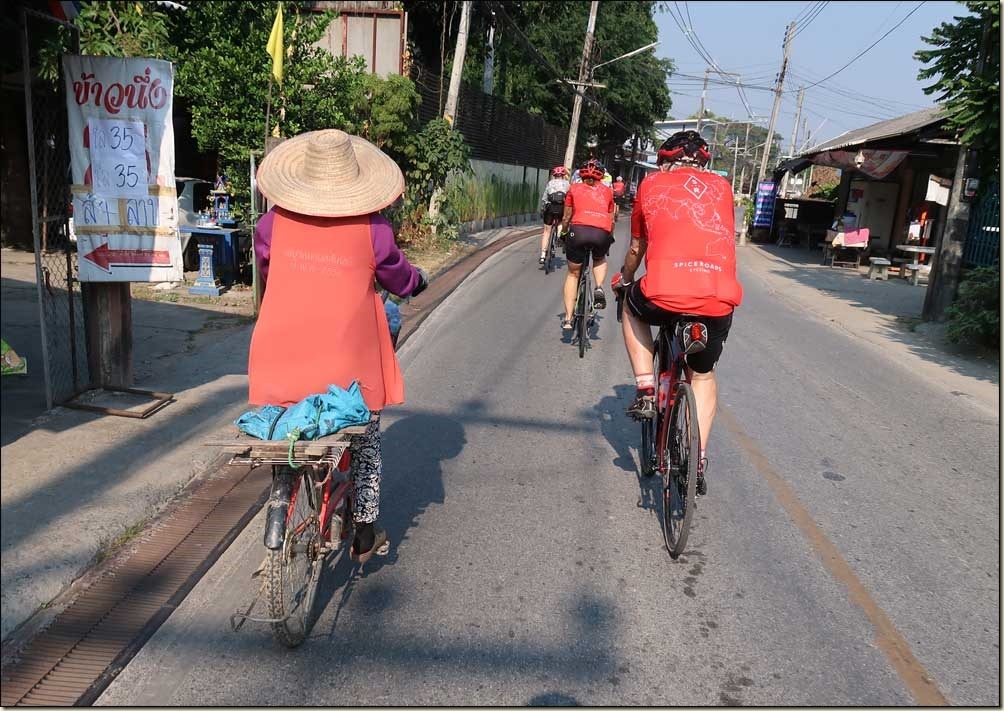 Riding on through town we passed our first fellow Thai bike rider!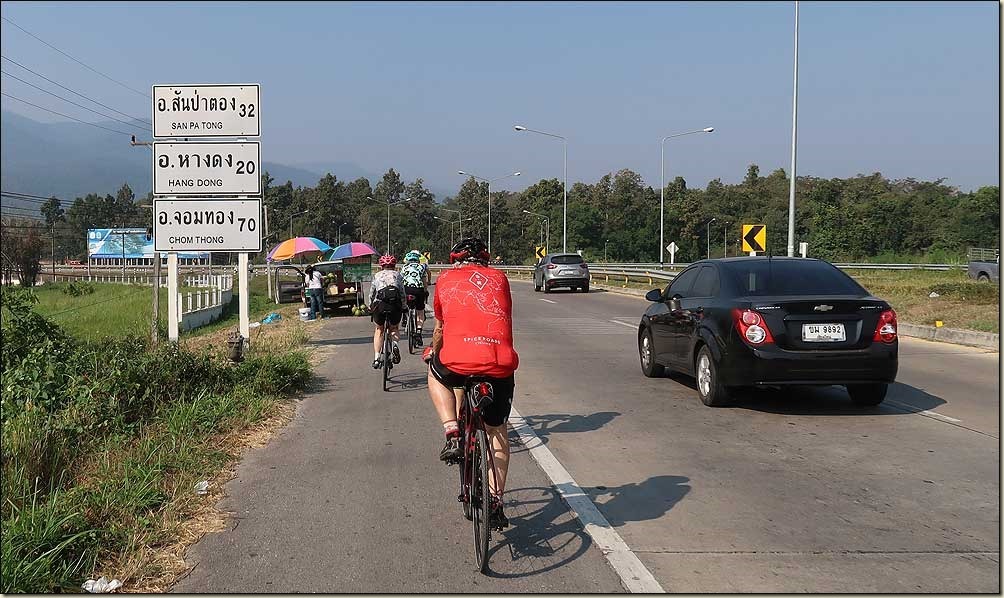 Our route took us around the city on a variety of roads.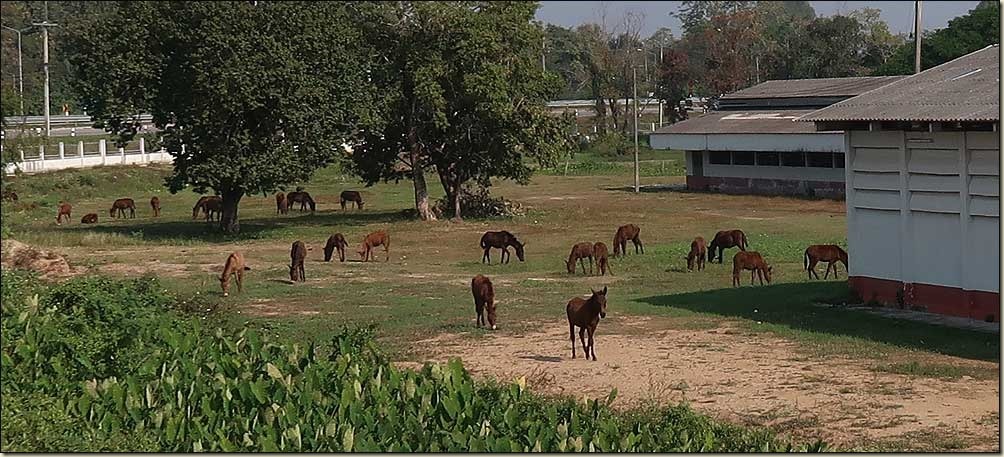 We passed a farm with mules used by the government to haul equipment into remote mountain areas on narrow trails.
We headed northwest of the city into a recreation area.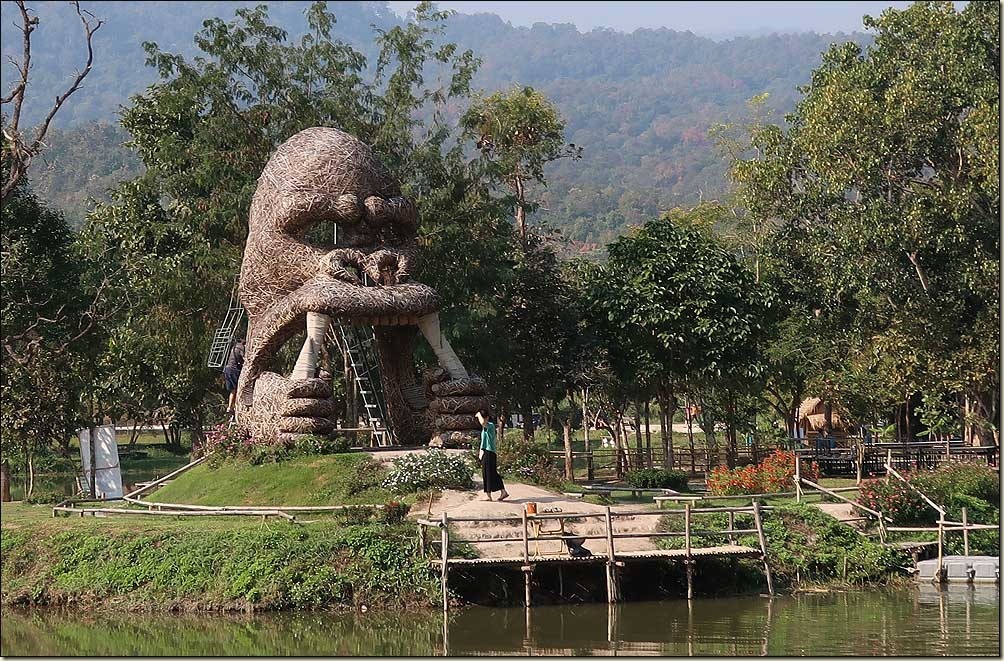 Thais seem to like larger-than-life figures.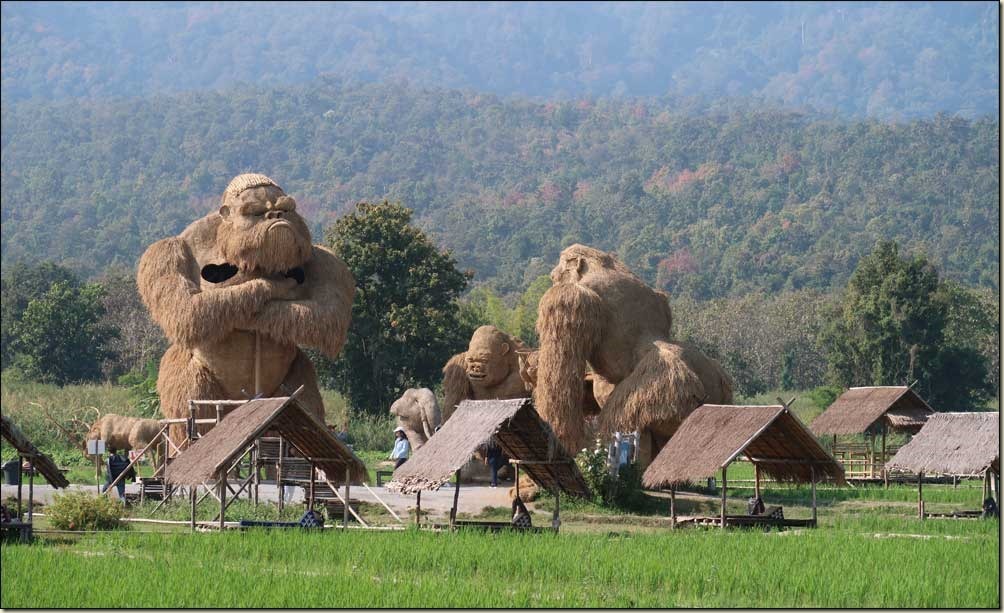 Giant gorillas.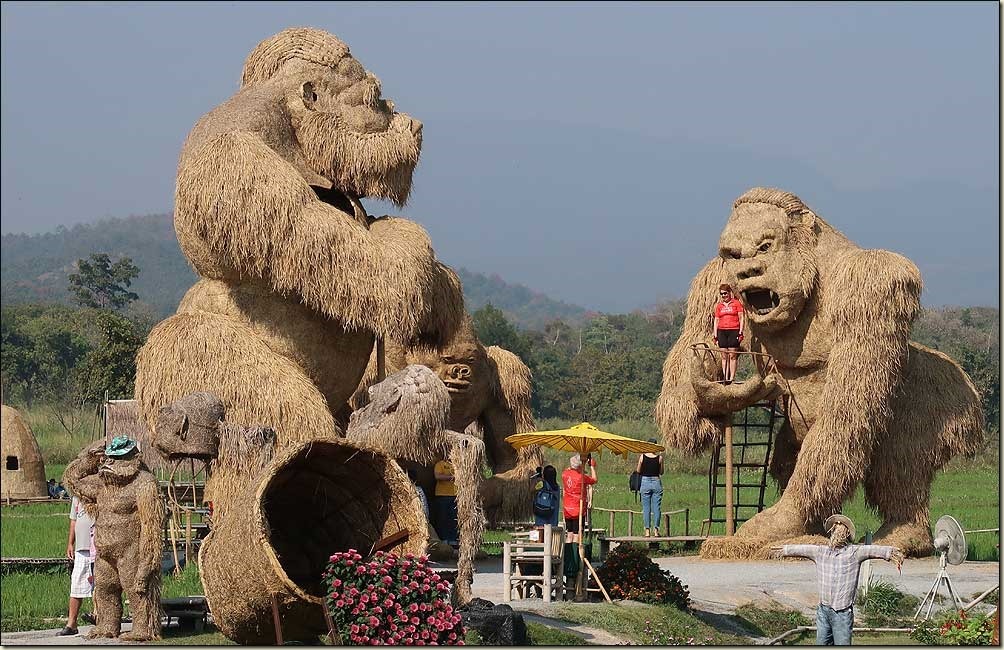 Our friend Barb was nearly snatched up by King Kong!!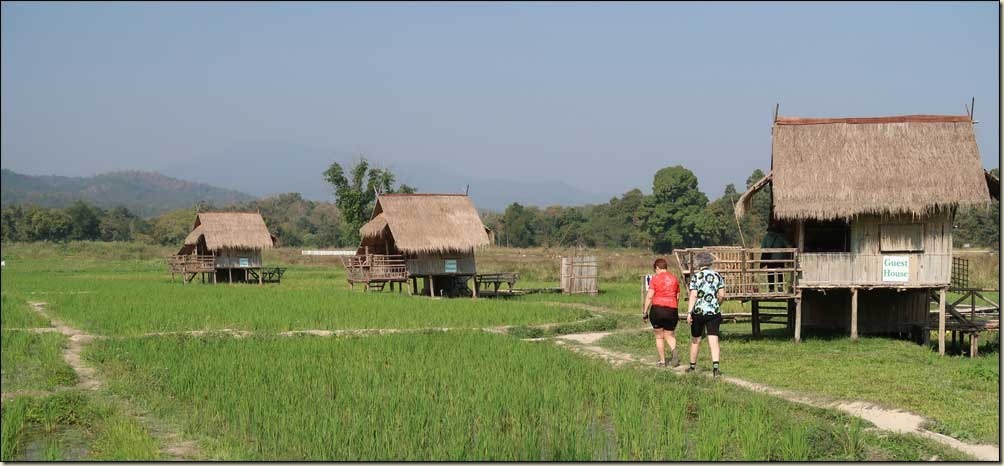 Barb and MJ head over to inspect the guest houses among the rice paddies. Setting in a wet area, equipped with mosquito netting,no services. Hmm. None of our group made a reservation!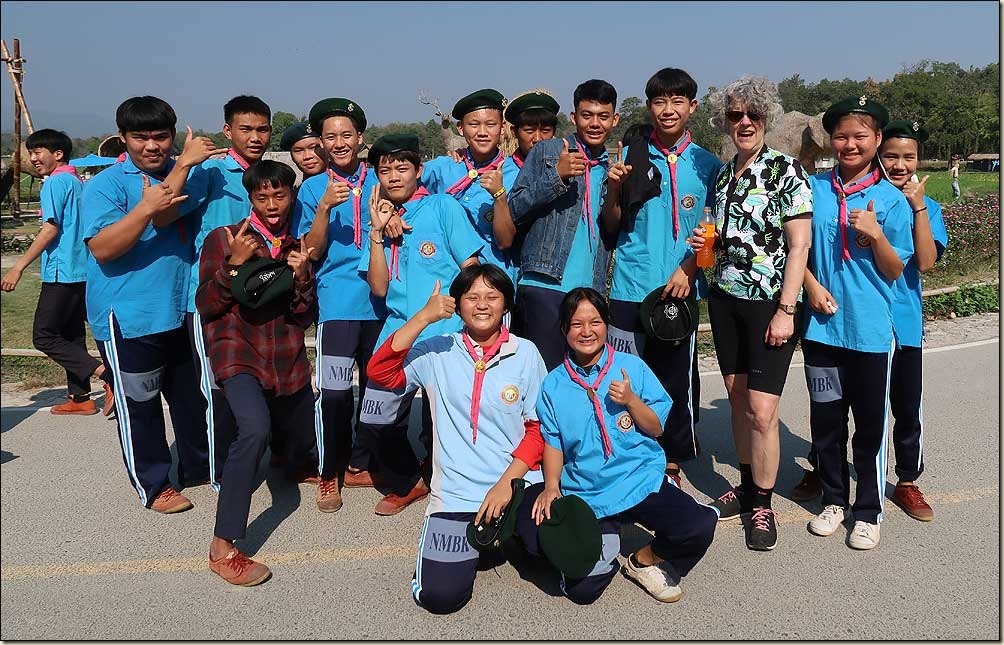 A touring group of high schoolers were happy to goof around with MJ for a photo op!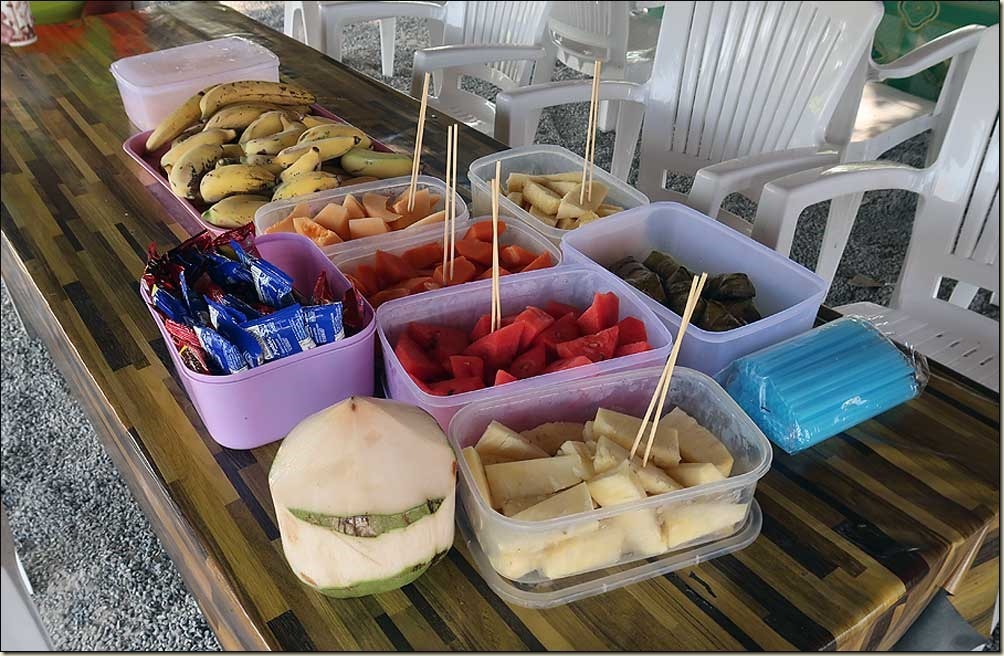 We stopped for snack break not far from the giant gorillas. Yummy mango, papaya, sticky rice, and candy bars named Beng Beng. And fresh coconuts!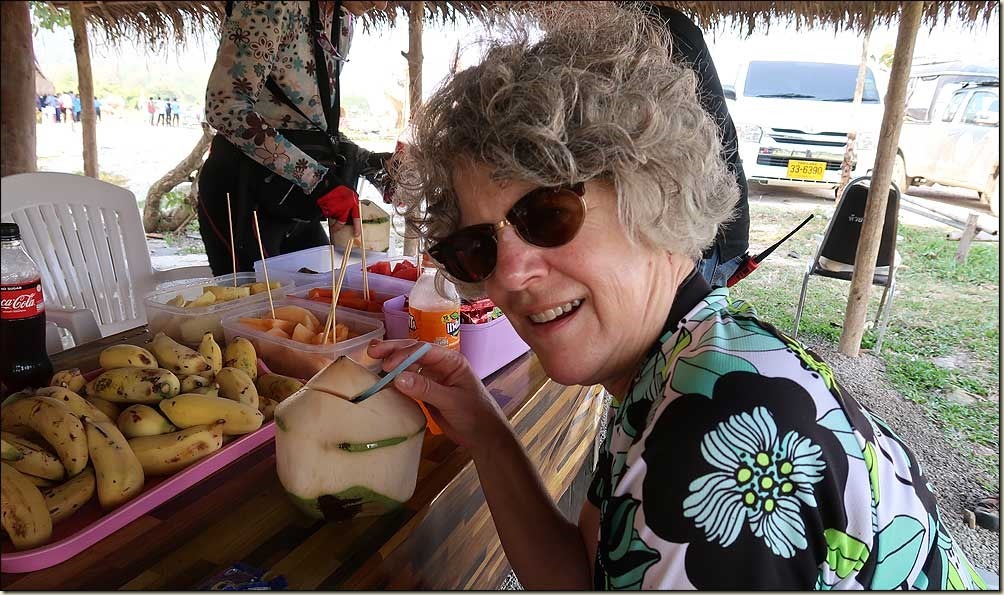 MJ happily slurps coconut milk.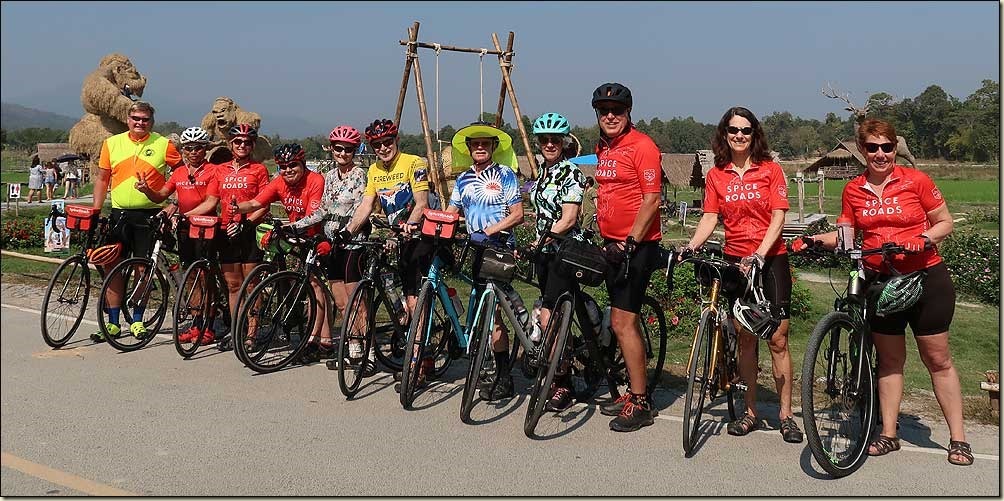 The proprietor of Safari Land wanted a group shot so we obliged her.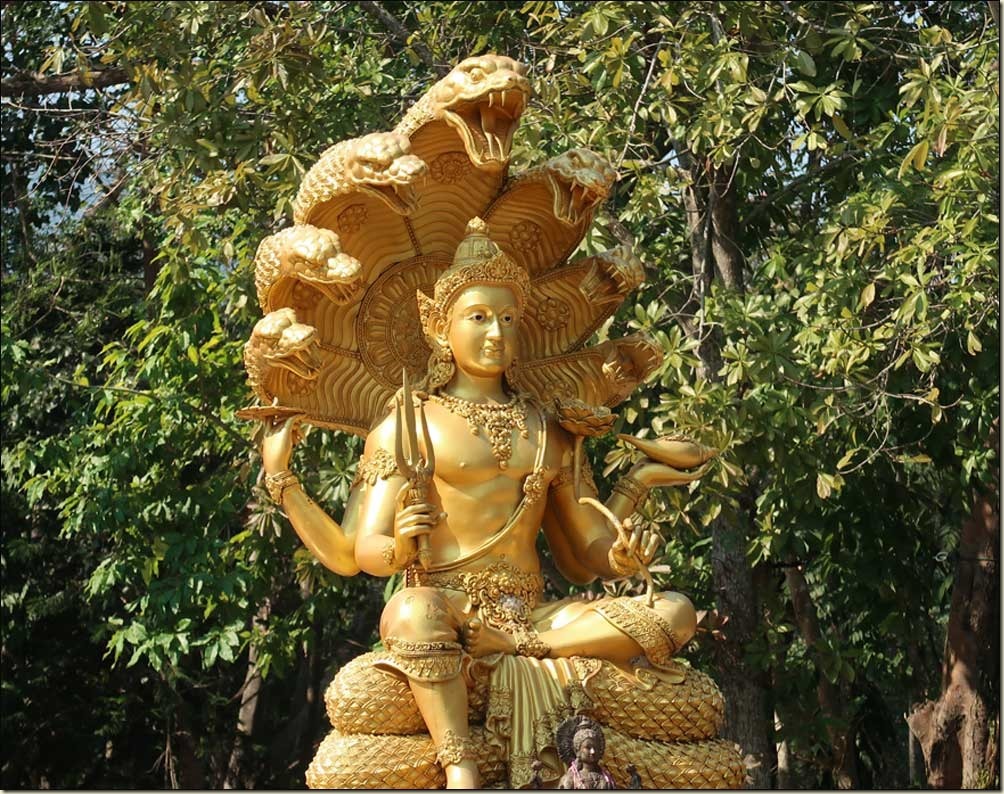 On our way out we passed Seven Headed Cobra Man.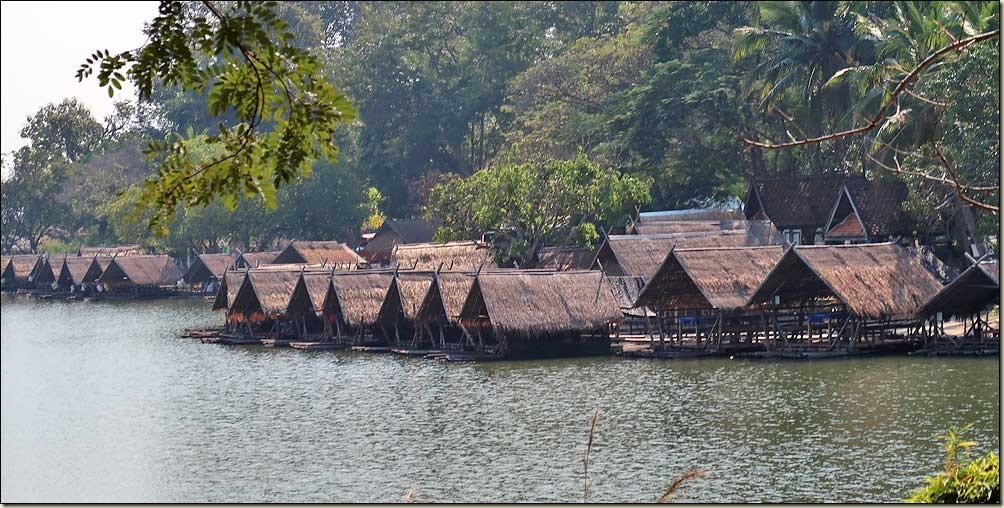 The man-made lake at the recreation area was surrounded by little huts you could use to sell food or to relax.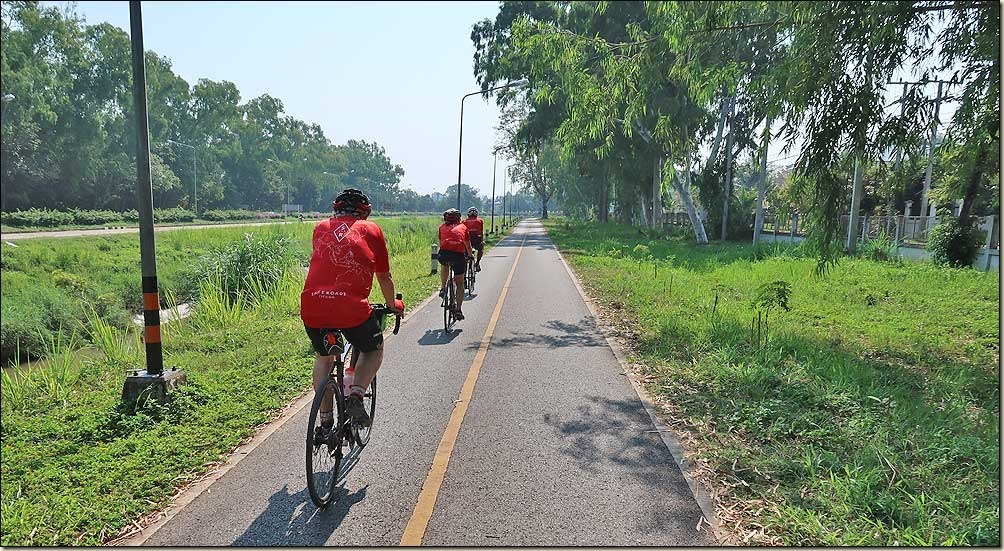 We also had a nice stretch on a bike trail….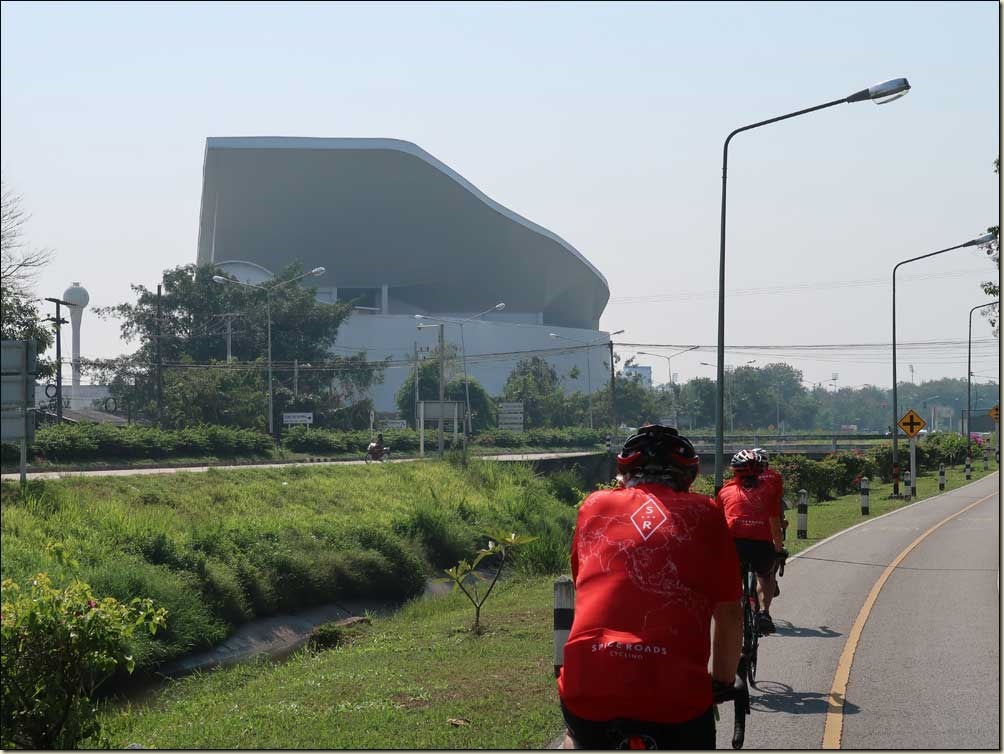 … past this company that makes grand pianos!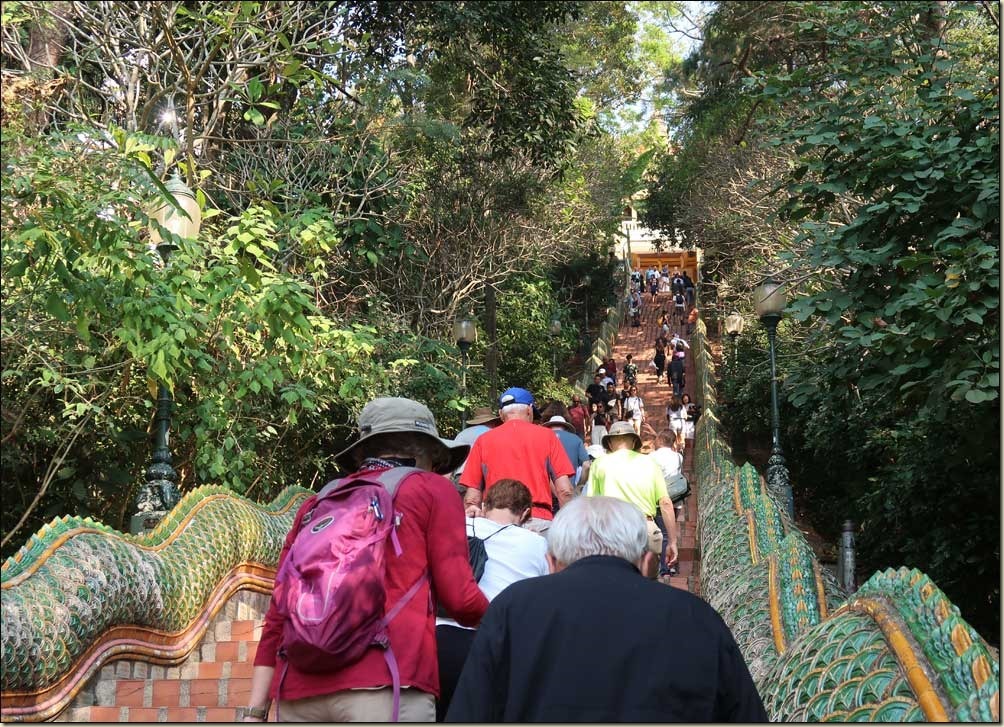 After our ride, showers and lunch on our own, we reconvened to visit the important Doi Suthep Temple. 300 steps to the top, count 'em!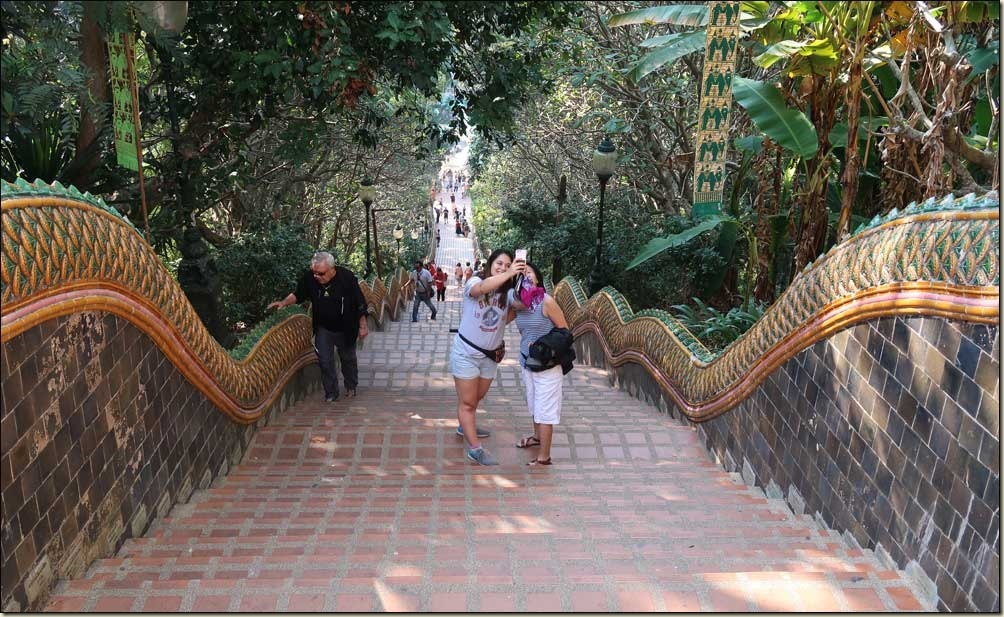 up up up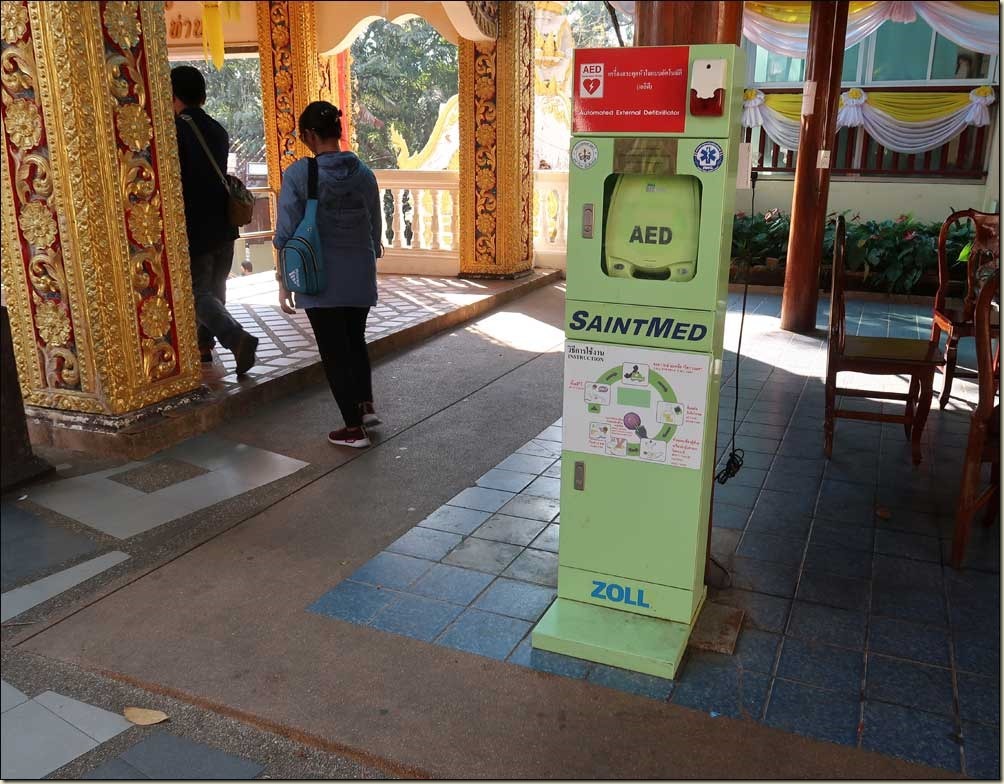 Just in case anyone needs it, there is a defibrillator at the top!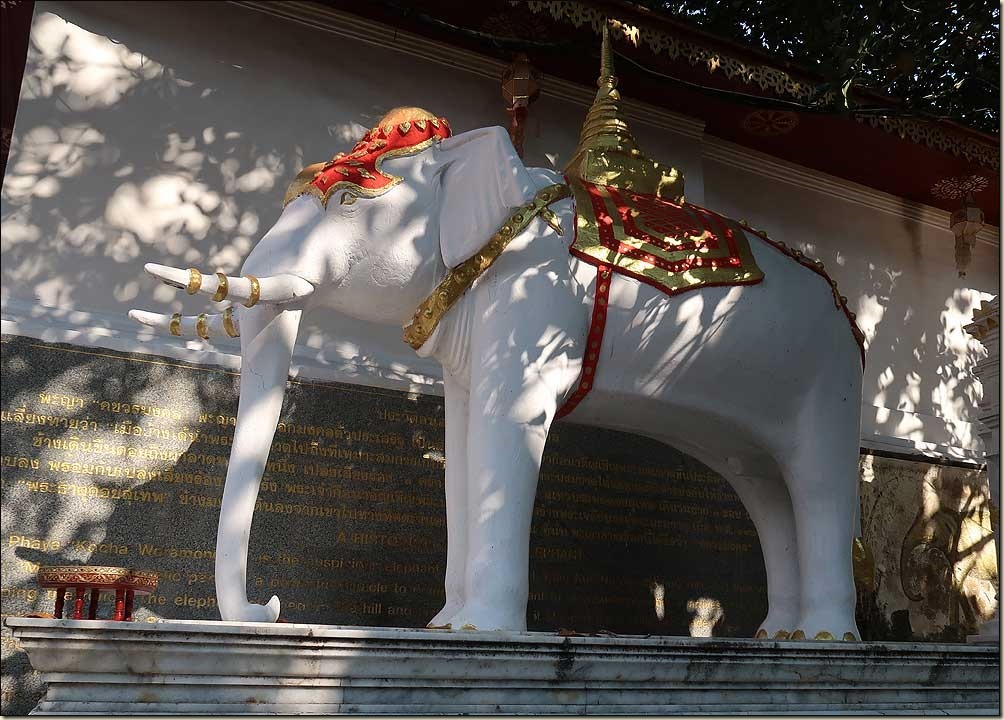 This temple was built to house some of Buddha's ashes. It dates to the 14th Century AD. The story goes that in 1930, King Na's elephant selected the location for the Stupa, a special structure, by marching to the spot, trumpeting and turning in a circle three times.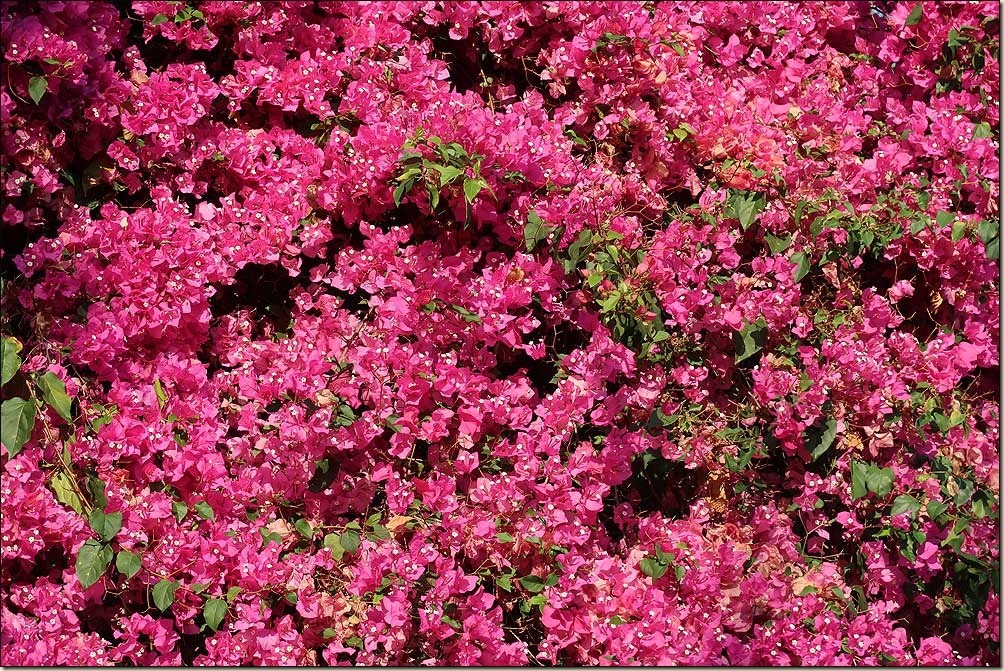 Bright bougainvillea.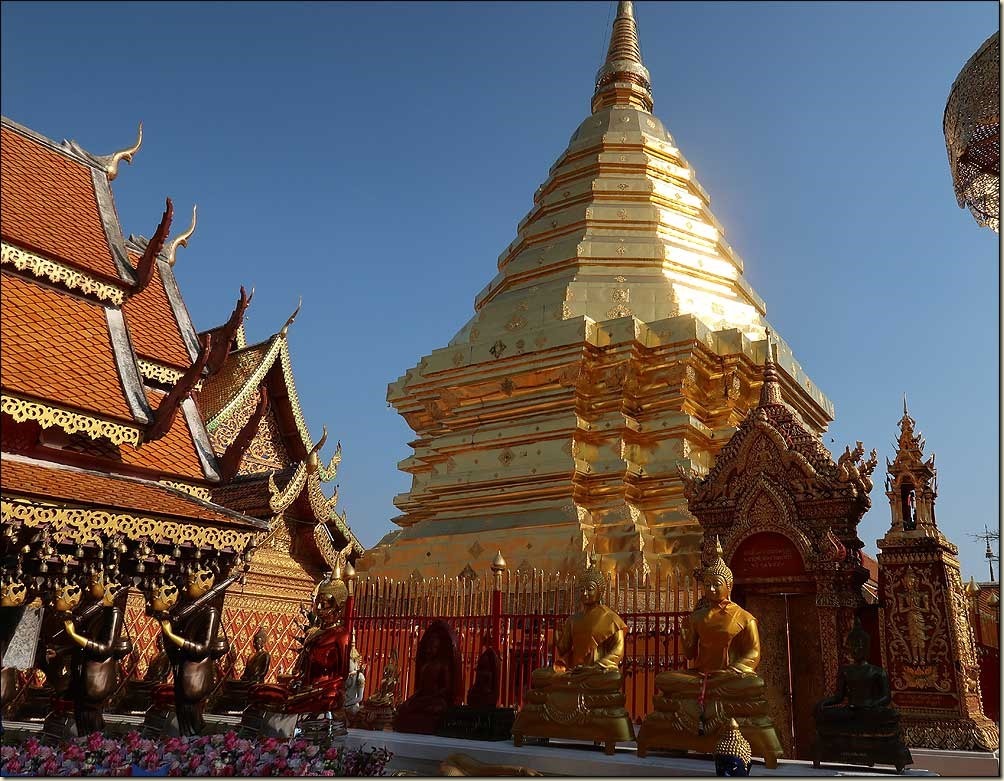 The special stupa (also called chedi).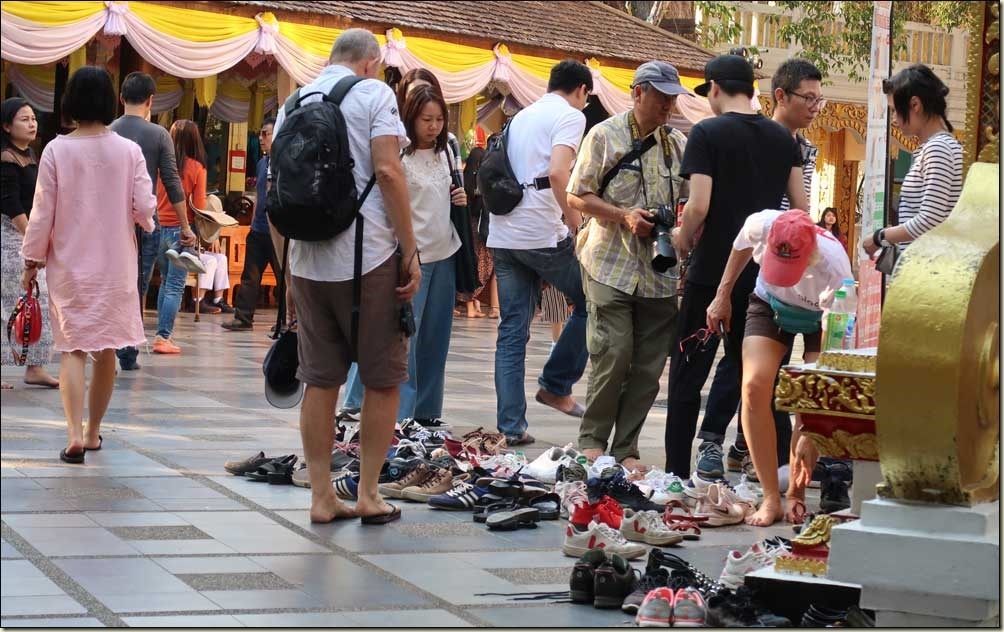 To go in the temple, all shoes must come off.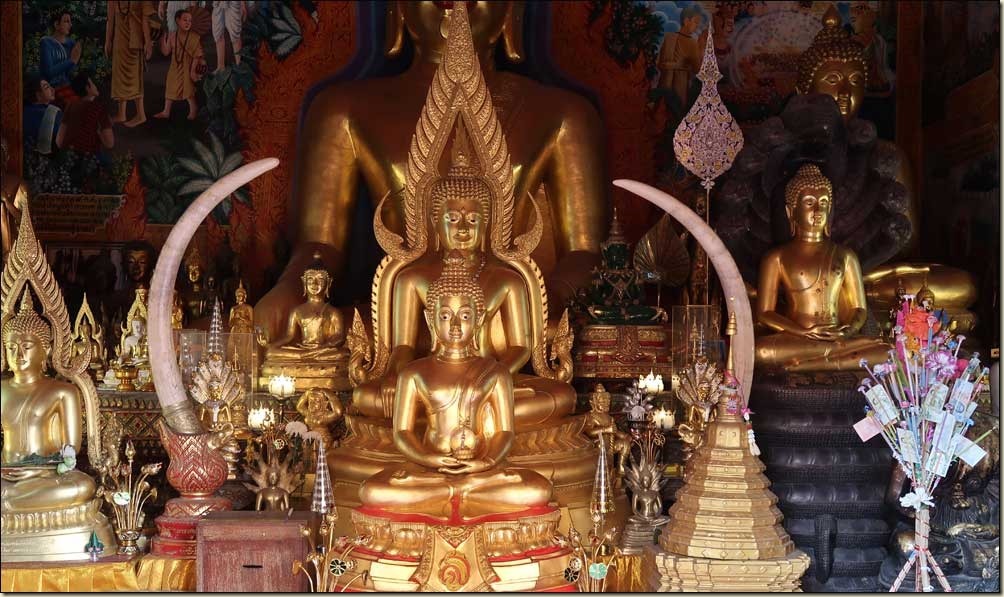 There are Buddha statues everywhere! One can donate Buddhas and other items to the temples.
Emerald Buddha with fancy plants.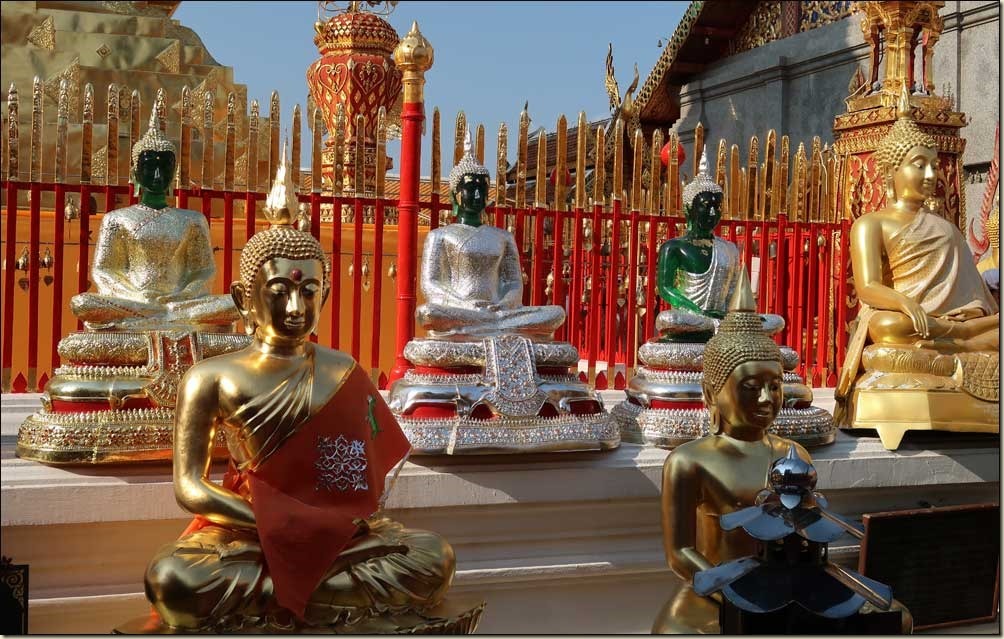 Emerald-headed Buddhas.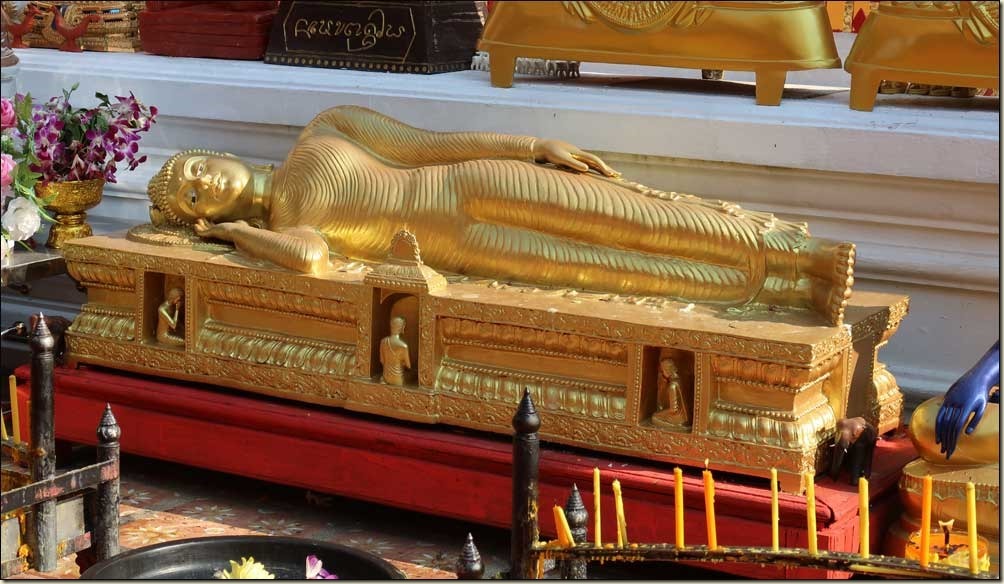 Reclining Buddha.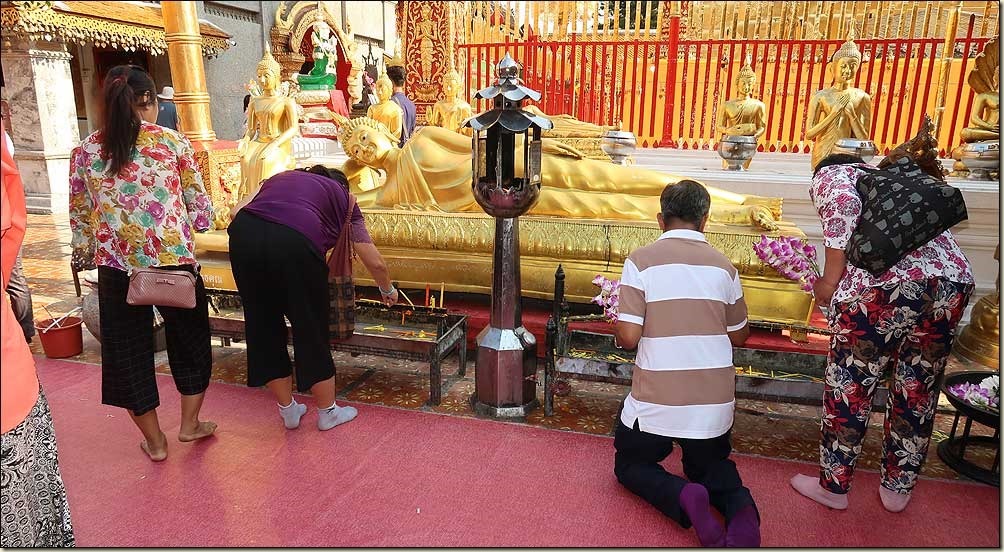 Buddhists paying respect to Reclining Buddha. Incense, candles, flowers.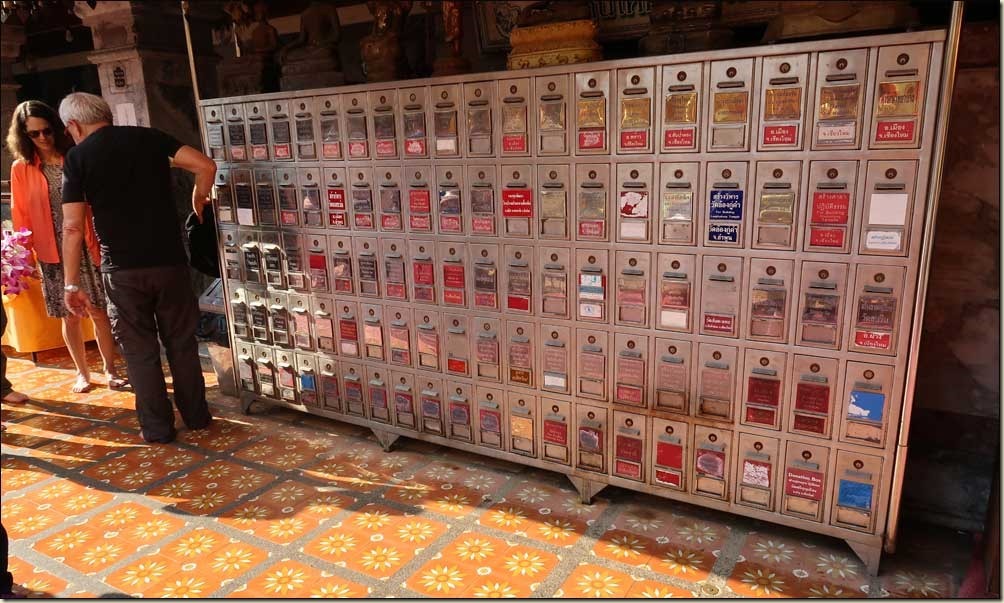 Each box held donations for different components of the temple.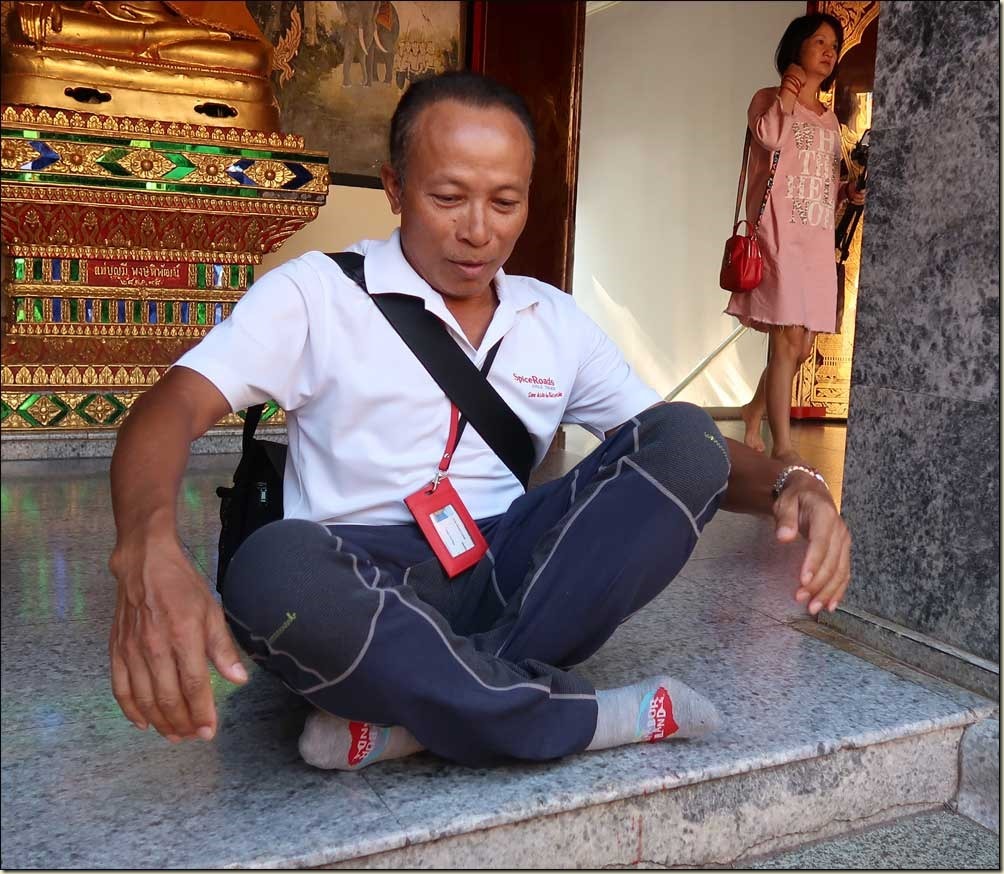 Woodie demonstrates the Buddha pose….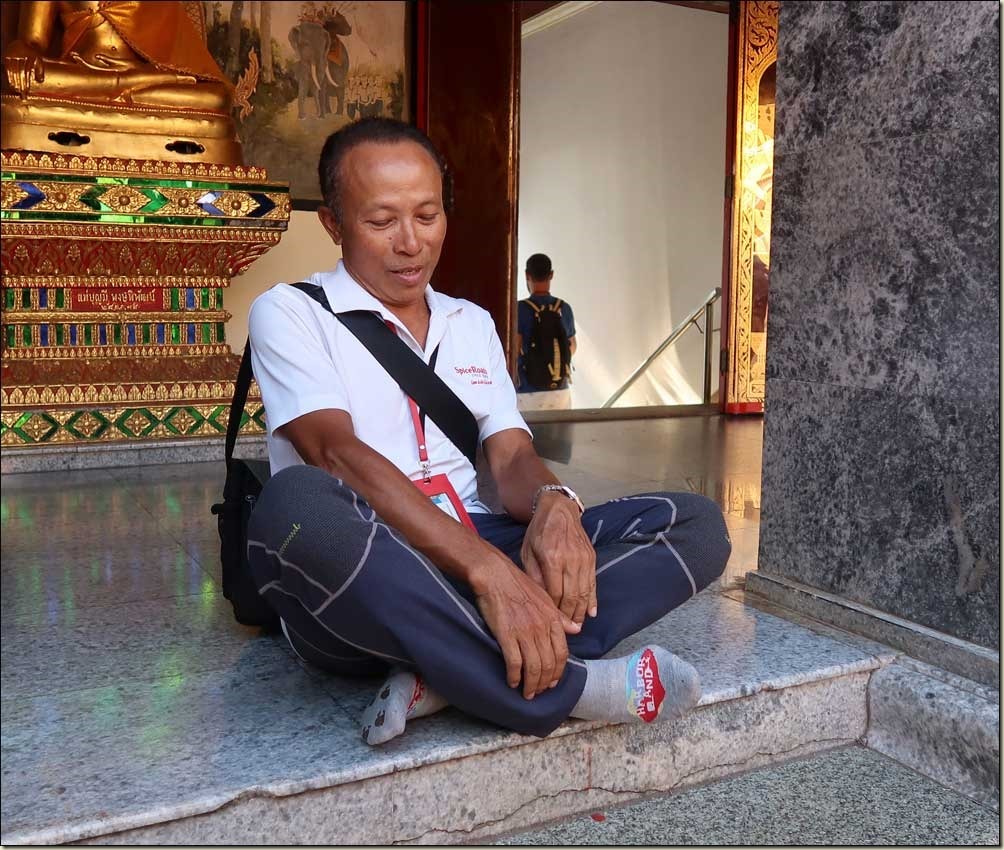 Put your leg just so…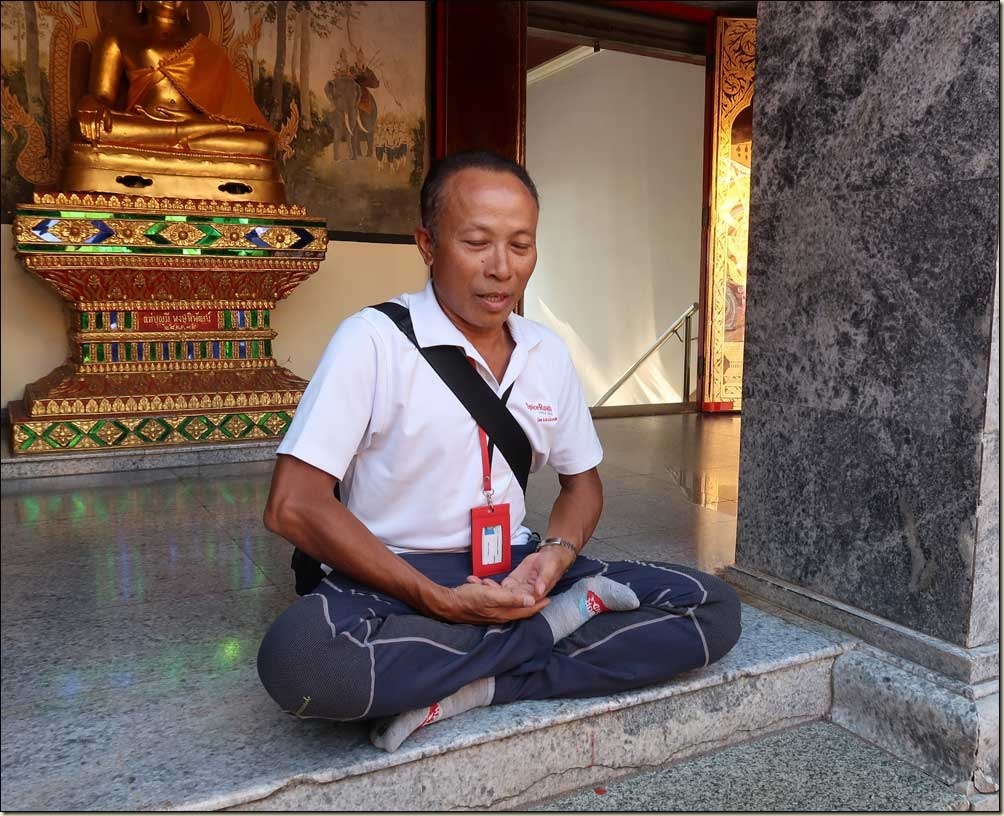 Voila!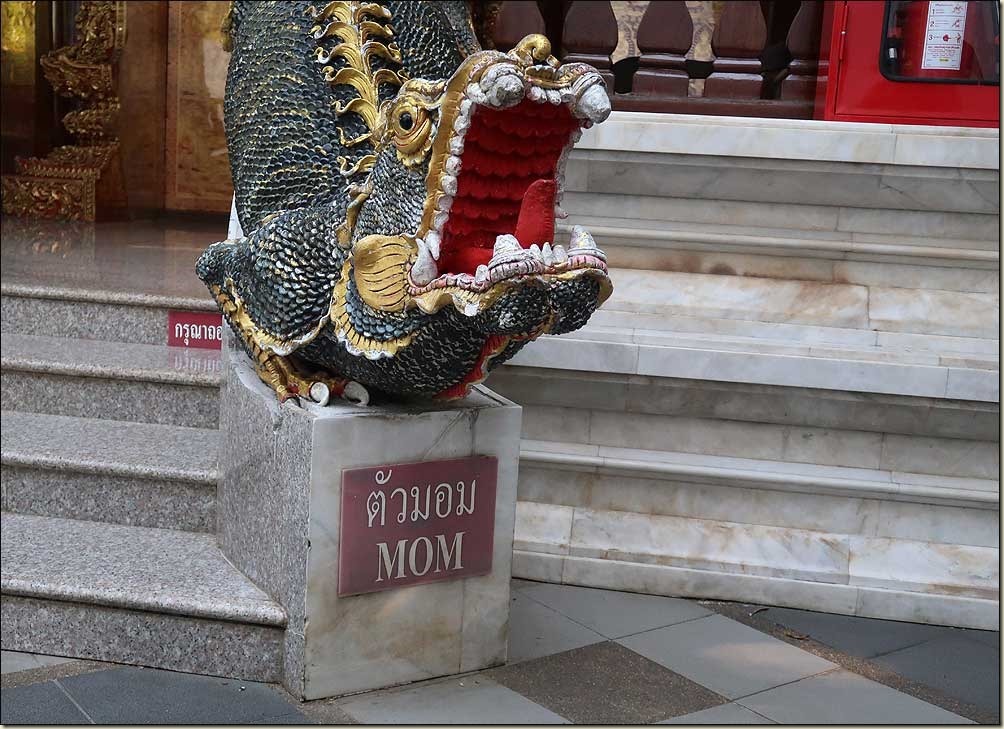 Woodie said Mom is a mythical creature, not the English version of Mom!!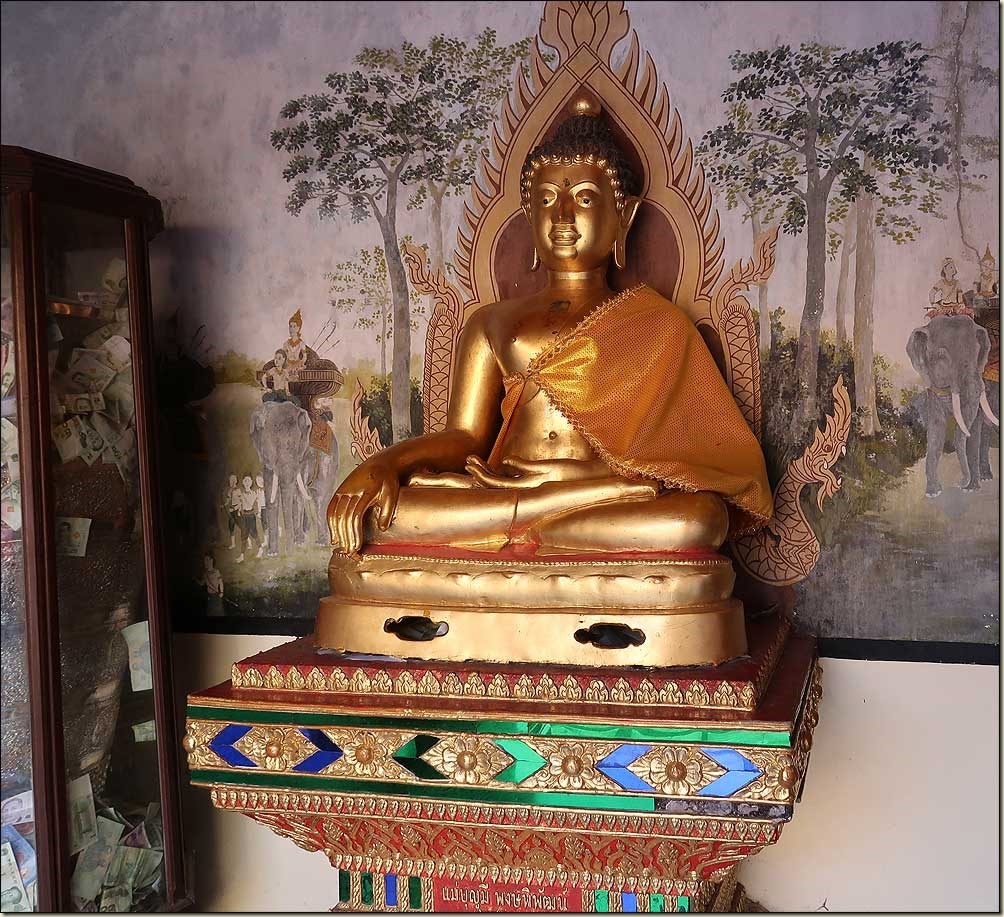 The Fortune Buddha: at the base of Buddha's cushion were two holes, which contain slips of paper with fortunes on them!

We had climbed over 5,000 feet from Chiang Mai to reach Doi Suthep. On a very curvy road, in Spice Road vans, not on our bikes!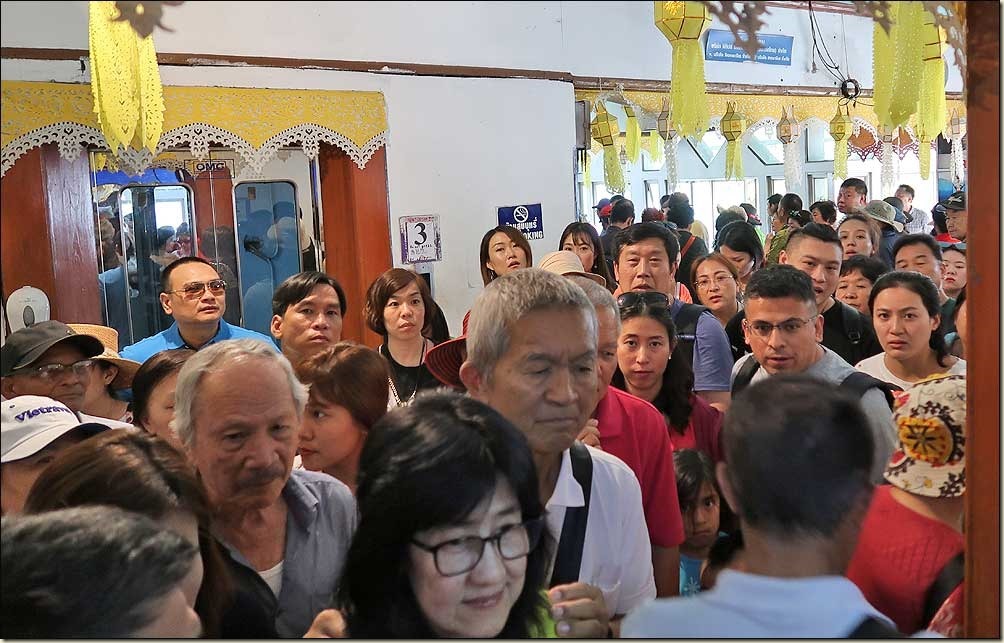 To leave the temple grounds, we rode down the hill on the funicular. Here are the anxious throngs waiting, barely, to get in for the ride to the top.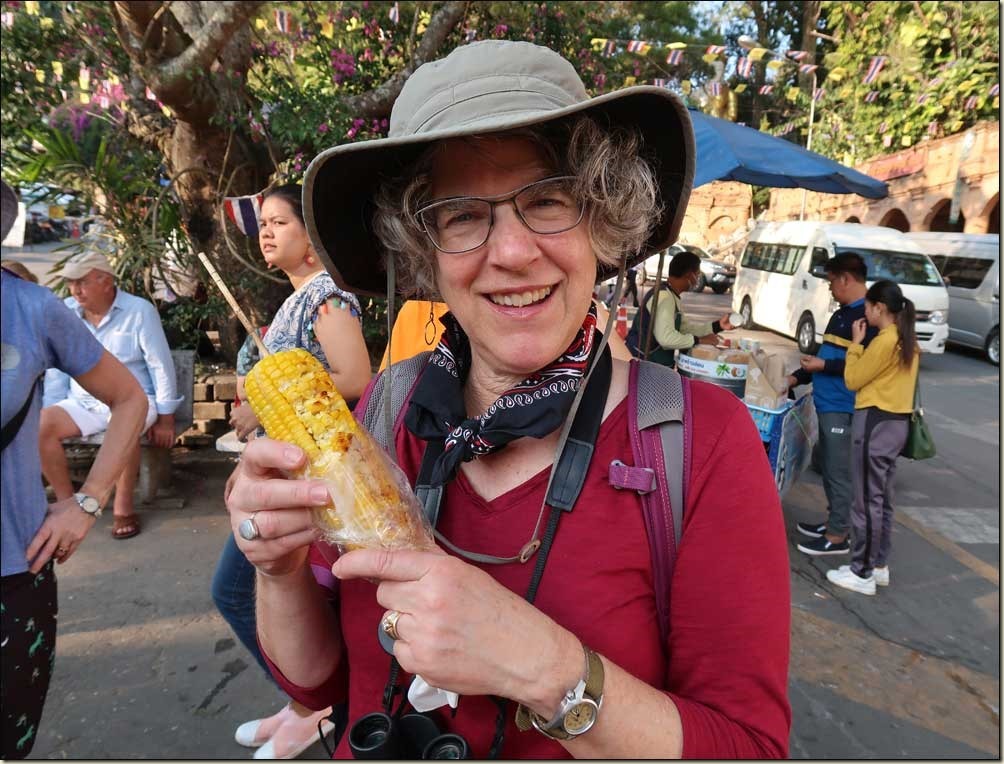 Iowa gal finds grilled corn, very happy! There were souvenirs and food vendors at the base of the temple hill.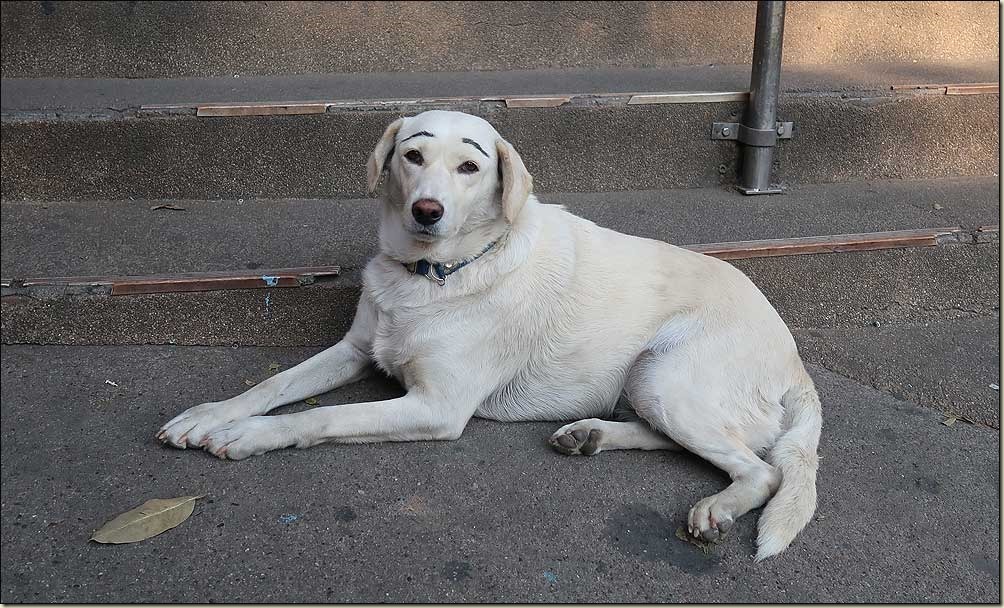 Puppy with eyebrows wishes us adieu as we leave the Doi Suthep grounds.