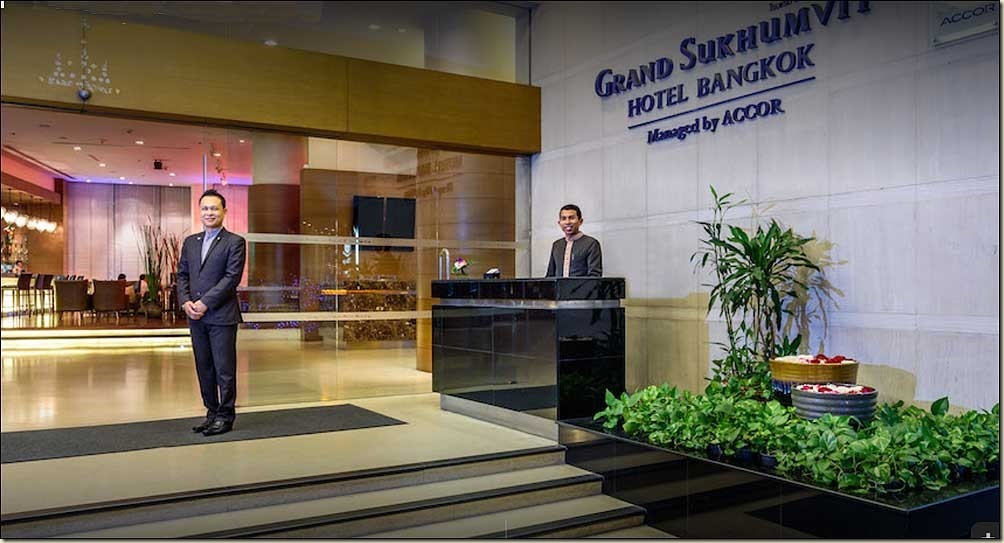 Once again Spice Roads provides us with 5 Star accommodations for our two days in Bangkok at  the end of our first trip . . .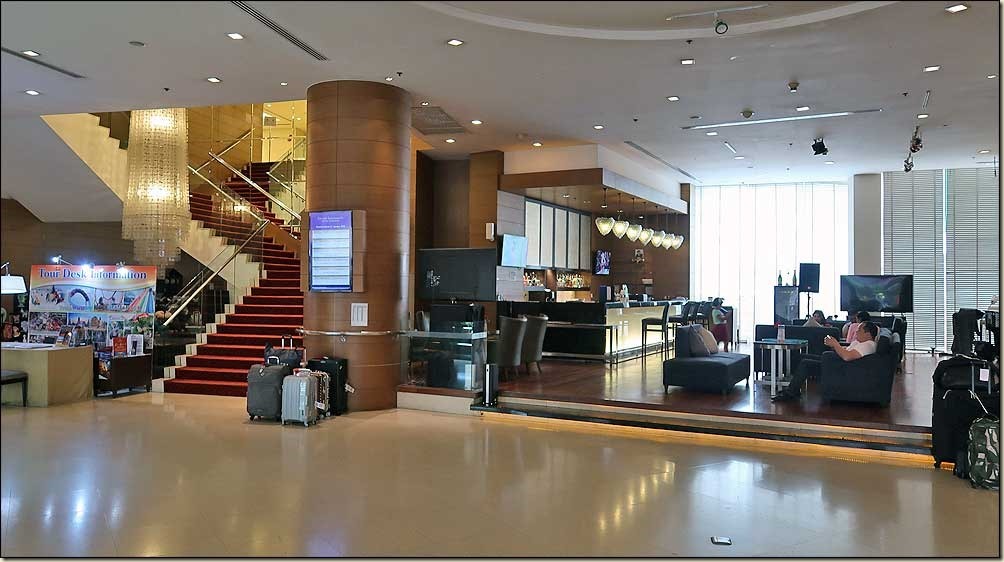 Every amenity you can think of is provided . . .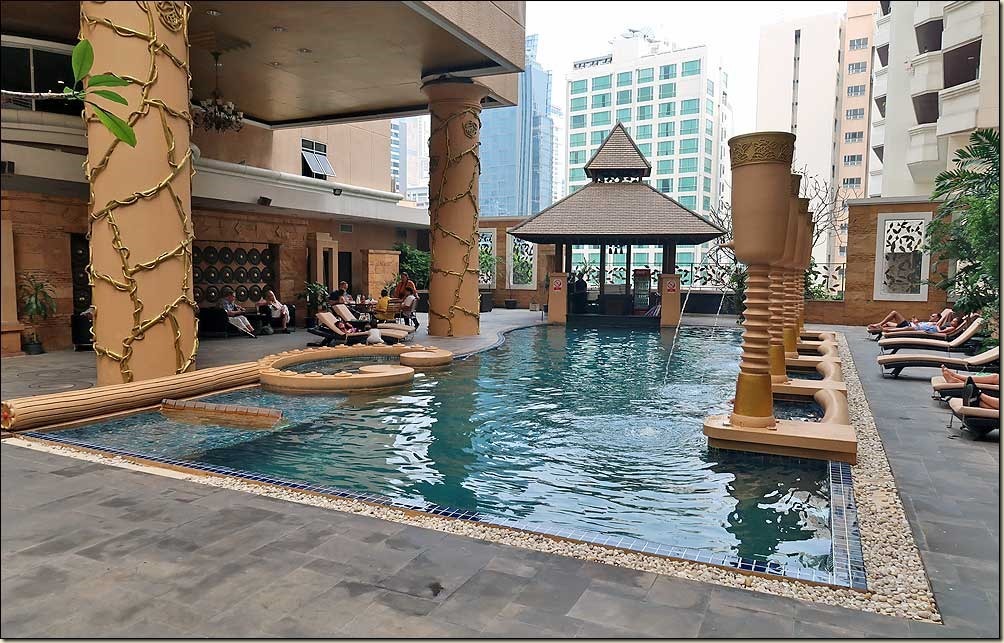 Swimming pool on the 15th floor . . .

. . . and GREAT views from our room. Unfortunately, Bangkok has some of the worst air pollution in the world and there was a air pollution alert today causing the shakedown ride at the airport track for our new riders , Lori, Anne and Ben to be cancelled. School was also cancelled for two days because of the air quality.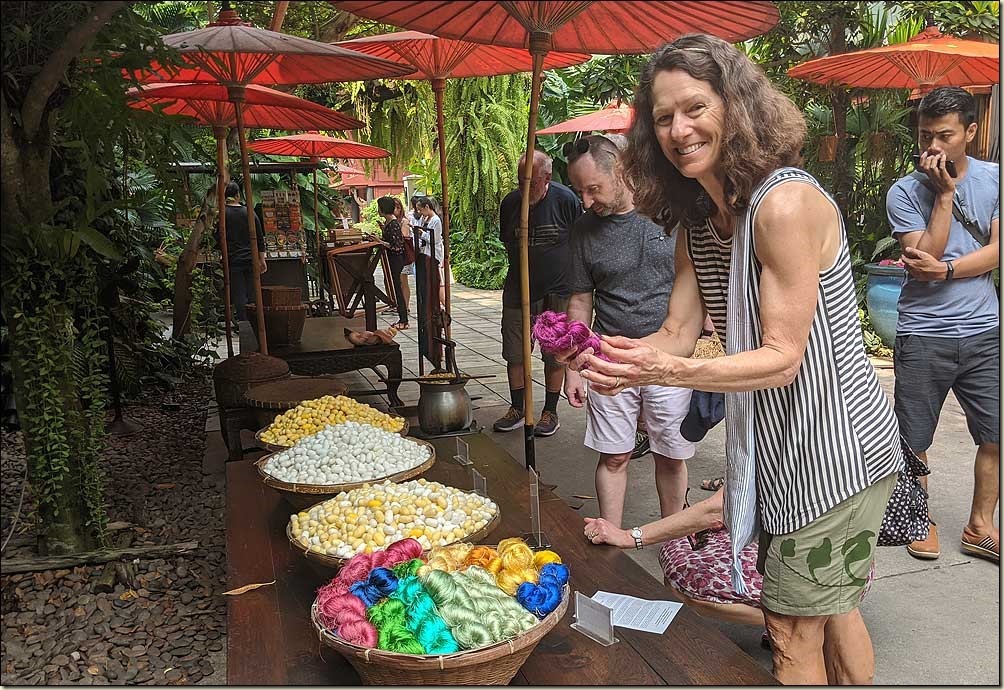 Some of the gang headed off to tour the James Thompson house. Demos of the silk making process were very interesting . . .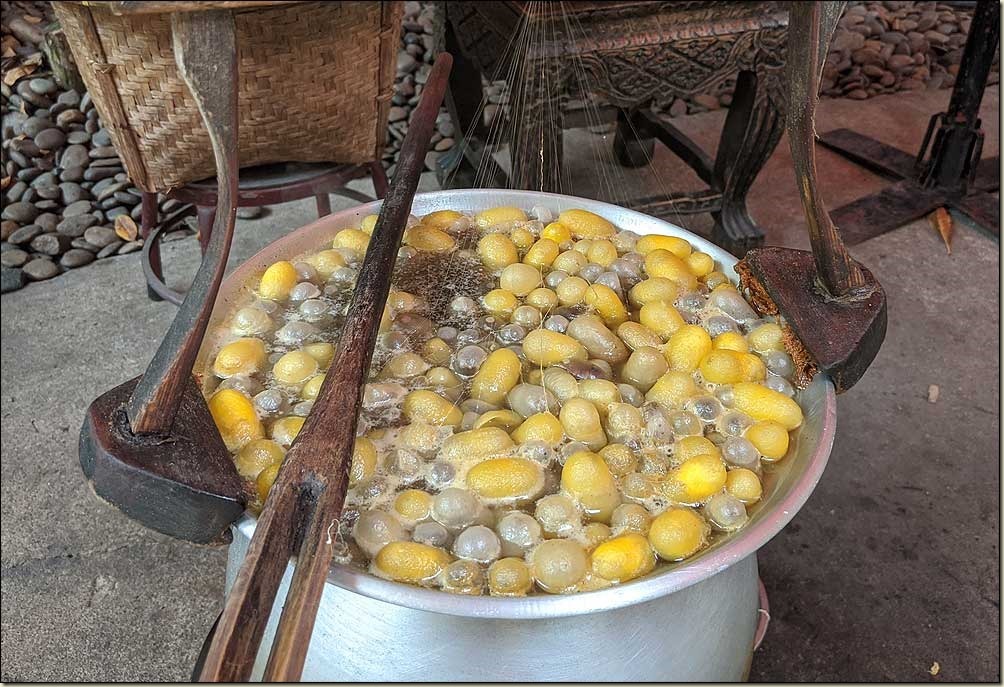 . . . here the silk cocoons are boiled,and as you can see from the photo above, the strands of silk are pulled away and spun into thread.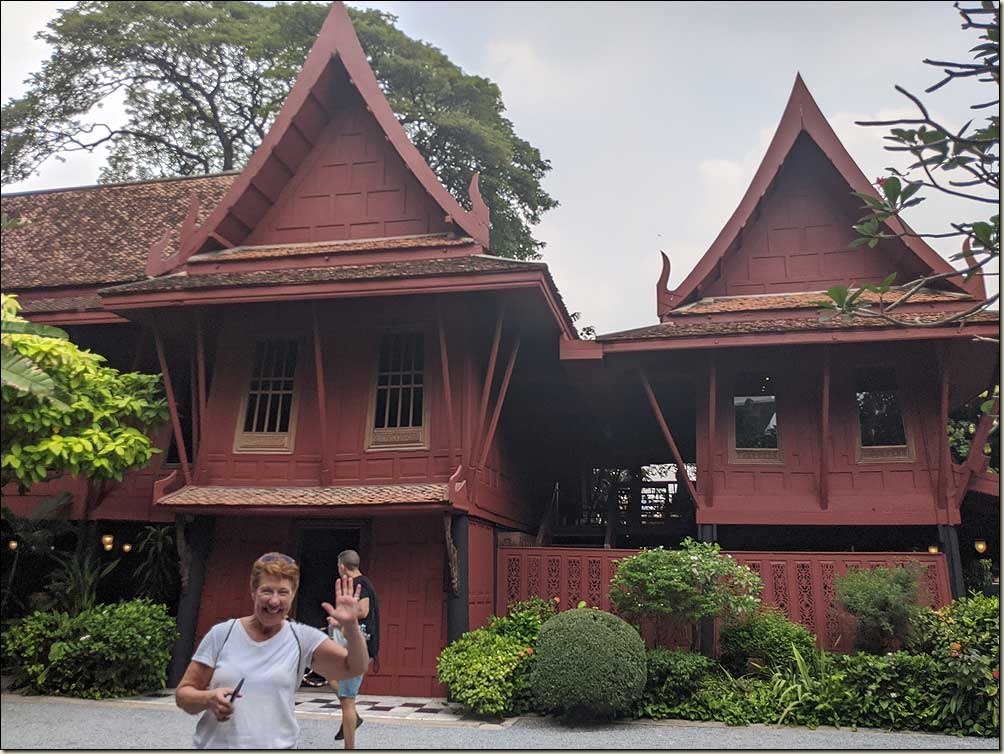 No photos allowed inside . . .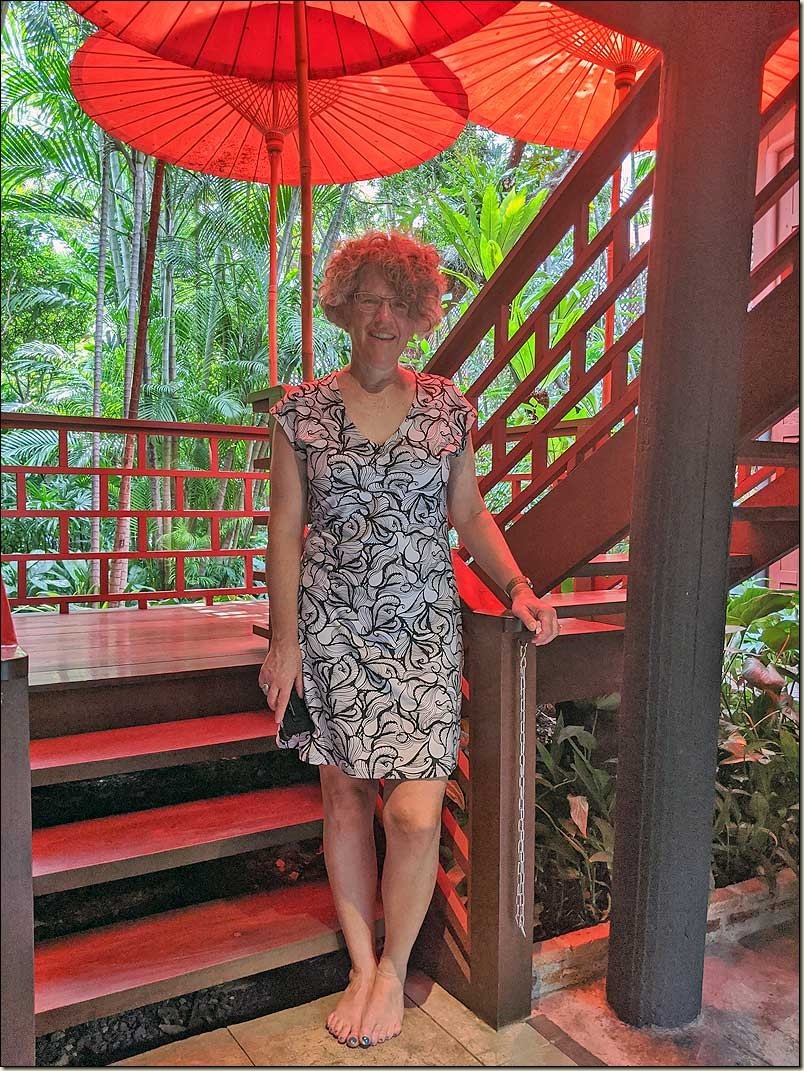 . . . emJay at one of the homes entry points.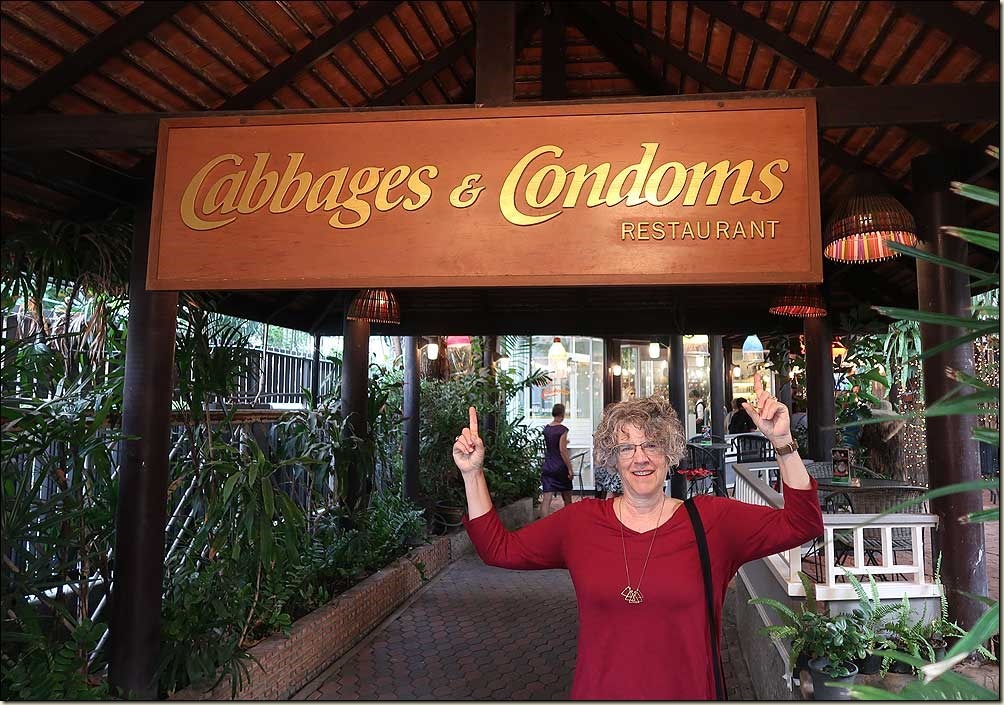 Tonight we went to a quirky restaurant called Cabbage and Condoms!!!!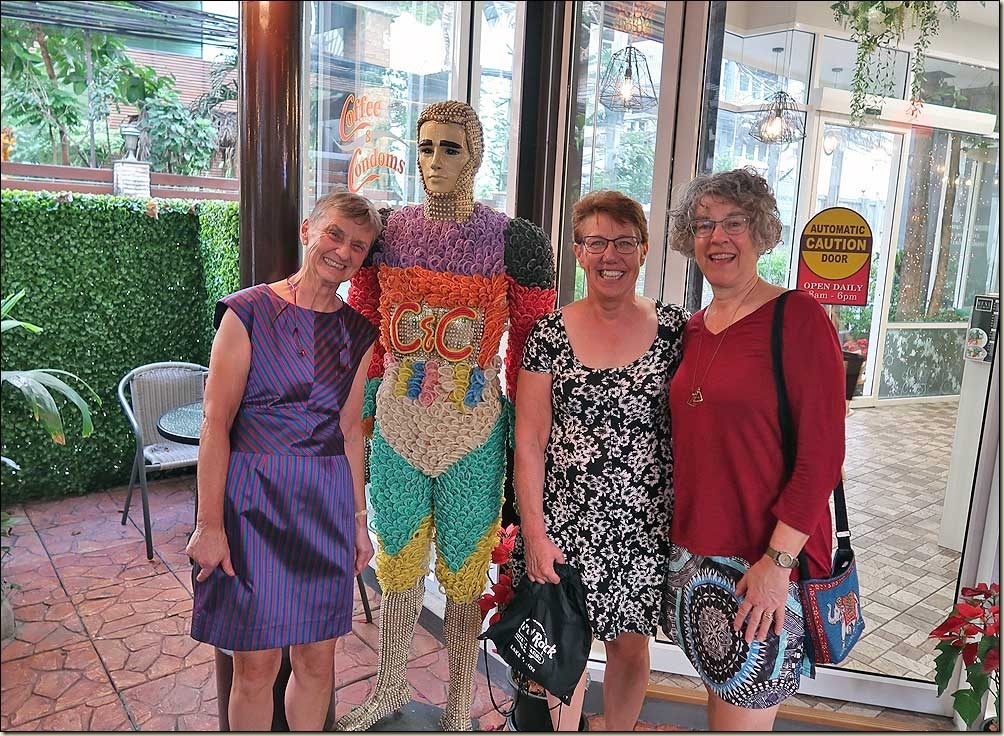 . . . a not for profit restaurant  where the profits go to support child education. Condoms are the theme and here some of the girls pose with condom man!!!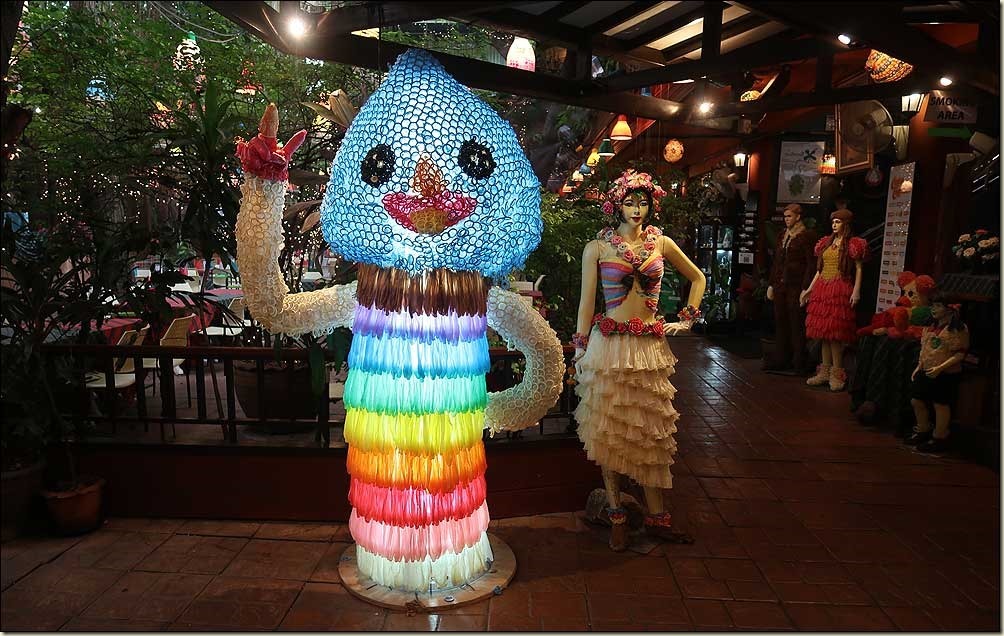 Condoms in every shape and color used in artwork . . .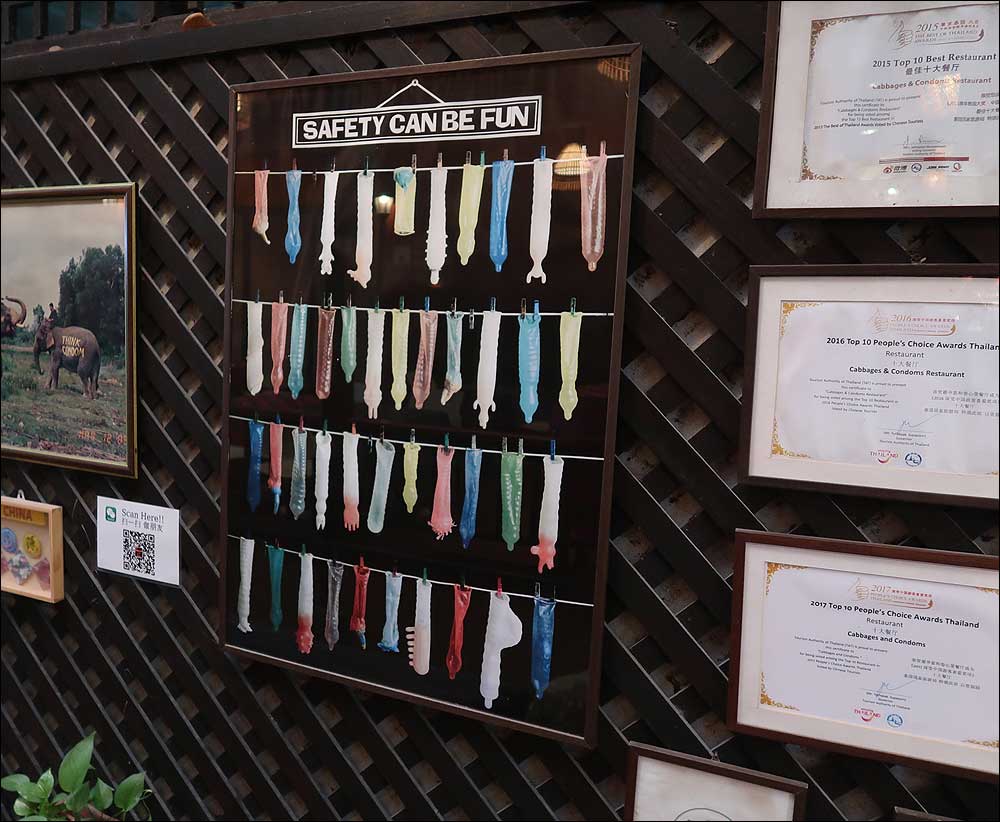 . . . oh and there is an educational bent too.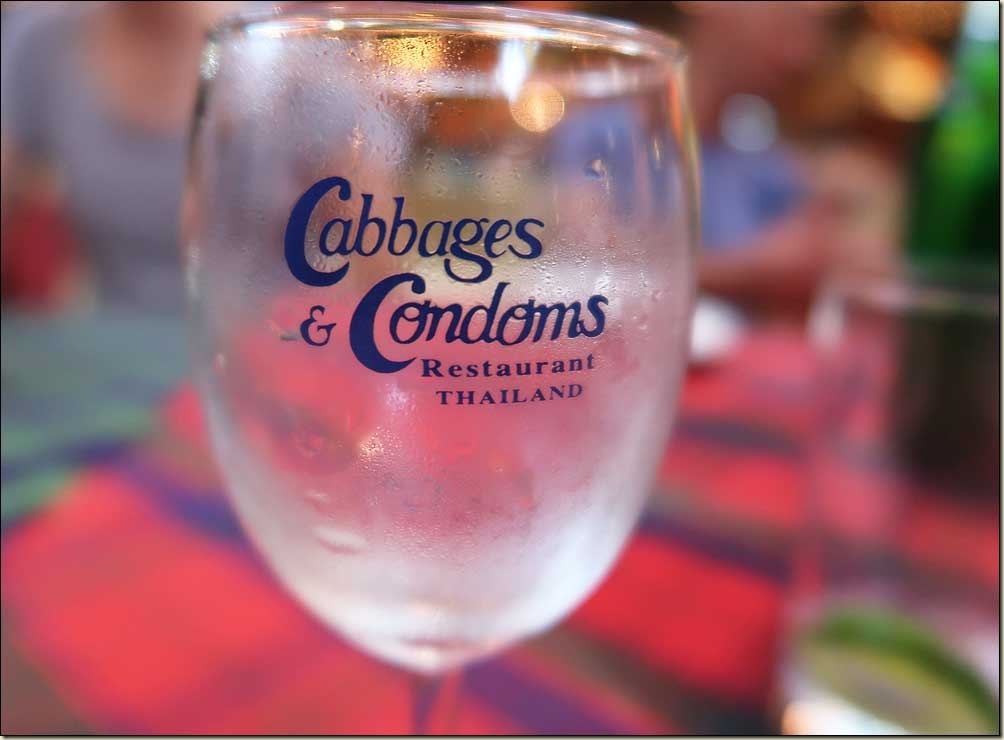 No way to get these wine glasses how without breaking them!!!
. . . being the introductory dinner for our second trip, the wine and beer flowed like water!!!
Bow, from Spice Roads, attended to make sure we all got a new jersey that fit . . . here helping Lori and Anne with the sizing . . .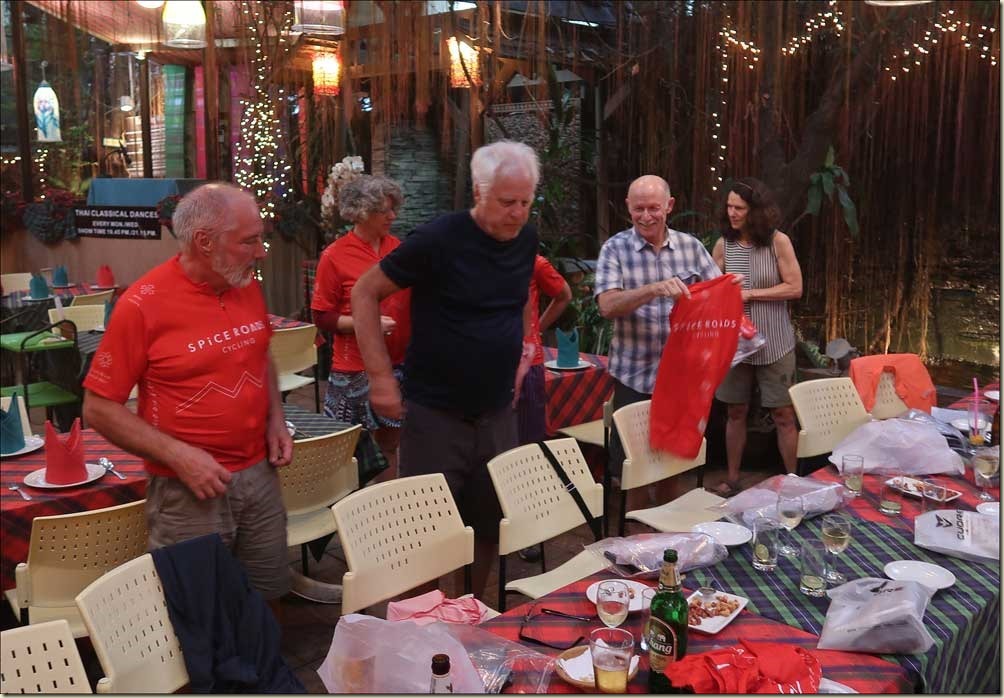 . . .mmmmmm XL or 2XL is the question (Asian sizing you know!!!!)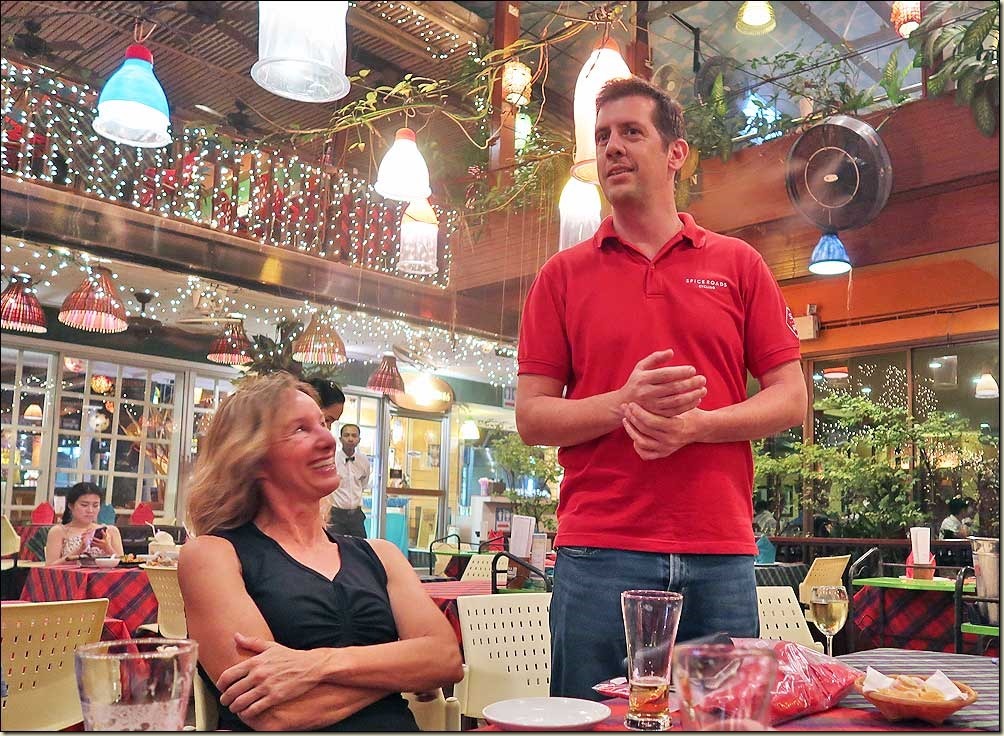 Daniel, Spice Roads CEO, also attend our dinner and warmly welcomed us to our second adventure. He will ride with us for two days.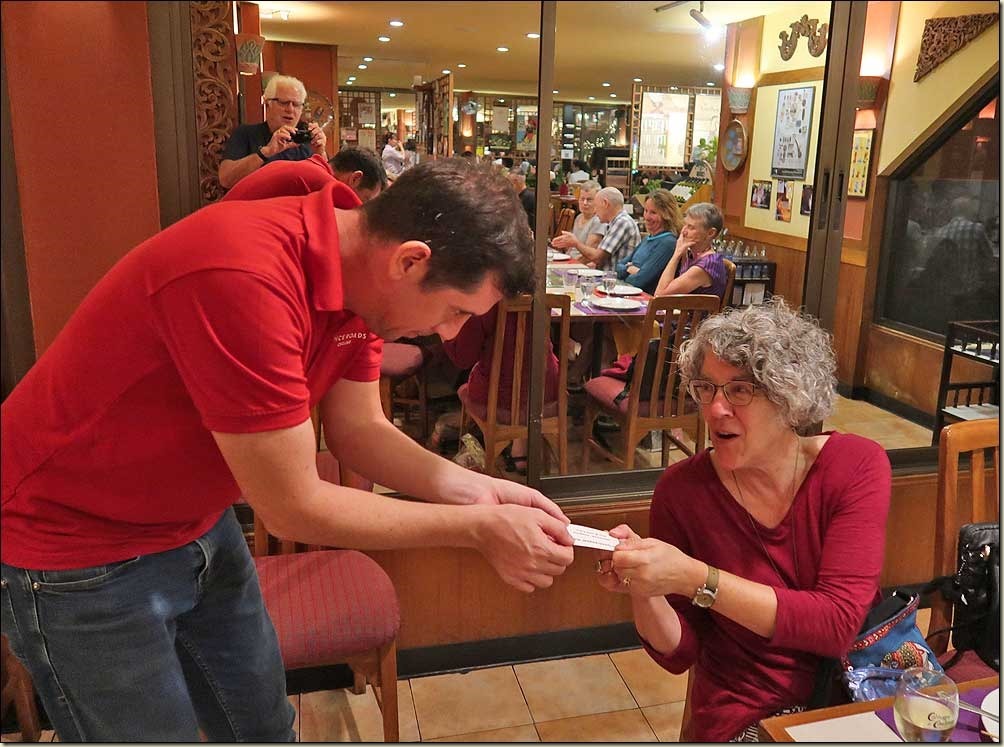 . . . in the Asian fashion of accepting a gift with two hands, he receives one of the wohu journal business cards from emJay.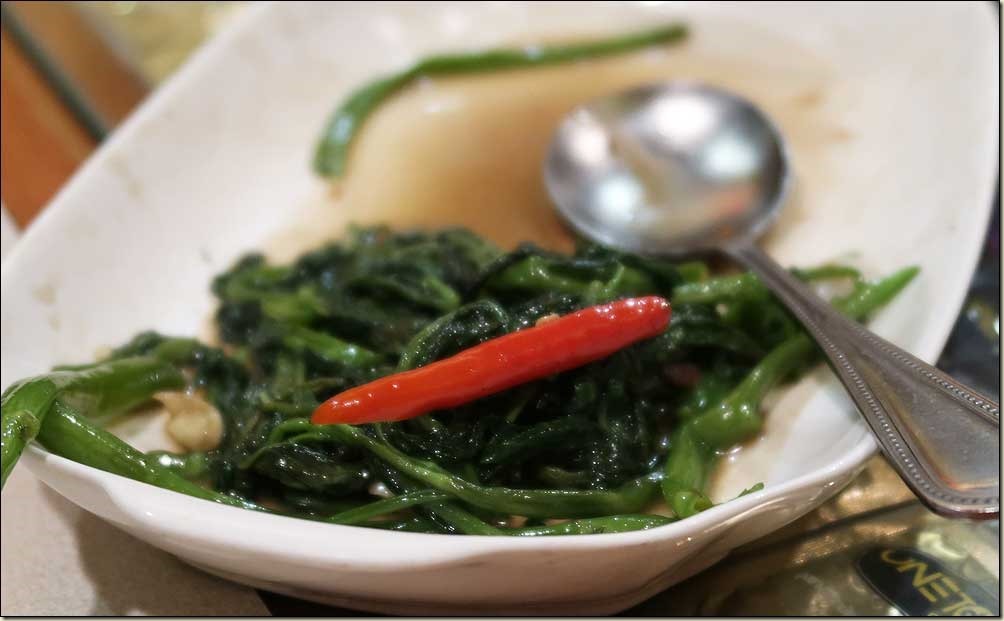 We have learned to WATCH OUT FOR THE RED pepper in Thai cuisine. They are super hot!!! What may look like a piece of tomato . . .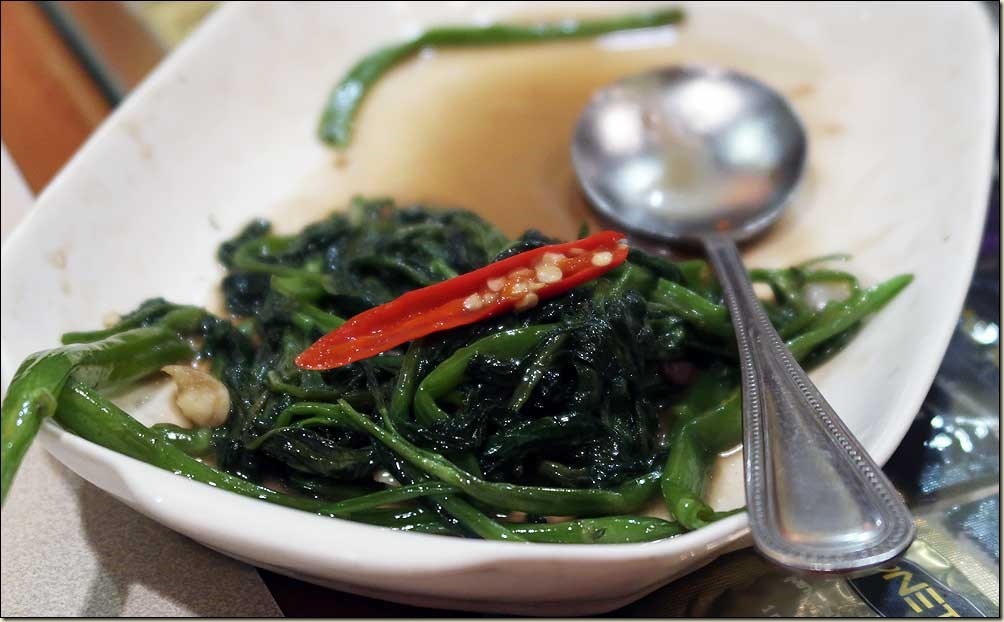 . . . once rolled, over reveals the deadly (to us westerners anyway) chili seeds. Water wont cool your throat . . . milk, ice cream or some dairy product will do the trick!!!!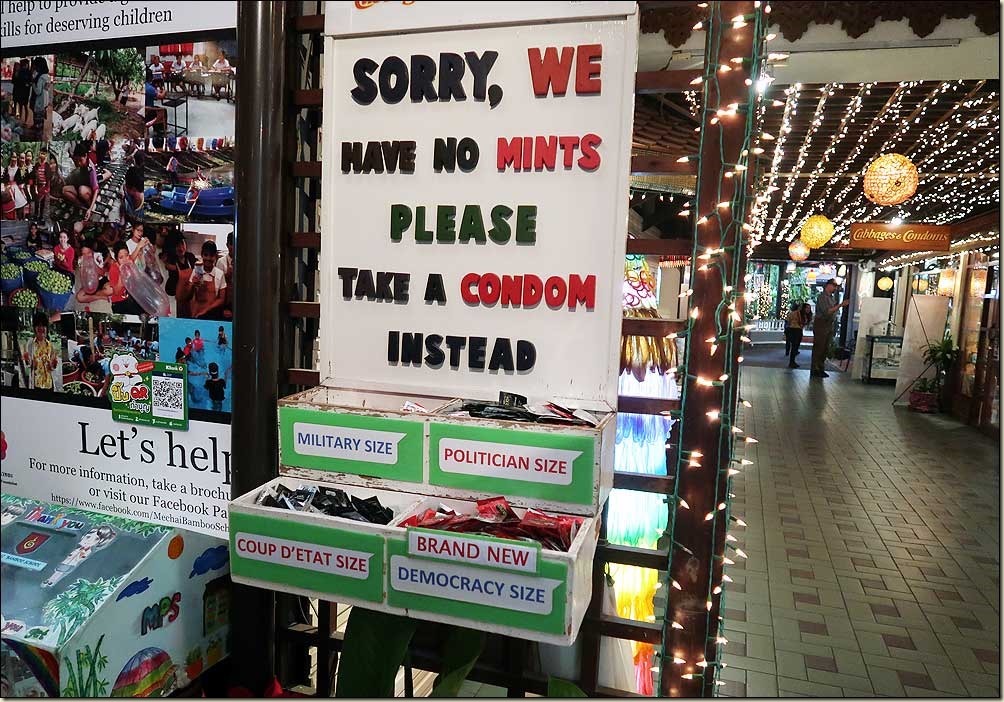 Interesting kiosk as you left the restaurant!!!
Go here to find out about Cabbage and Condoms mission. Very interesting. http://cabbagesandcondomsbkk.com/