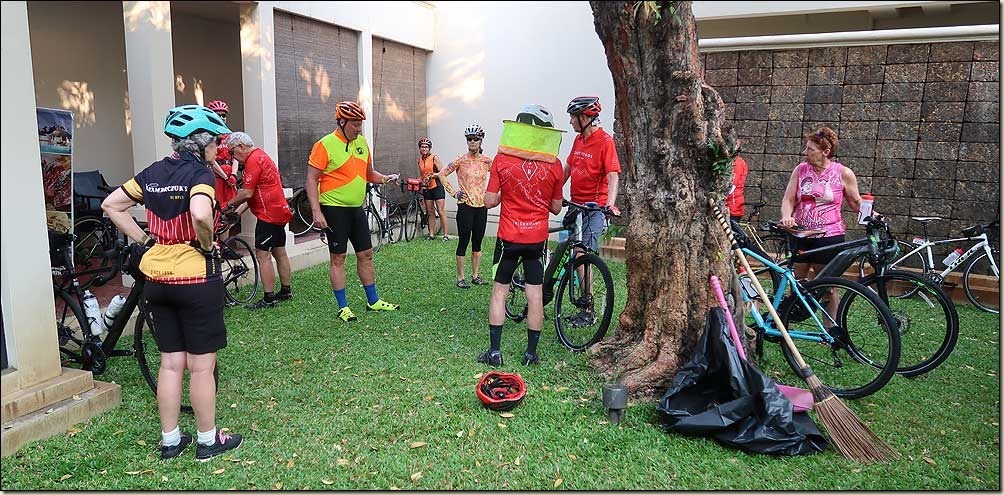 We start our day in the hotel courtyard where Spice Roads staff have our bikes ready to go. Tom gives us an overview of the day.
We are proudly wearing our new jerseys from a great Polish meat market in Minneapolis. Rick's family has gone to Kramarczuk's for years at the holidays to buy "two sticks of Polish!" They have a great restaurant too so don't miss it if you visit the Twin Cities!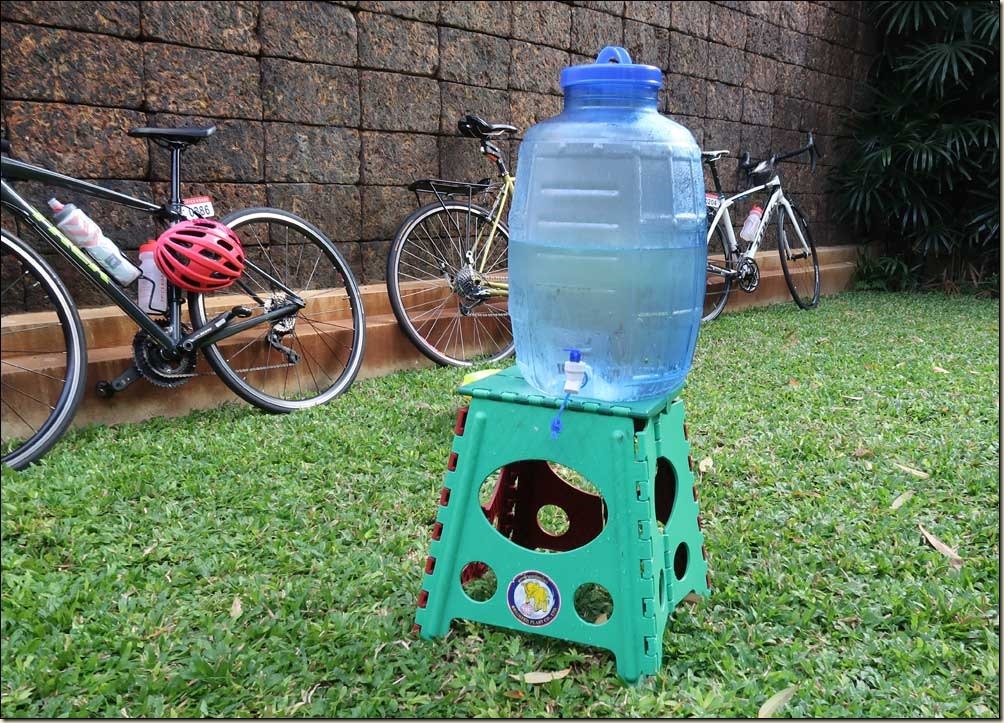 Spice Roads staff have fresh cold water available, as they will all day on the ride. They keep our bottles topped off!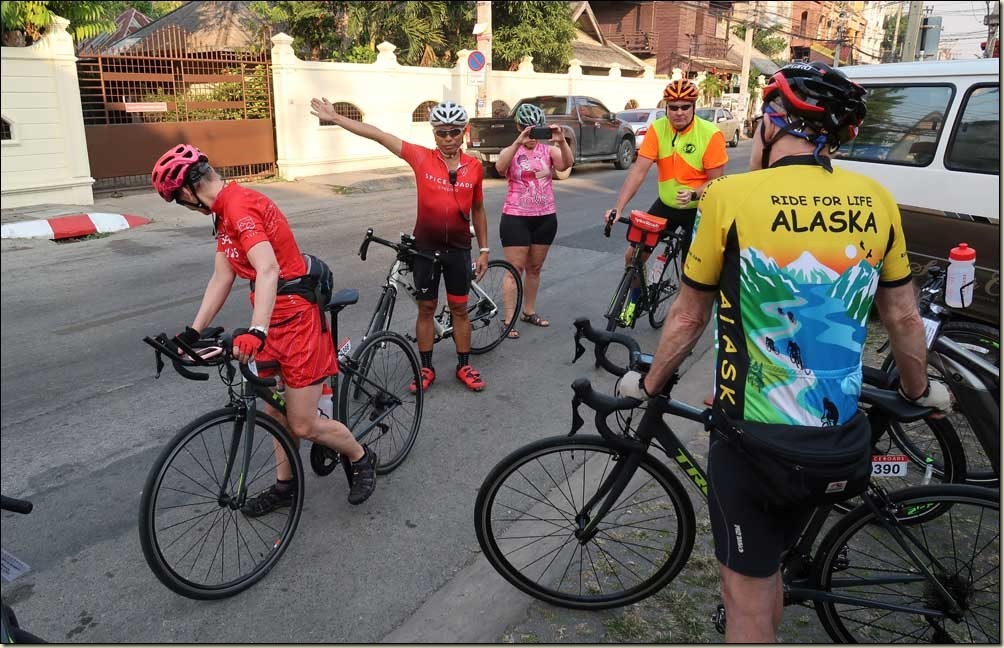 As we leave the hotel, Woodie gives a quick lesson in how to communicate with hand signals. This is important for car drivers to know what we are doing, as well as for communicating with each other–because we can't hear much above the din of the traffic.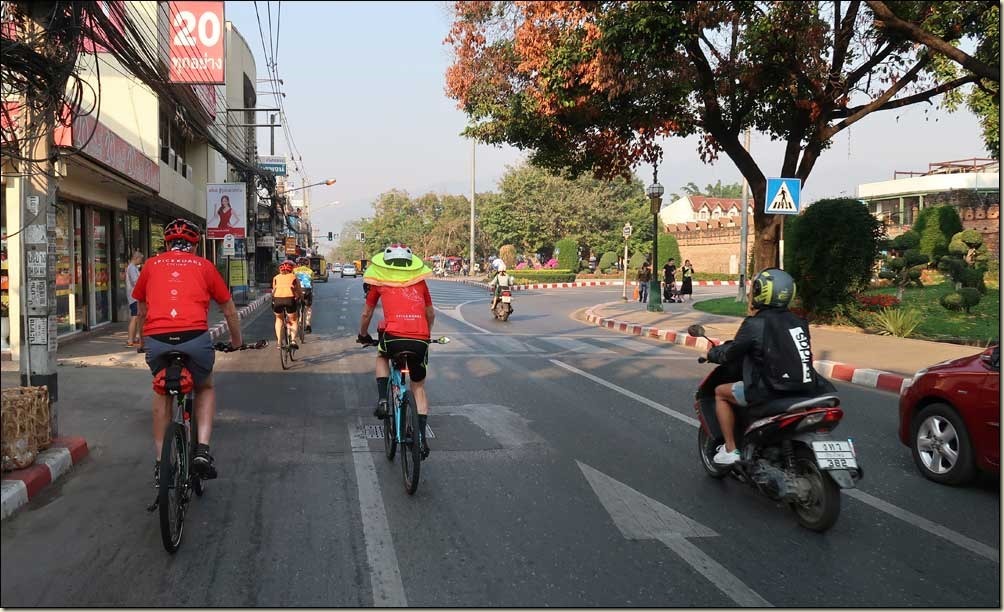 We head out through the morning traffic of Chiang Mai. Stay to the left!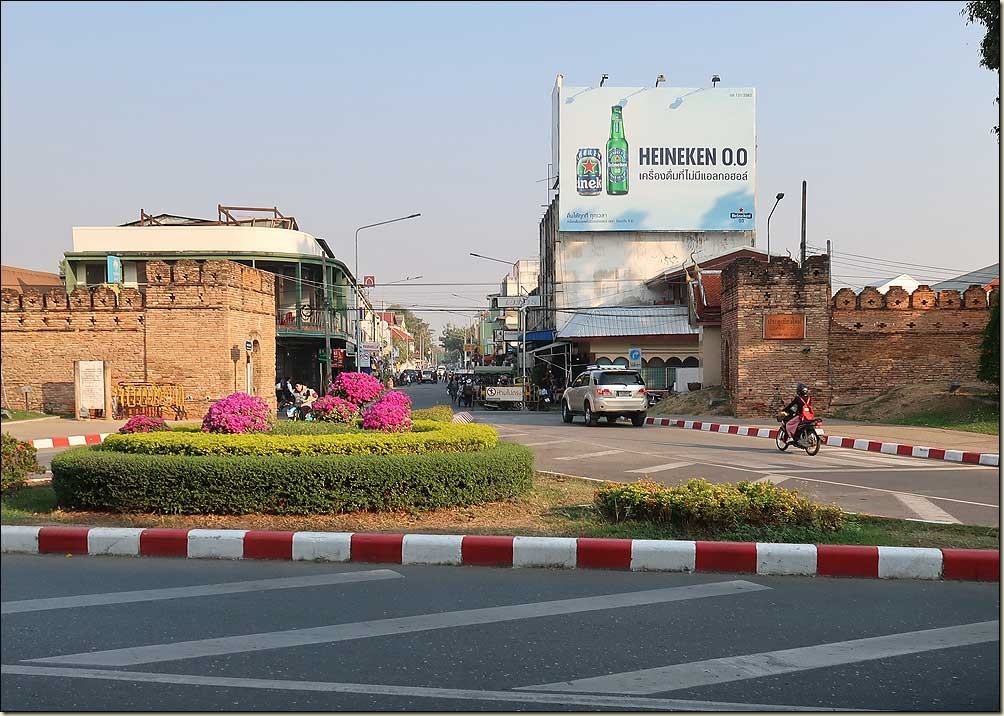 We pedal past the old city walls.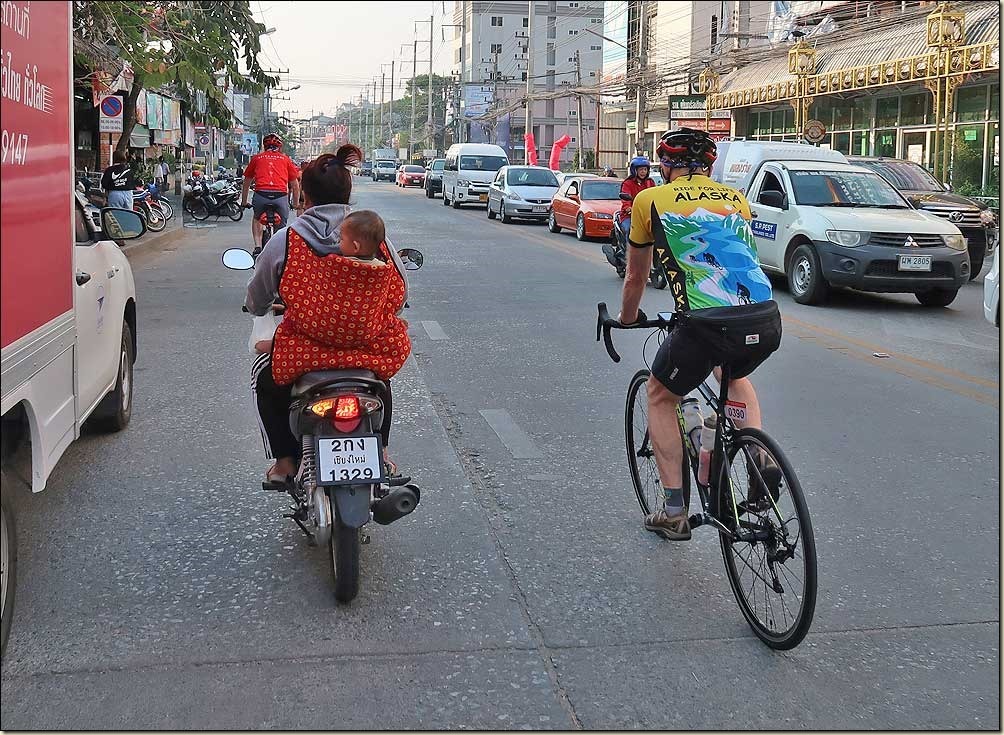 We see all kinds of things — including this mom and baby, papoose-style!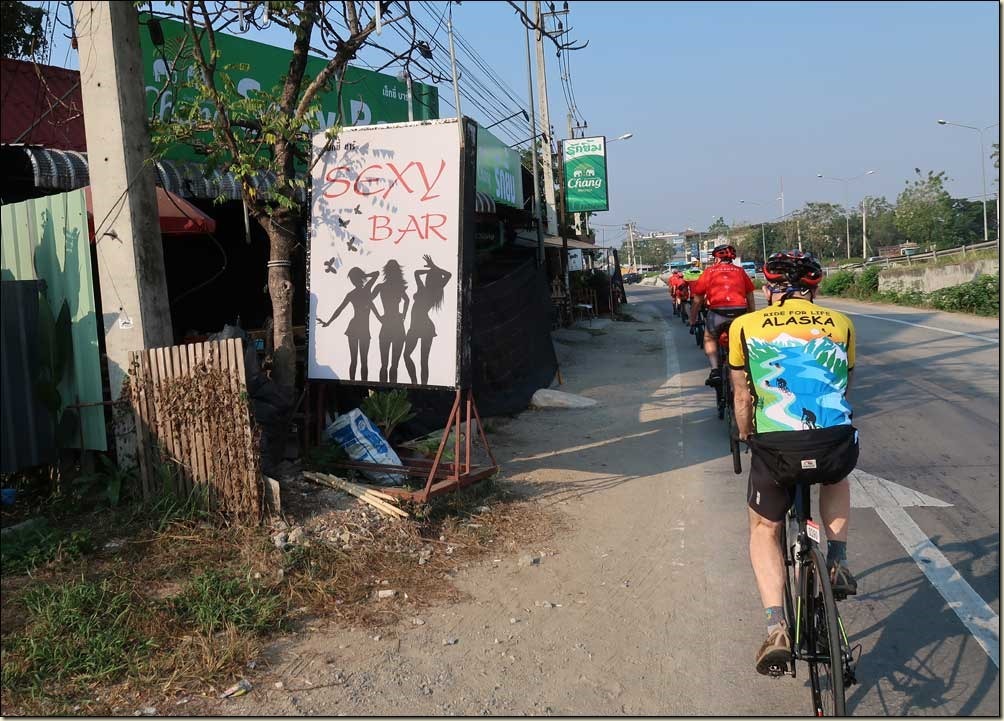 Recreational opportunities abound.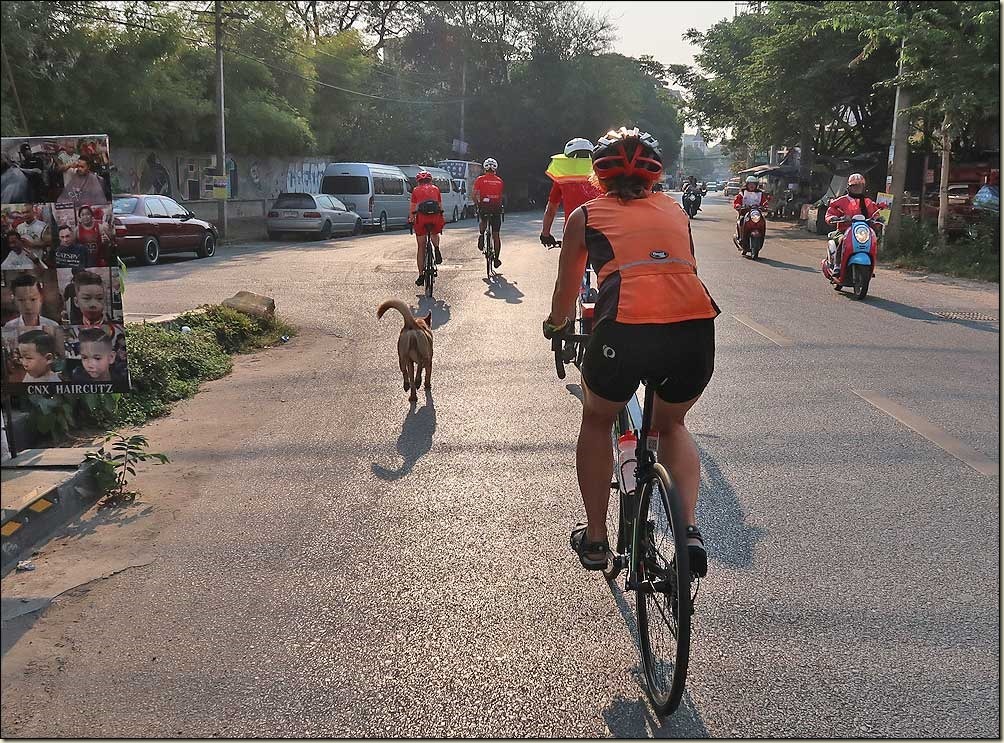 This happy pup joined us and joyfully ran alongside us for over a mile.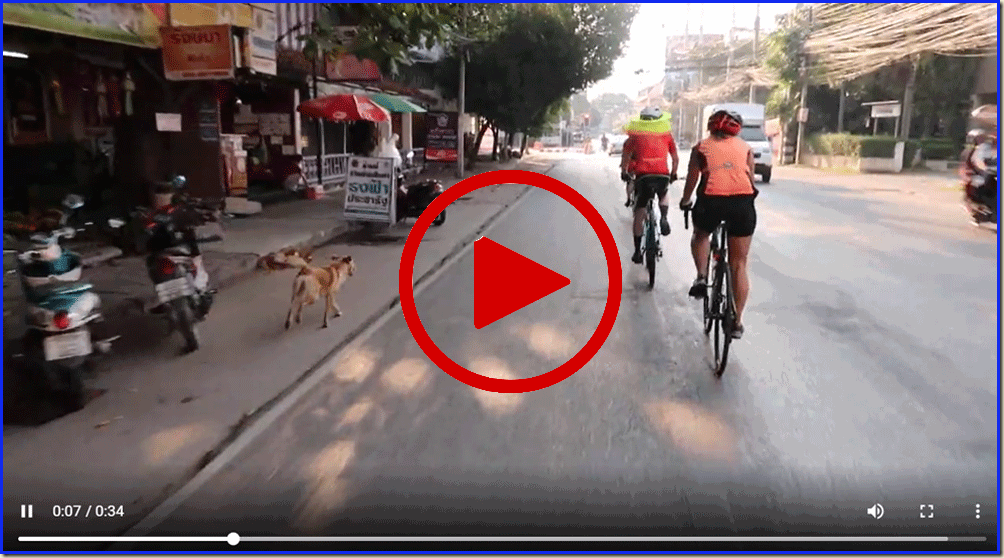 See happy dog run, up on the sidewalk then back into the street here!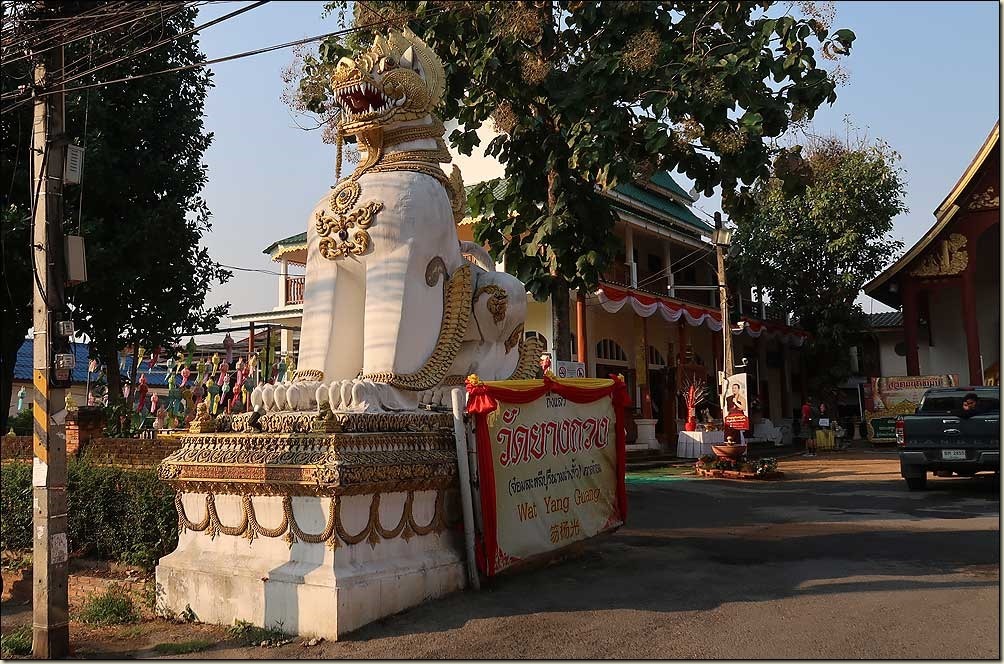 Statue at entrance to small temple.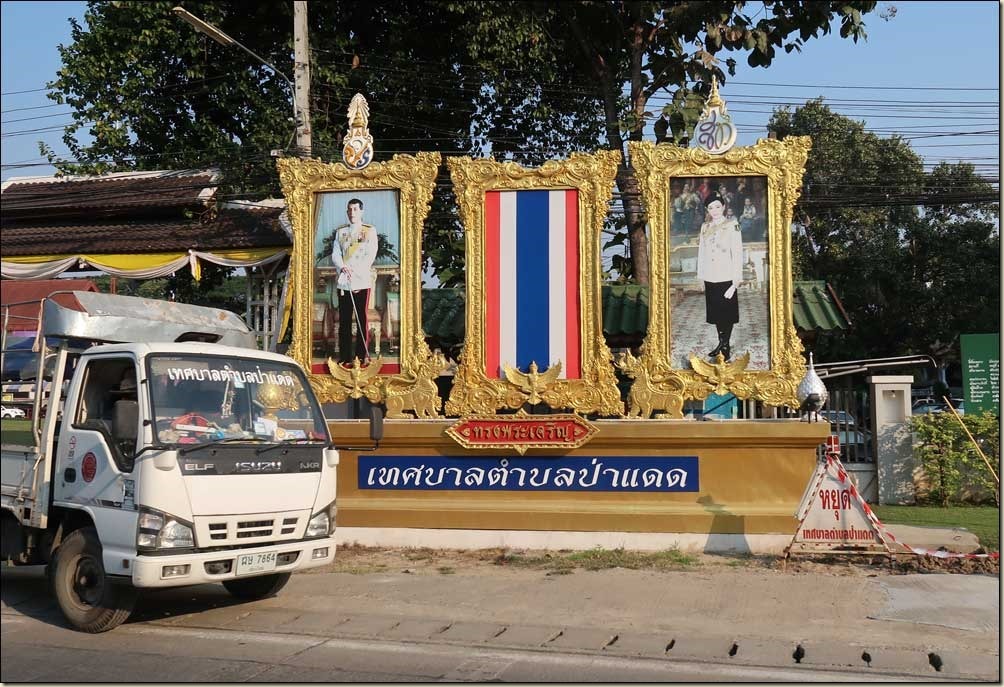 We frequently see sites honoring the King and Queen.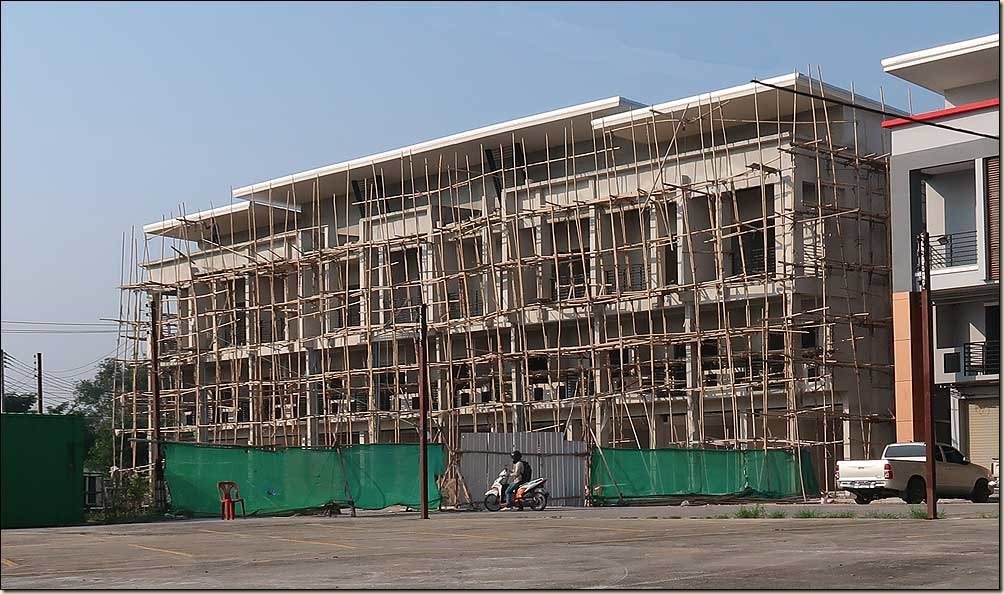 Bamboo scaffolding looks lightweight but must be strong as it is used frequently.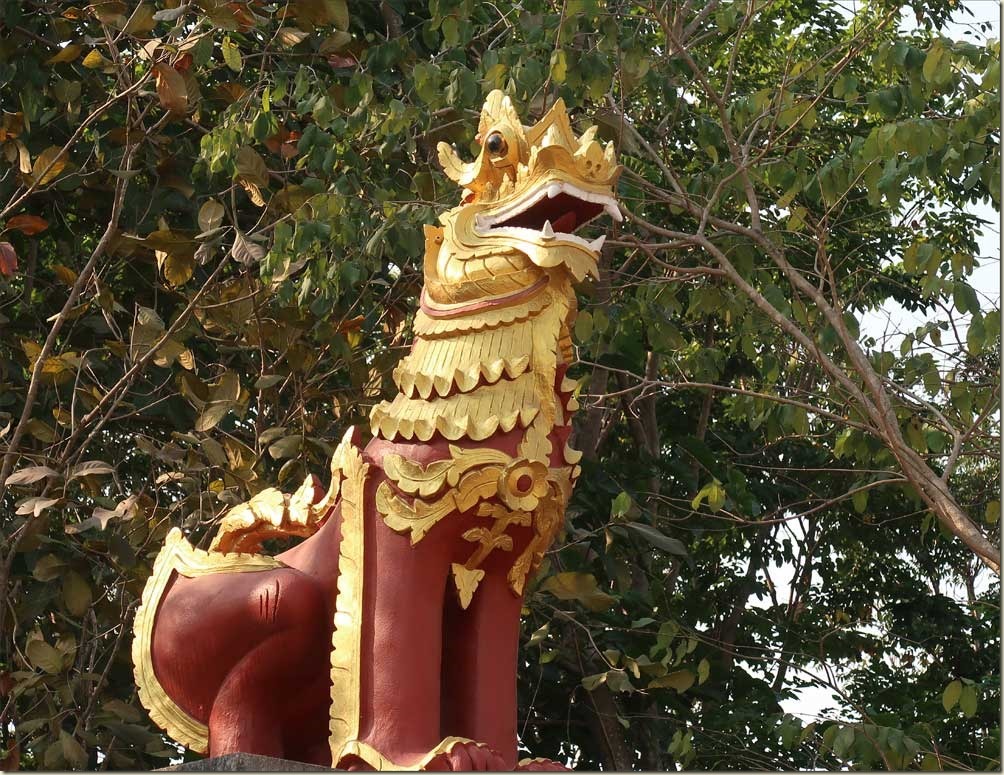 Chicken man?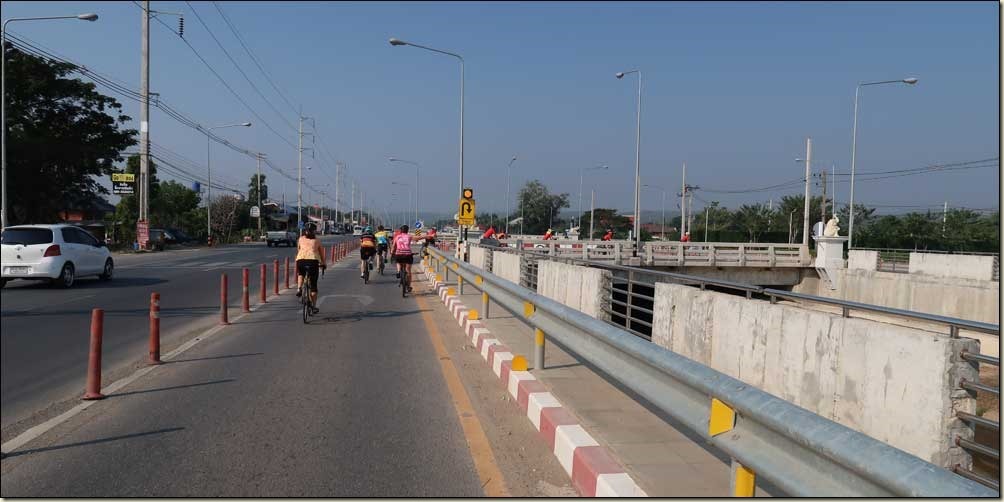 Our route sometimes had a dedicated lane like this;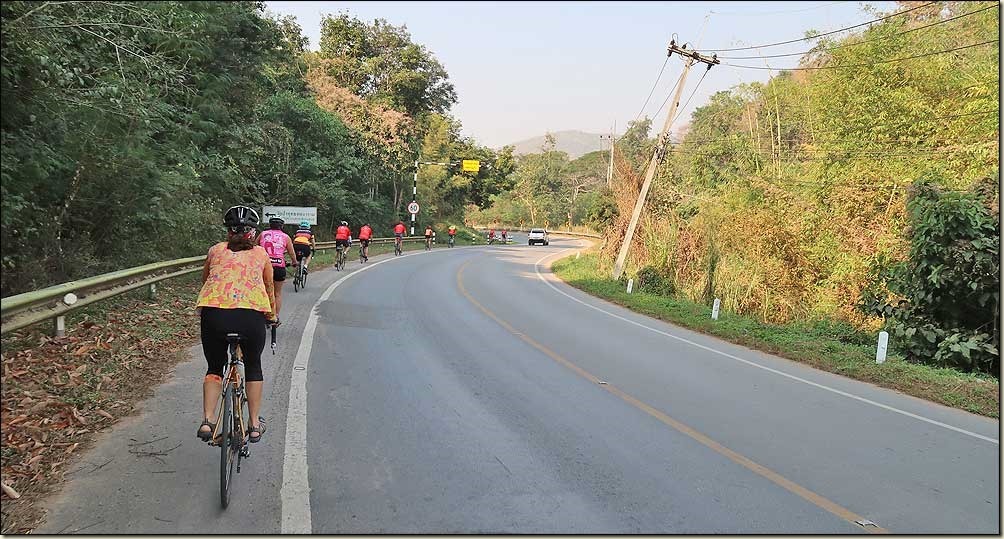 was sometimes just along a highway like this;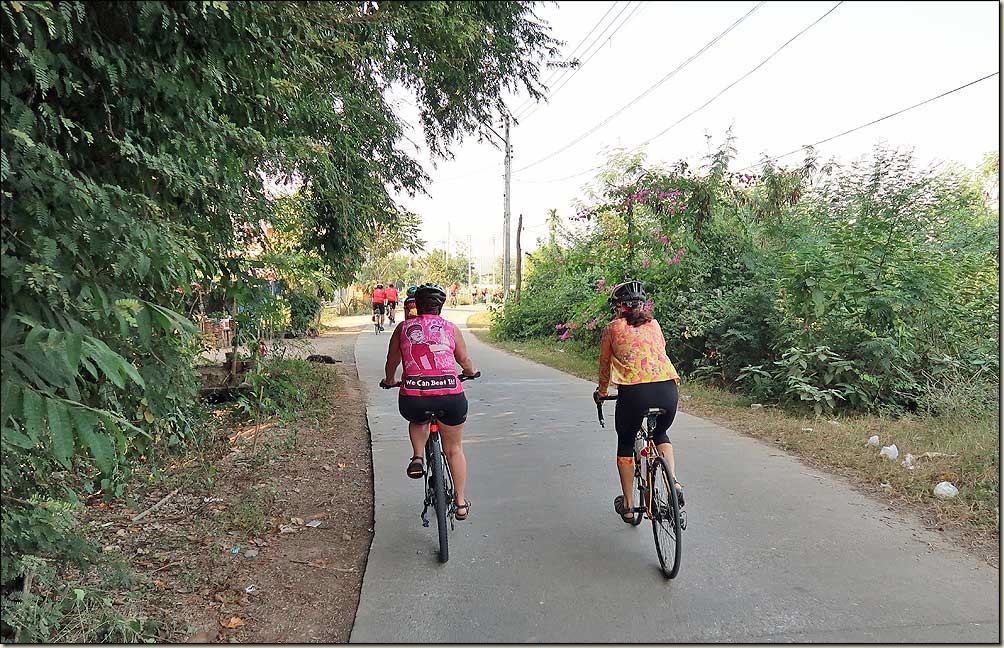 and sometimes we enjoyed a lane through a quiet area like this!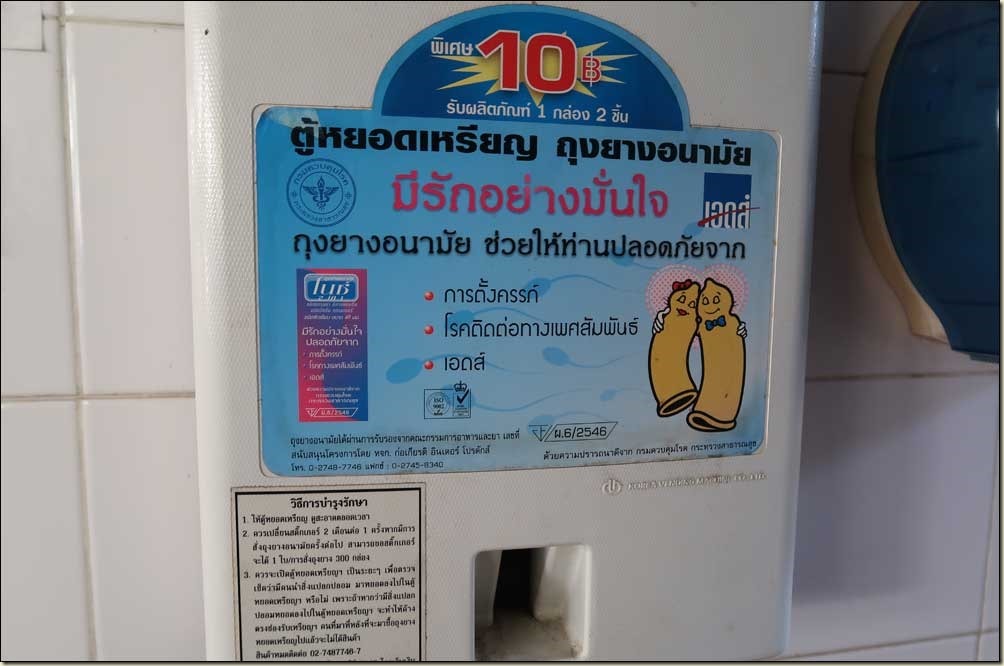 Good deal in the men's room!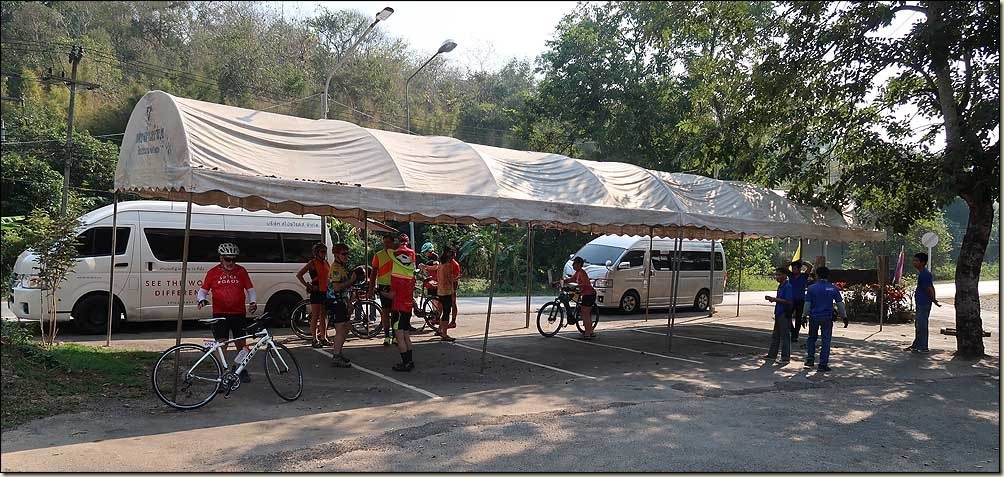 We stopped to rest and take a little break by a government office building. First we enjoyed the shade of this awning…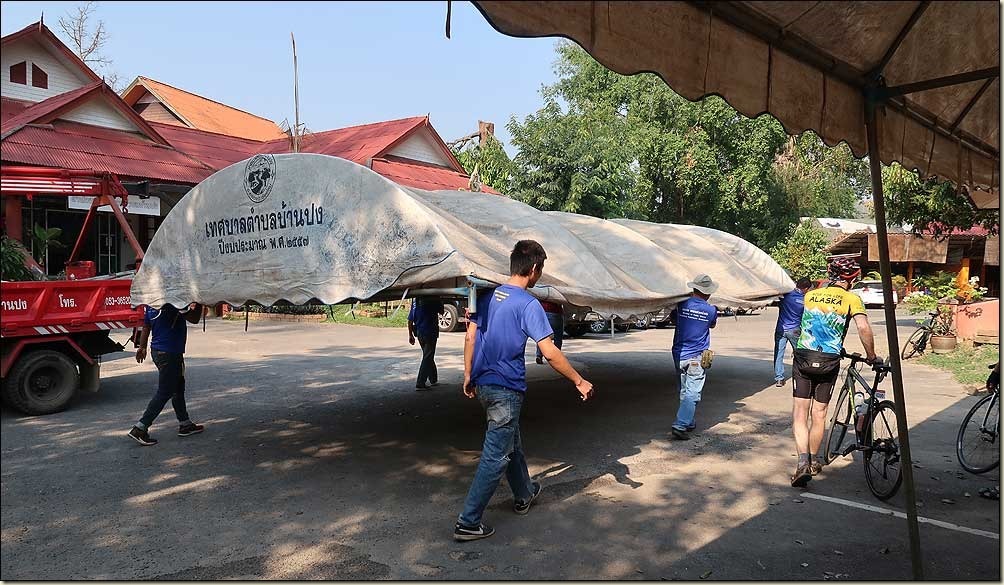 … then workers showed up to move it away!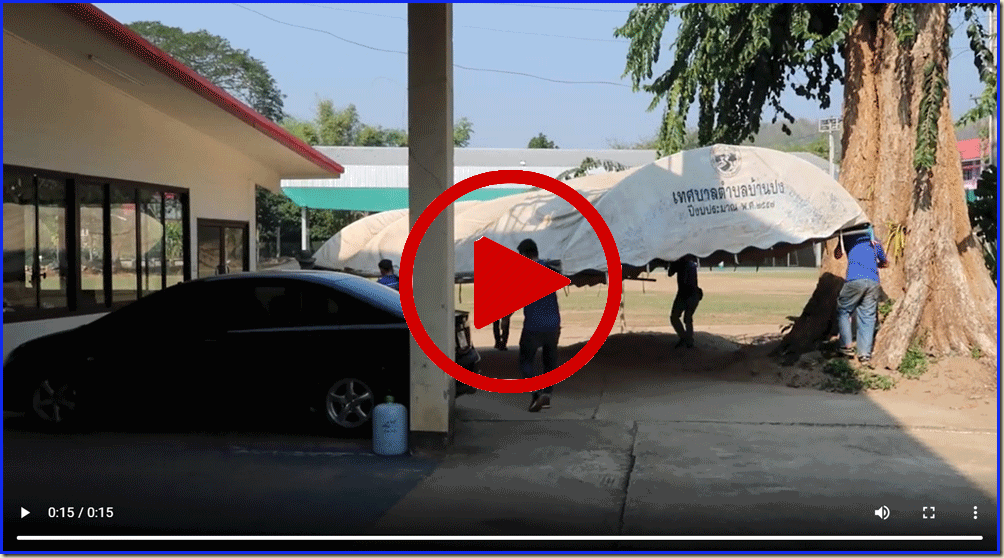 Enjoy the awning procession here!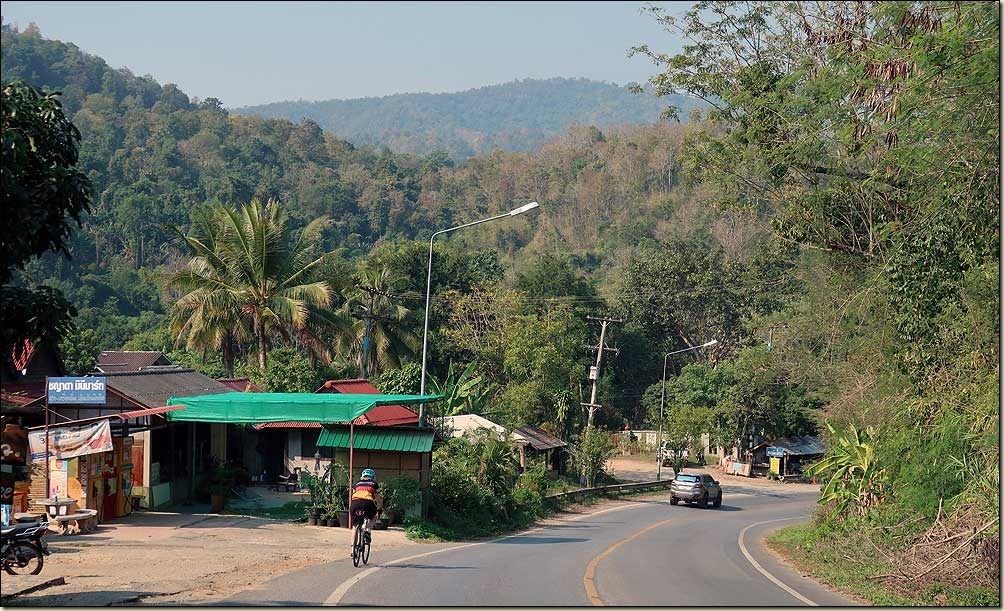 We rode up and down (but mostly up) into the hills outside of Chiang Mai. Some trees on the hillsides were autumn-colored, gold and orange.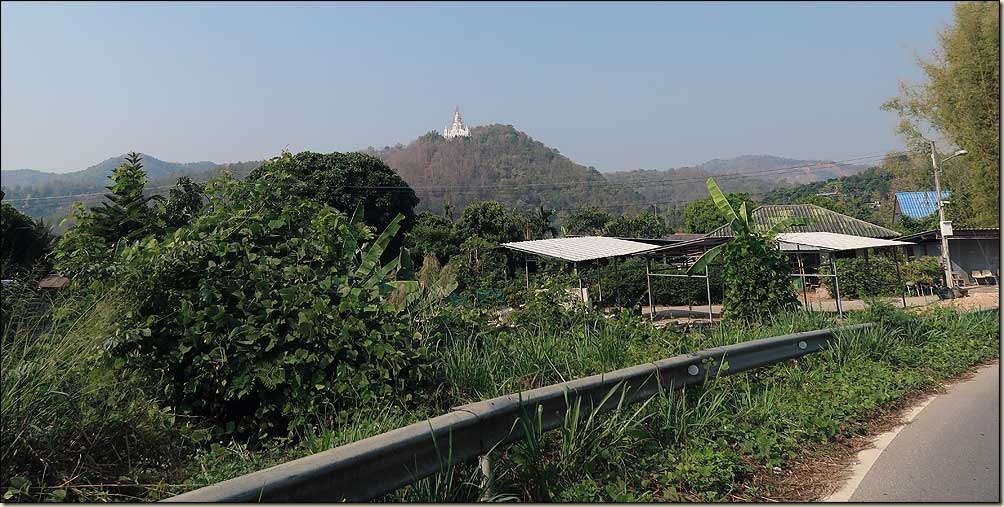 In the distance we could see a temple on a summit.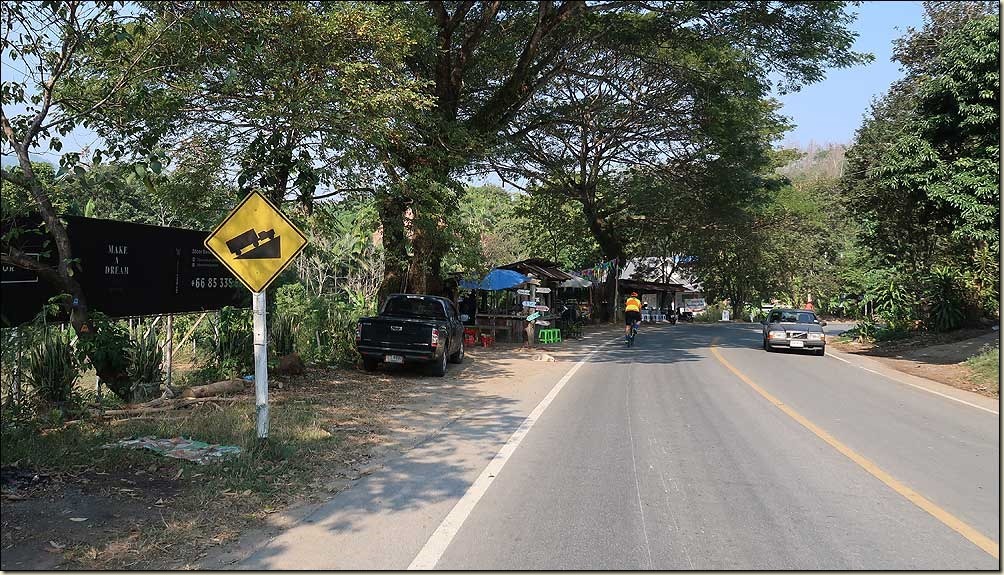 Here is what we hate to see — a steep incline!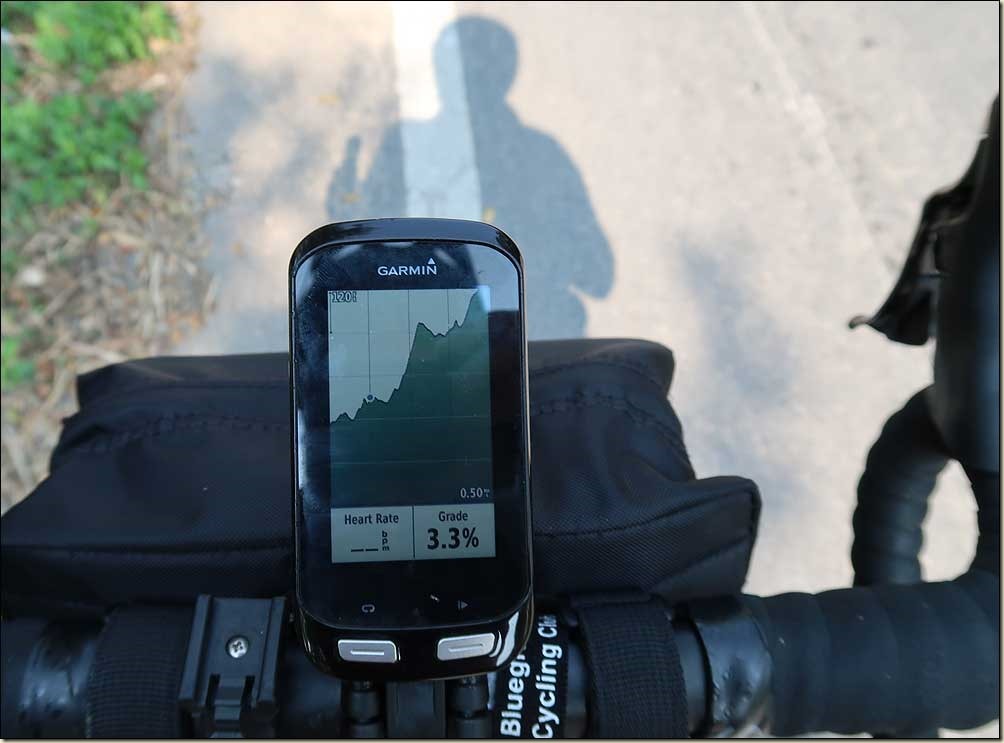 Yikes! We are at the dot on the left. Lots of climbing ahead!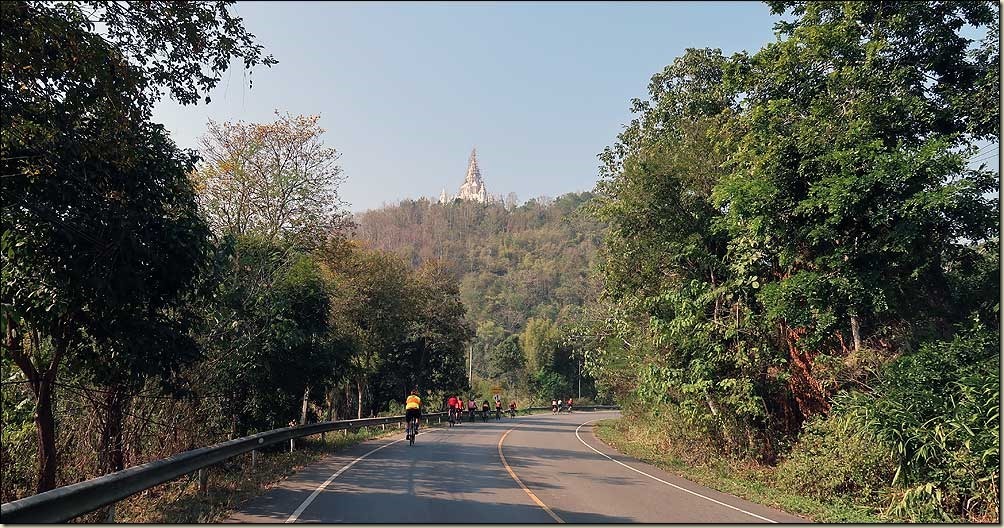 The temple is getting closer as we climb up and up.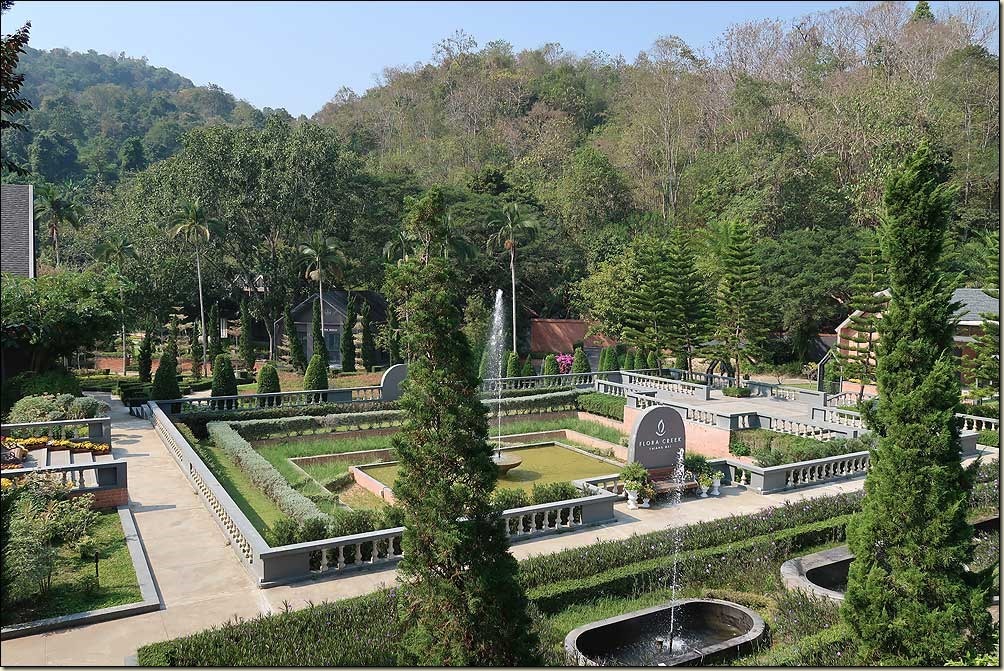 Our end point today was this garden. We enjoyed snacks and beverages and explored the grounds. Butterflies and a few birds!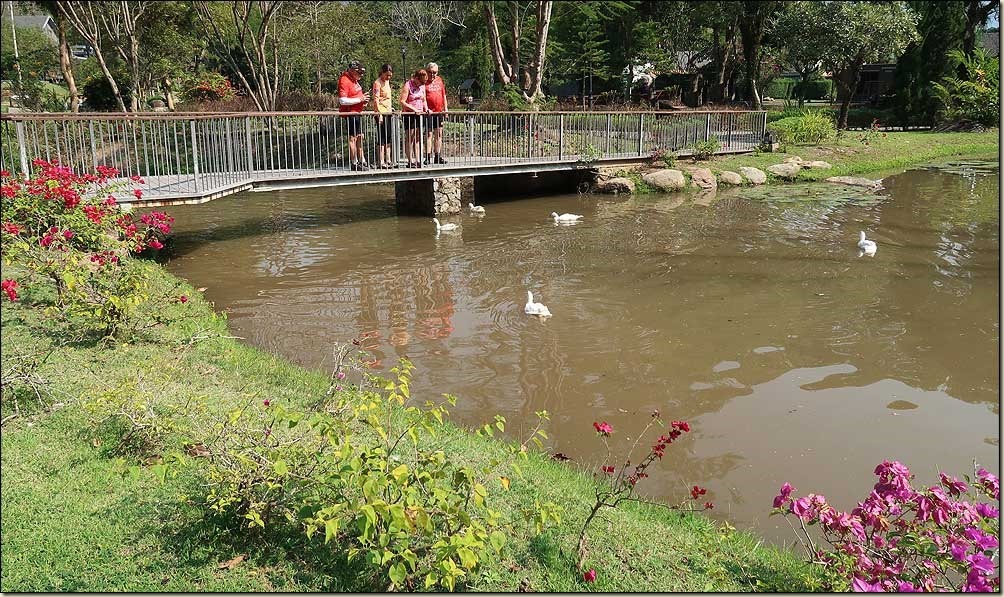 Part of our group enjoys the ducks swimming about.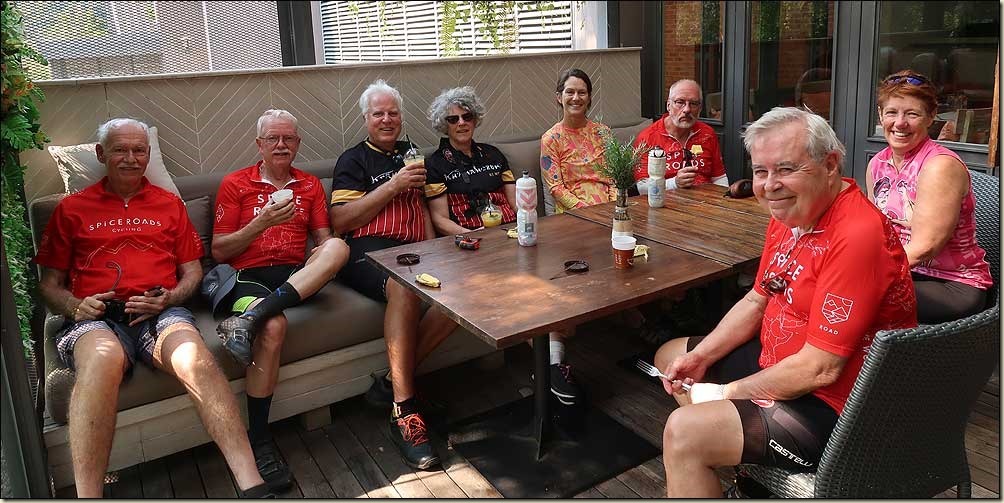 Coffee and smoothies in a nice cool porch!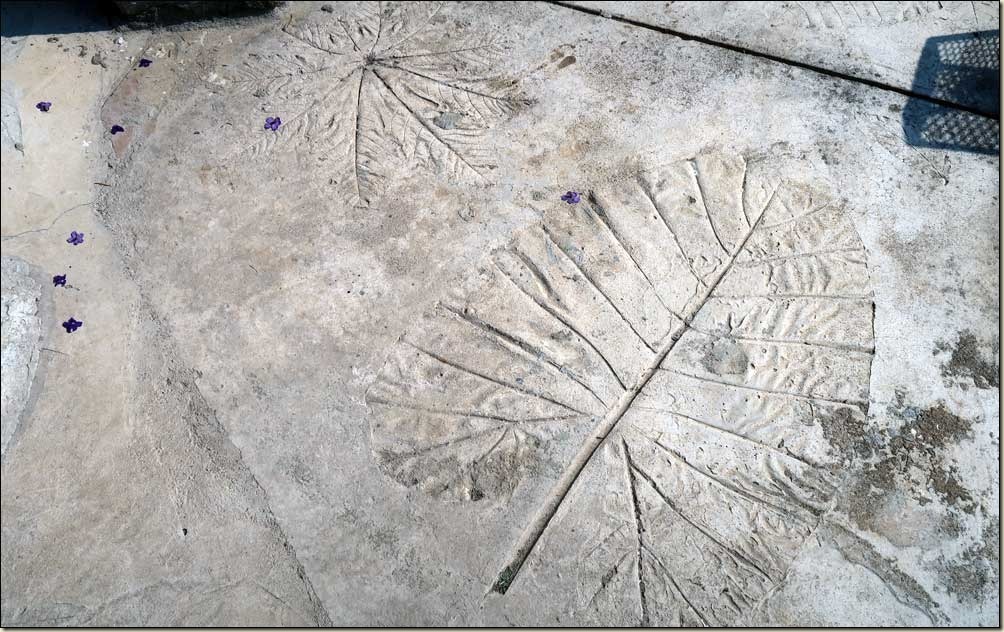 Leaf imprints in the trails through the gardens.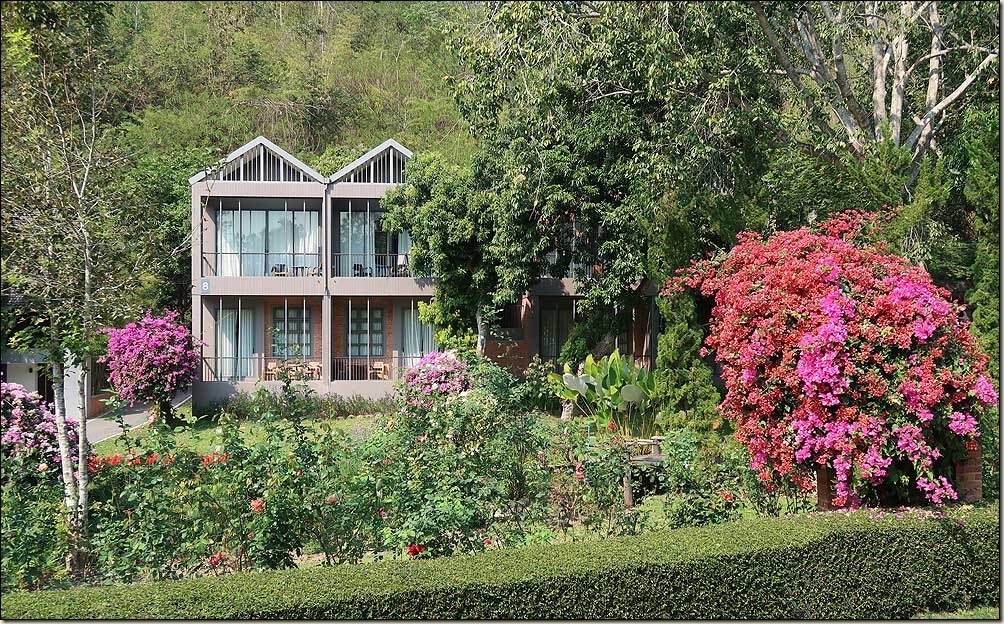 Buildings were scattered  around the property.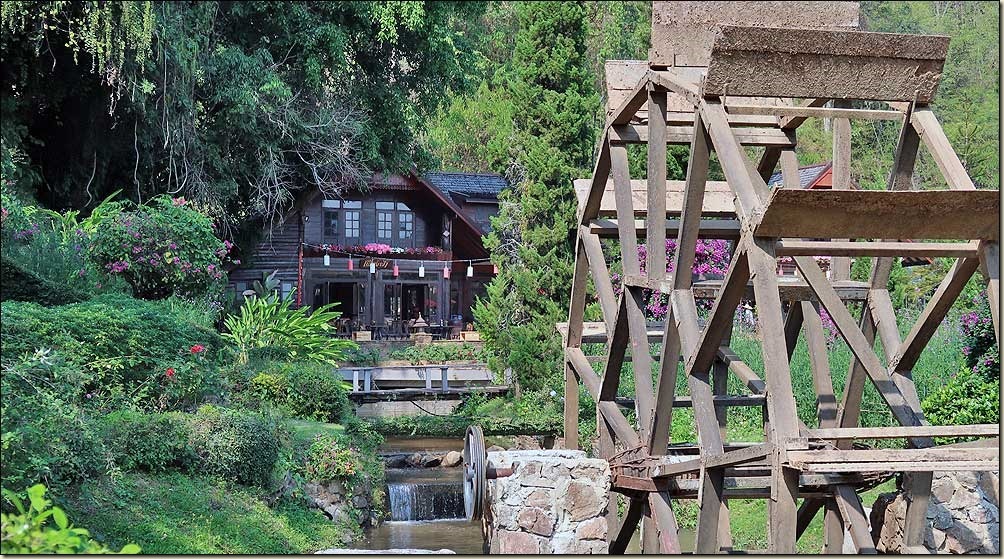 Charming lodging with a paddle wheel too!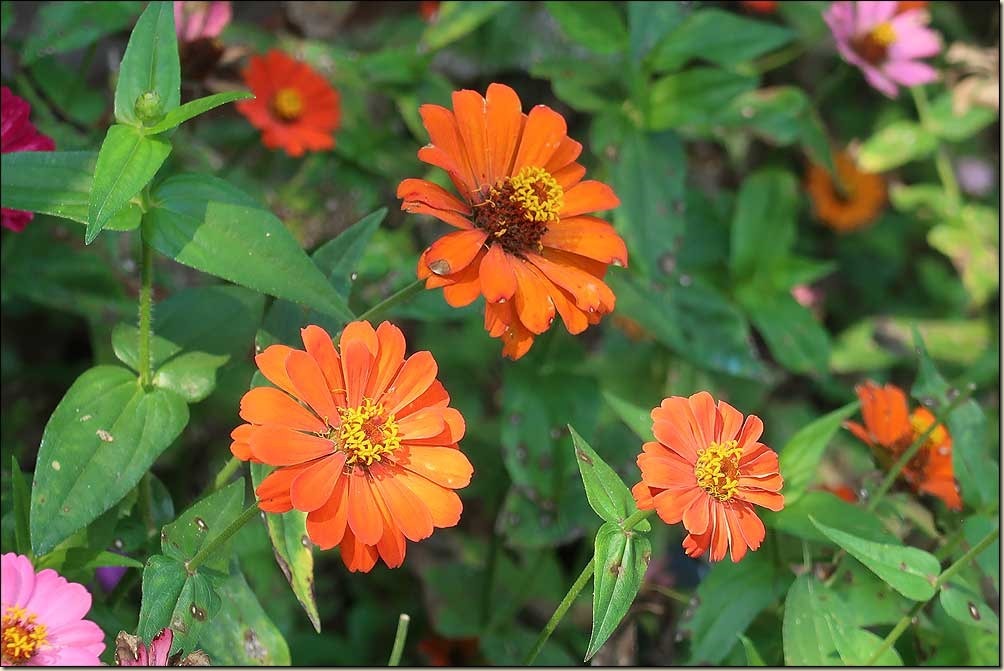 Lots of color…makes MJ think about gardening this spring!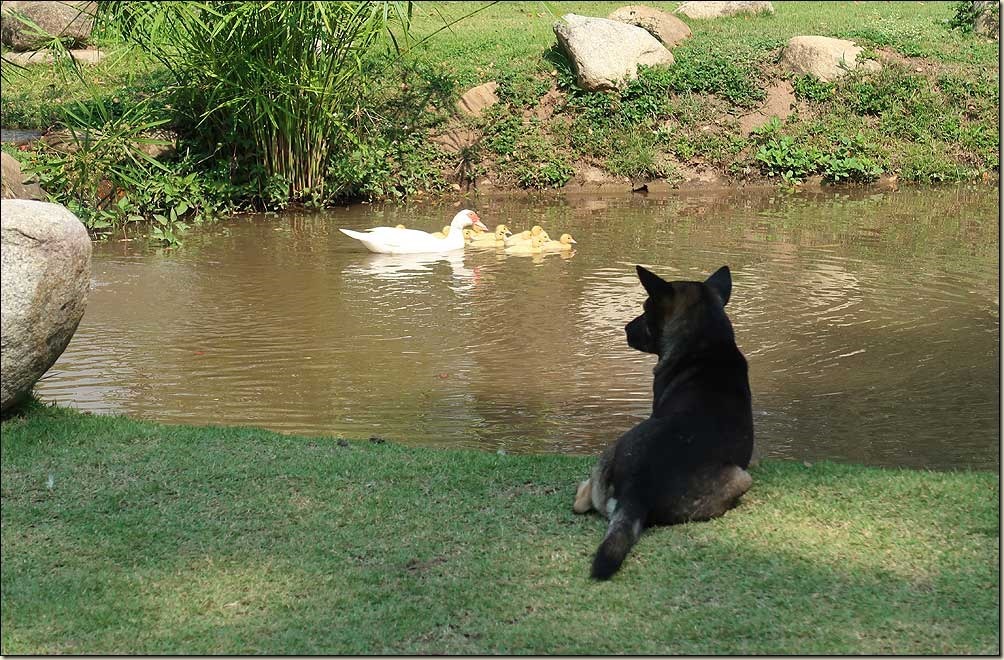 This pup seemed intent on the ducks and ducklings. For a snack?!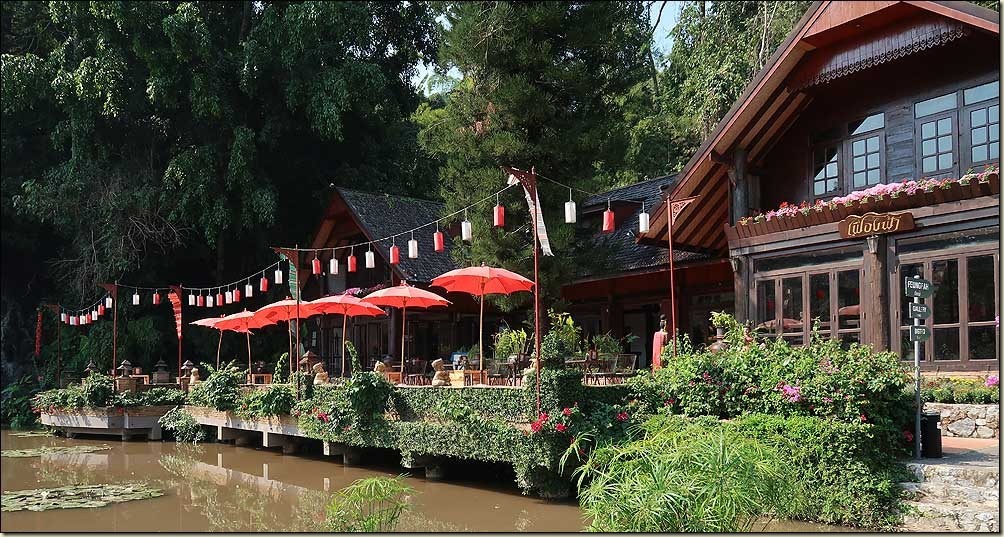 This would be a nice place to hang out!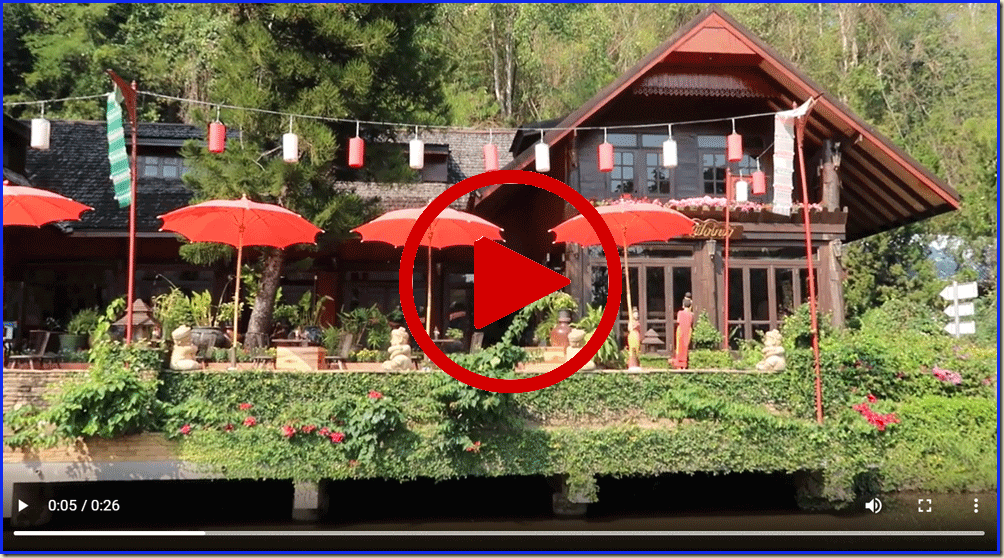 Check it out here!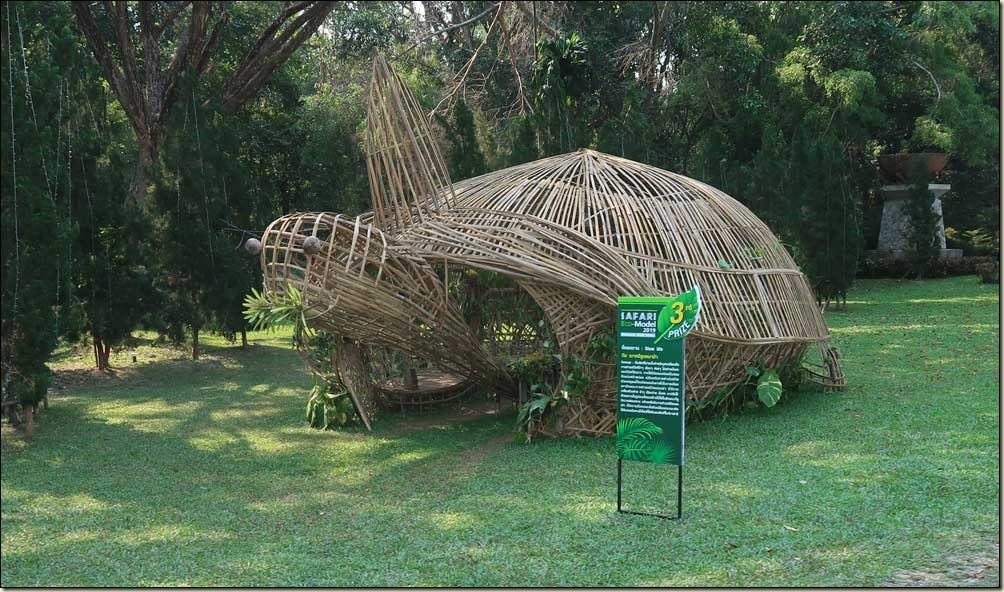 On our way back to the city, we cycled past a safari-themed park. What is with the giant turtle?!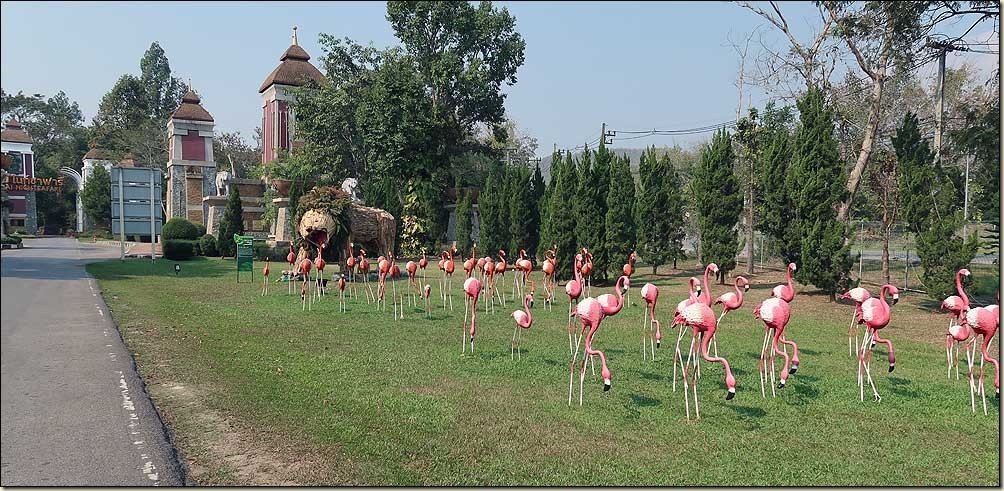 Wonder if this exhibit of plastic flamingos was inspired by the University of Wisconsin-Bascom Hill flamingos?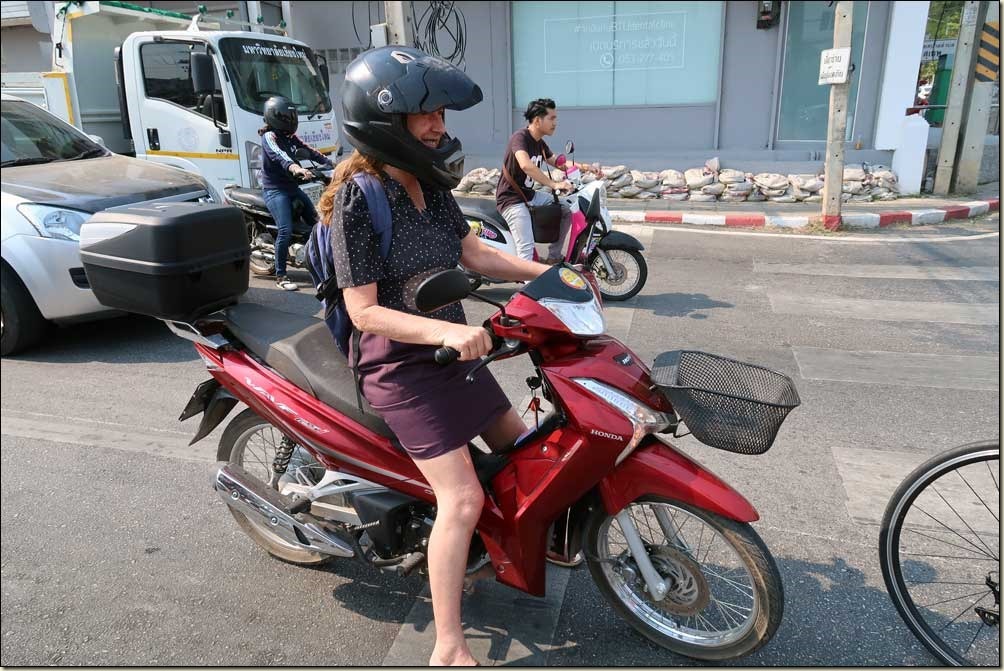 As we waited for a light to change, this British woman chatted with us. Very friendly! She lives here and loves it except for the pollution. Before the light changed, a German chap joined us on his motor bike and joined the conversation.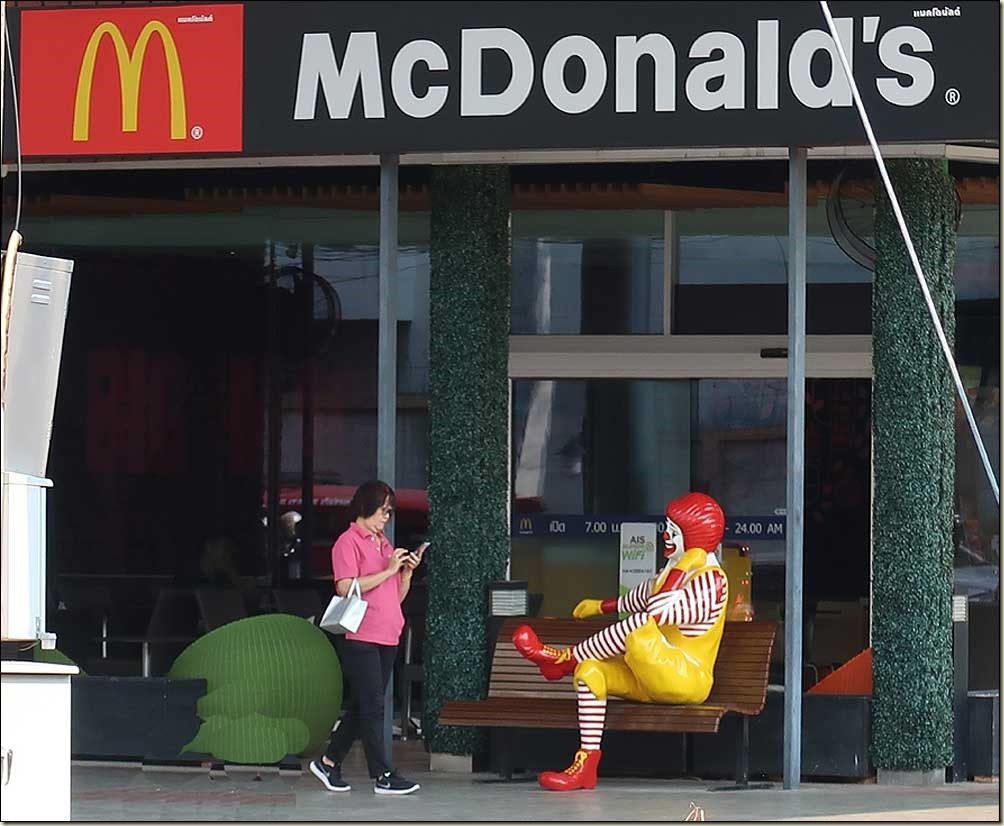 Another friendly Ronald.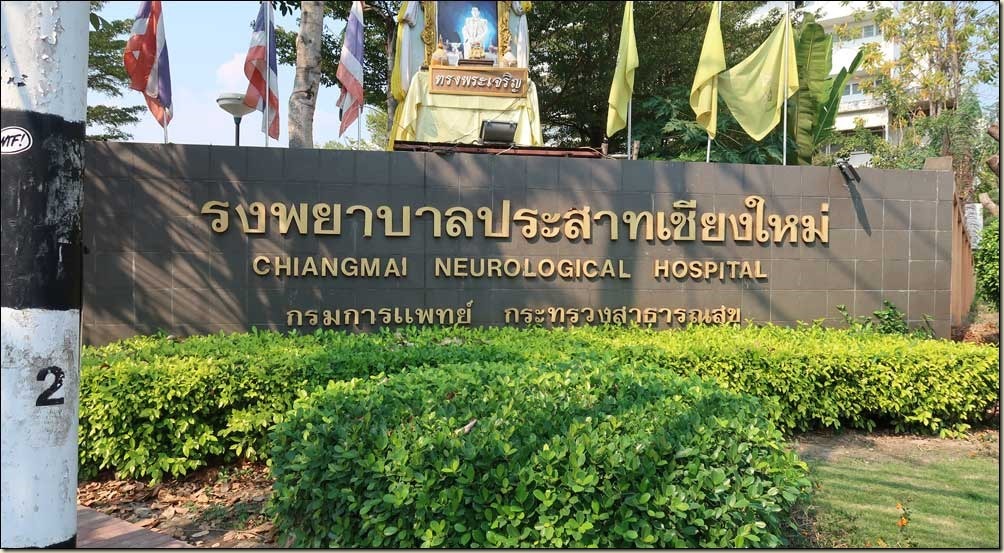 Rick makes a note of the location of the hospital. Just in case.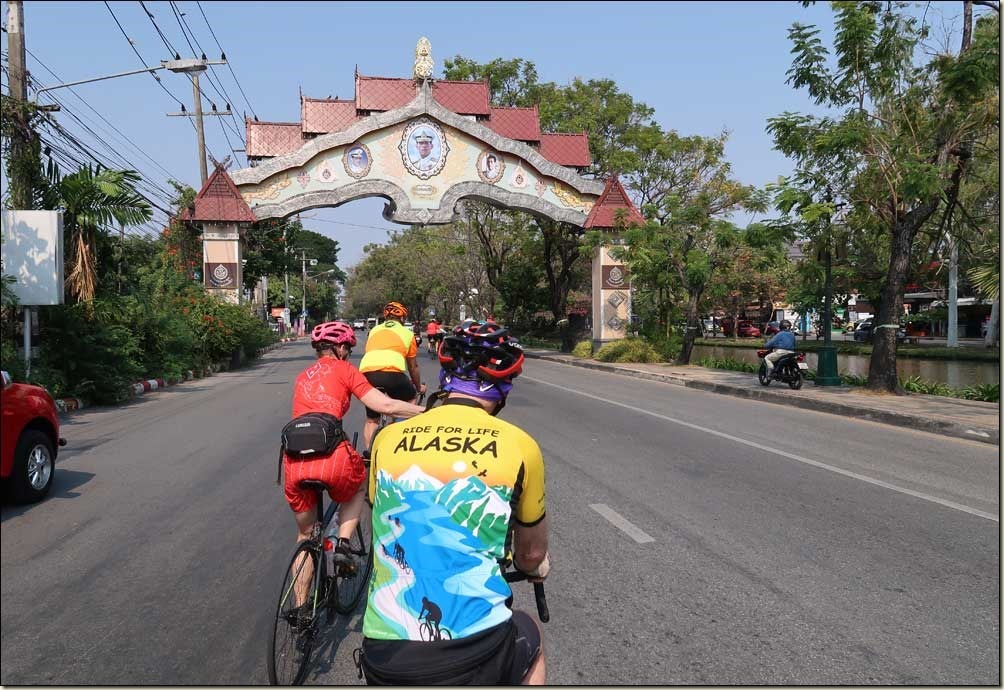 We ride back into the city in the early afternoon.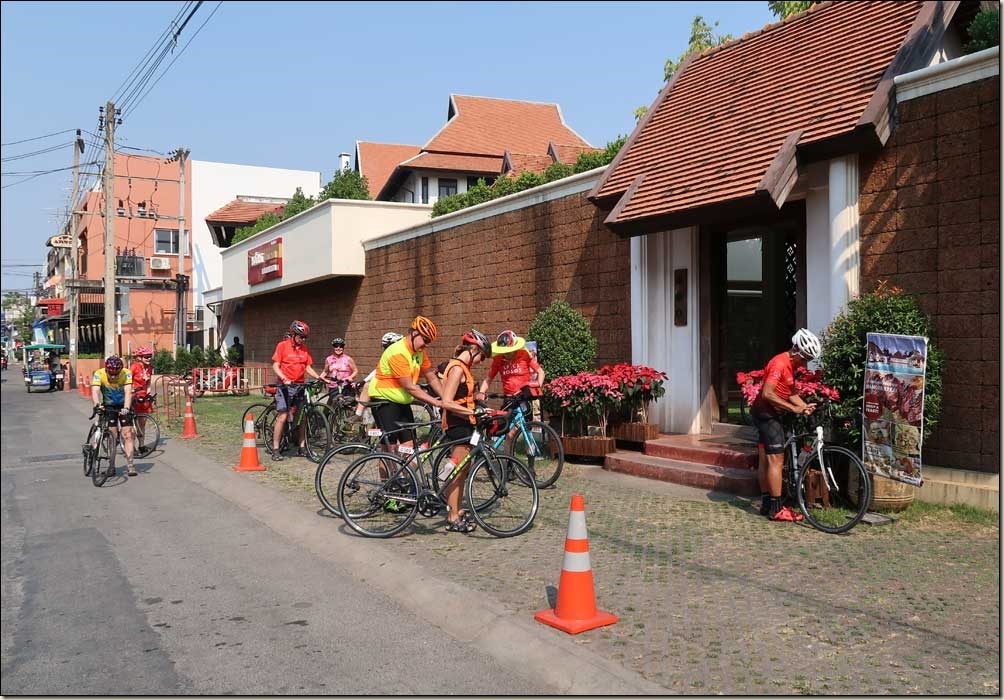 And we all make it safely back to our hotel. A great first ride!
Right across the street is a bike shop, unloading new steeds!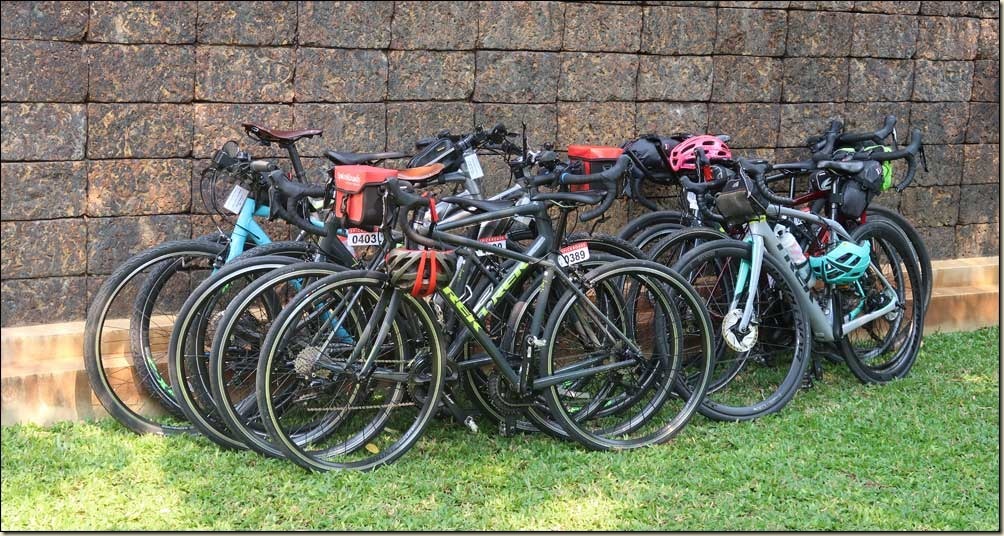 Here are our steeds, all tied up for the night.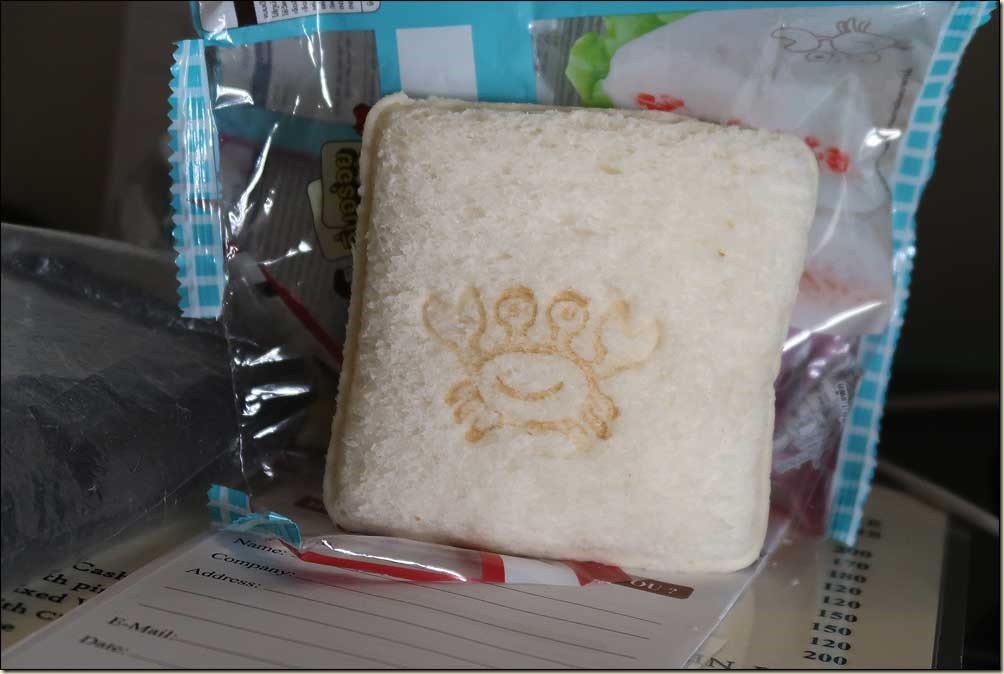 Rick and MJ duck into the 7-Eleven, also just across the street, for lunch snacks. Here is a crab sandwich stamped with a crab design!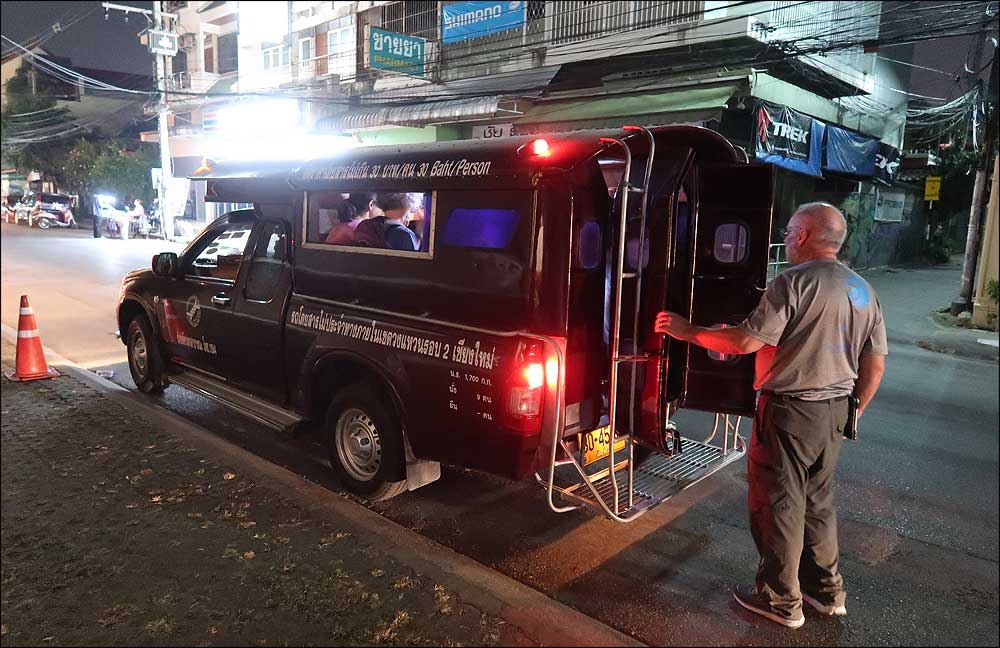 Six of us decided to head down to the night market for some MORE shopping and dinner. The hotel provides a free tuk-tuk ride to the market and we walked back afterwards. Only a 15 minute walk but quite the show along the way, including bars that specialized in 'dwarfes'!!!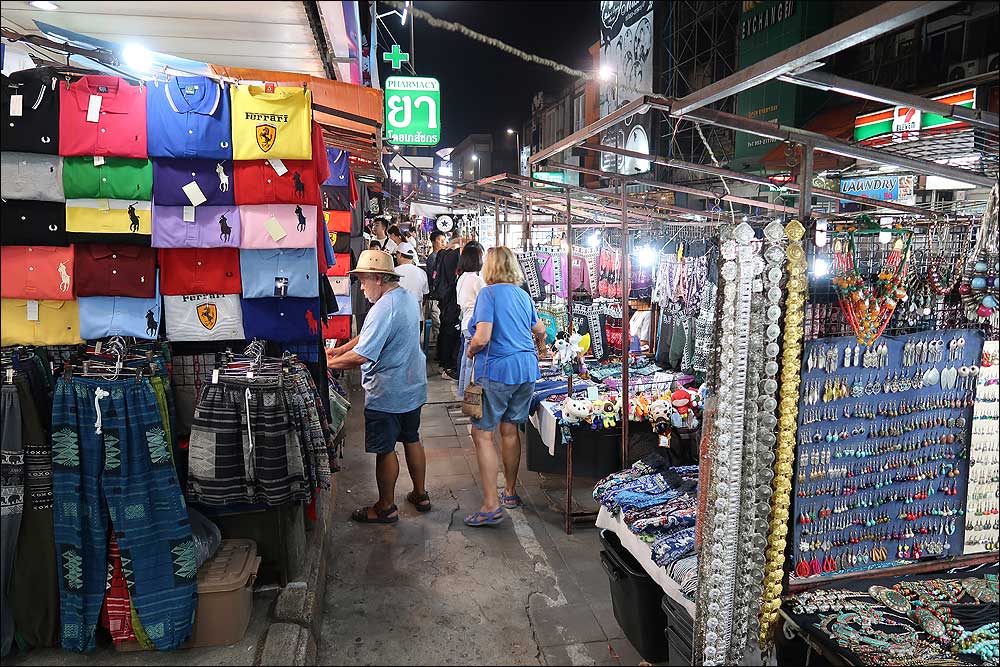 . . . lots of street vendors . . .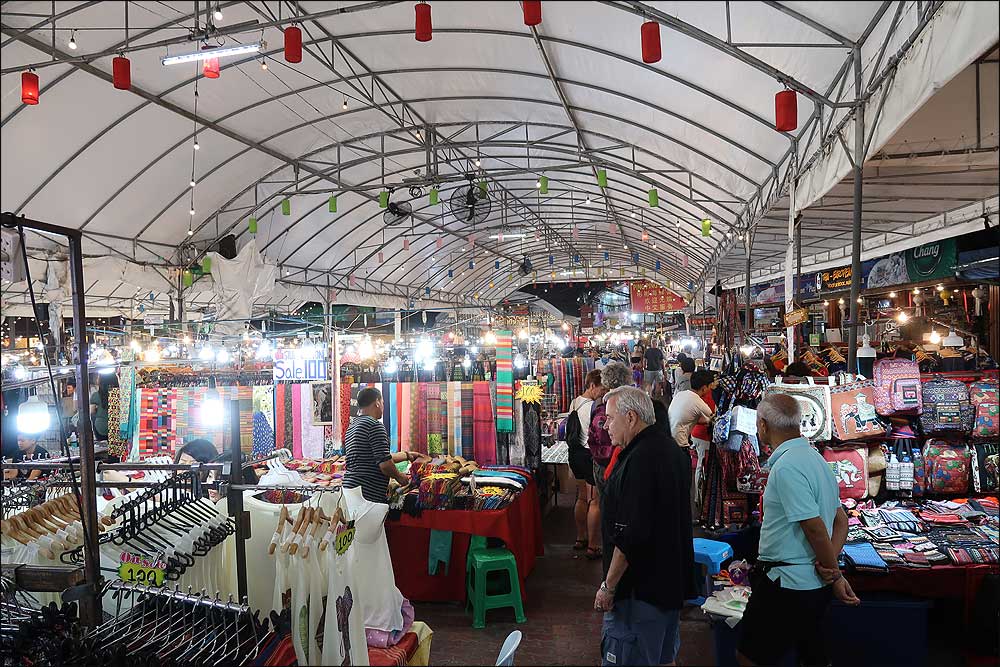 . . . and a HUGE covered area. Not as big as the market in Bangkok, but being at night this market was much more comfortable.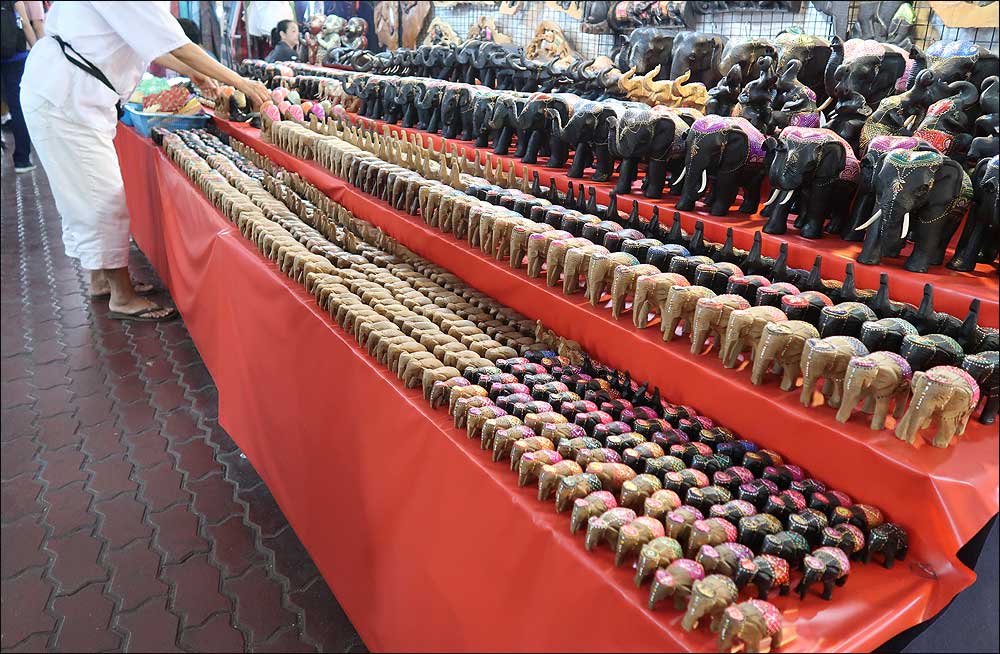 . . . rows and rows of elephants.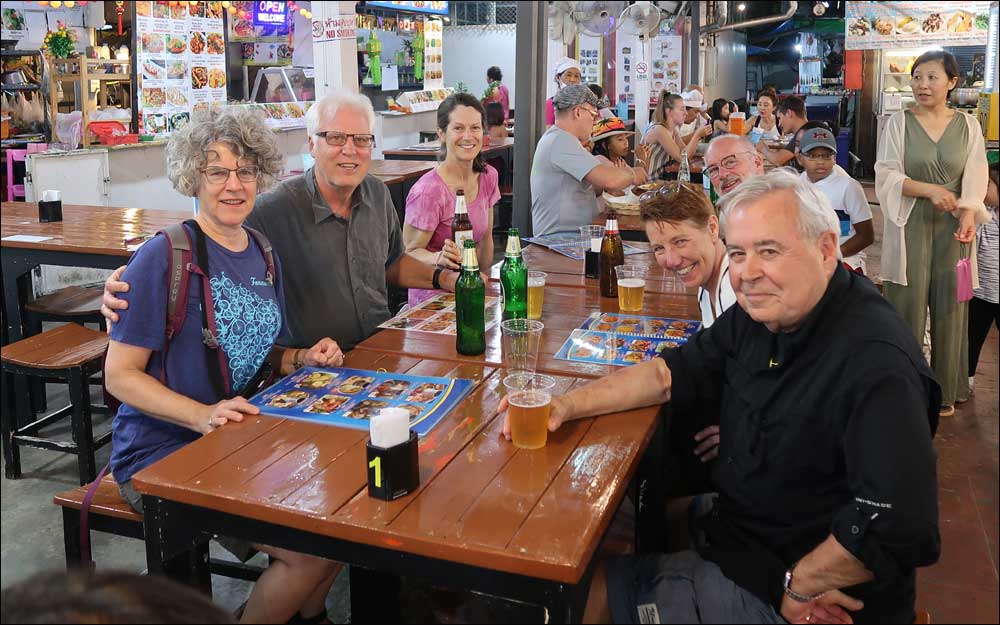 After all that shopping one works up and appetite so on to the food pavilion . . .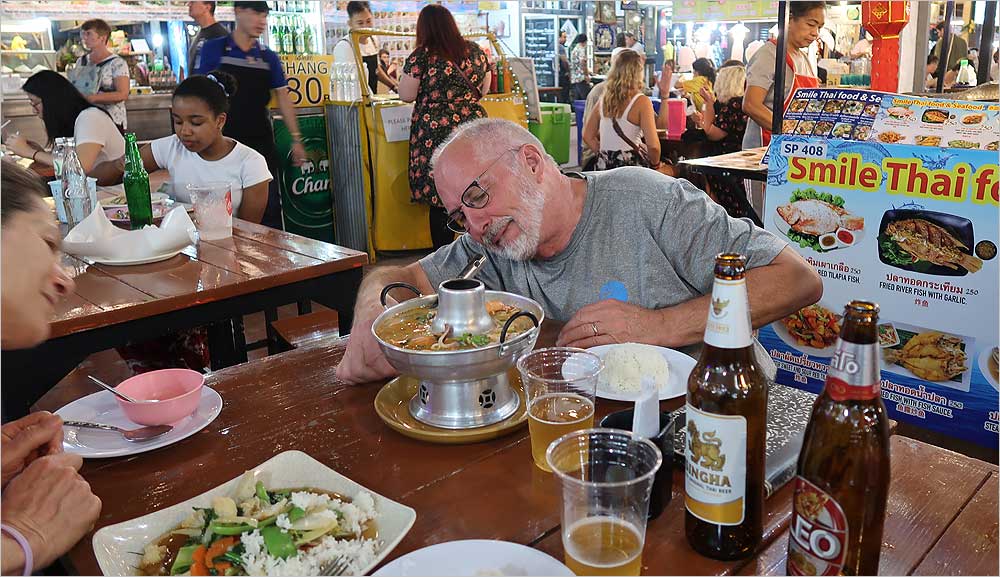 We all had interesting meals including the 'hot pot' that Leslie and Gregory shared. Getting the alcohol stove to turn off was quite the chore!!!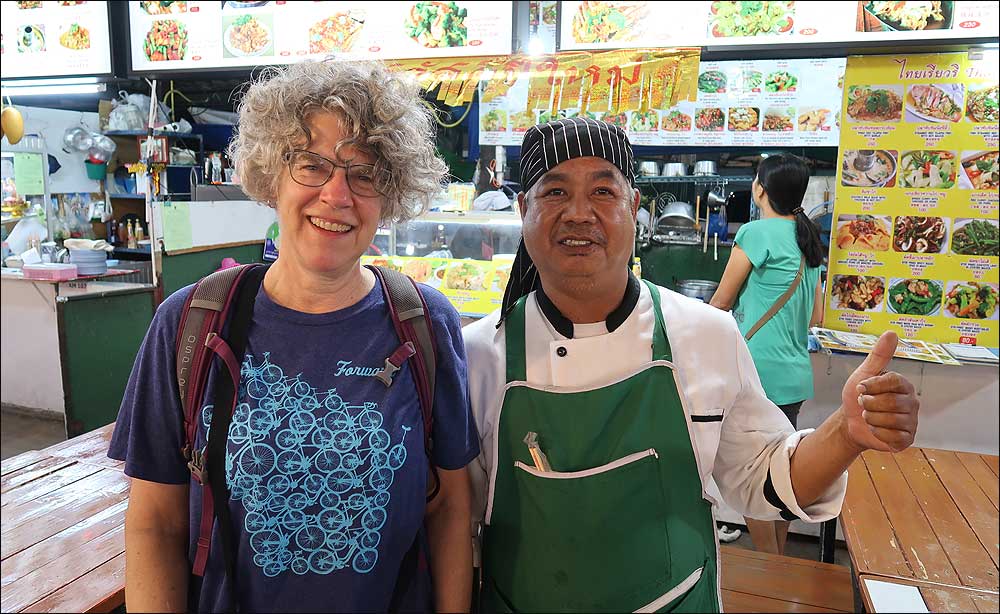 emJay and our chef shared a few words about the excellent feed.  (very few actually. He didn't speak English and she didn't speak Thai!!)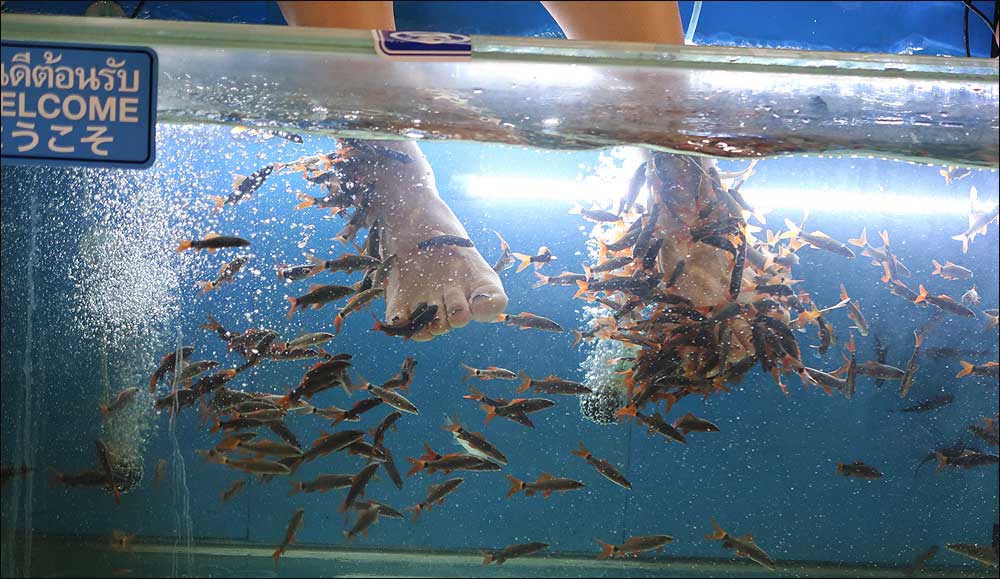 emJay had a pedicure before we left MSN and if her nails had still not been in such pristine condition, she might have gone for the little 'piranha' treatment where you stick your feet in a large aquarium and hundreds of little fish come by and eat all the dead skin off your feet. FUN!!!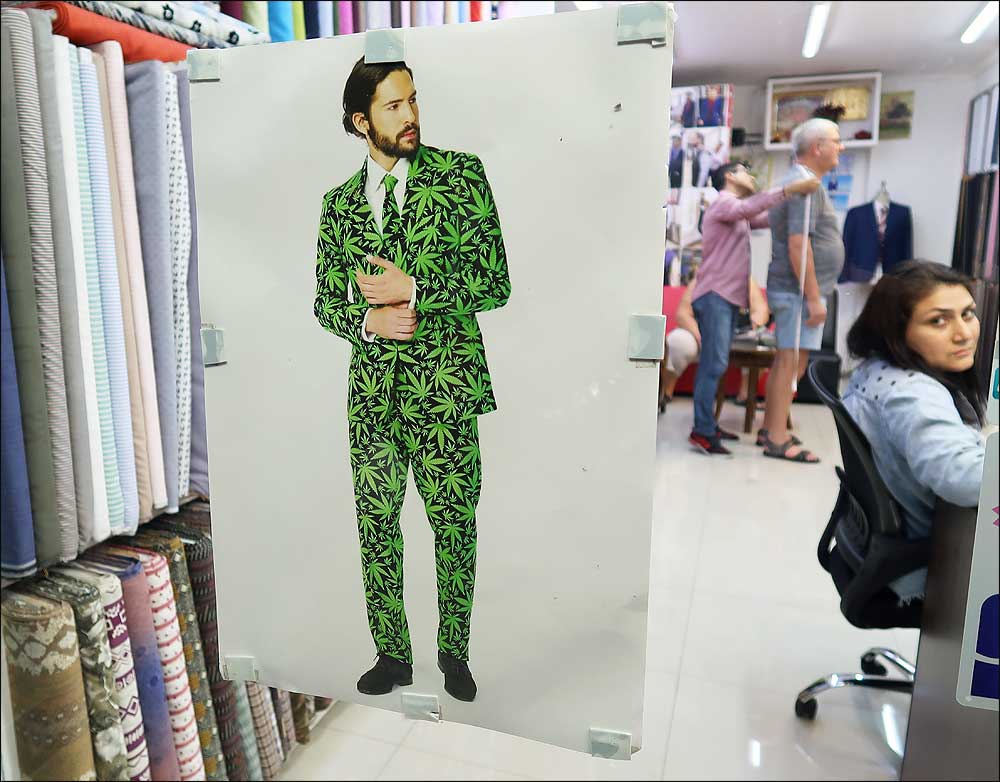 On the walk back, TommyH and I almost went for this custom made suit. Only about $95USD but we could get them to bargain and just couldn't pay full price.  Evidently this is one of their most popular versions!!!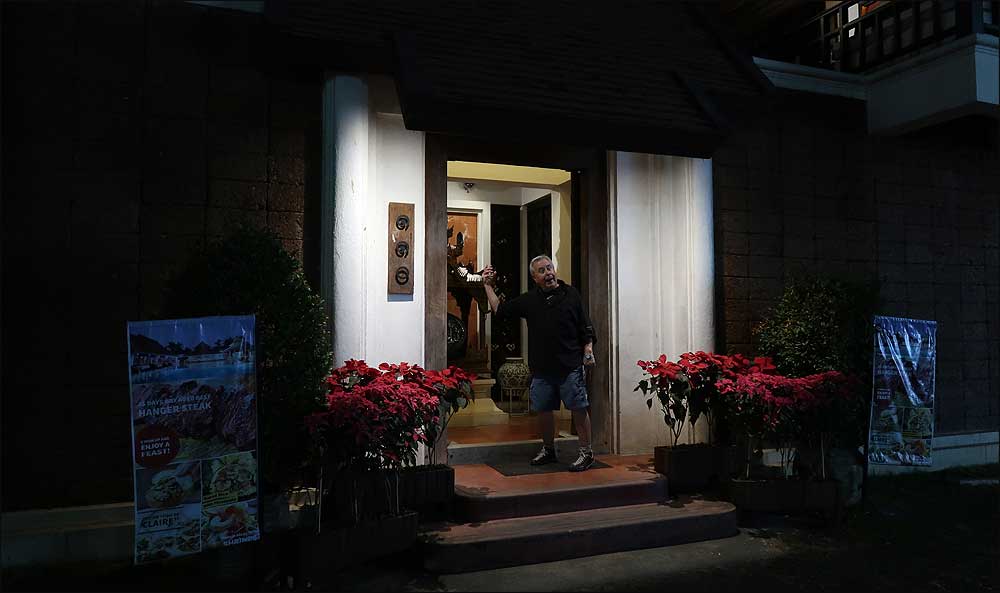 Back at our little nest, TommyH was still high on night time market shopping and would probably have a hard time falling to sleep, thinking about the opportunity lost not buying the cannabis print suit. There is always tomorrow night . . .the market is held every night!